Eagle Tech strive for new innovative designs to meet our technological demands. They live up to our expectations with this external enclosure we have here today.
Introduction
 In a world of growing demands and technology it's really hard to come up with new and innovative ideas for the consumer. An external enclosure is pretty basic piece of tech which is hard to improve on. Our experts over at Eagle Tech though strive to prove this wrong. Today we have the ET-CSPESU2-BK 2.5″ External Enclosure from Eagle Tech Computers Inc. Let's see what kind of new features they can pack into a basic external enclosure.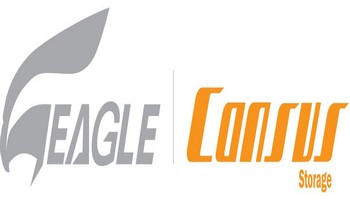 About Eagle Tech Computers Inc.
Precision Engineering
Eagle Tech Computers, Inc. is a trusted OEM supplier of power supply, rackmount chassis, network attached storage NAS (RAID, Gigabit LAN, Wireless 802.11a/b/g), external hard drive enclosures and other storage related products. Our extensive experience in designing, manufacturing and marketing high quality PC components that meet and exceed customer application requirements has enabled us to grow beyond manufacturing. Our core competence is in innovative external storage solutions.
Recognizing the needs of modern computer users to store and share digital files across multiple platforms, Eagle Tech constantly monitors consumer needs to ensure timely development and introduction of innovative external storage products into the consumer market. We remain a high quality technology solutions provider dedicated to satisfying the demands of modern computer users – mainstream, enthusiasts and SOHO professionals.
Eagle Tech understands the importantance of your data and strives to provide customers with reliable and easy to use products that are backed with responsive technical support staff. If there is a more innovative way to store and access your important data, you can count on us to make it happen for you – at affordable prices, rugged constructions and stylish designs.
Features
Ultra portable at only 0.4" thick
This external Enclosure is really thin. It's the perfect size to fit in your pocket or any small protective sleeve and still be real portable.
Reinforced aluminum chassis
The outside may be plastic but it is reinforce to protect your drive well. Sadly enough I have already dropped my drive and it survived the fall of about 4 feet, and didn't even endure any external damage.
Soft-glowing drive activity LED
The first 2.5″ enclosure I have come across that has not only a power LED but it also has a red activity LED right on it.
Integrated USB cable (no messy wires)
Something more innovative than others is the integrated USB cable. So simple to just go anywhere with your drive and not worry about having your cable at hand.
USB powered (no bulky AC adapter)
As with all 2.5″ Externals the USB side of things requires no external power.
3.0Gbps eSATA
For people who require the speed of internal hard drives you have the option of using eSATA.
Plug-n-Play USB 2.0
Complete plug and play operation with USB.
Usage: Easy add-on storage for mobile users
Adding a drive to this enclosure and just plugging it in is as simple as counting to 3. I dont think it can be anymore simple.
Specifications
• Type: External drive enclosure
• Form Factor: 2.5"
• Hard Drive Compatibility: 320GB
• Internal Interface: SATA I/II
• External Interface: Hi-speed USB 2.0 and eSATA
• Data Transfer Rate: 480Mbps and 3.0Gbps
• Power Source: USB powered
• Power Input: 5V DC
• Certification: FCC, CE Certified and RoHS compliant
• O.S. Required: Win98SE/ME/2000/XP/Vista Mac OS 9.0 or higher Linux
• Dimension: 5.4 x 3.2 x 0.4 inch
• Weight: 0.7 lbs
Well enough with the boring reading part of things. Lets see how it really looks.
The Enclosure Itself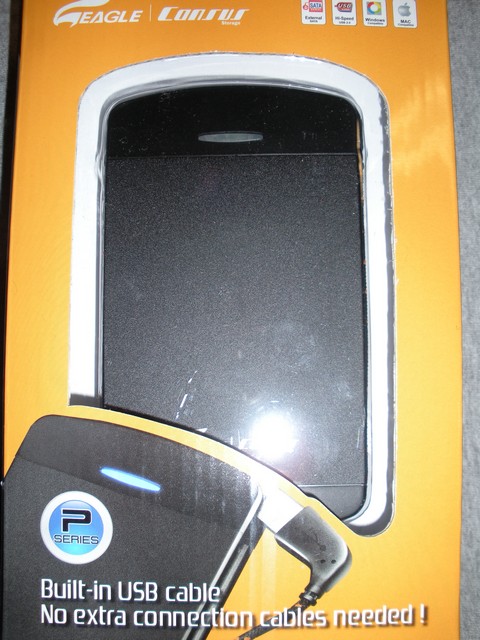 Here we have the front of the box. It shows off the actual enclosure itself which is nice and it shows it has the built in USB cable.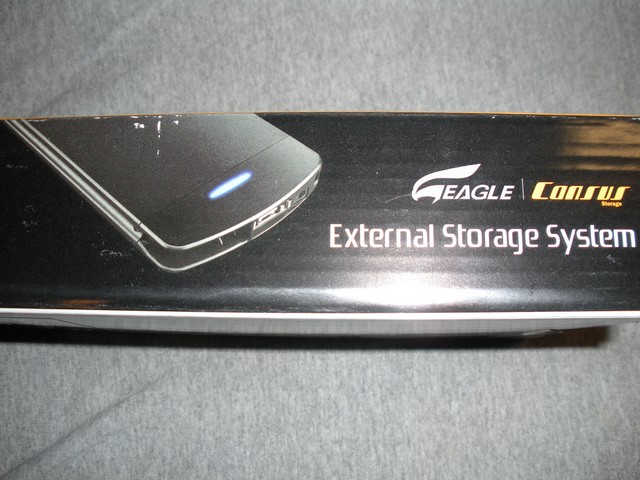 Here we have the side of the box. Nothing to fancy. Just showing the name and enclosure itself.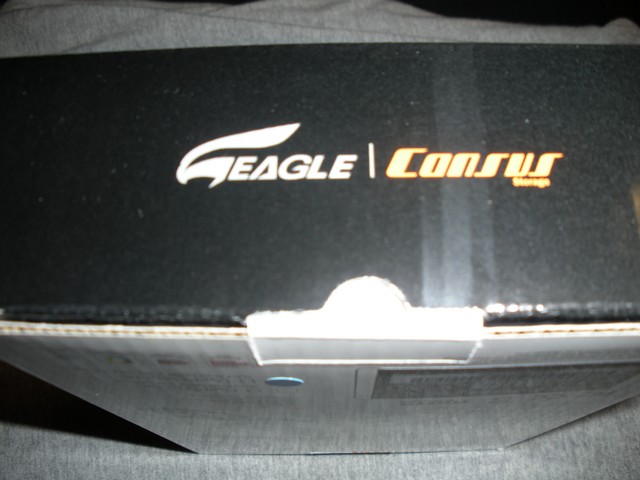 The top and the bottom of the box just has the company logo.
Here's the back of the box that shows the features and specifications. I believe it shows enough to give the consumer an informed decision upon purchase.
It also has the package contents which I will discuss a bit. Under specifications it says power source is USB like any other USB external enclosure. Under package contents though they do not specify having a USB to AC end cable to power the drive for eSATA use. In my opinion they should include in the listing the USB to AC cable for eSATA power that is provided. That way there the consumer will know they do not need to purchase an aditional adapter for eSATA use.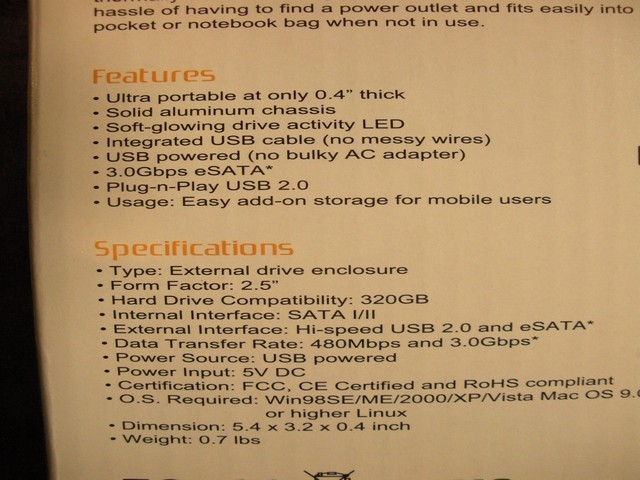 Here is the side of the box that gives you another run down of the features and specifications.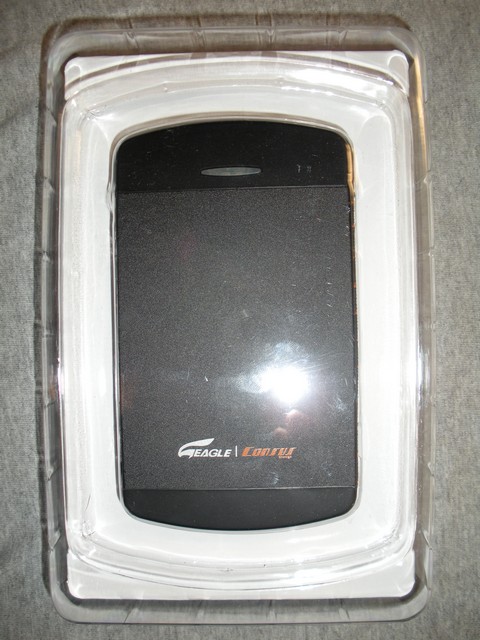 Here we have the drive itself in its packaging. The plastic and cardboard is sufficient enough for any kind of transit issues and the enclosure will arrive unharmed.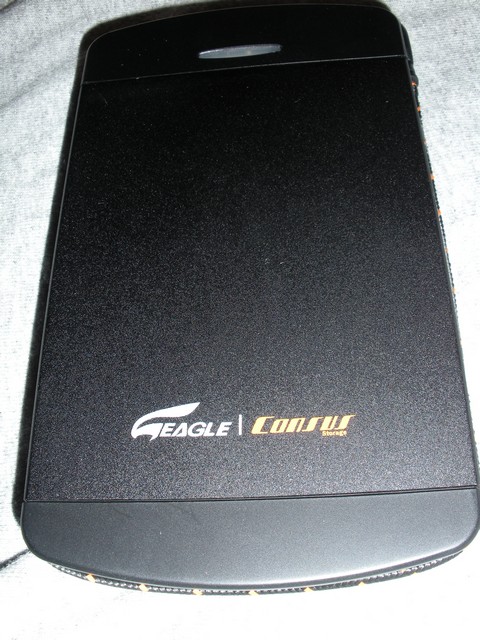 Here is a closeup shot of the enclosure itself.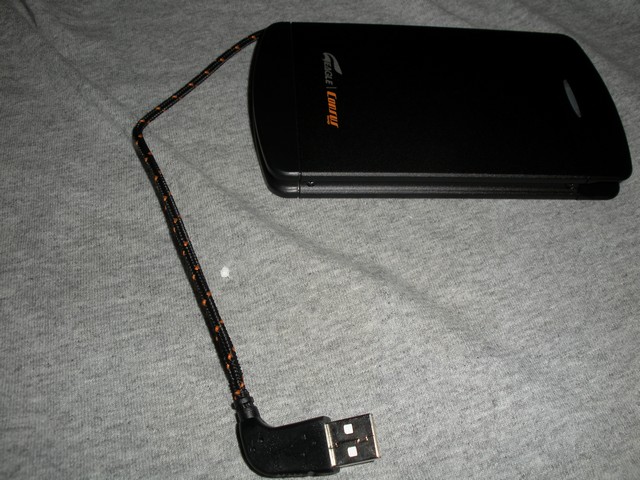 A shot of the USB cable detatched for use. It's not very long but it gets the job done well.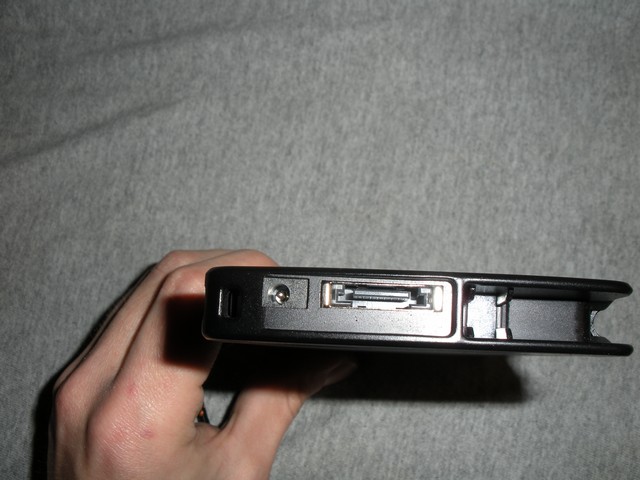 Heres the rear end of the enclosure. On the right is where the USB end locks into place to secure the cable against the drive for transit. Also we have the eSATA plugin and power cable plug in.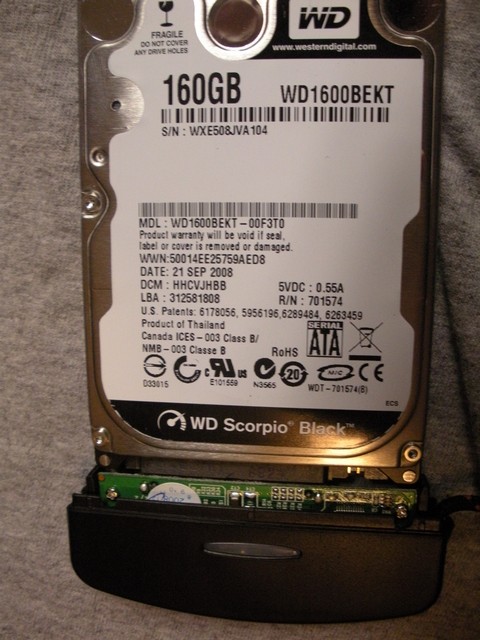 Here is a shot of the drive itself installed and plugged in. No screws to install the drive and no cable mess. Simply take the cover off, plug in drive, and put the cover back on. Done! So simple.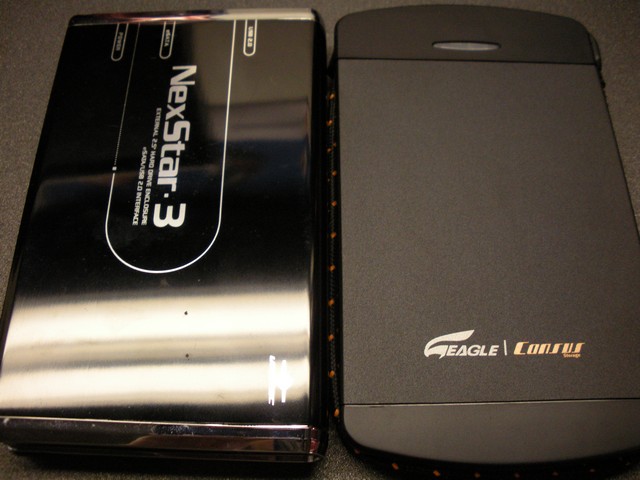 Here is a comparison shot to a Vantec Nexstar 3 2.5″ External Enclosure. They are about the same in size but the Vantec is thicker and will not fit in your pocket unless you have really baggy jeans.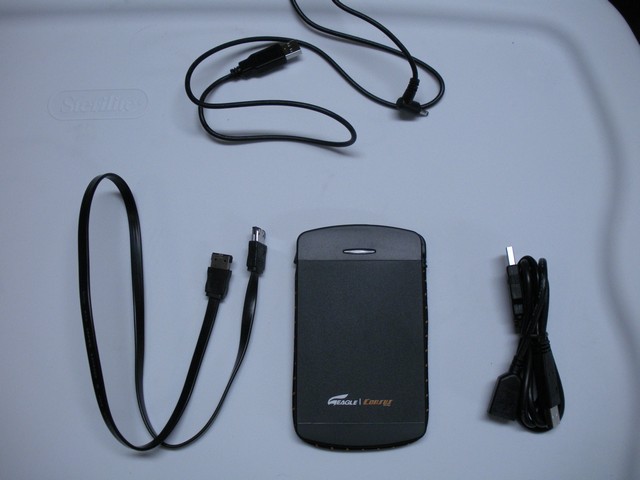 Here is a bundle shot. On the left we have the eSATA cable, next to that is the enclosure itself, and on the right the USB cable. On the very top is the USB power cable for eSATA use which I talked about earlier. One of the best things I have seen done in a while.
This exeternal enclosure has impressed me with every attention to detail. Let's see if the performance side of things is up to par with the rest of the enclosure.
For starters I will just introduce you to my rig I will be doing performance numbers with.
Test Rig
"Univac"
CPU
Intel Core 2 Duo E8400 @ 3.8ghz
Motherboard
XFX 780i SLI
Ram
OCZ Flex XLC DDR2 1150 @ 1200Mhz
CPU Cooler
Zalman CNPS 9700
Hard Drives

Western Digital 160gig SATA 1 (System)

Western Digital 160gig Scorpio Black SATAII (enclosure)

GPU's

SLI 9800GTX+

PSU
Thermaltake Toughpower 1000 Watt Modular
OS

Windows Vista Ultimate X64 SP1

This is my sweet little POS =)
Testing
Here I will be testing with HD Tune Pro 3.10 on both eSATA and USB.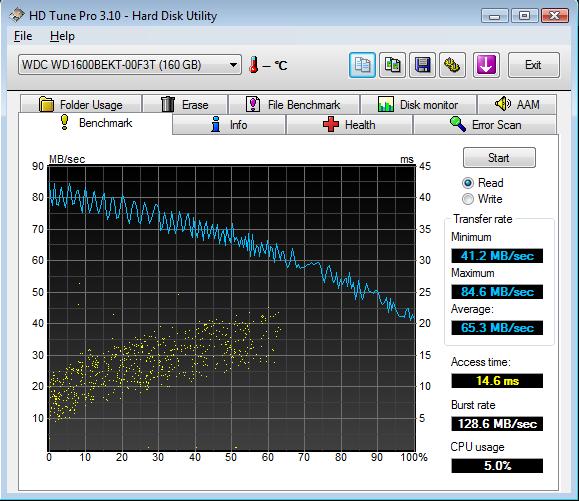 First we have the eSATA test. It performs the same as in the case since they are the same thing. Just one is outside of course.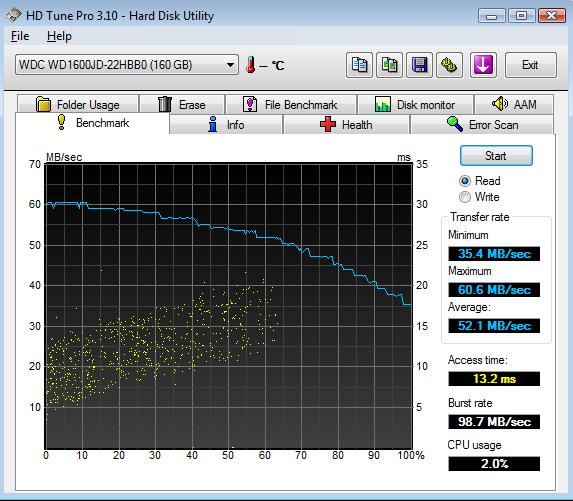 Here we have pretty average readings for USB2.0. Since the power comes from USB for eSATA I think it would be alot wiser to use eSATA since the speed is well worth the extra effort. For just plugging up to a buddies PC having the cable and USB2.0 these speeds are just fine.
Conclusion
This external enclosure is by far the best I have used. I think the built in cable is a nice feature that I have used many times in the short period of time I have had it. Also, using the USB to power the device is a great idea because it lessens the amount of cables you have coming off your power strip. The thing I like most about this external enclosure is its size. With my Vantec I had to use the travel case that came with it but with Eagle's enclosure I can just slip it in my back pocket. With its durability I dont worry about sitting on it either. In a world of high capacity flash drives being mainstream being able to put an actual external hard drive in your back pocket is a good turn in the right direction. Sure its a little bigger but having the extra capacity and speed plus no cables is awesome. Newegg has this piece of hardware priced at $22.99 which is exceptionaly cheap. You can't beat that really considering the convenience of having a built in cable and no extras needed for travel.

We are trying out a new addition to our scoring system to provide additional feedback beyond a flat score. Please note that the final score isn't an aggregate average of the new rating system.
 
Performance 10
Value 10
Quality 9
Warranty 9
Features 9
Innovation 10
Pros:
+Small and can fit in your pocket
+No extra cables needed for use
+Very durable considering its size
+USB power for eSATA
Cons:
– None that I can think of really
Final score of 9.5 out of 10 and receives the Bjorn3D Seal of Approval.