In-Win has recently been creeping into North America with their very innovative products, and they haven't slowed down so far. Let's see if they've still got the momentum with this external hard drive enclosure.
The computer storage industry has recently has been seeing a lot of technology advances and new types of products being pushed out, almost at a daily rate. External hard drive enclosures have also been a big product in people's lives as they are always looking for something that looks good on their desk and need something to take from place to place with them.
In-Win has recently been creeping into North America with their very innovative products, and they haven't slowed down thus far. Let's see if they've still got the momentum with this external hard drive enclosure.
ABOUT IN WIN
IN-WIN Development Inc., an ISO 9001 manufacturer of professional computer chassis, power supplies and digital storage devices, is the leading provider of enclosure solutions to system integrators worldwide.
Founded in 1986, IN-WIN provides high quality chassis that conform to all safety regulations, as well as unsurpassed customer service. In Win was well trained to become a top-notch manufacturer of core technology to enhance internal core competence to meet what customer and market needs constantly.
Top Management has been executed four major elements to reach our growing goal: Innovation, Service, Speed, Value, Safety, Warmth, Faithful, Diligence in order to remain our leading edge position and differentiate with other players.
IN WIN'S GOALS
Your partner of choice
Product quality assured
Constant product innovation
High environmental standards & social responsibilities
Continuing the highest demands of service
FEATURES
Design Philosophy
Inspired by the Chinese calligraphy, Na [納] , a 3.5 inch external storage device deprives itself from the traditional cold and dull electronic enclosure by combining a warm artistic design and a touch of Chinese culture. The unique characteristics of this innovative design truly embody technology as an art!
Culture & Art
Na [納]–3.5 inch external storage device encapsulates the Chinese cultural essence of art and philosophy. This adornment embellishes the safe keeping of prosperity and wealth, and the spirit of generosity.

A smooth-shiny pottery and a stylish silhouette provide an artistic appeal that is simple yet profound.
Glamorous Chinaware
This uniquely designed Chinaware embellishes the word "納" on its surface. It features not only the ability to store data, but also provides the use of a pottery.

The detail dedication in the design of such device displays the essence of the Chinese culture.
Beautifully Hidden
Na [納]– 3.5 inch external storage device has the feature to hide the headache of exposed wires that other traditional external storage devices lack.

It makes the product's unique characteristics stand out even more.
Anti Vibration
Hard drive cage positioned on the top with patterned anti vibration rubber designed to protect against shocks and vibrations.
Smart Fan Control
6cm silent fan is equipped with automatic thermostat switch which can automatically detect the temperatures to turn the fan on or off, helps you save electricity, keep hard drive in controlled temperature, safe and environment friendly.
SPECIFICATIONS
External Material
Plastic and Porcelain
Interface
USB 2.0/1.1
SATA
HDD

Support 3.5 inch SATA HDD
Up to 1000GB of starage

Transfer Rate
480Mbps w/USB 2.0 & 12Mbps w/USB 1.1
3Gbps w/SATA II & 1.5 Gbps w/SATA I
External Power Adapter
100-240Vac, 50-60Hz, 12V/A2
OS
Windows 200, XP, Vista
Dimension (WxLxH)
131x201x70 mm
Certification
CE, FCC, BSMI, RoHS certified
Warranty
3-year
Now, let's move on to the pictures portion of our review!
PICTURES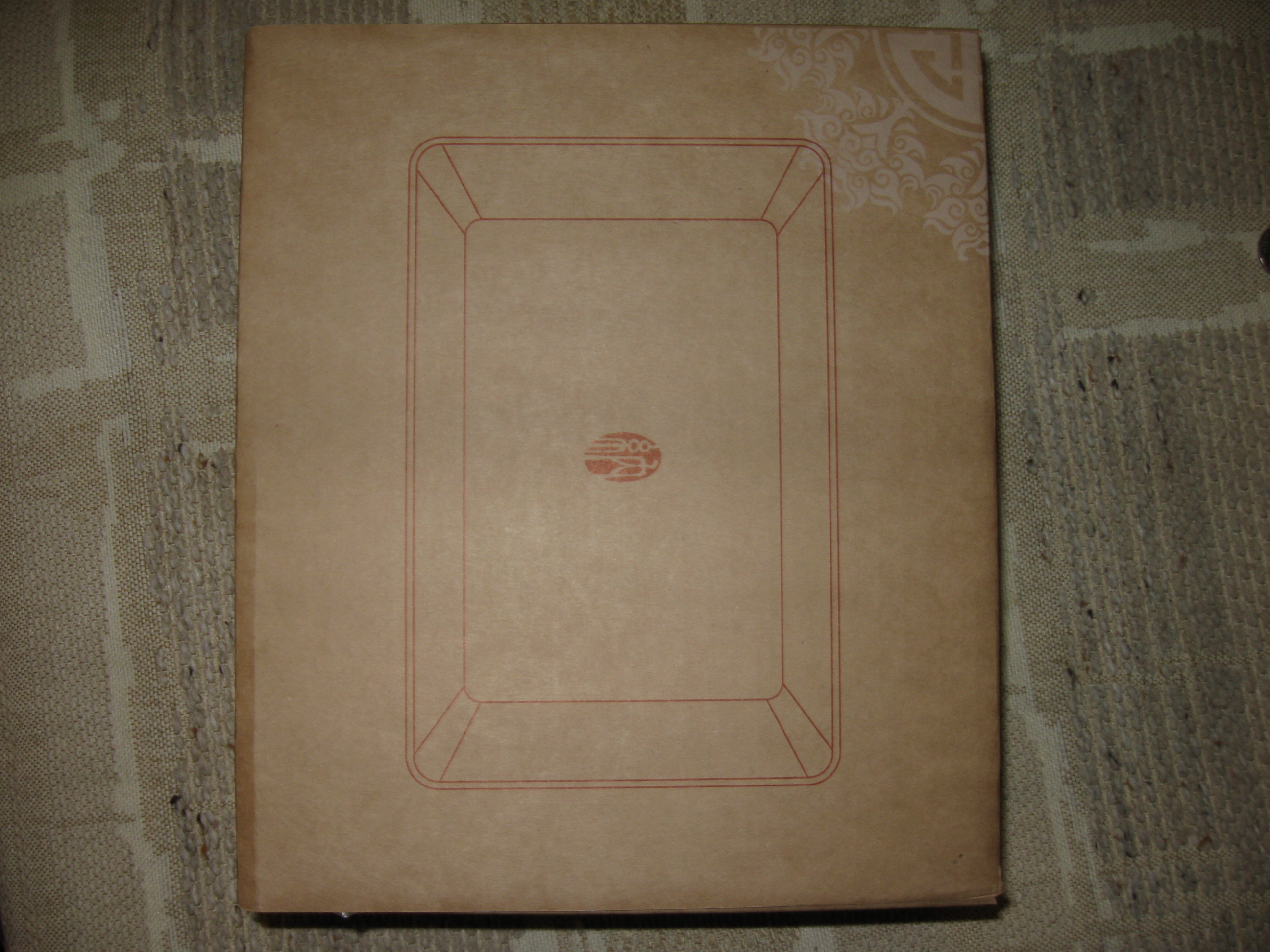 Here we have the front of the box.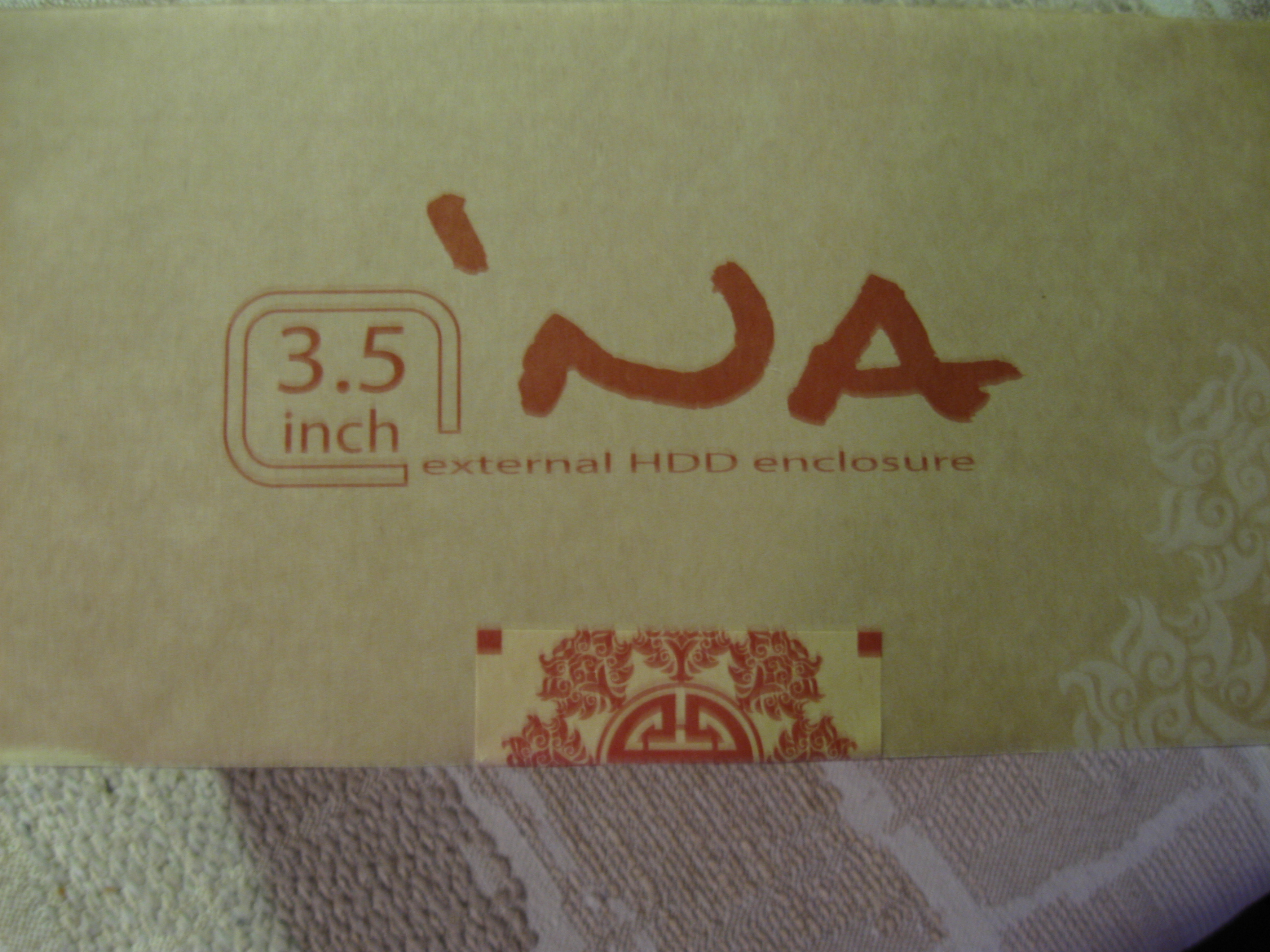 This is the side of the box, it still has the manufacture sticker on it.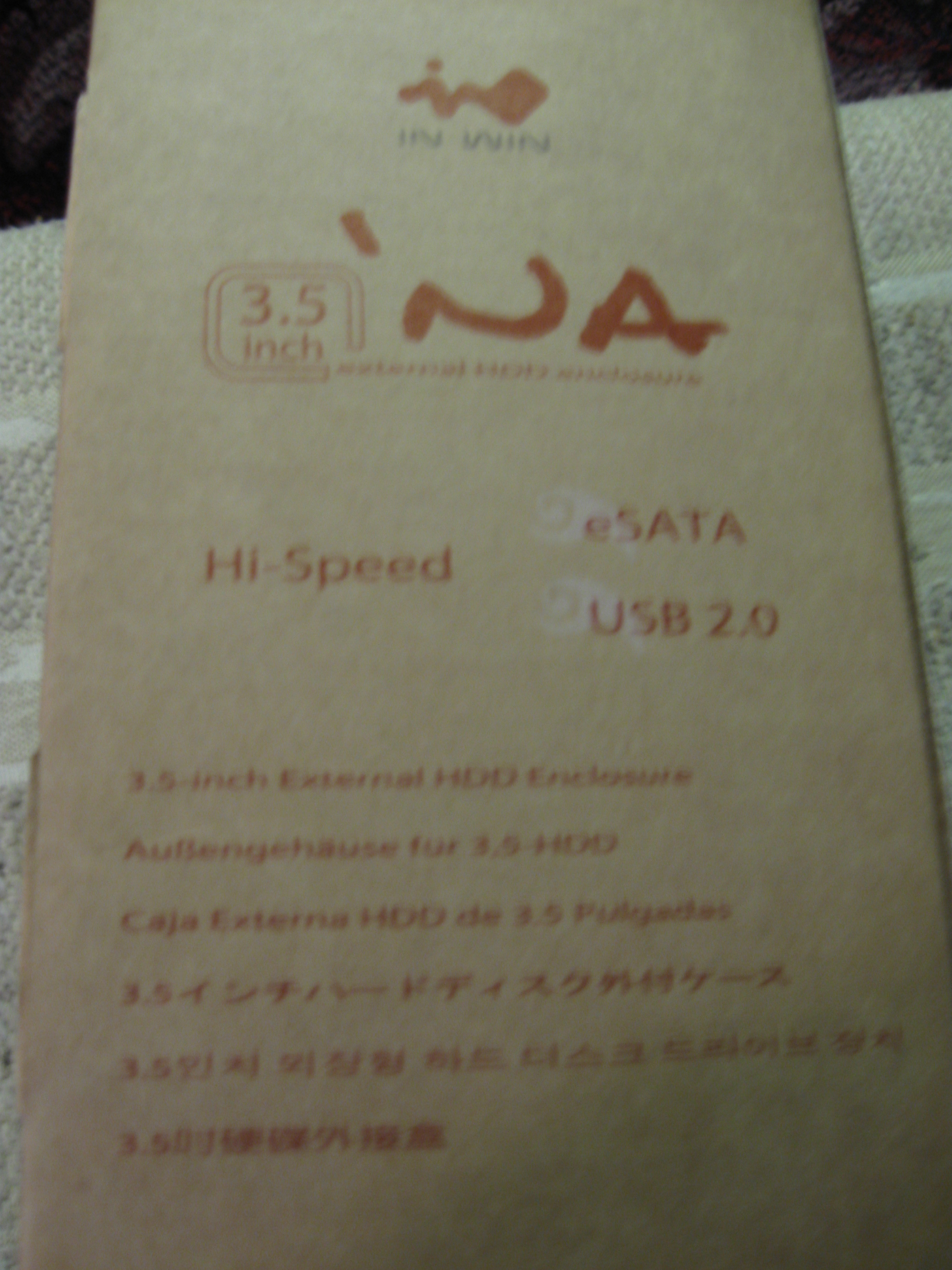 Here's the side of the box that tells you just a couple of the main features.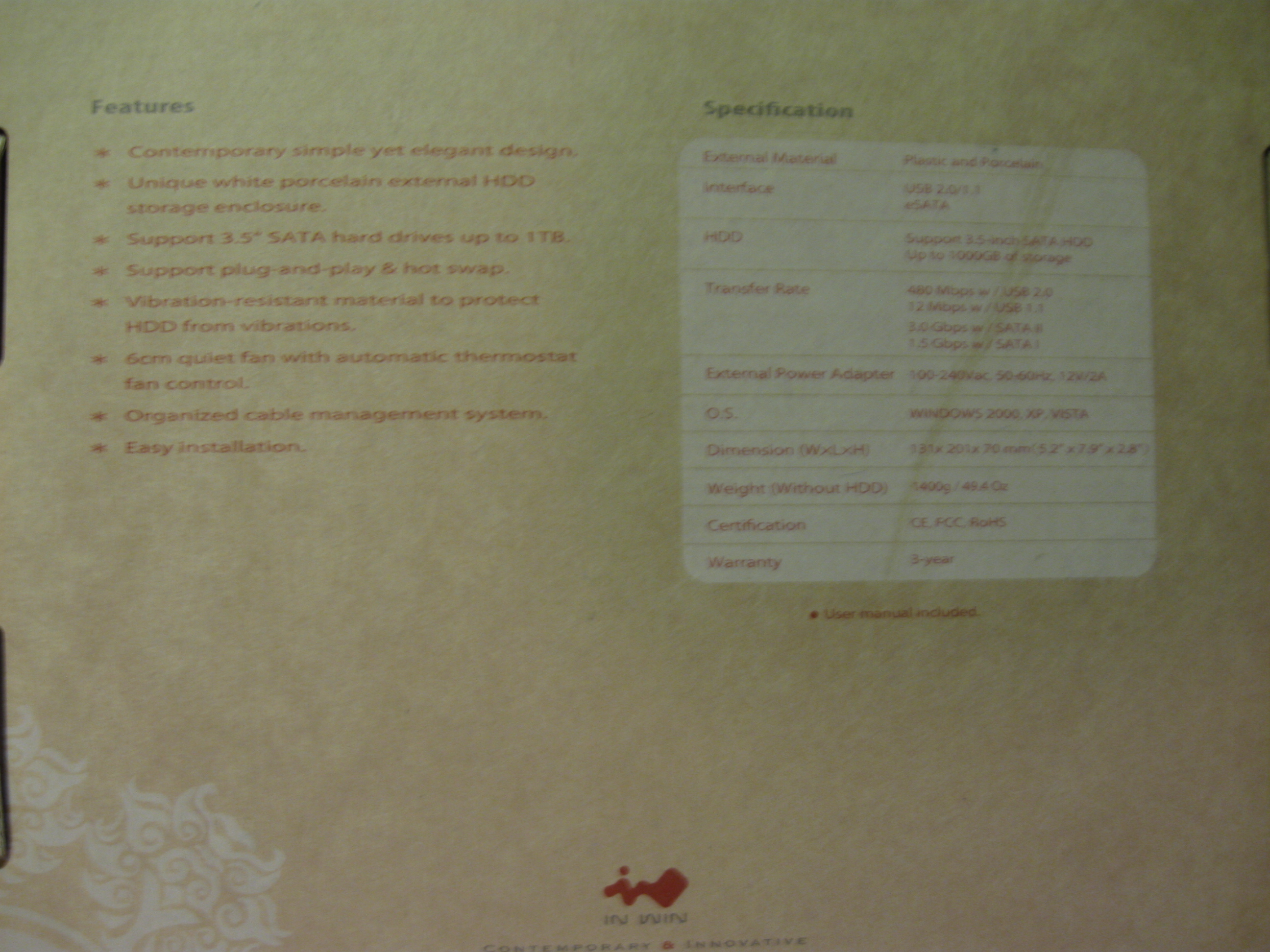 And finally, the back of the box. You see all the main features on the left side, and on the right are all the specifications.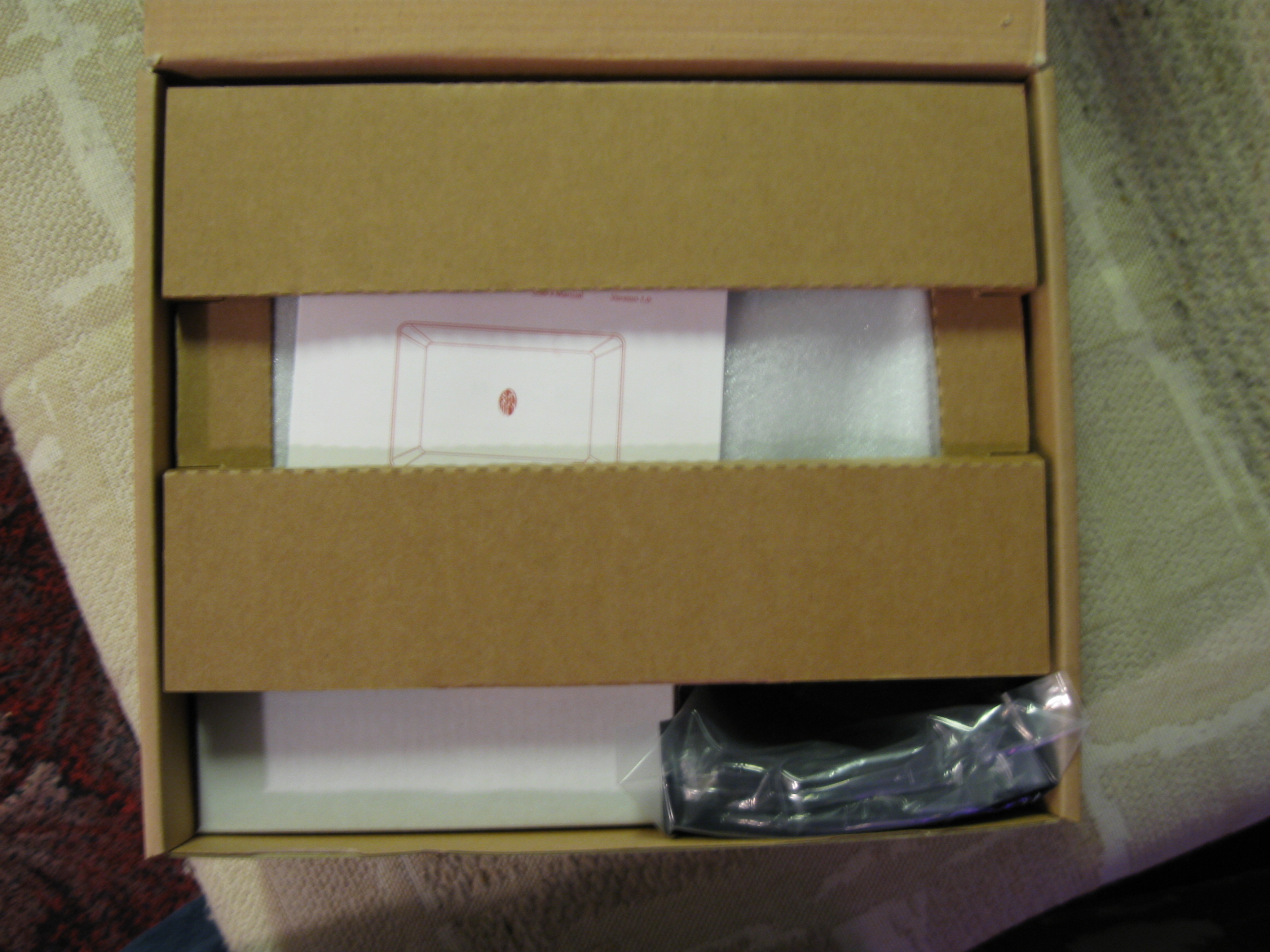 This is what we first saw when opening the box. Notice how the two cardboard pieces on top are spaced so that the enclosure doesn't move around too much.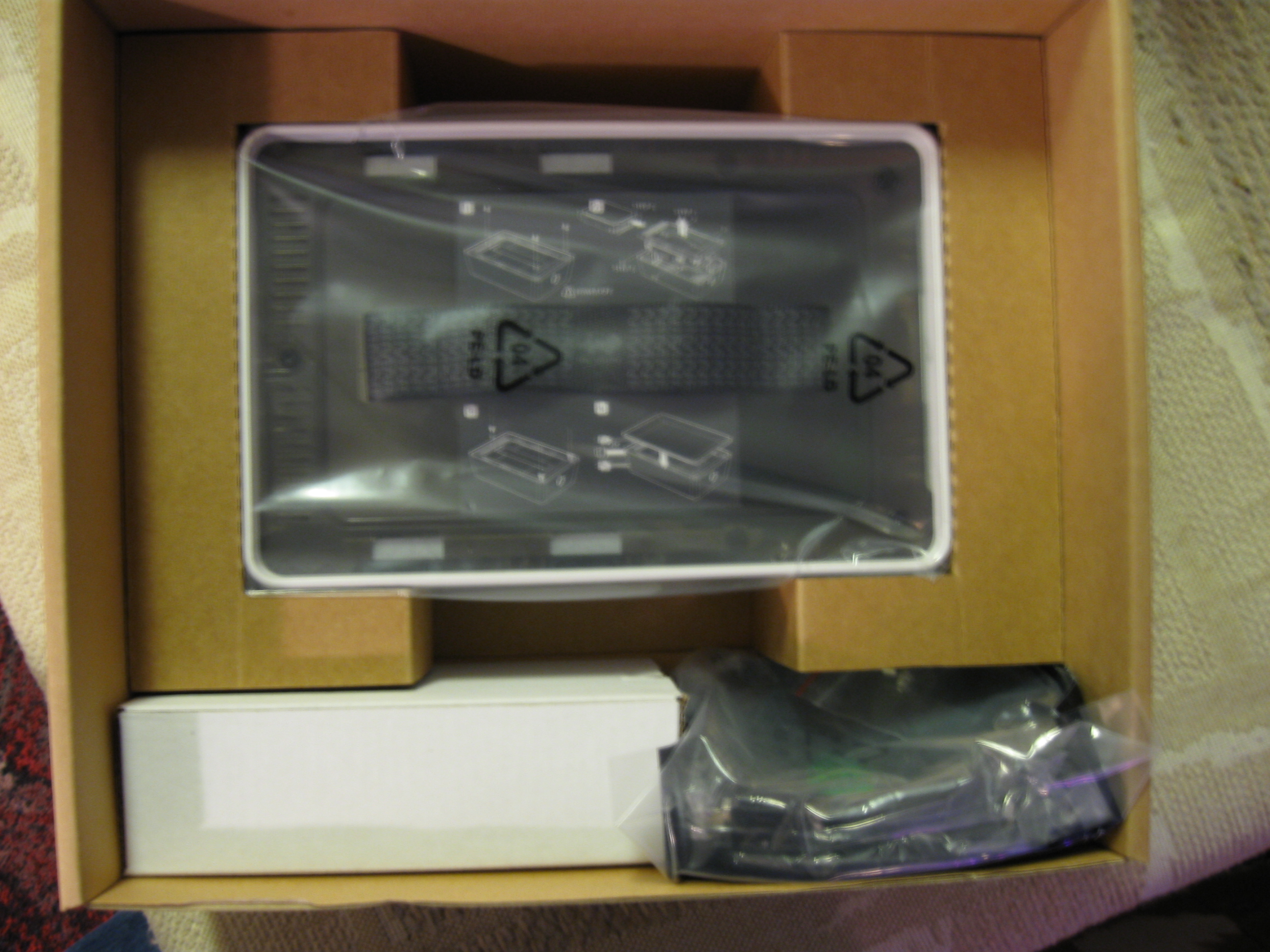 Here we have the open box with all the protective items removed.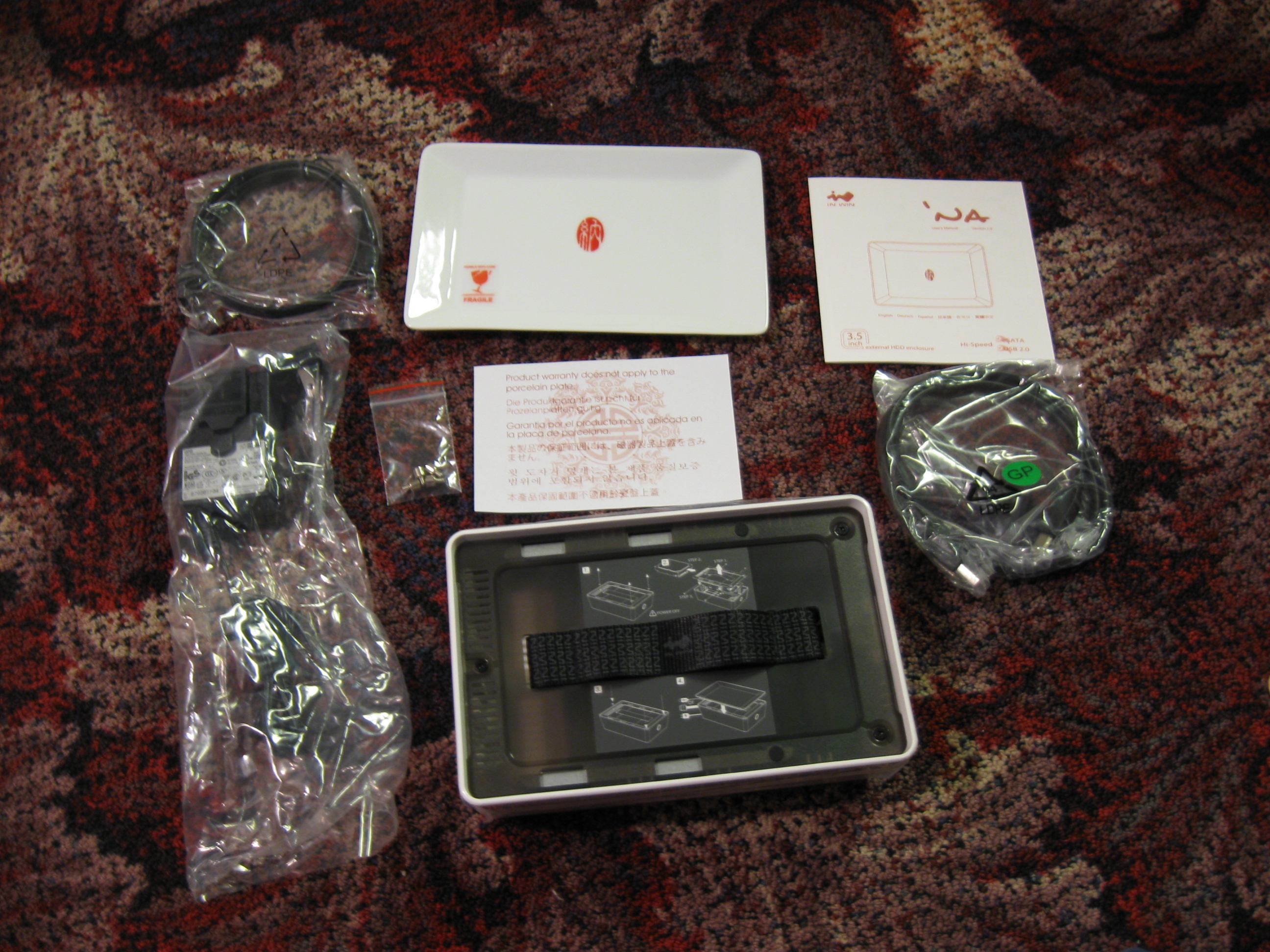 Here is everything that came with the Enclosure. At the top left is the eSata cable, to the left of that is the porcelain plate that goes on top of the enclosure which can be seen directly below it. On the bottom left is the universal power cord, to the right of that we have the included mounting screws and a warning saying that the porcelain plate is not covered by the manufacturer's warranty. The USB cable is on the left and the user manual is at the top right.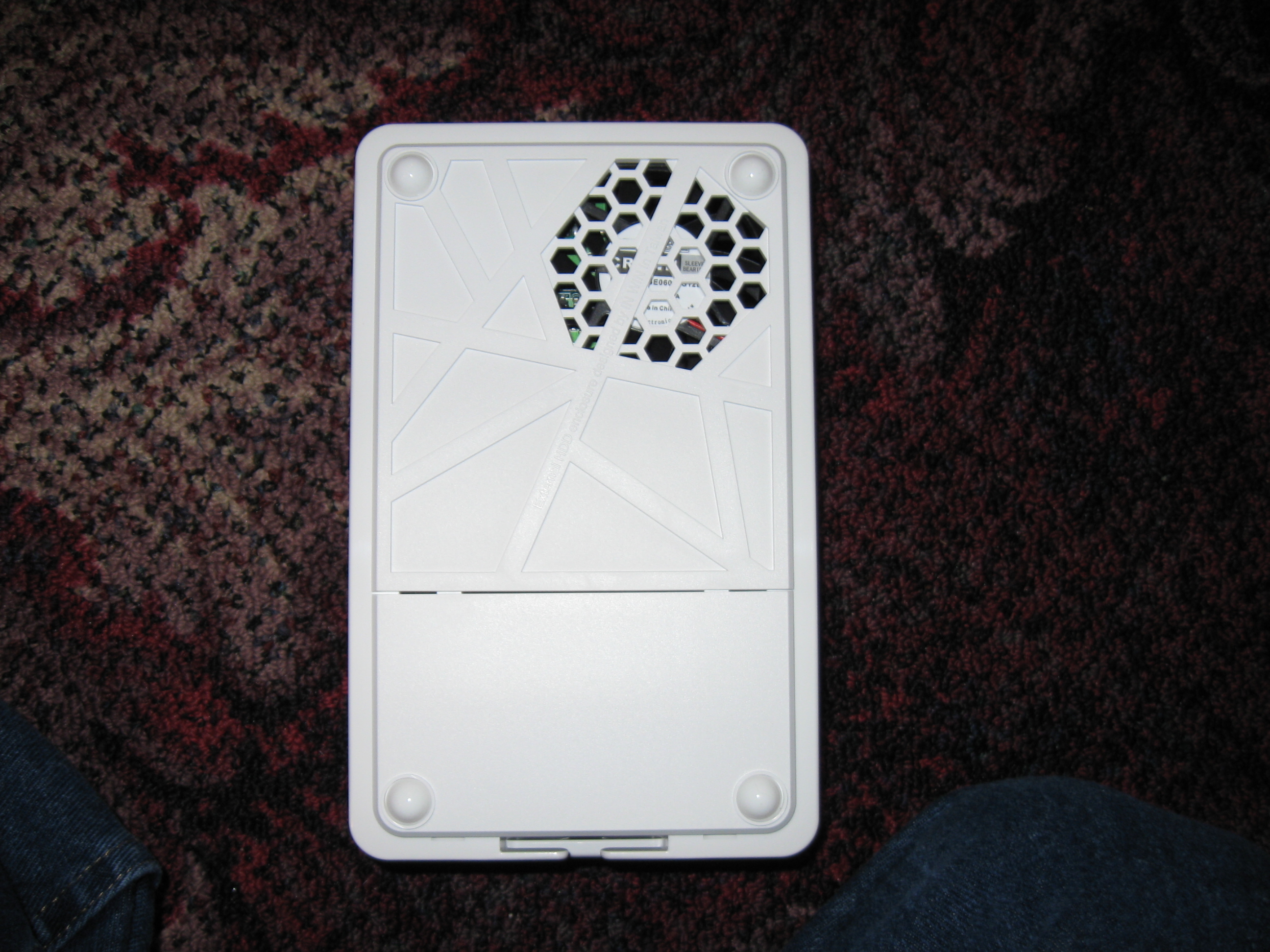 This is the bottom of the enclosure; at the top right is the temperature triggered fan. It only comes on at a set temperature and then turns off, making for a "green" cooling solution.
This is the enclosure all stripped down. The left plug-in is for power, middle for eSATA, and the right is for the USB cable. If you look immediately under those, you see the SATA plugins which are mounted on the device.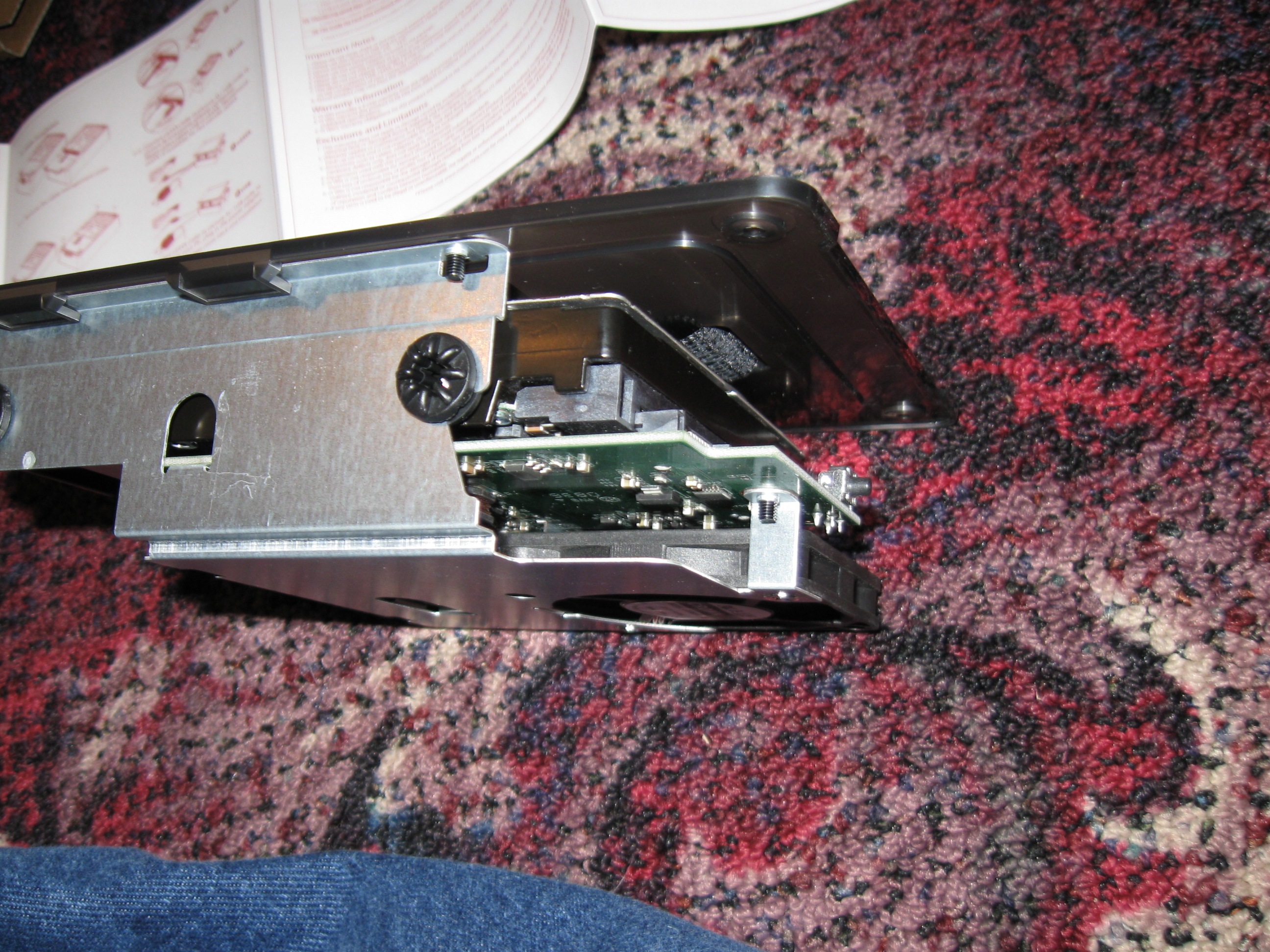 Here it is with the hard drive installed.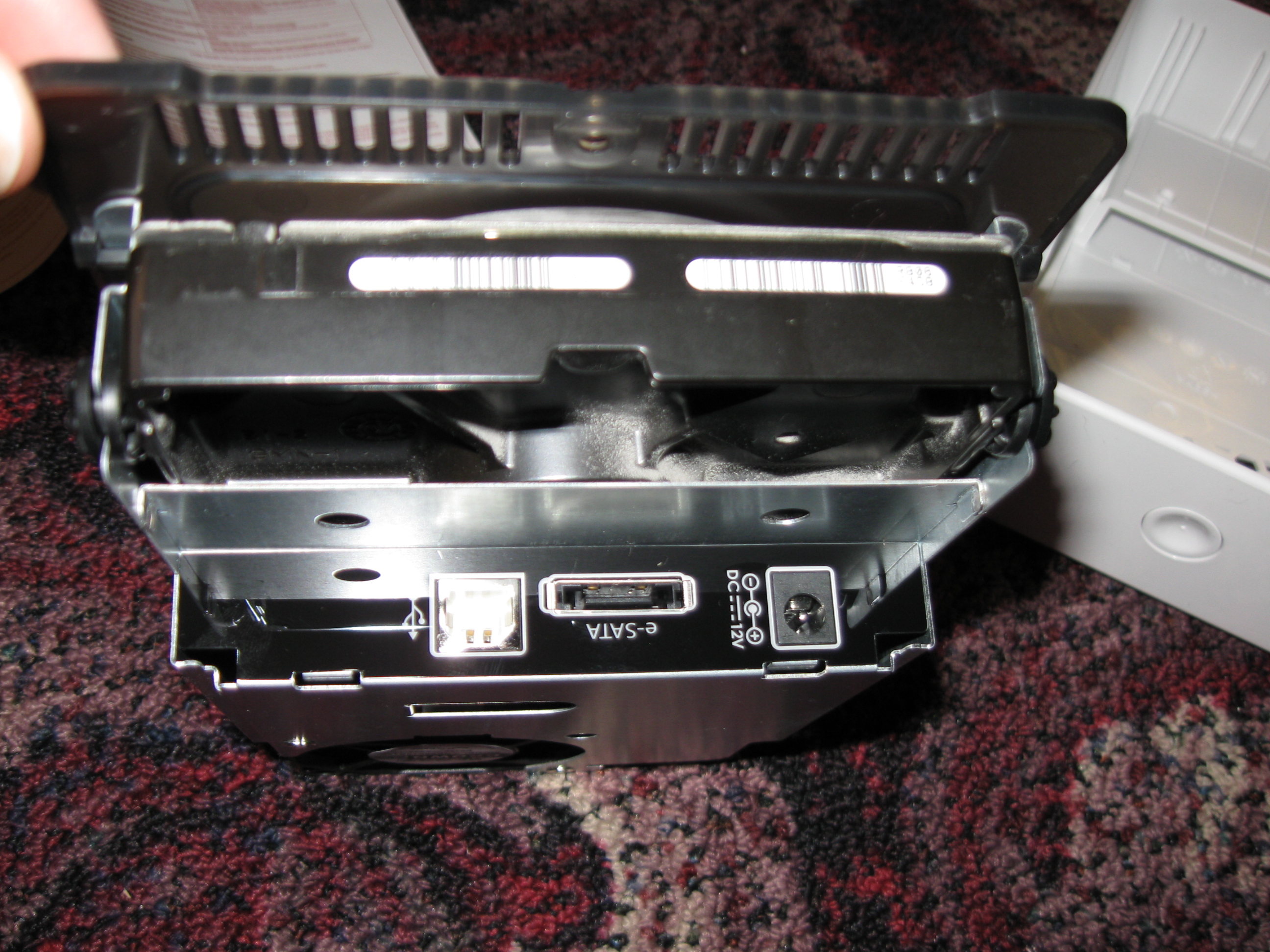 And another picture with the drive mounted and ready to let 'er rip!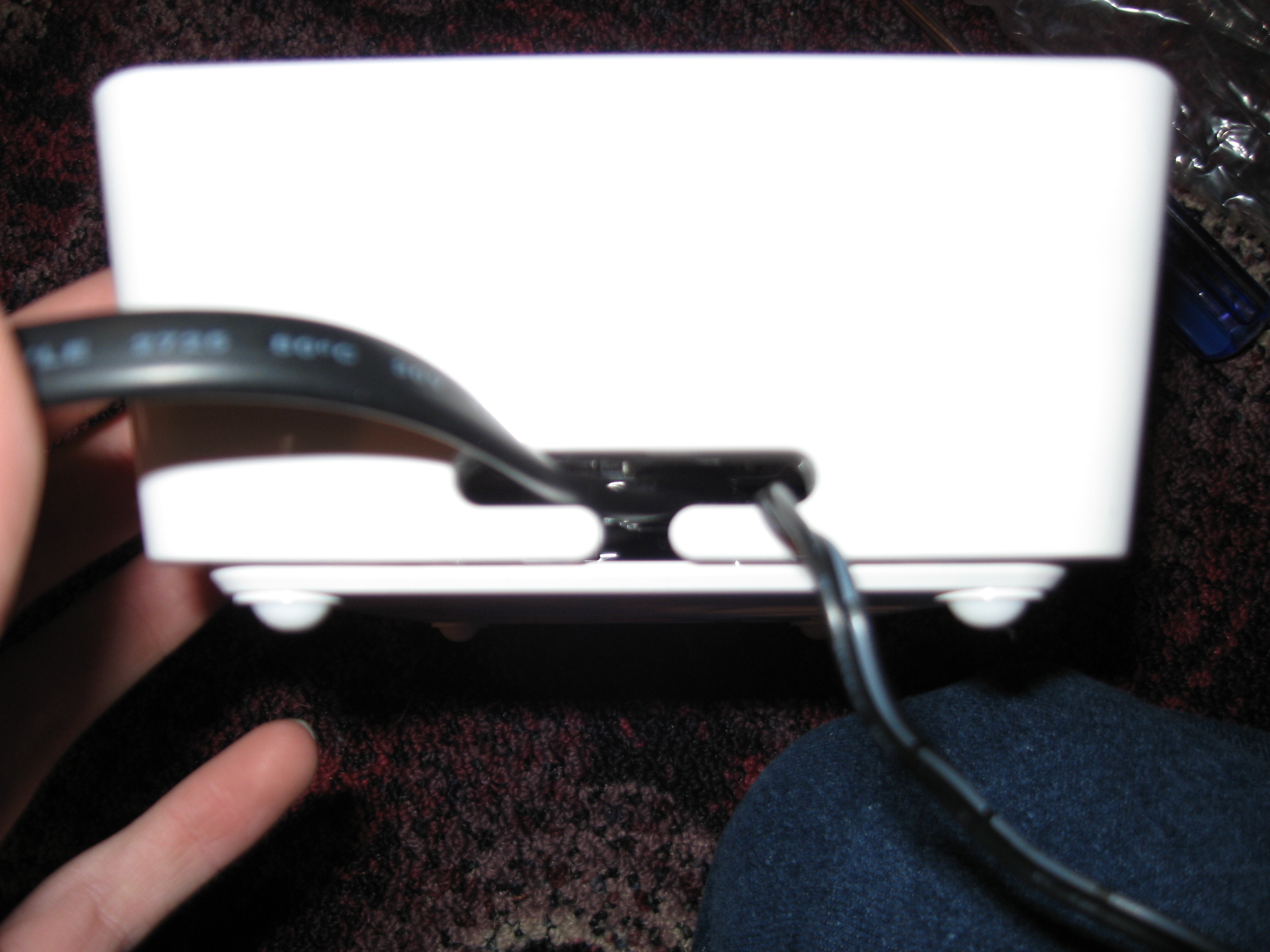 Everything has been put back together and the cables are plugged in.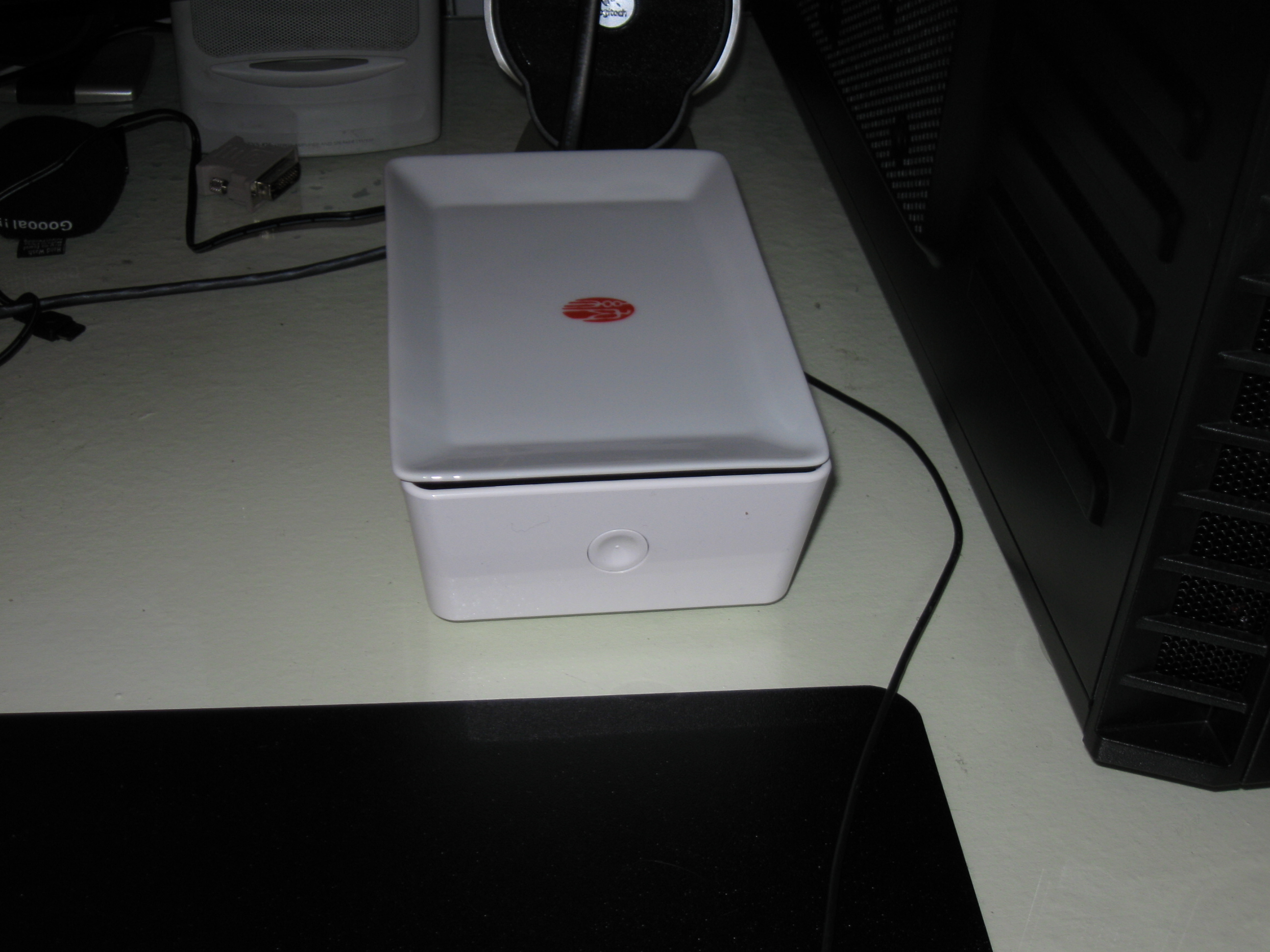 Here it is with everything put together and ready to be plugged in. Looks pretty snazzy, don't ya think?
So far, this external hard drive enclosure has very more than passed my expectations and I can't wait to see how this puppy performs. First, I'll list out the hardware that was used in testing and then we'll get to the results.
ECS X58B-A Black Series Motherboard
Core i7 920 Processor
3GB DDR3 Tri-Channel RAM Thermalright Ultra 120 Extreme CPU Cooler w/2 Fan mounted
XFX GTX280
OCZ 700W GameXStream PSU
Western Digital 640GB – Main Drive
Hitachi Deskstar 250GB – Used in the external enclosure
Super Writemaster DVD Drive
 
TESTING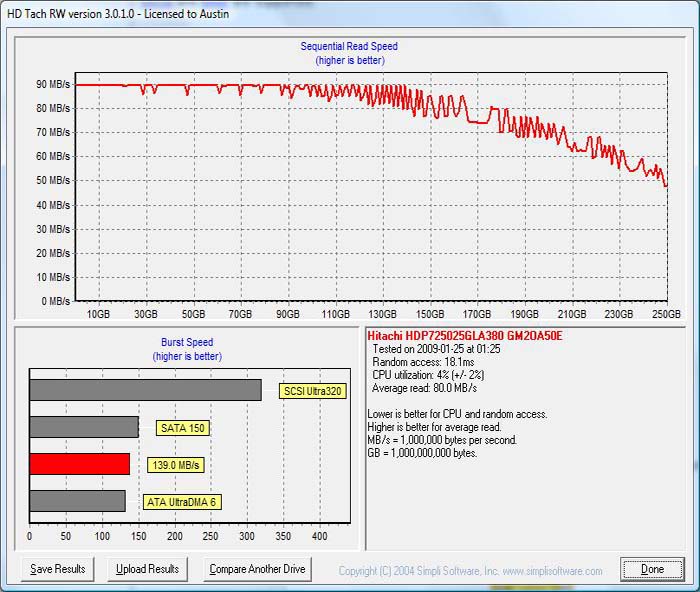 This is a great result from the enclosure. This is only 20MB/s lower than the drive performed when it was actually in the case.
CONCLUSION
In-Win has for sure hit the nail on head with this amazing product, and the price doesn't seem too bad either. It can be bought at $34.99 after rebate from the egg, and that seems like a reasonably low price to me.
The only thing I would love to see come with this is a tool free installation design. I understand that we may lose some build quality, and sturdiness, but really, who actually picks these things up and moves them on a daily basis?
I think In-Win was going for a more traditional Chinese appeal, and they accomplished this very well. I haven't seen very many, if any, products that look like this. The fact is that In-Win was thinking out side the box when designing this very good looking and well performing product.
Pros:
+  Looks amazing
+  Excellent cable management feature
+  Solid Construction & Extremely Sturdy
+  Silent Operation
+  Incredibly unique design
+  $34.99 after rebate sounds 100% reasonable to me


Cons:
–  Not a tool free design

As far as external hard drive enclosures are concerned, the In-Win 'Na has it made! From the temperature triggered fan to the great looks, this thing is for sure a one of a kind!
Final Score of 9.5 out of 10 and the Bjorn3D.com Golden Bear Award.