The MSI Eclipse is one of the most capable feature rich Intel X58 motherboards on the market. MSI really went above and beyond with the creation of the Eclipse, just how far above… Read on.
INTRODUCTION
The MSI Eclipse is one of the most capable and feature rich motherboards we've ever come across. When they designed the Eclipse they might as well have climbed a flagpole and screamed to the world this is our flagship motherboard. The Eclipse is not only well designed and implemented, it's also one of the few X58 boards out there capable of running three dual slot GPU's. Features like that don't come cheap, but if you have to have the best and need room for the Core i7 platform to grow on, the MSI Eclipse is one of the best choices you can make. Then, to close the deal they toss in a Creative X-FI soundcard instead of relying on an onboard sound chip. This is one motherboard you're going to want to see.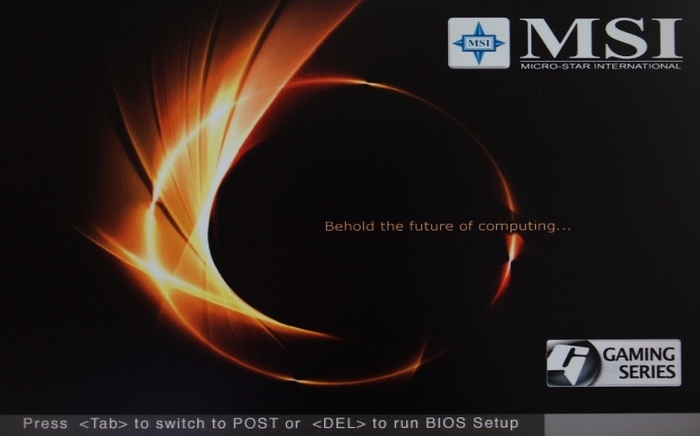 About MSI
Founded in August 1986, MSI has continued to uphold a business philosophy that stresses "Award-winning product quality and outstanding customer service." MSI specializes in the design and manufacture of mainboards, graphics card, add-on cards, servers/workstations, iPC, barebones, communication devices, CE products, Notebooks, and car PC products.
"Quality Products Create Faithful Customers" is a motto that guides all that we do at MSI. For this reason, MSI goes all out to be the best of the best in research and development. Currently, 2,500 experienced engineers staff our research and development department. This talented team carries out its work with the latest research equipment, continuing to raise the bar on product quality and innovative product features.
At MSI, we put our motto — "Quality Products Create Faithful Customers"–into living practice. In 1995 and 1996, we received ISO-9002 and ISO-9001 product quality certification, respectively. In 1999, MSI received ISO-14001 environmental certification, affirming our commitment to the environment. Furthermore, MSI products undergo rigorous quality control testing, attaining a 99.6% quality rate, a level far higher than the industry standard. MSI's superior product quality has garnered exceedingly favorable coverage from the global media, countless awards, and a very enthusiastic customer response.
In recent years, MSI has aggressively expanded into mainland China to meet the needs of our global customers. In the first quarter of 2001, the Baoan Plant in Shenzhen started production, vastly increasing MSI's production output as well as revenue. Aside from the Baoan Plant in Shenzhen, MSI has also established production facilities and a research and development center in Kunshan, China in 2003. The mainboard annual production is expected to reach 20.8 million units and the annual graphics card production is expected to reach 11.8 million units. Combined with the production from Taiwan, MSI is now becoming one of the biggest mainboard and graphics card manufacturers in the world.
To keep abreast of the global market and offer our customers the best service, speediest product delivery, as well as sales and technical support, MSI has established subsidiaries in mainland China, Czech Republic, Hong Kong, Japan, Korea, India, Taiwan, the U.S.A., Canada, Brazil, Germany, France, Australia, the Netherlands, Turkey, U.K., Russia, Ukraine, Serbia, and Poland.
To broaden our global market and to build a good image, we keep striving on marketing promotions, for example, posting advertisement on some reputed media, releasing news information, improving product box design, holding many promotion activities and attending all important PC exhibitions in the world. Apart from developing the mainboard, graphics card, server/workstation, and barebone, MSI has also introduced the communication, CE, Notebook, iPC, and car PC products to bridge the transition to the post-PC world. MSI adopts a diversified business model, and is transforming itself into a leader in the Consumer Electronics age.
Together, we are entering a greatly-accelerated world. Let MSI be the first to welcome you into this exciting new Digital Universe!
FEATURES & SPECIFICATIONS
MSI
Eclipse

CPU

Supports Intel® i7 LGA1366 package.

Chipset

• Intel® X58 Chipset

– Supports QPI up to 6.4GT/s

 

• Intel® ICH10R Chipset

– Hi-Speed USB (USB2.0) controller, 480Mb/sec, up to 12 ports.

– 6 SATAII ports with transfer rate up to 3Gb/s.

– PCI Master v2.3, I/O APIC.

– ACPI 2.0 compliant.

– Serial ATA RAID 0/1/5/10.

– Integrated AHCI controller

Main Memory

• Supports six unbuffered DIMM of 1.5 Volt DDR3 800/1066/1333/1600 SDRAM, 24GB Max

– Supports 1Gb/ 2Gb/ 4Gb DRAM size

– Supports x8 / x16 data lines per DIMM

– Supports up to 3 channel mode

Slots

3 PCI Express gen2 x16 slots

– two Black PCIE x16 slots (PCI_E2 &PCI_E4) support up to PCIE x16 speed, one Blue PCIE x16 slot(PCI_ E5) supports up to PCIE x4 speed

– supports ATI® Crossfire™, NVIDIA® SLI

• 2 Black PCI Express x1 slots

• 2 PCI slot, support 3.3V/ 5V PCI bus Interface

On-Board IDE/SATA

• One Ultra DMA 66/100/133 IDE controller integrated in JMicron® 363.

– Supports PIO, Bus Master operation modes.

– Can connect up to two Ultra ATA drives.

 

• SATAII controller integrated in ICH10R/JMicron® 322 / 362 chipset

– Up to 3Gb/s transfer speed.

– Supports six SATAII ports by ICH10R

– Supports four SATAII ports by JMicron 322, support SATA RAID 0/1/JBOD.

– Supports two eSATA ports by JMicron 362.

– Supports AHCI controller with SATA RAID 0/1/5/10 by ICH10R.

 

Audio

• Creative® SB X-Fi Xtreme H/W Audio Card (MS-4132)

– 24-bit / 96KHz audio quality

– 100dB SNR clarity

– Up to 7.1ch EAX 5.0 Surround Sound

LAN

• Supports two PCI Express LAN 10/100/1000 Fast Ethernet by Realtek 8111C.

EEE1394 / FireWire

• VIA® VT6308P chipset

– Supports up to two 1394 ports. (Rear panel x1, pinheader x1)

– Transfer rate is up to 400Mbps.

Internal I/O Connectors

– ATX 24-Pin power connector

– 8-pin ATX 12V power connector

– CPU / System x 5 FAN connectors

– CD-in connector

– Front panel audio connector

– Front panel connector

– 1 x chassis intrusion connector

– 1 x serial port pinheader

– 2 x USB 2.0 connectors

– 10 x Serial ATAII connectors

– 1 x ATA133 connector

– 1 x IEEE1394 connector support additional 1 port

– 1 x GreenPower Genie connector

– 1 x Reset Button

– 1 x Power Button

– 1 x SPDIF-out connector

– 1 x D-LED2 connector

– 1 x TPM module connector

Back Panel I/O Ports

– 1 x Clear CMOS button

– 1 x PS/2 Keyboard

– 1 x PS/2 Mouse

– 2 x eSATA ports

 

– 1 x IEEE1394 port

– 8 x USB 2.0 ports

– 2 x RJ45 LAN jacks

– 1 x 5 in 1 + Optical SPDIF out Audio Card
Overclocking Features
MSI X58 Eclipse

Setting
Range
Base Clock
133-400MHz in 1MHz increments
QPI
4.8GT/s (Core i7 920, 940), 6.4GT/second (965EE)
PCIe
100-200MHz in 1MHz increments
PCI
37.3, 42MHz
DRAM Multiplier
3x-8x
CPU Voltage
-0.32-0.625V in 0.01 or 0.0V increments
QPI Voltage
-0.32-+0.65V in 0.1-0.2v increments
DRAM Voltage
1.2-2.77V in 0.01V increments
CPU PLL Voltage
1-2.43V in 0.01-0.05V increments
IOH Voltage
0.75-1.73V in 0.01-0.05V increments
ICH Voltage
0.7-2.13V in 0.01-0.05V increments
DRAM Channel A-C CA ref Voltage
0.435-1.15V in 0.005-0.025v increments
DRAM Channel A-C DQ ref voltage
0.435-1.15V in 0.005-0.025v increments
Features We Liked
There's a lot to like about the MSI Eclipse, here's a short list of the things we found particularly interesting
DrMOS has integrated Driver IC, Top-MOSFET, Bottom-MOSFET
XpressCool DrMOS offers lower temperature when it is enabled
RapidBoost delivers the high quality power transfer to ensure a "Stable Overclocking Environment".
APS APS is Active Phase Switching, that is complete function to Control Power Demand With Switching Dynamically for the CPU, Memory and Chipset PWM.
Easy OC Switch A bank of DIP switches on the motherboard that lets you easily hardware OC the FSB
All Solid Capacitors for longer life and more stable overclocking
All Shielded Choke for lower power consumption and more stable overclocks
Hi-c CAP on PWM (Highly-conductive polymerized Capacitor)
M-Connectors Connect the front panel switches to the M-Connectors and easily connect and disconnect the entire front panel at once
ATI CrossfireX 3 GPU Crossfire capable (Spaced for 3 dual slot GPU's)
3-way SLI 3 GPU SLI capable (Spaced for 3 dual slot GPU's)
X-Fi Audio No onboard sound. Instead, enjoy an X-FI Creative SoundBlaster
Live Update Online Easy online updates, no searching for updated drivers
Live Update Right from the desktop as an alternative to Online Update
X58 NorthBridge Intel's own legendary X58 Northbridge
ICH10R Southbridge The best Southbridge we've seen to date
LGA-1366 CPU support Supports all current LGA 1366 Intel Core i7 CPU's
PICTURES & IMPRESSIONS
We have a lot of ground to cover on the MSI Eclipse. It's a feature rich board, so that's to be expected. We didn't expect it to be as feature rich as it turned out to be, so we'll try and cover most of the features, but don't be surprised if we happen to miss one or two.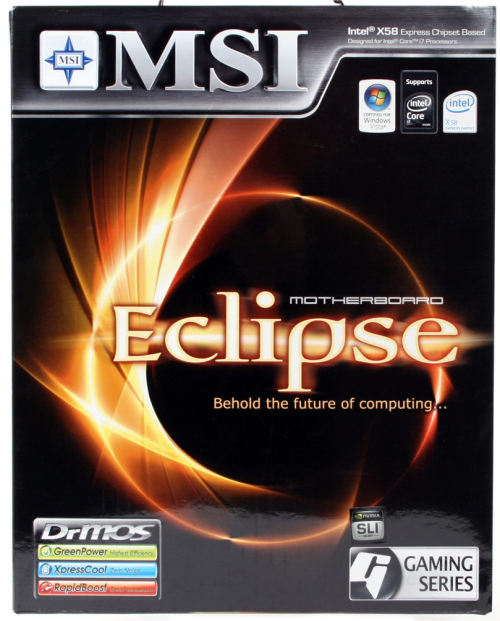 The front of the MSI Eclipse box is attractive and proclaims "Behold the future of computing", you can believe that with that proclamation we're going to put the board through the full test suite.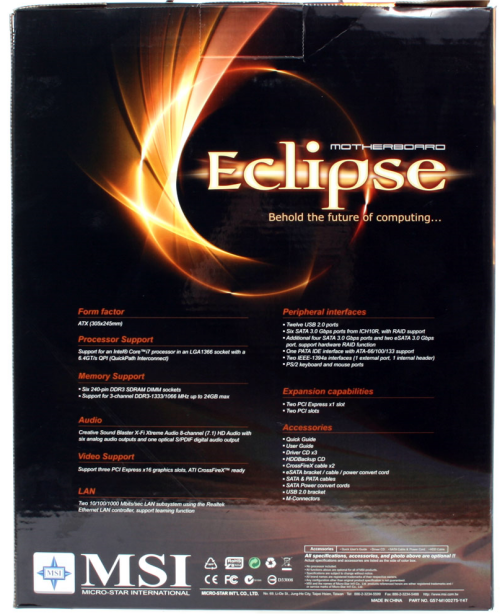 The back of the box shows enough features and specifications to help inform the consumer about its purchase.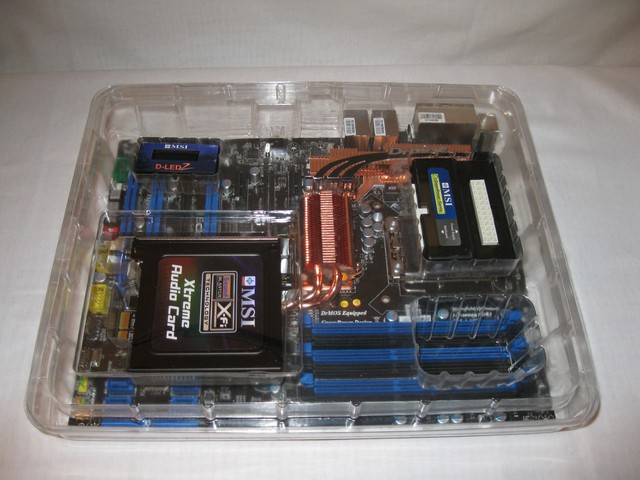 Inside the box in a plastic clamshell you'll find the Eclipse Motherboard securely protected against any mishandling during shipping.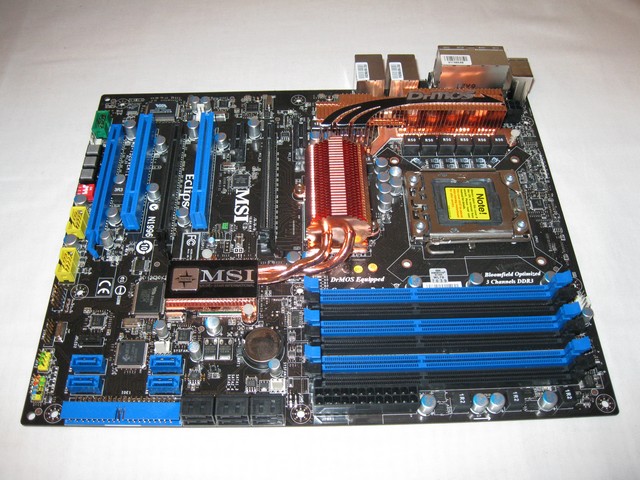 Then finally, when you get past all the layers of protection you'll get to the board itself. We'll get a little more in depth as we go along, but notice the ten SATA connectors onboard. Yeah, we told you flagship board. Being X58 and a premium board, you'll find six RAM slots, so if you want to migrate to 12 GB of Tri Channel RAM, you're covered. The battery placement on most of the X58 board leaves a little to be desired and it's obstructed by full length video cards, but since the board has a clear CMOS button it's no big deal. In general and overall, we found the layout of the board very well thought out and well implemented, and there were no connectors we couldn't get to and most of those were easy to access. Only a few required any semblance of being a contortionist to access, which is unusual. On a lot of boards we've dealt with of late, you need to be a double jointed contortionist to access the board's connectors.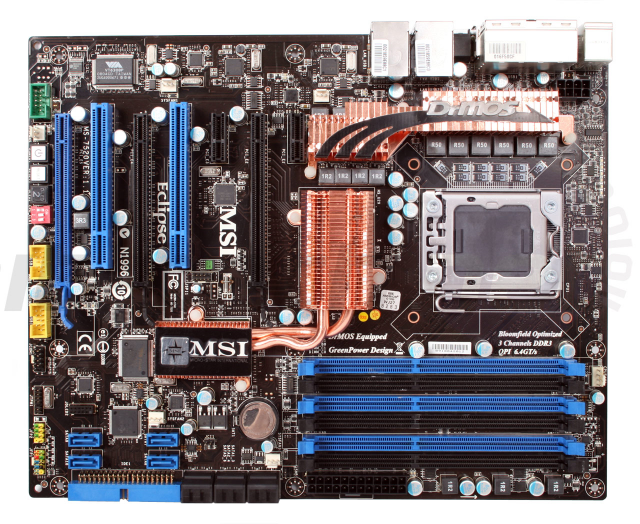 Click To Enlarge Pictures
If you'd like a larger shot of the top down view click on the picture above and you'll get a huge 1024×768 image to gander at. Notice the high-end SB cooler and the heatpipe connection to the NB/IOH chip and the extension to the mosfet area of the board. With all that cooling capacity on one board, it's unlikely you'll need more than a fan over the area to do some nice overclocking.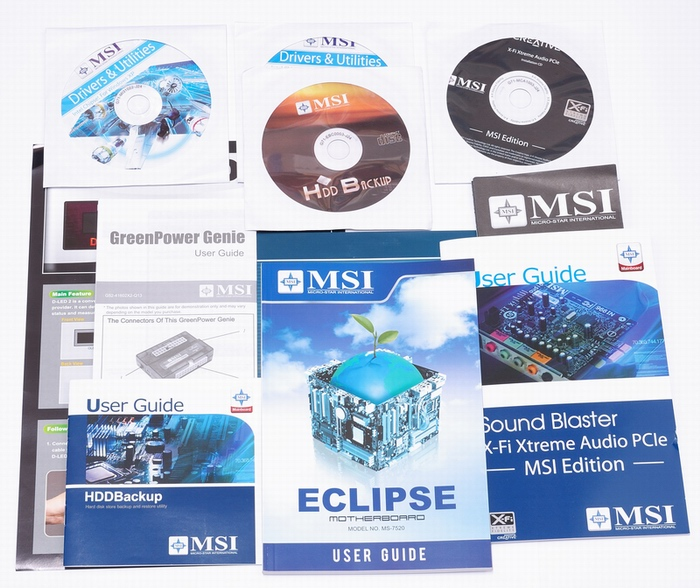 The bundle is so generous on the MSI Eclipse we had to break it into two pictures so bear with us on this one.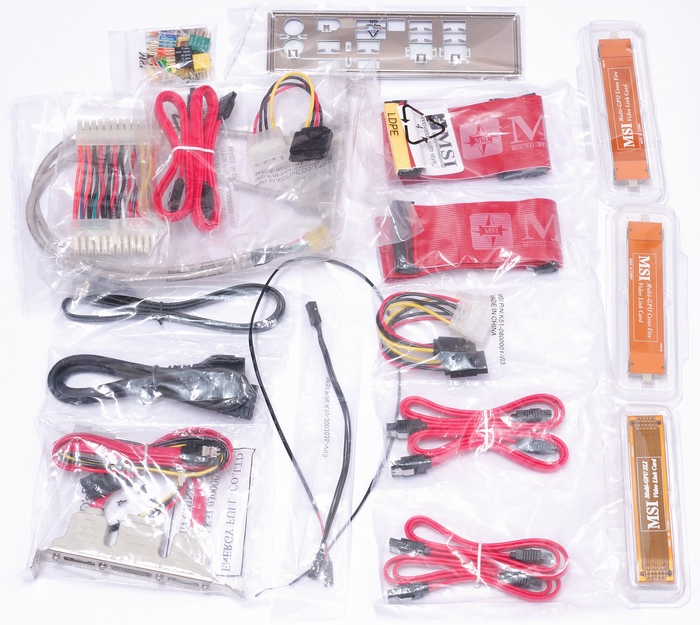 In the box with the MSI Eclipse you'll find a bundle the likes of which we've never seen. It's the best bundle we've ever seen with a motherboard and likely to remain so for some time to come. If you like extras with your board, this is the board for you. The bundle includes:
Six SATA cables
eSATA to SATA cable
PCI bracket with two USB 2.0 ports
PCI Bracket with two SATA to two eSATA connectors, plus Molex power adapter
Molex to eSATA power connector
Metal rear I/O shield
Molex to two SATA power connector
IDE and floppy cables
Nvidia SLI bridge
Two ATI CrossFire bridges
MSI extras disc, driver discs for XP and Vista, and a Creative X-Fi driver disc
MSI quick install guide, quick guide, Eclipse manual, HDD Backup manual, X-Fi Xtreme Audio manual, GreenPower Genie guide and D-LED 2 guide
MSI GreenPower Genie
MSI D-LED 2
Creative X-Fi Xtreme Audio soundcard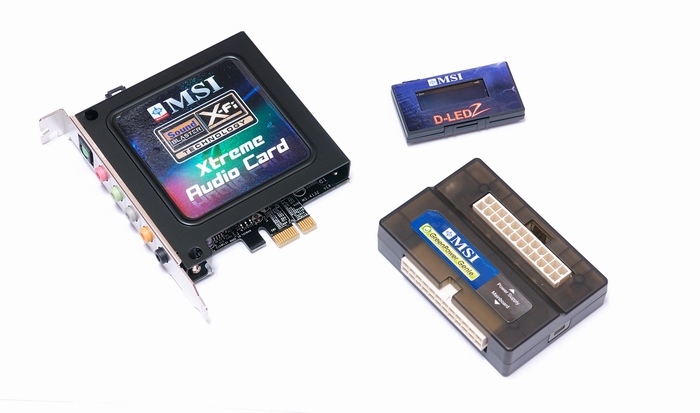 Most significant in the bundle you'll find a Creative X-FI Xtreme Audio card, which is an extremely nice addition to the value added bundle, a D-LED which looks good in theory but is easily obscured from sight if you install multiple GPU's. On an enthusiast board like this you can almost expect the end user to go Multiple GPU, so it would have been nice to have an extender cable to position the D-LED in an easy to see spot. Then lastly, the Green Genie which goes in between the motherboard power connector and mainboard power connector. We'll have a little more on that later.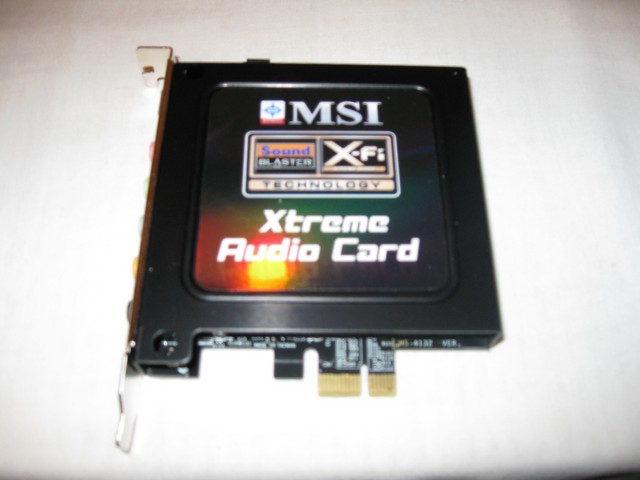 Seeing an X-FI Extreme Audio Card in the bundle is enough to make the most hardened enthusiast smile. It's a welcome addition to the bundle because while onboard sound is pretty good these days, it's not as good as a dedicated high quality sound card like the X-FI Extreme Audio.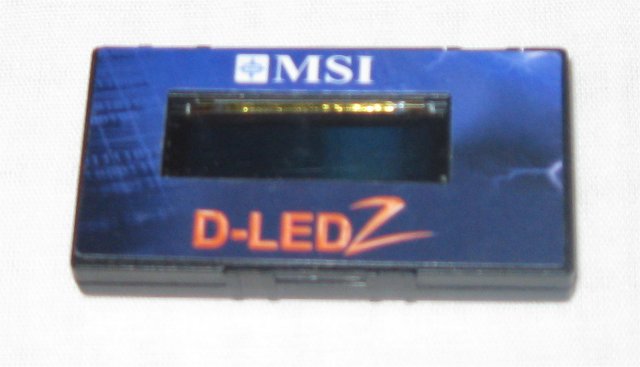 Here's a close-up of the D-LED which, among other things, passes boot diagnostic data if you have a problem getting the board setup and will help diagnose any boot problems you might run into.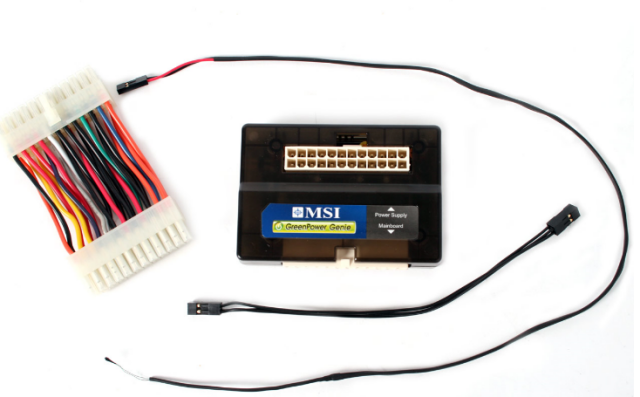 The Green Genie is used for system power monitoring and energy savings and includes a thermal probe. Like we mentioned, this is a noteworthy and flagship quality board. The little extras make a premium board worth the extra money, in our opinion, and if you've never enjoyed a premium board, you should spring for one at least once, just to see what it feels like (Warning, premium boards may be addictive).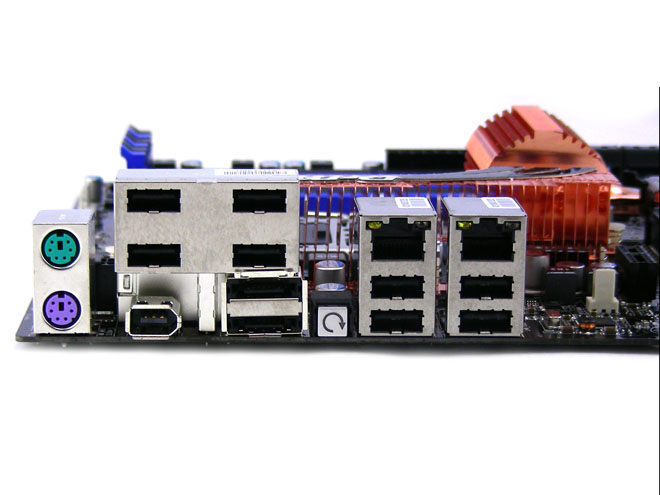 The back panel on the MSI Eclipse looks a little strange without a built in sound port. Some people don't like the over sized USB connector block, but we love it. Larger devices can be plugged in without blocking other ports. If you do any overclocking of a serious nature you'll find the Clear CMOS button on the back panel a little hard to get to if you've got the board installed in a chassis, so you might want to leave the chassis away from the wall until you get your overclock done. The Reset CMOS button is back lit so it's not hard to find, but reaching around behind a running chassis and groping for a button can be a little stressful.
Rear I/O
The MSI Eclipse SLI rear I/O Supports
Eight USB 2.0 ports
Two eSATA ports
One 6-pin Firewire port
PS2 keyboard and mouse
Two RJ45 Ethernet connectors
Backlit Clear CMOS button
PICTURES & IMPRESSIONS CONTINUED
The MSI Eclipse has so many features and is such a photogenic board we couldn't stop with just one page.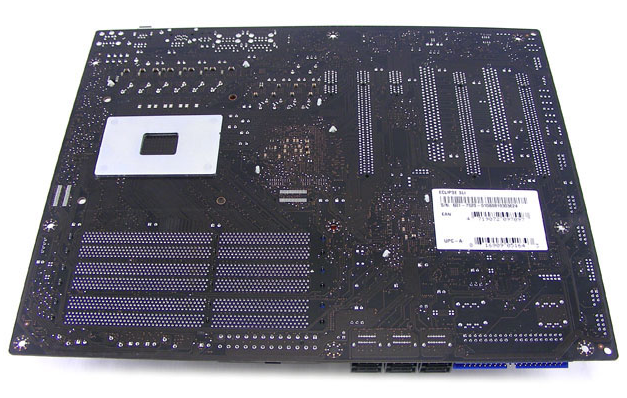 The back of the board is fairly unremarkable except for the metal backplate, which we were glad to see. The sticker on the back also has your serial number on it. It might not be the best place for it, but if you need the serial number after tossing the box in the trash it will come in handy (For RMA purposes).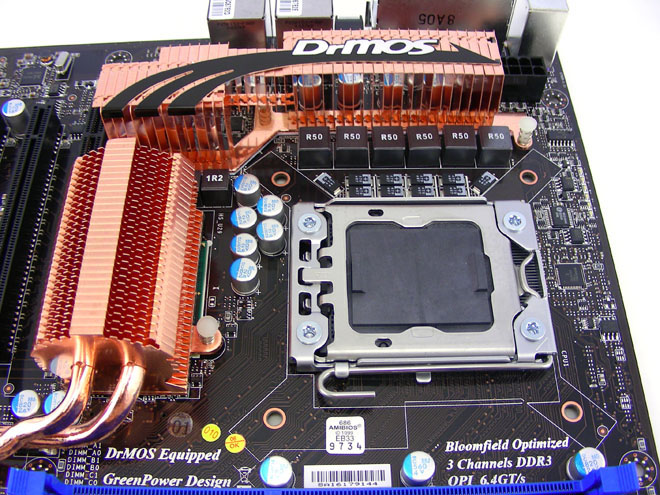 After a plethora of unusual copper heatpipe designs, which are great for eye candy, we're glad to see that on the Eclipse they've returned to a more traditional design that is able to accommodate most modern CPU coolers.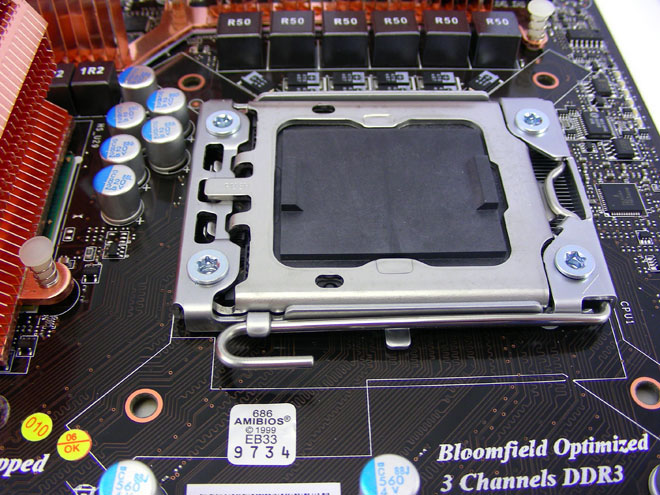 In this close-up of the CPU area you get a good look at the ferrite chokes and solid Japanese capacitors. It's also one of the cleanest layouts for a CPU area we've seen in a while.
There on the left edge of the board toward the top you can see the Power, Reset, and reset CMOS buttons that we (reviewers) love so much. It really simplifies overclocking if you have onboard buttons instead of having to short pins.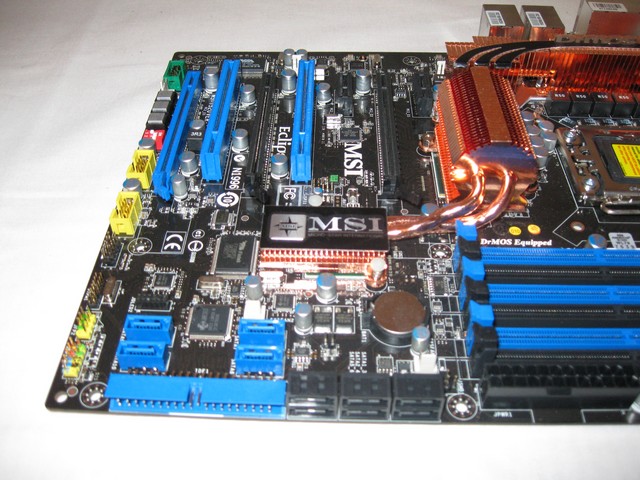 There's a little better look at the SATA ports and a glimpse of the front panel connectors. You can see that the board is spaced for Triple Dual Slot GPU's, but if you go triple card the last card will overhang the left edge of the board and that's where all the connectors are.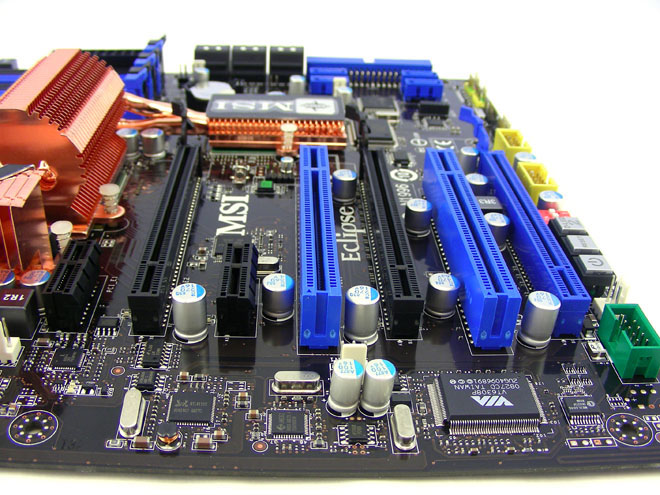 Here's a shot of the PCI and PCI-E layout, two PCI-E 1x slots, 3 PCI-e 16x slots, and 2 PCI Slots.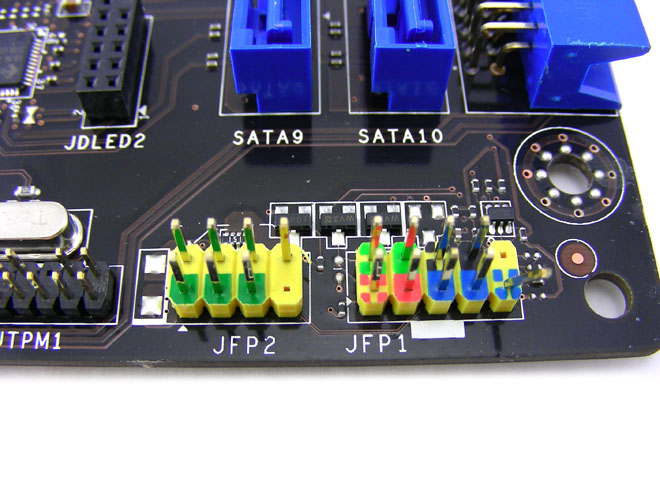 Then, we'll leave the pictures section with a look at the front panel connector area. The M-Connector is marked for all the connections but we'd really like to see the connectors marked on the motherboard itself. If you're like us, it's not always easy to find the book so you can connect the front panel.
Interesting Stuff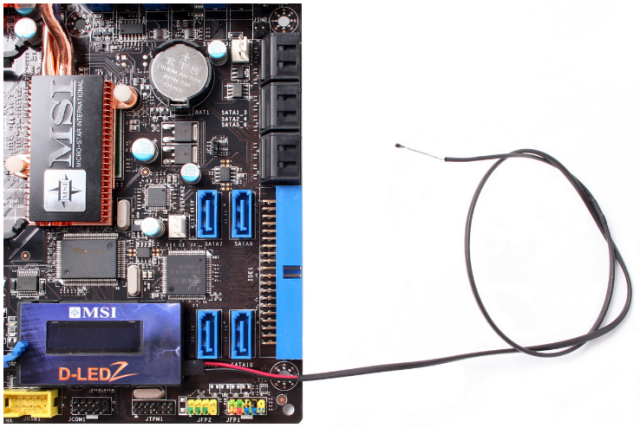 We find the inclusion of a thermal probe quite refreshing, especially a thermal probe that can be held against any chip on the board and report the temperature. While we have access to an IR temperature probe, a lot of people don't. With this probe you can easily check the effectiveness of changing your chassis cooling system and any adjustments you want to try.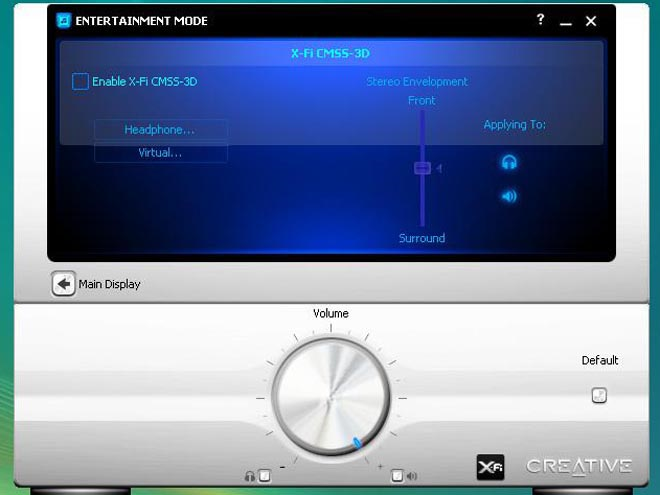 As part of the X-FI Xtreme Audio that is bundled with the board you get an audio control panel that is second to none. We found it easy to adjust and control our favorite audio functions right from the icon on the task bar. We didn't notice any significant overhead when we loaded and unloaded the utility.
From this panel you can go into all the sub-menus and change any aspect of your sound setup that you like. We have to tell you that the sound we got from the X-FI was far superior to onboard sound from any board we've seen. We're really liking the Eclipse for it's great overclocking, triple GPU capabilities, and sound qualities. With the MSI Eclipse the possibilities for your rig are almost endless.

Then last but far from least, freedom from the Windows Media Player and Windows Media Center which we find a little much for just playing our favorite tunes. While the Windows utilities work fine on the Eclipse/X-FI combination, it was faster and a lot easier to just let the Creative X-FI utility handle it and it didn't take near the system resources that the Media Center does to use the Creative Media Source player. Score one for Creative and MSI in their partnership in the Eclipse.
BIOS
The BIOS on the MSI Eclipse is so large that we can't cover it all in this format. We counted a total of 42 screens and subscreens and the BIOS page would be about 30 feet long if we tried to cover it all. That forces us to get creative with it to bring you as much meaningful content as possible. First, get out a box of Crayola Crayons and follow these drawing directions carefully. Now that would be fun wouldn't it?
We're going to give you the Cell Menu (Overclocking) BIOS screens, then do thumbnails for you to check out for the balance of the BIOS screens.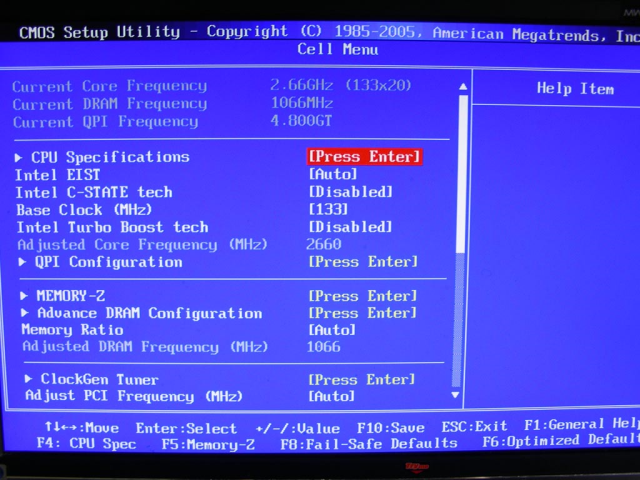 Once you've got the thermal controls for the CPU set the way you want, the Cell Menu is where you will do the bulk of your overclocking.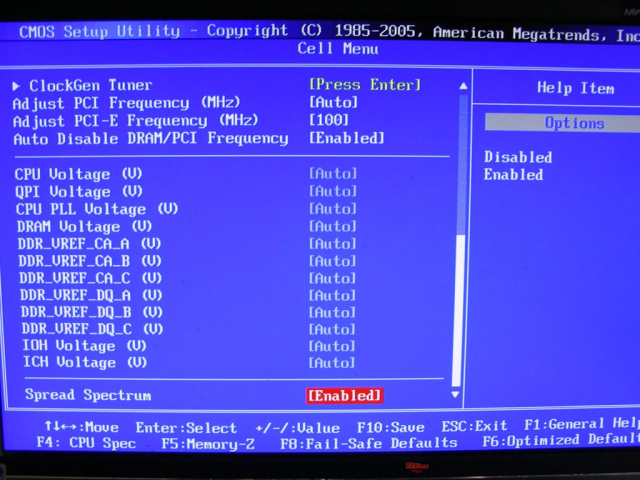 This is just the second part of the Cell Menu screen and mainly deals with voltages for the CPU and other onboard devices.
Any of the images below this point, on this page may be clicked to enlarge them.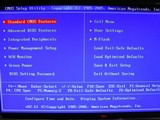 First BIOS Screen
When you load into BIOS this is the first screen you get and it leads you to all the sub screens.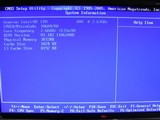 System Information
The System information screen gives you the general information about your rig.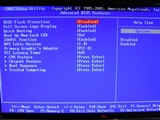 Advanced BIOS Features
The Advanced BIOS Screen lets you change different things like BIOS Flash Protection.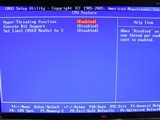 CPU Features
The CPU Features area is the setting for the CPU, most notably Hyperthreading enable/disable.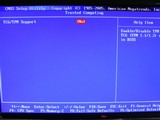 Trusted Computing
Turn on or off the Trusted Platform Module Chip if you've chosen to get the chip. It's not included in the basic package.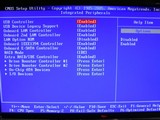 Integrated Peripherals
Change the Integrated Peripherals setting for the rig.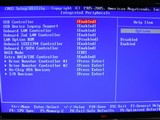 Integrated Peripherals Screen 2
More Integrated Peripherals settings.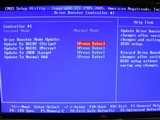 Drive Controller Booster
If two identical drives are connected to the right or left sets of Blue SATA ports, you can use this screen to easily set up RAID 0 or RAID 1 arrays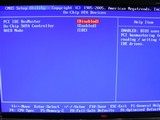 On Chip ATA Devices
Controls the behavior of legacy IDE Devices.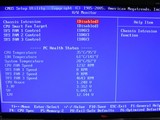 Hardware Monitor
Keeps track of your hardware's current status and temperatures.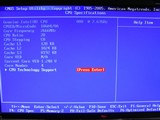 CPU Specifications
CPU Technology Menu Subscreen entrance.
MemoryZ
Gives you the SPD settings for your memory much like CPU-Z.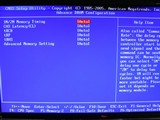 Advanced Memory
Advanced Memory Settings Screen.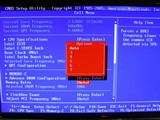 Memory Dividers
Here's where you set the memory dividers to reduce or increase memory speeds.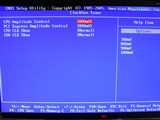 ClockGen Tuner
Fine Tuning for the chipset voltages.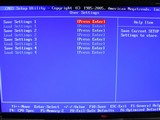 User Settings
Save your Overclocking profiles here.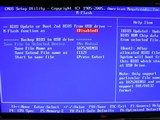 M-Flash
Built in BIOS Flashing Utility. Use care. We didn't try it and we've heard good and bad things about M-Flash.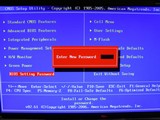 BIOS Password
Set the password to protect against BIOS intrusion.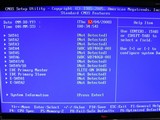 Standard CMOS Settings
The usual Standard CMOS settings screen.
TESTING & METHODOLOGY
To test the Eclipse we did a fresh load of Vista 64 bit and installed all the latest drivers and BIOS for the motherboard. Then we updated Vista with all the hotfixes and patches and installed the newest version of  the graphics driver for the BFG GTX-260 Core 216. Once we had all the software and firmware updated we cloned to drive to protect against any little overclocking accidents we might have. Each test was run three times and the average of the three run test is reported here.
Test Rig
Test Rig
"Quadzilla"
Case Type
Top Deck Testing Station
CPU
Intel Core I7 965 Extreme (3.74 GHz 1.2975 Vcore)
Motherboard
MSI Eclipse
Ram
Corsair Dominator DDR3 1866 (9-9-9-24 1.65v) 6 GB Kit
CPU Cooler
Thermalright Ultra 120 RT (Dual 120mm Fans)
Hard Drives
Patriot 128 GB SSD
Optical
Sony DVD R/W
GPU Tested
BFG GTX-260 MaxCore
Drivers for Nvidia GPU's 181.20
Case Fans
120mm Fan cooling the mosfet CPU area
Docking Stations
Thermaltake VION
Testing PSU
Thermaltake Toughpower 1200 Watt
Legacy
Floppy
Mouse
Razer Lachesis
Keyboard
Razer Lycosa
Gaming Ear Buds

Razer Moray
Speakers
Logitech Dolby 5.1
Any Attempt Copy This System Configuration May Lead to Bankruptcy
 Testing Suite
There's really no one test that will run a system and give a good indication of how it runs. It's necessary to test the CPU, GPU(s), Memory, and Hard Drives. We run a suite of tests that we feel is representative of the system's performance in its entirety. We'll draw our conclusions from the results of the tests and the overclocking capabilities of each board. With overclocker boards, a significant amount of the evaluation must be subjective and derived from the experience of the person using it. After weighing in the numbers, overclocking capabilities, and hands-on experience, we'll have a pretty good idea of the capabilities of each board.
Synthetic Benchmarks
3D Mark Vantage v. 1.01
3D Mark06 v. 1.1.0
SiSoft SANDRA XII Professional SP2
Everst Ultimate Edition v. 4.50.1330
SuperPi Mod 1.5XS
Cinebench R10 64 bit
WinRar v. 3.71
3DMARK06 V. 1.1.0
3DMark06 developed by Futuremark, is a synthetic benchmark used for universal testing of all graphics solutions. 3DMark06 features HDR rendering, complex HDR post processing, dynamic soft shadows for all objects, water shader with HDR refraction, HDR reflection, depth fog and Gerstner wave functions, realistic sky model with cloud blending, and approximately 5.4 million triangles and 8.8 million vertices; to name just a few. The measurement unit "3DMark" is intended to give a normalized mean for comparing different GPU/VPUs. It has been accepted as both a standard and a mandatory benchmark throughout the gaming world for measuring performance.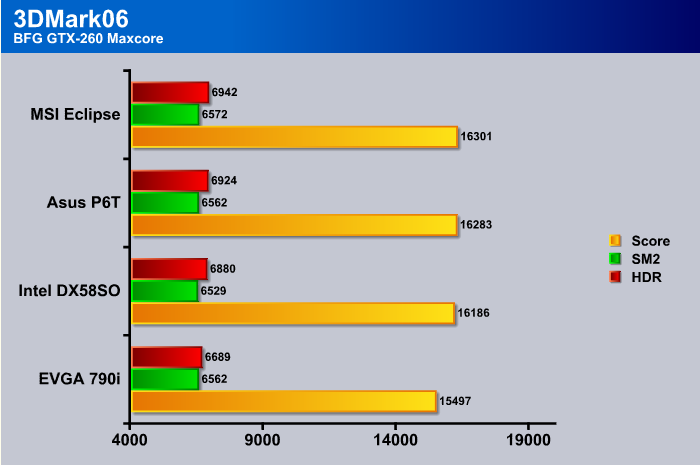 Like most of the X58 boards we've tested, the scores come in pretty close together with all the hardware kept the same on each test. You have to give credit where credit is due though, the MSI Eclipse came out in the lead.
3DMark Vantage
The newest video benchmark from the gang at Futuremark. This utility is still a synthetic benchmark, but one that more closely reflects real world gaming performance. While it is not a perfect replacement for actual game benchmarks, it has its uses. We tested our cards at the 'Performance' setting.
Currently, there is a lot of controversy surrounding NVIDIA's use of a PhysX driver for its 9800 GTX and GTX 200 series cards, thereby putting the ATI brand at a disadvantage. Whereby installing the PyhsX driver, 3DMark Vantage uses the GPU to perform PhysX calculations during a CPU test, and this is where things get a bit gray. If you look at the Driver Approval Policy for 3DMark Vantage it states; "Based on the specification and design of the CPU tests, GPU make, type or driver version may not have a significant effect on the results of either of the CPU tests as indicated in Section 7.3 of the 3DMark Vantage specification and white paper." Did NVIDIA cheat by having the GPU handle the PhysX calculations or are they perfectly within their right since they own Ageia and all their IP? I think this point will quickly become moot once Futuremark releases an update to the test.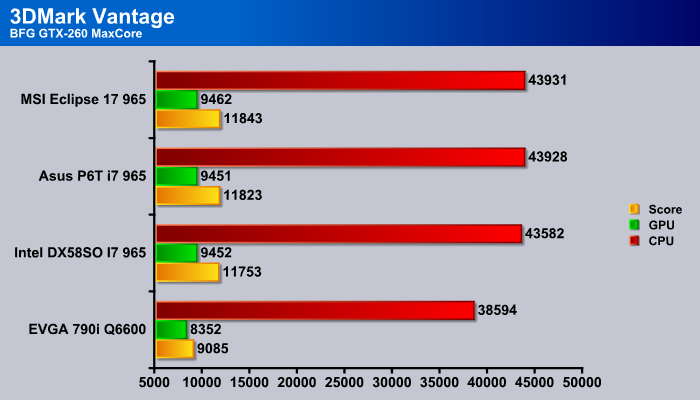 We get pretty much the same result in Vantage. The only chipset lagging behind is the Nvidia 790i, which is from the older generation socket 775 series. The X58 series chipsets all score close to the same. The MSI Eclipse comes out on top of the list, but a margin that small might be just the fine tuning we've slowly learned since the introduction of the chipset.
Cinebench
"CINEBENCH is a real-world test suite that assesses your computer's performace capabilities. MAXON CINEBENCH is based on MAXON's award-winning animation software, CINEMA 4D, which is used extensively by studios and production houses worldwide for 3D content creation. MAXON software has been used in blockbuster movies such as Spider-Man, Star Wars, The Chronicles of Narnia and many more. MAXON CINEBENCH runs several tests on your computer to measure the performance of the main processor and the graphics card under real world circumstances. The benchmark application makes use of up to 16 CPUs or CPU cores and is available for Windows (32-bit and 64-Bit) and Macintosh (PPC and Intel-based). The resulting values among different operating systems are 100% comparable and therefore very useful with regard to purchasing decision-making. It can also be used as a marketing tool for hardware vendors or simply to compare hardware among colleagues or friends."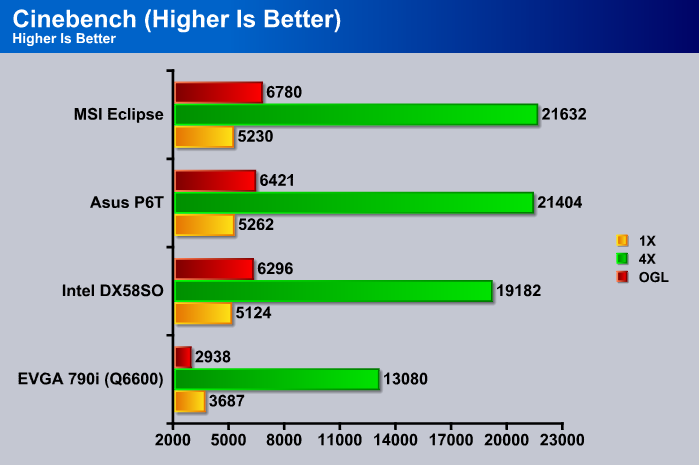 In Cinebench, the MSI Eclipse did better than the Intel Smackover board and the Asus P6T by enough of a margin that fine tuning the chipset doesn't explain that large a difference. Given that all the equipment was kept the same across platforms, there must be some hardware advantage to the MSI Eclipse.
In the CPU Ratio test we see that the MSI Eclipse scored the lowest of the three X58 boards, which makes us question the importance of the CPU Ratio test because, overall in the other Cinebench tests, the MSI Eclipse came out the leader by a decent margin.
SuperPi
SuperPi is the "Gold Standard" for many when it comes to judging system performance. We ran 1 and 2 Meg calculations, again running each test three times and reporting the average of the results.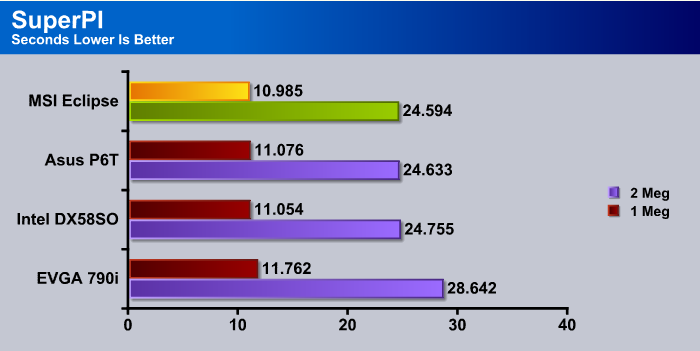 In SuperPI it's not unusual to see differences of hundredths and even thousandths of a second differences. The MSI Eclipse must like the Corsair Dominator RAM we used in testing because it once again came out in the lead, even if it only marginally.
WinRar v. 3.71
This module in WinRar generates random data, which contains specially introduced redundancy, increasing the load to both the processor and memory. Data is then passed through RAR compression and decompression algorithms, and the output of the decompression algorithm is compared to the source data. If any differences are found, WinRAR then reports "Errors found – Yes" in the command window. WinRAR displays a size of processed data and compression speed, current and resulting, in kilobytes per second.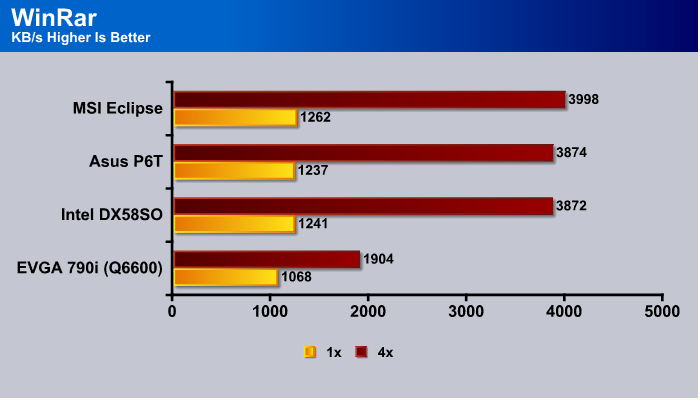 Despite the trust we've established with the Asus P6T Deluxe, the MSI Eclipse seems to handle memory dependent applications better than the Asus P6T Deluxe. We do have to say that the Asus P6T Deluxe is the easiest board we've ever used for setting up and overclocking memory. The Asus P6T Deluxe is pretty much plug and play and the best implementation of the Intel XMP Profile usage we've ever seen. On the MSI Eclipse it wasn't hard to set teh memory up for 1600 MHz, but beyond that it was time intensive. MSI assures us that a BIOS fix is on the way for the XMP profile usage on the Eclipse, but we're into immediate satisfaction and promises don't go far with us.
HD Tach
HD TACH performs sequential read and write tests on removable media and fixed disks. HD Tach is also capable of performing the sequential read and write tests on the entire disk instead of the small number of zones in the quick and long test. We opted to use the Short 8 (MB) and Long 32(MB) tests in the sequential read mode only, as sequential writes are covered by other benchmarks.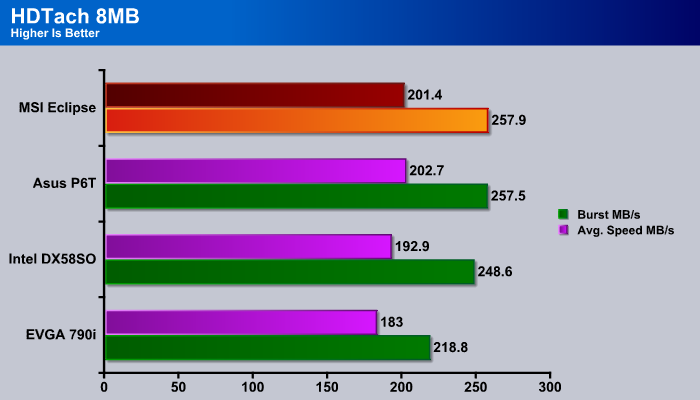 Most of the X58 boards we've seen do really well with the Intel 80 GB SSD we've been using for testing. In this case, it's a split between the Asus P6T edging out the Eclipse in Average read speed, and the Eclipse edging out the P6T Deluxe in Burst Speed.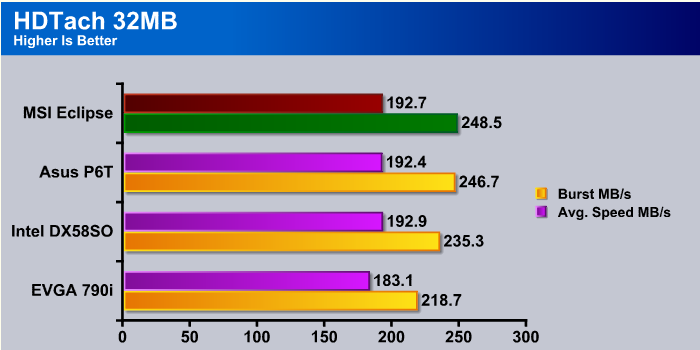 When we move to the 32 MB test in HD Tach the MSI Eclipse edges out the P6T Deluxe by a hair. Since this test has as much to do with hard drive speed as board capabilities, we've used the Intel 80 GB SSD across all four platforms and the results are showing the consistency we've achieved in our test rig setup.
Crysis v. 1.2
Crysis is the most highly anticipated game to hit the market in the last several years. Crysis is based on the CryENGINE™ 2 developed by Crytek. The CryENGINE™ 2 offers real time editing, bump mapping, dynamic lights, network system, integrated physics system, shaders, shadows, and a dynamic music system, just to name a few of the state-of-the-art features that are incorporated into Crysis. As one might expect with this number of features, the game is extremely demanding of system resources, especially the GPU. We expect Crysis to be a primary gaming benchmark for many years to come.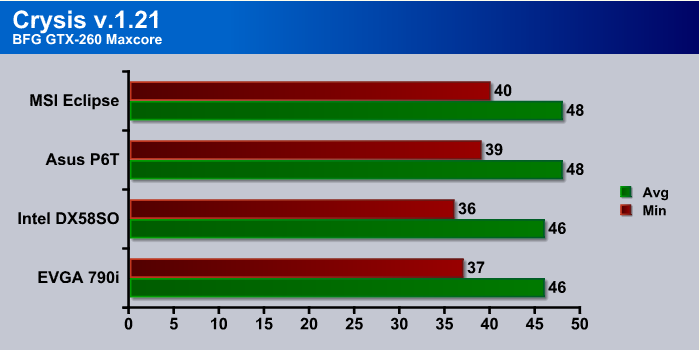 What we've been seeing at the 1280×1024 CPU intensive level of Crysis is that as long as you're not bottlenecking the GPU with the CPU, (and since we've been using Core i7, the CPU isn't bottlenecked) you might gain one FPS from board to board. Again, that might be the fine tuning on the chipset we've learned since its debut.
EVEREST ULTIMATE
"EVEREST Ultimate Edition is an industry leading system diagnostics and benchmarking solution for enthusiasts PC users, based on the award-winning EVEREST Technology. During system optimizations and tweaking it provides essential system and overclock information, advanced hardware monitoring and diagnostics capabilities to check the effects of the applied settings. CPU, FPU and memory benchmarks are available to measure the actual system performance and compare it to previous states or other systems. Furthermore, complete software, operating system and security information makes EVEREST Ultimate Edition a comprehensive system diagnostics tool that offers a total of 100 pages of information about your PC."
CPU AES
This integer benchmark measures CPU performance using AES (a.k.a. Rijndael) data encryption. It utilizes Vincent Rijmen, Antoon Bosselaers and Paulo Barreto's public domain C code in ECB mode.
CPU AES test uses only the basic x86 instructions, the test consumes 48 MB memory, and it is Hyper Threading, multi-processor (SMP) and multi-core (CMP) aware.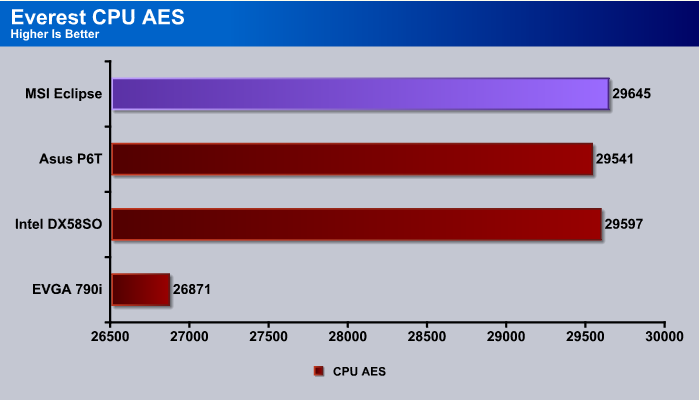 We put a lot of stock in Everest and Sandra, which is why we like to save them until the last. With their extensive testing suites it gives us a chance to flesh out the testing and makes a good rounded suite to conclude testing with. The MSI Eclipse comes out marginally ahead in the CPU AES test and we've seen a lot of tests where it edges out the other boards. That type of consistency tells us one thing. The MSI Eclipse is indeed a flagship quality board, and the extras in the bundle make it a stellar value.
CPU PhotoWorxx
This integer benchmark performs different common tasks used during digital photo processing.
It performs the following tasks on a very large RGB image:
• Fill
• Flip
• Rotate90R (rotate 90 degrees CW)
• Rotate90L (rotate 90 degrees CCW)
• Random (fill the image with random colored pixels)
• RGB2BW (color to black & white conversion)
• Difference
• Crop
This benchmark stresses the integer arithmetic and multiplication execution units of the CPU and also the memory subsystem.
CPU PhotoWorxx test uses only the basic x86 instructions, and it is Hyper Threading, multi-processor (SMP) and multi-core (CMP) aware.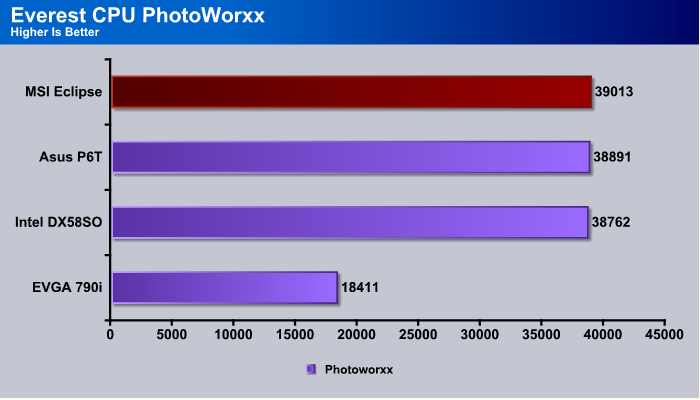 In the PhotoWorxx portion of testing scores ran so close it would be hard to call. You do have to give credit where credit is due though and the MSI Eclipse came out on top once again.
CPU Queen
This simple integer benchmark focuses on the branch prediction capabilities and the misprediction penalties of the CPU. It finds the solutions for the classic "Queens problem" on a 10 by 10 sized chessboard.
CPU Queen test uses integer MMX, SSE2 and SSSE3 optimizations. It consumes less than 1 MB system memory and it is Hyper Threading, multi-processor (SMP) and multi-core (CMP) aware.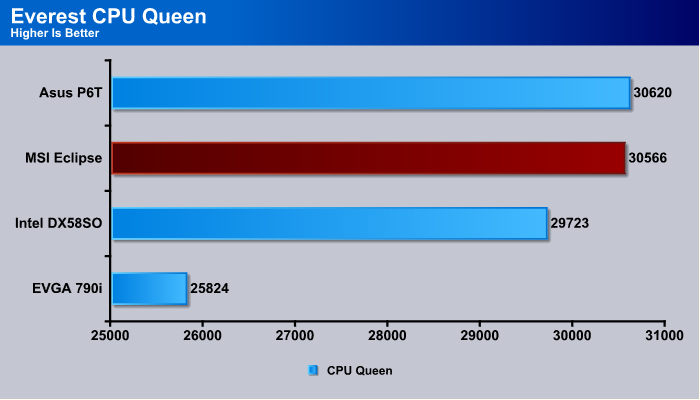 When we hit CPU Queen, the MSI Eclipse dropped to a close second place with differences between the two board so close as to be minimal.
CPU ZLib
This integer benchmark measures combined CPU and memory subsystem performance through the public ZLib compression library Version 1.2.3 (http://www.zlib.net).
CPU ZLib test uses only the basic x86 instructions, and it is Hyper Threading, multi-processor (SMP) and multi-core (CMP) aware.
The Eclipse keeps second place in the CPU Zlib test and it turns out to be an even split with the Asus P6T Deluxe board in the Everest CPU Suite. Scores are close enough between the two boards that nothing noticeable to Human perception could be seen.
Everest Memory Suite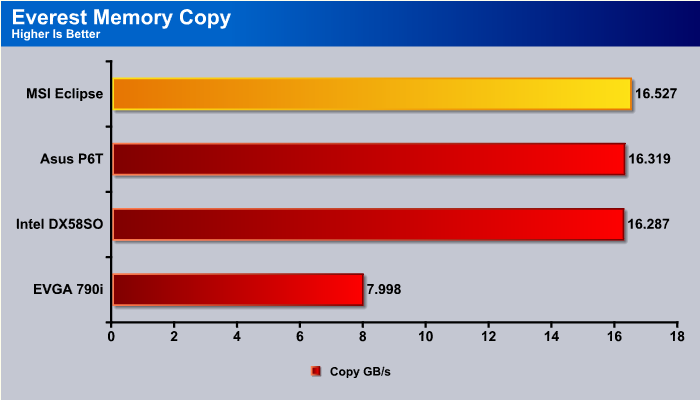 The Everest Memory test saw the MSI Eclipse coming back into the lead again. Testing results with all three X58 boards were very close but the MSI Eclipse managed to pull out in the lead by a little bit.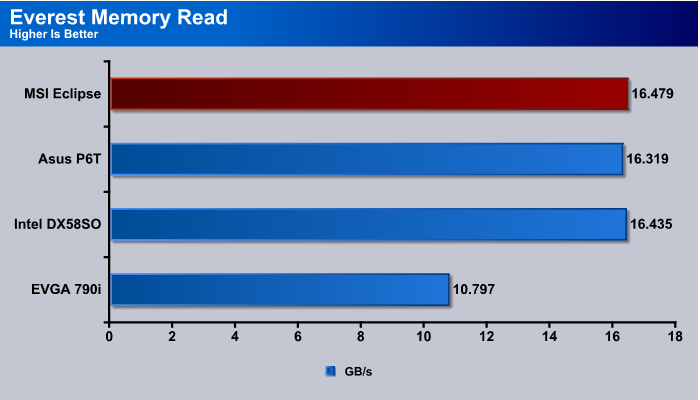 We see the same result in the Memory Read test, coming out on top by as little as .2 GB/s the MSI Eclipse claws out another first place.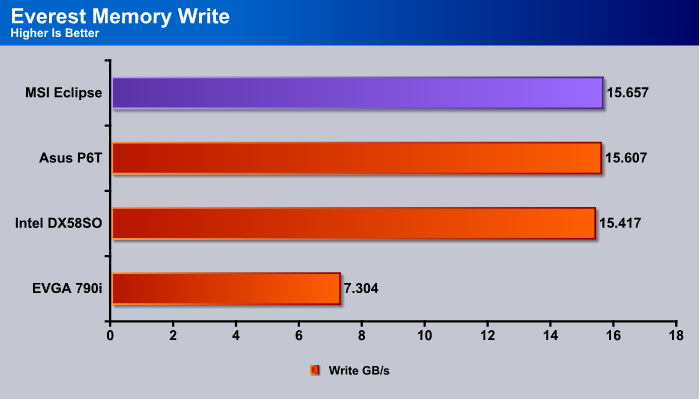 The Memory Write test saw the MSI Eclipse's lead shirk to .05 GB/s which in a horse race would be a photo finish. The MSI Eclipse would be headed to the winners circle in this case though.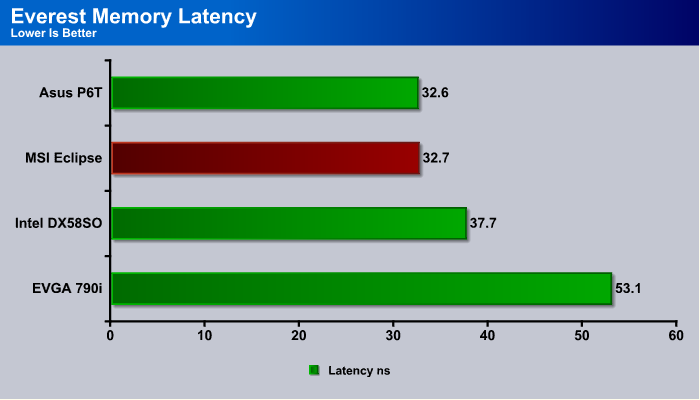 The Memory Latency test shows that the differences between the Eclipse and Asus P6T Deluxe boards in terms of performance are minimal. Put the two boards side by side performance wise and they could be brothers. Like brothers though, who often covet each others toys, if you look at the pile of toys next to the MSI Eclipse and the abundance of features, it's not hard to figure out which pile of toy's we'd want. The MSI Eclipse has better features and more toy's. Fortunately, we'd don't have to choose though, we have both computing behemoths at our disposal.
Sisoft Sandra 2009 SP1
"SiSoftware Sandra (the System ANalyser, Diagnostic and Reporting Assistant) is an information & diagnostic utility. It should provide most of the information (including undocumented) you need to know about your hardware, software and other devices whether hardware or software. It works along the lines of other Windows utilities, however it tries to go beyond them and show you more of what's really going on. Giving the user the ability to draw comparisons at both a high and low-level. You can get information about the CPU, chipset, video adapter, ports, printers, sound card, memory, network, Windows internals, AGP, PCI, PCI-X, PCIe (PCI Express), database, USB, USB2, 1394/Firewire, etc."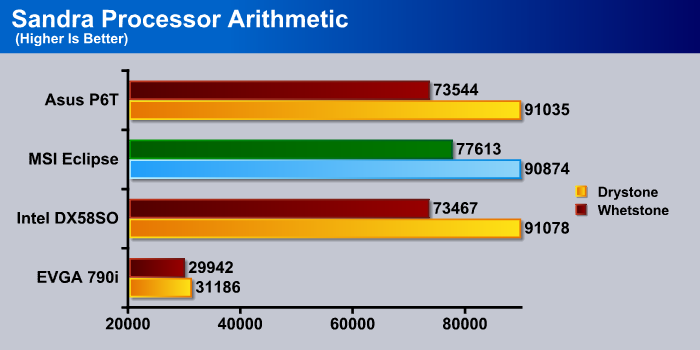 We get yet another split win in Sandra's Processor Arithmetic, the P6T takes the Drystone test and the MSI Eclipse takes the Whetstone test. We really prefer Dry Stones over Wet Stones, after all Dry Stones are easier to walk on.
When it comes to multimedia testing the MSI Eclipse has a slight advantage. Once again the advantage between the two boards is slight enough that to Human perception it's undetectable. The numbers however show the Eclipse in the lead in this test.
In the last test of our extensive testing suite the MSI Eclipse comes out in the lead once again. With differences between the two boards as small as they have been, we're afraid it's going to come down to the bundle, features, and subjective judgment. Both boards are very capable so it's going to be a hard call.
OVERCLOCKING
Overclocking on the MSI Eclipse is just too easy with the Intel 965 Extreme. We had the 965 Extreme overclocked to 3.74 in just a few minutes stable. Once again, CPU-Z fell short on correct reporting on our chip. Notice, it's reading a Core i7 Extreme 920. Last we checked, the only Extreme chip is the 965 Extreme. Then, on the specification line it reads 000 @ 3.2GHz. Take our word for it. We used the Intel Core i7 965 Extreme. CPU-Z's latest version just needs more work done on it (still). We went old school on our OC. We could have gone wimpy like a lot of sites and settled for 140-150 FSB and gotten out of the review easily, because 140-150 was a no brainer no adjustment OC. We could have gone with an onboard DIP Switch OC but that's just too easy. We old schooled it and took an entire day and walked the FSB up to 200 FSB and the resulting voltage on the CPU shows.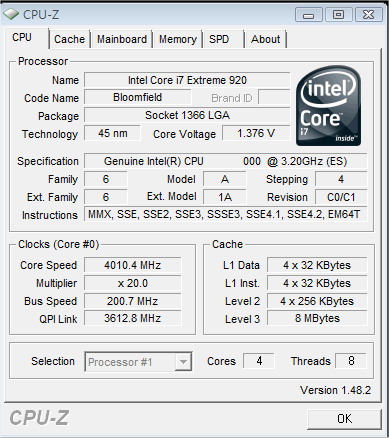 We spent about a day to get to 200 FSB on the MSI Eclipse with our Core i7 965 Extreme CPU.  Notice we came in at 4+ GHz and still managed to stay under 1.4v (chest puff, strut, strut, pound on chest, Tarzan yell). That's a phenomenal result for 4 GHz on a Quad CPU. Most of the overclocks we've seen that even manage to hit 4 GHz on the i7 965 are way over 1.4v. With careful walking on the FSB up to 4 GHz and careful voltage control we hit 4+ GHz with 1.376vcore.  We could have gone farther but we were at the point of diminishing returns and the thermal limits of our cooling system were somewhat violated.
You can see that the MSI brags being SLI capable. It's also Crossfire Capable and the expansion ports are someewhat awkwardly spaced for triple SLI/Crossfire because the last card would overhang the edge of the motherboard and front panel connectors.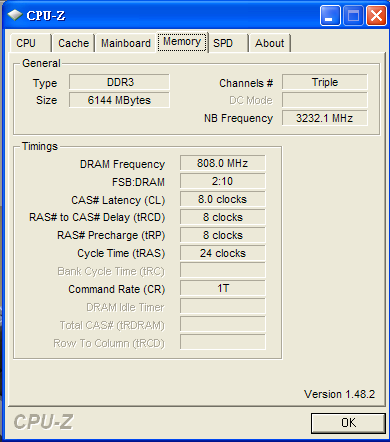 We did have to tinker with the memory a little bit to hit 1600 MHz stable. We tried going higher, but time wise we were pushing it on our posting deadline, so we tinkered with a Dominator 1866 kit for an hour or so but had to move on before we got it stable.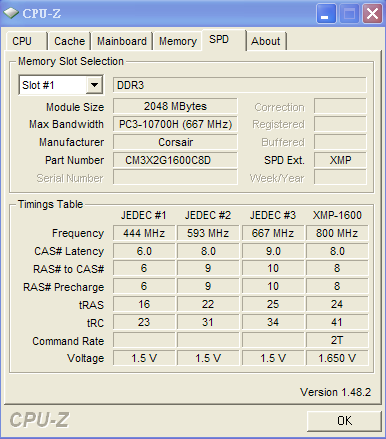 One thing we did notice on the Eclipse is that it allows CPU-Z to correctly report the SPD of our kit of RAM while some of the other boards report it incorrectly.
In all, we're thrilled with the overclocking capabilities of the MSI Eclipse but we'd sure like to see that BIOS fix for XMP because the XMP handling on the Asus P6T Deluxe has us somewhat spoiled. However, on the Asus P6T our maximum speed for 24/7 within thermal limits is 3.74, so it's a trade off, memory handling or raw speed.
CONCLUSION
We are very pleased with the performance of the MSI Eclipse and its overclocking abilities. We managed to top 4 GHz (barely) and stay at 1.376v, far below what we've seen for voltages on a lot of Core i7 965 overclocks. That reduction of voltage allowed us to stay within our thermal comfort zone. We wouldn't run the rig at that speed 24/7 but it's a nice little boost for some quick benches and bragging rights.
The MSI Eclipse simply had the best bundle we've ever seen for a motherboard. If there had been a full game title in the bundle we don't think our hearts could have handled it. Literally, every thing you can need or want for cables and accessories was included in the bundle and more. You get the Green Genie for power consumption monitoring and savings, the D-LED for diagnostics and the Thermal Probe, and the X-Fi Xtreme Audio card to sweeten the deal. While we realize the MSI Eclipse garners a premium price the bundle, features and overclocking make it well worth the premium price in our opinion. At least you won't have to worry about SATA ports with the ten SATA connectors on the Eclipse board. You also get, not one, but two plug and play ready sets of ports for RAID 0 or RAID 1 or RAID 0&1. Just plug 2-4 drives into the blue upright ports, make an easy BIOS change, and you're ready for up to 4x RAID 0 plug and play. Make a different BIOS change and you have 2x RAID 0&1, speed and redundancy, the best of both worlds.
We did notice a little difficulty in setting up RAM on the Eclipse. Perhaps it's our expertise or experience, but we didn't have much trouble with it at all and often prefer to set voltages and timings manually anyway. We did, however, do some web research and noticed that others are having trouble with high speed RAM. The board's BIOS can be a little overwhelming for some, but given that 95% of all setting can be left at Auto, we suspect they were merely over thinking the OC. MSI knows about the XMP profile problem and has promised a BIOS fix for it soon. That would make this board a lot closer to the perfect choice for demanding (but lazy) enthusiasts than it already is. Face it, motherboards the magnitude of the Eclipse are a deadly instrument in the hands of a skilled overclocker, but in the hands of the less experienced are easy enough to achieve a nice overclock. That is, unless they over think the OC and start wildly changing every setting in sight.
We didn't have any problems with the MSI Eclipse that the normal enthusiast couldn't easily work through and the 4 GHz OC was really sweet with the 200FSB OC we achieved. With some serious cooling, OC world records are easily within reach. Back it down with a couple of easy adjustments and you're ready for some serious 24/7 fun.
The MSI Eclipse is the first board we've seen that covers the full spectrum of our computing needs, both real and perceived. With a little more work on the BIOS, we easily expect it to become our board of choice.
We are trying out a new addition to our scoring system to provide additional feedback beyond a flat score. Please note that the final score isn't an aggregate average of the new rating system.
Performance 10
Value 9
Quality 10
Warranty 10
Features 10
Innovation 10

Pros:
+  Great Overclocking Ability
+  Fantastic Bundle
+  Plenty Of Features And Ports
+  X-FI Xtreme Instead Of Onboard Sound
+  Triple (Dual Slot) GPU Capable For SLI And Crossfire
+  Good Board Layout
Cons:
–  Feature Rich BIOS Might Overwhelm Inexperienced End Users
–  XMP Profile Handling Needs A BIOS Revision
–  Price
For the Performance we got with a sweet 200 FSB OC that let up hit 4GHz on the Core i7 965 at 1.376 Vcore we'd have to give the MSI Eclipse a 9.5 (very good) out of 10 and the Bjorn3D Golden Bear Award!