Newer and faster cards are always coming out, but for some the cost is just too great. For many the ability to play games with decent settings is well worth the money saved, than buying a brand new top of the line card.
INTRODUCTION
Nvidia and ATI keep pushing the envelope for what's possible with a graphics card. From GPU folding to ray tracing. What about if you're just your average Joe looking to play a game? Well, luckily for you there are plenty of options to choose from. Today, Sapphire brings us their iteration of the ATI HD 4650. This is a card that is aimed for the person who is looking to not spend a lot of money, while getting a lot of performance. 
This card can also be a great addition to an HTPC. This is because of a feature that is now on all ATI cards, the ability to take the load away from a CPU when playing video. That means that you do not need as fast of a CPU. It also means that you have smoother play back. So, you can be sure that you won't miss any of that movie to annoying skips. Overall, this will lead to a better HTPC which the whole family can enjoy.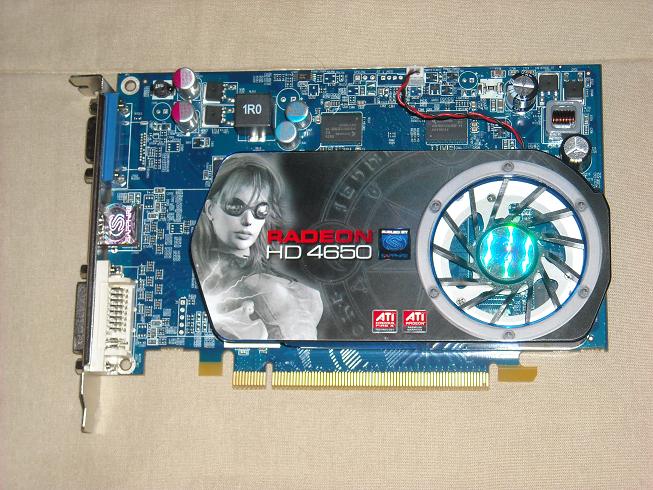 About Sapphire
Pioneers in a new era of how data is displayed and games are played, Sapphire shepherds the performance oriented with ground-breaking solutions to an environment that remains in a constant state of flux and ultimate evolution. For over ten years Sapphire has held true to its unwavering commitment, the commitment to deliver the most feature rich and soundly engineered products. Because of Sapphire's firm position on achieving excellence with each product that leaves our ISO9001 and ISO14001 certified factories, you can rest assured that your customers will recognize YOUR commitment to selling only the highest of quality components. "Sapphire is ATI's largest and best performing partner World Wide" – Dave Orton, CEO ATI
All SAPPHIRE ATI video boards are manufactured under 100% ATI production criteria including QC and outgoing system. Our monthly video board production capacity can reach a lofty 1.8 million and often topples this landmark figure. Our factory has always been the major manufacturer on ATI boards for most of the top ten tier 1 OEMs worldwide. With this background, you should undoubtedly be guaranteed of the impeccable quality, production capacity and product reliability of all ATI video boards and mainboards from SAPPHIRE. Be they business oriented or something just off center of the crosshairs, Sapphire has a solution for you and we look forward to an exciting and prosperous relationship with you!
Captured within the circuitry of each of SAPPHIRE's graphic cards and mainboards can be found the collective feedback from generations of enthusiasts in every market niche. Brought to life through performance oriented innovation and an emphasis on quality control, SAPPHIRE designs, manufactures and distributes the most complete range of ATI video boards and mainboards–from the mainstream products that afford the casual user the opportunity to enjoy enriched graphics and affordable platform solutions to the state-of-the-art technological marvels that drive fantasies to before unattainable thresholds of realism, and offer the pinnacle of stability and performance! SAPPHIRE refuses to compromise quality by cutting corners at the expense of its customers experience with their products. All ATI board designs undergo a stringent layout inspection by our staff of engineers to guarantee that they represent the usual high-quality image of ATI original boards. We also enjoy the resources of a highly innovative technical department that layout complex designs to accommodate different market niches as they arise. SAPPHIRE ATI video boards have long been the reliable choice for a great number of OEMs and large System Integrators in Europe, North America, Asia and Latin America based largely on our ability to meet a fast paced technical markets advancements as well as our means to produce large quantities of product.
Since ATI announced its manufacturing & distribution relationships with ODMs and AiBs in June of 2001, SAPPHIRE has been THE key ATI Graphics Boards Supplier worldwide and now stands poised and ready to capture the mainboard audience of those who seek a stable platform for their mission critical operations.
FEATURES
Redefine HD Gaming
320 Stream Processing Units
Enough power to tackle the most demanding HD games and applications.
Microsoft DirectX®10.1
Play today while preparing for tomorrow with state-of-the-art DirectX 10.1 graphics capabilities.
Enhanced Anti-Aliasing (AA) & Anisotropic Filtering (AF)
High performance anisotropic filtering and anti-aliasing (4X AA) smooth jagged edges and create true-to- life graphics, for everything from grass to facial features
ATI CrossFireX™ Technology
ATI CrossFireX™ technology with up to quad GPU support offers superior scalability so your system is ready to level up when you are.
PCI Express 2.0
Support for PCI Express 2.0 will prepare you for bandwidth-hungry games and 3D applications.
Go Beyond HD Video
Unified Video Decoder 2 
UVD 2 frees up your CPU for other tasks so you get The Ultimate Visual Experience™ for the most processing- intensive content. Take full advantage of Blu-ray functionality with dual-stream, picture in picture capabilities.
Accelerated Video Transcoding(AVT)
Edit and transfer your videos to a portable video player with new Accelerated Video Transcoding (AVT) technology.1
Upscale Beyond 1080p
Watch the hottest Blu-ray movies or other HD content at full 1080p display resolution and beyond.2
Enhanced DVD Upscaling
Watch standard DVD movies in near high-definition quality with DVD upscaling.3 The GPU uses post processing algorithms to enhance standard and low resolution videos and movies on your HD display.
Dynamic Contrast
Dynamic Contrast automatically adjusts the contrast and brightness during scenes to consistently deliver a crisp, vibrant picture.
HDMI 
Enjoy the latest audio technologies using HDMI with 7.1 digital surround sound support. Also, xvYCC support allows the user to enjoy a wider range of color when connected to a capable HDTV. 

1 Some digital rights management restrictions may apply
2 The ATI Radeon HD 4600 Series GPUs can upscale video display to 2560×1600 on dual-link monitors which is almost twice the display resolution of 1080p displays.
3 The ATI Radeon HD 4600 Series GPUs can upscale video display to 2560×1600 on dual-link monitors which is almost twice the display resolution of 1080p displays.
Break-through Efficiency
Dynamic Power Managemen
ATI Radeon HD 4600 Series graphics cards feature ATI PowerPlay™ technology, delivering high performance when needed and conserving power when the demand on the graphics processor is low.1
More Performance Per Watt
ATI Radeon HD 4600 series deliver up to 3x the performance per watt of AMD's previous generation GPUs.
Energy Efficient Manufacturing Process
Second generation 55nm chip uses the industry's most energy efficient manufacturing process.
1 Some digital rights management restrictions may apply
System Requirements
– PCI Express® based PC is required with one X16 lane graphics slot available on the motherboard
– 400 Watt or greater power supply (550 Watt for ATI CrossFireX™ technology in dual mode) is recommended
– Certified power supplies are recommended. Refer to http://ati.amd.com/certifiedPSU for a list of Certified products
– 1GB of system memory recommended
– Installation software requires CD-ROM drive
– DVD playback requires DVD drive
– Blu-ray™ playback requires Blu-ray drive and full 1080p display requires a 1080p-capable monitor
– To enable dual mode ATI CrossFireX™ technology, a second ATI Radeon™ HD 4600 Series graphics card, an ATI CrossFireX Ready motherboard and one ATI CrossFireX Bridge Interconnect cable (included) is required.
SPECIFICATIONS
 

| | |
| --- | --- |
| | DirectX® 10.1 & PCI Express® 2.0 support |
| | 320 stream processing units, 128-bit memory interface |
| | 24x custom filter anti-aliasing (CFAA) and high performance anisotropic filtering |
| | Dual mode ATI CrossFireX™ multi-GPU support for highly scalable performance |
| | Dynamic geometry acceleration & Game physics processing capability |
| | ATI Avivo™ HD video and display technology |
| | Unified Video Decoder 2 (UVD 2) for Blu-ray™and HD Video |
| | Accelerated Video Transcoding(AVT) |
| | Dynamic power management with ATI PowerPlay™ technology |
| | DVD Upscaling, Dynamic Contrast, Built-in HDMI with 7.1 surround sound support |
Here at Bjorn3D we like to make sure that the cards meet the manufacturer's  specifications, so we always take a GPU-Z screenshot to make sure that they are accurate.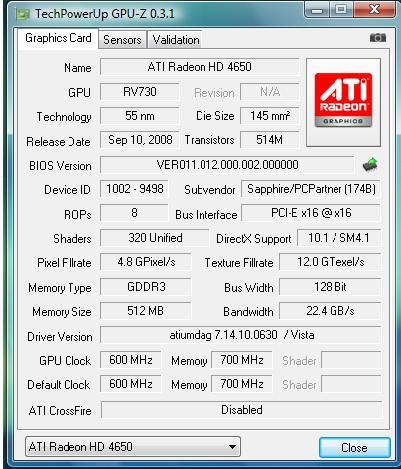 Everything checks out here. Now let's get on to the real reason you're reading this, the GPU. 
PICTURES, IMPRESSIONS & BUNDLE
Sapphire, like many other manufacturers, has included basic information on the front of the box. This is so the average consumer can try to make sense of the electronic mumbo jumbo and the local electronics store salesman can act like he knows all. On the back of the box is further detail about the card, including its ability to be run in Crossfire, a feature that gives it more performance when combined with another select ATI graphics card.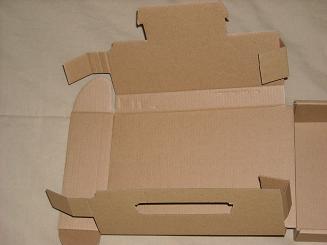 The packaging of this card has to be the most obscure way of packaging a card I have ever seen. This puts the card dangerously close to the top of the box, and thus easily susceptible to damage from a delivery guy who "happens" to drop kick it to your door. At least they packaged the card in an anti-static bag, or then we would have some serious issues. Definitely some points down on the overall quality with this spotty packaging.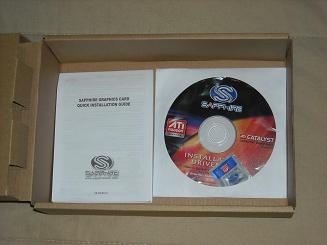 The included accessories, as expected, are very few. Only a manual and driver CD. This is to be expected of a lower cost card such as this one. The manual is a little bit vague with installing drivers, as it has you doing it twice, but it will, at least, give a rookie a good starting point. The driver CD should be immediately thrown out, as it has old Catalyst drivers on it. I recommend going strait to the ATI Catalyst site and downloading the latest drivers for the best system performance.
| | |
| --- | --- |
| | |
I must say Sapphire did a great job designing this card. It looks very sleek and cool. The card is of a single slot design so it will easily fit in any case, even if you have all of your other expansion slots filled. Single slot designs often don't cool cards very effectively, but I have a feeling that this cooler is more than enough to cool the HD4650. A nice feature that is included with this card, but one that a lot of manufacturers cut from cheaper cards, is the ability to control the fan speed. This adds life to your card at the cost of a bit more noise. I feel that it is well worth it, as you can reuse this card in any computer you build in the future.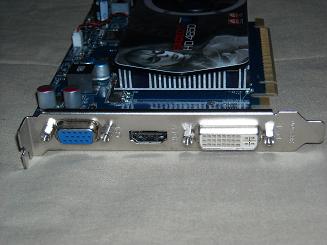 The outputs vary a great deal on this card. This is great for someone just learning computers, as they can use the connector that their monitor uses. This makes it much easier and gets rid of quite a few headaches. I really like the feature of an HDMI port. Many manufacturers include DVI to HDMI adapters, but they add unwanted length to the back of the card, along with costing extra money if they are not bundled with the card.
To test the HD 4650, I used Windows Vista Ultimate 64-bit. I went through each test five times to ensure that I had very accurate data. Doing the test multiple times ensures that an out layer is not in the data, thus skewing the final results. All of the graphics cards where tested on the same machine to make sure that there are no added benefits to one card. I have included a table with my full system specs.
Test Rig

Case Type
Tagan El Diablo Advance
CPU
Intel Q9550 @ 3.6 
Motherboard
DFI X48 T3RS
Ram
G.Skill Pi 1333 @ 1411 6-6-6-16
CPU Cooler
Aquagate Max
Hard Drives
WD SE16 640 GB
Optical
Lite-On DVD R/W
GPU

Sapphire HD 4870 1GB
MSI HD 4670
Sapphire HD 4650

Case Fans

Two Top 180mm Extake
One Front 250mm Intake
One Side 360mm Intake

Testing PSU

Corsair HX1000W
I was not able to use 3DMark06 as a test because it simply would not work on my machine no matter what I tried. I have thus thrown in a bonus game in the form of Grand Theft Auto 4. I am sure you will enjoy this little addition to the list of review games. For 3DMark Vantage I used the Performance preset. For Company of Heroes I used the maximum settings, including the Model Detail slider all the way to the right. For Crysis, I used the highest settings. I used the Ultra Detail setting in World in Conflict. I used the highest settings in Far Cry 2, along with the DX10 renderer. In GTA4 I set Texture Quality and Render Quality to Medium, View Distance to 30, Detail Distance to 30, Vehicle Density to 30, and Shadow Density to 3. No AA or AF was used during testing, due to this being a mid range card.
Synthetic Benchmarks & Games
3DMark Vantage
Company of Heroes
Crysis
World in Conflict
FarCry 2
Grand Theft Auto 4
3DMark Vantage

For complete information on 3DMark Vantage Please follow this Link:  www.futuremark.com/benchmarks/3dmarkvantage/features/
The newest video benchmark from the gang at Futuremark. This utility is still a synthetic benchmark, but one that more closely reflects real world gaming performance. While it is not a perfect replacement for actual game benchmarks, it has its uses. We tested our cards at the 'Performance' setting.
Currently, there is a lot of controversy surrounding NVIDIA's use of a PhysX driver for its 9800 GTX and GTX 200 series cards, thereby putting the ATI brand at a disadvantage. Whereby installing the PyhsX driver, 3DMark Vantage uses the GPU to perform PhysX calculations during a CPU test, and this is where things get a bit gray. If you look at the Driver Approval Policy for 3DMark Vantage it states; "Based on the specification and design of the CPU tests, GPU make, type or driver version may not have a significant effect on the results of either of the CPU tests as indicated in Section 7.3 of the 3DMark Vantage specification and white paper." Did NVIDIA cheat by having the GPU handle the PhysX calculations or are they perfectly within their right since they own Ageia and all their IP? I think this point will quickly become moot once Futuremark releases an update to the test.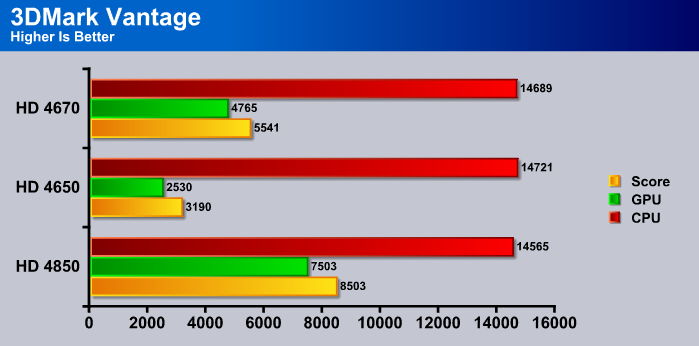 As expected, all the CPU scores are very close to each other. The CPU score is unaffected by what card is currently in the machine. The HD 4670 has gotten an early lead, easily disposing of the HD 4650. The HD 4850 was the clear winner here due to its added horsepower. 
COMPANY OF HEROES

Company of Heroes(COH) is a Real Time Strategy(RTS) game for the PC, announced on April, 2005. It is developed by the Canadian based company Relic Entertainment and published by THQ. COH is an excellent game that is incredibly demanding on system resources thus making it an excellent benchmark. Like F.E.A.R., the game contains an integrated performance test that can be run to determine your system's performance based on the graphical options you have chosen. Letting the games benchmark handle the chore takes the human factor out of the equation and ensures that each run of the test is exactly the same producing more reliable results.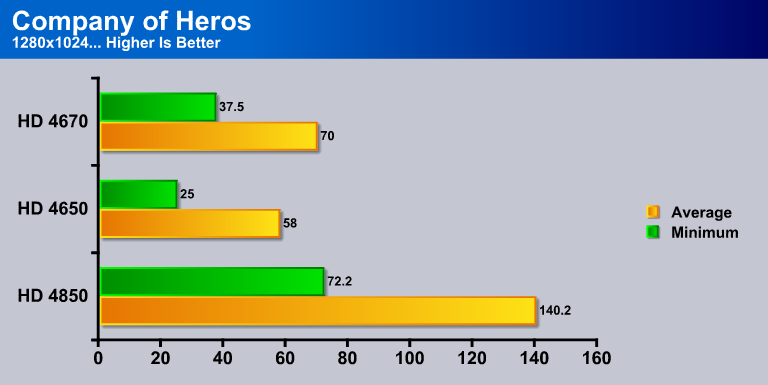 The HD 4670 once again beats the HD 4650 by a fair margin. I expect the whole test to be like this, as ATI would have a big problem if the lower end card was able to keep up with a higher end one.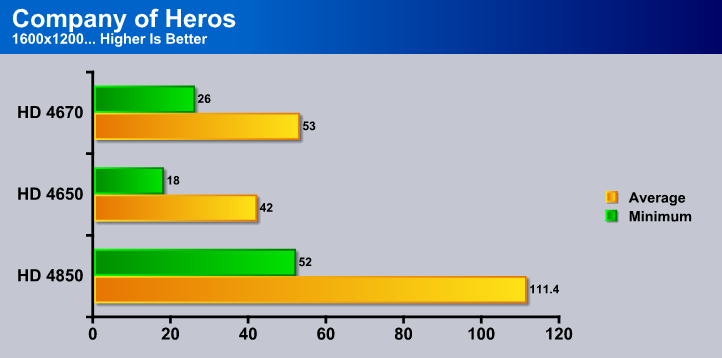 The HD 4650 manages to close the gap some between it and the HD 4670, but it is still out of reach.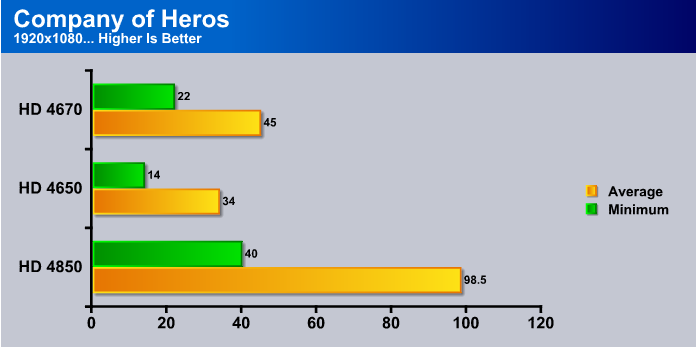 The HD 4650 once again comes in last place. Considering the price difference between it and the HD 4670, its not doing too bad.
WORLD IN CONFLICT

World in Conflict is a real-time tactical video game developed by the Swedish video game company Massive Entertainment, and published by Sierra Entertainment for Windows PC. The game was released in September of 2007. The game is set in 1989 during the social, political, and economic collapse of the Soviet Union. However, the title postulates an alternate history scenario where the Soviet Union pursued a course of war to remain in power. World in Conflict has superb graphics, is extremely GPU intensive, and has built-in benchmarks. Sounds like benchmark material to us!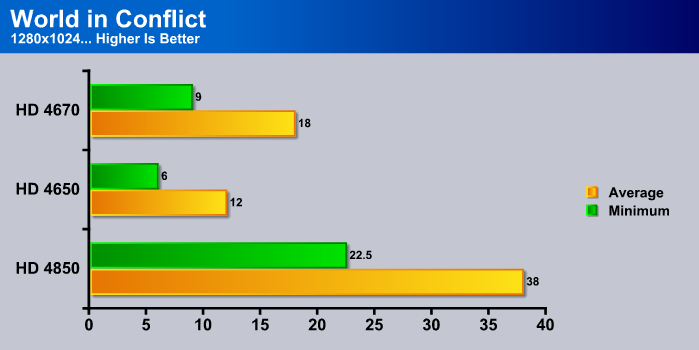 The HD 4650 came the closest yet to beating the HD 4670, coming within six frames. A difference like that could possibly be made up with an overclock on the card.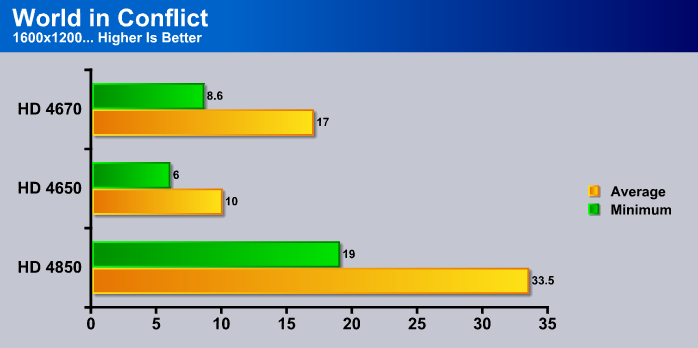 Once again the HD 4650 comes very close to knocking the HD 4670 down, but still comes up short.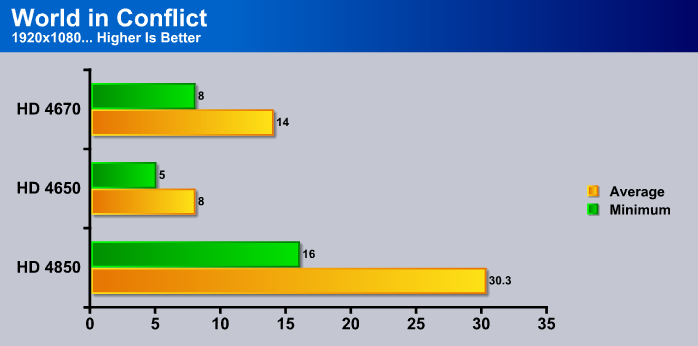 The HD 4670 manages to increase its lead, most likely due to its added memory bandwidth. I really don't recommend playing this game with either card, as they both put up some pretty bad numbers at this resolution.
CRYSIS

Crysis is the most highly anticipated game to hit the market in the last several years. Crysis is based on the CryENGINE™ 2 developed by Crytek. The CryENGINE™ 2 offers real time editing, bump mapping, dynamic lights, network system, integrated physics system, shaders, shadows, and a dynamic music system, just to name a few of the state-of-the-art features that are incorporated into Crysis. As one might expect with this number of features, the game is extremely demanding of system resources, especially the GPU. We expect Crysis to be a primary gaming benchmark for many years to come.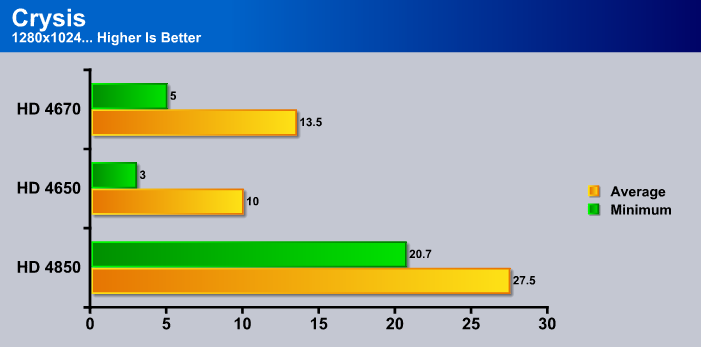 Once again the HD 4650 manages to come very close the to HD 4670. Just 3.5 more frames and it would have the same average!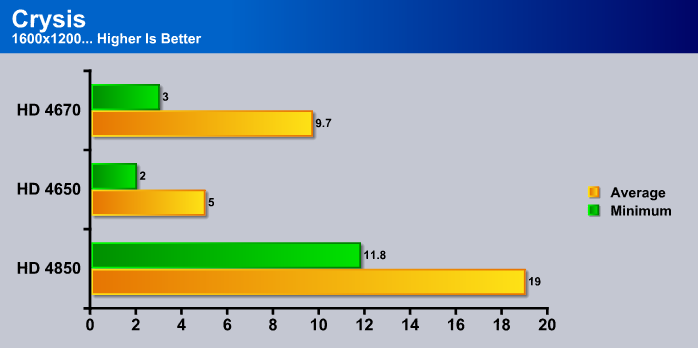 Seems like the HD 4650 keeps on struggling to reach the HD 4670, but keeps on falling short.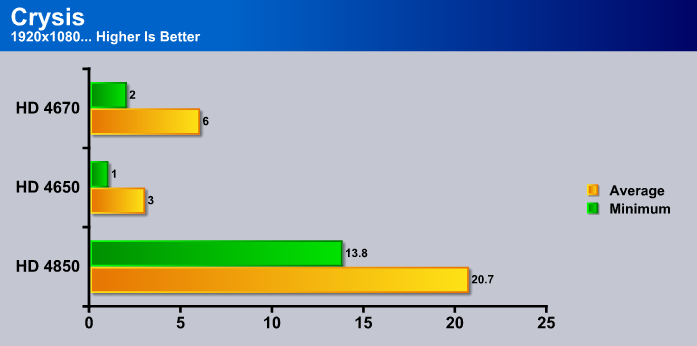 The HD 4670 doubles the score of the HD 4650, which is by only a few frames. If you must play Crysis maxed, this would not be a good card to do it on. Throught the tests this card along with the HD 4670 strugged to even acheive 10 FPS, far from playable.
GRAND THEFT AUTO 4

Grand Theft Auto 4 is the latest edition in the series of games by the controversial game company, Rockstar. This game is quite demanding on even the latest cards from Nvidia and ATI. This game uses a large amount of textures which can be demanding on even today's greatest graphics cards. With over 30 hours of storyline, you can expect to be playing this game till the early hours of the morning.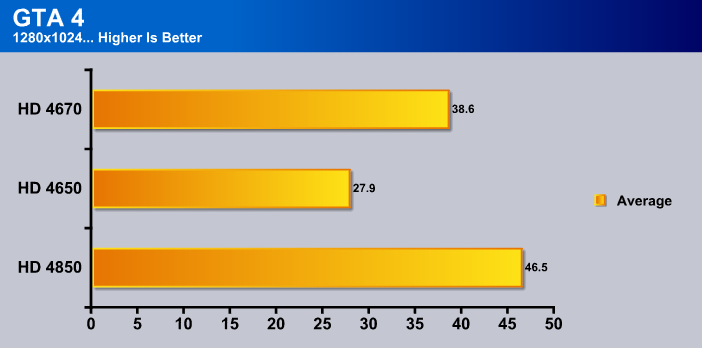 Since the built in GTA 4 test does not have the minimum frame rate listed, I had to include just the average.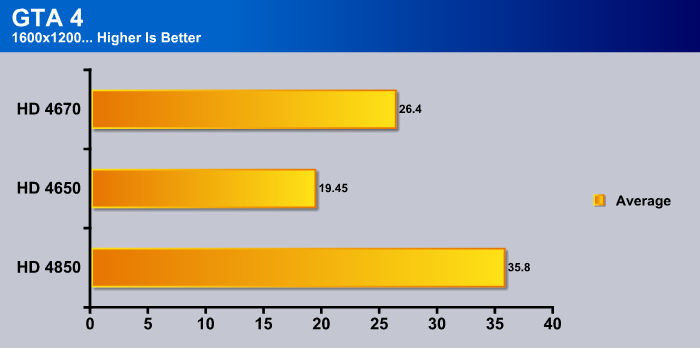 The HD 4650 continues to lag behind the HD 4670. During this test it has lost some ground to the HD 4670.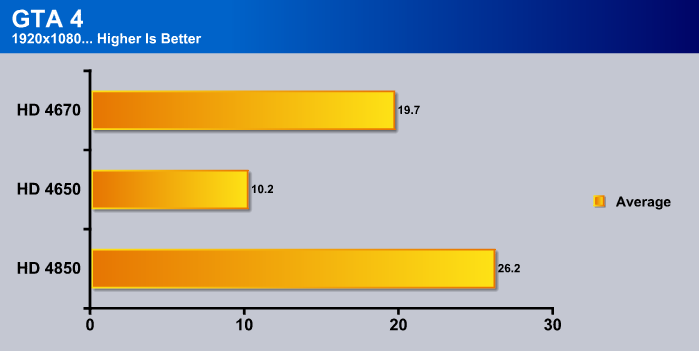 In this resolution the HD 4670 wasn't all that far behind, but I can hardly say the same about the HD 4650.
Far Cry 2

Far Cry 2, released in October 2008 by Ubisoft, was one of the most anticipated titles of the year. It's an engaging state-of-the-art First Person Shooter set in an un-named African country. Caught between two rival factions, you're sent to take out "The Jackal". Far Cry2 ships with a full featured benchmark utility and it is one of the most well designed, well thought out game benchmarks we've ever seen. One big difference between this benchmark and others is that it leaves the game's AI (Artificial Intelligence ) running while the benchmark is being performed.
Before I post up results I want to take the time to say how much of a pain this test was. The card just would not cooperate with me. Even after setting the fan speed to 100% the card would continue to get hung up in the middle of the test. I finally had to do it one run at a time instead of five at once to get through it. I was quite disappointed at this, as the card seemed to fall victim to overheating. Increasing the fan speed led to longer periods between crashes.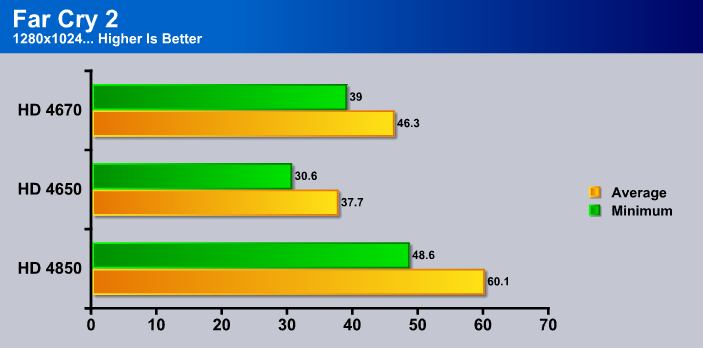 The HD 4650, as said before, was a pain, but it still managed to get playable frames.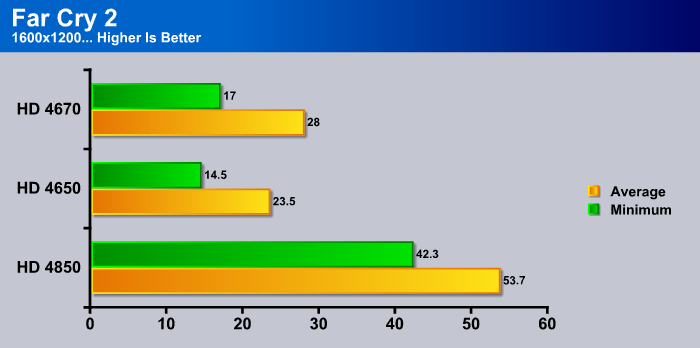 The HD 4650 loses its playability, but still manages to keep tight with the HD 4670.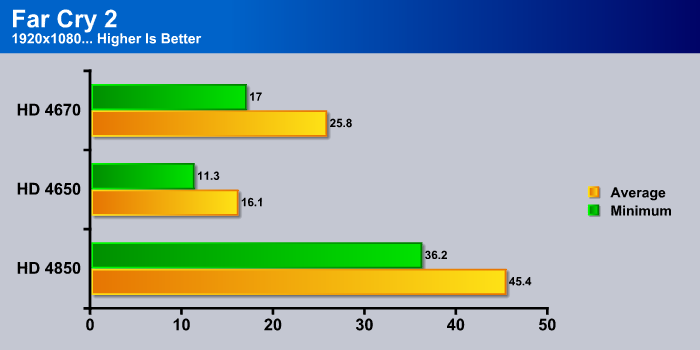 At this resolution, both the HD 4650 and HD 4670 are completely unplayable, no matter how slow you see.
Temperature

To achieve the idle temperature I let the card sit in windows for 30 minutes while doing nothing. This allows the card to do as little as possible, thus we are able to find the lowest temperature that the card will reach. To achieve the load temperature I let Fuzzy Mark run for 30 minutes. This allows the card to do as much as possible, thus we are able to find the highest temperature that the card will reach. I used the automatic fan speed settings so you can get an idea of the hottest the temperatures will get, as fans from the factory run as slow as possible. Upping the fan speed will reduce the temperatures.
At first glance, these temperatures seem very reasonable, but I had a big issue with losing video when the card hit 58°C. The auto fan setting kept switching from auto to manual with the fan set to 50%. So, when I set it back to auto it would stay there until the card hit 58 degrees, then my monitor would go blank or some other disaster. If you leave the fan on auto and it kicks up you will be fine, but make sure you don't hit the high 50's or you could run into some issues. I can't really say for sure, as all cards are different, and I may have gotten the odd one in the bunch.
Overclocking

A warning to the inexperienced, don't overclock too much. Start out low and then, as you gain experience, start to dive further into overclocking. As always, Bjorn3D is NOT responsible if you happen to fry your card. If you take your time when overclocking there is a very slight chance for failure of the card, but if you go too fast, you increase your chances of ending up with a dead card. For overclocking, I started with the factory setting and then proceeded to increase the clocks on the card until I experienced artifacts. I then backed down the clocks a bit, and ran 3DMark Vantage to gauge how much of an increase overclocking is to this card.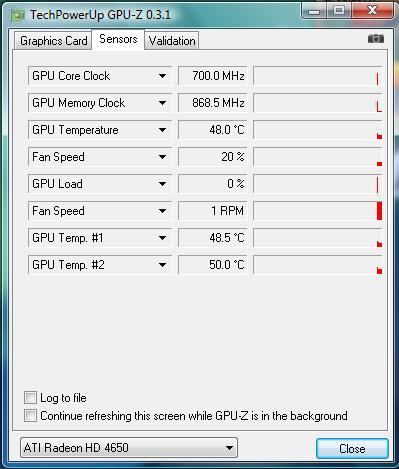 Max Overclock
Overall, through Catalyst, I was able to achieve 700 MHz on the core and 868.5 MHz on the memory. That's an increase of 100 MHz on the core, and 168.5MHz on the RAM. Not too bad of a overclock.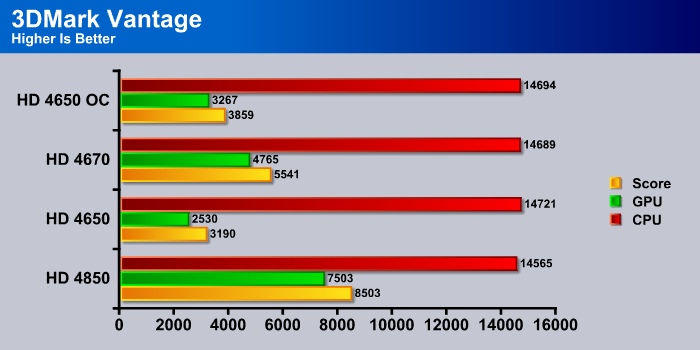 As you can see, the overclock did make a nice difference. If the performance is free, why not get it? It is a similar concept to overclocking on a CPU. For the performance benefit you might as well put in a little time to overclock it, because you will be enjoying the overclock for hours.
CONCLUSION
The first thing you have to look at before buying this card is the price. Though the card is cheaper than the HD 4670, is it really worth it? Now, if this were the difference between an HD 4850 and HD 4870, where the price difference is bigger, then you should put more thought into it. The downfall of the HD 4650 is the fact that you can buy an HD 4670 for the same price and have more performance. If you don't mind paying the same, because your not really going to use it for games, then that's fine. If you are a consumer who plans to use this card a lot, I suggest passing it up for a HD 4670.
I can say that the 512 MB of GDDR3 is a nice feature of this card. It was not that long ago that almost every mid range card had just 256 MB of RAM, but that really doesn't cut it in games anymore, so it's nice to see that manufacturers are stepping it up some. This card also has the ability to Crossfire, though I couldn't get it to work. This is most likely because it has to be paired with another HD 4650, as the HD 4670 has a Crossfire connector.
In the end, the HD 4650 is a great card in itself, and who's to say a price drop isn't on the horizon. This card could be a very great deal if the price was dropped. If you look at Nvidia's side of things, this makes the HD 4650 seem like quite a big failure. You can buy a 9600 GSO which will run all over the HD 4650 for a similar price, and at a much lower price if it has a mail in rebate. Overall Sapphire HD4650 video card performed quite well. It was able to keep up with the HD 4670, though it never did quite catch it, it nonetheless stayed right next to it.
Here at Bjorn3D we are trying out a new rating system. This system currently doesn't do anything but give you a more in depth look at individual scores that the product received.
Performance 6
Value 3.5
Quality 8
Features 10
Innovation 10
Pros:
+ One slot
+ Runs cool
+ Quite close to the HD 4670 at times

Cons:
– Issue with Far Cry 2
– Cheaper cards in price range
With a final score of 7.5 the Sapphire HD 4650 receives the Bjorn3D Seal of Approval.