The Leadtek WinFast GTX 285 is a 55nm die shrink of the GeForce GTX 200 series video card from Nvidia. If you want to play games, you may want to play with this bad boy.
INTRODUCTION
A new year can be exciting. It's a time for renewal, and resolutions, and even some times it's a time a new president. But this new year, it was also a time for gamers. At the Consumer Electronics Show this past January in Las Vegas, Nevada, a new video card was debuted, the Nvidia GeForce GTX 285. Built upon the GTX 200 series architecture, the GTX sports a smaller die process (shrunken from 65nm to 55nm) that lowers power consumption and lowers heat, but packs more performance than its predecessors. And though the GTX 285 is the younger sibling to the GTX 280 that was previously Nvidia's top-of-line offering, the new GTX 285 is now definitely its big brother.
The GTX 280 has a little brother, in the GTX 260 with 216 stream processors, and Leadtek offered an overclocked version of that video card in the WinFast GTX 260 Extreme+. And though while technically not as fast as its big brother the GTX 280, the factory overclocked GTX 260 Extreme+ posted some impressive numbers, especially if it was coaxed into providing some extra speed with a little extra overclocking. Today we have the Leadtek GTX 285 video card to test and we're going to see just what its capable of doing.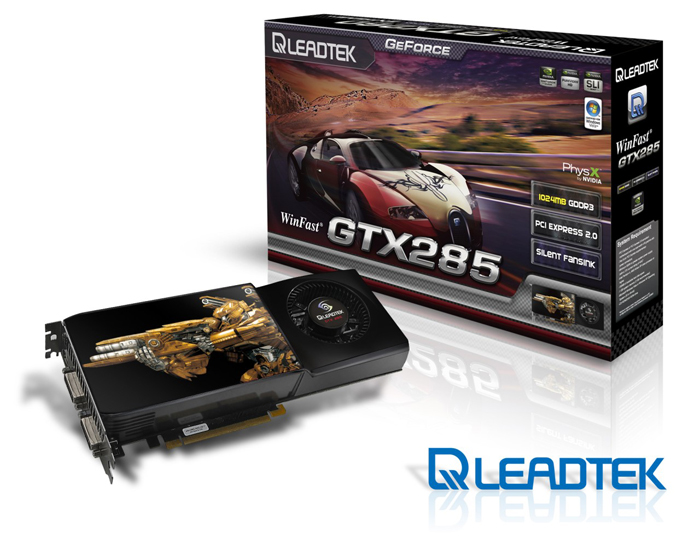 "A great climax of performance"
About Leadtek
Vision
"Innovation and Quality" are all and intrinsic part of our corporate policy. We have never failed to stress the importance of strong R&D capabilities if we are to continue to make high quality products with added value.
By doing so, our products will not only go on winning favorable reviews in the professional media and at exhibitions around the world but the respect and loyalty of the market.
For Leadtek, our customers really do come first and their satisfaction is paramount important to us.
Using all digital means of communication available – such as our regularly updated Website- customers, current and potential, are easily able to refer to our catalogue of products with information on prices, services and future developments.
Looking ahead, Leadtek will continue to maintain its status on the Asia-Pacific market while extending its global sales network. By combining our trend-setting graphics, multimedia audio and video, communications technologies, we remain dedicated to cutting edge technologies and value added products.
We will work toward further integration of computer and communications technologies with our sights set on combining multimedia videophony, and GPS (Global Positioning System) in a single product. Also to extend the market for broadband network devices.
Our ultimate goal is to facilitate and improve human life through new technology and applications without harming the environment.
Together we can dream of a world where we enjoy the convenience of modern technology without compromising our natural heritage for future generations.
And turn even this Dream into a Reality with Leadtek.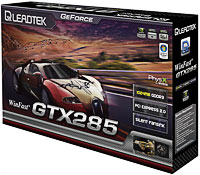 FEATURES
PCI Express 2.0 GPU
Provides Support for
Next Generation PC Platforms

GPU/Memory Clock at


648/2484

MHz!!
HDCP capable

1024MB, 512-bit

memory interface for smooth, realistic gaming experiences at Ultra-High Resolutions /AA/AF gaming
Support Dual Dual-Link DVI with awe-inspiring

2560×1600

resolution
The Ultimate Blu-ray and HD DVD Movie Experience on a Gaming PC
Smoothly playback H.264, MPEG-2, VC-1 and WMV video–including WMV HD
Industry leading 3-way NVIDIA SLI technology offers amazing performance
NVIDIA PhysX™ READY
PCI Express 2.0 Support

Designed to run perfectly with the new PCI Express 2.0 bus architecture, offering a future-proofing bridge to tomorrow's most bandwidth-hungry games and 3D applications by maximizing the 5 GT/s PCI Express 2.0 bandwidth (twice that of first generation PCI Express). PCI Express 2.0 products are fully backwards compatible with existing PCI Express motherboards for the broadest support.

2nd Generation NVIDIA® unified architecture

Second Generation architecture delivers 50% more gaming performance over the first generation through enhanced processing cores.
GigaThread™ Technology

Massively multi-threaded architecture supports thousands of independent, simultaneous threads, providing extreme processing efficiency in advanced, next generation shader programs.
NVIDIA PhysX™ -Ready

Enable a totally new class of physical gaming interaction for a more dynamic and realistic experience with Geforce.
High-Speed GDDR3 Memory on Board

Enhanced memory speed and capacity ensures more flowing video quality in latest gaming environment especially in large scale textures processing.
Dual Dual-Link DVI

Support hardwares with awe-inspiring

2560-by-1600

resolution, such as the 30-inch HD LCD Display, with massive load of pixels, requires a graphics cards with dual-link DVI connectivity.

Dual 400MHz RAMDACs

Blazing-fast RAMDACs support dual QXGA displayswith ultra-high, ergonomic refresh rates up to 2048×[email protected]

3-way NVIDIA SLI technology

Support hardwares with awe-inspiring

2560-by-1600

Offers amazing performance scaling by implementing AFR (Alternate Frame Rendering) under Windows Vista with solid, state-of-the-art drivers.

Click to Enlarge

Microsoft® DirectX® 10 Shader Model 4.0 Support

DirectX 10 GPU with full Shader Model 4.0 support delivers unparalleled levels of graphics realism and film-quality effects.

OpenGL® 2.1 Optimizations and Support

Full OpenGL support, including OpenGL 2.1 .
Integrated HDTV encoder

Provide world-class TV-out functionality up to 1080P resolution.
NVIDIA® Lumenex™ Engine

Support hardwares with awe-inspiring

2560-by-1600

Delivers stunning image quality and floating point accuracy at ultra-fast frame rates.

16x Anti-aliasing: Lightning fast, high-quality anti-aliasing at up to 16x sample rates obliterates jagged edges.
128-bit floating point High Dynamic-Range (HDR): Twice the precision of prior generations for incredibly realistic lighting effects

Dual-stream Hardware Acceleration

Provides ultra-smooth playback of H.264, VC-1, WMV and MPEG-2 HD and Bul-ray movies.

High dynamic-range (HDR) Rendering Support

The ultimate lighting effects bring environments to life.

NVIDIA® PureVideo ™ HD technology

Delivers graphics performance when you need it and low-power operation when you don't. HybridPower technology lets you switch from your graphics card to your motherboard GeForce GPU when running less graphically-intensive applications for a silent, low power PC experience.

HybridPower Technology support

Delivers graphics performance when you need it and low-power operation when you don't. HybridPower technology lets you switch from your graphics card to your motherboard GeForce GPU when running less graphically-intensive applications for a silent, low power PC experience.
HDCP Capable

Allows playback of HD DVD, Blu-ray Disc, and other protected content at full HD resolutions with integrated High-bandwidth Digital Content Protection (HDCP) support. (Requires other compatible components that are also HDCP capable.)
| | |
| --- | --- |
| | |
Click to Enlarge
SPECIFICATIONS
GPU
NVIDIA GeForce GTX 285

Graphics Bus

PCI Express 2.0
Memory size
1024MB GDDR3

GPU/Memory clock

648/1242MHz

Memory data rate

2484MHz

Output

Dual Dual-Link DVI, HDTV
Memory Interface
512-bit
Stream process
240

RAMDACs (MHz)

400
2nd Generation NVIDIA® unified architecture
NVIDIA® Lumenex™ Engine
Full MicrosoftR DirectX®10.0 Shader Model 4.0 Support
3-way NVIDIAR SLI™- Ready
NVIDIAR PhysX -ready technology
True 128-bit floating point high dynamic-range (HDR) lighting
Built for Microsoft® Windows Vista™
OpenGL® 2.1 Optimizations and Support
Package contents
WinFast GTX 260 EXTREME+ graphic card
Maunal & Driver disc
Quick installation guide
DVI to VGA converter
Power cord

System Requirements

Window XP, 2000, Vista
A PCI Express or PCI Express 2.0 compliant motherboard with 2 full-height free slot
Installation software requires DVD-ROM drive
VGA or DVI compatible monitor
A Minimum

500W

or greater system power supply (with 12V current rating of 36A) with two 6pin power cords support

Adapter/Cable Bundled

DVI-to-VGA Adaptor x 1
DVI-to-HDMI converter
SPDIF Cable
Power Cable

Software Bundled

WinFast Graphics Driver CD (w/ WinFox II) x 1
Never Winter Night 2 DVD x 1
Major GPU Specifications
GPU
GTX-260
Leadtek WinFast GTX 260 Extreme+
GTX-280
Leadtek WinFast GTX 285
GTX-295
GPU frequency
576MHz
602MHz
602MHz
648MHz
576MHz
ALU frequency
1242MHz
1296MHz
1296MHz
1476MHz
1242MHz
Memory frequency
999MHz
1107MHz
1107MHz
1242MHz
999MHz
1998 (DDR)
Memory bus width
448 bits
448 bits
512 bits
512 bits
448 bits
Memory type
GDDR3
GDDR3
GDDR3
GDDR3
GDDR3
Memory quantity
896 MB
896 MB
1024 MB
1024 MB
2 x 896 MB
Number of ALUs
192
216
240
240
480
Number of texture units
64
72
80
80
160
Number of ROPs
28
28
32
32
28 x 2
Shading power
715 GFlops
839.8 GFlops
933 GFlops
1062 GFlops
1788 GFLOPS
Memory bandwidth
111.9 GB/s
124.0 GB/s
141.7 GB/s
159.0 GB/s
224 GB/s
Number of transistors
1400 mil
1400 mil
1400 mil
1400 mil
1400 x 2 mil
Process
65nm
65nm
65nm
55nm
55nm
Die surface area
576 mm²
576 mm²
576 mm²
470 mm²
Unknown
Generation
2008
2008
2008
2009
2009
Shader Model supported
4.0
4.0
4.0
4.0
4.0
The Leadtek Warranty
USA and Canada area
Limited Warranty and Limitation of Liability
Leadtek Research Inc. warrants "Leadtek" products, sold by Leadtek Research Inc. for use in North America, to be free of defect in material and workmanship under normal use during the warranty period. No warranty of any kind against incompatibility with the customer's system configuration is provided by Leadtek Research Inc. The Customer Service Dept. of Leadtek Research Inc. can only setup RMA services for the original end user (the original buyer) to send the product back for repair or replacement if the product is still under Warranty. If the product is purchased in North America and be brought to other regions outside North America, the customer must provide a valid mailing address in the U.S. for warranty repair/replacement. We do not mail RMA returns to addresses outside North America (namely U.S. and Canada only).
 
The warranty period shall begin on the date on which the product was originally purchased by the customer (proof date) and shall expire
 
 36 months following that date (Graphics & Multimedia products)
 12 months following that date (Videophone products) 
 12 months following that date (GPS products)
What the warranty does not cover: 
 Any product, on which the serial number has been defaced, modified or removed. 
 Failed bios flash on Leadtek video cards.
 Products that have been damaged by accident, disaster, negligence, electrical surges, misuse, improper maintenance, abuse, or as a result of service or modification other than that done by Leadtek Research Inc.,
 LeadTek products purchased outside North America.
Leadtek Research Inc., at its sole discretion, shall repair or replace the defective product covered by this warranty. In the event a returned product is no longer available, Leadtek reserves the right to substitute with another product of similar or greater functionality.
During the warranty period, product determined to be defective will be repaired or replaced with a new or remanufactured unit at no charge, provided the product is returned to the designated address with an authorized RMA number and freight charges prepaid.
All returns will be tested. In the event a returned product is determined by Leadtek to be not defective or not covered by the expressed warranty, Leadtek will notify the sender and the product will be returned to the sender at the sender's expense. If the prodcut is not defective, customer needs to pay a flat diagnostic and handling fee of $30.00 because all products need to be shipped back to Taiwan for repair and test. Customers agree that they will abide by the findings of Leadtek's Technical Support Department.
This warranty does not apply to products that have been damaged by accident, disaster, negligence, electrical surges, improper maintenance, abuse, misuse, or as a result of service or modification other than that done by Leadtek. Repair or replacement as provided under this warranty is the exclusive remedy for the user of this product. neither leadtek, nor their authorized dealers shall be held liable for incidental or consequential damages, losses, or expenses, such as lost revenue or lost business opportunities arising from or related to the purchase or use of this product. in no event will the liability of leadtek, or their authorized distributors or dealers exceed the price paid for the product. this limited warranty is the sole warranty and is applicable only to product sold as new. leadtek makes no other warranty of any kind whatsoever, expressed or implied and this warranty is in lieu of all other warranties. all implied warranties of merchantability and/or fitness for a particular purpose are hereby disclaimed.
Software is provided on an "AS-IS" basis without warranty. Leadtek Research Inc. makes no warranty of any kind with regard to any software and/or printed material accompanying the product, including, but not limited to implied warranties of merchantability or fitness for a particular purpose. Leadtek Research Inc. shall not be liable for errors contained within the software and/or issued documents, nor shall either be liable for incidental or consequential damages in connection with the furnishing, performance, or use of the software and/or documents. The information contained in the documentation is subject to change without notice. The contents of this document and/or included software may be revised without prior notice. Leadtek Research Inc. also reserve the right to make changes and/or improvements to their products without incurring any obligation to incorporate such changes or improvements in products previously sold or shipped. 
PACKAGING
I had originally decided to drop the cardboard segment for this review, but what changed my mind was the rather unique packaging that Leadtek employed this time around when shipping this video card from China. Instead of getting a lot of foam and cardboard inserts inside the box, I got video card boxes (GTX-280's) turned inside out that filled all of the dead space. Now foam packing material is good to use if you're packing something and shipping it off but I haven't found all that many good uses for it other than that. But the boxes here that Leadtek used for filler will come in quite handy.
Click to Enlarge
The bright orange box that the Leadtek WinFast GTX 260 Extreme+ video card came in that I reviewed late last year (read that review here) has been replaced with more subtle coloring and sports a nice looking car that looks like it should go fast, very very fast. If fast cars and fast video cards go together, then I'm sure that the car that they decided to use on the box for the Leadtek WinFast GTX 285 is an excellent choice. Printed on the Leadtek box are the card's specifications and features. There's no big bight yellow sticker on this box screaming that this video card is "Factory Overclocked!!" because it isn't, but what they might have added is a big bright yellow sticker saying "Overclocker Friendly!!", because this card is. It's fast, even faster that what the specifications on the box proclaim. But more on that later in the review. There are plenty of Nvidia logos displayed on the box as well as a "Certified for Windows Vista" logo. Leadtek is sure to mention that the card is PCI Express 2.0, DirectX 10 and HDCP compliant, has 1024MB's of GDDR3 memory, and includes a silent fansink. And though the box does not say that it comes with a free game, it does.  It comes with either Overlord or Neverwinter Nights 2. This card came with Neverwinter Nights 2. The back of the box continues with more of the card's specifications and features and it also lists the package contents.
| | |
| --- | --- |
| | |
Click to Enlarge
The Leadtek WinFast GTX 285 video card itself, like the Leadtek WinFast GTX 260 Extreme+ comes wrapped in an antistatic bag and it is nestled securely in foam packing material with its bundles adapters tucked nicely away in their own compartment. Laid on top are the instruction manual, along with the installation disk and the free game, Neverwinter Nights 2. The accessories include two Dual 4-pin (Molex) peripheral connectors to single 6-pin PCI Express power connector, an HDTV (component) breakout cable that includes S-Video and RCA connections, an S/PDIF analog audio cable, a DVI to VGA adapter, and a DVI to HDMI adapter. That's a pretty decent bundle of cable accessories and should be the minimum that all vendors provide. 
Click to Enlarge
FIRST LOOK
The Leadtek WinFast GTX 285 video card lies encased within the shroud of the two slot fansink design, just like its little brother, the GTX 260 Extreme+. There's nothing to fear here. The only thing that's going to be buried with this fansink is heat. This is the same fansink that's found on Nvidia's former top-of-the-line card, the GTX 280. The dual slot cooler design also serves to protect the components inside, and it does so ever so quietly. The GTX 285 uses two 6-pin PCI-e connectors for power and we'll find out later on just how much power that is. On the bottom right image you can that see the audio connector sits just to the right of the two 6-pin power connections. Hmm, uses two 6-pin connectors instead of a 6-pin and an 8-pin connector like the GTX 280. Nice.
Click to Enlarge
The Leadtek WinFast GTX 285 is just as long as any of the other GTX 2XX series cards, including GTX 260 Extreme+, and that's about 10.5″, give or take a hair or two. The two slot design is clearly evident from the image on the bottom left. Though an HDMI connection on the card is clearly missing ( I know, there's a DVI to HDMI adapter), I myself don't need one at this time, but I will need one (want one) very soon and I hope that Nvidia sees the light and joins the 21st Century, as I am about to. Digital television is almost here and I'm almost ready. I'm just waiting for the new 2009 120MHz LCD models to be released by Samsung. Then, it's retail therapy time for me! And time for 3D gaming. Have you heard about Nvidia's 3D Gaming Vision? It's revolutionary, right, Mark? Just ask Mark. He'll tell you. Or better yet, when you're done with this review, go check out Mark's review on it in our video card review section.
Click to Enlarge
GPU-Z
GPU-Z, from TechPowerUp, is "a lightweight utility designed to give you all information about your video card and GPU." All the specs of the Leadtek WinFast GTX 285 video card match up with what the manufacturer provided. The Nvidia display drivers being used are ForceWare version 181.20 for Vista64.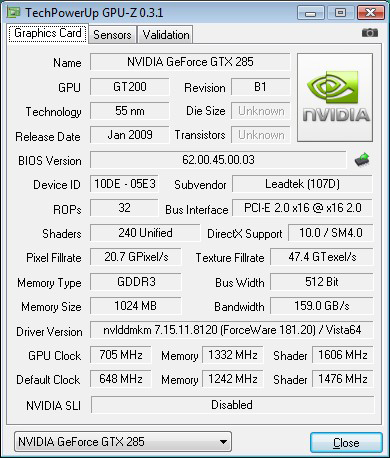 TEST SETUP
My Intel Core 2 Duo E8500 has a stock speed of 3.16GHz but I overclock it to 4.0GHz and it runs pretty stable 24/7. I also fold 24/7. If you don't know what [email protected] is, you can read about it in our forums here. It's for a good cause and we at Bjorn3D.com would welcome your participation. Just remember that we are team #41608. And by the way, if you stop on in at our forum, why not go ahead and join? It's simple. It's easy. And it's free. We give away prizes (shameless plug).
Test Platform
Processor
Intel Core 2 Duo [email protected]
Motherboard
XFX MB-N680-ISH9
Memory
2 GB (2 x 1 GB) G.Skill DDR2 1066
Drive(s)
1 – Western Digital 200GB SATA
1 – Western Digital 250GB SATA
1 – Seagate Barracuda ES 400GB eSATA
Graphics

(1) Leadtek WinFast GTX260 Extreme+

Power Supply
Thermaltake Toughpower W0133RU 1200W
Display
Dell 24″ 2405FPW
Case
Koolance PC4-1036BK Watercooled Case
OS
Windows Vista Home Premium 64-bit
TESTING METHODOLOGY
The Move To Vista 64
We, at Bjorn3D, had to face the reality that Vista is here to stay for a while, so while most of our testing is in Vista 64-bit, I've held on to the aging Windows XP platform for two years since Vista has come out. Windows 7 is just around the corner and Bjorn3D is in the process of standardizing to Vista 64-bit in preparation for Microsoft's latest and greatest offering. Reviewers, like me, are still free to test in XP at this time because, thankfully, the bosses are not a bunch of control freaks. But I am required to test and report in Vista as soon as possible.
Well, that was the "moving to Vista 64-bit blurb" and the day has finally come and I've moved to Vista 64-bit, at least for testing purposes. I still use Windows XP Pro for everyday tasks, but I did load up a copy of Vista 64-bit for this test and ran it for about two weeks straight. It will be the OS of choice for a new Intel Core i7 test rig that I'm in the process of putting together (remember that 3D thing I was talking about earlier? it's Vista only), and I'll use it when I have to, but I might be using it a lot when that 46″ LCD HDTV arrives and gets the Nvidia 3D Vision attached to it.
Using a combination of synthetic and real world game benchmarks, we run all the tests listed below a total of three times and the average of the tests is then reported. In all of the games that were tested, all the settings were set to the maximum allowed (except Crysis – high settings were used, not the very high settings). Since the OS is Windows Vista 64-bit now, only DirectX 10 results are reported.
The Test Suite
Synthetic Benchmarks & Games
3DMark06 v. 1.10
3DMark Vantage
Company of Heroes v. 2.301
Crysis v. 1.21
Far Cry 2 v 1.01
World in Conflict v 1.0.0.9
3DMARK06
3DMark06, developed by Futuremark, is a synthetic benchmark used for universal testing of all graphics solutions. 3DMark06 features HDR rendering, complex HDR post processing, dynamic soft shadows for all objects, water shader with HDR refraction, HDR reflection, depth fog and Gerstner wave functions, realistic sky model with cloud blending, and approximately 5.4 million triangles and 8.8 million vertices; to name just a few. The measurement unit "3DMark" is intended to give a normalized mean for comparing different GPU/VPU's. It has been accepted as both a standard and a mandatory benchmark throughout the gaming world for measuring performance.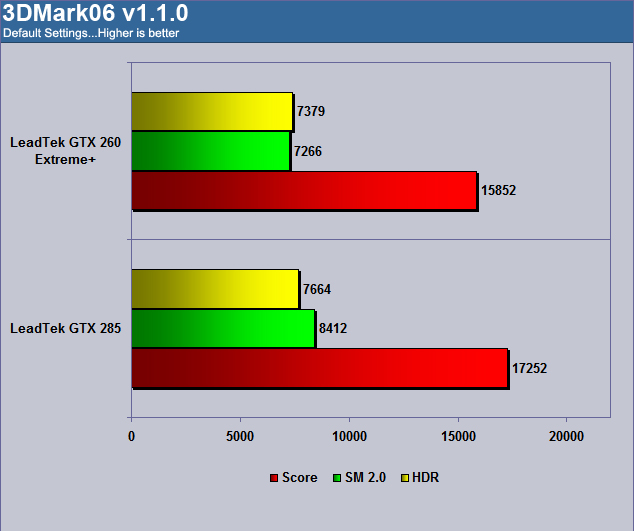 The WinFast GTX260 Extreme+ from Leadtek in Vista 64-bit came up about 800 3DMarks shy of its score when tested in Windows XP Pro. At 17252, I do wonder how high the Leadtek GTX 285 might have gotten had it been tested in Windows XP Pro. I'll just have to ponder that one as I am now committed to Vista 64-bit for testing from here on out.
3DMark Vantage

For complete information on 3DMark Vantage Please follow this Link:
www.futuremark.com/benchmarks/3dmarkvantage/features/
The newest video benchmark from the gang at Futuremark. This utility is still a synthetic benchmark, but one that more closely reflects real world gaming performance. While it is not a perfect replacement for actual game benchmarks, it has its uses. We tested our cards at the 'Performance' setting.
Currently, there is a lot of controversy surrounding NVIDIA's use of a PhysX driver for its 9800 GTX and GTX 200 series cards, thereby putting the ATI brand at a disadvantage. Whereby installing the PyhsX driver, 3DMark Vantage uses the GPU to perform PhysX calculations during a CPU test, and this is where things get a bit gray. If you look at the Driver Approval Policy for 3DMark Vantage it states; "Based on the specification and design of the CPU tests, GPU make, type or driver version may not have a significant effect on the results of either of the CPU tests as indicated in Section 7.3 of the 3DMark Vantage specification and white paper." Did NVIDIA cheat by having the GPU handle the PhysX calculations or are they perfectly within their right since they own Ageia and all their IP? I think this point will quickly become moot once Futuremark releases an update to the test.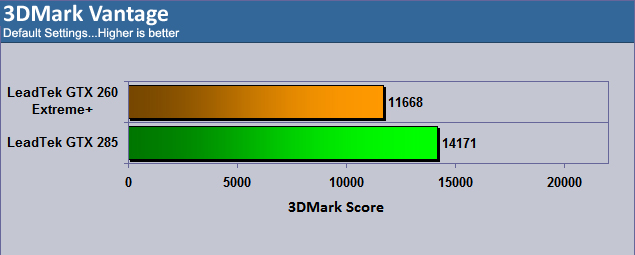 The Leadtek WinFast GTX 285 kicked some factory overclocked GTX260 Extreme+ butt in the 3DMark Vantage test. This is just as it should be though. The 260 is the little brother to the GTX 285.
COMPANY OF HEROES v2.301

Company of Heroes (COH) is a Real Time Strategy (RTS) game for the PC, announced in April, 2005. It is developed by the Canadian based company, Relic Entertainment, and published by THQ. COH is an excellent game that is incredibly demanding on system resources, thus making it an excellent benchmark. Like F.E.A.R., the game contains an integrated performance test that can be run to determine your system's performance based on the graphical options you have chosen. It uses the same multi-staged performance ratings as does the F.E.A.R. test, letting the games benchmark handle the chore takes the human factor out of the equation and ensures that each run of the test is exactly the same producing more reliable results.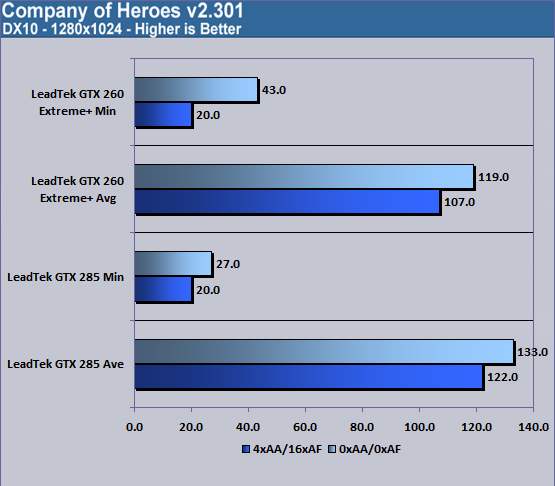 COH 1280×1024
Maximum settings were used in the game Company of Heroes and each video card was tested using 0xAA/0xAF and 4xAA/16AF. Though the average frame rate for the Leadtek WinFast GTX 260 Extreme+ does really well at this resolution, where it really shines a bit in its overall loss to the GTX 285 is in its minimum frame rate with 0XAA/0xAF.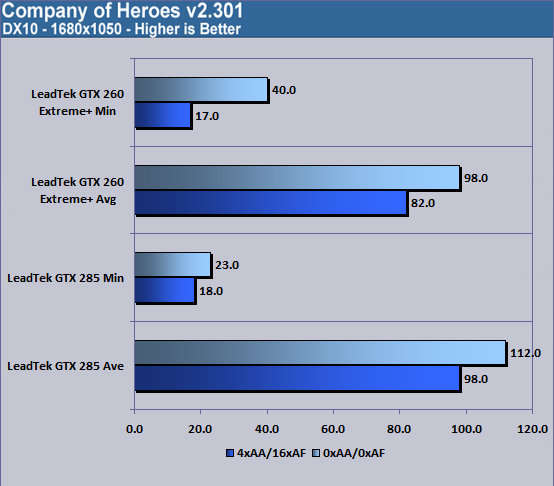 COH 1680×1050
At the higher resolution of 1680×1050, the Leadtek WinFast GTX 260 Extreme+ still does very well in the minimum frame rate department as compared to the GTX 285. It loses once again to the GTX 285 in the average frame rate department, but it's still interesting that it fares so much better than the GTX 285 in minimum FPS (frames per second).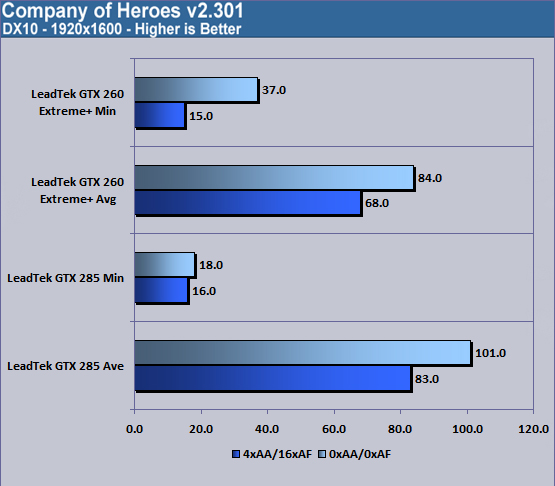 COH 1920×1600
At 1920×1600 resolution, 4xAA/16xAF doesn't hamper the GTX 285's performance much at all. It maintains an FPS above 80 but does a really poor job at minimum FPS with AA and AF turned on or off. This could be due to an immature driver issue. Low minimum FPS doesn't bother me at all when the average is 80+ in COH! And by the way, I checked, re-checked, and checked the data again. It's correct. The factory overclocked GTX 260 Extreme+ deserves some respect.
FAR CRY 2 v.1.01

Far Cry 2, released in October 2008 by Ubisoft, was one of the most anticipated titles of the year. It's an engaging state-of-the-art First Person Shooter set in an un-named African country. Caught between two rival factions, you're sent to take out "The Jackal". Far Cry2 ships with a full featured benchmark utility and it is one of the most well designed, well thought out game benchmarks we've ever seen. One big difference between this benchmark and others is that it leaves the game's AI (Artificial Intelligence) running while the benchmark is being performed.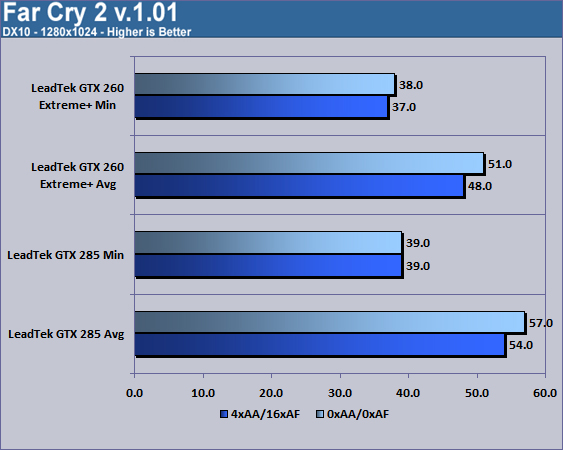 Far Cry 2 1280×1024
Ah, Far Cry 2, such a lovely benchmarking utility, such a pretty game. What's really nice about the Far Cry 2 benchmarking utility is that you can loop it to run up to 99 times. Then it reports the average of the number of loops that you've chosen when it's all done. That's nice. That's very nice. We ran the Ranch Small Demo at each resolution three times, both at 0xAA/0xAF and at 4xAA/16/AF with all graphics settings set to their maximum. When you do that though, the game gets kinda mean. With or without AA & AF, Far Cry 2 is stingy in regards to frame rates. However, none of the frame rates dropped below 30 FPS though, not even any of the minimum frame rates at any of the resolutions, which is a good thing, especially when DX10 is enabled.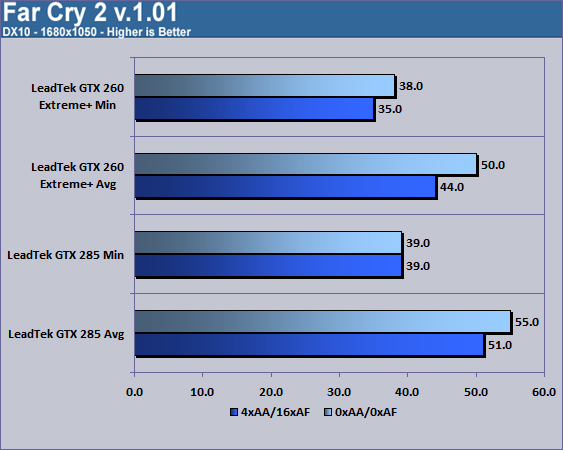 Far Cry 2 1680×1050
The Leadtek GTX 260 Extreme+ and the Leadtek GXT 285 are still battling it out in the minimum frame rate department but both video cards appear to be optimized pretty well for Anti Aliasing and Anisotropic Filtering. Things are just prettier with AA enabled and I don't miss the jaggies at all.
Far Cry 2 1920×1600
An average frame rate of almost 50 FPS on the GTX 285 with 4xAA/16xAF turned on is great eye candy at 1920×1600 resolution on a 24″ LCD, and when you throw in a minimum frame rate that's almost 40, well, that's almost heaven in Far Cry 2.
WORLD IN CONFLICT

World in Conflict is a real-time tactical video game developed by the Swedish video game company Massive Entertainment, and published by Sierra Entertainment for Windows PC. The game was released in September of 2007. The game is set in 1989 during the social, political, and economic collapse of the Soviet Union. However, the title postulates an alternate history scenario where the Soviet Union pursued a course of war to remain in power. World in Conflict has superb graphics, is extremely GPU intensive, and has built-in benchmarks. Sounds like benchmark material to us!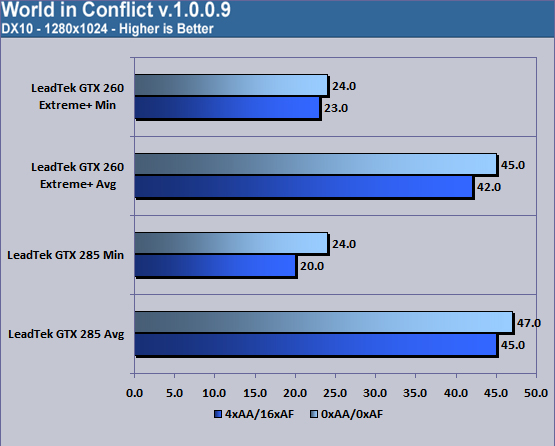 WIC 1280 x 1024
World in Conflict is an odd duck. And it's not because the Leadtek WinFast GTX 260 Extreme+ still beats the GTX 285 in the minimum frame rate department. It's odd because the 260 stays so darn close to the GTX 285 in average frame rates as well, and that's at just about at every resolution too. This game is odd because it really doesn't seem to care what resolution you run it at. There are but just a few frames separating all the resolutions of the two cards. The thing that has the biggest impact on it was, well, nothing. I ran far more than three passes on each card at each resolution. I did the same thing I tested this gane the last time. It just didn't seem to matter then. And it just doesn't seem to matter now.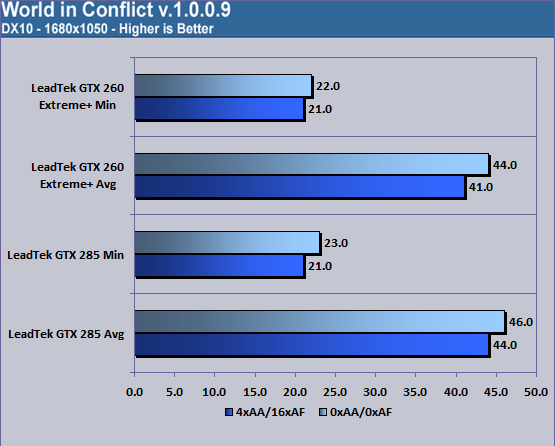 WIC 1680 x 1050 

Notice that turning on AA and AF have virtually no impact on this game. And the GTX 285, while still in the lead over the GTX 250, doesn't lead by much. I sure hope that that new Intel Core i7 that's in my future has some impact on this game.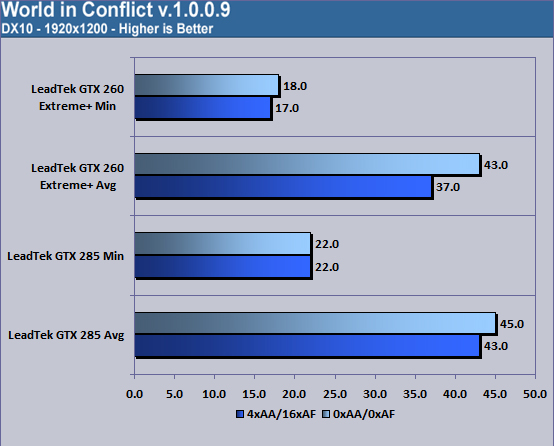 WIC 1920 x 1600
At the highest resolution of 1920×1600 with AA and AF turned on, the GTX 285 video card finally breaks away a little from the GTX 260. The game is beautiful at this resolution and is very playable at this frame rate.
CRYSIS

Crysis is the most highly anticipated game to hit the market in the last several years. Crysis is based on the CryENGINE™ 2 developed by Crytek. The CryENGINE™ 2 offers real time editing, bump mapping, dynamic lights, network system, integrated physics system, shaders, shadows, and a dynamic music system, just to name a few of the state-of-the-art features that are incorporated into Crysis. As one might expect with this number of features, the game is extremely demanding of system resources, especially the GPU. We expect Crysis to be a primary gaming benchmark for many years to come.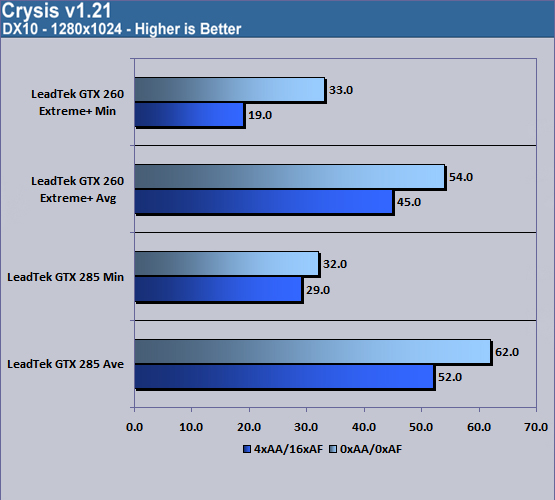 One reason that Crysis will be a primary gaming benchmark for many years to come is because it will probably take a few more years for hardware to catch up to the overambitious programming aspirations that the Crysis design team displayed for during development of the game. With all the settings set to "Very High", Crysis makes for a nice slide show, but not for much of a game. When the Crysis team developed the game, "optimization" was not in their vocabulary. That's too bad. While they profited, we, the gaming community, suffered. Even at the lowest resolution that was tested (1280×1024), minimum frame rates drop below 30 FPS with AA and AF turned on. And this isn't even with the graphics in the game set to their highest, which is "Very High". To even get these frame rates all setting were set to "High".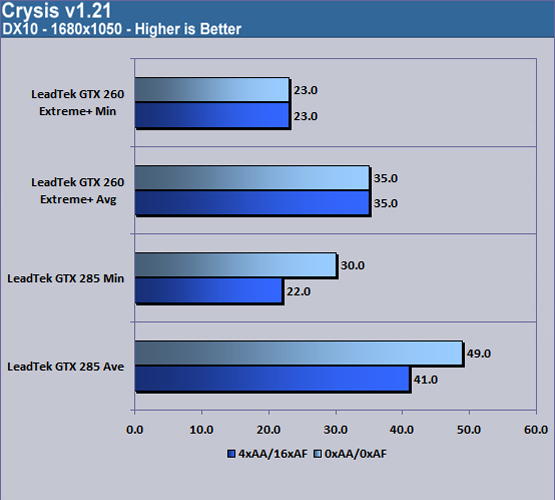 The GTX 285 barely manages to squeak out a minimum frame rate of 30 FPS with AA and AF off at 1680×1050. The GTX 260 dips to the low 20's here, and that's with or with AA and AF.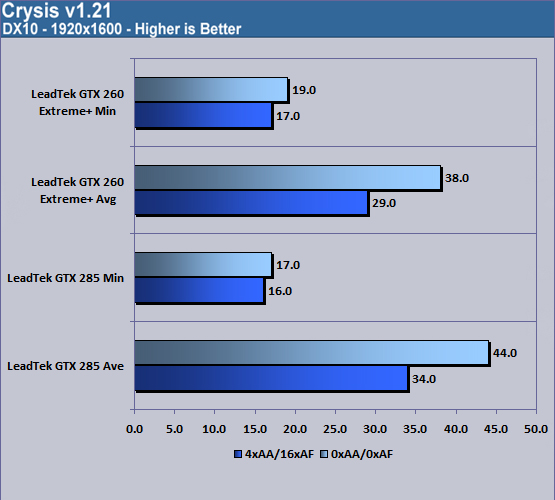 At the highest resolution that was tested (1920×1600), the GTX 260 drops below a 30 FPS average frame rate with AA and AF turned on. The GTX managed to stay above 30 FPS with AA and AF turned on, but 34 FPS with a minimum frame rate of 16 is abysmal. At this resolution, the game is insufferable, because there are just too many spots where the minimum frame rate rears its ugly head and holds the screen captive for a Crysis slide show.
TEMPERATURES

Under load, the temps on the Leadtek WinFast GTX 285 video card reached as high as 80°C. That's pretty hot and I don't like it, but that's what it is. The video card has a hot chipset, but it also has a very good cooling solution. At its default setting of 40% when controlled automatically, the fan is very near to being silent. I can make it conspicuously loud if I turn up the fan all the way, but cooler weather has hit once again where I live and I do not need to do that. I'm enjoying the warmth that my video cards provide for my computer room. Still, when the fan is cranked up on high, the temperature of the card goes way way down. And my computer room doesn't seem to be as warm and comfy.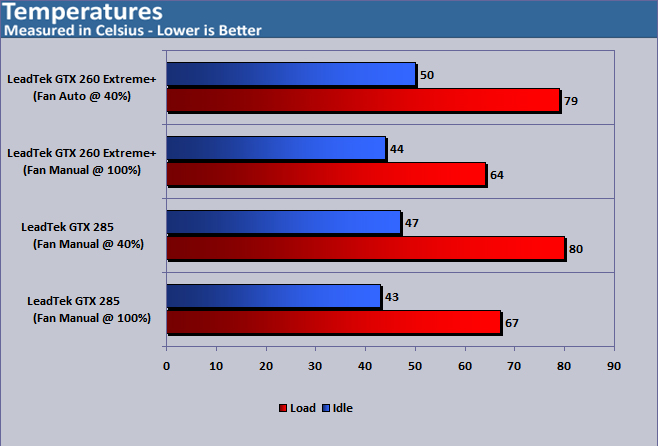 Ambient Room Temperature 27°C
POWER CONSUMPTION

Power consumption was tested at load and at idle with a Kill A Watt power meter. Idle was just that. I let the machine idle with normal background tasks running and took a break for about fifteen minutes or so. When I came back, I took a look at the meter and saw what it was. To get a load on the video cards, I used the Crysis benchmark utility and let it run ten times. It will spike a bit at times during the run, but I did not use those measurements because they are so fleeting (less than a second) and so scarce. Spikes were typically 20 watts or so higher than the power being drawn during the most intensive 3D scenes. Maximum power draw for me is the point where it is drawing maximum power at a consistent level. Please keep in mind that these power levels are for the entire system and its total power consumption.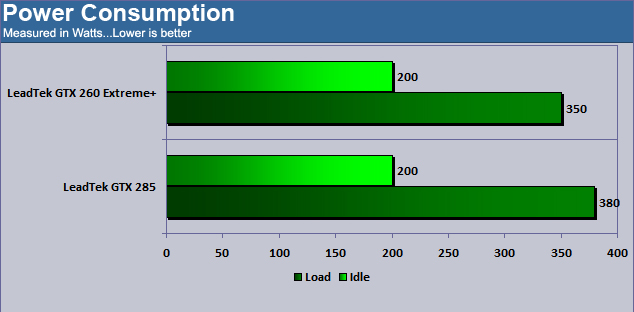 Measured With Kill A Watt P4400 Watt Meter
OVERCLOCKING

The Leadtek WinFast GTX 285, while not a factory overclocked video card, is very overclocker friendly video card. Well, at least for me it was. I'm not one to take all day and half the night trying to find out what overclocking potential a piece of hardware has. I rely on the trials and errors of others. In this case, I googled the Nvidia GeForce GTX-285 to see what was out there and to find out what kind of potential that this card has. I found a nice family of factory overclocked video cards from one particular vendor and started from there. I achieved some very good results, but I won't show you my best run because I don't want anyone to think that they can achieve the same results that I did. Anyone who overclocks overclocks at their own risk and they know that their mileage may vary. I am not responsible for any mishaps. Bjorn3D is not responsible for any mishaps. And Leadtek is not responsible for any mishaps. The only one who is responsible for any mishaps that may occur is the one doing the overclocking. It's time for everyone to take personal responsibility for their own actions.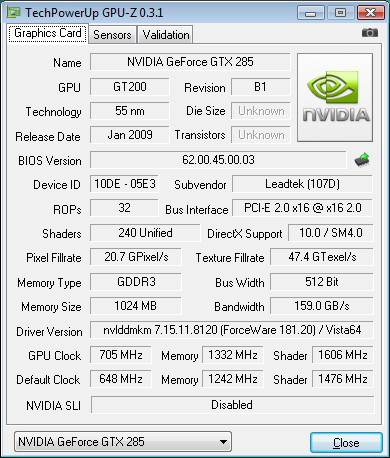 Overclocking the "Overclocker Friendly" Leadtek WinFast GTX 285 increased the temperatures as expected, but the fansink did a really nice job of keeping things cool.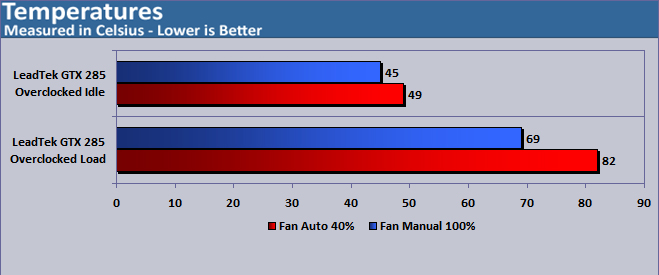 Leadtek WinFast GTX285 Overclocked 705MHz/1332MHz/1606MHz
CONCLUSION
The Leadtek WinFast GTX 285 is one of the fastest video cards on the market today and has graphics processing power that was unimaginable just a short time ago. It's also one of best overclocking video cards that I've ever run across and that adds a great value to an already great card. I like getting the extra graphics processing that this card can provide without paying the extra price. My preferred resolution is 1920×1600 and I do like the pretty pretties. And the Leadtek WinFast GTX 285 gives me all the pretty pretties that I like.
The silent fansink on this video card is barley audible at its default setting, but if you want crank it up while gaming it will lower the card's temperatures by quite a bit. I don't notice the noise of the fan so much at 100% because I'm usually too engrossed in doing away with bad guys. Take that! And that! And that!
And because I fold so much when not gaming, I am truly impressed with the amount of folding work that it can do compared to the other video cards in my deck. Being that I do fold so much of the time, the excellent power consumption that this card has is a welcome sight to my electric bill.
We are trying out a new addition to our scoring system to provide additional feedback beyond a flat score. Please note that the final score isn't an aggregate average of the new rating system.
Performance 10
Value 9
Quality 10
Warranty 8
Features 10
Innovation 10
Overclockability 10+
Pros
+  Great Performance
+  Very Overclocker Friendly
+  Excellent Power Consumption
+  Use two 6-pin connectors instead of a 6-pin and an 8-pin connector
+  SLI & Tri-SLI certified
+  Quiet Fansink
+  Great Cable Bundle
+  Nvidia GeForce CUDA – Great for Folding When Not Gaming
Cons
–  Loud Fan at 100%
–  10.5″ Length May Cause Full Tower Chassis Envy
–  Only One Card in Each Box
 
The Overclocker Friendly Leadtek WinFast GTX 285 is an excellent video card that packs a lot of punch. The extra untapped power that lies beneath the hood of this card gives it a nice bang for the buck appeal that can't be dismissed.
Final Score of 9 out of 10 (Extremely Good) and the Golden Bear Award.