PNY has been a player in the GPU market for years. With the introduction of the PNY GTX-285 Performance Edition, they've brought their lineup right to the cutting edge.
INTRODUCTION
PNY has been in the GPU market for a very long time. They are more well known for their memory products than their GPU's. The addition of the PNY GTX-285 Performance Edition to their lineup brings them right to the cutting edge of graphics. PNY has been out of the Bjorn3D limelight for a period of time, but they've always been there, producing high quality graphics cards, flash products, and performance memory.
We thought it would be a nice addition to the GPU comparison stack to give the PNY GTX-285 Performance Edition a chance to live up to our high standards and see how it runs against "The Stack". We're betting that the PNY GTX-285 Performance Edition makes the grade and runs like a champion in SLI.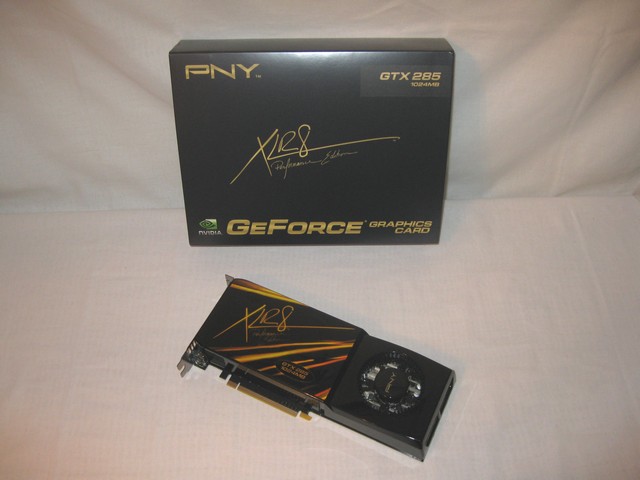 About PNY
PNY Technologies, Inc.

PNY Electronics, Inc. originated out of Brooklyn, N.Y. in 1985 as a company that bought and sold memory chips. To emphasize its expansion into manufacturing new forms of memory and complementary products, the company changed its name in 1997 to PNY Technologies®, Inc. The company continues to evolve by delivering a full spectrum of high-quality products to elevate the overall computing experience.

Today PNY Technologies® Inc. is considered a leading manufacturer and supplier of memory upgrade modules, high capacity flash memory cards, USB flash drives, portable hard drives as well as consumer and professional workstation graphics cards. Moreover, PNY's Microsoft Vista compatible products provides adopters of the new Windows operating system with enhanced user productivity, faster program load times and crisp, vibrant photos and videos. The company's photography, mobility, 3D gaming and business solutions are widely available from major retail, e-tail and wholesale outlets internationally.

The company has enjoyed continued growth and success since its inception. Currently employing over 450 people, they continue to aim for new and innovative products to expand their offerings by delivering a full range of high-quality solutions worldwide.

PNY is headquartered in Parsippany, New Jersey and maintains manufacturing facilities and/or sales offices in North America (Santa Clara and Orange County, Calif., Miami, Fla. and Parsippany, N.J.), Europe (Benelux, France, Germany, Italy, Norway, Spain, United Kingdom,) Asia (Taiwan and China) Latin America and Canada . Potential future expansion plans include Australia and India in the coming years.

To date PNY operates in 13 locations, with products are sold in over 50 countries.
FEATURES & SPECIFICATIONS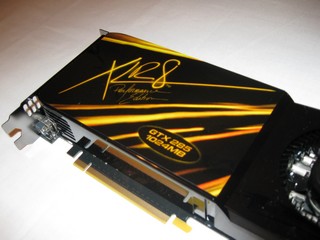 PCI Express 2.0 GPU
Provides Support for
Next Generation PC Platforms

GPU/Memory Clock at
 

648/1242

MHz!!
HDCP capable

1024 MB 512-bit

memory interface for smooth, realistic gaming experiences at Ultra-High Resolutions /AA/AF gaming
Support Dual Dual-Link DVI with awe-inspiring

2560×1600

resolution
The Ultimate Blu-ray and HD DVD Movie Experience on a Gaming PC
Smoothly playback H.264, MPEG-2, VC-1 and WMV video–including WMV HD
Industry leading 3-way NVIDIA SLI technology offers amazing performance
NVIDIA PhysX™ READY
PCI Express 2.0 Support

Designed to run perfectly with the new PCI Express 2.0 bus architecture, offering a future-proofing bridge to tomorrow's most bandwidth-hungry games and 3D applications by maximizing the 5 GT/s PCI Express 2.0 bandwidth (twice that of first generation PCI Express). PCI Express 2.0 products are fully backwards compatible with existing PCI Express motherboards for the broadest support.

2nd Generation NVIDIA® unified architecture

Second Generation architecture delivers 50% more gaming performance over the first generation through enhanced processing cores.
GigaThread™ Technology

Massively multi-threaded architecture supports thousands of independent, simultaneous threads, providing extreme processing efficiency in advanced, next generation shader programs.
NVIDIA PhysX™ -Ready

Enable a totally new class of physical gaming interaction for a more dynamic and realistic experience with Geforce.
High-Speed GDDR3 Memory on Board

Enhanced memory speed and capacity ensures more flowing video quality in latest gaming environment especially in large scale textures processing.
Dual Dual-Link DVI

Support hardwares with awe-inspiring

2560-by-1600

resolution, such as the 30-inch HD LCD Display, with massive load of pixels, requires a graphics cards with dual-link DVI connectivity.

Dual 400MHz RAMDACs

Blazing-fast RAMDACs support dual QXGA displayswith ultra-high, ergonomic refresh rates up to 2048×[email protected]

  Triple NVIDIA SLI technology

Support hardwares with awe-inspiring

2560-by-1600

Offers amazing performance scaling by implementing AFR (Alternate Frame Rendering) under Windows Vista with solid, state-of-the-art drivers.

Click to Enlarge

Microsoft® DirectX® 10 Shader Model 4.0 Support

DirectX 10 GPU with full Shader Model 4.0 support delivers unparalleled levels of graphics realism and film-quality effects.

OpenGL® 2.1 Optimizations and Support

Full OpenGL support, including OpenGL 2.1 .
Integrated HDTV encoder

Provide world-class TV-out functionality up to 1080P resolution.
NVIDIA® Lumenex™ Engine

Support hardwares with awe-inspiring

2560-by-1600

Delivers stunning image quality and floating point accuracy at ultra-fast frame rates.

16x Anti-aliasing: Lightning fast, high-quality anti-aliasing at up to 16x sample rates obliterates jagged edges.
128-bit floating point High Dynamic-Range (HDR): Twice the precision of prior generations for incredibly realistic lighting effects

Dual-stream Hardware Acceleration

Provides ultra-smooth playback of H.264, VC-1, WMV and MPEG-2 HD and Bul-ray movies.

High dynamic-range (HDR) Rendering Support

The ultimate lighting effects bring environments to life.

NVIDIA® PureVideo ™ HD technology

Delivers graphics performance when you need it and low-power operation when you don't. HybridPower technology lets you switch from your graphics card to your motherboard GeForce GPU when running less graphically-intensive applications for a silent, low power PC experience.

HybridPower Technology support

Delivers graphics performance when you need it and low-power operation when you don't. HybridPower technology lets you switch from your graphics card to your motherboard GeForce GPU when running less graphically-intensive applications for a silent, low power PC experience.
HDCP Capable

Allows playback of HD DVD, Blu-ray Disc, and other protected content at full HD resolutions with integrated High-bandwidth Digital Content Protection (HDCP) support. (Requires other compatible components that are also HDCP capable.)
GPU Comparison Table Reference Design
GPU
Comparison Table
 
Nvidia GeForce GTX 295
Nvidia GeForce GTX 285
Nvidia GeForce GTX 280
Nvidia GeForce GTX 260 Core 216
ATI Radeon HD4870 X2
ATI Radeon HD4870 1GB
GPU
2x GT200b
GT200b
GT200
GT200/GT200b
R700 XT
R700
Process (nm)
55
55
65
65/55
55
55
Core Clock (Mhz)
576
648
620
576
750
750
Shader Clock (Mhz)
1242
1476
1296
1242
750
750
Memory Clock (Mhz)*
999
1242
1107
999
900
900
Memory Size
(MB)
1792
(2x 896)
1024
1024
896
2048
(2x 1024)
1024
Memory Type
GDDR3
GDDR3
GDDR3
GDDR3
GDDR5
GDDR5
Unified Shaders/ Stream Processors
480
(2x 240)
240
240
216
800
 800
Texture Mapping Units
160 (2x 80)
80
80
72
80 (2x 40)
40
Raster Operation Units
56 (2x 28)
32
32
28
32 (2x 16)
32
Memory Interface
(bits)
896
(2x 448)
512
512
448
512
(2x 256)
256
Outputs (on reference design)
2x Dual-Link DVI
1x HDMI
2x Dual-Link DVI
S-Video
2x Dual-Link DVI
S-Video
2x Dual-Link DVI
S-Video
2x Dual-Link DVI
S-Video
2x Dual-Link DVI
S-Video
Power Connectors
1x 6-pin, 1x 8-pin
2x 6-pin
1x 6-pin, 1x 8-pin
2x 6-pin
1x 6-pin, 1x 8-pin
2x 6-pin
 Thermal Design Power (w)
289
183
236
182
286
150
Estimated Retail Price (USD)
499
399
360
289
449
247
PACKAGING
The PNY GTX-285 Performance edition comes in a nice black box with plenty of information and specifications to help inform the consumer about its purchase. When you get the box open you find more boxes. They look pretty nice but then you lift the flap to the GPU box and there's your expensive GPU laying there surrounded by foam and not in an antistatic bag. We're not fond of that approach; most packing foam will release granular foam dust and not having the PNY GTX-285 in a protective bag inside the inner box leaves its fan open to that type of contamination. While we checked and didn't find any apparent foam that had gotten into the fan area, we'd still like to see a protective bubble bag, or antistatic bag.
Please note that we contacted PNY and they assured us that the bubbling of the sticker on the review unit was nothing more than a fluke and that if you should order a PNY GTX-285 yours will be pristine. It was further noted that PNY doesn't "Cherry Pick" review units for review but rather simply uses a normal production unit which explains how we got the GPU with the sticker bubbled. We suspected as much but as always have to report what we see and not what suspect.
Bundle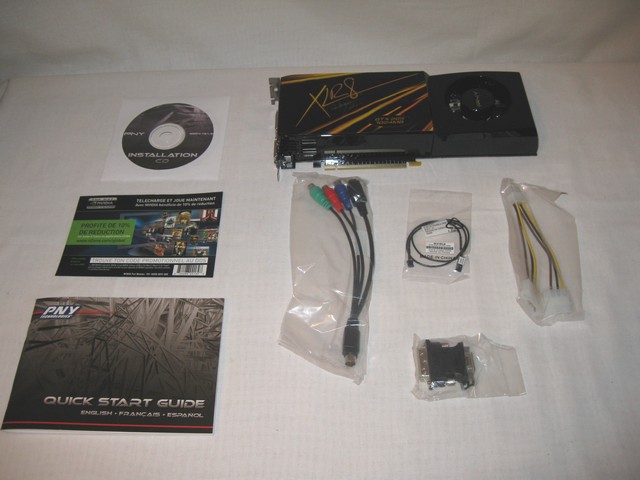 Inside the box you'll find:
1 – PNY GTX-285 Performance Edition
1 – Quick Start Guide
1 – Coupon for 10% off up to 5 Game Titles
1 – Driver Disk
1 – HDMI Audio Cable (internal)
1 – 2 Molex to 1 6 Pin PCI-E adapter
1 – DVI to VGA Adapter
1 – S-Video to Composite Video and S-Video Adapter
1 – DVI to HDMI Adapter
We'll have to take PNY's word on the DVI to HDMI adapter listed on the box, and on the website, the more astute among you will notice that the DVI to HDMI adapter is missing from the unit we received. PNY would most likely send you one or you can find them locally in most towns. If you need it now, or like us, expect the contents to match the website and boxes list of included contents, then forgetting to include the HDMI adapter in the box is a glaring omission and might be indicative of quality control needing a little spiffing up on the packing line. Like a few of the GPU vendors, no full game title is included and they toss in a coupon for 10% off for up to 5 games. By that, we mean you can order and download 5 games, each with a 10% discount. Let's do the math on that one, instead of a game title we're going to give you a chance for $5 bucks off a game title that you have to purchase, then spend the better part of a day downloading, then burn a copy of it in case your rig crashes. We appreciate the concept, but on major GPU's we really prefer to see a game title with them. Or a coupon for a game title of choice downloadable. I mean, face it, after the purchase of a $380-$400 dollar GPU you might need a game. You're probably stretching the budget as it is just to get the GPU, so there might not be any gamage for a month or so until the pocketbook has recovered.
PICTURES & IMPRESSIONS
Normally we lead with a beauty shot of the GPU in a GPU review, but since we have to address this issue we might as well do it right up front then get onto the picture herd.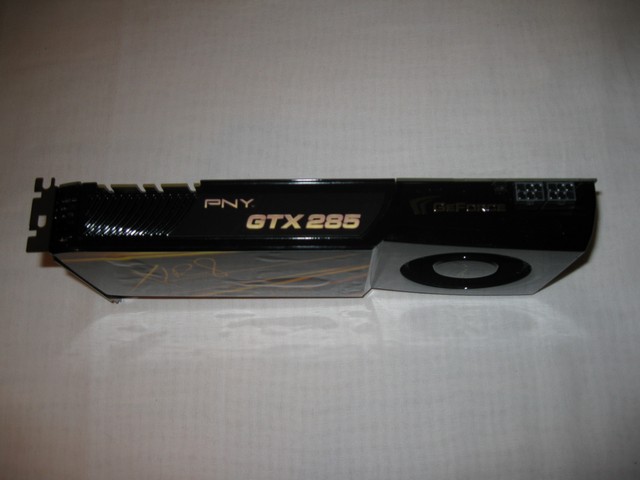 We were shocked to open the box and find a GPU with a sticker that had bubbles under it that were as large as a thumb. Not just a bubble, but several bubbles. Before we even thought about it, we had pressed the air out of a few of them so this is an after the shock and smoothing bubbles shot. A lot of them were bigger before our smoothing attempts.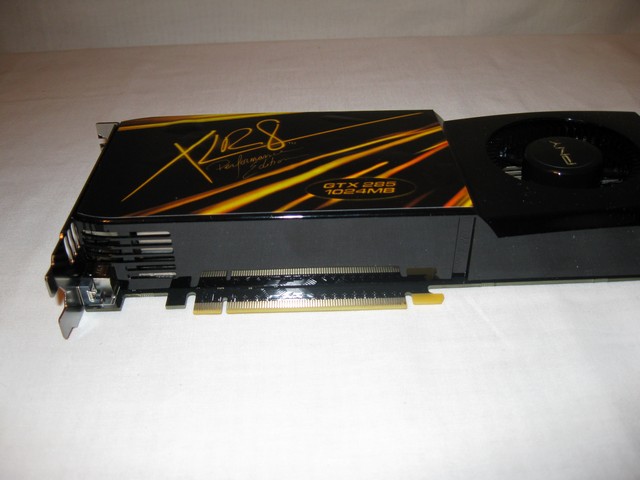 That being said, the bubbles aren't going to affect the operation of the GPU and in most chassis will be face down and unseen. You can barely notice them in this shot, but if you look close you can see them in the distortion of the yellow lines on the sticker's graphics. We can't tell you if PNY chose to send one with a bubbled sticker for review and is opting to keep picture perfect stickered GPU's for retail distribution. All we can tell you is that this one had a bubbled sticker. Now what does that mean to us? The lack of detail to attention on a sticker, forgetting to include DVI to HDMI adapter, no antistatic bag to protect against contaminants? Those things can be indicative of a general lack of quality control in manufacturing. We don't feel that the mechanical aspect of the GPU is compromised, but people like to receive nice looking products.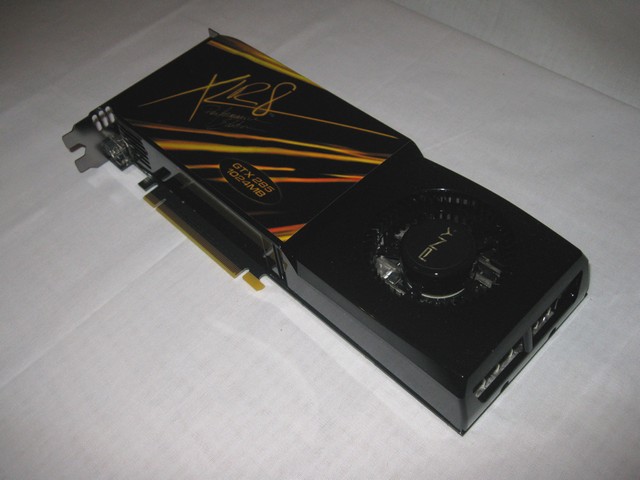 The PNY GTX-285 Performance Edition isn't a bad looking GPU. A lot of GPU's have flashy graphics, but PNY has chosen to go with a more distinguished look.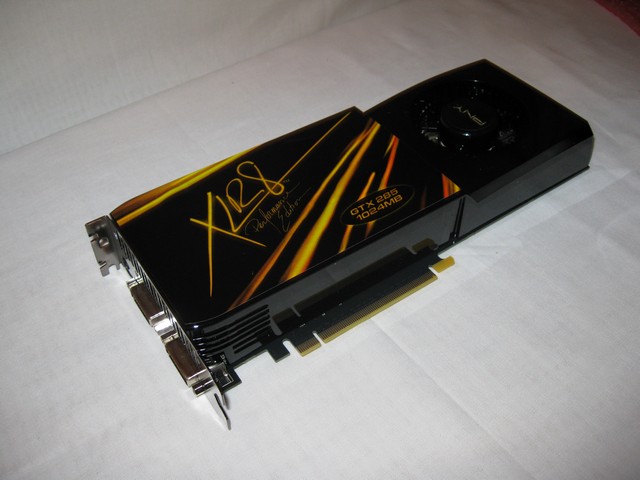 Almost every thing we saw on the PNY GTX-285 Performance Edition is standard Nvidia reference design. From the squirrel cage fan to the PCI-E connectors and standard DVI and S-Video outputs, everything says standard reference design. That's a plus in our book. Nvidia has well designed GPU's and that helps bolster our confidence in the GPU's quality after the problems we mentioned earlier.
Since this is a shrunk die 55nm process. you'll need 2 6-pin connectors to drive the PNY GTX-285 Performance Edition instead of the 6 and 8-pin arrangement on the GTX-280 models. You can also get a peek at the SLI connectors that will let you drive one of these puppies in SLI or mouth watering triple SLI.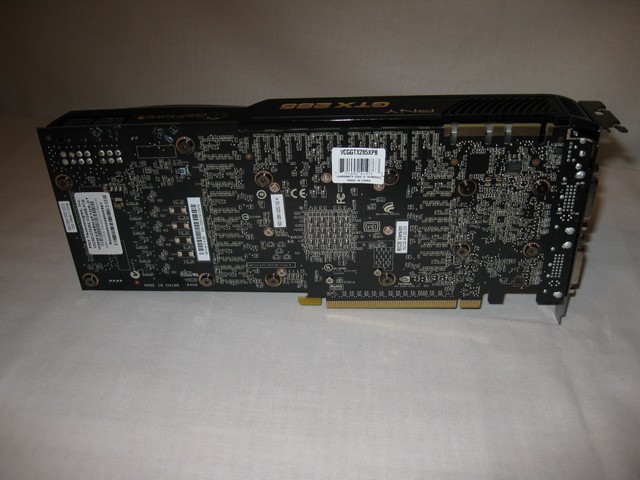 The back of the card is fairly unremarkable and has a bevy of stickers on it. Might want to leave the stickers, at least one says removal voids warranty, which by the way we were impressed with. While it's not a lifetime or double lifetime warranty they do offer a 3 + 2 warranty. Three years if you don't register the GPU on the PNY site and an additional 2 years if you do register.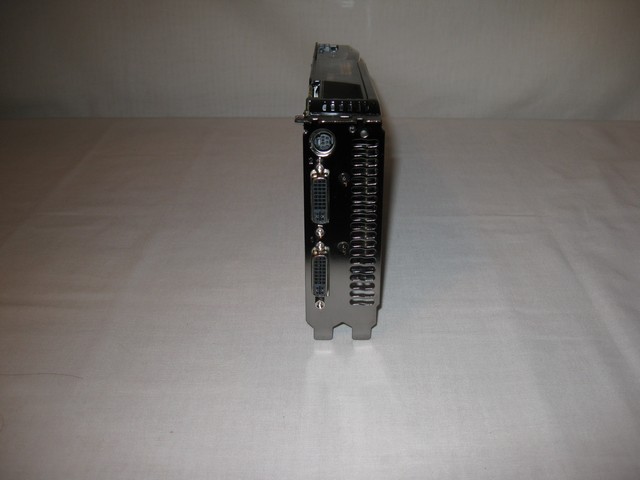 The standard dual slot cooler on the PNY GTX-285 Performance Edition with two DVI connectors and an S-Video connector are the same design we've become accustomed to since the 8800 series GPU's came out.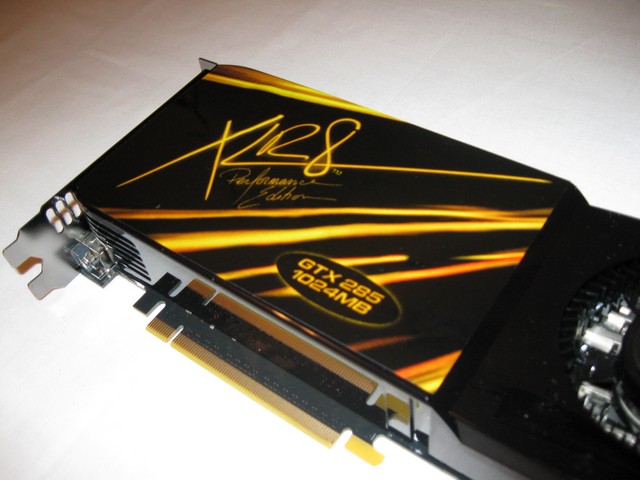 We'd hazard a guess that PNY was shooting for a more mature look on the sticker of the GPU. It doesn't affect the GPU's performance, but GPU's are like race cars, and they need a little flash to catch the eye. This sticker is a little muted for our tastes, but that's rather subjective. Someone else might like the sticker. Our inner child yearns for some monolithic hero wielding an incredible weapon in defense of a scantily clan woman cowering behind him.
TESTING & METHODOLOGY
To test the PNY GTX-285 we did a fresh load of Vista 64. We loaded all the latest drivers for the Asus P6T Deluxe motherboard, downloaded the latest drivers for the GPU and applied all patches and updates to the OS. Once we had everything updated and the latest drivers installed we got down to installing our test suite.
Once we had everything up to snuff, we loaded our testing suite, applied all the patches to the games, and checked for updates on 3Dmark06 because it was crashing on load. We found that some update we'd done had knocked out the OpenAl portion of 3Dmark06's install. We downloaded the OpenAl standalone installer and ran that which fixed our crash in Vista 64 (Ultimate). Then, we went ahead and installed 3Dmark Vantage, stoked up a pot of coffee and we were ready to run. We ran each test at least three times and report the average of the three test runs here. Some runs were made more than three times (the coffee didn't get done quickly enough), then we cloned the drive using Acronis to protect ourselves from any little overclocking accidents that might happen. Testing was done at the default clock speed of the GPU's tested unless otherwise noted.
Test Rig
Test Rig
"Quadzilla"
Case Type
Top Deck Testing Station
CPU
Intel Core I7 965 Extreme (3.74 GHz 1.2975 Vcore)
Motherboard
Asus P6T Deluxe (SLI and CrossFire on Demand)
Ram
Corsair Dominator DDR3 1866 (9-9-9-24 1.65v) 6 GB Kit
CPU Cooler
Thermalright Ultra 120 RT (Dual 120mm Fans)
Hard Drives
Patriot 128 GB SSD
Optical
Sony DVD R/W
GPU Tested
PNY GTX-285 Performance Edition
XFX GTX-285 XXX
BFG GTX-295
Asus GTX-295
EVGA GTX-280 (2)
XFX 9800 GTX+ Black Edition
BFG GTX-260 MaxCore
Leadtek GTX-260
Drivers for Nvidia GPU's 181.20
Palit HD Radeon 4870X2
Sapphire HD Radeon 4870 512MB
Diamond HD Radeon 4879 1 GB
Sapphire HD Radeon 4850 Toxic
Drivers for ATI GPU's 8.12
Case Fans
120mm Fan cooling the mosfet CPU area
Docking Stations
Thermaltake VION
Testing PSU
Thermaltake Toughpower 1200 Watt
Legacy
Floppy
Mouse
Razer Lachesis
Keyboard
Razer Lycosa
Gaming Ear Buds

Razer Moray
Speakers
Logitech Dolby 5.1
Any Attempt Copy This System Configuration May Lead to Bankruptcy
Synthetic Benchmarks & Games
Synthetic Benchmarks & Games
3DMark06 v. 1.10
3DMark Vantage
Company of Heroes v. 1.71
Crysis v. 1.2
World in Conflict Demo
FarCry 2
Crysis Warhead
3DMark06 V. 1.1.0

3DMark06 developed by Futuremark, is a synthetic benchmark used for universal testing of all graphics solutions. 3DMark06 features HDR rendering, complex HDR post processing, dynamic soft shadows for all objects, water shader with HDR refraction, HDR reflection, depth fog and Gerstner wave functions, realistic sky model with cloud blending, and approximately 5.4 million triangles and 8.8 million vertices; to name just a few. The measurement unit "3DMark" is intended to give a normalized mean for comparing different GPU/VPUs. It has been accepted as both a standard and a mandatory benchmark throughout the gaming world for measuring performance.
Once again rest assured this is the PNY GTX-285 Performance Edition; however Typing PNY GTX-285 Performance Edition into each chart would result in all name and very small chart bars, so we refer to the GPU as PNY GTX-285 for chart formatting purposes. If you have any question as to exact models please refer to the Testing and Methodology section in the Test Rig Graphic where each is listed.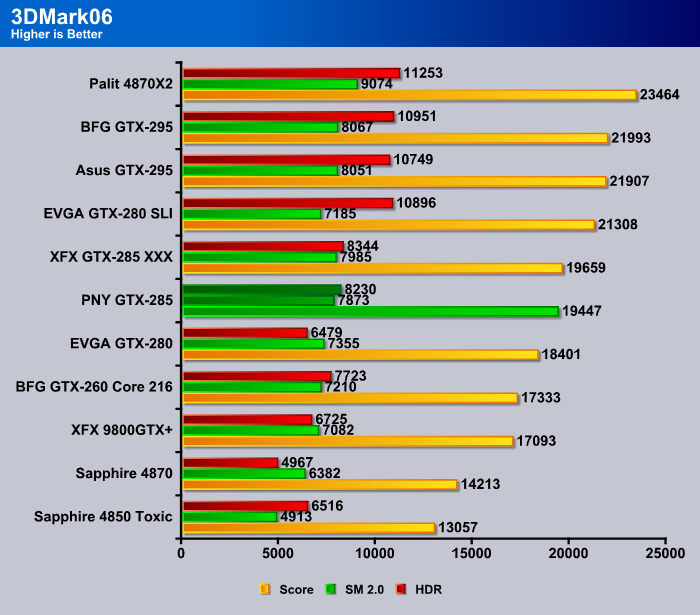 At first glance you can see that the PNY GTX-285 Performance Edition is right where it should be in chart placement. The XFX GTX-285 is clocked a little higher and places right above it in the chart. The PNY GTX-285 scores 19447 with no OC applied, which means that with a little careful Overclocking you can be a member of the 20k club with minimal effort. Every thing above the GTX-285s is in a different class GPU, either an SLI or Crossfire setup or a Dual Core GPU on one card. That places the PNY GTX-285 Performance Edition in that exclusive class of top performing single core GPU's, or as we jokingly like to call them "The Royal Family".
3DMark Vantage

For complete information on 3DMark Vantage Please follow this Link:
www.futuremark.com/benchmarks/3dmarkvantage/features/
The newest video benchmark from the gang at Futuremark. This utility is still a synthetic benchmark, but one that more closely reflects real world gaming performance. While it is not a perfect replacement for actual game benchmarks, it has its uses. We tested our cards at the 'Performance' setting.
Currently, there is a lot of controversy surrounding NVIDIA's use of a PhysX driver for its 9800 GTX and GTX 200 series cards, thereby putting the ATI brand at a disadvantage. Whereby installing the PyhsX driver, 3DMark Vantage uses the GPU to perform PhysX calculations during a CPU test, and this is where things get a bit gray. If you look at the Driver Approval Policy for 3DMark Vantage it states; "Based on the specification and design of the CPU tests, GPU make, type or driver version may not have a significant effect on the results of either of the CPU tests as indicated in Section 7.3 of the 3DMark Vantage specification and white paper." Did NVIDIA cheat by having the GPU handle the PhysX calculations or are they perfectly within their right since they own Ageia and all their IP? I think this point will quickly become moot once Futuremark releases an update to the test.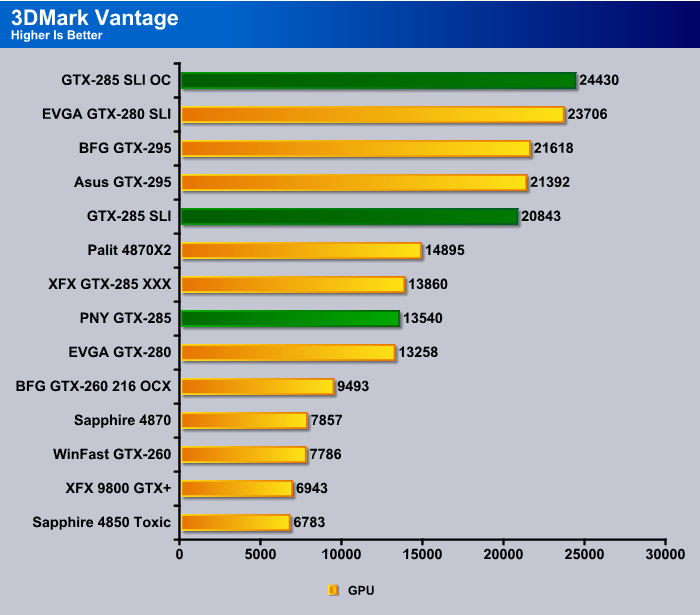 We deviated from our norm a little in 3DMark Vantage. We tested single card, GTX-285 SLI, and GTX-285 SLI overclocked. At stock you can see the PNY GTX-285's product placement is right where it should be, right below the XFX GTX-285 which has the slight advantage of being factory OCed. Then when we ran the PNY GTX-285 and XFX GTX-285 in SLI, we joined the Vantage 20k club. So we decided to see how sweet GTX-285 SLI could get and we topped the chart with a mind blowing 24430. Is there any more to get from the PNY GTX-285 or GTX-285 SLI? Yes, we didn't max the clocks for the test. What we did do was run the highest clock we could get with the fan set to auto. Kick the fan up to 100% and you can get a little more out of the card(s).
Company Of Heroes v. 1.71

Company of Heroes(COH) is a Real Time Strategy(RTS) game for the PC, announced on April, 2005. It is developed by the Canadian based company Relic Entertainment and published by THQ. COH is an excellent game that is incredibly demanding on system resources thus making it an excellent benchmark. Like F.E.A.R., the game contains an integrated performance test that can be run to determine your system's performance based on the graphical options you have chosen. It uses the same multi-staged performance ratings as does the F.E.A.R. test. Letting the games benchmark handle the chore takes the human factor out of the equation and ensures that each run of the test is exactly the same producing more reliable results.
Please note that when we refer to Single GPU we mean single GPU Single Core. When we refer to Dual core GPU we mean a GPU that is single card but has 2 GPU cores. Then you have the smattering of SLI setups we'll worry about later.
In general, the die shrinks on a given GPU will produce better SLI results. When we went SLI with the 285's we topped the chart in CoH. At this resolution in SLI, frame rates were off the hook. Drop back to single GPU operation and the two GTX-285's come out as the fastest single GPU (Single core).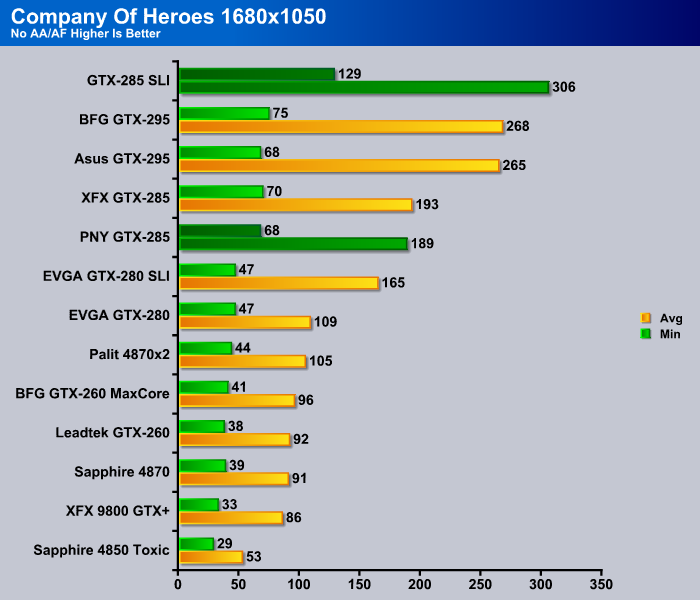 Step up the resolution and the GTX-285 SLI setup topped the chart again. Single GPU operation, they stay in the fastest single GPU slot. In all, with the lower power consumption and better performance, we really like the PNY GTX-285 Performance Edition. Slap a couple of GTX-295's in SLI and it's time for graphics nirvana.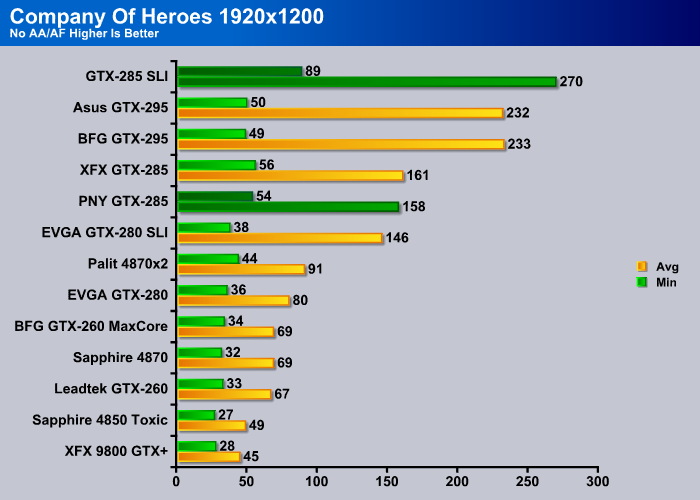 Highest resolution without AA/AF the GTX-285 series stays right there in the fastest single GPU slot. Combined in SLI they remain the fastest combination we've tested to date.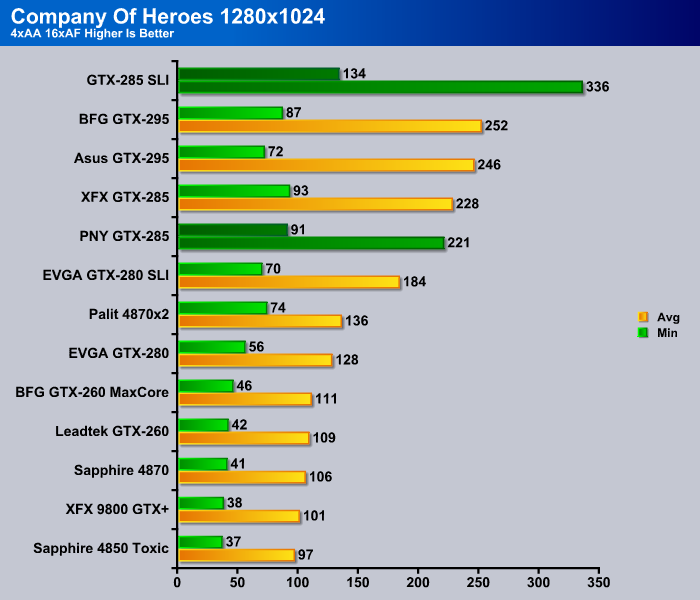 Moving to 1280×1024 with AA/AF we see the same result, fastest single cards, and in SLI dominating the whole stack of GPU's. If you're looking to go SLI, the GTX-285 is the fastest most consistent Dual SLI setup we've seen to date. The SLI setup, of course, is the PNY and XFX model running together.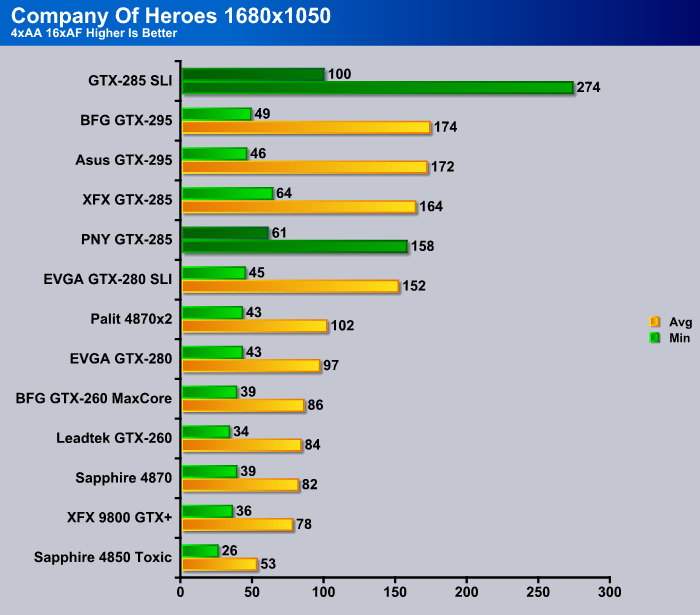 At 1680×1050 4xAA 16xAF, the PNY GTX-285 is right there in the fastest single GPU slot, again side by side with the XFX model. Keep in mind, the only difference between the two physically is the clock speed, and with a little OCing goodness, the PNY GTX-285 can and will perform at the same level (Yes, we tested that).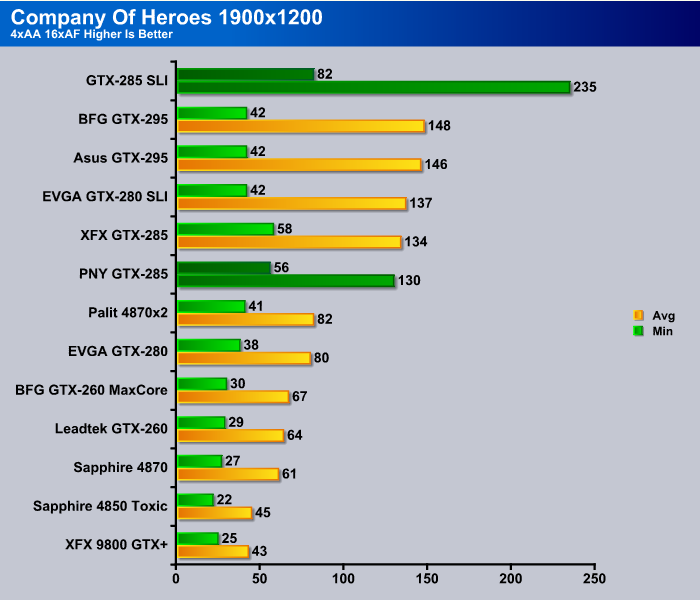 CoH is a little long in the tooth, but as you can se it brings a lot of GPU's to their knees in DX10 with AA/AF cranked up, making it a good measure of GPU performance for some time to come. Single card, we're hitting 56 Minimum and 130 Average, but you have to remember, we're in the enthusiast class GPU range here. Take into consideration how long ago it was that we saw the GTX-260 Core 216 struggling to maintain 30 FPS at this level, and a few short months later we have a GPU that will almost double those frame rates. That's pretty impressive if you ask us.
World in Conflict Demo

World in Conflict is a real-time tactical video game developed by the Swedish video game company Massive Entertainment, and published by Sierra Entertainment for Windows PC. The game was released in September of 2007. The game is set in 1989 during the social, political, and economic collapse of the Soviet Union. However, the title postulates an alternate history scenario where the Soviet Union pursued a course of war to remain in power. World in Conflict has superb graphics, is extremely GPU intensive, and has built-in benchmarks. Sounds like benchmark material to us!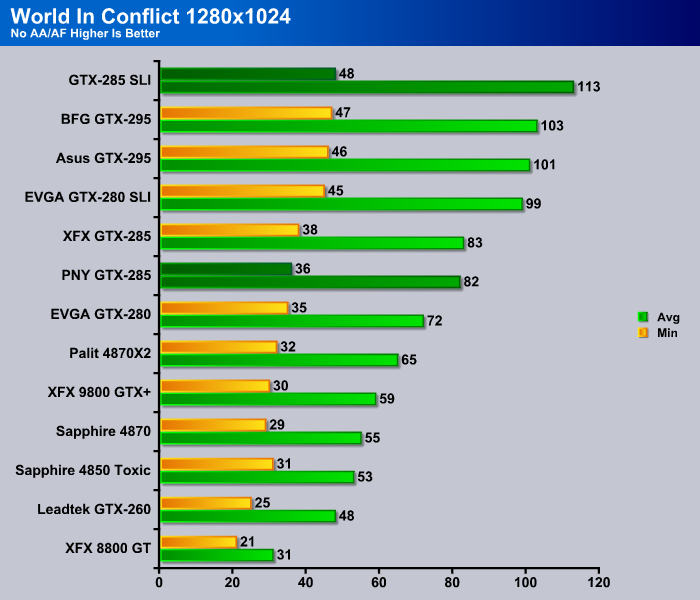 The lowest resolution in WiC didn't bring any surprises. The PNY GTX-285 sits right there with its slightly higher clocked brother, the XFX GTX-285 XXX, in the fastest single card GPU slot. Having a few tests under our belt, we suspect it will stay in that slot.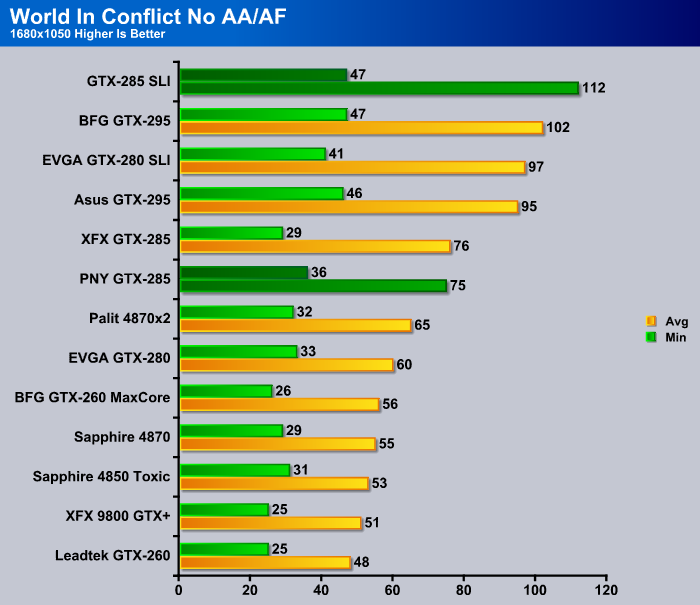 Highest resolution tested with no AA/AF, the PNY GTX-285 Performance Edition bumped ahead of the XFX GTX-285 XXX in minimum frames. In Average FPS, the XFX GTX-285 stayed on top the PNY GTX-285. Both GTX-285 models stay in the tops single GPU Slot and crush the pack in SLI.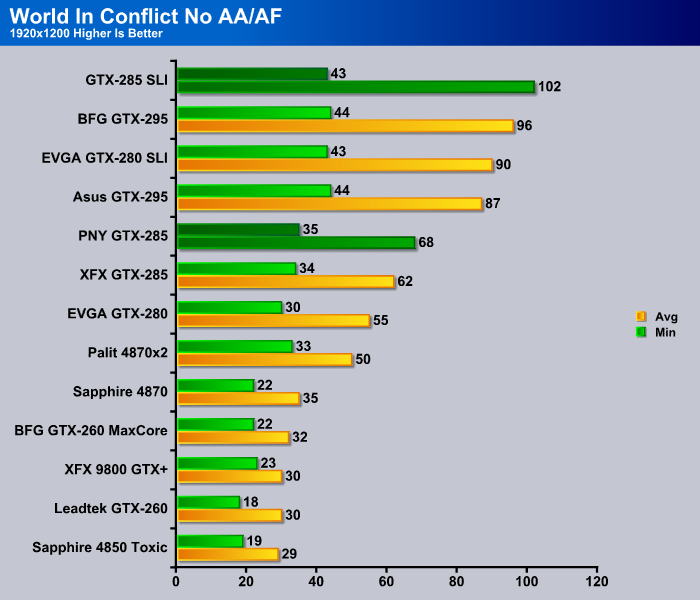 Highest non AA/AF resolution tested, the PNY GTX-285 jumped out into the lead over the XFX GTX-285 XXX, which was a surprise. We retested both GPU's and the results held true.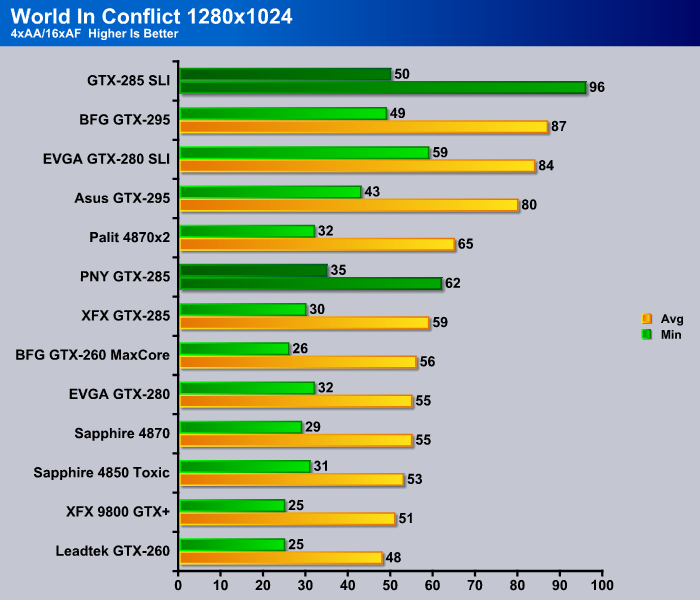 Moving to 4xAA 8xAF, the PNY GTX-285 topped the XFX model again. Both stay in the top slot for single GPU cards. In SLI, they continue to amaze us by remaining in the top position for every GPU and combination we've tested.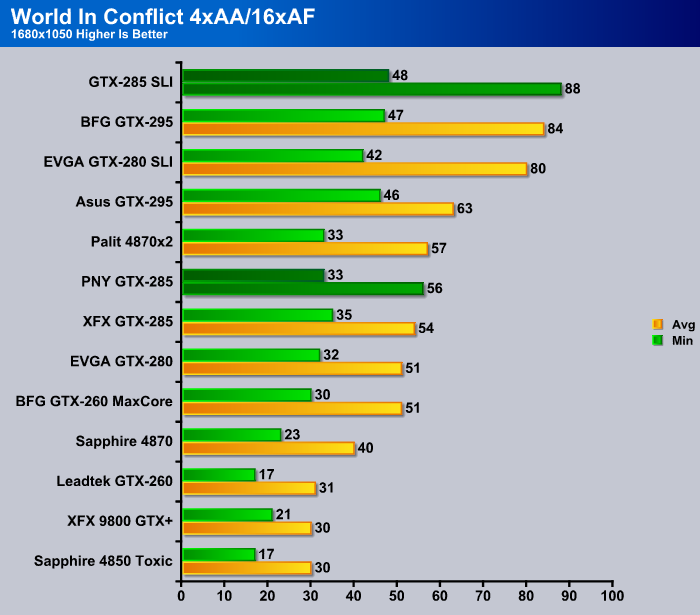 At 1680 x1050 it becomes a back and forth fight between the PNY GTX-285 and XFX GTX-285, split with the PNY coming out 1 FPS higher than the XFX model. Minimum FPS 2 frames behind the XFX model. While that difference sounds small on the surface, that (at 1 FPS) 60 frames more a minute, 3600 frames an hour. Viewed from that perspective, there is a decent difference even at 1 FPS and if that happens to be the 1 FPS that drops you below 30 FPS, makes a pretty significant difference in game play.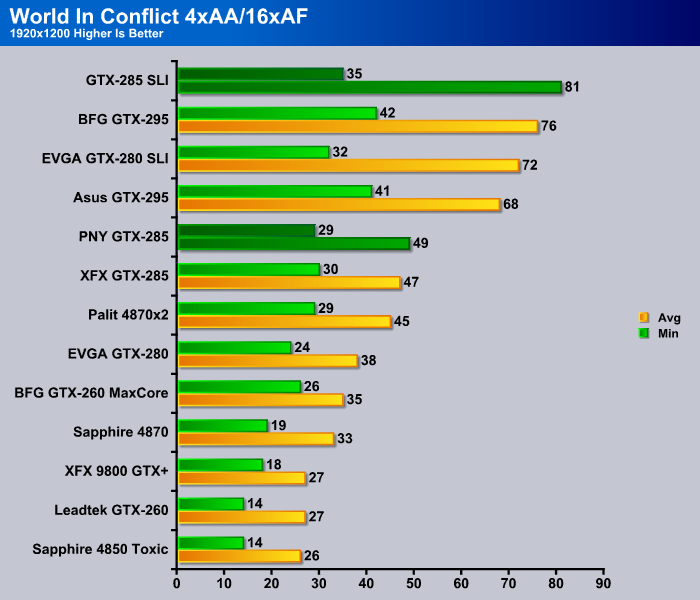 WiC just seems to like the PNY GTX-285 Performance Edition a little better than the XFX model. Differences in BIOS, subtle differences in test runs, we can't say. The PNY did drop 1 FPS below the 30 FPS rate, but we didn't notice and choppiness or micro stutters so it must have been a very small drop in FPS. Yeah, we actually sit there and watch the bench. Sometimes we dream benches and sometimes we dream benches on beaches, but that's another story. In one bench beach dream we saw one of the staff in a bikini faithfully benching a GPU. We don't have any girls on staff so it wasn't a pretty sight.
Crysis v. 1.2

Crysis is the most highly anticipated game to hit the market in the last several years. Crysis is based on the CryENGINE™ 2 developed by Crytek. The CryENGINE™ 2 offers real time editing, bump mapping, dynamic lights, network system, integrated physics system, shaders, shadows, and a dynamic music system, just to name a few of the state-of-the-art features that are incorporated into Crysis. As one might expect with this number of features, the game is extremely demanding of system resources, especially the GPU. We expect Crysis to be a primary gaming benchmark for many years to come.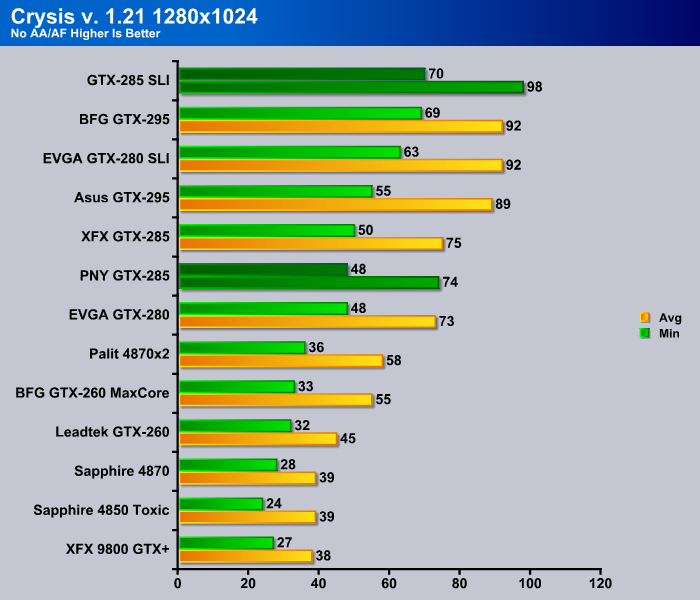 Crysis, when it came out, spurred a mass of what was known as "Crysis Upgrades" in the gaming community. A few staff members had to go that route. Now, we're finally beginning to see single GPU's that play Crysis at acceptable levels. Even at the lowest resolution, we see GPU's falling under the 30 FPS level needed for rock solid game play. THE PNY GTX-285 isn't among those GPU's and is churning out FPS that would make the hardest core gamer smile.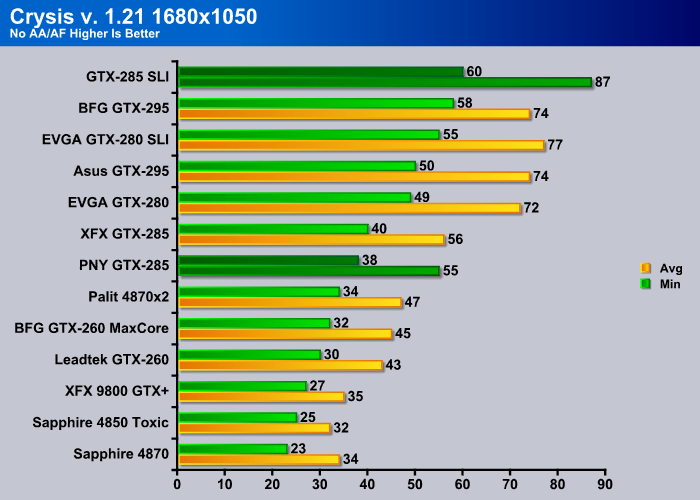 Moving up to 1680×1050 we drop 10 FPS, giving a slight indication of how demanding Crysis is. The GTX-285 class GPU's stay in the fastest single card slot and top the scale when run in SLI.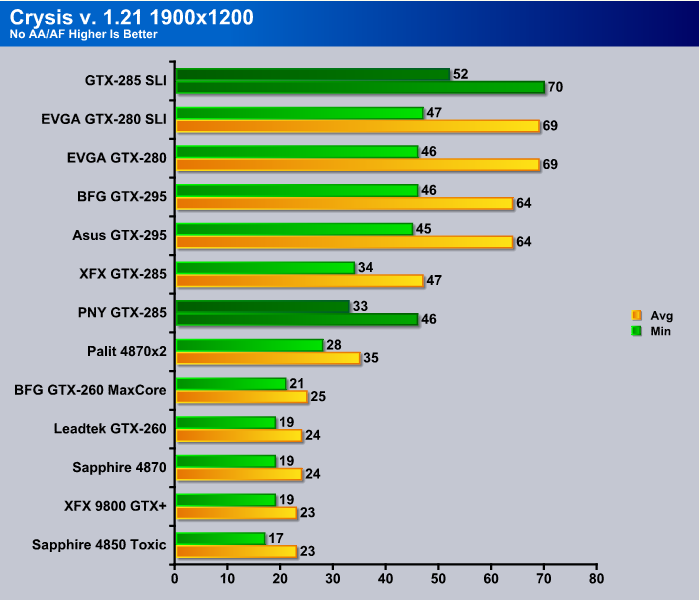 At 1920×1200 Crysis is looking good to go on the PNY GTX-285 Performance Edition. We do expect it to dip below 30 FSP at higher resolutions with AA/AF, but that's just Crysis being the GPU crushing game it is.
Hitting the PNY GTX-285 with some AA/AF at 1280×1024, we're still getting pretty darn good FPS. Running a couple of GTX-285's in SLI, well, it's just way out there for Crysis.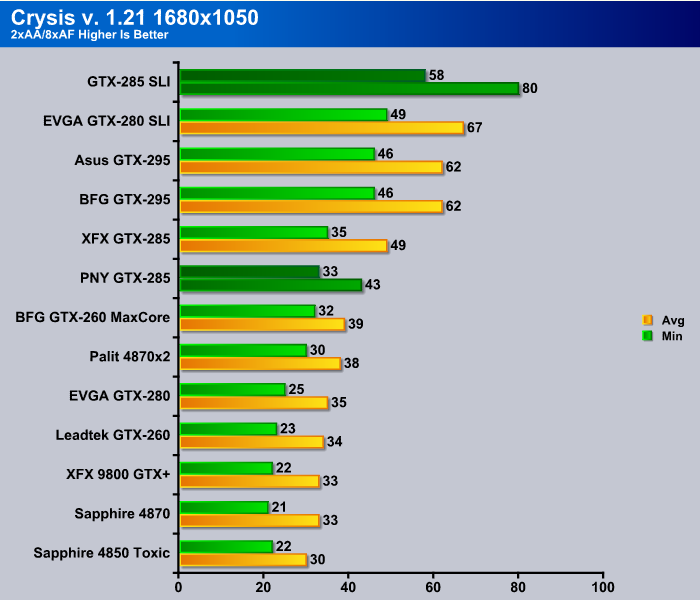 Moving to the 1680×1050 level with the eye candy cranked, we're starting to see the GTX-285 models stressing. They both remain at playable levels but, once again, slap the old SLI bridge on and they dominate Crysis.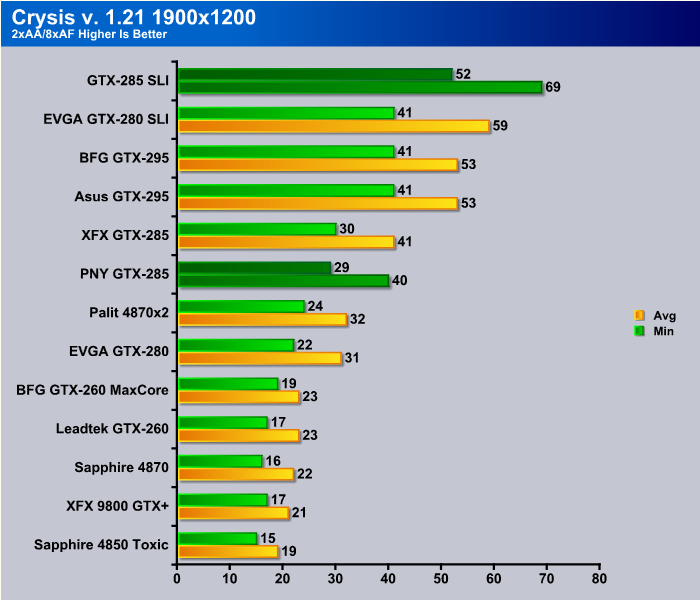 It took 1900×1200 to get the PNY GTX-285 to fold below 30 FPS, and even then we didn't see any stutters visible to the human eye. Slap a couple of GTX-285's together and we're up above 50 FPS Minimum. Slap us and call us stupid but we thought we'd never see that day.
CRYSIS WARHEAD

Crysis Warhead is the much anticipated sequel of Crysis, featuring an updated CryENGINE™ 2 with better optimization. It was one of the most anticipated titles of 2008.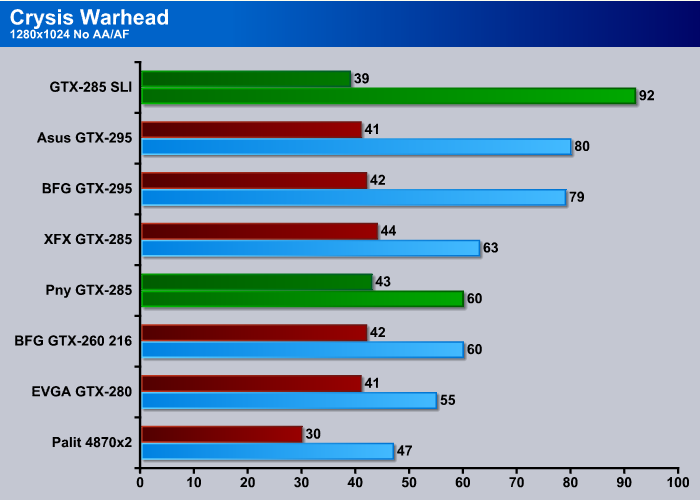 Well up to this point, and including this point, the GTX-285 SLI setup has topped every chart. Both the PNY and XFX models have remained in the fastest single GPU slot. Consistency like that is hard to find in GPU's.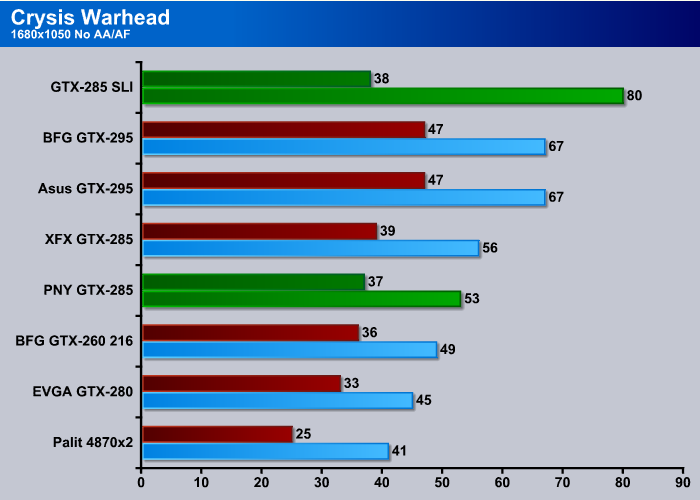 No changes in Warhead at 1680×1050. The XFX, with its factory OCed core, runs a tad ahead of the PNY GTX-285 Performance Edition, which is expected. A little glimpse into the future, both cards OC phenomenally well, so with either card or a set of GTX-285's, you're in for some serious OCing fun.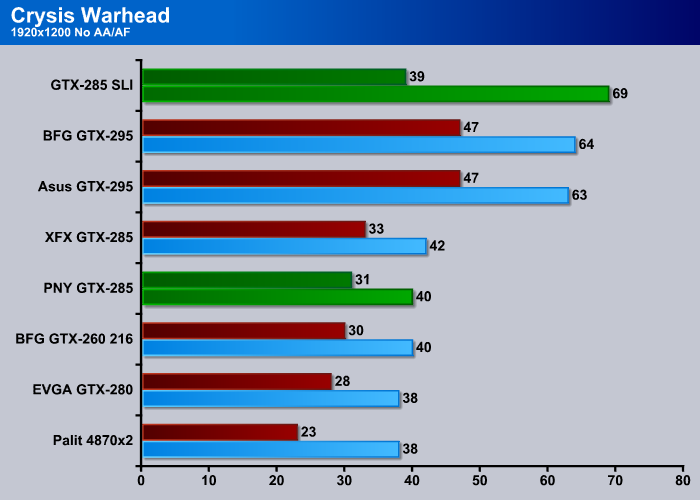 Highest Resolution tested 1920×1200 with No AA/AF, the cards are getting plenty of stress and we're starting to hear fans ramp up. Even the mighty GTX-280 fell below 30 FPS in this test. The PNY GTX-285 hit 31 FPS worst case.
Moving into eye candy territory, the PNY GTX-285 and XFX GTX-285 SLI setup remain the fastest single SLI setup we've seen. With this many tests under the bridge we don't expect that to change.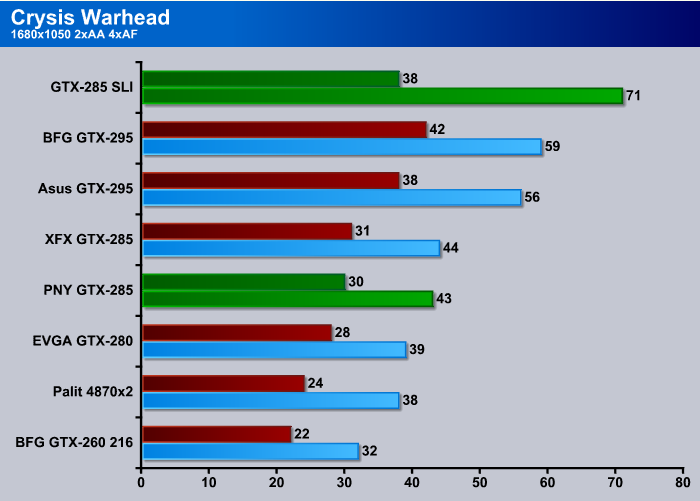 In Warhead at 1680×1050 we expect to start seeing GPU's drop under 30 FPS minimum. The GTX-285 line are the only two that didn't drop below 30 FPS and currently the only two single cards (single core) we've seen to date that can remain at or above 30 FPS at this level in Warhead.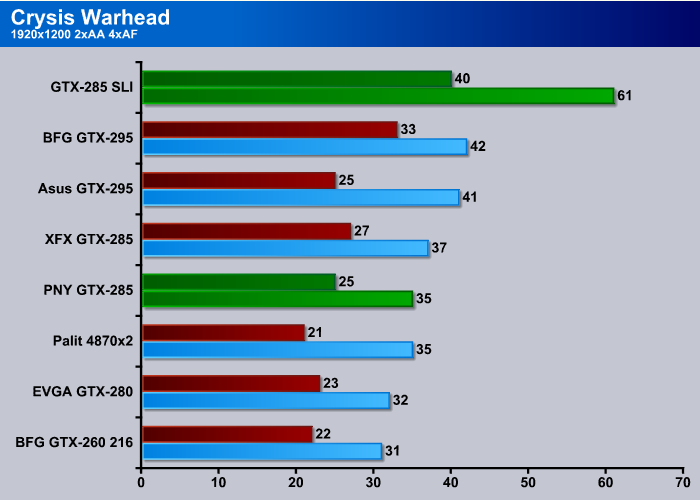 Hitting 1920×1200 in Warhead, you pretty much already know that GPU's are going to dip below 30 FPS. We expect momentary stutters in single core GPU's and that's not so much a reflection on GPU's as it is the CryENGINE 2 used to build the games. At least they named it right, the CryENGINE 2 makes GPU owners cry. Notice though, that even at this GPU crushing levels, the GTX-285 SLI setup simply dominates Warhead. We're glad to finally see GPU's that can handle this graphics behemoth.
Far Cry 2

Far Cry 2, released in October 2008 by Ubisoft, was one of the most anticipated titles of the year. It's an engaging state-of-the-art First Person Shooter set in an un-named African country. Caught between two rival factions, you're sent to take out "The Jackal". Far Cry2 ships with a full featured benchmark utility and it is one of the most well designed, well thought out game benchmarks we've ever seen. One big difference between this benchmark and others is that it leaves the game's AI (Artificial Intelligence) running while the benchmark is being performed.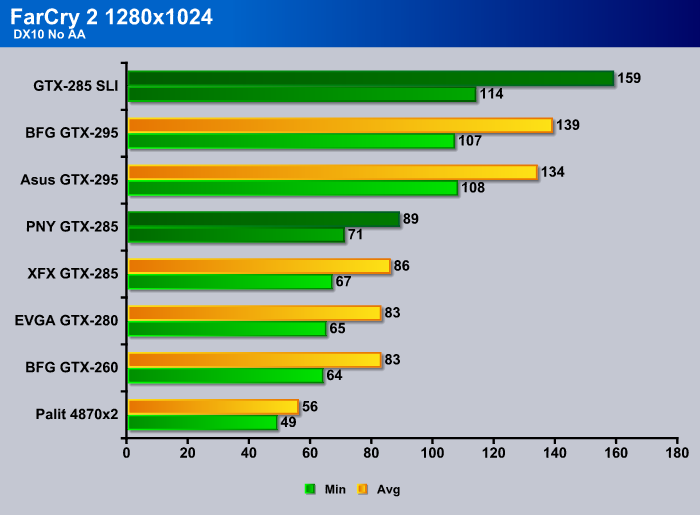 We've seen enough benchmarks by now that it's no surprise that the PNY GTX-285 is right there in the fastet single GPU category. FarCry to seemed to like it a little better than the XFX model at this resolution. The GTX-285 SLI setup topped the charts as it's done all along.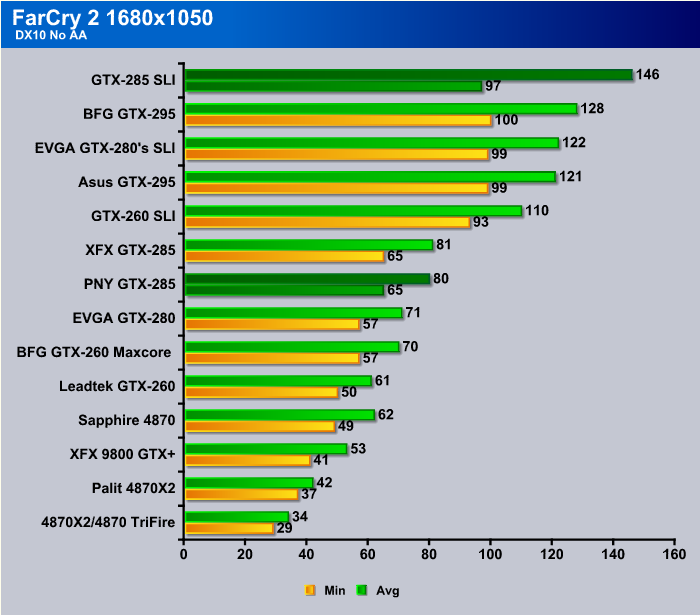 Stepping up the resolution one notch the XFX model GTX-285 came out one FPS ahead in average FPS and the PNY GTX-285 is nipping at it's heels. The GTX-285 SLI setup was a give and take at 1680×1050, it gave up minimum FPS to the GTX-295 but took the average FPS by quite a margin.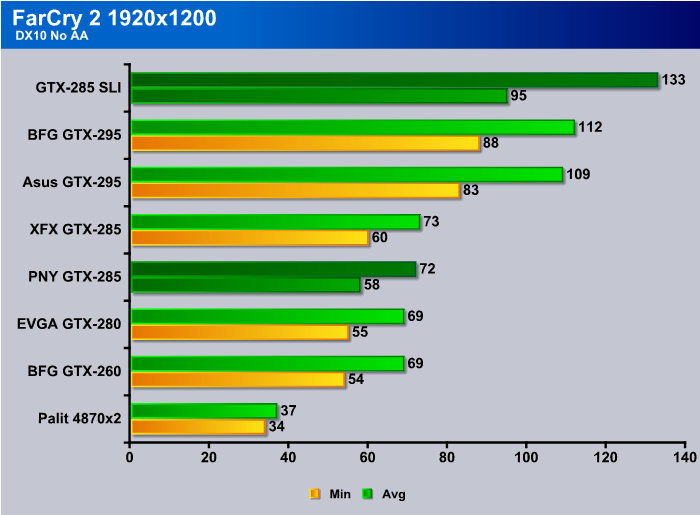 Highest resolution tested, the PNY GTX-285 is still right there with the XFX model, the faster clock speed of the factor OCed XFX model give it enough of an advantage to edge out the PNY model in most tests. Once again we're seeing that the GTX-285 SLI setup tops the chart in speed.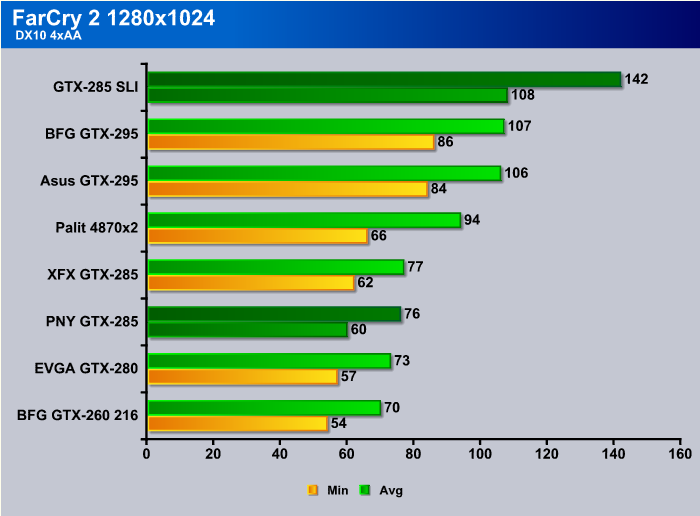 As far along in testing as we are we can just about bet that the two GTX-285 models aren't going to give up the fastest single core GPU slots. They've consistently placed in the top single GPU slot and held top honors in the SLI multi-GPU spot.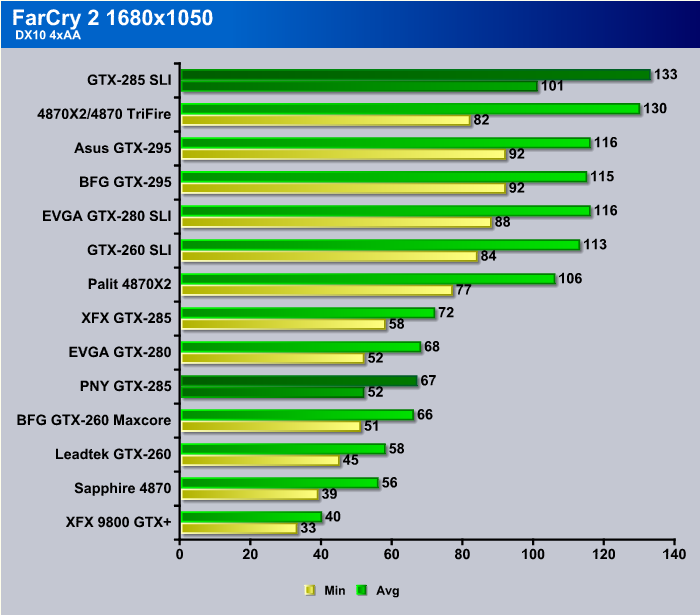 When we hit the medium resolution in Farcry2 with the eye candy turned on we were surprised to see an old favorite the GT-280 edge out the PNY GTX-285 by one FPS in average FPS. Can't blame the former fastest single GPU for wanting to fight back a little. The GTX-285 SLI setup remains the fastest solution we've looked at.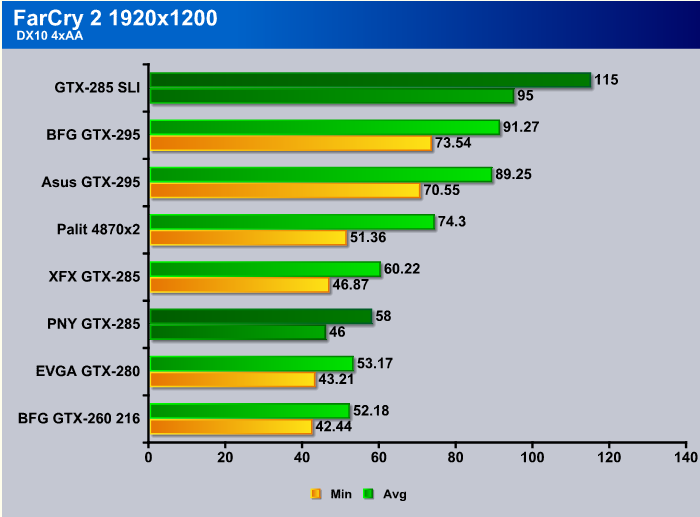 In our final test 1920×1200 with AA/AF turned on the PNY GTX-285 slipped back into the fastest single card(s) slot and in the entire testing section stayed right there with the XFX GTX-285. The GTX-285 SLI setup retains first spot overall.
TEMPERATURES

To get our temperature reading, we ran 3DMark Vantage, looping for 30 minutes to get the load temperature. To get the idle temp we let the machine idle at the desktop for 30 minutes with no background tasks that would drive the temperature up. Please note that this is on an open test station, so your chassis and cooling will affect the temps you're seeing.
GPU Temperatures
Idle
Load
41°C
78°C
A small table showing the 30 minute Load and Idle temps just don't seem to cut it, we like pictures, so lets move on to the screenies of GPU-Z for Temperature comment.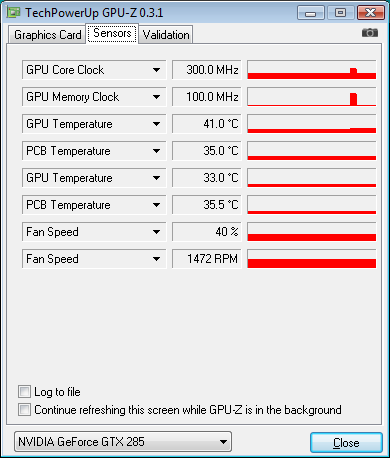 You can see in the GPU-Z sensor panel that the PNY GTX-285 Performance Edition is going to Idle at about 41°C. We must have bumped the mouse or something during the test because we got a little spike right before we snapped the screen shot. You can see that the extraordinary power savings modes are working great on the PNY GTX-285. The core has downclocked to 300 and memory has downclocked to 300. At idle, the fan stays at 40% and is pretty quiet.
Under load we hit 78°C which isn't bad for GPU's these days. If you happened to read the last GTX-285 review we did you'll remember that the XFX model with its factory OCed nature hit 81°C. We'll explain that in a minute. While under load the PNY GTX-285 ramps up clock speed in the blink of an eye and the transition is so smooth that you won't even notice it. The fan is variable and working correctly because, as you can see, it topped out at 51% up from 40% at idle. Crank the fan up and temps drop drastically. For those in the know, that means more overclocking headroom.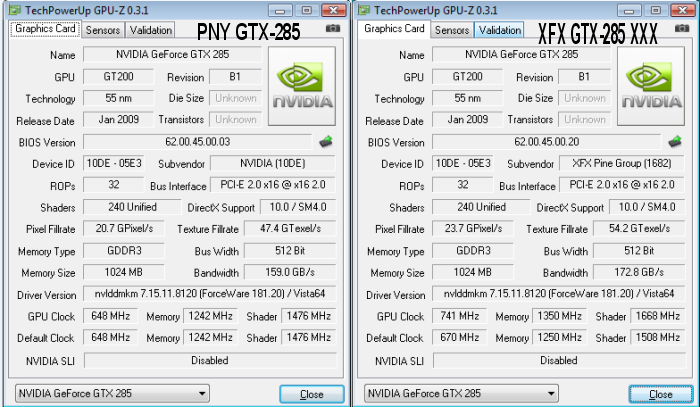 The temperature differences in the two models can be explained by the default clock line in the picture above. The PNY GTX-285 is clocked to 648 MHz and the XFX GTX-285 is clocked to 670 MHz. The higher clock on the XFX Model generates a little more heat. Rest assured, the PNY GTX-285 can overclock, but to see those results you'll have to scroll down.
POWER CONSUMPTION

To get our power consumption numbers we plugged in out Kill A Watt power measurement device and took the Idle reading at the desktop during our temperature readings. We left it at the desktop for about 15 minutes and took the idle reading. Then, during the 30 minute loop of 3DMark Vantage we watched for the peak power consumption, and then recorded the highest usage.
GPU Power Consumption
GPU
Idle
Load
PNY GTX-285 Performance Edition
212 Watts
318 Watts
XFX GTX-285 XXX
215 Watts
322 Watts
BFG GTX-295
238 Watts
450 Watts
Asus GTX-295
240 Watts
451 Watts
EVGA GTX-280
217 Watts
345 Watts
EVGA GTX-280 SLI
239 Watts
515 Watts
Sapphire Toxic HD 4850
183 Watts
275 Watts
Sapphire HD 4870
207 Watts
298 Watts
Palit HD 4870×2
267 Watts
447 Watts
Total System Power Consumption
Just like the XFX model being hotter from the OC, it also consumes a few more watts than the PNY GTX-285 Performance Edition. The lower clocks on the PNY model just use less power, and if you remember from the charts in gaming, usually a difference of about 1-2 FPS usually separated the two GPU's. You can always clock the PNY model up and produce the same results as the XFX model, then, at default clocks save a little cash on the electric bill.
OVERCLOCKING

For overclocking we used both Riva Tuner and EVGA Precision. Both worked equally well for our purposes. EVGA is a little easier and OC's SLI really well, so we went with that for our final OC and OC testing.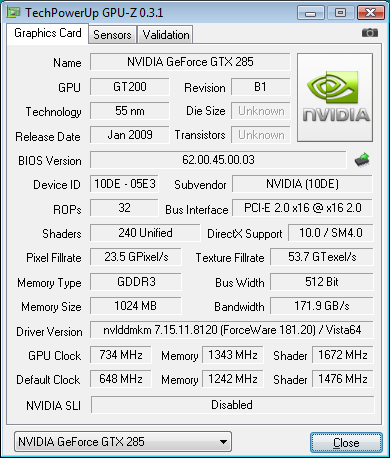 We were able to bump the PNY GTX-285 up from 648 to 734 MHz core, and from 1242 to 1343 MHz memory, giving us a nice little performance boost. Remember, should you decide to OC your PNY card and blow it up, we're not responsible and you'll surely void your warranty in doing so. Is there any more OC to get? You bet there is. We ran this OC with the fan left on variable speed. Crank that puppy up and you'll get some better results. Overclocking is a crap shoot. Your mileage may vary.
How did we do running this beauty in SLI? Pretty darn good for the limited time we had for testing. There's always a landslide of equipment spurring us on at Bjorn3D.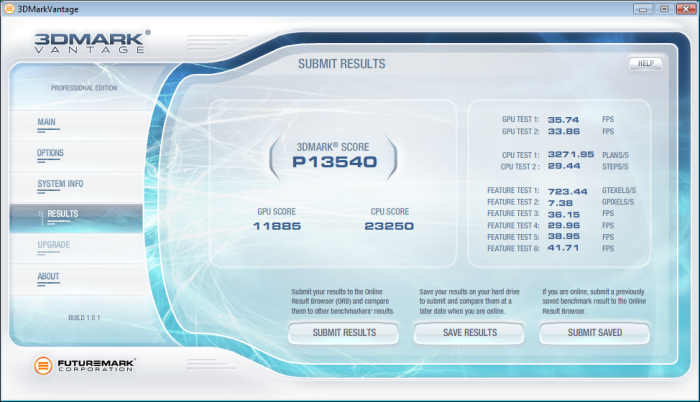 Single card, we hit 13540 in Vantage, not a score to sneeze at for a single core GPU. There's more to get but the infinite variations of clocking and tweaking well we'll leave those to you. We spent about an hour getting this result so that's a pretty typical score.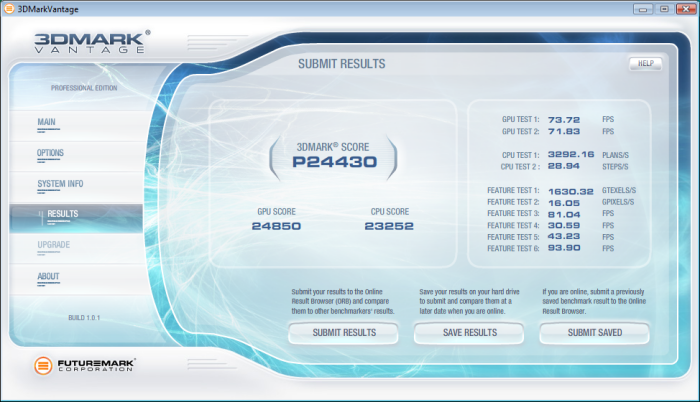 Slap two of these puppies together and you almost double your score after applying a moderate OC to the SLI setup. That's an almost 10,000 point gain for plugging in the second GPU and slapping on an SLI Bridge.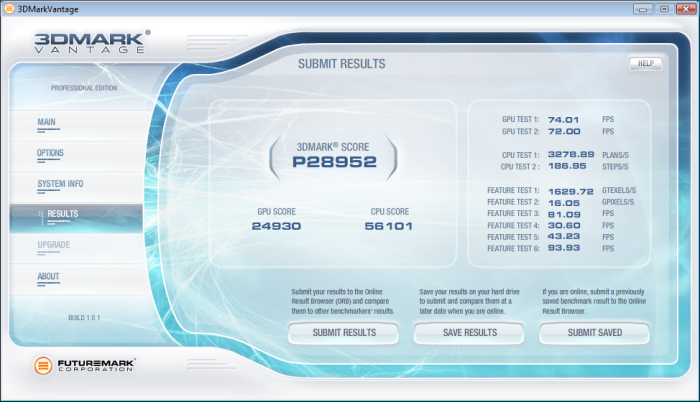 Then we ran the overclocked SLI setup with PhysX and almost hit 29k. With a little tweaking, a little bump to the PCIE voltage on the chipset, crank the fan up, and your posting 30k scores in Vantage and a member of the very elite 30k club. That's bragging rights of the first order.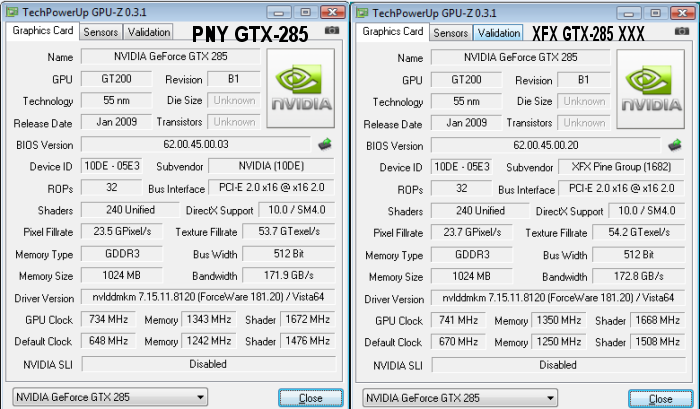 Comparing the PNY and XFX models OC abilities, we see that the XFX GTX-285 clocked about 7 MHz more than the PNY model. Memory wise the XFX model also clocked 7 MHz higher. That's a really minute difference; the 7 MHz difference won't even get you a 1 FPS increase in gaming. Keep in mind this isn't the best OC we got from the cards. This is the best OC with the fans set on variable speed. Also, remember OCing is a crap shoot and your results might vary.
CONCLUSION
We found a few minor things lacking on the PNY GTX-285. The sticker was bubbled up and they forgot to toss an HDMI adapter in the box. We didn't find anything wrong with the performance single card or in SLI. Quite the contrary. We're entirely happy with the performance. Forgetting the adapter and the sticker will cost the final score some points in the final rating of the product, but they are minor. When it comes down to it, GPU's are about performance. We've seen other Retail PNY GTX-285's and they didn't have the sticker problem, so we suspect that this was an isolated case, or they preferred to send one for review that was less than cosmetically perfect rather than sell it to a retail customer. We're okay with that on the review level; we're not okay with it if a few hundred people receive on in that condition. Most enthusiasts cherish their GPU's, we have a stack of GPU's and we cherish each and every one. Each is treated with great care and respect and we'd really liked to have seen a picture perfect GPU come out of the box. Are we going to kick it out of the pile for being the blemished step child? No we're going to run it like it was stolen.
Performance was high in single card, performance was outstanding in SLI. The GTX-285 cards are the fastest single core GPU's we've ever run. They top the charts in single card performance and in SLI performance. We like the GTX-285 cards a lot. The PNY GTX-285 is a very capable GPU, but there are a few things we need to look at.
The XFX model is factory overclocked and includes a full game title (FarCry 2) and retails at the time of post for $380 on medium priced sites. The PNY GTX-285 on the same sites runs $399 and has no full game title but rather a game coupon and it runs at a lower speed than the comparison model. The PNY card offers a 3+2 year warranty, 3 year for unregistered GPU's, add 2 years for registering. The XFX you get double lifetime, modder friendly, OCer friendly warranty. Several models come with a lifetime warranty. While 5 years is way beyond the useful life of a GPU; with a higher price tag, the Warranty on the PNY model falls a little short. Other models offer a step up program, the PNY model doesn't.
We like the performance of the PNY GTX-285 but there are lower cost GTX-285 GPU's out there that bundle games, have better warranty, and step up programs. That makes the PNY a hard choice. Performance wise, we can recommend it, price and bundle wise, we know where our dollars would go.
We are trying out a new addition to our scoring system to provide additional feedback beyond a flat score. Please note that the final score isn't an aggregate average of the new rating system.
Performance 9
Value 8
Quality 8
Warranty 8
Features 9
Innovation 10
Pros:
+  Runs cool enough
+  Able to run Triple SLI
+  Out-performs GeForce GTX-280
+  SLI Performance is great
+  Good overclocking
+  Lower power consumption than the 65 nm GTX-280
Cons:
–  May be too large for some cases/systems
–  Sticker had bubbles
–  Less Warranty than other models
–  No full game title
–  HDMI Adapter Missing
–  Higher price than other cards that offer more
–  Addiction to high quality Graphics with blazing frame rates
Despite the problems we mentioned the performance of the PNY GTX-285 was good, the GTX-285 line of GPU's are currently the fastest single core GPU's available. You have to recognize it for its performance but temper the score for its short comings. We would be comfortable giving the PNY a Golden Bear award if it weren't for the problems we mentioned. So we decided that the PNY GTX-285 scores a 8.5 out of 10 and the Bjorn3D.com Seal of Approval based on it's performance.