Exceeding the standard and creating top notch products is what Thermaltake aims for. The 1000watt Toughpower does both and with ease.
Introduction
For today's standards in an everyday PC, a metal box that feeds enough power to your computer is enough. On the other hand though, you have enthusiasts, mainstreamists, and even the little guy that all want to look cool with shiny parts in their PC's. These guys want quality power supplies that look nice at a cheap price. These days we have a lot of manufacturers that live up to this, but how do you select just one out of all that are available? You have to know a lot, to be quite blunt, and we're here to help.
Here at Bjorn3D we have Thermaltake's Toughpower 1000watt Cable Management Power Supply. Thermaltake has a great past with producing quality equipment and today I'm sure this power supply will live up to their name.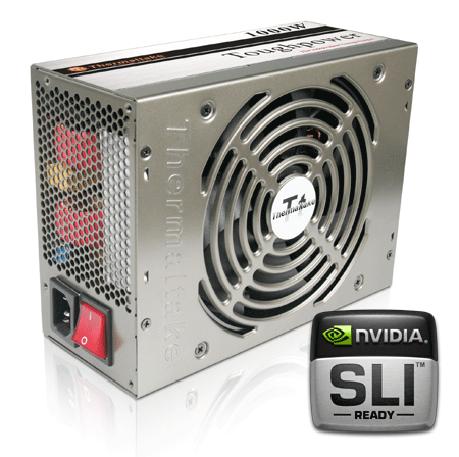 About Thermaltake
The Company
We live in a world where most things seem to move at the speed of light. At Thermaltake, we feel the same way and that is exactly how Thermaltake conducts itself to deliver innovative, reliable and customer-centric solutions to the worldwide market.
Since the beginning of Thermaltake in 1999, it has been at the forefront of creating new and exciting products at a time where most computer users were provided little to no choices for components that may seem irrelevant, but in reality crucial to the performance of a PC.
Thermaltake Server Series solutions, with years of thermal experience and industry leadership, sets its goal on reforming total thermal management in server segment by formulating the perfect mixture of versatility, efficiency and thermal management with each respective server product category: Rackmount Chassis, Server Fixed & Redundant Power Supply and Server CPU Cooling Management Solutions.
With its comprehensive line of products available, it enables Thermaltake's core customers to enjoy a one-stop-shop experience, reduce product design-in evaluation period and most important of all, flawless integration process. Each of Thermaltake's strengths enables its customer to focus on their core business while taking advantage of the skills and efficiency of a single thermal management solution partner.
Values & Principles
– While still a relatively young company, established in 1999, Thermaltake is built on unwavering will and dedication to address issues and innovate at the same time for computer enthusiasts and corporate users worldwide .
– With strong support of Research & Development team standing behind the brand, Thermaltake is committed to never-follow but always-lead.
– In past decades, the industrial and technological advancements in different fields have shaped the world we live in today and have also made a big impact on the environment. Thermaltake takes great measures to ensure the product that we produce relieve these impacts by being first to act on 80 PLUS® specification for computer power supply that greatly reduces the amount of electricity that a computer consumes.
– Always striving to be the best, we continuously benchmark our performance against the very best internally and externally.
– Customers are our greatest asset and Thermaltake does not take that for granted. That is why Thermaltake is the industry leading in customer service and customer support with around-the-clock automated product return service.
FEATURES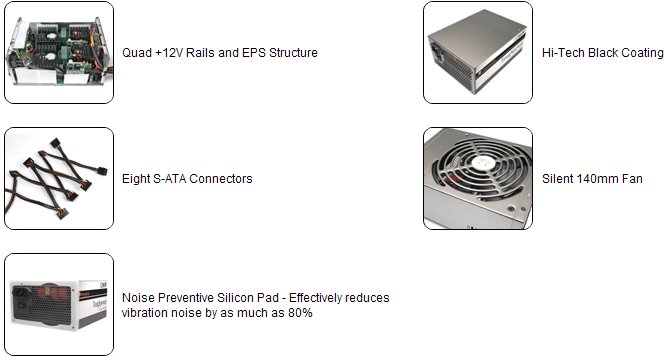 Connectors

They are plenty of connectors on the Thermaltake Toughpower 1000 Watt Modular PSU and I know a lot of you are wondering how many of those PCI-E connectors can I actually use. So let me jump the gun a little and show you.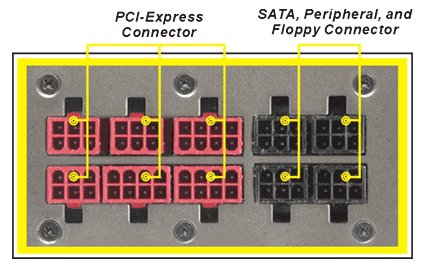 Thermaltake didn't kid around with the Toughpower 1000 Watt Modular. You can drive Triple SLI or Crossfire with dual connector GPU's and Quad SLI or Crossfire on single connector cards. With the current cost of video cards going down, most people are taking advantage of multiple card solutions. Now, with the new GTX295 powerhouse and newer 55nm GTX cards around the corner, people will be out to get bigger power supplies for sure.
"Oh no, I need six 6-pin connectors for my triple SLI!"
No, you're not Jacked. Thermaltake has you covered on the needing six-6 pin connector issue.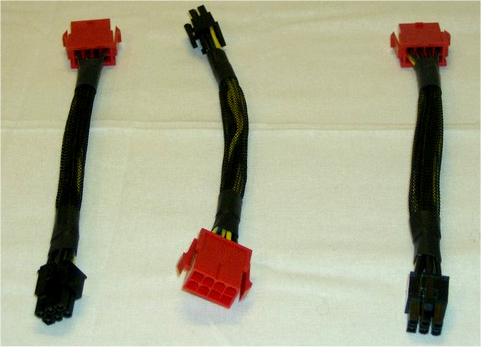 They thoughtfully included three 8 to 6-pin adapters, so no matter the setup on your GPU's, you can run some triple SLI or Crossfire goodness.
Now that we've seen some of the features of the Thermaltake Toughpower 1k modular, let's take a look at how the voltages break down.
SPECIFICATIONS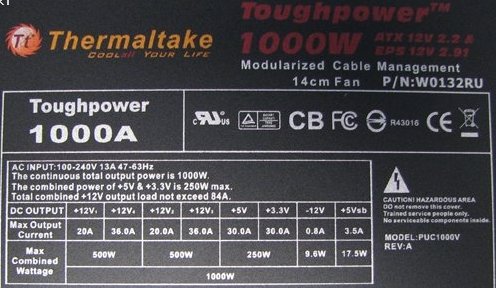 Since I currently am taking photos with my Blackberry I kindly will provide you with a table.

If that isn't enough to meet your demands, we decided to break it down and give you a nice little graphic.
Thermaltake Toughpower 1000 Watt PSU
DC Output Specifications

AC Input Rating
100 – 230VAC
Input Current
13 Amp
Frequency
47Hz – 63Hz
Output Voltage
Max Load
Max Output
+3.3V
30 Amps
250W
+5V
30 Amps
+12V1
22 Amps
1000W
+12V2
22 Amps
+12V3
36 Amps
+12V4
36 Amps
-12V
0.8 Amps
27.1W
+5Vsb
3.0 Amps
Total Power
1000W
Efficiency
80 Plus (87% peak)
Dimensions
200mm(W) x 160mm(L) x 86mm(H)
As a few of you might have figured out I like to get down deep into the features and specifications on a product and if I know about it I'm probably going to blab on it a little.
Operating Environment
Operating Temperature

…………

10°-50°C
Storage Temperature

………….

-20°-70°C
Operating Humidity

………………

20-90% (non-condensing)
Storage Humidity

………………..

..

5-95% (non-condensing)
Its ability to operate up to 50°C (or 122°F) is an amazing top end operating temperature and makes the Toughpower an attractive option for those living in hotter environments or without air conditioning. When they say Toughpower, they mean Tough Power! If you have to run it that hot though, you might want to invest a little more in your AC bill than your PC fund… Psh, who am I kidding?
The 20-90% humidity non-condensing probably means it's not a good idea to play with the Toughpower in the rain. Actually, it means it's not a good idea in high humidity situations to take it from a cool environment to a hot humid environment and use it before the temperature of the PSU and the environment equalize. Much like a glass of Ice Tea developing drops of water on the side of the glass, water can condense in that situation and, if moving to a high humidity environment, it's a good idea to let the computer set overnight to prevent condensation. So, that means for you LAN goers, if it's raining during transit, you might want to consider letting the humid air in your computer out and just chilling for a bit before gaming.
Protection Circuits
Over Voltage Protection
+3.3v Trips @ 4.5v
+5v Trips @ 7.0v
+12v Trips @ 15.6v
Over Current Protection
+3.3v range @ 33-50A
+5v range @ 33-50A
+12v1 and +12v2 range @ 22-35A
+12v3 and +12v4 range @ 39-55A
Under Volt Protection
+3.3v trip point @ 2.0v
+5v trip point @ 3.3v
Short Circuit Protection
All Output to Ground
At this point you probably know more about the Thermaltake Toughpower than you ever thought you wanted to. Understanding a power supply also means understanding the finer points of Rails and Specifications, so I throw in a section I like to call "What about them Rails?"
WHAT ABOUT THEM RAILS?
We have all, no doubt, been told that when purchasing a power supply that the number to look for is the amps on the 12V rail. What are each of the different rails for though, and why is the 12V rail typically the most important? Why the heck are they called rails? Let's take at look at each and see.
-12V – This rail is pretty much obsolete now and is only kept on to provide backward compatibility with older hardware. Some older types of serial port circuits required both -12V and +12V voltages, but since almost no one except industrial users use serial ports anymore you as a typical home user can pretty much disregard this rail.
-5V – Again this is another obsolete rail, the -5V was used for old school floppy controllers and some ISA bus cards. Again, no need for the typical home user to worry about this rail.
0V – Though not listed on any manufacturer spec sheet, every power supply has a 0V ground line. The ground signal is used to complete circuits with other voltages and provide a plane of reference against which other voltages are measured.
+3.3V – Finally we are starting to get into something useful! The +3.3V rail was introduced with the ATX form factor in order to power second generation Pentium chips. Previously the CPU was powered by the +5V rail (along with the system memory and everything else on the motherboard), but a reduced voltage was needed in order to reduce power consumption as the chips got faster. Until just recently, the +3.3V was used to exclusively power the CPU as well as some types of system memory, AGP video cards and other circuits.
+ 5V – As mentioned above, the +5V used to run the motherboard, CPU and the majority of other system components on older pre ATX based systems. On newer systems, many of the components have migrated to either the +3.3V or +12V rails, but the motherboard and many of its onboard components still use the +5V rail so it is of importance to the typical home user.
+5V SB – The +5V Standby or "Soft Power" signal carries the same output level as the +5V rail but is independent and is always on, even when the computer is turned off. This rail allows for two things. First, it allows the motherboard to control the power supply when it is off by enabling features such as wakeup from sleep mode, or wake on LAN technology to function. It also is what allows Windows to turn your computer off automatically on shutdown as opposed to previous AT supplies where you had to bend over and push the button. Every standard ATX power supply on the market will include this rail.
+ 12V – The +12V, also known as the mother of all rails, is now used to power the most demanding components in your system including the CPU, hard drives, cooling fans, and graphics cards. Historically the +12V rail was used only to power drives and cooling fans. With the introduction of the 4-pin CPU plug on P4 motherboards and then eventually AMD based motherboards, in order to supply newer power hungry CPUs, the +12V rail suddenly started to grow in importance. Today, dual core based motherboard require an 8-pin +12V connector to supply their power needs. High end GPU cards have also jumped on the +12V rail, which has required PSU makers to adapt. Where previously there was only a single +12V rail, there are now two or more, each designated to power specific devices in order to ensure that nothing is underpowered.
Now as to why they are called rails, the best explanation that I can find is that the term comes from the wacky world of electronics and it refers to a long metal bar or strip that is used to provide a particular voltage level. Perhaps someone with a deeper understanding of all things electrical could let me know whether or not that is true.
ATX 12V V2.3 Standard
ATX 2.3
2.3 is the current standard and has been the standard as of March 2007. The 2.3 standard calls for an efficiency requirement of a minimum of 65% or greater and a recommended level of 80% or greater. The +5VSB rail has also been increased to 2.5A peak current maximum.
In short any power supply post 2.0 will do the job for you. The biggest advantage of purchasing a latter standard model would seem to be the increase in efficiency rating.
EPS12v Standard
The EPS12V specification is one of those standards that most people have heard about, but very few know what it actually does. The EPS spec itself is defined in the Intel Server System Infrastructure (SSI) spec and is currently at v2.92.
The EPS12V spec dictates that Power Supply units must have a 24-pin 12V connector as well as one additional 8-pin 12V connector. If a PSU is noted as EPS12V compliant you can be assured that it will have all the connections you need to power your new dual core based system, however it should also be noted that units do not necessarily have to meet EPS12V spec to include an 8-pin 12V connector.
My "What About Them Rails?" section needs a little updating but it'll provide enough current information that it's still useful for the novice hunting for a viable PSU for that gaming monster their building.
Enough of the boring stuff lets get on to some Packaging and Bundled Accessories!
PACKAGING
The Thermaltake Toughpower 1k Cable Management power supply comes in an attractive box constructed of heavy duty cardboard. There's a lot of specifications, voltage regulation specifications, and pictures wrapping the box.
There's plenty of information about the power supply and voltages supplied, enough for the informed consumer to make an intelligent decision about the purchase of the PSU.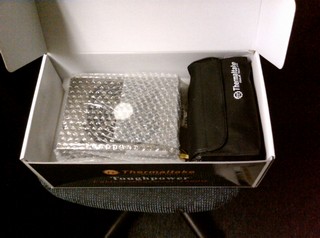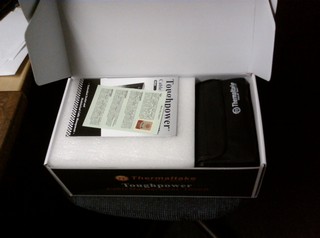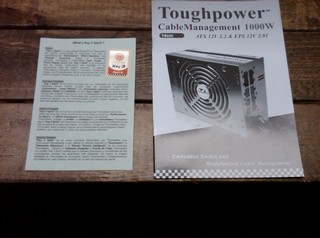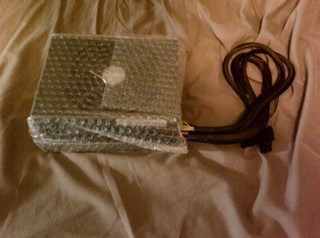 Opening the box you'll find the Toughpower cocooned in Styrofoam with a manual and case badge on top. You'll also find a bag of cables, a boxed power cord, and the Toughpower itself further wrapped in a bubble wrap bag to protect it from scratches.
THE BUNDLE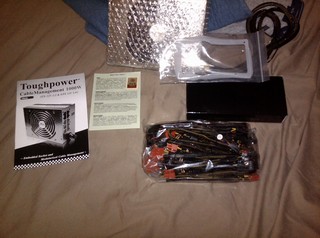 Inside the box you'll see the manual, power cord box, a bag of cables, the case badge, the Toughpower itself, and a silicone gasket that reduces noise by as much as 80%. Of course, you can't really get a good look at stuff all bagged up so lets take a little closer look at the bundle before we move on.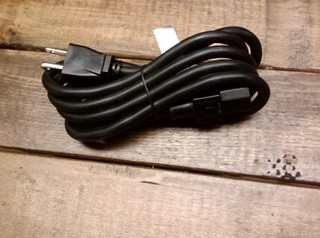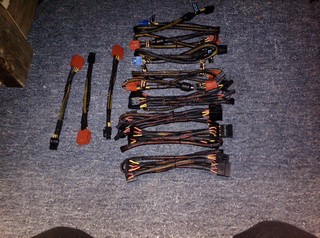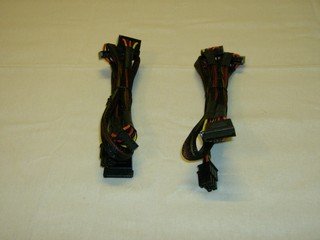 There's a peek at the heavy duty power cord, Six PCI-E connectors with the 3 included 8 to 6-pin adapters, the eight Molex and two floppy connectors, and the 8 SATA connectors. Now let me take my shoes off so I can count up the possible connections. That's 24 possible connections total. That is, if you're hard core and want two floppies and triple SLI, a basket of fans, and sixteen drives of assorted types. You'll probably have to spend some serious scratch to get all that equipment together.
I don't know about you, but I'm ready to take a closer look at the Toughpower itself.
IMAGES & IMPRESSIONS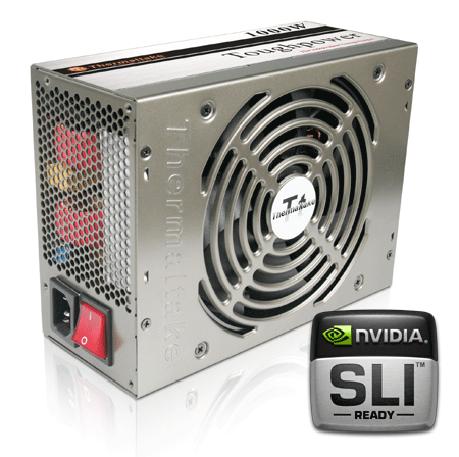 The Toughpower 1k modular isn't one of those froufrou looking power supplies that depend more on flash than performance to sell it. It's not ugly by any means, but it's got more of a minimalist look to it than any thing else. I found myself thinking that with Thermaltake's propensity to add a little dash of flash here and there it would have been easy for them to go overboard and stick a bunch of LEDs and bells and whistles to pretty it up. As it sits though, it just screams "Power and Plenty of it."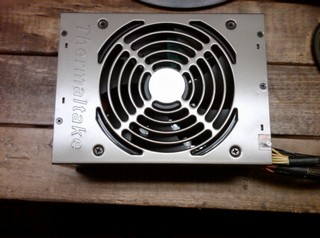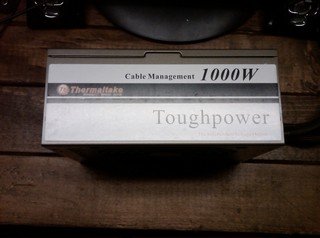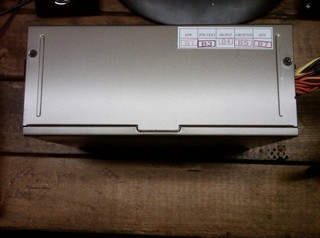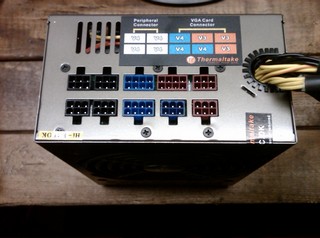 There you can get a look at the PSU from all sides. Notice the Hi-Tech black coating. It's kind of strange because in high lighting it looks silver, in medium lighting it looks brown, and in lower and cold cathode lighting it takes on a distinct black tone. The fan shots show the 140mm ultra silent fan that's actually a Yate Loon re-stamped to Thermaltake TT-1425B. The actual model Yate Loon ball bearing fan is D14BH-12. Yate Loon is a quality fan manufacturer that manufactures high quality fans for a lot of companies. I use a couple of sets on my custom water loop radiators and even at 83 CFM full speed they're barely audible outside the case. The 140mm on the Toughpower was inaudible inside the case during testing, and provides really good air flow to keep it cool.
If you'll notice the PCI-E connectors for a second, there's two blue 8-pin and 1 red 8-pin. That got me to thinking some. Earlier I had noticed a little unusual quirk in the +12v rails.

See how they have the +12v rails listed? The +12v1 and +12v4 are together, and one is 20A and the other 36A, then +12v2 and +12v3 are listed with the same voltages. Then, combined with the 8-pin PCI-E being Red and Blue it got my curiosity way up. I'm having the urge to get a screw driver out and see what Thermaltake has done inside this beast because I'm smelling dual power supply in one chassis which would explain something I saw on the voltage panel as well.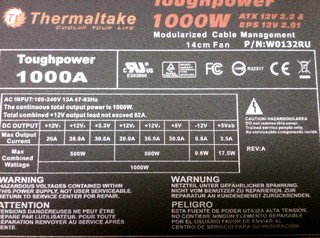 See how they have the +12v1 and 4 and the +12v2 and 3 are listed? Both listing 500w, but boxed separately. If I were a betting man, I'd throw my better half's best thong in the pot that there's two power supplies in one chassis here. Not that that's a bad thing, as long as they've taken care of the inefficiency problems that can incur.
INSIDE THE TOUGHPOWER 1K MODULAR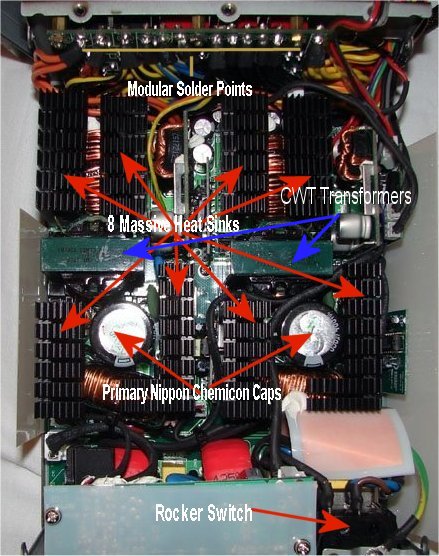 You can see the two large primary capacitors made by Nippon Chemicon. Thermaltake is using high quality Japanese capacitors in there! Then, the Modular solder points up at the top, rocker switch at the bottom, and all the solder points were solidly soldered. Then, there in the center you can see the Channelwell Technologies transformers and the eight massive heat sinks. It's no wonder the Toughpower is a heavy unit. The silk screening on the PCB also tells me this is a Channelwell built PSU.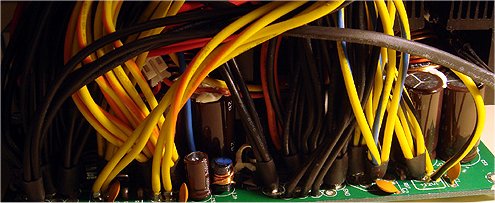 See how the power leads are in two distinct clumps there? Then, look at the symmetrical design in the previous picture; there's technically two 500 watt PSU's in the Toughpower 1k side by side. Like I said before, that's not a bad thing as long as efficiency is maintainedl and the Toughpower 1k runs between 80% and 87% peak efficiencyl so that's not an issue. Thermaltake has a new Toughpower 1k just out and now I'm going to have to dig into that one and see what it looks like in there (if they'll send a sample).
Reflecting on it for a second I thought I'd better tell you that opening your power supply isn't really recommended as it will void your warranty and if you don't know what you're doing there's enough power stored in a freshly unplugged PSU to stop your heart and give you a really sweet "Mad Science" hairdo.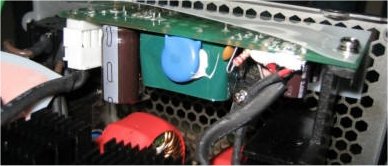 There's a peek at the power regulation panel tucked up under the flap where it's tucked away hidden in the other shots.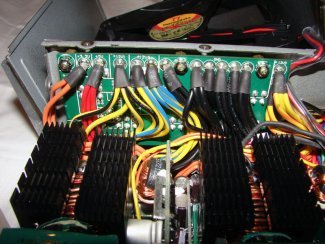 There's a better look at the well soldered modular power connection solder points. That's some pretty good solder work there. Pretty impressive components in the Toughpower.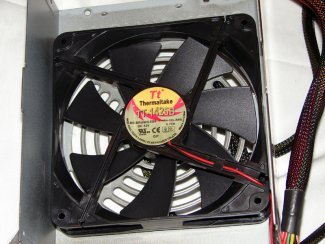 Then there's the Thermaltake Thermaltake TT-1425B fan, which is actually a ball bearing Yate Loon D14BH-12.
In all, I'm seriously impressed with the Thermaltake Toughpower 1k components and if Thermaltake and Channelwell have the design right, I'm pretty sure we're going to be seeing less than 3% variance on any rails, load or idle. Personally, I'm betting 1½% or less and I'm usually pretty good at guessing from interior components.
Onward and forward to Testing And Methodology
TESTING & METHODOLOGY
Power supplies are heavily overlooked. Some people will go out and spend a grand on a monster setup but will only push it with a small, cheap, no named power supply. We like to buy and use good rock solid power supplies because of the money we have invested on our rigs. The standard is 5% variance, but Thermaltake takes it up a notch with a 3% standard. This is pretty impressive! On the +5vSB it's not unusual to see 5% and since it's only for wake on LAN or by device feature, it's not a big deal.
Seeing almost no ripple on a rail is what we like.
Testing Equipment
Thermaltake Toughpower 1K
Testing Equipment
Multimeter
Fluke-115 Digital
For right now I only have a Fluke-115 Digital Multimeter to test with, but the future will bring more power supply testing equipment to better inform you.
Test Rig
Test Rig
"Univac"
Case Type
Thermaltake V9
CPU
Intel Core 2 Duo E8400 @ 3.8ghz
Motherboard
XFX 780i SLI
Ram
OCZ Flex XLC DDR2 1150 @ 1200Mhz
CPU Cooler
Zalman CNPS 9700
Hard Drives
Maxtor 500gig SATA II
2 WD 160 Gig Sata2
Optical
LG DVD R/W
GPU
SLI 9800GTX+
Case Fans
Two 120mm Thermaltake Front/Rear Push/Pull
230mm Top fan
Testing PSU
Thermaltake Toughpower 1000 Watt Modular
Mouse
Logitech G5 Rev2
Keyboard
Razer Lycosa Mirror
Sound Card
Creative X-Fi Xtreme Music
Speakers
JBL Creature II
This is my sweet little POS =)
My system is pretty up to par with today's standards and I'm hoping it will put a strain on this power supply. Or at least make it sweat… a little. What I'll be doing is running everything stock and then overclocked to get a better draw off the power supply. I will be running multiple large file copies in the background while having WinRAR extract a file on each drive. These files being used are roughly 5 gig each. I also will have a DVD copying files to each drive. On top of this I will have Orthos crunching at both cores at max load, then turn on 3dMark running at 1920×1200 to make the video card draw at their max from the power supply. And for my own pleasure, have some of my favorite music running in the background. 
I will be measuring the voltages off each power supply using my multimeter. I will run my testing five times to get an average idle and load.
Let's move on to some Testing Results.
TESTING RESULTS
Power Test Results
The current ATX 2.3 specifications allow for the following variation in voltage outputs:
3.3 Volt Rail:   3.135V – 3.465V
5 Volt Rail:   4.75V – 5,25V
12 Volt Rail:   11.4V – 12.6V
Power Output Results(V)
Measured With Craftsman Multimeter And
Coolmax Digital LCD Voltage Tester

Power Rail
Thermaltake Toughpower
1000 Watt
Idle
Load
3.3v
3.34
3.32
5v
5.08
5.07
12v1
11.96
11.94
12v2
11.98
11.97
12v3
11.96
11.95
12v4
11.97
11.96
5vSB
5.01
5.03
As we can see, even with my hardware, this power supply barely budged a bit. Either my hardware is wimpy (hardly) or Thermaltake sticks to their claimed standard of 3%. We will stick with the latter.
Please note that 12v1 and 12v2 differ because I am running two different brands of graphics cards, an XFX, and a Leadtek non-reference. The XFX takes two PCI-E 6-pin connectors and the Leadtek only uses one. I believe this is why there is a difference in power consumption on the graphics cards.
Conclusion
Thermaltake has really made quite the product. It's getting a bit aged and is still standing up to the products available on the market today. It has a modular design that is becoming the norm, and is nice and quiet, which we like.
Even though the standard of variance is 5% on each rail besides the -12v which is 10% (According to ATX 2.3 standard), Thermaltake thinks it is necessary to have a 3% standard instead. This is pretty impressive. And what is more impressive than that is it's true. At first, I thought my readings were wrong when the numbers were barely budging. On many more tests I decided this was correct and was thinking I could probably run Tri-SLI on this power supply.
On the flip side of things, this power supply is modular, the cables are sleeved, and there isn't much of a "bling" factor. So, all your other shiny components can be the center of attention and your power supply can just do its job, and do it good. I didn't even hear the 140mm fan on this power supply while my other components were on. That is a big plus considering I'm trying to cut down on noise, and for anybody else who wants to create a silent PC.
The only downside to this power supply I could really find is that the main connectors, that aren't modular by the way, are a little short. I think this is made up by exceptional performance though.
Right now on Newegg this power supply is going for $299 USD. I think this is a great price for an excellent power supply considering you can still run a SLI or Crossfire system on it. Considering the cable options you could probably run even Tri-SLI or Quad-Fire and still have enough juice to go around. I would recommend the Thermaltake Toughpower W0132RU 1000 Watt Power Supply to anybody who is serious about having a strong power supply that will last them a good while.
Pros:
+  1000 watts of clean, solid, and stable power
+  Active PFC
+  Efficiency rating > 80%
+  Triple SLI/GPU ready
+  Compact case dimensions for it's output
+  Dual Core/Quad Core CPU ready
+  8-pin PCI-E connectors (x3)
+  Well sleeved cables and plenty of connectors
+  Quiet operation
Cons:
–  The main power connection cables are a little short 
Final Score: With exceptional performance and outdoing the standard with their own, I give Thermaltake's Toughpower W0132RU 1000 Watt Power Supply a 9.5 out of 10 and the Bjorn3d Golden Bear Award.