The Silverstone Fortress FT01B-W is a mid tower sized case that is packed with many various features such as good airflow, cable management, and an extremely easy to use tool-less external install design.
As far as cases are concerned in the computer hardware industry, everyone has their own taste. Some people like huge cases and others like the ones that they can hide very easily. A lot of times people will say, "I like that case because it looks cool", but then they get home and it's a nightmare to install their components.
Silverstone is a great leader in the computer chassis market and they have a very nice looking product that's very sleek and easy on the eyes. The Silverstone Fortress FT01B-W is a mid tower case that offers the functionality of a full tower, yet the quietness of a MiniATX case. Let's dig in and see what this case is all about.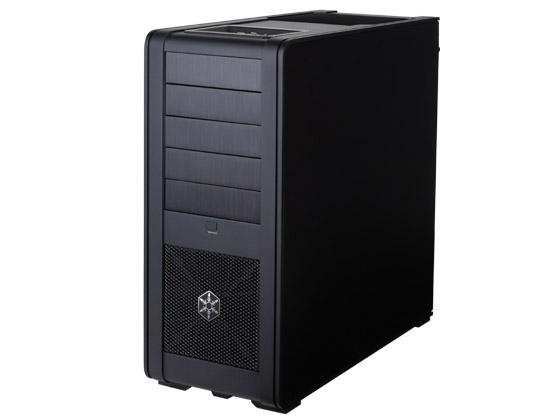 About SilverStone

 
Jan
Mar
May
Jun
Jul
Oct
–
–
–

–
–

–
–

SilverStone NVIDIA ESA Certified Chassis, Temjin J10-ESA announced.
SilverStone announced its first gaming mouse, later named RAVEN RVM01.
SilverStone presented the Fortress FT01, emphasizing the use of "positive air pressure" as preferred airflow management.
SilverStone announced TJ10 NVIDIA Special Edition-TJ10B-WNV.
SilverStone announced its first chassis with 90° rotated motherboard configuration in theRAVEN RV01.
SilverStone announced ZM1200 & ZU1200 to support GTX 280 in 3-way SLI
SilverStone won Custom PC 2008 best chassis manufacturer.
 
Jan
Jun
Nov
–
–
–
SilverStone introduces Sugo SG03 and redefines SFF form factor.
SilverStone attains ISO 9001:2000 Certification .
SilverStone OP1200 1200W powered the system that broke 3DMark06 world record.
 
Jun
–
SilverStone announces its first liquid cooling device, Tundra TD01
 
Feb
Jun
Sep
–

– –

SilverStone becomes one of first two PSU manufacturers in the world to receive NVIDIA® SLI™ certification.
SilverStone becomes ATI's hardware partner as a PSU vendor.
SilverStone announces its first chassis built from unibody aluminum frame withTemjin TJ07.
 
Jan
Feb
Jun
Aug
–
–
–
–
SilverStone introduces its first chassis with integrated VFD in Lascala LC03V.
SilverStone Technology GmbH begins business .
SilverStone's first cooler, later named Nitrogon NT01, announced .
SilverStone introduces Lascala LC10M, its first chassis to include VFD/IR, remote, and multimedia software.
 
May
Jul
Aug
Sep
Nov
–
–
–
–
–
SilverStone Technology founded.
SilverStone's first power supplies, Strider ST360/ST400 released.
SilverStone's first desktop/HTPC chassis, Lascala LC01 announced.
SilverStone Technology Inc. in USA begins business.
SilverStone's first tower chassis, Temjin TJ01 announced
SPECIFICATIONS
SilverStone FT01B-W – Specifications

Series
FT01 Series
Case Type
Mid Tower
Dimensions
(W x H x D)
211 x 486 x 494.5 mm
(8.3 x 19.1 x 19.5 in.)
Cooling System
FRONT: 1 x 180mm fan – intake
REAR: 1 x 120mm fan – exhaust
TOP: 1 x 180mm – intake
Drive bays

9 Drive Bays
5 – External 5.25″ Drive Bays
7 – Internal 3.5″ Drive Bays
Screwless Rail Design

Material(s)
3.0mm ~ 6.0mm uni-body aluminum outer frame and aluminum body
Expansion Slots
7
Weight

8.66 KGS or 19.1 lbs

Motherboard Support
ATX, MICRO-ATX
 FEATURES
Clean & Tidy: All intake fans have removable/cleanable filter to prevent dust from entering your system
Spacious Interior and Solid Construction: Built from aluminum, the FT01B-W gives the user ample space for large, high-end

video

cards

and space for up to seven internal hard drives
Multimedia and peripheral inputs: HD audio, mic, and two USB inputs are standards with this Fortress allowing for maximum peripheral input
Silent Cooling: Comes standard with 1 120mm & 2 180mm fans installed to maximize cooling performance with minimal noise
PACKAGING

Fortress Box Front
The box looks great and really shows you what this chassis looks like, and gives you an excellent idea of what all you can fit inside it.
 
Fortress Box Back
Here we have the back of the box and can see that it points out all of the main features incorporated with this chassis.

Fortress Box Side
On the side of the box are all the specifications for the chassis.

Fortress Interior Packaging
This case is centered in the middle of the box by two large Styrofoam pieces that keep it from touching all edges of it and protecting the product from any unexpected pot holes.
PICTURES

Fortress Overview
This case has a unique a sleek design from other cases that I have seen and used, but it's different in the way that it's curvy.


Fortress Back
The above pictures are showing you a close up view of the back of this chassis. At the top we see the water cooling holes, 120mm exhaust fan, and I/O plate. Then, just under the fan we see where Silverstone added the option for us to mount the included clear CMOS switch. The power supply unit mounts on the bottom and we can see a filter just under it, and just above that are the expansion card slots.

Fortress Motherboard Side
Here we can see where Silverstone really raised the bar on this case with all the holes and options for wire management.

Fortress External Ports
This case has the standard two USB ports and audio and mic jacks that just about every case has, and then the Firewire port.
PICS OF FEATURES
This is a picture of the top inside 180mm fan, the cable holes, cable tie, and disc drive installed.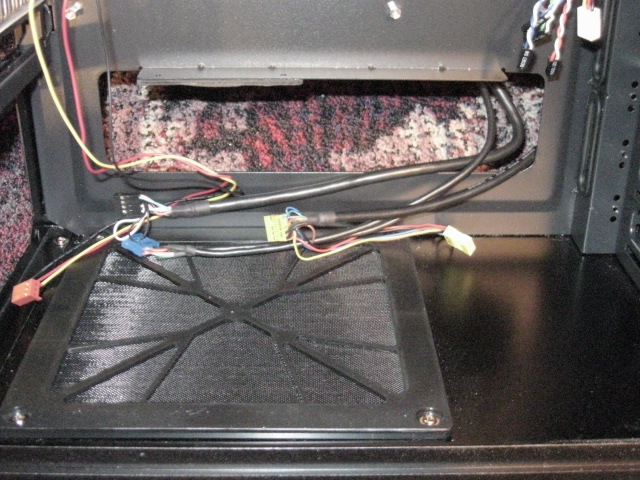 This is where our power supply unit will be mounted, and as you can see, all the cables can be put through the large hole and routed through various parts of the case for better airflow.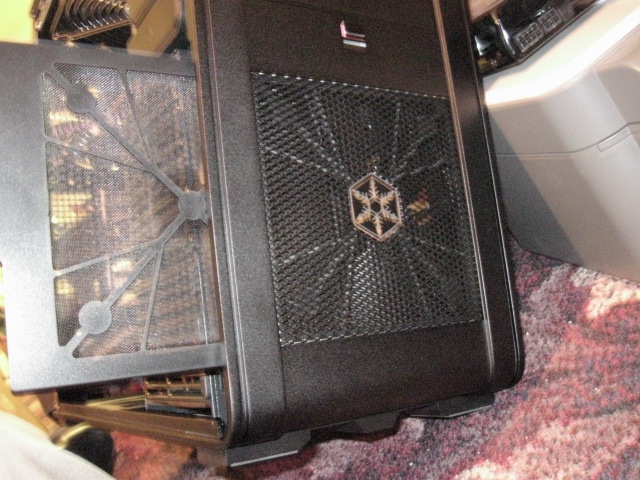 This is the front 180mm intake fan and the air filter that will help to prevent dust from entering the system and causing components to heat up from build up on fans.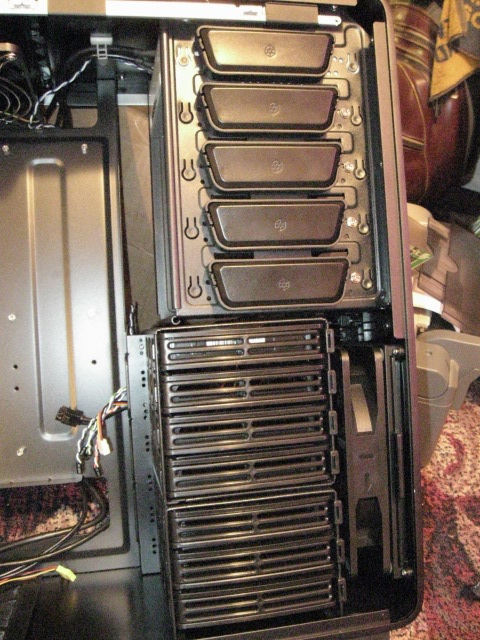 Those block type things along the top are push buttons that have pins that slide into the screw holes of exterior devices such as DVD drives. The cage type thing on the bottom is where you can install your hard drives. The top bay can be removed for the super long 12″ workstation cards, but my GTX280 did fit without a sweat.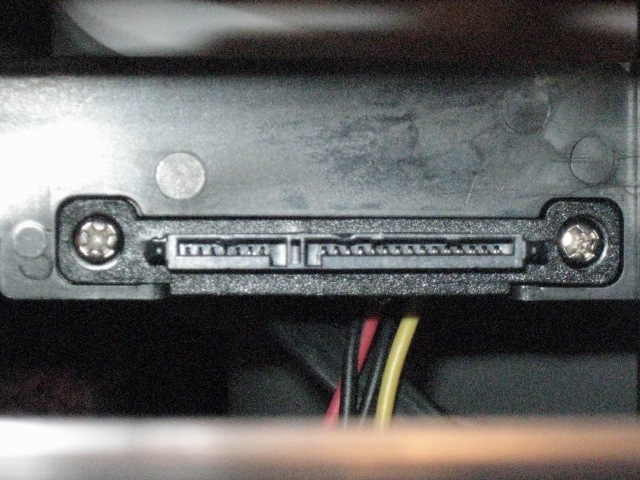 This is located at the back of the top hard drive bay slot, and makes it extremely easy for you lazy people to install a single drive into this chassis. The SATA power actually is converted to the 4 prong 12v type, and can be handy for older power supplies that don't have the SATA cables.
Here I took pictures showing how easy it is to actually install the hard drive into the bay.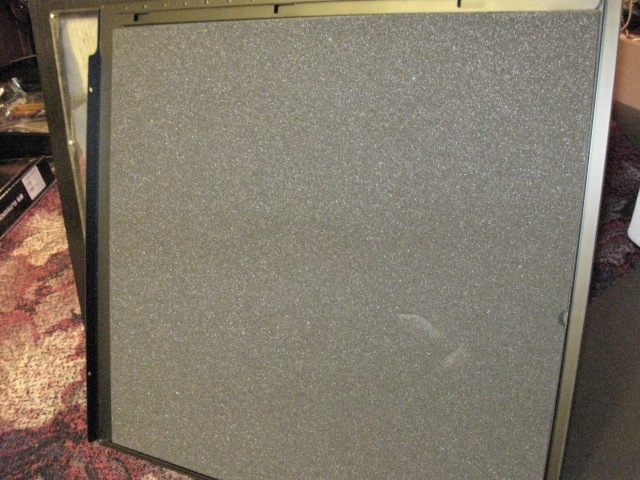 This is the side panel that goes behind the motherboard. As you can see it has some foam on it, but what is the purpose? This foam helps to dampen sound generated by the inside components.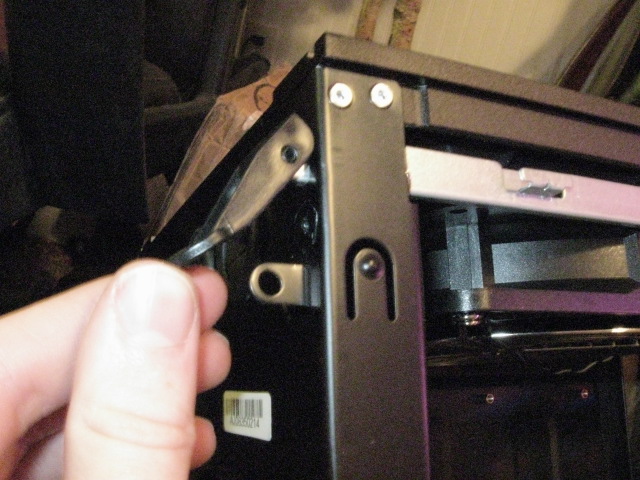 The side panels fold out from the case and can then be removed. This is the "trigger" that allows you to open it. A thumb screw hole does keep this safe from kids thinking, "What does this button do?" You also have the option of putting a lock on there to make it secure from people looking to grab some free hardware.
BUNDLED ITEMS

The Bundled Items
To go along with any chassis, you must have some extras. The Fortress FT01B-W came with an add-on switch that clears CMOS, a clear CMOS guide, a user/installation manual, a large bag of screws, and a three prong to 12v fan connector.
After seeing all these amazing features and an excellent looking chassis, let's move on to the end results and conclusions.
TESTING
There are only a few ways to really test a chassis and those are to simply mount all your hardware in it and see if it can handle the thrashing, and also see if it's up to par are far as cooling is concerned. Below is the list of what hardware I installed into this case.
ECS X58B-A Black Series Motherboard
Core i7 920 Processor

Thermalright

Ultra 120 Extreme CPU Cooler w/2 Fan mounted
XFX GTX280
OCZ 700W GameXStream PSU

Western

Digital

640GB
Super Writemaster DVD Drive

 Everything Installed

The Entire system put together, up and running!
The picture above shows the case in full momentum. It looks kind of like a picture frame when the side is on, and I like that because it let's me see all my hardware at work.
CONCLUSION
 
When I first saw the picture on the box of this chassis, I thought to myself, "Great, another Antec 900 look-a-like." This assumption couldn't have been further from the truth. In fact, the Silverstone FT01B-W is much more than that, and has many features that I haven't ever seen on a mid tower case such as this. Silverstone really did an amazing job with this one.
The Fortress has such a vast amount of features that really make it stand out and above the mid tower crowd and put it more into the enthusiast class as far as cases are concerned. Airflow is one of the main focuses in this case. With two large 180mm fans pulling filtered air in and a 120mm exhaust fan that pushes the warm air out, and cable management helping the case's air flow better because more of the cables are concealed, and lots of options built in on this case, cooling is better and it also makes the inside of your rig look better.
Graphics cards over the years have also continued to get larger and longer, partly for better performance, and partly in order to accommodate larger fan's and heatsinks that can reduce the heat created by these higher performing cards. A lot of mid tower cases fail to meet the space requirements that these huge graphics cards have and can't accommodate these cards. Silverstone created this case with those uber long enthusiast and even workstation cards in mind. They made it possible to ft the 10.5″ Nvidia GeForce GTX280 in without any adjustments or modifications. However, the 12″ work station cards do require you to remove the top hard drive bay.
Now, these are just a few of the features that I showed you earlier on this review, but as you can see, I could on for pages trying to hit all the features that this case has to offer.
Pros:
+  Looks amazing
+  Excellent cable management features
+  Solid Construction & Extremely Sturdy
+  Very Quiet
+  Plenty of room for larger graphics cards such as the GTX280, and even workstation cards
+  Tool-less design makes for extremely easy installation
+  Air filters on intake fans
+  Sound dampening foam placed on both side panels
+  You get what you pay for
+  Airflow
Cons:
–  The included fans don't light up
–  There wasn't a second GTX280 included


In the end, I would put this case into the enthusiast market for all its potential and features. I think that the Silverstone FT01B-W is a great case because of all the unique features, great air flow, ease of installing hardware, and also it's very cool looking design.
Final Score of 9 out of 10 and the Bjorn3D.com Golden Bear Award.