At $229.95, the Antec Signature SG650 power supply is not your average power supply. It is what I call a luxury power supply. It is built on quality components, new innovations, and certified for 80 Plus bronze. Though, can these features justify its price tag? Let's find out.
INTRODUCTION
Antec has recently launched a brand new line of power supply called Signature Series. In Antec's own word, the Signature series is designed to "appeal to system builders looking for a truly premium power supply." Antec claims that the power supply has "many cutting-edge features, several of which have never before been offered in a consumer power supply".
The Signature line of power supply features DC to DC voltage regulator modules to ensure greater system stability, and an 80mm Pulse Width Modulation (PWM) fan which Antec claims that it can run up to 50% quieter than standard fans. The Signature power supply also passes 80 PLUS Bronze certification, which ensure that 82% or higher efficiency at 20%, 50%, and 100% load.  All these technologies that Antec has incorporated into their Signature power supply is aim to deliver a clean, efficienty, and quiet power supply to the users.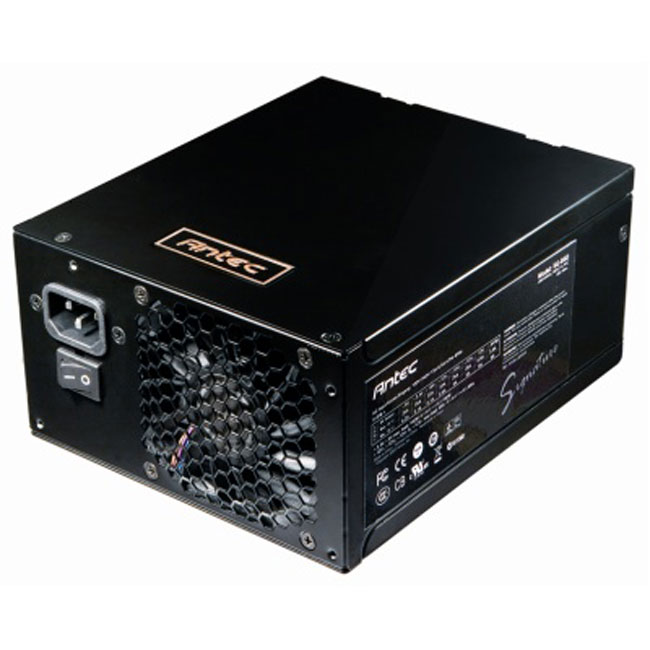 There are two PSUs in the Signature series: an 850W and a 650W. We have received the 650W unit for review. The SG650 is currently selling at $229.95 retail but as always you can find much cheaper over at various online retailer. A quick search over at Newegg shows that the power supply can be purchased at $169.99. It is slightly more expensive than other 650W power supply. Does its performance justify the price premium? Let's find out.
About Antec
Antec, Inc. is the global leader in high-performance computer components and accessories for the gaming, PC upgrade and Do-It-Yourself markets. Founded in 1986, Antec is recognized as a pioneer in the industry and has maintained its position as a worldwide market leader and international provider of quiet, efficient and innovative products. Antec has also achieved great success in the distribution channel, meeting the demands of quality-conscious system builders, VARs and integrators.
Whether you're a gamer looking for that cutting-edge case or a system integrator seeking a reliable and efficient power supply, you've got a lot of factors to consider, from performance to stability to style. As the leading global provider of high performance PC components, we believe in delivering products that not only meet your expectations, but exceed them. Your computing experience should be quiet, efficient, cool and elegant; we don't believe in compromise, and neither should you.
FEATURES AND SPECIFICATION
Features
NVIDIA™ SLI™-ready certified
80 PLUS® Bronze Certified – 82% or more efficiency at 20%, 50%, and 100% load
DC to DC Voltage Regulator Modules ensure supreme system stability
80 mm cooling fan uses Pulse Width Modulation (PWM) for whisper-quiet operation
Highest quality Japanese fan and capacitors ensure long-term reliability
Dual density PC board layout provides better airflow, reduces electrical noise, and allows heavier components
Advanced hybrid cable management improves airflow and reduces clutter
Universal Input and Active PFC allow the Signature 650 to operate efficiently on any power grid in the world
AQ5 – Antec Quality five-year parts and labor warranty
Safety: UL/CUL, TUV, CE, CB, CCC, FCC Class B, C-Tick
Industrial grade protection circuitry prevents damage resulting from short circuits (SCP), over voltages (OVP), over power (OPP), over temperature (OTP), and over current (OCP)
MTBF: 100K Hours Min At Max. Load 230VAC And 25°C Ambient Conditions
Turn-on Delay Time: 500mS max at any condition
Hold-up Time: 17ms [email protected]/60Hz respect to +5V o/p (95%)
Overshoot: Any overshoot at turn on or turn off shall be less than 10% of the normal value.
Net Weight: 5.82 lbs
Gross Weight: 10.3 lbs
Certification

The power supply carries 5 year warranty from Antec. Furthermore, it passes the 80Plus Bronze certification to ensure more efficiency and more environmental friendly.
Specification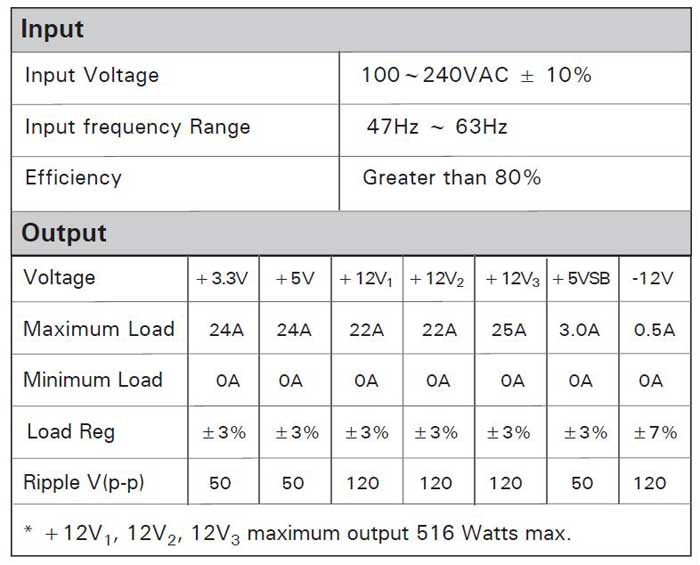 ANTEC SIGNATURE 650W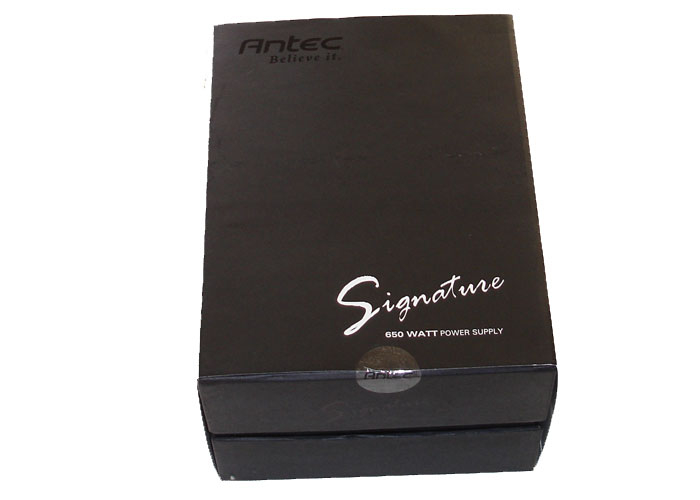 I was quite surprised with the packaging of the power supply. As always, Antec safe guards the power supply against the rough treatments during shipping with excellent packaging and enough bubble wrap to protect against any rough treatment. What is surprising to me is the box which the power supply comes in. If there is ever an award for the most elegant package, I am sure Antec's Signature series maybe the winner. The all black look is stylish with the word "Signature" clearly visible in white letter. Despite that it is made with cardboard, it is very thick and sturdy with padding to protect the power supply. If the box is any indication of the power supply, you get the sense that the power supply is not your average 650W power supply. It gives you a feel of more expensive and kind of like the luxury car that you alway dream of.
Click for larger image
Lifting up the top cover and you are first greeted with the manual and a certification. The certification ensures that the power supply passes the 80 Plus Bronze test at 20%, 50%, and 100% load. This is important to note as some power supply maybe certified for 80Plus but in reality, it may only achieve this efficiency at 500W or higher. At lower power consumption or under heavy load, the power supply may have less efficiency than 80%. You will not find that with the SG650 since it is guaranteed to ensure 80% at 20%, 50%, and 100% load.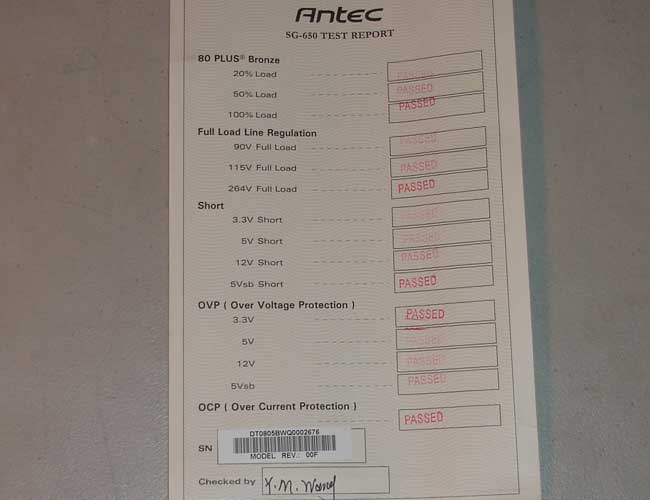 Also note, the power supply passes the full load line regulation at various voltage, short test, and over voltage and over current protection tests. The certificate is like getting that piece of paper you get when you purchase an expensive jewelry; you will know you are getting a genuine product. Underneath the certificate is where the power supply lies and just below it, in a separate compartment, is the accessory cables and power cable. As you can see the box is very sturdy and well padded all around to ensure the expensive power supply arrives at your doorstep without any dents or scratches.
Click for larger image
On the surface, this power supply looks just like any ordinary power supply. You get the standard ATX size of .4″ (H) x 5.9″ (W) x 7.1″ (D) and weighs at whopping 5.82lbs. Though it is not always guaranteed but the weight of the power supply is usually related to the quality of the components. The heavier it is usually means a better built unit with quality components. The SG650W sure is on the heavier side of the scale.
Plenty of ventilation holes are on the front of the power supply. On the back, there is a small 80mm fan with Pulse Width Modulation (PWM). Although, some PWM fans can produce a "clicking" sound at very low fan setting, I cannot hear the noise with this power supply.
Click for larger image
This is a mix of non-modular and modular cable power supply. The power supply has gotten the following cable attached already:
Main ATX 24pin connector
4 pin auxiliary ATX power connector
6+2 PCIe power connector
3 molex connectors
4 SATA connectors
1 floppy connector
1 8 pin ATX auxiliary power connector
Five extra modular cables are included:
2 cables with 3 SATA power connectors
2 cables with 3 molex connectors
1 cable of 6 pin PCIE power connector
The red connector is meant for the PCIE cable while the other two 6 pin connectors are for the peripheral cables. Although there is only 3 additional modular connectors, Antec actually includes more cables than the connector. I really appreciate Antec includes extra cables just in case you may misplace or lose a cable. Just to show you how much attention is given to the detail, Antec even labels the connectors and all the cables are fully sleeved. Furthermore, Antec provides a cable tie to help keep the system tidy and clutter free.
It is quite obvious that this power supply is meant to be used with high-end graphic cards. However, due to the fact that there are only two PCIE connectors (one 6 pin and one 8 pin), your ability to use the power supply with two or more graphic cards would be limited unless you are using the molex to PCIE adapter (we don't really recommend using an adapter). In fact the power supply is certify for NVIDIA SLI but a quick check over at SLIZone reveals it is only being certified for the 7 series of cards. It however is able of powering a single HD 4870 X2 and the GeForce GTX 295 with the massive 43A of the combined +12V rail (or 516W of power). In fact, based on the number, the power supply should be able to power two GTX 280s. However, due to the limitation on the number of connectors, I would say that two GTX 260s or possibly two GTX 280s is the best this power supply can handle if you use the molex to PCIE adapter (again we don't recommend using the adapter).
INTERNAL
Click for larger image
The power supply is constructed slightly different than your normal power supply. To open it up, we had to remove six screws. As you can see from the image above, you cannot simply lift the cover up to get the access of the internal components. Rather, you would have to open the unit at an angle and disconnect the two cables before you can gain the access to the internal components.
Click for larger image
Inside we can see the power supply is jam packed. The primary PCB contains the filtering stage. Two main capacitors manufactured by Rubycon and Nippon Chemi-Con. The Rubycon cap is rated at 450U and 270 uF and the Nippon Chemi-Con cap is rated at 450v and 220uF. Two small heatsinks are placed aligning with the 80mm fan so the fan can cool them effectively.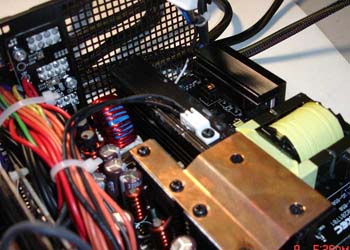 Click for larger image
Over on the secondary site is where you will find the transformer. Again, we see two large black heatsinks with a copper bridge connecting them and aligned with the fan and the ventilation holes. Right on top of the black heatsink is where you will find the temperature sensor with the fan control unit. The smaller caps on this side are all made by Nippon Chemi-con.
TEST CONFIGURATION
Since Bjorn3D does not yet own a dedicated power supply load tester, we are not able to test the power supply to its fullest wattage.  However, we do strive best to load each power supply with the components and power demands that a potential buyer will use.  For this particular power supply, I will be installing these following components at the given condition:
Intel E6600 (OC to 3.0GHz)
EVGA 790i FTW Digital
2x1GB OCZ DDR3 PC3-10666 Gold Edition 
Three SATA hard drives
Two 9800 GTX/GTX+ 
ThermalRight XI-128 with Scythe S-FLEX SFF21F
DVDRW: NEC 3520AW
CoolIT Freezone and CoolIT Eliminator
Various peripherals that includes PS/2 keyboard, USB mouse, and other USB devices and storages.
With all these components, I was able push the power demand to 495W under a load. This represents approximately 75% of the power supply's maximum output. We would probably able to achieve higher power demand if we SLI three cards (although the we do not recommend that for this PSU since we are already pushing it for 2 cards with the adapter).  I think our system setup is representing the typical setup for any potential buyer who maybe interestd in this PSU. This should give our readers a sense as to what this power supply is capable of.
We will test the power supply in four different configurations: with one and two graphic cards. In addition, a maximum power consumption reading is obtained with the additon of the CoolIT Freezone and Eliminator. The voltage reading of each rail will be carried out with the Kill-A-Watt P4400. The test system is connected to an UPS to reduce any power spikes.
TEST RESULTS
Power Output Results(V)

Power Rail
1 GPU
2 GPU's
Max
Idle
Load
Idle
Load
Idle
Load
Power Consumption (W)
175
257
230
390
335
495
3.3v
3.34
3.34
3.33
3.33
3.33
3.32
5v
5.04
5.04
5.04
5.03
5.04
5.02
12v
12.12
12.12
12.12
12.12
12.12
12.11
All of the rails are within 1% of ATX specification. Very good result. As we load the power supply, we can see that the rails stay rock solid with just 0.01~0.02V dips in the voltage. The power supply's power factor stays around 0.97~0.99 so nothing to worry here.
Power Supply

 1GPU

2 GPUs

Antec Signature 650W

175W

257W

230W

390W

183W

248W

238W

385W

SilverStone Decathalon 1000W 

182W

252W

237W

388W
Both SilverStone Decathalon and the Antec power supply are certified for the 80+ Bronze with minimum of 82% efficiency. However, we can see that under idle condition, the Antec Signature consumes a tad less power than the SilverStone but under load, Antec's power supply actually consumes a tad more. What is interesting is that Antec's power supply actually consumes less power under idle than the Cooler Master UPC  power supply that is certified for the 80+ Silver with minimum of 85% efficiency. In fact, Antec's Signature 650W consumes less power under idle condition but it consumes more power than the two other power supplies under load.
We use Everest to monitor's power supply's power fluctuation under the max load. We can see that the Antec Signature 650W's 3.3V and 5.0V is rock solid. The +12V rail fluctuates slightly. Carefully examine the data reveals that the power supply will fluctuates within 0.05V. A slightly more stable +12V would have been better for a power supply of this level since we are only pushing 70% loads. Still, all of the rails are still within the specification so readers should feel safe that their power supply is capable of delivering the needed power.
NOISE
The Antec Signature runs at fairly quiet due to its PWM controlled fan. Generally speaking, a smaller fan would have to run at faster RPM to keep the components cooler than a larger fan. Thus, higher noise is expected. During the time of testing, the fan noise is barely audible under 50% load. At this level, the power supply runs whisper quiet and I would have hard time hearing it when it is installed inside the case. When the power supply is over 50% load, the fan revs up and the noise is more prominent. However, usually at 50% load, the other internal components, such as GPU and CPU fan noises will also rev up as well which somewhat drones the PSU's fan noise.
CONCLUSION
The Antec Signature series is clearly designed for the enthusiasts with its pricy $175 price tag. From the time you receive the unit you get a sense that this is not an ordinary power supply. The moment you open up the box, you get a sense that this is a luxury power supply and the quality internal components and and the excellent performance will sure satisfy any enthusiasts.
The power supply is rock solid and runs whisper quiet at below 50% load. For a 650W power supply, it has ample of connectors and cables, but we would appreciate if Antec would include an additional PCI-E connector. With only a six and an eight pin PCIE connector, users are being limited to which graphic cards they can use with this power supply. Despite the fact that this power supply should have enough juice to power multiple GPU setup with the adapter (which we do not really recommend), the fact it lacks the cable for it is a bit disappointing.
The power supply's performance is excellent. It adheres within 1% of the ATX specification for the 5V, 3.3V, and 12V rails. Even under heavy load, the voltage does not dip more than 0.05V. The only small qualm is the small fluctuation with the +12V rail but we really do not expect that it will affect anyone. The power supply also has good efficiency specially under idle condition where it beats out the Cooler Master UCP (which is rated for 85% efficiency) but the power supply's load efficiency is the worst among the three power supply tested.
On top of all the quality components and the performance, Antec backs the power supply with 5 year warranty, which in itself is a good investment. Unfortunately it is just a bit hard to swallow the premium price tag associate with this power supply even if we consider the quality components and the warranty period. For the similar price, users would be able to purchase a power supply that has more wattage and more connectors.
We are trying out a new addition to our scoring system to provide additional feedback beyond a flat score. Please note that the final score isn't an aggregate average of the new rating system.
Performance 9
Value 8
Quality 10
Warranty 10
Features 8
Innovation 9
Pros:
+ Excellent perforamnce
+ Very quiet at below 50% load
+ Quality compnents
+ 5 year warranty
Cons:
–  Pricy
–  Only comes with two PCI-E connector: a 6 pin and 8 pin
Final Score: 8 out of 10 and the Bjorn3D.com's Seal of Approval