Overall I'm very pleased with the SilverStone ST70F, so much in fact, I'm going to keep using it in my main rig until my main system out grows its power output.
Introduction
One of the least thought about components, but most important, when building a computer system is the power supply. A quality power supply can make all the difference between a nice stable system and one that is constantly giving you random errors that are next to impossible to track down. In a worst case situation, a low quality power supply can actually damage your components or completely kill your entire dream system.
Today we are going to be looking at one of SilverStones power supplies, the SST-ST70F from their Strider series, to see if it fits your needs for your new build or as a replacement PSU for your system that's in need of a replacement power supply.
As with all of SilverStone's PSU's, the 700W ST70F is designed and engineered by SilverStone and then outsourced to be manufactured. By checking the UL listing number on the side of the PSU I found that this model is produced by a Taiwan based company called Enhance Electronics that has been in the business of making power supplies since 1986.

About Silverstone
 Founded in 2003, SilverStone is an established leader in its field, with an elite team of engineers; we started our quest of providing products that create inspirations. We have since expanded the lines of products as well as types of products we produce, giving our customers a wide selection of choices.
 With distribution centers in different areas of the globe, SilverStone products can be seen all over the world, not just for computer users but also for home entertainment use. Providing leisure with integration of advanced technologies that is functional and making them enjoyable to use.
Here at SilverStone Technology, we continue to pride ourselves in providing the highest level of standards in designing and manufacturing computer enclosures, power supplies, and accessories. Our pursuit for the first class aesthetic appeal is relentless; our teams of devoted engineers are constantly searching for the best technologies that suit end-users with different needs and will make our products as technologically sound as they are beautiful.
Philosophy
 SilverStone Technology's philosophy is based on our recognition that merely having innovative expertise within the industry is not enough. Our objective is to ensure that our expertise is delivered to all products with consistency, in response to user's needs, and with maximum user satisfaction. SilverStone Technology thrives on challenges of rapid technological advancements and creating aesthetic standard for the industry.
Company Quality Policy
Outstanding Design
Perfect Quality
Customer Satisfaction
About Enhance Electronics
 Enhance Electronics is a leading manufacturer of Switching Power Supplies since 1986. We deliver technology leadership, global operation excellence and outstanding customer support. Our products are used in a wide spectrum of application such as desktop PC, Internet Appliance Server, NAS/SAN, Network and Telecommunication Instrumentations.
 Our strength is to be responsible to meet customer needs and reduce total ownership cost. As our business commitment, we offer an unparalleled level of service and technical support. To ensure our product performance, we work with industrial leaders such as Intel and AMD to approve our products to meet design guideline prior mass production. With ISO 9002 certified facility and professional quality control system, Enhance always deliver the highest quality products in the industry.
FEATURES & SPECIFICATIONS
Special Feature
  Ultra Silent Running 135mm Fan With 18dBA.
  80% ~ 87% Efficiency at 20% ~ 100% Loading.
  700W Continuous Power Output Rated.(Peak 780W)
  Quad +12V With Continuous 50A Combined Output.
  Quad PCI-E 6Pin, Single PCI-E 8Pin.
  100% Modular Cables.
Specifications
 Model No.
 Max. DC Output
Load Range

| | | | | | | | | |
| --- | --- | --- | --- | --- | --- | --- | --- | --- |
| | +3.3V | +5V | +12V1 | +12V2 | +12V3 | +12V4 | -12V | +5VSB |
| | 24A | 30A | 18A | 18A | 18A | 18A | 0.5A | 3A |
| | / | / | / | / | / | / | / | 3.5A |
| | 1.5A | 1A | 0.8A | 0.8A | 0.5A | 1A | 0A | 0.1A |
| | ±5% | ±5% | ±5% | ±5% | ±5% | ±5% | ±10% | ±5% |
| | / | / | / | / | / | / | / | / |
| | 50mV | 50mV | 120mV | 120mV | 120mV | 120mV | 120mV | 50mV |

 combined +3.3, +5V
 combined +12V
 Input Voltage
 Input Frequency Range
 PFC

| | |
| --- | --- |
|   | Active PFC (PF>0.90 at Full Load) |

 Efficiency

| | |
| --- | --- |
|   | 80% ~ 87% Efficiency at 20% ~ 100% Loading |

 MTBF

| | |
| --- | --- |
|   | 100,000 hours at 25℃ (at Full Load) |

 Operating temperature
 Protection

 
Over Current Protection
Over Power Protection
Under Voltage Protection
Over Voltage Protection
Short Circuit Protection
No Load Protection

 Connectors

 
1 x 24 / 20-Pin Motherboard connector (550mm)
1 x 8-Pin EPS connector (550mm)
1 x 4Pin ATX 12V connector (550mm)
4 x 6-Pin PCIE connector (550mm)
1 x 8-Pin PCIE connector (550mm)
6 x SATA connector (500mm / 250mm / 250mm)
6 x 4-Pin Peripheral connector (500mm / 250mm / 250mm)
2 x 4-Pin Floppy connector (500mm / 250mm / 250mm / 150mm)

 Color
 Cooling System

| | |
| --- | --- |
|   | Silent 135mm Ball Bearing Fan |

 Noise Level
 Dimension

| | |
| --- | --- |
|   | 150 mm (W) x 86 mm (H) x 160 mm (D) |

 Weight
 Certification
 Other
 By looking at the specs, they pretty much fit in with the majority of other power supplies in its class, which isn't a bad thing. 700 watts is enough to drive a complete system with one high-end video card or possibly 2 mid to high-end video cards depending on their power requirements, this is why SilverStone only included one 8 pin PCI-e cable and the rest being 6 pin.
WHAT ABOUT THEM RAILS?
 We have all, no doubt, been told that when purchasing a power supply that the number to look for is the amps on the 12V rail. What are each of the different rails for though, and why is the 12V rail typically the most important? Why the heck are they called rails? Let's take at look at each and see.
-12V – This rail is pretty much obsolete now and is only kept on to provide backward compatibility with older hardware. Some older types of serial port circuits required both -12V and +12V voltages, but since almost no one except industrial users use serial ports anymore you as a typical home user can pretty much disregard this rail.
-5V – Again this is another obsolete rail, the -5V was used for old school floppy controllers and some ISA bus cards. Again, no need for the typical home user to worry about this rail.
  0V – Though not listed on any manufacturer spec sheet, every power supply has a 0V ground line. The ground signal is used to complete circuits with other voltages and provide a plane of reference against which other voltages are measured.
+3.3V – Finally we are starting to get into something useful! The +3.3V rail was introduced with the ATX form factor in order to power second generation Pentium chips. Previously the CPU was powered by the +5V rail (along with the system memory and everything else on the motherboard), but a reduced voltage was needed in order to reduce power consumption as the chips got faster. Until just recently, the +3.3V was used to exclusively power the CPU as well as some types of system memory, AGP video cards and other circuits.
+ 5V – As mentioned above, the +5V used to run the motherboard, CPU and the majority of other system components on older pre ATX based systems. On newer systems, many of the components have migrated to either the +3.3V or +12V rails, but the motherboard and many of its onboard components still use the +5V rail so it is of importance to the typical home user.
+5V SB – The +5V Standby or "Soft Power" signal carries the same output level as the +5V rail but is independent and is always on, even when the computer is turned off. This rail allows for two things. First, it allows the motherboard to control the power supply when it is off by enabling features such as wakeup from sleep mode, or wake on LAN technology to function. It also is what allows Windows to turn your computer off automatically on shutdown as opposed to previous AT supplies where you had to bend over and push the button. Every standard ATX power supply on the market will include this rail.
+ 12V – The +12V, also known as the mother of all rails, is now used to power the most demanding components in your system including the CPU, hard drives, cooling fans, and graphics cards. Historically the +12V rail was used only to power drives and cooling fans. With the introduction of the 4-pin CPU plug on P4 motherboards and then eventually AMD based motherboards, in order to supply newer power hungry CPUs, the +12V rail suddenly started to grow in importance. Today, dual core based motherboard require an 8-pin +12V connector to supply their power needs. High end GPU cards have also jumped on the +12V rail, which has required PSU makers to adapt. Where previously there was only a single +12V rail, there are now two or more, each designated to power specific devices in order to ensure that nothing is underpowered.
 Now as to why they are called rails, the best explanation that I can find is that the term comes from the wacky world of electronics and it refers to a long metal bar or strip that is used to provide a particular voltage level. Perhaps someone with a deeper understanding of all things electrical could let me know whether or not that is true.
ATX 12V V2.2 Standard
ATX 2.20
 2.20 is where we currently stand as of March 2005. It was released the same month as the short lived 2.1 revision which is why you won't see any units bearing that standard. The 2.20 again increased the efficiency requirements which now stand at a minimum of 65% or greater and a recommended level of 75% or greater. The +5VSB rail has also been increased to 2.5A
In short any power supply post 2.0 will do the job for you. The biggest advantage of purchasing a latter standard model would seem to be the increase in efficiency rating.
EPS12v Standard
 The EPS12V specification is one of those standards that most people have heard about, but very few know what it actually does. The EPS spec itself is defined in the Intel Server System Infrastructure (SSI) spec and is currently at v2.1.
 The EPS12V spec dictates that Power Supply units must have a 24pin 12V connector as well as one additional 8-pin 12V connector. If a PSU is noted as EPS12V compliant you can be assured that it will have all the connections you need to power your new dual core based system, however it should also be noted that units do not necessarily have to meet EPS12V spec to include an 8-pin 12V connector.
Pictures & Impressions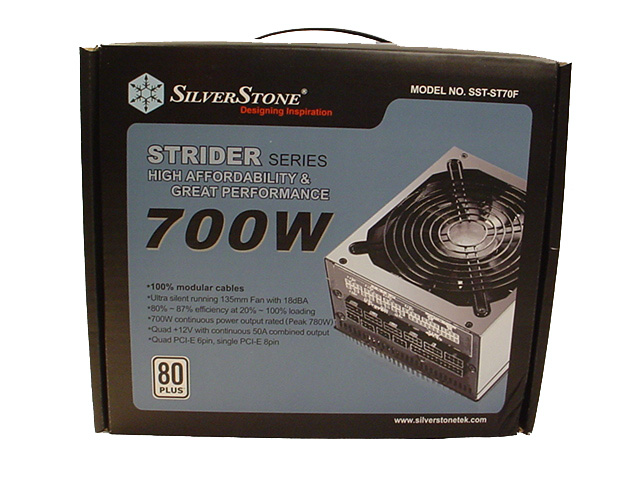 SilverStone's power supplies come in a fairly non-descript retail package. Even though it's pretty plain compared to some of the other companies out in the marketplace, SilverStone does provide all the required information for the customer to make a informed decision about buying the PSU or not. 
 Click Image For A Larger Picture
 The power supply comes with very good documentation; SilverStone supplies a multi language user manual and a separate technical booklet.
 SilverStone does include a few small extras that will come in handy; they included a handful of standard wire ties (I forgot to count them before using them), 4 Velcro cable bundle straps and 4 thumb screws to mount the PSU if you want instead of the standard screws.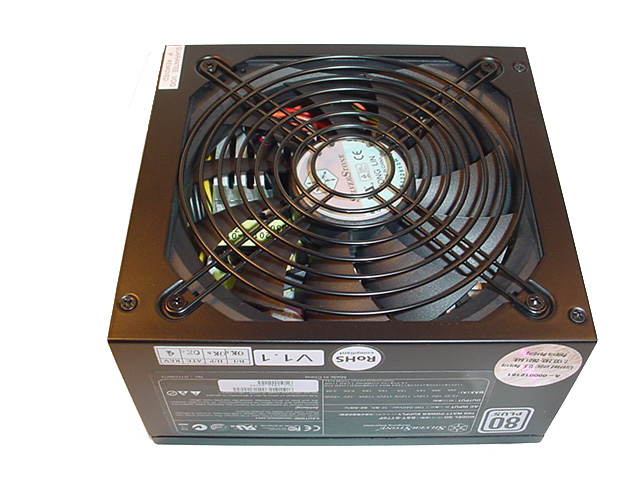 The power supply its self is very compact, there's barely enough room for the 135mm cooling fan, so there shouldn't be a problem fitting it any chassis.
 Click Image For A Larger Picture
 On the modular cable end of the unit you can see that the PSU is 100% modular, not like most modular PSU's that have only the peripheral cables modular, this type of system should really cut down on cable clutter.
 In the second picture is the standard PSU rating by the different rails as well as the various certifications the power supply has been qualified for.
 Click Image For A Larger Picture
 Here we have what is quickly becoming your standard honey comb design exhaust. It would have been nice to see a power on/off switch on the rear for those of us that do switch our rigs down from time to time to save a little electricity.
 In the other picture is the 135mm, 11 bladed, ball bearing, and low speed (18 dBA) fan made by Young Lin Tech, one of Taiwan's many Tech companies.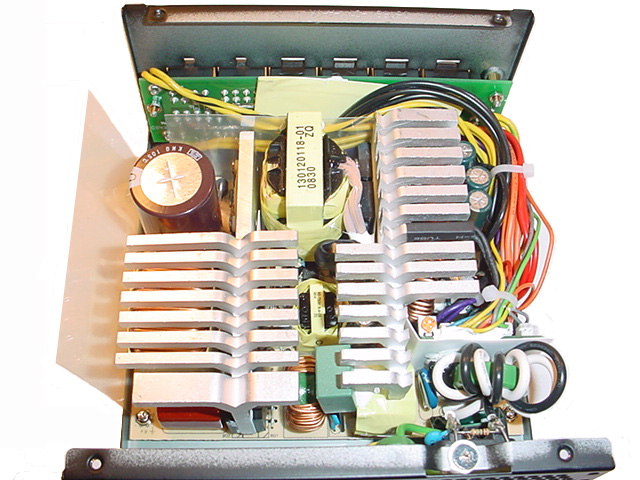 The inside of the power supply seems to be well laid out and put together, with 1 exception, there is a piece of paper folded and stuck between the wiring and the modular connector PCB, it really looks like a after thought to keep the wires off the PCB, it should have been a piece of plastic like the one installed on the side of the power supply.
 Click Image For A Larger Picture
Included Modular Cables


24 / 20-Pin Motherboard connector (550mm)
1
8 Pin EPS connector (550mm)
1
4 Pin ATX 12V connector (550mm)
1
6 Pin PCIE connector (550mm)
4
8 Pin PCIE connector (550mm)
1
SATA connector (500mm / 250mm / 250mm)
2 (3 connectors each)
4 Pin Peripheral connector (500mm / 250mm / 250mm)
2 (3 4 pin connectors + 1 floppy EA)
 Pretty self explanatory here, just a simple list of all the different cables that are included with the PSU. 
 Click Image For A Larger Picture
Testing & Methodology
 When it comes to power supplies, any power supply, what you're really looking for is good clean voltage and plenty of it. Current standards are 5% variance on any rail maximum, which is a little more lax than our personal standard of 3% max everywhere but the +5vSB (+5v stand by) which is always on even when the power supply and computer are off. On the +5vSB it's not unusual to see 5% and since it's only for wake on Lan or by device feature it's not a big deal.
Like a lot of you enthusiasts out there, our PC's are an ongoing work of art that we have a lot of cash invested in. If a PSU won't hold to 2 or 3% load/idle no matter what we do to it, we won't use it or recommend it.
SilverStone Strider SST-ST70F 700 Watt
Testing Equipment
Multimeter
Fluke 77 III
Thermometer
Dual Probe Digital Thermometer
Wall Voltage
Kill A Watt Voltage Load Meter
 To test the power supply I used the following system configuration to ensure that I could put as much of a load on the PSU as possible. I tested the PSU at idle after booting into Vista with no other programs running. To load the system I ran Prim95 on all 4 cores while running [email protected] GPU edition on the video card. To get the drives working I burned a ISO image from the HD with. All readings were taken with a Fluke multimeter and an Kill-A-Watt load meter. 
Test Rig
"Monster Rig"
Case Type
Mountain Mods U2 UFO
CPU
Intel Q6600 @ stock and 3.6 Voltage 1.45 vcore
Motherboard
Gigabyte EP45T-Extreme
Ram
Patriot DDR3-1600
GPU Cooler

Watercooling
Pump – Swiftech MCP655 / Swiftech MCP350
Radiator  – Thermalchill PA120.3 / Swiftech MCR120
Reservoir – Dual 5.25″ bay rez / Swiftech Micro  res
Water Block – Swiftech APOGEE GTZ / Koolance VID-487
Appropriate 1/2 / 3/8 inch hoses and fittings
Thermaltake 2000rpm 80CFM Fan @ 7v

Hard Drives
Seagate 250 Gig SATA 2, WD 80 Gig SATA2
Optical
Lite-On DVD R/W SATA
GPU
Sapphire Toxic HD4870
Case Fans
8 x 120mm fans total
Testing PSU
SilverStone Strider SST-ST70F, OCZ Game XStream 700w
Mouse
Logitech
Keyboard
Saitek
Just an every day little rig.
TESTING RESULTS
 The current ATX 2.2 specifications allow for the following variation in voltage outputs:
3.3 Volt Rail:   3.135V – 3.465V
5 Volt Rail:   4.75V – 5,25V
12 Volt Rail:   11.4V – 12.6V
Power Output Results(V)
Measured With Fluke Multimeter

Power Rail
OCZ GameXstream
  700 Watt
SilverStone Strider
  700 Watt
Idle
Load
Idle
Load
3.3v
3.30
3.28
3.36
3.34
5v
4.97
4.95
5.17
5.15
12v1
12.20
12.15
12.23
12.21
12v2
12.20
12.16
12.21
12.19
12v3
12.21
12.17
12.22
12.20
12v4
12.21
12.16
12.22
12.19
Wattage Used
Idle Power: 225 Watt (± 5%)
Load Power: 404 Watt (± 5%)
 Results show that it was running in the 1% variance range on any rail which is 5 times better than current standards, and 3 times better than our current standard. I would have liked to put a bit more of a load on the PSU's to see just how well they would perform with loads closer to their maximum, but everything I have is already stuck inside the box.
Power Factor Test Results
Power Factor Percentage
Measured with a Kill A Watt

Power Supply
Idle
Load
OCZ GameXStream 700 Watt
93%
95%
SilverStone Strider 700 Watt
97%
99%
 Power factor readings on the SilverStone ST70F were much better than those of the OCZ GameXStream, but that is partially because of the age of the OCZ PSU, I've been running it hard for close to 2 years now. 
Air Input/Output Temperature Results
Air Input/Output Temperature Results
Digital Thermometer


Power Supply
Input Temp.
Output Temp.
OCZ GameXStream 700 Watt
26C
36C
SilverStone Strider 700 Watt
26C
33C
Ambient
20C
20C

Ambient Measured Inside The Room By The Case
 Even under heavy load, temperatures stayed nice and cool, but that's mainly because I have a cube case and the PSU sits on the bottom of the case on the reverse side that all the hot running components.
CONCLUSION
 Power wise there's nothing not to like about the SilverStone ST70F, it provides good stable voltages across all four 12v rails as well as the 3.3v and 5v rails. The power supply is powerful enough to push mid level CrossFire and SLi setups as well as any of today's single graphics cards, but if you're looking to play with multi high end cards, you'd be better off looking at one of the Striders bigger brothers.
 There are a couple of small items I think SilverStone could to make this a bit better of a power supply, first off covering the full length of the cables would make things look much better and adding a power switch to the rear of the PSU would make it easier for folks to disconnect the system from the power mains.
 With the retail price of $125 minus a $25 mail in rebate, I find this to be a good deal based on performance for your dollar. There are power supplies out there in the same 700 watt class that sell for double of what the ST70F goes for, granted those are the huge big names in PSUs, but still, double the price for something in the same class.
 Overall I'm very pleased with the SilverStone ST70F, so much in fact, I'm going to keep using it in my main rig until my main system out grows its power output.
 
 We are trying out a new addition to our scoring system to provide additional feedback beyond a flat score. Please note that the final score isn't an aggregate average of the new rating system.
Performance 9.5
Value 9.5
Quality 9.0
Warranty 9.5
Features 9.0
Innovation 9.0
Pros:
+ 100% modular cables
+ Stable power output
+ Quiet
+ SLI & Crossfire Ready
Cons:
–  No power on/off switch
–  Peripheral 4 pin and SATA cables sleeved only half way
 With its great voltage output and above average 3 year warranty, the SilverStone Strider Series SST-ST70F has earned a:
Final Score: 9.0 out of 10 and the Bjorn3d.com Seal of Approval.