With all the different memory options out there, which kit is right for you? Have a look at the latest 1800 MHz 4GB kit from Kingston to see if it fits the bill.
INTRODUCTION
When building or upgrading a new PC there are always several options to consider regarding every component. One of the most confusing, for many users at least, is memory. I have friends(as I'm sure most of us do)that have trouble distinguishing between memory and hard disk space, that's not what I'm talking about here. I'm talking about all the different options out there. DDR2 had several different categories as the specifications aged and evolved. When DDR3 came about we were faced with an array of choices since the day the first product hit the shelves. Memory rated for different bus speeds, timings, voltages, and of course, prices.
Enter the HyperX line of memory from Kingston. Known for it's higher quality than their base line, it has long been popular with overclockers and enthusiasts. With its higher speeds and tighter timings, it is a favorite among many. With the advent of DDR3 HyperX is available in speeds from 1066 MHz all the way up to 2000 MHz.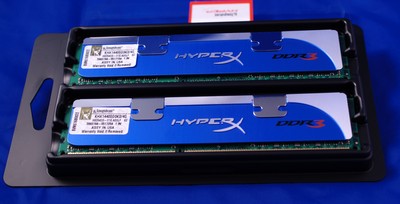 ABOUT KINGSTON
Kingston Technology Company, Inc. is the world's independent memory leader.

Founded in 1987 with a single product offering, Kingston® now offers more than 2,000 memory products that support nearly every device that uses memory, from computers, servers and printers to MP3 players, digital cameras and cell phones. In 2007, the company's sales exceeded $4.5 billion.

With global headquarters in Fountain Valley, California, Kingston employs more than 4,500 people worldwide. Regarded as one of the "Best Companies to Work for in America" by Fortune magazine, Kingston's tenets of respect, loyalty, flexibility and integrity create an exemplary corporate culture. Kingston believes that investing in its people is essential, and each employee is a vital part of Kingston's success.

Kingston serves an international network of distributors, resellers, retailers and OEM customers on six continents. The company also provides contract manufacturing and supply chain management services for semiconductor manufacturers and system OEMs.

At the Forefront of Memory: The History of Kingston

Kingston Technology grew out of a severe shortage of surface-mount memory chips in the high-tech marketplace in the 1980s. John Tu and David Sun were determined to find a solution. They put their engineering expertise to work and designed a new Single In-Line Memory Module (SIMM) that used readily available, older technology through-hole components. A new industry standard was born — and, on October 17, 1987, so was Kingston Technology.
SPECIFICATIONS
This kit from Kingston has some decent numbers backing it up, here's a list:
Part Number: KHX14400D3K2/4G
Kit Size: 4GB (2x2GB)
Kit Speed: 1800MHz
Ram Type: DDR3 Dual Channel
Non-ECC LowLat CL8
Chip Configuration Standard 256M X 64
Voltage 1.9v
Timing 8-8-8-24
Lifetime warranty
PICTURES & IMPRESSIONS
Once we got the memory out of the shipping container, we found that the packaging is the now-standard clamshell to hang on the shelf at your local retailer. Nothing special here, just a sticker across the front of the package with the basic information on it.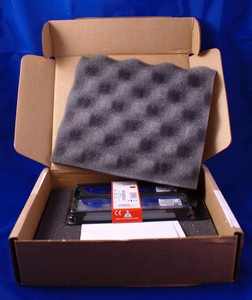 It's always nice to see a product packaged well enough to survive shipping.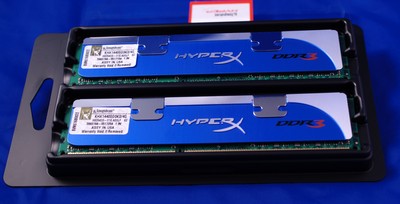 Pretty standard clamshell package here.

Isn't blue a nice color?
TESTING & METHODOLOGY
It's always exciting to have new toys, I mean review samples, to work with. So it's a little disappointing when you have to run 10 passes of MemTest just as a technicality. But, I was willing to make that sacrifice for you, our readers. All of which this memory passed flawlessly. This kit isn't equipped with an EPP or XMP profile so I did get to spend plenty of time playing with and testing BIOS settings. Don't even think about running this kit at anything below 1.9V. Why you ask? Because it doesn't work without them. I had to run 1.9V at 1600 MHz and 2.00 at 1800 MHz with this particular kit, but I have a sneaking suspicion a portion of that issue lies with the 790i used for testing.
After the initial tests and tweaking I spent a good 10 days just using the memory in every day situations. Sort of. The first three days were a little questionable, thanks to Microsoft. A word to the wise, install Vista update KB929777. After pulling my hair out trying to figure out why Vista would install just fine but wouldn't actually boot into Windows with both sticks installed had me stumped. After a heck of a time swapping sticks between memory banks, tweaking voltages, underclocking memory, running more MemTest just to make sure, nearly RMA'ing a brand new motherboard, nearly throwing $300 memory through the window, and countless other 'solutions' that I'm sure I've forgotten, I stumbled across this little gem. After I installed the update, shut down, put the other 2GB of memory back in the computer, and fired it back up I've had no issues since. Thanks Bill.
Enough venting, on to testing! Here's a couple CPUz screenies: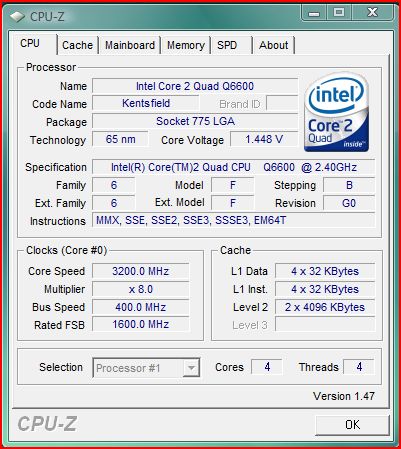 Today we're testing on the trusty old Q6600 platform. Running with a 1600FSB we dropped the multiplier on the CPU down to x8 to keep it nice and stable. Don't worry about that 1.448V on the CPU, we're still running the DD Custom Loop that keeps it nice and cool.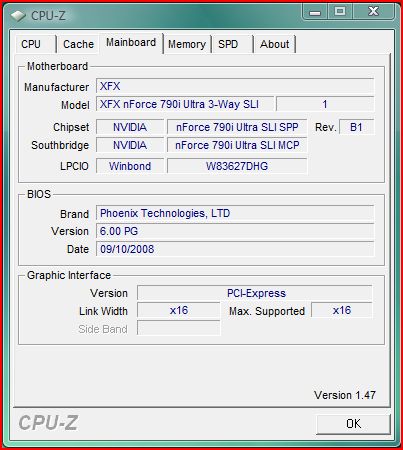 We'll be using the 790i motherboard for testing today. Still an extremely capable motherboard, and I still feel a little bad about blaming the board for Microsoft's sins.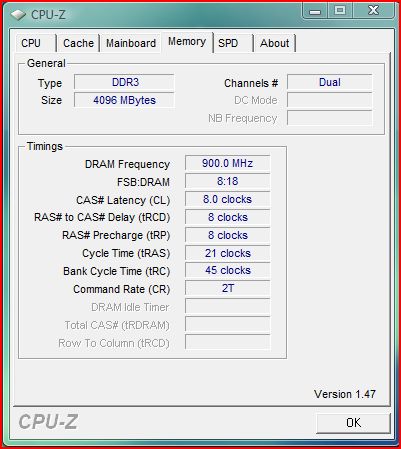 As you can see, we were able to get the memory running at 1800 MHz with super-tight 8-8-8-21 timings. The only problem with that is that we have to run it at 2T. Believe me, I tried everything I could at 1T. Extra voltage was almost enough, but not quite. After an hour on memTest I had something in the neighborhood of 32,000 errors and counting. Dropped it to 2T and didn't get any errors. Oh, and if you get any bright ideas about tightening timings up any more, 7-7-7-21 wouldn't even boot, sorry.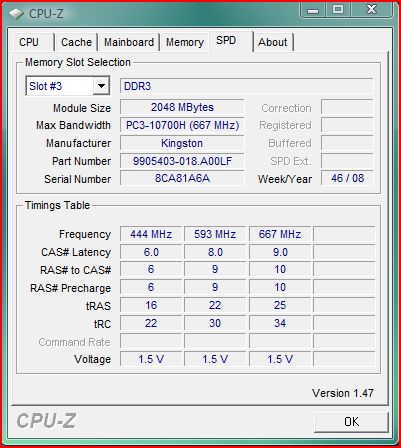 As I mentioned earlier, this set is not programmed with EPP or XMP profiles so everything was done manually.
 TEST RIG
KINGSTON DDR3 1800MHz TEST SETUP


Case

Danger Den Tower 26

Motherboard

EVGA 790i Ultra

CPU

Q6600 1.440v @ 3.2 GHz

Memory

4GB (2 x 2GB) Kingston PC3-14400 8-8-8-21 1T

(1800 MHz test runs at 2T)

GPU

EVGA 8800GT SC 714/1779/1032

HDD

2 X WD Caviar SE 160GB RAID 0

PSU

In-Win Commander 1200W

Cooling

Laing DDC 12V 18W pump

MC-TDX 775 CPU Block

Ione full coverage GPU block G92

Black Ice GTX480 radiator
TEST SUITE
Synthetic Benchmarks & Games
SANDRA XII Professional
Everest Ultimate Edition v.4.50.1330
SuperPI Mod 1.5XS
WinRar v.3.71 Compression Benchmark
SISOFT SANDRA 2009 SP1
"SiSoftware Sandra (the System ANalyser, Diagnostic and Reporting Assistant) is an information & diagnostic utility. It should provide most of the information (including undocumented) you need to know about your hardware, software and other devices whether hardware or software. It works along the lines of other Windows utilities, however it tries to go beyond them and show you more of what's really going on. Giving the user the ability to draw comparisons at both a high and low-level. You can get information about the CPU, chipset, video adapter, ports, printers, sound card, memory, network, Windows internals, AGP, PCI, PCI-X, PCIe (PCI Express), database, USB, USB2, 1394/Firewire, etc."
As you can see, even with the 2T command rate, raw speed still wins this test. The bandwidth here may seem a little sad when compared to the numbers that are being put up by the new Triple Channel memory available, but that has more to do with the 775 platform than anything else. This is a very capable kit and a little over 7 GB/s is nothing to sneeze at. Running at 1066 however, we see a major drop in bandwidth. Timings were all kept the same so you can see the difference that it makes just jumping up to 1333. Gains after that were marginal but still detectable.
SUPERPI & WINRAR
SuperPi
SuperPi is the "Gold Standard" for many when it comes to judging system performance. We ran 1M and 2M digit calculations, again running each test three times and reporting the average of the results.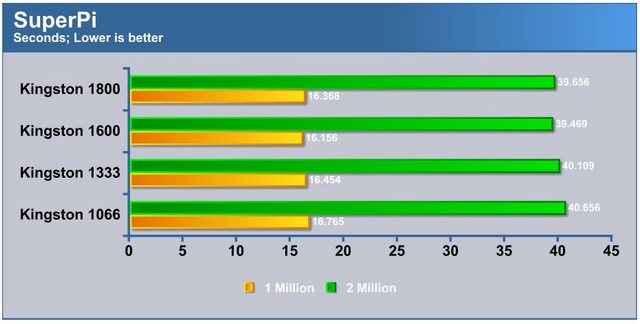 SuperPi is where we run into an interesting result. Notice that the 1M and 2M digit test was faster at 1600 than at 1800. Why, you ask? Well, there are really two reasons we are seeing this here. Number one is the command rate required at 1800 MHz of 2T. The other reason is because at 1800 we were running an 8:18 divider and at 1600 we were able to "link and sync" the memory to the FSB. It has been debated in the past and has been shown to provide marginal benefits running memory linked and synced as opposed to running a divider. Especially a weird divider like 8:18. Two tenths of a second is a pretty big difference in SuperPi.
WinRar v. 3.71
This module in WinRar generates random data, which contains specially introduced redundancy, increasing the load to both the processor and memory. Data is the passed through RAR compression and decompression algorithms, and the output of the decompression algorithm is compared to the source data. If any differences are found, WinRAR then reports "Errors found – Yes" in the command window. WinRAR displays a size of processed data and compression speed, current and resulting, in kilobytes per second.
These results are more typical of what one would expect to see when comparing different memory speeds. The 1800 won the contest here for sure, especially when it was able to work with all four processor cores. It's nice to see a nice, sliding scale that makes sense. So often we find different speeds don't produce the results that one would ordinarily expect.
EVEREST ULTIMATE
"EVEREST Ultimate Edition is an industry leading system diagnostics and benchmarking solution for enthusiasts PC users, based on the award-winning EVEREST Technology. During system optimizations and tweaking it provides essential system and overclock information, advanced hardware monitoring and diagnostics capabilities to check the effects of the applied settings. CPU, FPU and memory benchmarks are available to measure the actual system performance and compare it to previous states or other systems. Furthermore, complete software, operating system and security information makes EVEREST Ultimate Edition a comprehensive system diagnostics tool that offers a total of 100 pages of information about your PC."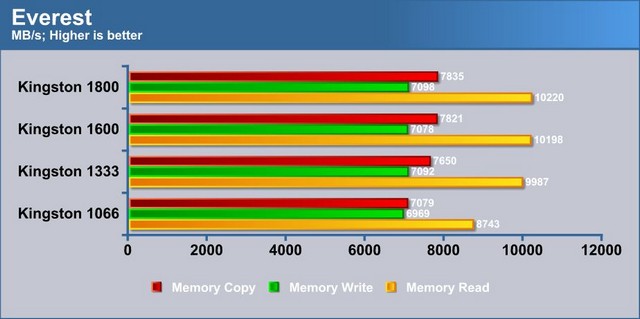 We thought the results of the Everest test were somewhat interesting. It shows significant gains from 1066 to 1333 and again at 1600 but once you step up to 1800 the gains are minimal. Again, I think this has a great deal to do with the 2T command rate. If we were able to run this memory at 1T at the highest speeds, I think you'd see a pretty decent improvement.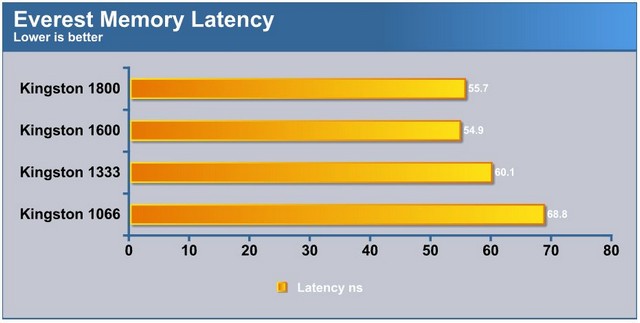 Here's another good example of why it can be better to run your memory a little slower if you can tighten up the timings somewhat. It's just not something you like to see, lower speeds beating out higher. I'd like to remind our readers that each of these tests was run three times and averaged out to produce our results and what you see here was very consistent with each individual run.
CONCLUSION
Unlike the newer Triple Channel systems, most DDR3 kits for the 775 platform are not plug and play. They often require tweaking, testing, and more tweaking. That being said, this kit did pretty well and running what we could throw at it all the way up to 1600 MHz. Once we got above that it required more time and more tweaking to get it to stabilize and we eventually had to run it at the 2T command rate to keep it error free. It's not my favorite solution, but for a kit that runs at 1800 MHz, it's never going to be perfect.
In the end though, the kit did run very well and I was pretty happy with it. Running DDR3 at 2.000 volts however, I have started to consider picking up some active cooling for the memory. If it's hot to the touch, in my opinion, maybe it could use a fan. Or maybe even just a heatsink on top. Don't get me wrong, I love the blue of the HyperX heatspreader, but sometimes it makes me nervous when my memory gets that hot.
As for overclocking, there really isn't a lot of overhead left on a kit running this fast. I was able to get it to 1828 and that's about as far as it would go. At 1840 or so (next divider available) it wouldn't boot and at 2000 I could get into Windows and it would blue-screen as soon as I did. Have a look: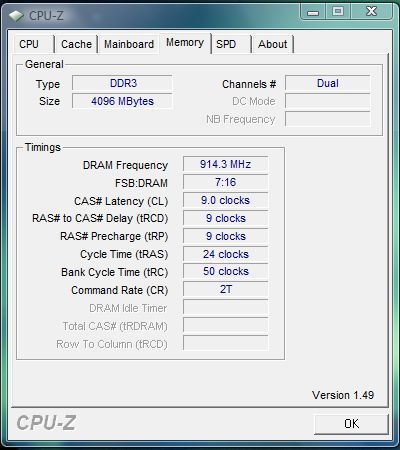 All-in-all I really enjoyed this kit. It ran great once I found the right settings. As far as performance memory goes, I was quite pleased. 1800 MHz is no small feat. While it was disappointing to have to run it at a 2T command rate, it's not an uncommon issue. The biggest problem that I had with this kit wasn't a problem with the kit at all, it was a Vista update. While I was trying to figure the issue out and could run 1 stick, I was able to get it stable at 2032 MHz 9-9-9-27 2T. No way I could get two sticks there, but who knows how far your motherboard will take you…
Another point worth mentioning is the lifetime warranty. While not a lot of companies offer lifetime warranties on memory that is designed to be overclocked, Kingston is one of the few. Always nice to see a company stand behind their product no matter what. And the price isn't bad either; this kit is available direct from Kingston for $263, which is about the middle of the road price-wise.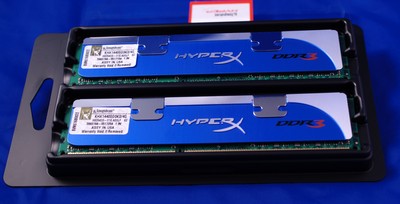 We are trying out a new addition to our scoring system to provide additional feedback beyond a flat score. Please note that the final score isn't an aggregate average of the new rating system.
Performance 8.0
Value 9
Quality 10
Warranty 10
Features 9 (No XMP or EPP)
Innovation 9
Pros:
+  Great Performance
+  Nice blue heat spreaders
+  Very Stable
+  Error-free operation
Cons:
–  Runs hot
–  DDR3 is still very expensive
The Kingston DDR3 1800 4GB set is a great kit that runs nice and stable, if a little hot, and it comes highly recommended.
Final Score: 9.0 out of 10 and the Bjorn3D Golden Bear Award.