The Asus GTX-295 is the first dual GPU Nvidia offering since the 9800GX2. Reported as the fastest single GPU we'll be running it against a battery of GPU's including the 4870×2.
INTRODUCTION
It's that magical time of year again when CES is just hours away and new products to excite and tempt the computer enthusiast are popping up all over the place. One of the most exciting products out there is the Nvidia GTX-295, reported to be the fastest single GPU (Single PCI-E slot connection, dual slot cooler, Dual GPU) out there. We've chosen the Asus GTX-295 for our lead out article. Asus has been a major player in the computer industry for a long time and viewed as one of the premium brands. They were kind enough to ship us their Asus GTX-295 (ENGTX-295) to run against our battery of tests and considerable selection of GPU's. We'll run our usual battery of tests against this graphics behemoth, and step outside the box and throw in some additional testing to see if it is indeed the fastest single GPU on the planet.
The Asus GTX-295 is one single GPU physically in that it is all in one casing and connects to a single PCI-E slot, but it's actually two GPU's each on it's own PCB and connected with an internal SLI bridge. That gives you SLI on one card and only uses one PCI-E connector but occupies two slots. That offers different advantages for different computer setups. If you have a Crossfire board then you can run SLI in a single slot. If you have an SLI board and Vista you can run Quad SLI. Quad SLI, now there's a though fit to make computer enthusiasts drool. We'll have a slight preview of Quad SLI later in the review. Then we'll be bringing you a Quad SLI review full blown a little later.
We've seen the face of graphics goodness, and it's good, really good. Get your drool towels ready your going to need them.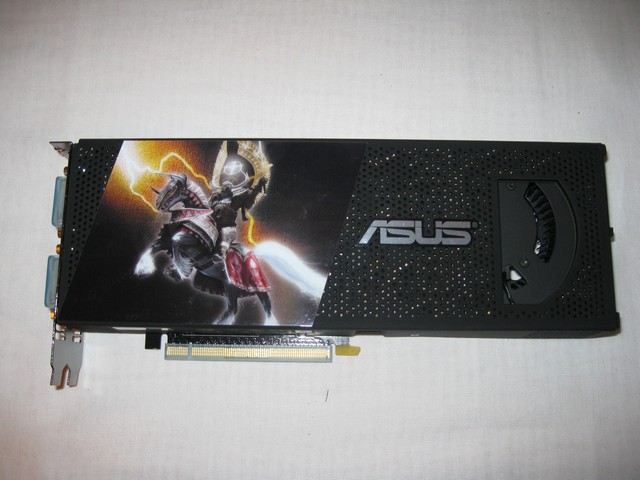 About Asus
ASUS, a technology-oriented company blessed with one of the world's top R&D teams, is well known for high-quality and innovative technology. As a leading company in the new digital era, ASUS offers a complete product portfolio to compete in the new millennium.
In 2007, one in three desktop PCs sold was powered by an ASUS motherboard; and the company's 2007 revenues reached US$6.9 billion.
ASUS products' top quality stems from product development. It's like learning Chinese Kung-Fu; one must begin with cultivating the "Chi" and inner strength. Besides innovating cutting-edge features, ASUS engineers also pay special attention to EMI (electromagnetic interference), thermal, acoustics and details that usually go unnoticed to achieve complete customer satisfaction. ASUS notebooks are the first TCO'99-certified notebooks worldwide.
The requirements for this honor include radiation emission control, energy (battery consumption), ecology (environment friendly) and ergonomics. To succeed in this ultra-competitive industry, great products need to be complimented by speed-to-market, cost and service. That's why all 8,000 over employees of ASUS strive for the "ASUS Way of Total Quality Management" to offer the best quality without compromising cost and time-to-market while providing maximum value to all customers through world-class services.
With unyielding commitment to innovation and quality, ASUS won 2,568 awards in 2007, meaning on average, the company received over 7 awards every day last year. BusinessWeek has ranked ASUS amongst its InfoTech 100 for the 10th straight year; and the company is ranked as No.1 in quality products and services by the Wall Street Journal. ASUS has also achieved the number one title on the annual league table of Taiwan Top 10 Global Brands with a brand value of 11.96 billion US dollars.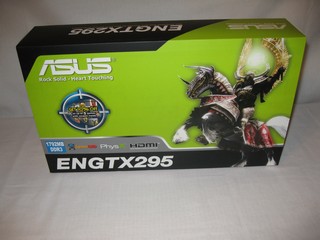 FEATURES
PCI Express 2.0 GPU
Provides Support for
Next Generation PC Platforms

GPU/Memory Clock at


576/1000

MHz!!
HDCP capable

896MB x 2, 448-bit

memory interface for smooth, realistic gaming experiences at Ultra-High Resolutions /AA/AF gaming
Support Dual Dual-Link DVI with awe-inspiring

2560×1600

resolution
The Ultimate Blu-ray and HD DVD Movie Experience on a Gaming PC
Smoothly playback H.264, MPEG-2, VC-1 and WMV video–including WMV HD
Industry leading 3-way NVIDIA SLI technology offers amazing performance
NVIDIA PhysX™ READY
PCI Express 2.0 Support

Designed to run perfectly with the new PCI Express 2.0 bus architecture, offering a future-proofing bridge to tomorrow's most bandwidth-hungry games and 3D applications by maximizing the 5 GT/s PCI Express 2.0 bandwidth (twice that of first generation PCI Express). PCI Express 2.0 products are fully backwards compatible with existing PCI Express motherboards for the broadest support.

2nd Generation NVIDIA® unified architecture

Second Generation architecture delivers 50% more gaming performance over the first generation through enhanced processing cores.
GigaThread™ Technology

Massively multi-threaded architecture supports thousands of independent, simultaneous threads, providing extreme processing efficiency in advanced, next generation shader programs.
NVIDIA PhysX™ -Ready

Enable a totally new class of physical gaming interaction for a more dynamic and realistic experience with Geforce.
High-Speed GDDR3 Memory on Board

Enhanced memory speed and capacity ensures more flowing video quality in latest gaming environment especially in large scale textures processing.
Dual Dual-Link DVI

Support hardwares with awe-inspiring

2560-by-1600

resolution, such as the 30-inch HD LCD Display, with massive load of pixels, requires a graphics cards with dual-link DVI connectivity.

Dual 400MHz RAMDACs

Blazing-fast RAMDACs support dual QXGA displayswith ultra-high, ergonomic refresh rates up to 2048×[email protected]

Quad NVIDIA SLI technology

Support hardwares with awe-inspiring

2560-by-1600

Offers amazing performance scaling by implementing AFR (Alternate Frame Rendering) under Windows Vista with solid, state-of-the-art drivers.

Click to Enlarge

Microsoft® DirectX® 10 Shader Model 4.0 Support

DirectX 10 GPU with full Shader Model 4.0 support delivers unparalleled levels of graphics realism and film-quality effects.

OpenGL® 2.1 Optimizations and Support

Full OpenGL support, including OpenGL 2.1 .
Integrated HDTV encoder

Provide world-class TV-out functionality up to 1080P resolution.
NVIDIA® Lumenex™ Engine

Support hardwares with awe-inspiring

2560-by-1600

Delivers stunning image quality and floating point accuracy at ultra-fast frame rates.

16x Anti-aliasing: Lightning fast, high-quality anti-aliasing at up to 16x sample rates obliterates jagged edges.
128-bit floating point High Dynamic-Range (HDR): Twice the precision of prior generations for incredibly realistic lighting effects

Dual-stream Hardware Acceleration

Provides ultra-smooth playback of H.264, VC-1, WMV and MPEG-2 HD and Bul-ray movies.

High dynamic-range (HDR) Rendering Support

The ultimate lighting effects bring environments to life.

NVIDIA® PureVideo ™ HD technology

Delivers graphics performance when you need it and low-power operation when you don't. HybridPower technology lets you switch from your graphics card to your motherboard GeForce GPU when running less graphically-intensive applications for a silent, low power PC experience.

HybridPower Technology support

Delivers graphics performance when you need it and low-power operation when you don't. HybridPower technology lets you switch from your graphics card to your motherboard GeForce GPU when running less graphically-intensive applications for a silent, low power PC experience.
HDCP Capable

Allows playback of HD DVD, Blu-ray Disc, and other protected content at full HD resolutions with integrated High-bandwidth Digital Content Protection (HDCP) support. (Requires other compatible components that are also HDCP capable.)
SPECIFICATIONS
Major GPU Specifications
GPU
9800 GX2
GTX-295
GTX-260 
GTX-260 216
GTX-280
GPU frequency
600MHz
576MHz
576MHz
655MHz
602MHz
ALU frequency
1500MHz
1242MHz
1242MHz
1404MHz
1296MHz
Memory frequency
1000MHz
1000MHz
999MHz
1125MHz
1107MHz
Memory bus width
2×256 bits
448 bits
448 bits
448 bits
512 bits
Memory type
GDDR3
GDDR3
GDDR3
GDDR3
GDDR3
Memory quantity
2 x 512 MB
2 x 896 MB
896 MB
896 MB
1024 MB
Number of ALUs
256
480
192
216
240
Number of texture units
128
160
64
72
80
Number of ROPs
32
28 x 2
28
28
32
Shading power
1152 GFlops
Unknown
715 GFlops
824 GFlops
933 GFlops
Memory bandwidth
128 GB/s
224 GB/s
111.9 GB/s
126.0 GB/s
141.7 GB/s
Number of transistors
1010 mil
1400 x 2 mil
1400 mil
1400 mil
1400 mil
Process
65nm
55nm
65nm
65nm
65nm
Die surface area
2 x 324 mm²
Unknown
576 mm²
576 mm²
576 mm²
Generation
2008
2009
2008
2008
2008
Shader Model supported
4.0
4.0
4.0
4.0
4.0
Here's where things get more interesting from an design standpoint. The GPU Frequency of 576 MHz is the same as the GTX-260, as is the ALU frequency. The memory frequency is 1 MHz higher than the GTX-260, and it still sports a 448 bit memory interface but it's a 448×2 interface. We can't help but think that it would perform a little better if it had full 512×2 bit interface. Maybe that's a hint of things to come. Dual GTX-280 goodness anyone? All the cards shown sport GDDR3 memory and the GTX-295 sports twice as much as the GTX-260. When you get to the number of ALUs though instead of having double the amount of the GTX-260 it has double the amount of the GTX-280. Same goes for the number of texture units, double GTX-280 not double GTX-260. We'd suspect these changes were needed to make the GTX-295 take it's rightful place as fastest GPU on the planet.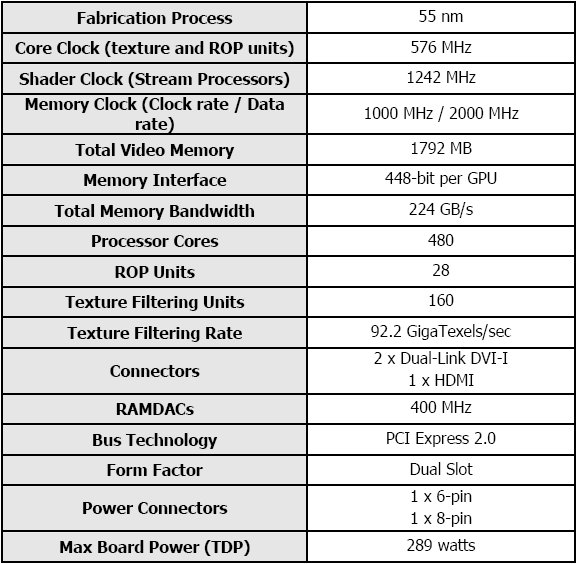 Here are the specs right out of the press release we got in case any of you were wondering in what format we get the information.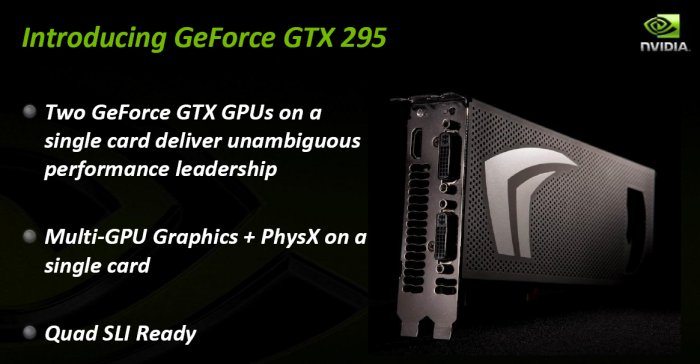 This is a slide from a recent presentation we attended with Nvidia claiming unambigious performace leadership. That would be PR speak for we have the fastest single GPU solution on the planet. You'll have to move on to the Graphs and conclusion section to find out if that claim holds water, but we thought you might like to see where the claim of Fastest GPU on the planet comes from.
PICTURES, IMPRESSIONS & BUNDLE
Hover on Pic.
The Asus GTX-295 comes in an attractive box with some pretty good graphics on it. The box itself is quite substantial and we were surprised at the weight of the package.
Hover on Pic.
The back of the box contains plenty of information and specifications to help inform the consumer about the purchase of the GPU.
Hover on Pic.
Inside the outer box is yet another substantial box, it's not Just cardboard, but has more a composite board feeling to it. We were quite impressed with it's quality look and feel. Usually inside the bright outer box you find a cardboard box that will eventually find it's way to the dumpster. This one is of high enough quality it will probably end up housing our growing collection of ram.
Hover on Pic.
Once you get the interior box open your treated to what? More boxes. You can just about bet that any time you have to go through this many protective layers something good is waiting for you inside.
Hover on Pic.
With all the layers stripped away we get the first glimpse of the Asus GTX-295 cradled in protective foam.
Hover on Pic.
Included in the bundle you'll find the setup disk, manual disk, DVI to VGA converter, dual Molex to 6 pin VGA, Coupon for 10% off 5 different games, speed setup guide, an audio cable, a sweet little disk folder that we now have a bunch of Motherboard and GPU driver disks in, and a 2 6 pin PCI-E to one 8 pin PCI-E power adapter. Asus says you'll want a high quality 680 Watt PSU for single GTX-295 operation, we haven't seen the specs on Quad SLI power requirements yet but our Thermaltake 1200 Watt modular drives two of these beauty's without a hitch. Now you know why we've been recommending 700 Watt or larger high quality PSU's for a while. Those of you that chose to ignore that advice and want one of these beauties in the gaming shrine, told ya so.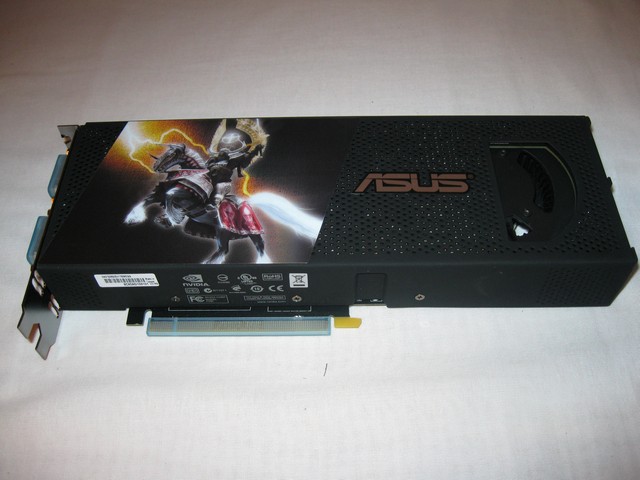 That brings us to the GPU itself, It's one of those behemoth GPU's so you might want to make sure you have room for a full length GPU in your casing. This is the first card we've seen that sports a PCI-E protector when shipped. We've got to say we like that little extra protection because the first instinct is to pick this monster up and hug it. The PCI-E connector protector keeps that initial urge from marring the PCI-E connector with finger prints and other contaminants. Unlike previous GPU's we've been seeing the improved cooling on the Asus GTX-295 (and 295 series in general) doesn't sport a full length sticker. The casing of the GPU itself is perforated to allow for better airflow, having a half sticker on it prevents all of the holes from being blocked.. As you'll see in a few minutes Nvidia has kicked up the cooling fan design to a much superior design that provides excellent cooling for the sandwich design of the GTX-295.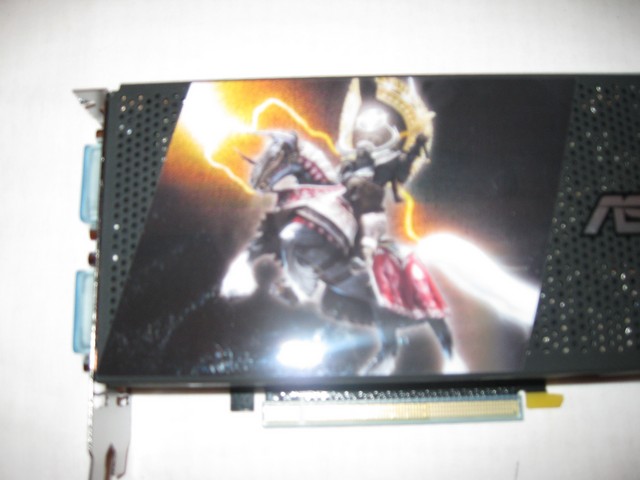 The sticker on the card is realy nice and sports a Medevil type Knight on an armored horse. A fitting symbol for a GPU with this much raw graphics processing power.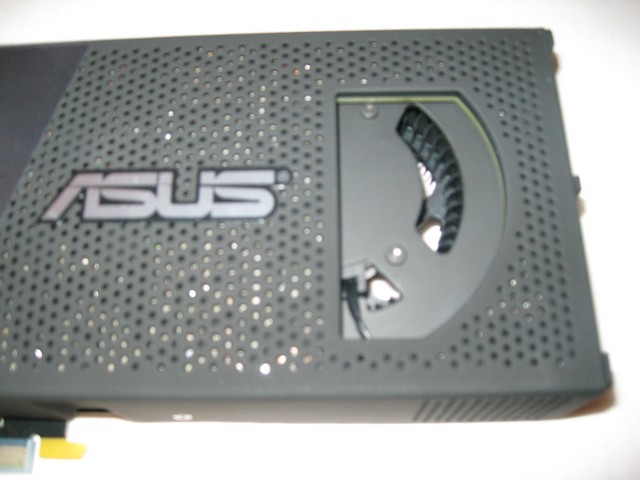 In this closeup of the fan area you can see the perforations in the casing and while Asus and Nvidia have stuck with a squirrel cage type fan on the GTX-295 the fan goes all the way across the GPU and you can see the photographic background behind it. That means that the fan can draw air from both sides and push it across the cards. We say cards because the GTX-295 uses a two PCB system that we'll show you a little later, the fan passes air between the two PCB's and the perforations allow the heat to escape before building up. It's a highly efficient design that impresses us with it's well though out implementation.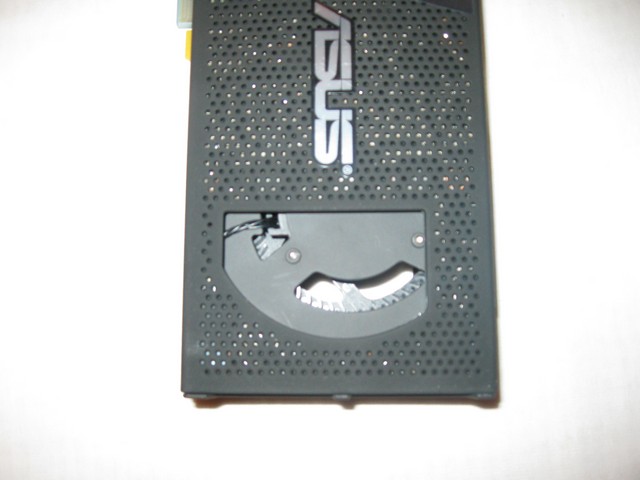 Here's another shot of the fan area where you can see the perforations and fan a little better.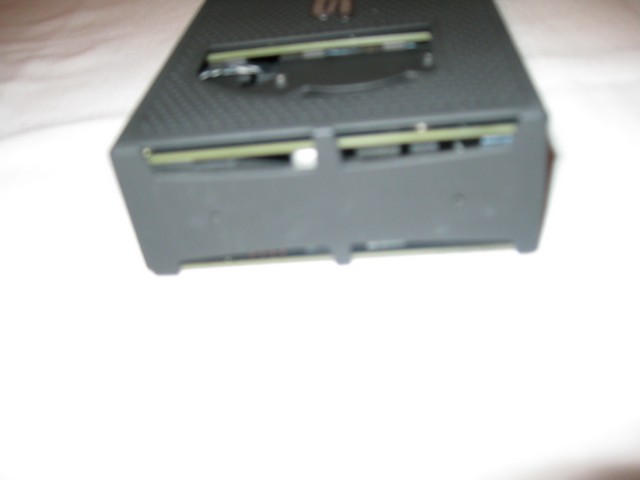 The end of the GPU has slots on both sides to help facilitate good airflow drawing in cool air to pass over the end of this graphics giant.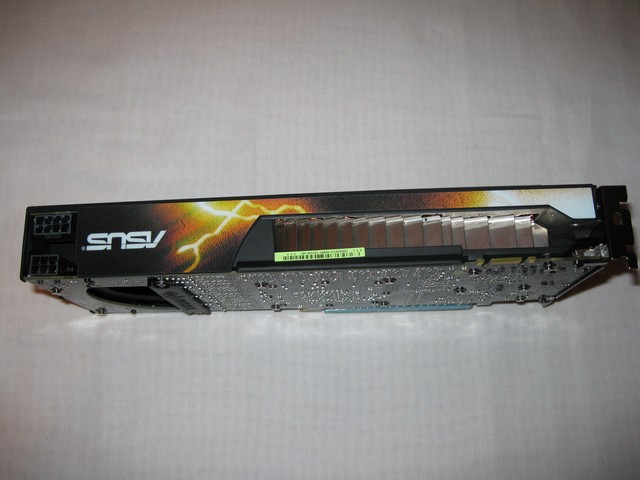 The top of the GPU shows us that we're looking at a 6 and 8 pin PCI-E power connector to drive this frame crunching beast. The location and orientation of the PCI-E pins is about the only thing we don't like about the Asus GTX-295, when the power connectors are snapped in the clips that hold them are in the center and hard to release. We really don't see any other way to arrange it that would be feasible and it won't be much of an issue for end users but is a little hassle for reviewers that switch hardware a lot.
The top view also shows you just how well thought out the cooling design of the Asus GTX-295 really is, those silver fins are louvers that allow some of the heat from the GPU to escape before hitting the dual slot cooler we're all used to seeing. While it does release a little heat into the chassis we didn't notice any increase in chassis temps beyond 1C.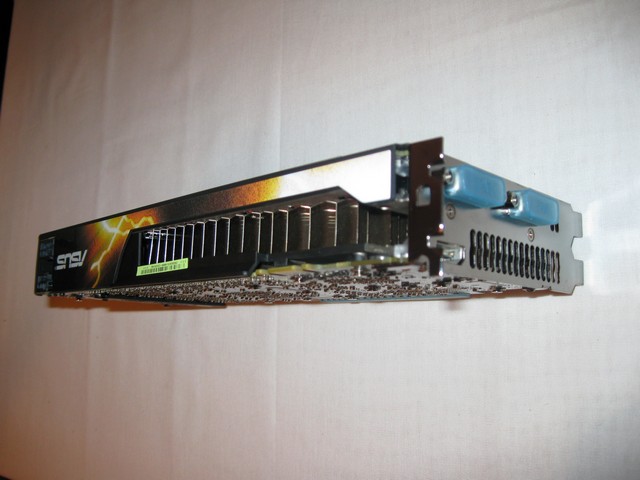 Now this is a little bit of an odd orientation for a picture, but we wanted to show you the louvers from a different angle so you could see the spacing on them.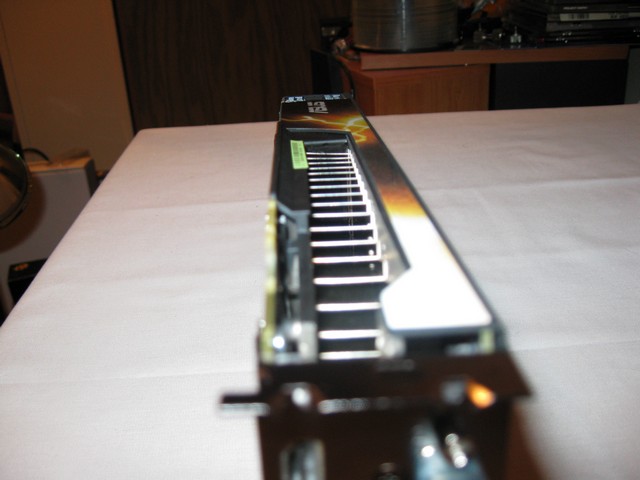 Then we went back to a more conventional shot to show you the louvers from the front looking back.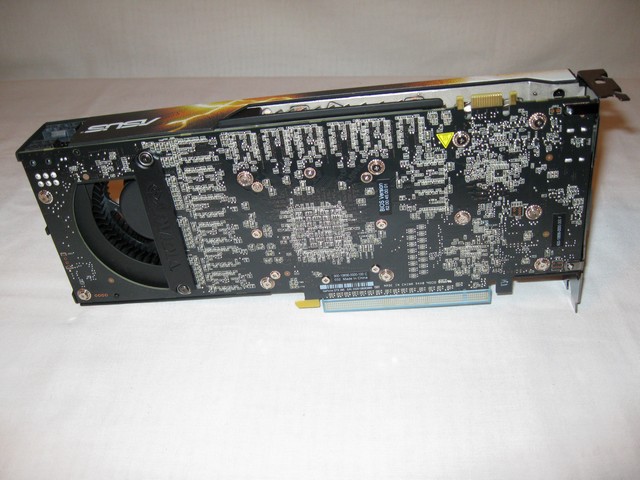 The back of the card is fairly unremarkable except to show you the single SLI connector used to drive Quad SLI should you choose to fire up a pair of these beasts. You can also see the all the way through design on the fan.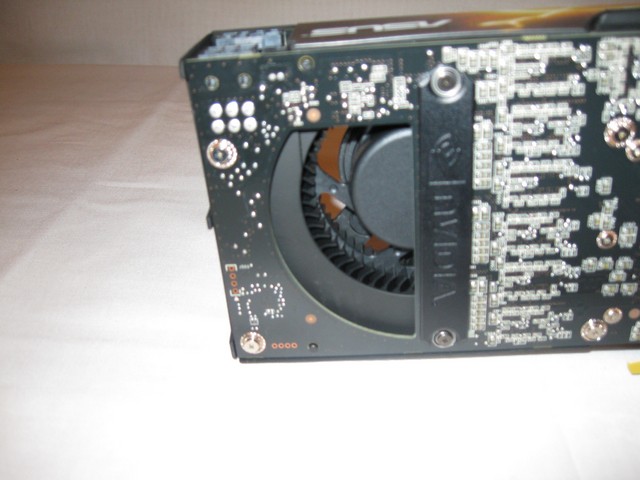 We got a close up of the back of the fan because we just can't get over the intelligent design Nvidia went with on the GTX-295 series. One fan cooling two massive Graphics engines on two separate PCB's and doing an excellent job in the process.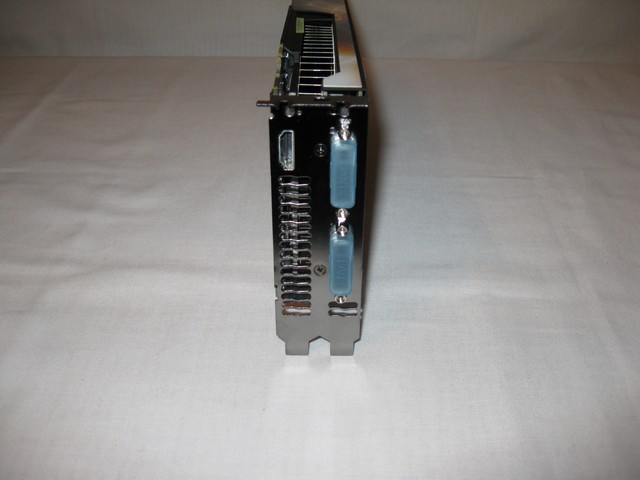 That brings us to the dual slot cooler that exhausts heat out the rear of the chassis. You can see the two DVI-D ports and the HDMI port you'll be using to port all the graphics goodness to your monitor of choice.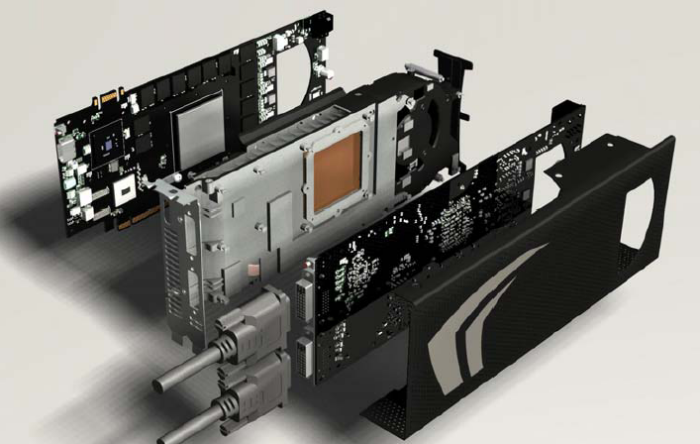 Then we have a shot of the dual PCB design. The dual PCB design allows for more room for electronic components and allows for better cooling on the GPU. We're sure there will be endless arguments on the single PCB design of the 4870×2 and the dual PCB design of the GTX-295 much like the Intel Quad Double Cheeseburger design VS true Quad CPU. Be careful the side you choose in that one we all know how the Double Cheeseburger design worked out. We have no problem with a Dual PCB design, if it works run with it.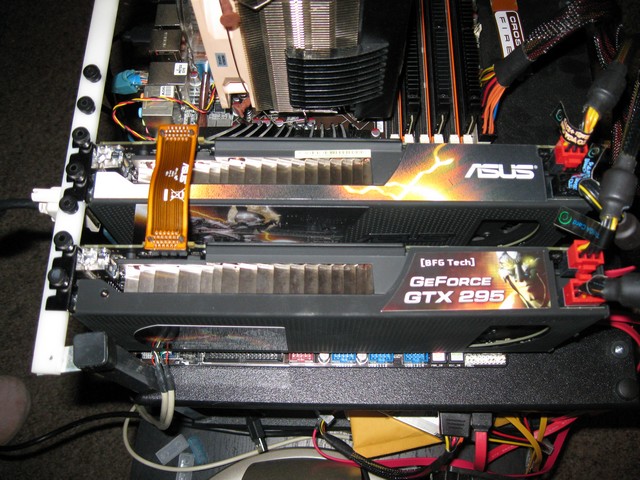 We wanted to toss in a shot of two of these beauties installed in Quadzilla, that's the Asus and BFG GTX-295 side by side running in SLI. How did that turn out you ask? We have a teaser number for you a little later in the article, but time between driver delivery and article release was really tight so we didn't have time for full Quad SLI testing but you'll be seeing that very soon.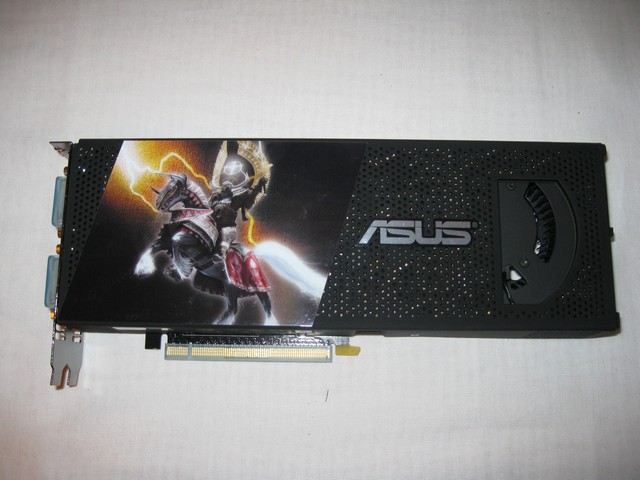 We'll leave the pictures and impressions section with a drool shot of the Asus GTX-295 and move on to the Testing and Methodology section.
TESTING & METHODOLOGY
To test the Asus GTX-295 we did a fresh load of Vista 64, then we cloned the drive to make sure that we have a clean Graphics driver free backup copy should we have any happy little OCing accidents during the testing. We updated the OS with all the latest patches and fixes, and upgraded the chipset drivers to the latest versions prior to cloning with Acronis. So we have a completely updated OS with the latest BIOS and drivers for the Test Rig Hardware. Then we have a backup drive in case we get any driver errors that might taint our testing.
We decided to run our full suite of games and synthetic benchmarks against the Asus GTX-295, then ran some additional testing using a few selected cards and of course the Palit 4870X2. Each test was ran a total of 3 times and the average of the tests reported here.
Test Rig
Test Rig
"Quadzilla"
Case Type
Top Deck Testing Station
CPU
Intel Core I7 965 Extreme (3.74 GHz 1.2975 Vcore)
Motherboard
Asus P6T Deluxe (SLI and CrossFire on Demand)
Ram
Corsair Dominator DDR3 1866 (9-9-9-24 1.65v) 6 GB Kit
CPU Cooler
Thermalright Ultra 120 RT (Dual 120mm Fans)
Hard Drives
Patriot 128 GB SSD
Optical
Sony DVD R/W
GPU Tested
Asus GTX-295
EVGA GTX-280 (2)
XFX 9800 GTX+ Black Edition
BFG GTX-260 MaxCore
Leadtek GTX-260
Drivers for Nvidia GPU's 181.20
Palit HD Radeon 4870X2
Sapphire HD Radeon 4870
Sapphire HD Radeon 4850 Toxic
Drivers for ATI GPU's 8.22
Case Fans
120mm Fan cooling the mosfet cpu area
Docking Stations
None
Testing PSU
Thermaltake Toughpower 1200 Watt
Legacy
None
Mouse
Razer Lachesis
Keyboard
Razer Lycosa
Gaming Ear Buds

Razer Moray
Speakers
None
Any Attempt Copy This System Configuration May Lead to Bankrupcy
Synthetic Benchmarks & Games
Synthetic Benchmarks & Games
3DMark06 v. 1.10
3DMark Vantage
Company of Heroes v. 1.71
Crysis v. 1.2
World in Conflict Demo
FarCry 2
Crysis Warhead
3DMARK06 V. 1.1.0

3DMark06 developed by Futuremark, is a synthetic benchmark used for universal testing of all graphics solutions. 3DMark06 features HDR rendering, complex HDR post processing, dynamic soft shadows for all objects, water shader with HDR refraction, HDR reflection, depth fog and Gerstner wave functions, realistic sky model with cloud blending, and approximately 5.4 million triangles and 8.8 million vertices; to name just a few. The measurement unit "3DMark" is intended to give a normalized mean for comparing different GPU/VPUs. It has been accepted as both a standard and a mandatory benchmark throughout the gaming world for measuring performance.
The Palit 4870×2 came out a little ahead in 3Dmark06 at stock speed testing. We did make some runs with the Asus GTX-295 OCed but we're presenting stock speed testing in 3DMark06. Lets suffice it to say that cranked up the Asus GTX-295 edged out the Palit 4870×2.
3DMark Vantage

For complete information on 3DMark Vantage Please follow this Link: www.futuremark.com/benchmarks/3dmarkvantage/features/
The newest video benchmark from the gang at Futuremark. This utility is still a synthetic benchmark, but one that more closely reflects real world gaming performance. While it is not a perfect replacement for actual game benchmarks, it has its uses. We tested our cards at the 'Performance' setting.
Currently, there is a lot of controversy surrounding NVIDIA's use of a PhysX driver for its 9800 GTX and GTX 200 series cards, thereby putting the ATI brand at a disadvantage. Whereby installing the PyhsX driver, 3DMark Vantage uses the GPU to perform PhysX calculations during a CPU test, and this is where things get a bit gray. If you look at the Driver Approval Policy for 3DMark Vantage it states; "Based on the specification and design of the CPU tests, GPU make, type or driver version may not have a significant effect on the results of either of the CPU tests as indicated in Section 7.3 of the 3DMark Vantage specification and white paper." Did NVIDIA cheat by having the GPU handle the PhysX calculations or are they perfectly within their right since they own Ageia and all their IP? I think this point will quickly become moot once Futuremark releases an update to the test.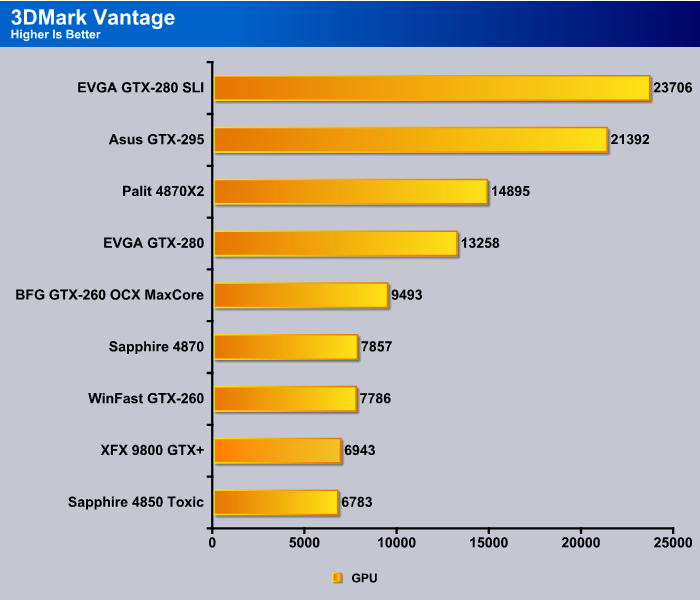 In 3DMark Vantage the EVGA GTX-280 SLI setup jumped out into the lead followed by the Asus GTX-295, again this represents stock speeds. We have a screenie or two of Vantage for you a little later on, we beat out 21,392 Vantage score considerably. Being hybrid stock with attributes of the GTX-260 Core 216 and GTX-280 the GTX-295 has excellent OCing potential as you'll see a little later.
Company Of Heroes v. 1.71

Company of Heroes(COH) is a Real Time Strategy(RTS) game for the PC, announced on April, 2005. It is developed by the Canadian based company Relic Entertainment and published by THQ. COH is an excellent game that is incredibly demanding on system resources thus making it an excellent benchmark. Like F.E.A.R., the game contains an integrated performance test that can be run to determine your system's performance based on the graphical options you have chosen. It uses the same multi-staged performance ratings as does the F.E.A.R. test. Letting the games benchmark handle the chore takes the human factor out of the equation and ensures that each run of the test is exactly the same producing more reliable results.
Please note that I checked with Scott Sherman the site owner who has our reference GTX-295, these tests are being run on the Asus P6T and he's running on the Asus Rampage 2, he reports that he's not seeing the low FPS that I got on the P6T so what we are seeing with the low minimum FPS on the GTX-295 on the P6T is something specific to the hardware setup being run. We had suspected drivers or driver/BIOS issues combined. As soon as we track down the problem we'll update our charts. Sorry for the inconvenience!
We did a complete diagnostic of the system and Quadzilla, as usual wasn't the issue. During the install of the DX10 update for CoH one of the files didn't copy correctly on this fresh install. The problem only affected the test of the Asus GTX-295 and no other GPU. These charts are updated charts reflecting the reinstall of Company of Heroes. The Text following each chart reflects the corrected text has been redone to reflect the retest. We apologize for any inconvenience.
No AA/AF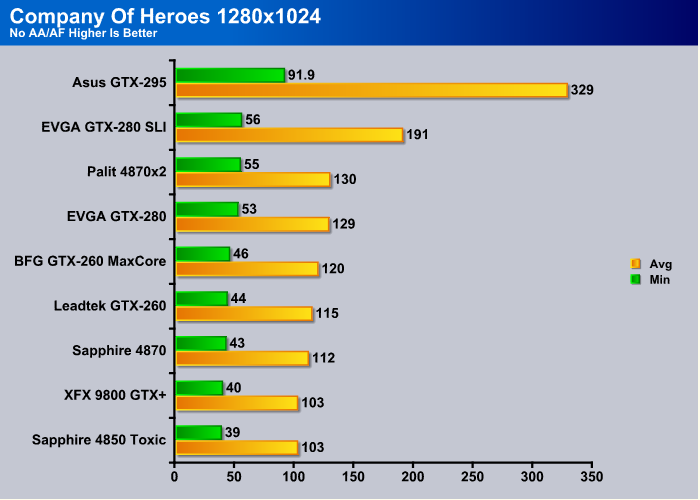 The GTX-295 and CoH seem to like each other quite well. The Asus GTX-295 came out ahead of the GTX-280 SLI setup by  considerable margin. The new GTX-295 outpaced the Palit 4870×2 by quite a distance in this one.
Lets address this right here, we've had some issues in the forums with people thread crapping, pointing fingers and screaming to the high heavens when one camp ATI or Nvidia pulls out in the lead. We are no longer going to tolerate that level of disruption in the Forum Community. Nvidia designed the GTX-295 specifically to be the fastest single card on the planet. They had the insight to wait until they saw the competitions major offering and went for better. Realize that and keep the Forums a friendly environment for discussion and community or……..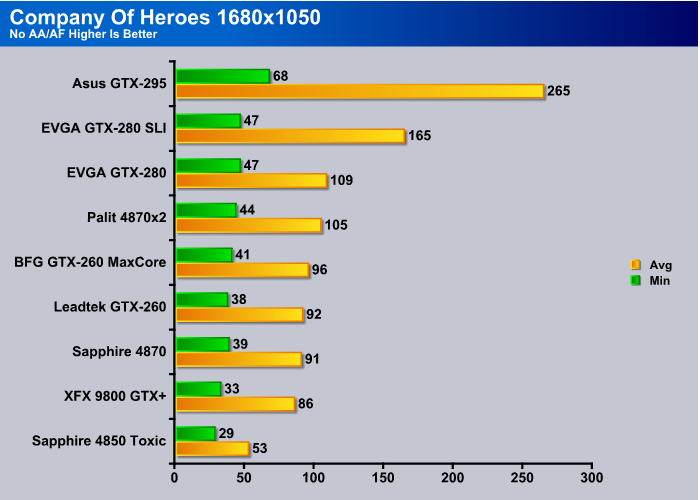 Running in DX10 in COH is pretty hard on any GPU we've seen, once again we see the GTX-295 in the lead followed by the GTX-280 SLI setup. Behind that the GTX-280 single GPU came in third and the Palit 4870×2 came in fourth.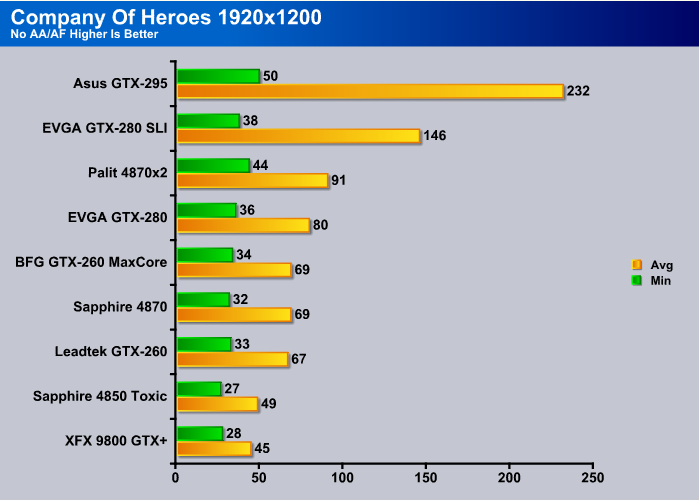 The Asus GTX-295 managed to edge out the mighty GTX-280 SLI setup again. With the GTX-295 expected to debut at $499, and a couple of GTX-280s setting you back $800 we can easily say the GTX-295 is going to turn some heads. When you factor in the cost of a good SLI board in the 775 platform it makes the GTX-295 a pretty good option for those looking for graphics goodness without all the trappings of SLI. When you move to the Core i7 platform you need to check the board your looking at because some support SLI and Crossfire and others just support Crossfire. The Crossfire boards will be able to run a single GTX-295 and the SLI boards will be able to run Quad SLI. We'd recommend the Crossfire and SLI capable boards because of the flexibility and we expect resale on those to be higher.
4xAA 16xAF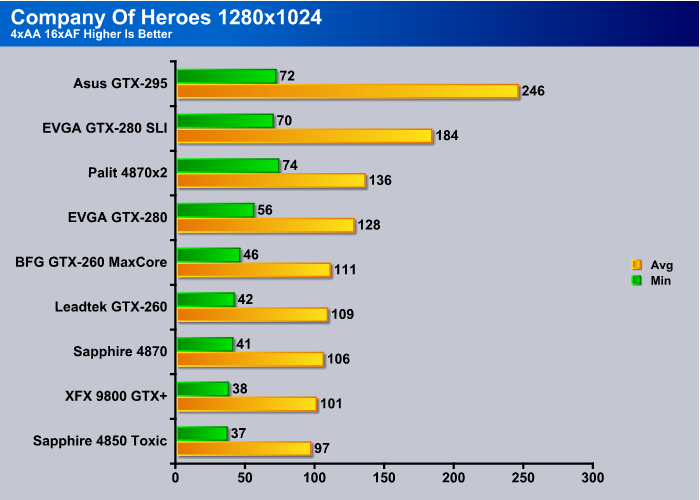 With AA/AF cranked up the GTX-295 maintains its position in first place followed by GTX-280 setup then the 4870×2. If this initial test is any indication the Asus GTX-295 is looking pretty sweet.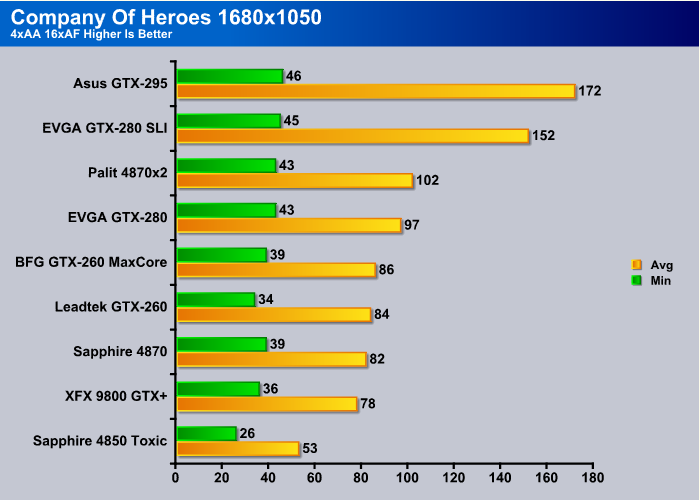 Again in average frames we see the GTX-295 in first place, with the GTX-280 Setup in second and the Palit 4870×2 coming in third. Keep in mind that the Top score is an single GPU with two PCB's and it's topping Nvidias own GTX-280 SLI setup. We included those SLI results so you can see the advantage of a multi GPU setup, but what we're looking for today is to determine the fastest single GPU (be it single PCB or Dual PCB) on the market today.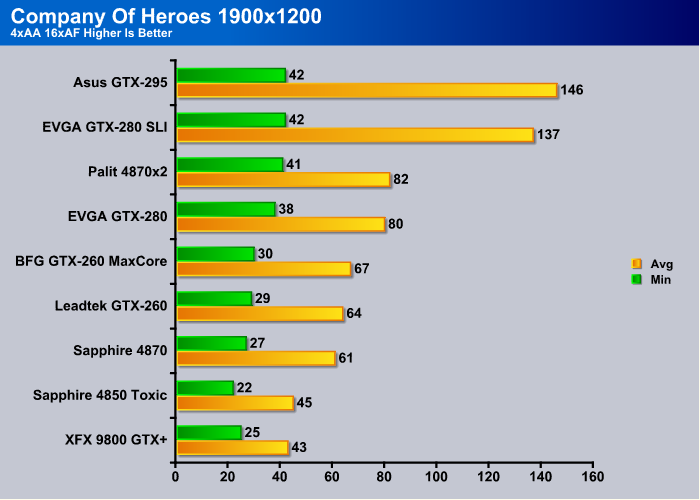 After checking with Scott the site owner and seeing how his reference GTX-295 was handling CoH we're glad to know that the GTX-295 low FPS problem was in a faulty game install. Quadzilla is healthy and the benches are flowing like water and life is good again. In this last test of CoH we see pretty much the same results, the Asus GTX-295 comes out on top the pile, followed by the GTX-280 SLI array, followed by the Palit 4870×2.
World in Conflict Demo

World in Conflict is a real-time tactical video game developed by the Swedish video game company Massive Entertainment, and published by Sierra Entertainment for Windows PC. The game was released in September of 2007
The game is set in 1989 during the social, political, and economic collapse of the Soviet Union. However, the title postulates an alternate history scenario where the Soviet Union pursued a course of war to remain in power.
World in Conflict has superb graphics, is extremely GPU intensive, and has built-in benchmarks. Sounds like benchmark material to us!
No AA/AF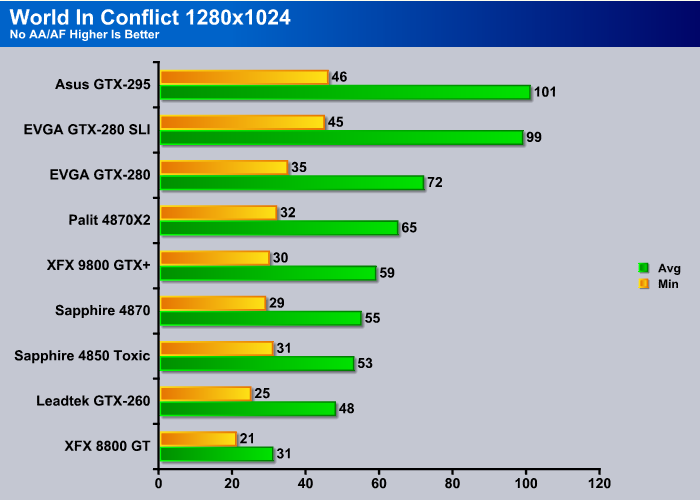 World In Conflict running in DX 10 is a little long in the tooth but still stresses GPU's quite well. At 1280×1024 the GTX-295 edged out the GTX-280 SLI setup. Pretty good for new drivers and a yet to be released GPU.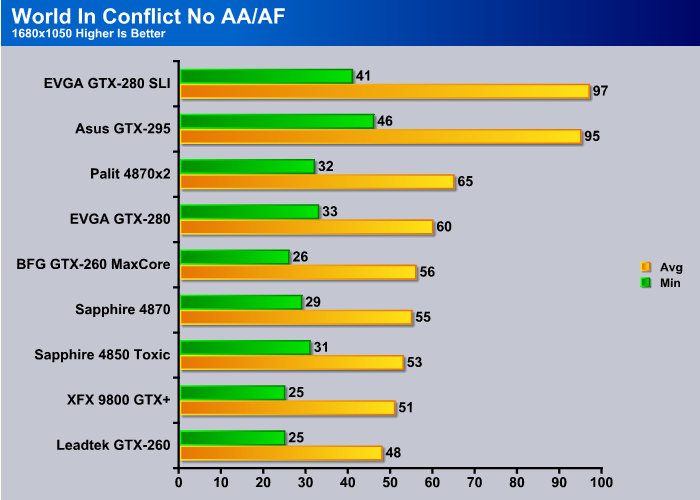 Stepping up a notch to 1680×1050 the Evga GTX-280 SLI setup took the lead back in average FPS but the GTX-295 still took the SLI setup in Minimum FPS. The GTX-295 being a single GPU that's pretty impressive.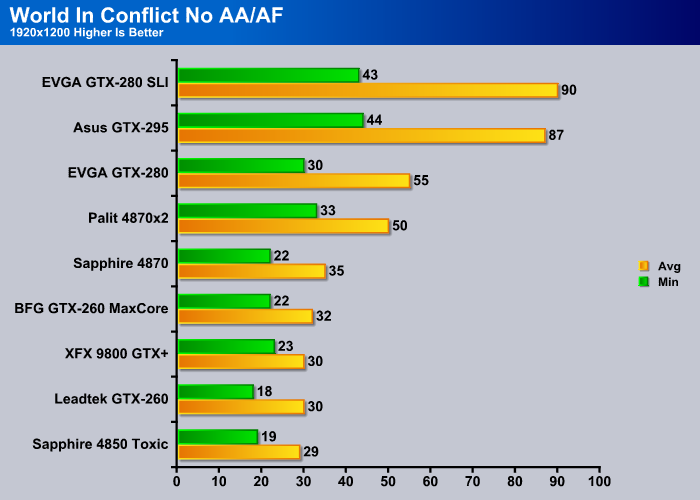 At the highest resolution we tested at 1920×1200 we see the same thing going on, the Asus GTX-295 takes the lead in Minimum FPS but the GTX-280 takes the field in Average FPS. So far we are liking the GTX-295 from a price point comparison with both the GTX-280 SLI setup and the Palit 4870×2. There'll be more debate on that we're sure, ATI announced today that they are dropping the MSRP of the 4870×2 to $449, we see that as a price point placement move in response to the GTX-295. Any time you see a price drop like that right before the release of a new competitive GPU you can bet the new GPU is good.
4xAA 16xAF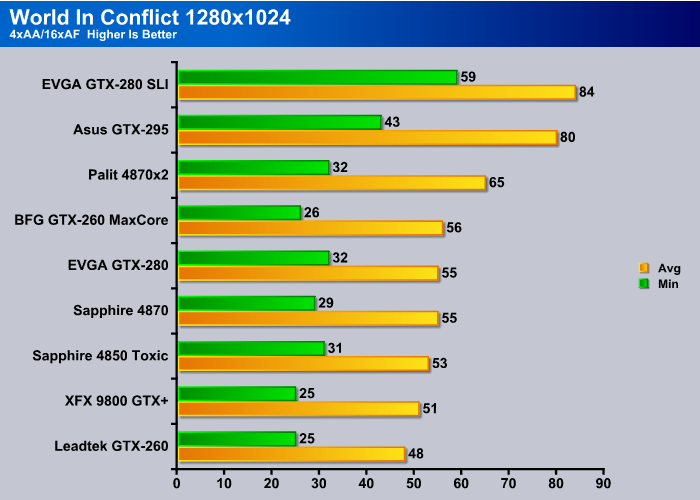 Cranking up the AA/AF we see pretty much the same thing going on, GTX-280 SLI in the lead, with the GTX-295 still the fastest single card solution. It's got 11 FPS on the 4870×2 in Minimum FPS and 15 FPS in average FPS. For a youngster the GTX-295 is showing Thoroughbred colors.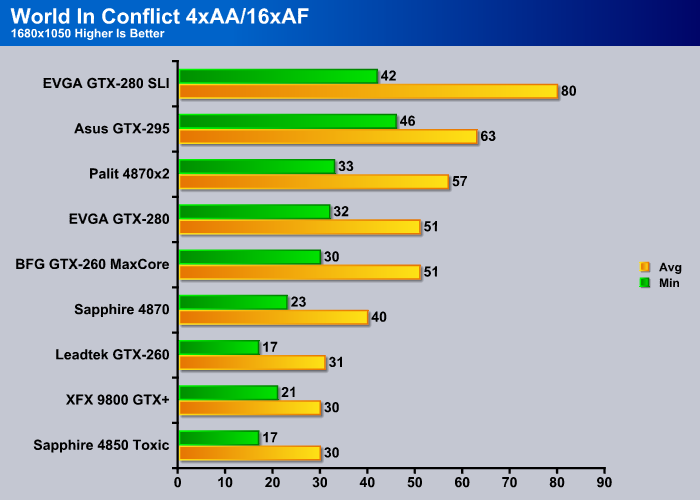 Kicking it up to the medium resolution tested we see a lot of the single GPU single core solutions starting to buckle and dropping below the 30 FPS you need for rock solid looking graphics. In this case the Palit 4870×2 did a hair better than a single GTX-280, the GTX-295 came in on top the single card solution GPU's and once again the GTX-280 SLI setup refuses to give up the top spot.
Highest resolution tested with AA/AF cranked up even the 4870×2 dipped below 30FPS, we couldn't see it with the human eye but the numbers reflect it dropping below 30. Only the GTX-295 was capable of staying above 30 FSP in the single card category.
Crysis v. 1.2

Crysis is the most highly anticipated game to hit the market in the last several years. Crysis is based on the CryENGINE™ 2 developed by Crytek. The CryENGINE™ 2 offers real time editing, bump mapping, dynamic lights, network system, integrated physics system, shaders, shadows, and a dynamic music system, just to name a few of the state-of-the-art features that are incorporated into Crysis. As one might expect with this number of features, the game is extremely demanding of system resources, especially the GPU. We expect Crysis to be a primary gaming benchmark for many years to come.
No AA/AF
The dreaded Crysis is a GPU shredding game that most GPU's cringe from even at lower resolutions. Even at the lowest resolution with no AA/AF 3 of the cards tested couldn't stay above 30 FPS. The GTX-295 stays on top the single card pile with it's main competitor the 4870×2 dropping to fourth.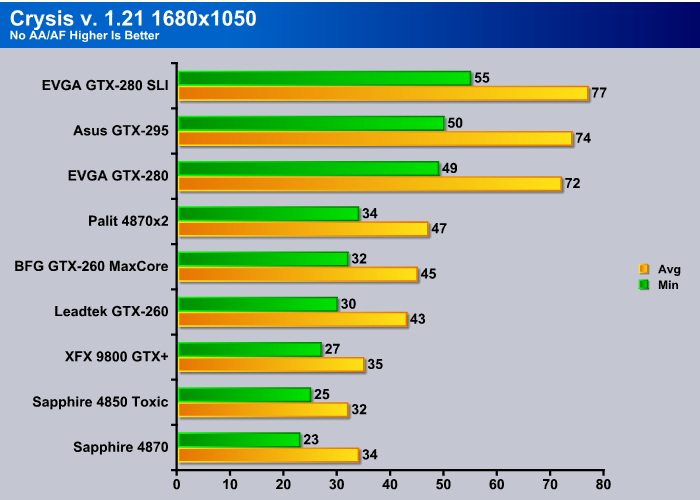 We're seeing same thing at 1680×1050 the fastest single card solution is still the GTX-295. The Palit 4870×2 is still holding in fourth. We find it hard to believe that Crysis is optimized for anything but it looks like it favors Nvidia cards.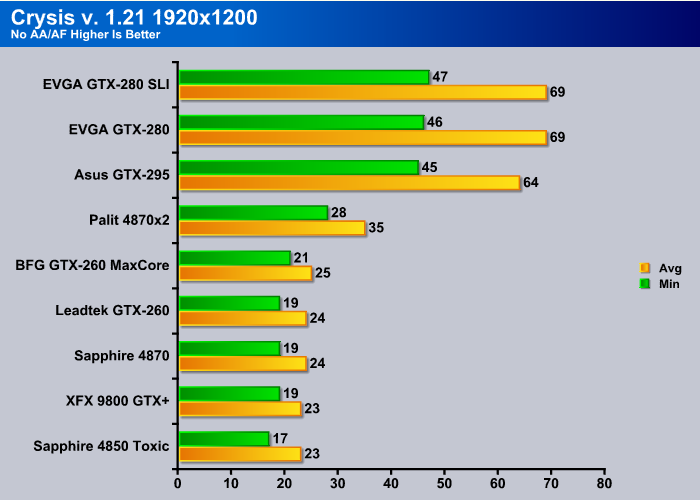 Even some of the more powerful single card solutions are failing at 1920×1200, things can get pretty ugly in Crysis pretty fast at higher resolutions and when AA/AF is turned on, they're just starting to get ugly now and this is with no AA/AF. Crysis is know for it's poor optimization for Crossfire and SLI and at this resolution it shows. The Asus GTX-295 falls below the GTX-280 single card with the Palit 4870×2 hanging in fourth.
2xAA 8xAF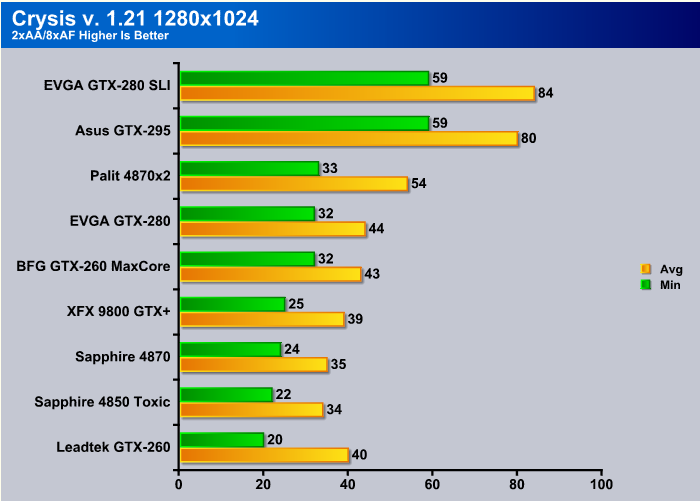 When we go back to 1280×1024 and only use half the AA/AF we use on other games things get tough for most GPU's. Five of the GPU's stayed in the playable arena on the lowest resolution. The GTX-280 SLI multi-GPU setup stayed out in the lead with the fastest single card still the Asus GTX-295. We really wish we'd had time to do some OCed testing because the GTX-295 really shines when you crank the clocks up. Still even at stock speeds it comes out on top again.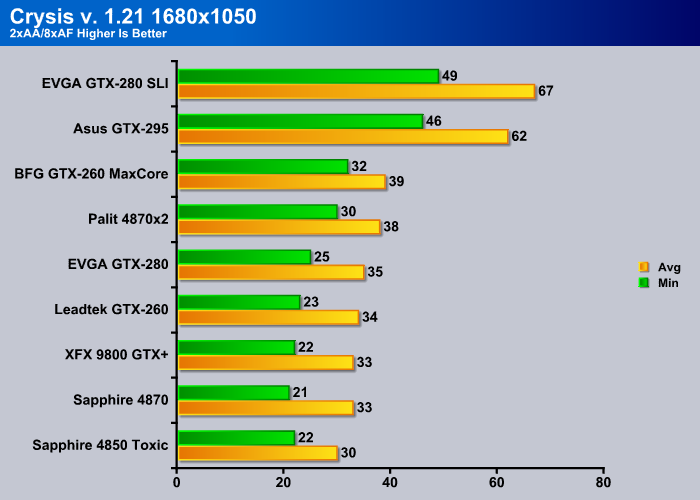 At the medium resolution tested we've reduced the field of playable GPU's to 4 with the mighty GTX-280 falling below 30 FPS minimum. Surprisingly the GTX-260 MaxCore pulled ahead of the Palit 4870×2. The GTX-280 SLI setup stayed on top the pile, overall with the Asus GTX-295 on top the single GPU solutions.
At the highest resolution we have two cards left capable of playing Crysis at acceptable levels. The GTX-295 is the only single card solution that stayed up above 30 FPS and the GTX-280 SLI setup kept frame rates high enough to play. We do have to say that at this setting and resolution Crysis is a beautiful game. It's playability and beauty are it's only redeeming features, optimization on the game is not what you'd call good. We wouldn't even call it bad but being in the publics eyes the words that come to mind just aren't printable without offending the majority of the planet.
FEAR V. 1.08

F.E.A.R. (First Encounter Assault Recon) is a first-person shooter game developed by Monolith Productions and released in October, 2005 for Windows. F.E.A.R. is one of the most resource intensive games in the FPS genre of games ever to be released. The game contains an integrated performance test that can be run to determine your system's performance based on the graphical options you have chosen. The beauty of the performance test is that it gives maximum, average, and minimum frames per second rates. F.E.A.R. is a great benchmark, and one heck of a FPS.
No AA/AF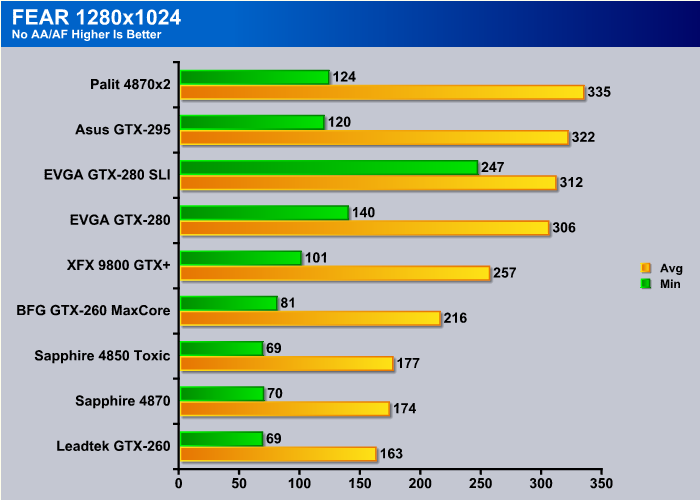 Fear is long in the tooth and is going to be replaced in our test suite. We hate to see an old favorite go but it's days are numbered. The Palit 4870×2 came out on top the heap in this oldie but goodie. The GTX-295 comes in second. So that's two tests for the 4870×2 so far, the 3DMark06 and Fear 1280×1024.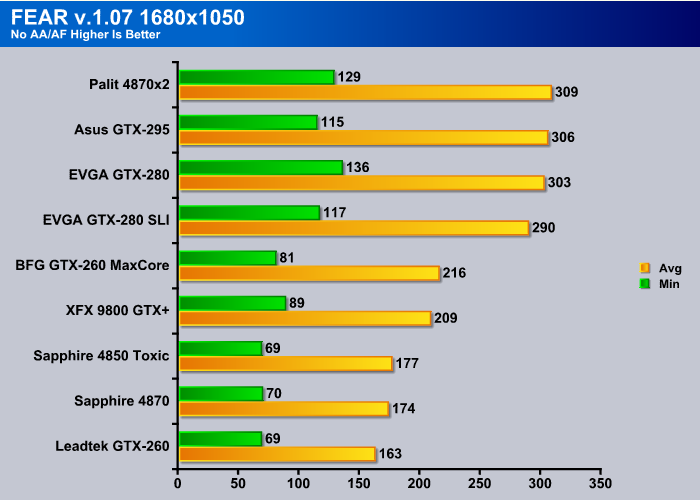 Score 3 for the Palit 4870×2, the Asus GTX-295 come in second to it in the medium resolution tested with no AA/AF. Frame rates on all the cards tested remain more than playable which is why the games days are numbered as a testing game.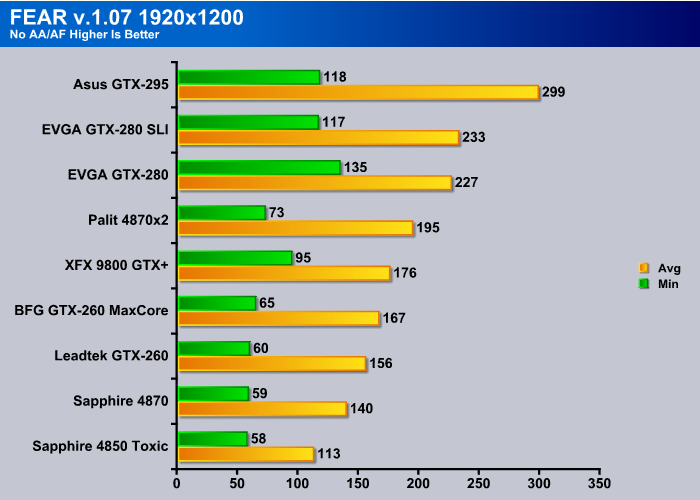 THe Asus GTX-295 must have woken up and seen the competition because at the highest resolution tested 1920×1200 it decided to take the lead back from the 4870×2. We found it a little strange for the 4870×2 to drop that many places moving from 1680×1050 to 1920×1200 so we retested it a couple of times but it didn't help the benchmark numbers any so we moved on.
4xAA 16xAF
When we cranked the AA/AF on and moved back to 1280×1024 the Palit 4870×2 came back to the top of the single GPU pile with the GTX-280 SLI setup in second. The Asus GTX-295 came in third place.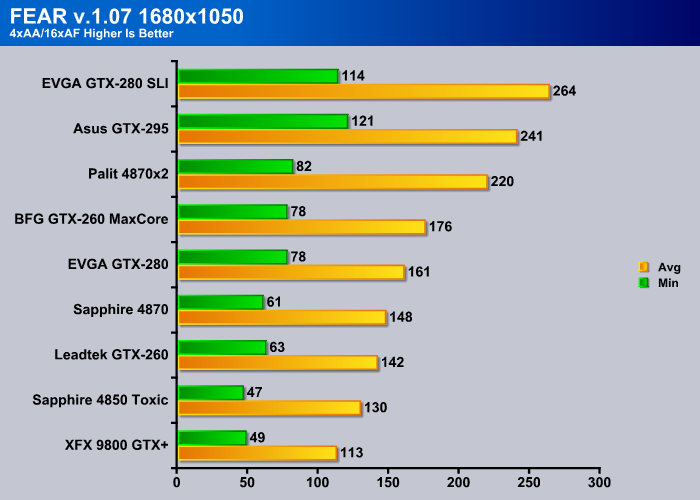 As soon as we turn up the heat a little the GTX-280 SLI setup comes to the top of the ranks, with the GTX-295 on top the single GPU solutions. The Palit 4870×2 drops to third.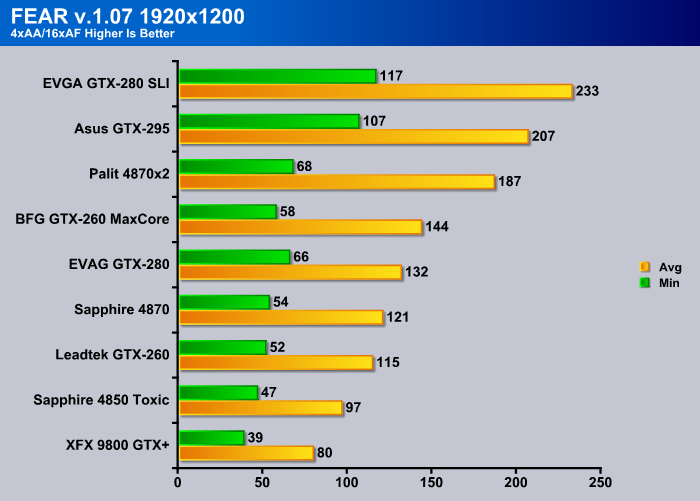 The highest resolution we tested at the Asus GTX-295 comes in first in the Single GPU classification. The GTX-280 SLI setup stays in the overall lead.
Far Cry 2

Far Cry 2, released in October 2008 by Ubisoft, was one of the most anticipated titles of the year. It's an engaging state-of-the-art First Person Shooter set in an un-named African country. Caught between two rival factions, you're sent to take out "The Jackal". Far Cry2 ships with a full featured benchmark utility and it is one of the most well designed, well thought out game benchmarks we've ever seen. One big difference between this benchmark and others is that it leaves the game's AI (Artificial Intelligence ) running while the benchmark is being performed.
Again we didn't have time for full testing on all the GPU's but we wanted to at least have the 4870×2 and the GTX-295 represented in some extended testing. After all what we're looking for today is the fastest single GPU around. We do have more date in a couple of spots and will strive to fill the gaps as soon as the CES insanity calms down a little.
No AA/AF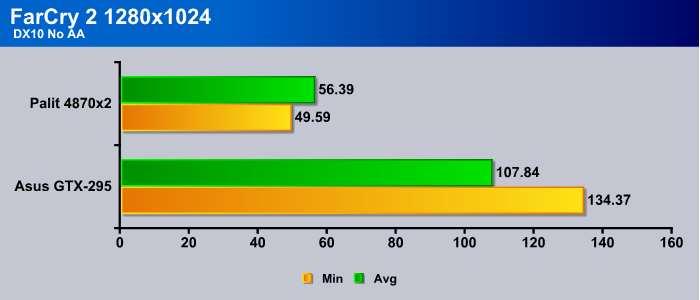 FarCry 2 is liking the GTX-295 even though we're using the latest ATI drivers the no AA bug on the 4870×2 we saw with the 8.11 drivers is still plaguing it.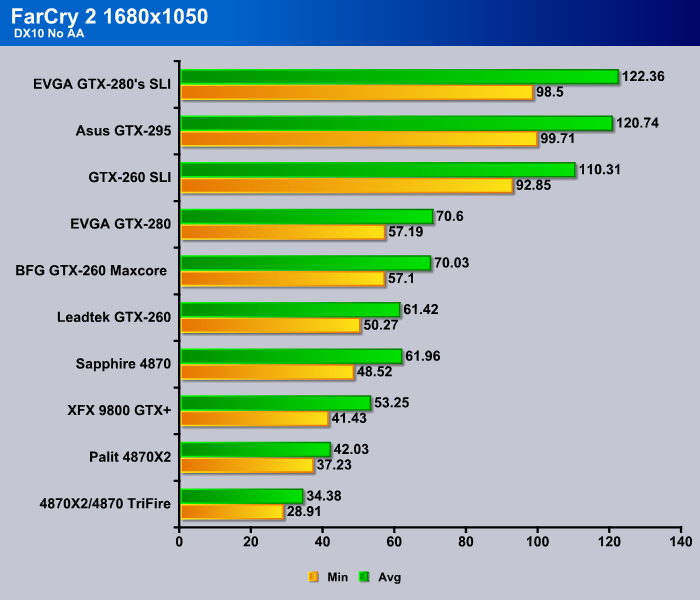 We have a lot more data at 1680×1050 and like we've seen with other testing the GTX-280 SLI setup stays on top with the Asus GTX-295 right behind it. Price performance wist it makes a person wonder if the extra expense of a GTX-280 SLI setup is worth it. With the convenience of single GPU operation and the savings over SLI the GTX-295 is looking really good.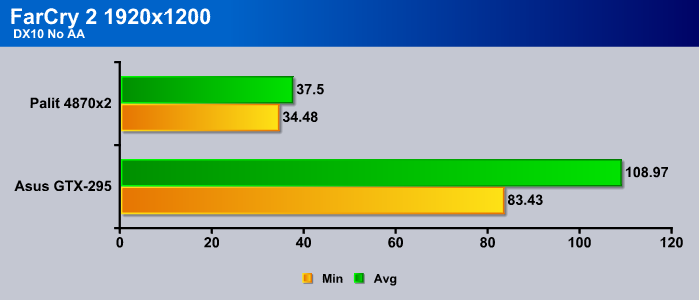 With the driver flaw in the ATI drivers with no AA/AF we're just going to call the no AA/AF portion of FarCry2 merely extra information for you to ponder. We won't take it into consideration in our conclusion.
4xAA 16xAF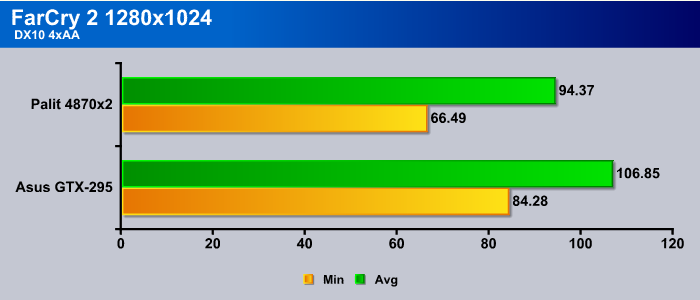 With the AA/AF turned on the driver bug with the 4870×2 is gone and the playing field is leveled. You can see that at 1280×1024 the Asus GTX-295 pulls out ahead of the 4870×2. Once again we can detect that whining that we're going to hear. Here's the facts, both ATI and Nvidia have the same opportunity to help optimize games for their products. The fact that one company makes more of an effort to ensure that their GPU's run well with games is going to be sneered at by ATI fans. Get over it. You don't ding a company for making it's product work right when the competition didn't make the same effort. Blame the company that didn't make the effort to optimize the game in cooperation with the game developer. From what we've been seeing Nvidia users accept the status quo, and ATI users like to point fingers and yell foul. We just report the numbers if you want to point fingers and yell foul go stand in front of the mirror and yell at yourselves. Or go yell at your GPU manufacturer. The numbers aren't going to change and that's what we go by.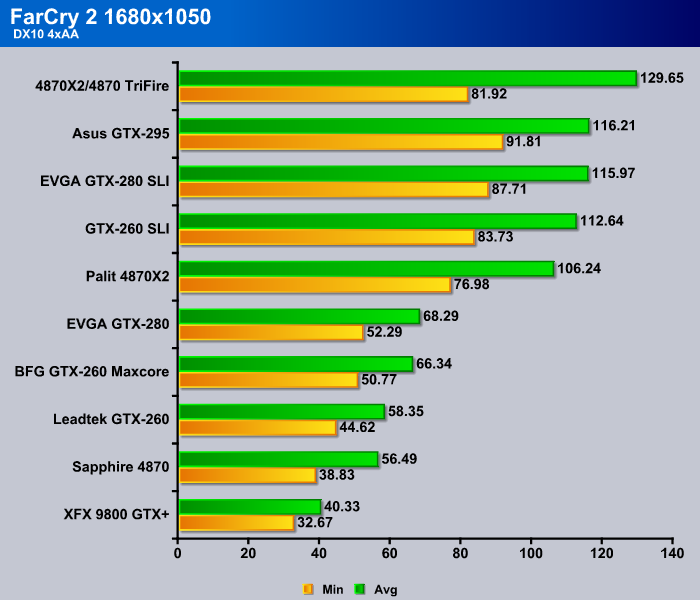 We threw in some TriFire in this test, that's what it took to put ATI in the lead on this one. 3 GPU cores churning frames and the GTX-295 still comes in ahead in minimum FPS. The Asus GTX-295 coms in ahead of GTX-280 SLI and on top of the Single GPU pile. It edged out the GTX-280 SLI setup by a hair and came in 3 spots ahead of the 4870×2.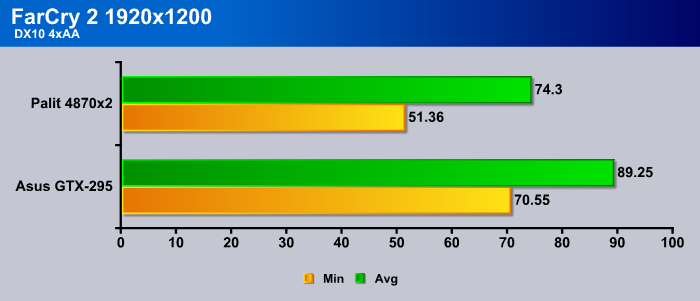 at the highest resolution tested the Asus GTX-295 comes out ahead of the 4870×2 by a respectable margin. Both cards remain at very playable levels but credit where credit is due. The Asus GTX-295 came out ahead.
LEFT4Dead
No AA/AF
Left4Dead isn't one of those GPu killing games but it is good to show how different cards compare to each other. The Asus GTX-295 comes out on top the heap with the 4870×2 close on it's heels.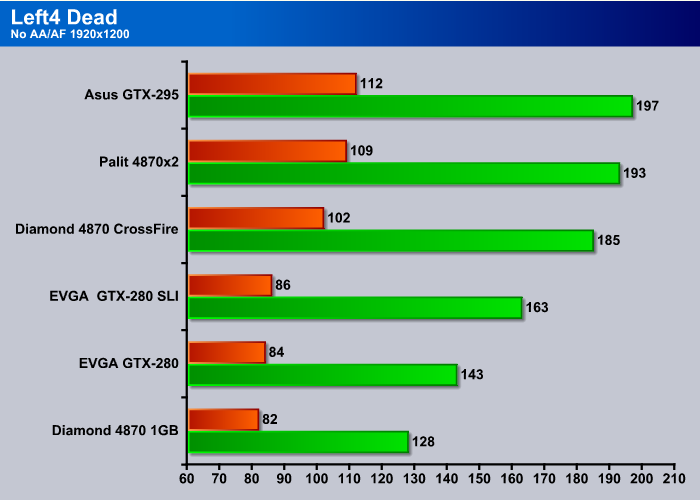 We only tested at 1680×1050 because the FPS run high enough in this game that testing at 1280×1024 would just produce way to high a FPS to be of any use for us. Again at 1920×1200 we see the Asus GTX-295 on top the pile.
4xAA 8xAF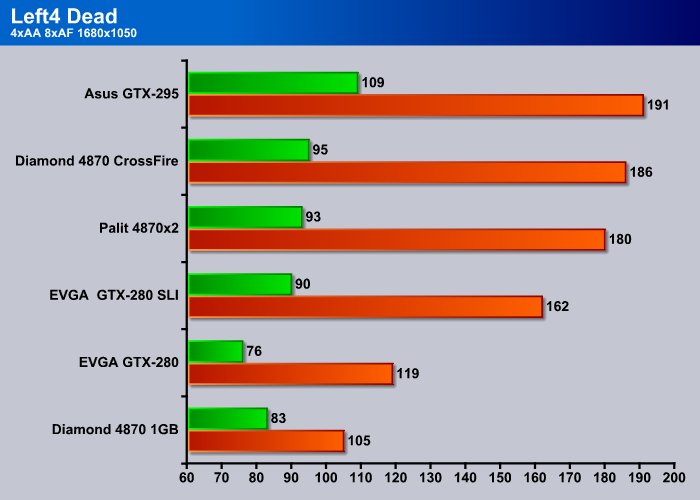 Left4Dead apparently likes the GTX-295, when we cranked the AA/AF up at 1680×1050 it stays on top the pile with the 4870 Crossfire setup right on it's heels. The 4870×2 came in right behind the 4870 Crossfire setup.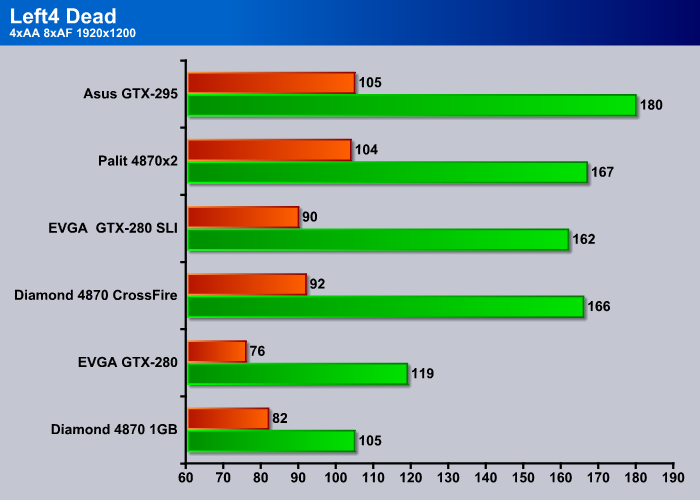 At the highest resolution tested the Asus GTX-295 came out in the lead again. With it's consistent placement at the top of almost every test among the single card solutions we'd have to say it's going to be a force to be delt with.
CRYSIS WARHEAD
No AA/AF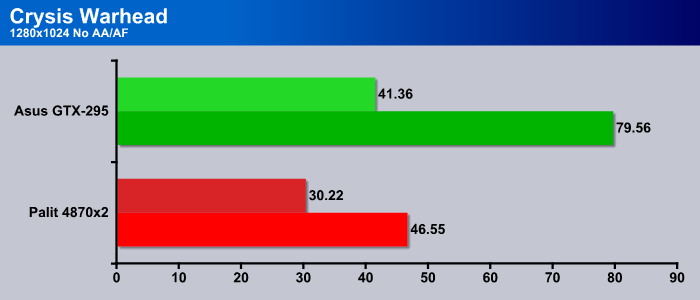 Crysis Warhead is the latest addition to the Crysis legacy, we couldn't help but get some results from the the two top single GPU's in it to extend the reach of our data. Much like the original Crysis the Asus GTX-295 comes out with a considerable lead at 1280×1024.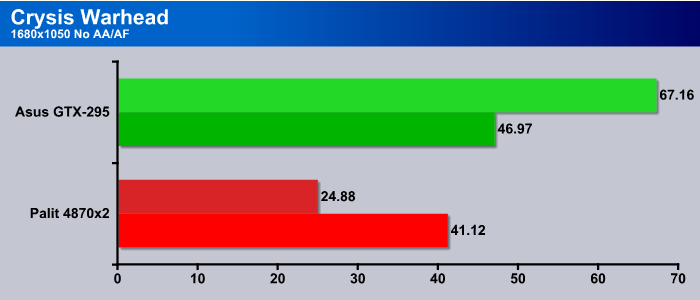 Moving to 1680×1050 the Asus GTX-295 really shows it's strength, and it shows that I'm going to have to work on my chart skills. Sorry about that one but the short lead time we had makes for run and gun reviewing.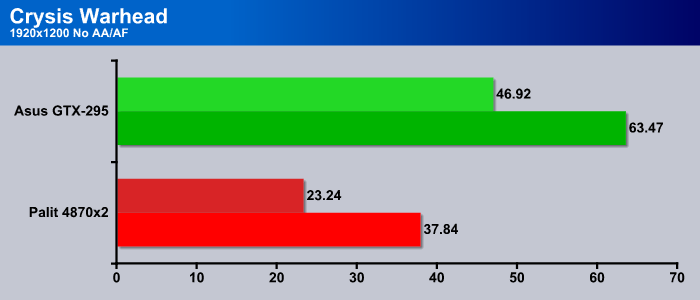 When we get to 1920×1200 the Asus GTX-295 is still going strong and we saw a couple of noticable slow downs with the 4870×2. Maybe when we kick some AA/AF we'll see some sparks fly off the 4870×2.
2xAA 8xAF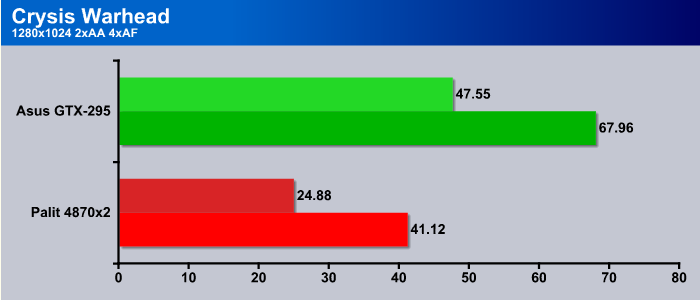 Coming on with the AA/AF at 1280×1024 the 4870×2 is already in trouble. The Asus GTX-285 is still churning out frames that make for rock solid play.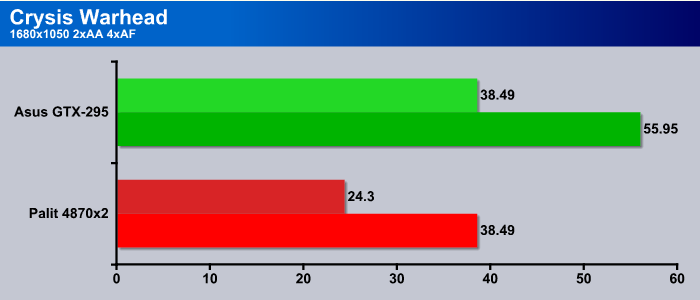 Cranking the heat up to 1680×1050 FPS are still down on the 4870×2 and the Asus GTX-280 is still at playable levels. We really like to see GPU's catching up to the video card eating game Crysis.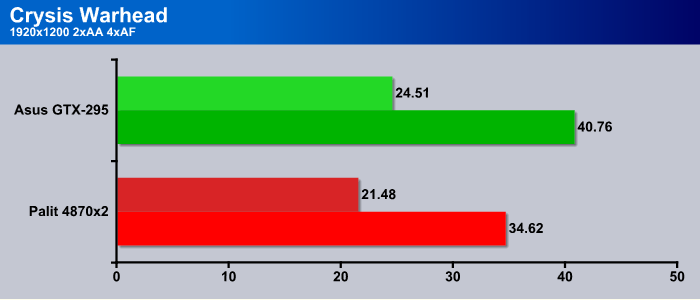 Then finally at 1920×1200 with 2xAA 4xAF the Asus GTX-285 throws a few FPS below 30. While we were seeing stutters on the 4870×2 we didn't see any on the GTX-295 which is unusual because by this time with Crysis we have to avert our faces it's getting so ugly.
TEMPERATURES

To get our temperature reading we ran 3DMark Vantage looping for 30 minutes to get the load temperature. To get the idle temp we let the machine idle at the desktop for 30 minutes with no background tasks that would drive the temperature up. Please note that this is on an open test station so your chassis and cooling will affect the temps your seeing.
GPU Temperatures
Idle
Load
54°C
71° C
We realize that this is a dual Core GPU but the temps between cores seldom went any more than 1 – 2C difference so we are reporting the temperature like this. We found the temps to be quite reasonable and they left plenty of room for overclocking. Kicking the fans up manually before overclocking drastically reduced temps but increased noise.You don't have to worry about the Asus GTX-295 melting a hole in the chassis the temps run more than reasonable for a dual GPU card.
POWER CONSUMPTION

To get our power consumption numbers we plugged in out Kill A Watt power measurement device and took the Idle reading at the desktop during our temperature readings. We left it at the desktop for about 15 minutes and took the idle reading. Then during the 30 minute loop od 3DMark Vantage we watched for the peak power consumption then recorded the highest usage.
GPU Power Consumption
GPU
Idle
Load
Asus GTX-295
240 Watts
451 Watts
EVGA GTX-280
217 Watts
345 Watts
EVGA GTX-280 SLI
239 Watts
515 Watts
Sapphire Toxic HD 4850
183 Watts
275 Watts
Sapphire HD 4870
207 Watts
298 Watts
Palit HD 4870×2
267 Watts
447 Watts
Total System Power Consumption
Keep in mind this reflects total system power consumption. While the Asus GTX-295 took less wattage at an idle than the 4870×2 we saw on spike reach 451 Watts. That was a spike and during 3D intensive scenes the wattage consumed hovered around 430 Watts. So we're seeing about 211 Watts for 3D operation on this beast. Graphics cards of this caliber aren't known to sip voltage so most people that buy them don't expect the electric bill to go down.
OVERCLOCKING

We were able to OC the Asus GTX-295 from 576/1000 to 704/1103, is there any more to get? Yes that isn't the maximum OC we achieved, but it's close to the maximum OC, we hit the maximum and backed down a little bit for safety. Once you've determined the maximum OC it's a good idea to back down 10-20 MHz because running out there on the ragged edge can cause equipment damage.
Here's what some of our scores look like in Vantage.
Best Run Single GTX-295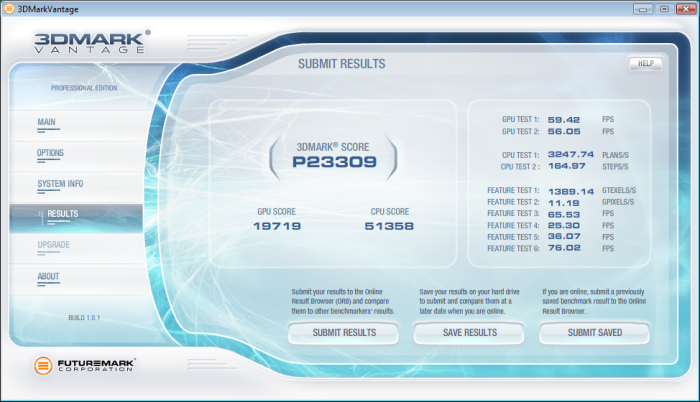 Here's the best run with PhysX single GTX-295. Whine if you like, we are so tired of hearing PhysX is cheating that we could puke. PhysX is a fact of life, major gaming developers are adopting PhysX and if a game uses PhysX your not going to disable it because it's cheating. The fact that ATI GPU's don't use PhysX is a decision that ATI made of their own accord. Nvidia offered to help them with PhysX on their cards and was told no thank you. So when it comes to brass tacks ATI refused PhysX and that's their choice. We don't think it's fair to cripple a cards abilities because it has an advantage. ATI users don't disable DirectX 10.1 because Nvidia uses DirectX 10. In all reality the GPU is taking on additional processing on top of Graphics processing increasing the load on the GPU and people whine about it. How often do you whine about a piece of hardware that does more than one job? Are you going to disable PhysX if it give a better gaming experience or runs the game better? Of course not, your going to use it and love it. So let's keep the PhysX whining to a minimum.
A Run Single GTX-295 No PhysX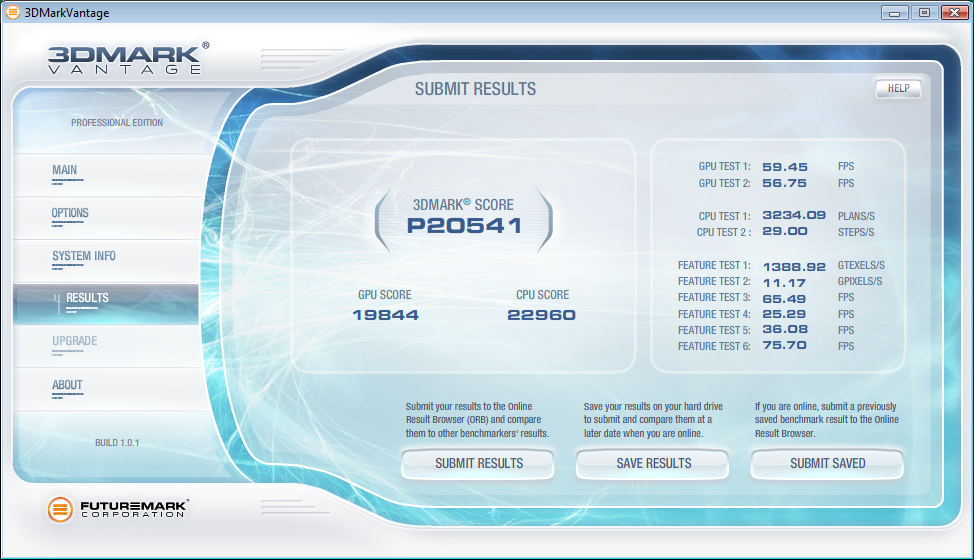 We went ahead and got a shot of a run with no PhysX, it's not our best run without PhysX, but it's a pretty typical run without PhysX.
Best run No PhysX Quad SLI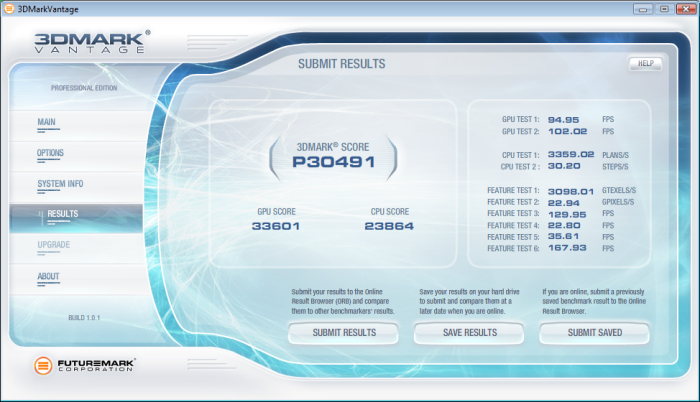 Here's the best run we could make in Quad SLI in the limited time we had. Between driver delivery and posting we had 48 hours so we didn't get to tune or tweak very much. Running Quad SLI you will probably get a little boost in performance if you increase the PCI-E voltage in BIOS.
Best run with PhysX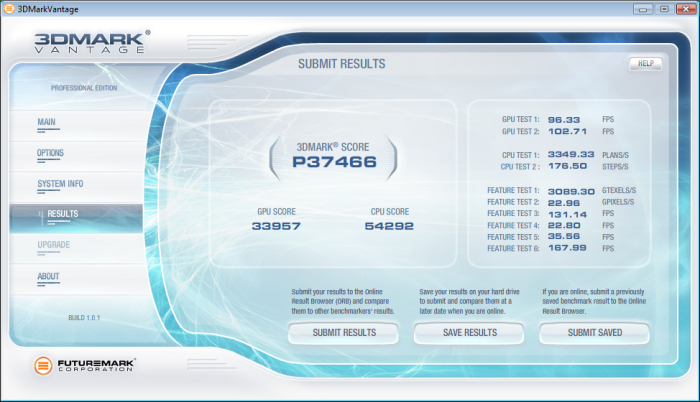 This is our best PhysX run with a little tweaking. We got about an hour of tweaking in before we made this run so we're pretty sure you will be seeing better runs as time for tuning allows.
Where does that put us on the great ORB Scale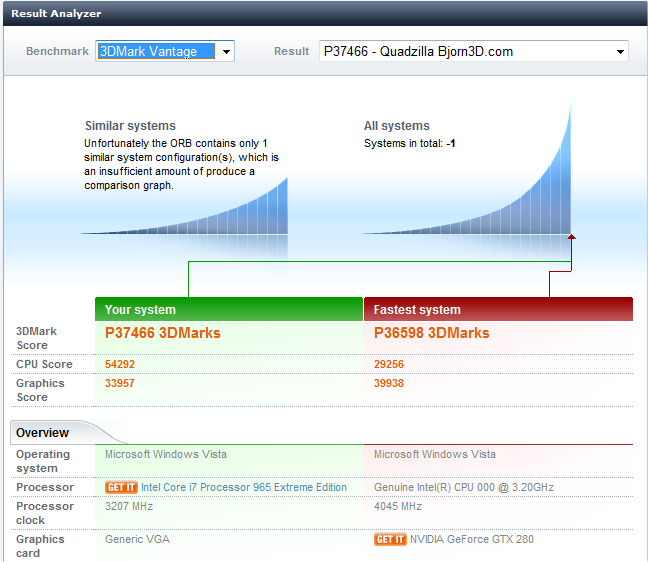 Our best run with PhysX surpassed the top score on ORB but the top score was running GTX-280 Triple SLI with no PhysX. Still it's a pretty respectable run with or without PhysX. We're not going to strip our OS, and use extreme cooling that most readers can't use to obtain monster scores like most of the top scores on ORB. We like to represent what is obtainable with some effort to our readers if they take the time to tweak a little in conditions they can use. Most of use aren't going to use LN2, or Dry Ice for some suicide bragging rights runs that go unstable 5 minutes after they get the screen shot. We'll leave that for the equipment frying glory hounds.
CONCLUSION
Now that we've tested the GTX-295 and spent more hours with it on the test bench than we care to think about we've got to say that in the testing we've done Nvidia has pulled one out of the hat with the GTX-295. We're sure that some games will favor the 4870×2 but the testing we've done, and redone, shows that they have grabbed the fastest single GPU crown. Considering that ATI announced a price drop on the 4870×2 the day before the GTX-295 makes it's maiden appearance we're pretty sure they know that the GTX-295 has ripped the crown from the head of the 4870×2. Let the spin doctors put their spin to it any way that they want. We're sure you'll be seeing things like: "In order to bring better value to our customers we've dropped the price." When you've been in hardware as long as we have you learn to recognize things that the general public might miss. The dropping of the price of the 4870×2 is to keep it at a price point comparison level with the performance of the GTX-295. To those not so well versed in PR speak, that means keeping the price of a product equal to the performance. The GTX-295 is expected to release at $499 (USD), it outperformed the 4870×2 in our testing. So the correct response from ATI is to lower the price of the 4870×2 so that it's price reflects the performance you get dollar for dollar.
All the PR speak aside.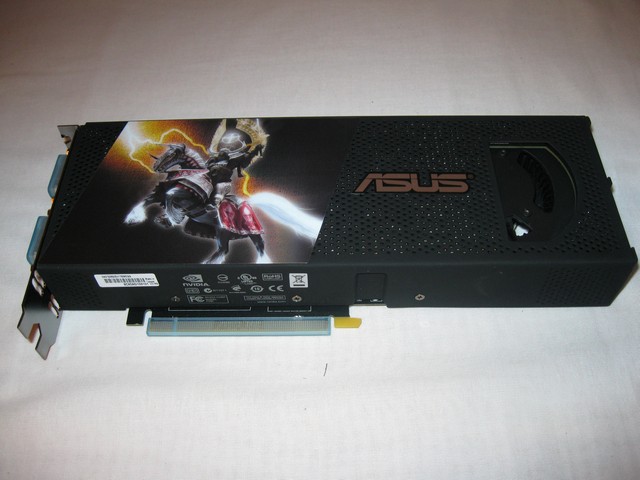 In our opinion you are looking at the fastest single GPU on the planet, the Asus GTX-295. There will be those that argue, moan whine, wail and gnash their teeth. That's the way things work in the computer world, you buy the best the fastest the newest the shiniest and along comes something newer faster and shinier. Newer faster and shinier is here now.
We really like the cooling on the Asus GTX-295, top end even OCed it was no where near thermal limits. It churns out FPS at unbelievable rates and offers an SLI like solution on one card making it easy to use and can run on any board with a PCI-E 16x expansion slot. We really like that with two GTX-295s you can run Quad SLI, while one of these is more than enough for most people, we're not more people and aspire to the "More Power" school of thought.
Once again the war of the GPUs continues to the benefit of the end user. We like the Asus GTX-295, it churns out FPS like no other single card we've seen. The Asus GTX-295 overclocks like a champ and we topped 700MHz core and 1100 MHz memory. We achieved some amazing scores in Vantage, and the performance translated well into games.
We are trying out a new addition to our scoring system to provide additional feedback beyond a flat score. Please note that the final score isn't an aggregate average of the new rating system.
Performance 9.5
Value 9
Quality 10
Warranty 9
Features 9
Innovation 10
Pros:
+  Runs cool
+  Quad SLI Capable
+  Out-performs The 4870×2
+  Good bundle (Except we'd like to see a full game title)
+  Great Overclocking Result
+  Asus Quality
Cons:
–  May Be To Large For Some Cases
–  Odd Power Connector Placement
–  Not Having This Much GPU Power Sooner
With it's blazing performance and new status as the fastest single GPU on the planet the Asus GTX-295 well deserves a score of 9.5 out of 10 and the Bjorn3D.com Golden Bear Award!