The Antec Twelve Hundred full tower case has 12 bays, five 120mm fans, a 200mm fan, 7 expansion slots, a side window, and enough room inside to fit even the largest graphics cards.
INTRODUCTION
Being a big brute isn't necessarily a bad thing these days when it comes to finding a housing for a gaming rig. There can be strength in both sheer size and in sheer numbers. The Antec Twelve Hundred full tower case is an example of the two. This chassis is brutishly large and includes six fans with blue LEDs, one of which, a top mounted 200mm fan, pulls air directly from the CPU and RAM area. The other five fans are 120mm, three for air intake, and two for air exhaust. Two more optional 120mm fans can be mounted, for a grand total of eight fans.
The Antec Twelve Hundred full tower case sports twelve bays (nine of which are filled with three 120mm fans), seven expansion slots, a side window (pre-cut for optional 120mm fan), and enough room inside to fit even the largest graphics cards.  Let's take a look at the Twelve Hundred and see what kind of gaming case Antec has come up with.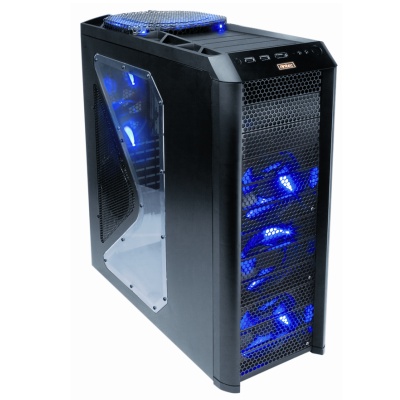 About Antec
Antec, Inc. is the global leader in high-performance computer components and accessories for the gaming, PC upgrade and Do-It-Yourself markets. Founded in 1986, Antec is recognized as a pioneer in the industry and has maintained its position as a worldwide market leader and international provider of quiet, efficient and innovative products. Antec has also achieved great success in the distribution channel, meeting the demands of quality-conscious system builders, VARs and integrators.
Antec's offering of enclosures includes a wide range of cases, such as its advanced Performance One Series, economical New Solution Series and VERIS family of media components designed for the home theater PC market. Antec's products also include front line power supplies, such as its premium Signature Series, powerful TruePower Quattro Series and EarthWatts, one of the most environmentally friendly power supplies available. PC gamers are an increasingly significant consumer of performance components, and many Antec products are designed for the gaming demographic, like the premier gamer enclosure: the Nine Hundred. Antec also offers a line of computer accessories comprising many original products, including its patented LED fans and notebook cooling solutions.
 
Antec is headquartered in Fremont, California, with additional offices in Rotterdam, The Netherlands, as well as in the UK, Germany, France, Spain, Italy, China and Taiwan. The company's products are sold in more than 40 countries throughout the world. Please visit www.antec.com for more information.
| | |
| --- | --- |
| | As part of its commitment to the gaming industry, Antec is a member of the non-profit organization PC Gaming Alliance, with Senior Vice President Scott Richards sitting on the board of directors. |
FEATURES
12 Drive Bays

 

Perforated front bezel for maximum air intake

 

Washable air filters reduce dust build up in your system.

 

Top mounted I/O ports for easy access:

 

• Power and reset button with blue LED
• 2 x USB 2.0
• 1 x eSATA
• HD Audio In and Out
Convenient top accessory tray for a personal media player

Advanced Cooling System:

• 1 top special 200 x 30 mm blue LED exhaust fan with 3-speed switch control (LEDs can be switched off as well)
• 2 rear 120 x 25 mm special blue LED exhaust fans with 3-speed switch control
• 3 front 120 x 25 mm special blue LED intake fans with front speed control
• 1 side 120 x 25 mm fan to cool graphic cards (optional)
• 1 middle 120mm fan to cool CPU or graphic cards (optional)
• Water cooling platform for reservoir or pump.

 

*Optional internally mounted 200mm radiator for water cooling
7 expansion slots

Vented PCI brackets

Pre-cut holes for watercooling hoses

Bottom mounted PSU
*Power supply not included
Motherboard: Up to standard ATX

 
SPECIFICATIONS
Dimensions:
• 22.9″ (H) x 8.4″ (W) x 20.2″ (D)
• 58.2 (H) x 21.3 (W) x 51.3 (D) cm
PACKAGING
It's always nice to come home and find some nice big package sitting at the front door when you pull into the driveway. It's nice for two reasons. One, it's a nice big package. And two, it's a nice big package that's still there. The big black Antec box was shipped in a cardboard box that was just the right size to house it. The big black box has a nice picture of the Antec Twelve Hundred on it and the features and specifications printed in three different languages.
Click to Enlarge
Upon opening the big black Antec Twelve Hundred box, the first thing that strikes you is the sheer size of that top mounted fan. It stares up at you, even behind the plastic wrapper that sheaths it. It is, in a word, impressive. The included manual lays on top and two giant pieces of Styrofoam encase each end. The case was well protected and no damage was evident.
Click to Enlarge
FIRST LOOK
In the picture on the bottom left below, you can see that the side window is further protected by a sheet of plastic and that there is a pre-cut hole for an additional 120mm fan, which is one of two optional fan mounts. Of the twelve bays, the bottom nine are filled with three 120mm intake fans and each fan has a variable speed control knob on its lower right. Above the three fans are the three open drive bays for mounting optical drives or other 5 1/4″ devices and Antec has even included an adapter that will accommodate a 3 1/2″ floppy drive. The I/O ports, along with the Power On Button and Reset Button sit above the three open bays. The I/O includes ports for USB, eSATA, and HD Audio. Looking at the picture on the bottom right you can see the two 120mm exhaust fans, the two pre-cut holes for water cooling hoses, and to the left of them, the seven expansion slots with vented PCI brackets. On the upper top left of the backside of the case sits the three-speed fan controllers for the two rear 120mm fans and the top mounted 200mm fan. There is also a switch there that controls the blue LED on the 200mm fan.
| | |
| --- | --- |
| | |
Click to Enlarge
The picture on the left below shows the twelve thumbscrews that hold the three 120mm intake fans in place. There is a corresponding number of thumbscrews on the other side of the case and access is easy when the that side of the case is removed. A total of eight screws secures each fan housing and each fan housing can hold a total of three hard disk drives. In the same picture, towards the bottom rear of the case on the inside, you can see the rubber that is used to support the bottom mounted power supply. Each of the fans in the case uses a 4-pin Molex connector for power and the cables from the front switches and the I/O ports are plenty long. Moving over to the picture on the bottom right you can you can see the optional 120mm fan mount attached to the back of the topmost front intake fan that sits directly below the three open drive bays. The included accessories in the white cardboard box were secured to the bottom front fan housing with zip ties. 
Click to Enlarge
BUNDLED ACCESSORIES
The included accessories included some cable management ties, along with a 3 1/2″ to 5 1/4″ adapter and a front bezel for a 3 1/2″ floppy drive. There is also a bag of screws and standoffs included for the motherboard. There are some rather long screws in the bag and it wasn't readily apparent what they were to be used for until I accidentally read the manual. The long screws are for mounting the HDD's to the fan housings, three HDD's for each of the three fans.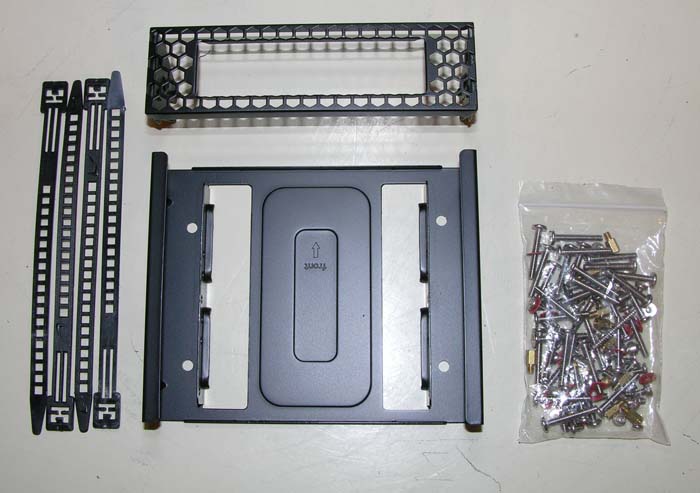 One thing that was really nice about the bag of screws that Antec included is that they put plenty of standoffs in there with matching screws and washers for mounting the motherboard. I've run into some cases in the past where they've tried to scrimp and save on screws and standoffs and they scrimped a bit too much.
INSTALLATION
The Antec Twelve Hundred full tower case was designed and built with gamers in mind. And I am building this rig with a gamer in mind. People have different ideas what it means to be a gamer, a PC gamer. Some have the thought in their head that a gamer has to have the latest and greatest of everything, no matter what the cost. Some, because of the cost, game casually, where and when they can, often sitting in for a frag or two on a borrowed PC at a friend's house. I have a friend that is a casual gamer. And I have a second machine that he games on when stops by. But he, being the most casual of gamers, doesn't own a PC. Never mind that this is the 21st century and that he has a roof over his head and food on the table and cable with a big screen HDTV, he just doesn't own a PC. He's more into muscle cars and his latest project has been taking most of his disposable income.
Anybody who's into PC's, and gaming rigs especially, eventually ends up with a closet full of spare parts that have seen better days. There might still be some game in those parts yet, if the game is not too demanding and you can find someone willing to game on a PC with those games that don't demand so much. Three years ago I built a gaming rig that was the best that I could afford and six months after that I treated myself to the best video card that was out there, the XFX GeForce 7900GTX by Nvidia. Now, I'm passing those parts along to someone whom I hope will put them to good use.
 
Test Platform
Processor
AMD Athlon 64 4000+ San Diego 2.4GHz
CPU Cooling
Thermalright XP-90C w/92mm fan
Motherboard
Asus A8N-SLI Premium
Memory
2GB G.SKILL SDRAM DDR 400 F1-3200PHU2-2GBZX
Drive(s)
Samsung 80GB EIDE
Graphics
XFX 7900 GTX
Power Supply
PC Power and Cooling TURBO-COOL® 510 SLI
Display
Dell 24″ 2405FPW
As part of the deal with my friend, he built the PC and I watched. I also coached, instructed, and taught him the fundamentals of building a PC, but he put together every last piece of it. Though the case was new, all of the components were old and dusty and dirty. He cleaned them all even mounted the CPU heatsink to the motherboard before installing the motherboard and the rest of the components. He did a very good job for a first timer and has a real knack for the hardware end of things. The software side is another story.
Down below in the picture on the left you can see everything installed. The bottom mounted PC Power & Cooling PSU is a bit on the short side when compared to some of the current high wattage PSU's and the Antec Twelve Hundred will accommodate a much longer one. The case will also accommodate the largest of video cards with room to spare. The optical drive, in the third open drive bay, is mounted traditionally, with screws. The hard drive is mounted in the middle slot of the topmost 120mm fan housing. You can see the hard drive's black EIDE cable running from its hiding place to the motherboard. The case does not come with a speaker, so the one that you see in the picture is one that I got out of the closet. The picture on the bottom right shows two of the three 120mm fan housings released from their secured moorings and I pulled up a fan filter to show you what that looks like. Also, it shows the three HDD slots that each fan housing has.
| | |
| --- | --- |
| | |
Though the Antec Twelve Hundred full tower case does not use a removable motherboard tray, there is ample room inside to work with and the case does include plenty of cutouts for cable management, as can be seen in the lower left photo. My friend put these to good use and his cable management efforts can be seen in the lower right. His cable management efforts first time out were better than anything I've ever been able to do and I attribute this to his being a motor head. He likes things nice and clean under the hood and I'm sure that his experience in re-wiring the electrical systems on cars has helped him as well.
| | |
| --- | --- |
| | |
When I built this rig for the first time three years ago, it was winter time and I didn't notice the heat that the AMD Athlon 64 4000+ San Diego 2.4GHz CPU generated. But the following summer the beast reared its ugly head and the heat it generated got me started on my quest for better cooling with liquid. Though I didn't actually reap the benefits of water cooling until the following winter, I might have never overcome my initial hesitation with liquid cooling had this case been available. The amount of air that the Antec Twelve Hundred case can toss around is simply amazing, and that's with the fans on low. With the fans set to high, it is simply breathtaking. And with two additional 120mm fans, who knows? But I bet it sure would be more amazing still.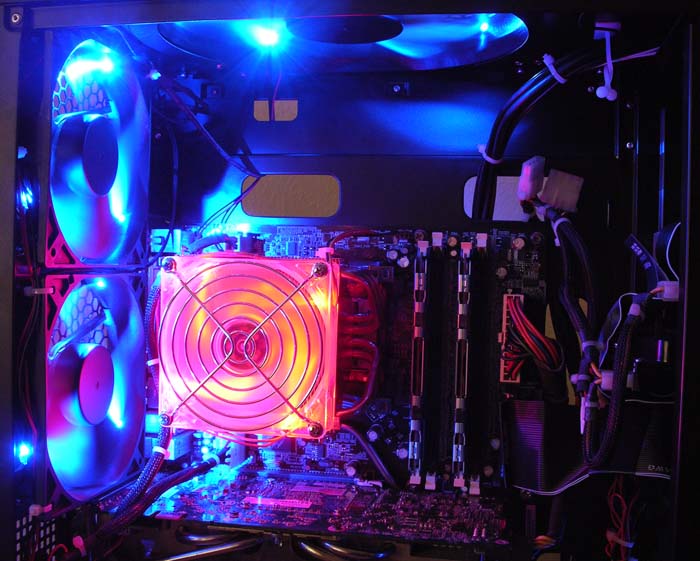 During this build, the fit and finish and the quality of the Antec Twelve Hundred was nothing less than what would be expected, what should be expected, from a gaming case that is the flagship, the top of the line. Okay, so am I laying it on a bit thick? Well, maybe just a little. But it's still a pretty darn good case. And it should be.
 
CONCLUSION
The Antec Twelve Hundred full tower case is, with no doubt, a gamer's case. Though its emphasis in its current configuration is an air cooled case, it has been designed with an eye towards moving to a water cooled setup with ease. It has pre-cut holes to accommodate water cooling hoses from an external water cooled unit, a platform inside to hold either a reservoir or a pump, and an optional radiator is available that sits right below the 200mm top mounted fan. But for many, that move to liquid cooling won't be necessary as the airflow inside this case is phenomenal.
As mentioned earlier, the fit and finish and the build quality is pretty darn good. Actually, the build quality is very good. Cable management is a breeze and the roominess inside is sure to please all but the most demanding. Very long video cards and PSU's aren't a problem for this case and its good looks don't hurt either. The best price on the Internet for this case at the time of this writing is about $160 USD. That's pretty reasonable for a case with all the features that it has. The Antec Twelve Hundred full tower case is a great big brute of a case that should make any gamer happy.
We are trying out a new addition to our scoring system to provide additional feedback beyond a flat score. Please note that the final score isn't an aggregate average of the new rating system.
Performance 9.5
Value 8
Quality 9
Features 9
Innovation 10
Pros
+  Plenty of options for cooling
+  Six fans, including 200mm top mounted fan, and options for adding two additional 120mm fans
+  Roomy inside
+  Supports long video cards
+  Cutouts for cable management
+  12 drive bays
+  Very good build quality
Cons
– Not built for E-ATX motherboards
– Motherboard tray doesn't have cutout to access CPU cooler mounting brackets
– Two optional 120mm fans aren't included
 
The Antec Twelve Hundred full tower gaming case, with its sheer size and its brutish capabilities in keeping the air flowing, receives an 8.5 (Very Good) out of 10 and the Bjorn3D Seal of Approval.