The Dragon platform is AMD's new platform consisting of a 7-Series motherboard, a HD4800 GPU and the new Phenom II X4 GPU's. With promises of great overclocking potential as well as higher clockspeeds from the start, the Dragon platform together with the new Phenom II should have a better start that the 2007 Spider platform. Has AMD learned the lesson from the Spider- and Phenom launch? Read on to find out as we put the Dragon platform through its paces.
INTRODUCTION
AMD has had an interesting 2008. While their GPU-division, ATI, have been able to release products that have competed well with NVIDIA's products, their CPU-division on the other hand has had a rough time getting products out to compete with Intel's finest. If anything this shows how quick things can change as AMD had the upper hand over Intel a few years back.
In the end of 2007 AMD released their first complete platform consisting of all AMD-products: the Spider platform. While only a codename that wasn't meant to be used outside of AMD it consisted of a motherboard chipset, a new family of CPU's and new GPU's.
Today AMD is introducing their next platform, the Dragon platform. This time it is a name that also will be used externally which could mean that OEM's will market "Dragon-based" computers.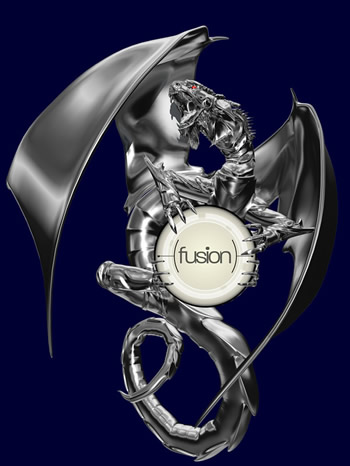 As before the platform consists of 3 parts: Motherboard chipset, CPU's and GPU's. While we already are familiar with the chipset (7-series) and the GPU's (HD4800), the CPU's are new. With the Dragon-platform AMD is introducing the new Phenom II CPU's. It is easy to think that this is AMD's answer to Intel's Core i7 but as with the Phenom processors AMD has chosen not to go after Intel's high-end products and instead attack the market where they think the money is.
In today's article we will go through the various parts of the Dragon-platform as well as run a bunch of benchmarks on it and competing platforms. This article will then be followed up in a few days by an article which will pit the Dragon-platform against even more competing platforms (read: The Intel Core i7) as well as some more overclocking both with air and with water cooling.
| | | | | | | | |
| --- | --- | --- | --- | --- | --- | --- | --- |
| CPU Name | Cores | Clock | L2/L3 Cache | HT Bus | Socket | TDP | Price |
| AMD Phenom II X4 965 BE | 4 | 3.4GHz | 2+6MB | 4000MHz | AM3 | 140W | $179 |
| AMD Phenom II X4 955 BE | 4 | 3.2GHz | 2+6MB | 4000MHz | AM3 | 125W | $165 |
| AMD Phenom II X4 945 | 4 | 3.0GHz | 2+6MB | 4000MHz | AM3 | 125W | $159 |
| AMD Phenom II X4 925 | 4 | 2.8GHz | 2+6MB | 4000MHz | AM3 | 95W | $139 |
| AMD Phenom II X4 910e | 4 | 2.6GHz  | 2+6MB  | 4000MHz | AM3 | 65W | $169 |
| AMD Phenom II X4 905e | 4 | 2.5GHz | 2+6MB | 4000MHz | AM3 | 65W | $175 |
| AMD Phenom II X4 810 | 4 | 2.6GHz | 2+4MB | 4000MHz | AM3 | 95W | $139 |
| AMD Phenom II X3 720BE | 3 | 2.8GHz | 1.5+6MB | 4000MHz | AM3 | 95W | $104 |
| AMD Phenom II X3 710 | 3 | 2.6GHz | 1.5+6MB | 4000MHz | AM3 | 95W | $99 |
| AMD Phenom II X3 705e | 3 | 2.5GHz | 1.5+6MB | 4000MHz | AM3 | 65W | $119 |
| AMD Phenom II X2 555 | 2 | 3.2GHz  |  1+6MB | 4000MHz | AM3 | 80W | $99 |
| AMD Phenom II X2 550 | 2 | 3.1GHz | 1+6MB | 4000MHz | AM3 | 80W | $91 |
| AMD Athlon II X4 635 | 4 | 2.9GHz | 2MB | 4000MHz | AM3 | 95W | $120 |
| AMD Athlon II X4 630 | 4 | 2.8GHz | 2MB | 4000MHz | AM3 | 95W | $102 |
| AMD Athlon II X4 620 | 4 | 2.6GHz | 2MB | 4000MHz | AM3 | 95W | $99 |
| AMD Athlon II X3 440 | 3 | 3.0GHz | 1.5MB | 4000MHz | AM3 | 95W | $84 |
| AMD Athlon II X3 435 | 3 | 2.9GHz | 1.5MB | 4000MHz | AM3 | 95W | $75 |
| AMD Athlon II X3 425 | 3 | 2.7GHz | 1.5MB | 4000MHz | AM3 | 95W | $72 |
| AMD Athlon II X2 255 | 2 | 3.1GHz | 2MB | 4000MHz | AM3  | 65W | $75 |
| AMD Athlon II X2 250 | 2 | 3.0GHz | 2MB | 4000MHz | AM3 | 65W | $65 |
| AMD Athlon II X2 245 | 2 | 2.9GHz | 2MB | 4000MHz | AM3 | 65W | $61 |
| AMD Athlon II X2 240 | 2 | 2.8GHz | 2MB | 4000MHz | AM3 | 65W | $53 |
THE DRAGON – TAKING OVER AFTER A SPIDER
In the end of 2007 AMD invited us press to an event where they introduced the "Spider-platform". This platform consisted of the 7-series motherboard chipset, the new Phenom CPU's and the HD3850 and HD3870 GPU's. The Spider name was actually a codename and was not intended to be used outside of AMD. Thus I doubt many consumers really knew about it.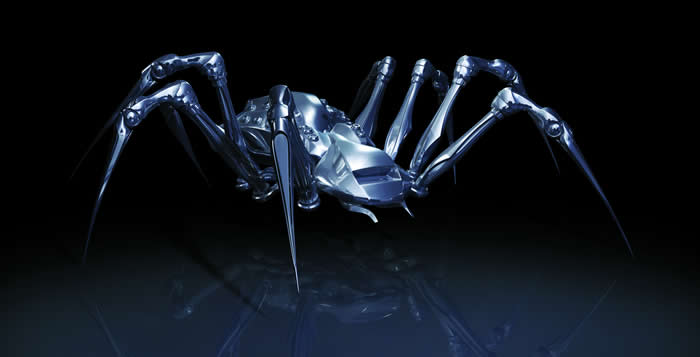 The Spider platform had some good and some bad parts. The good part was the 7-series motherboard chipset. In fact, it was so good that it still is used today for the new platform. The GPU's were also pretty good parts of the platform. While they could not rival the best from NVIDIA they offered some cool new features and came at a very good price. The bad part unfortunately was the Phenom CPU's. AMD themselves even admitted at a press event not long ago that they simple released the Phenom CPU's too soon. The main problem was that they found a bug in the higher end 2.4 GHz Phenom that would crash the CPU in some cases and that the fix itself imposed a speed penalty. This meant that AMD only could release slower 2.2 GHz and 2.3 GHz processors, much slower than what Intel had at the time. Even though AMD fixed the problem and started to release faster processors as well as Tri-Core versions of the Phenom during 2008 the damage was already done to the reputation of the Phenom CPU's.
With the Dragon platform AMD hopes to have learned their lesson and release a complete competitive platform that will be picked up not only by OEM's but also by regular users.
The GPU and the chipset
There is not much reason to dwell to long on the two parts of the Dragon platform that already has been available for some time, the GPU's and the chipset so I will just go through them quickly.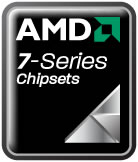 Chipset: 7-Series (read more about it in our Spider-article)

The chipset used in the platform is the tried and tested 7-series. This family consists of the 780G, the 790GX and the 790FX. The main features of these chipsets are:
Support for CrossfireX (more than 2 cards in Crossfire)
PCI-Express Gen 2
HyperTransport 3.0
Support for AMD Overdrive software
Support for AMD Advanced Clock Calibration (790GX)
These are still DDR2-chipsets and we will discuss this a bit later in this article.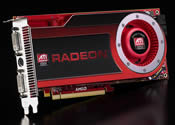 GPU: HD4800 (read more about the HD4800-series of GPU's here)

The GPU's used in the platform all come from the successful HD4800-family and preferably the HD4870 1 GB or the HD4870X2. The main features of these cards are:
DirectX10.1-support
UVD 2 (7.1-sound over HDMI, accelerate two HD-streams)
Support for Stream-computing
Lots and lots of performance
The reason AMD is recommending one of the faster HD4800-cards will be obvious as we move to the benchmarks later in this article.
 
THE NEW CPU: PHENOM II
The most exciting piece of the new Dragon platform is the new 45 nm Phenom II processors based on the Deneb-core. After the disaster with the first Phenom-processors AMD has had a lot of pressure to get it right this time.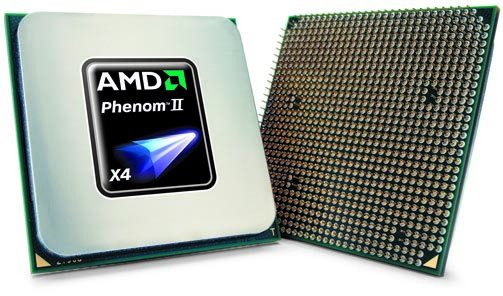 AMD is announcing (and releasing) two processors at this time: the AMD Phenom II X4 920 and the AMD Phenom II X4 940. Yup, you read it right. AMD has managed to choose the same model-numbers as Intel for their Core i7. AMD claims that this was a pure coincident as they did not feel they could continue the Phenom model numbering (going from 9950 to 5 digits was not an option) and thus choose 920 and 940 instead. That Intel had used the same numbering was something that came as a surprise. Regardless why they choose the numbering it still is a bit funny.

Both processors are Quad-core processors and they are clocked at 2.8 GHz and 3.0 GHz respectively. The AMD Phenom II X4 940 is a Black Edition CPU meaning the multiplier is unlocked. The planned pricing is $275 for the AMD Phenom II X4 940 and $235 for the AMD Phenom II X4 920 but as with most products these days the true price on the street probably will be a bit lower as more get it in stock.
The current Phenom II comes in the AM2+ package but AMD will release Phenom II in AM3-packages that will be backwards compatible with the AM2+-socket so that you will be able to first get an AM2+-based motherboard and then move to a AM3-based motherboard.
So, what are the main improvements of the Phenom II over the original Phenom?
AMD summarizes the main features of the Phenom II with a few bullet points:
The fastest AMD processor so far
More efficient Multi-core design
Higher clock frequencies with a lot of additional headroom
Up to 8MB of total cache, balanced between L2 & L3
AMD Cool & Quiet 3.0
AM3-support for DDR3-1333
Backwards compatible
So how have they made it faster? It's easy to just think that the increased frequency is alone responsible for the increased speed but according to AMD there are some other improvements that contribute to the increased speed.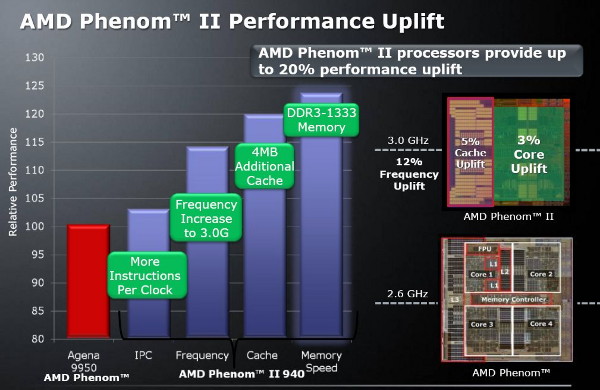 The ability to run more instructions per clock gives us a few % in performance. The additional 4 MB of cache gives us another 5% in performance. The rest of the extra performance comes from the extra MHz (3 GHz for the Phenom II 940 compared to 2.6 GHz for the Phenom 9950). Last but not least we will gain some more performance when we later move to DDR3.
The cool thing with these processors, and especially the unlocked Phenom II 940, is that they have a lot of headroom for overclocking. In fact, AMD claims that you should be able to get the Phenom II 940 up to around 3.8/3.9 GHz with just air-cooling.
DDR2 instead of DDR3
As I mentioned in the first page AMD does not want to market this new platform as a direct competitor to the Intel Core i7 platform (Intel Core i7, X58-based motherboard and any GPU). AMD sees the Core i7 as a niche product at this moment and it is not hard to disagree when you look at the cost for building a new Core i7-machine:
Component

 Intel Core i7

 AMD Dragon

CPU 

Core i7 920: $300+
or Core i7 940 ($570+)

Phenom II 920 ($235)
or Phenom II 940 ($275)

Motherboard

X58-based motherboard: $225+

780G ($70+), 790GX ($125+) or 790FX ($150+)

Memory

DDR3-memory (preferably 3 sticks á 2 GB): $220+

DDR2- memory (preferably 2 sticks á 2 GB, PC-8500): $80+

Total

~ between $745 and $1015

~ between $385 – $505

*Prices from Pricegrabber 2009-01-05
There is no doubt that the Core i7 machine will have a lot better performance (and we should see that in our follow-up article) but the cost to move from a current Intel or AMD processor/system is quite simply very steep. In addition to the lower cost the chance is that you also might be able to use either the motherboard or the memory from your current machine when upgrading to a Dragon platform system making it an even cheaper solution.
At this moment I cannot fault AMD for not going up towards the Core i7 and make the Dragon platform DDR3-only. In these troubled times with the economy going straight down it seems to be a safer bet to make a platform that is affordable to build. What will be interesting is to see how Intels plans for cheaper iCore 7 solutions the first of half of 2009 will compare with the Dragon platform.
This does not mean that AMD has no plans for DDR3. In fact, during a press event just before the holidays in 2008 AMD claimed that they could bring out a finished AM3-based motherboard with just DDR3-support at any time as it basically was done. They admitted though that they just did not know if it was the right time to do it now or if they should wait a bit longer until the economy improved and DDR3-prices went down.
 
OUR TEST SYSTEMS
Normally we set up one review system and use it to test all the products on. As we today are looking at a complete plattform we instead decided to set up three different platforms:
Test System 1
This is almost a complete Spider platform system, however with HD4800-GPU's instead of HD3800-GPU's. We use a Phenom 9950 Quad-Core CPU as representative of the "old" generation.
MSI DKA790GX
Phenom 9950 @ 2.6 GHz and @ 3.2 GHz
4 GB Corsair Dominator DX2-8500C5 DDR2 @ 800 Mhz and @ 1066 MHz
HIS HD4870 1 GB and Palit HD4870X2
Test System 2
This is our Dragon platform system complete with a MSI 790GX motherboard, a HD4800 GPU and a Phenom II 940 CPU.
MSI DKA790GX
Phenom II 940 @ 3.0 GHz and @ 3.7 Ghz
4 GB Corsair Dominator DX2-8500C5 DDR2 @ 1066 MHz
HIS HD4870 1 GB and Palit HD4870X2
Test System 3
Our third and last system is "the competition" to AMD, an Intel-based system. A similar priced Intel-CPu is the Core 2 Quad Q9450 which is clocked at 2.66 GHz. As we only had an Core 2 Quad Q9300 we overclocked it to 2.66 GHz and used it as our reference processor. The Q9300 has less L2 cache than the Q9450 which can affect the score a fraction. In addition to the HD4800-cards we also threw in a Leadtek GeForce GTX280 in the mix just to see what a Intel/NVidia-system could offer.
Asus P5Q-Deluxe
Intel Q9300 @ 2.66 GHz (FSB: 255 Mhz)
4 GB Corsair Dominator DX2-8500C5 DDR2 @ 850 Mhz
HIS HD4870 1 GB, Palit HD4870X2 and Leadtek GeForce 280GTX
We tested these systems with the following software:
3DMark Vantage (Performance and Xtreme setting)
Devil May Cry 4 ( Everything set to Super High, 8xMSAA, Test 2 in the built-in benchmark)
World In Conflict (Very High-setting)
Far Cry 2 (Everything set to absolutely max settings)
Left 4 Dead (Everything set to max, 8xAA, 16xAF)
SiSoft Sandra 2009 SP2
OVERCLOCKING
As many of you probably know AMD has actually been pretty supportive when it comes to overclocking and tweaking your system lately (even though they always make sure you understand that any damage that occurs when you overclock, even using their software, is not covered by their guarantee). Last year they released their AMD Overdrive Software that allowed you to access and change a lot of stuff in the bios directly from Windows. The AMD 790GX-chipset also added support for AutoClock that would "tune" some settings in the processor making it possible to get a bit more speed out of the Phenom-processors.
With the Dragon-launch AMD will release a new version of the OverDrive software, AMD OverDrive 3.0. While Mark got his hands on a beta-version of it I unfortunately did not so I can only give you a list of the improvements that AMD says it has:
Ready for AM3 Platforms
Smart Control (boost the core frequencies on demand)
Application Specific Profiles (optimal settings are applied based on application detection)
Customizable AutoClock
Improved Hardware monitoring support with adjustable Fan Control
I personally am pretty excited for the Application Specific Profiles as it would give you an easy way to overclock temporarily for a certain game while keeping the processors running normally otherwise.
As I lacked the newer version and the v2.15 version from game.amd.com decided that my Phenom II was actually running at 4.5 GHz I decided to do the overclocking the old-fashioned way: in the bios.
The unlocked AMD-processors overclock well by just changing the multiplier so this is what I did. After some experimentation with increased voltage to the CPU as well as some tips from Mark I ended up with a stable overclock of 3.7 GHz.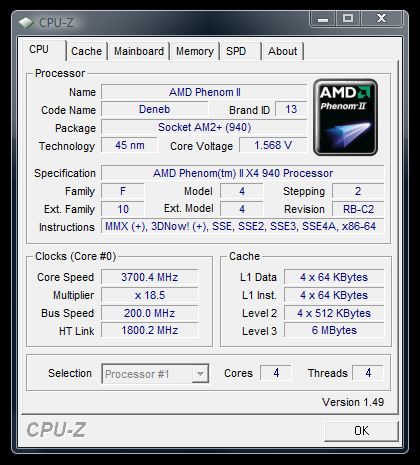 I actually got 3.8 GHz to boot and could run both 3Dmark Vantage (Performance and Xtreme) as well as the complete Far Cry 2 benchmark but Left 4 Dead just refused to start so I decided to stop at 3.7 GHz. I'm pretty sure I could get a bit more out of it by starting to mess around with settings for the Northbridge, the HT-link etc. but as Mark will explore overclocking a bit more in our follow-up article I felt 3.7 GHz was enough for this article. An overclock from 3.0 GHz to 3.7 GHz with air-cooling isn't bad at all. Our Phenom 9950 could be overclocked from 2.6 GHz to 3.2 GHz so percentage-wise both CPU's clocked equally well (~24%).
3DMark Vantage

The newest video benchmark from the gang at Futuremark. This utility is still a synthetic benchmark, but one that more closely reflects real world gaming performance. While it is not a perfect replacement for actual game benchmarks, it has its uses. We tested our cards at the 'Performance' and the 'Extreme' settings.
Currently, there is a lot of controversy surrounding NVIDIA's use of a PhysX driver for its 9800 GTX and GTX 200 series cards, thereby putting the ATI brand at a disadvantage. Whereby installing the PyhsX driver, 3DMark Vantage uses the GPU to perform PhysX calculations during a CPU test, and this is where things get a bit gray. If you look at the Driver Approval Policy for 3DMark Vantage it states; "Based on the specification and design of the CPU tests, GPU make, type or driver version may not have a significant effect on the results of either of the CPU tests as indicated in Section 7.3 of the 3DMark Vantage specification and white paper." Did NVIDIA cheat by having the GPU handle the PhysX calculations or are they perfectly within their right since they own Ageia and all their IP? So far it looks like Futuremark have not yet approved the practice. We've decided to still include those scores and let you decide whether to trust them or not.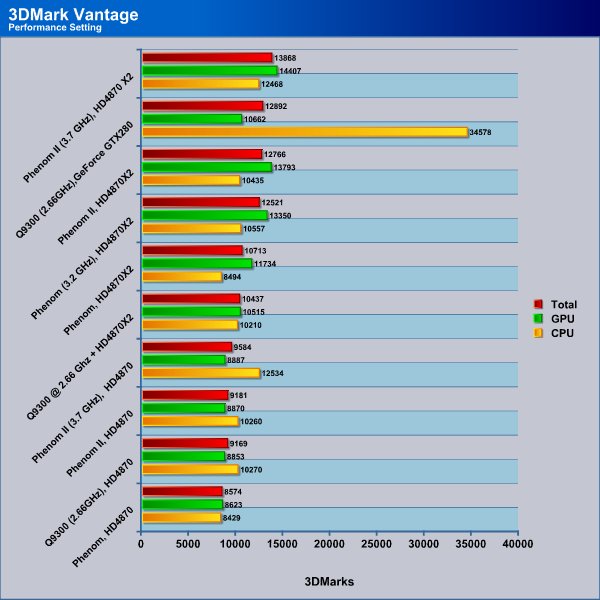 Click on image for a larger version
 As expcted the systems with the HD4870X2 and the GTX280 performs best as this test mainly stresses the video card. It is interesting to see that the Phenom @ 3.2 GHz gets the same CPU-score as the Phenom II @ 3.0 GHz. Another interesting observation is that while a Dragon-system with the HD4870 performs equally as the Intel-system with the same GPU, the Dragon-system performs ~20% better when we put an HD4870X2 in both systems. It's obvious that the motherboard is having an effect here.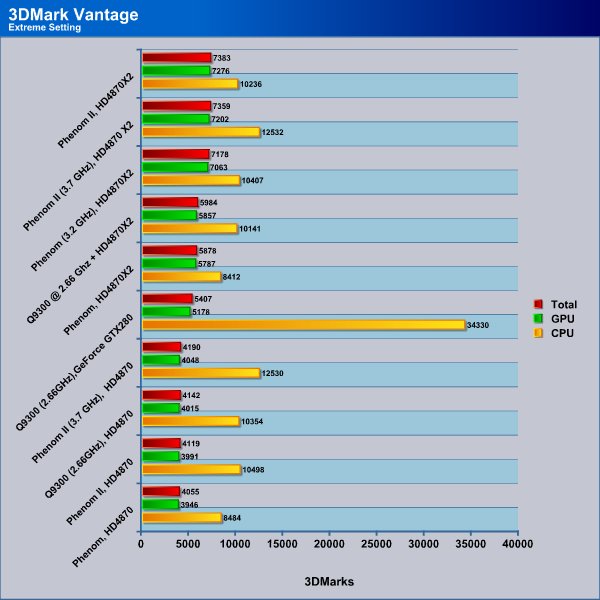 Click on image for a larger version
When we crank the settings up to the highest setting we quickly see that the CPU has less of an impact and the GPU becomes the component that is the limiting factor. We still see the same pattern as before that the HD4870X2 performs ~20% better than when it is running in the Intel-system.
SISOFT SANDRA PRO BUSINESS 2009 SP2
SiSoft Sandra is an synthetic benchmark that allows you to test each component of your system separately in a number of tests. We use the program to run some tests on the processors.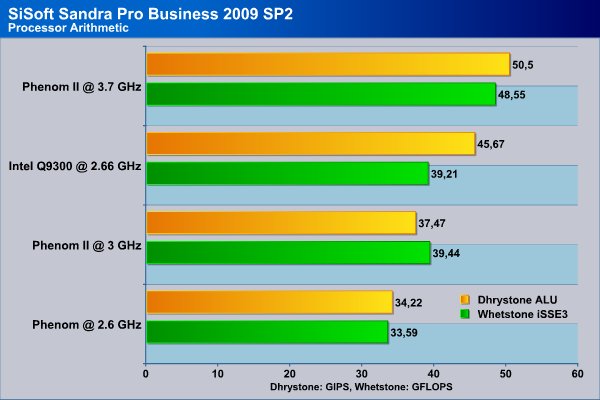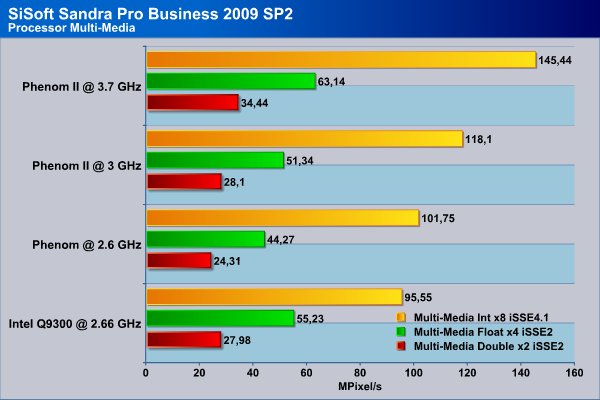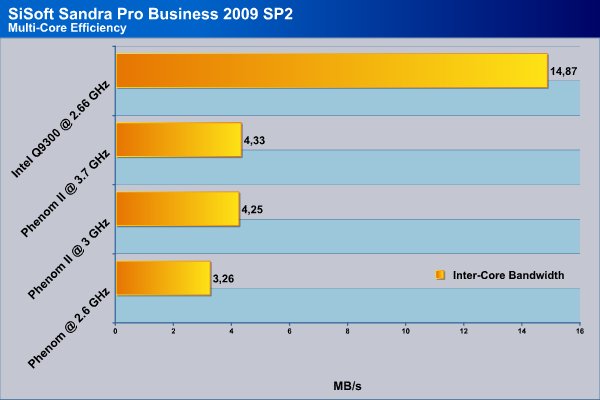 The most interesting score here in our opinion is the Multi-Core efficiency test where the Intel Q9300 scores far better than the Phenom processors. These are all theoretical scores though so lets head to the real games to see what these differences mean in the real world.
Far Cry 2

 Far Cry 2, released in October 2008 by Ubisoft, was one of the most anticipated titles of the year. It's an engaging state-of-the-art First Person Shooter set in an un-named African country. Caught between two rival factions, you're sent to take out "The Jackal". Far Cry2 ships with a full featured benchmark utility and it is one of the most well designed, well thought out game benchmarks we've ever seen. One big difference between this benchmark and others is that it leaves the game's AI (Artificial Intelligence ) running while the benchmark is being performed.
Settings: Ranch Medium, 8xMSAA, All other settings set to max.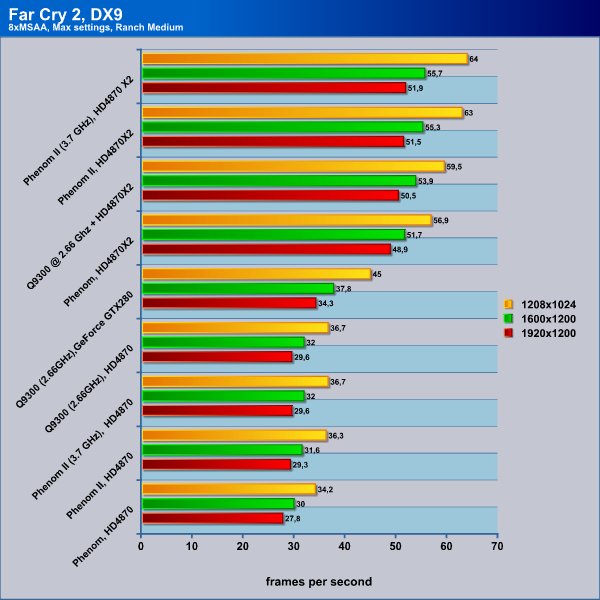 Click on image for larger version
 As expected the GPU is more important than the CPU in Far Cry 2, even though the benchmark has the AI turned on. At the lower resolutions where the CPU starts becoming the limiting component the Phenom II-systems easily moves ahead of the pack, at least as long as you use a HD4870X2.

Click on image for larger version
While the HD4870-based systems actually gain some performance when moving to DX10, the HD4870X2 actually looses some frames per second. Still, the Phenom II together with the HD4870X2 performs very well compared to all the other combinations. Again we see that the Phenom II + MSI 790GX + HD4870X2 gets 5-16% higher framerate than the Q9300 @2.66 Ghz + Asus P45 + HD4870X2.
LEFT 4 DEAD
Left 4 Dead was released late 2008 by Valve and uses the tried and tested Source engine to deliver stunning graphics and lots of fun Zombie action.
Settings: 8xMSAA, 16xAF, all other settings to max
Left 4 Dead runs extremely well on the AMD platform. The Intel [email protected] GHz + GeForce 280GTX combination is beaten by almost every other system. The Source engine runs so well that the CPU is just as important as the GPU when looking for higher framerates. We ran into a small problem on the Intel platform with the HD4870X2 and the HD4870. The game just would not let us choose the 1920×1080 resolution so that is why these scores are missing. 1920×1200 would work fine though.
As long as the resolution is below 1920×1080 a faster processor is more important than a fast video card.
DEVIL MAY CRY 4
This fast-paced game originally was released on the Xbox 360 and the Sony PS3. It is a typical Japanese hack'n'slash with really nice graphics and quite weird monster-design. The game has a benchmark-feature which we used to test the systems with. This is a game that begs for a huge TV-screen and an Xbox 360-controller so we've tested it in the two resolutions you normally sue on a HD-TV.
Settings: 8xMSAA, all other settings set to max.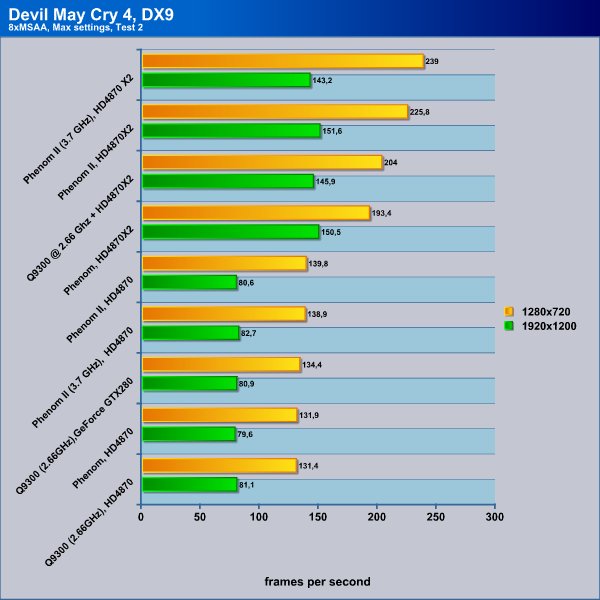 With a HD4870 1 GB all the systems perform pretty similar with the Phenom II-powered systems having a slight advantage at the lower resolution. As we switch to the faster video cards the CPU becomes the limitng factor at the lower resolution and the Phenom II-processors crush their opponents. At the higher resolution the video card again becomes limiting and we see pretty similar scores even though we even get the regular Phenom+HD4870X2 system beating the Phenom II + HD4870X2.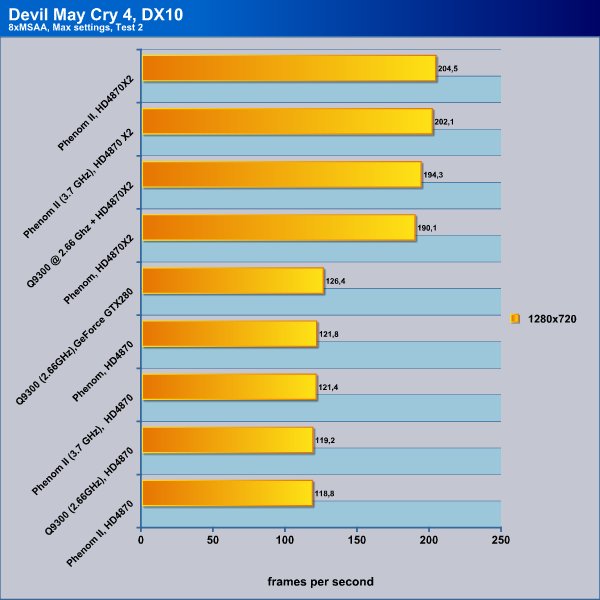 As we switch over to DX10 we unfortunately loose the choice for 1920×1080. We're not completely sure why. At the lower resolution the pattern is the same as before: the Phenom II + HD4870X2 systems get the best scores. It is interesting to notice that the GeForce GTX280 places itself together with the HD4870 1 GB, not the HD4870X2. This is a game that loves the AMD GPU's.
World in Conflict

 World in Conflict is a real-time tactical video game developed by the Swedish video game company Massive Entertainment, and published by Sierra Entertainment for Windows PC. The game was released in September of 2007
The game is set in 1989 during the social, political, and economic collapse of the Soviet Union. However, the title postulates an alternate history scenario where the Soviet Union pursued a course of war to remain in power.
World in Conflict has superb graphics, is extremely GPU intensive, and has built-in benchmarks. Sounds like benchmark material to us!
Settings: Very High (DX10)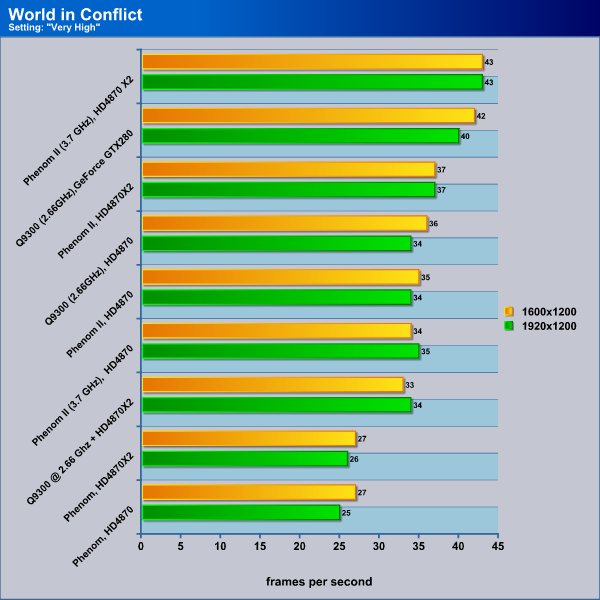 Click on image for a larger version
It is obvious that at the "Very High" setting the game is quite CPU-limited. The Phenom II and the Intel Q9300 propel their systems to better results than the old Phenom. NVidia GPU's have always performed better in World in Conflict and together with a Intel Q9300 it rivals the combination of an overclocked Phenom II and a HD4870X2. We would definitely would have liked to have time to test the GTX280 with the Phenom II processor.
CONCLUSION
AMD can rest easy. The Dragon platform is in far better shape than the Spider platform was at launch. The new Phenom II processor seems to be an ideal companion to the 7-Series motherboards and the HD4870 GPU's, especially the HD4870X2, and offers a very nice package for users who are after good performance at a good price. We liked the fact that we could overclock it to 3.7 GHz without much work on air-cooling. We did however notice that you get a lot more out of the Dragon by putting in a HD4870X2 instead of an HD4870 1 GB as we otherwise just run into GPU-limitation before we can utilize all the extra power of the Phenom II, especially when it has been overclocked.
Intel of course will not just let AMD walk in and challenge them in this market space and are expected to lauch products like the Core i5 (or whatever they choose to call it) and cheaper X58-based chipset later this year. These will undoubtedly bring the price for the Core iX-platform down making it a viable alternative for more than the hardcore enthusiasts. 
Even though we are positive about the Dragon platform we cannot stop to be a bit dissapointed again that AMD cannot put out something that rivals the best from Intel. It almost seems that AMD is getting content to battle Intel for the mainstream and price conscious users while letting Intel take care of the enthusiast market space themselves and maybe that is a good strategy for a company that has struggled a bit and in an economy that keeps sinking.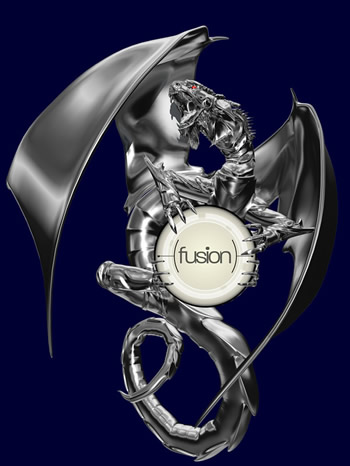 | | | | | | | | |
| --- | --- | --- | --- | --- | --- | --- | --- |
| CPU Name | Cores | Clock | L2/L3 Cache | HT Bus | Socket | TDP | Price |
| AMD Phenom II X4 965 BE | 4 | 3.4GHz | 2+6MB | 4000MHz | AM3 | 140W | $179 |
| AMD Phenom II X4 955 BE | 4 | 3.2GHz | 2+6MB | 4000MHz | AM3 | 125W | $165 |
| AMD Phenom II X4 945 | 4 | 3.0GHz | 2+6MB | 4000MHz | AM3 | 125W | $159 |
| AMD Phenom II X4 925 | 4 | 2.8GHz | 2+6MB | 4000MHz | AM3 | 95W | $139 |
| AMD Phenom II X4 910e | 4 | 2.6GHz  | 2+6MB  | 4000MHz | AM3 | 65W | $169 |
| AMD Phenom II X4 905e | 4 | 2.5GHz | 2+6MB | 4000MHz | AM3 | 65W | $175 |
| AMD Phenom II X4 810 | 4 | 2.6GHz | 2+4MB | 4000MHz | AM3 | 95W | $139 |
| AMD Phenom II X3 720BE | 3 | 2.8GHz | 1.5+6MB | 4000MHz | AM3 | 95W | $104 |
| AMD Phenom II X3 710 | 3 | 2.6GHz | 1.5+6MB | 4000MHz | AM3 | 95W | $99 |
| AMD Phenom II X3 705e | 3 | 2.5GHz | 1.5+6MB | 4000MHz | AM3 | 65W | $119 |
| AMD Phenom II X2 555 | 2 | 3.2GHz  |  1+6MB | 4000MHz | AM3 | 80W | $99 |
| AMD Phenom II X2 550 | 2 | 3.1GHz | 1+6MB | 4000MHz | AM3 | 80W | $91 |
| AMD Athlon II X4 635 | 4 | 2.9GHz | 2MB | 4000MHz | AM3 | 95W | $120 |
| AMD Athlon II X4 630 | 4 | 2.8GHz | 2MB | 4000MHz | AM3 | 95W | $102 |
| AMD Athlon II X4 620 | 4 | 2.6GHz | 2MB | 4000MHz | AM3 | 95W | $99 |
| AMD Athlon II X3 440 | 3 | 3.0GHz | 1.5MB | 4000MHz | AM3 | 95W | $84 |
| AMD Athlon II X3 435 | 3 | 2.9GHz | 1.5MB | 4000MHz | AM3 | 95W | $75 |
| AMD Athlon II X3 425 | 3 | 2.7GHz | 1.5MB | 4000MHz | AM3 | 95W | $72 |
| AMD Athlon II X2 255 | 2 | 3.1GHz | 2MB | 4000MHz | AM3  | 65W | $75 |
| AMD Athlon II X2 250 | 2 | 3.0GHz | 2MB | 4000MHz | AM3 | 65W | $65 |
| AMD Athlon II X2 245 | 2 | 2.9GHz | 2MB | 4000MHz | AM3 | 65W | $61 |
| AMD Athlon II X2 240 | 2 | 2.8GHz | 2MB | 4000MHz | AM3 | 65W | $53 |