Nvidia has released a ground breaking product with their 3D Vision glasses. They debut at CES 2008 but we have the early scoop for you. Already compatible with 350 games prelaunch.
INTRODUCTION
Every once in a while you see a product that is destined to change the face of computing. It doesn't happen very often, but when it does it reminds you that there are still new and innovative products out there that will amuse and amaze you. When we were first contacted about the Nvidia 3D Vision 3D vision gaming system we had mixed feelings. With Nvidia's name behind it we were sure it was going to be a good product launch and that it would be a workable 3D gaming system, but we didn't really know what to expect.
What we ended up seeing when we fired up the 3D Vision glasses was mind blowing 3D gaming. Now the question that most of you will have immediately is, "Yeah, but what games is it compatible with, the game has to be programmed for 3D, right?" No, the game doesn't have to be programmed for 3D. The 3D Vision gaming system takes care of the 3D aspect and the list of compatible games is at 300 and growing.
You're not amazed yet? How about scalable depth in the game? Would that help impress some of you? You can scale up the depth in games until it's almost like standing in the game and going hand to hand on a battlefield. Got your attention now?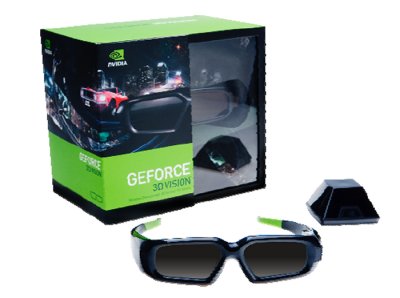 About Nvidia
NVIDIA (Nasdaq: NVDA) is the world leader in visual computing technologies and the inventor of the GPU, a high-performance processor which generates breathtaking, interactive graphics on workstations, personal computers, game consoles, and mobile devices.
NVIDIA serves the entertainment and consumer market with its GeForce® products, the professional design and visualization market with its Quadro™ products, and the high-performance computing market with its Tesla™ products.
These products are transforming visually-rich and computationally-intensive applications such as video games, film production, broadcasting, industrial design, financial modeling, space exploration, and medical imaging.
Ownership: NVIDIA was founded in 1993 and is publicly traded on the Nasdaq stock market under the symbol NVDA.
Employees: Over 5,000 employees worldwide.
Headquarters: Santa Clara, California
Offices
Europe: England, Finland, France, Germany, Russia
Asia: China, India, Japan, Korea, Taiwan
Nvidia's Take On Geforce 3D Vision
Introduction
NVIDIA® GeForce® 3D Vision™ is the most immersive gaming experience for the PC. Lush gaming environments are now rendered in full stereoscopic 3D, bringing a whole new level of realism and interaction to the table.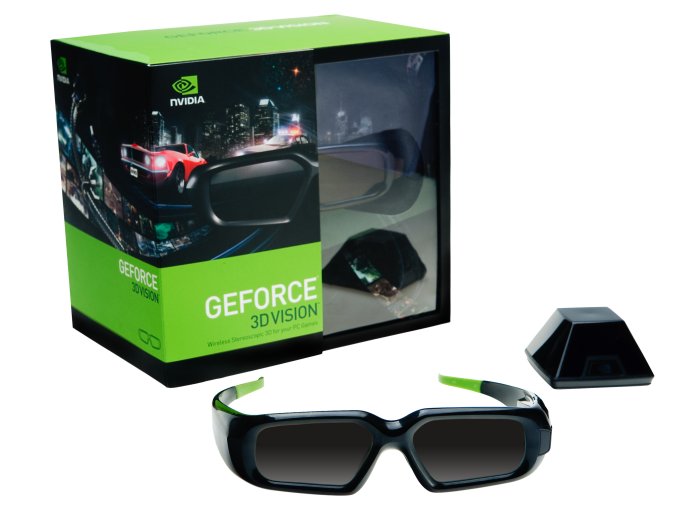 Figure 1: GeForce 3D Vision Retail Kit
The GeForce 3D Vision kit includes all the components you will need to enjoy stereoscopic 3D gaming with your GeForce GPU and GeForce 3D Vision-Ready display.
The kit picture doesn't show all the components so we're breaking here to insert the whole kit picture.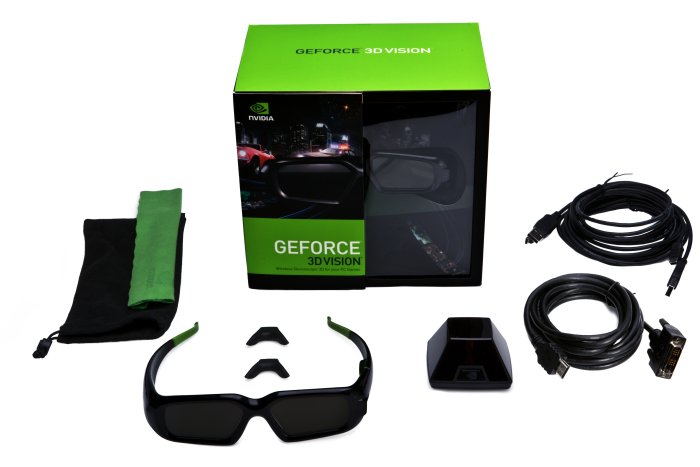 The Whole Kit
Back to Nvidia's Take On Geforce 3D Vision
Instant Immersion
Unlike some other stereoscopic 3D solutions which rely upon a driver "wrapper" which can dramatically decrease performance and adversely affect compatibility, GeForce 3D Vision makes use of NVIDIA's own graphics driver. In doing so, NVIDIA is able to leverage the same resources and relationships from The Way It's Meant to be Played program to ensure the best possible stereoscopic 3D gaming experience.
In the same manner that NVIDIA's driver has SLI profiles which have the ideal settings for a specific game, GeForce 3D Vision relies upon a custom profile for each game. Because no two titles are identical, NVIDIA has researched the optimal stereo settings for each game and made it a default within the driver. When you install a game and want to see what it looks like in stereoscopic 3D, you do not have to waste time configuring settings and trying to figure out what looks best. When gaming with GeForce 3D Vision, you simply start the game and begin playing in fully immersive stereoscopic 3D.
The NVIDIA Stereoscopic 3D control panel includes a compatibility list that specifies the level of stereoscopic 3D compatibility for hundreds of games. In addition, this information will be available online at www.nvidia.com/ged3d See the screenshot below: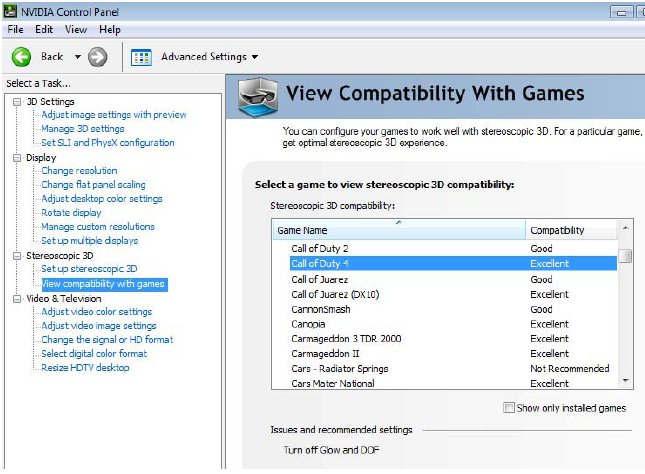 Compatibility Screen
Pure 120 Hz LCD Displays
Unlike conventional LCD monitors, the latest high-end panels from Samsung® and ViewSonic® utilize a full 120 Hz refresh rate to offer an exceptional 3D viewing experience on your desktop. With the ability to dedicate a full 60 Hz frame to each eye, you retain full resolution at all times, maximize image quality, and create the most immersive possible gaming environment.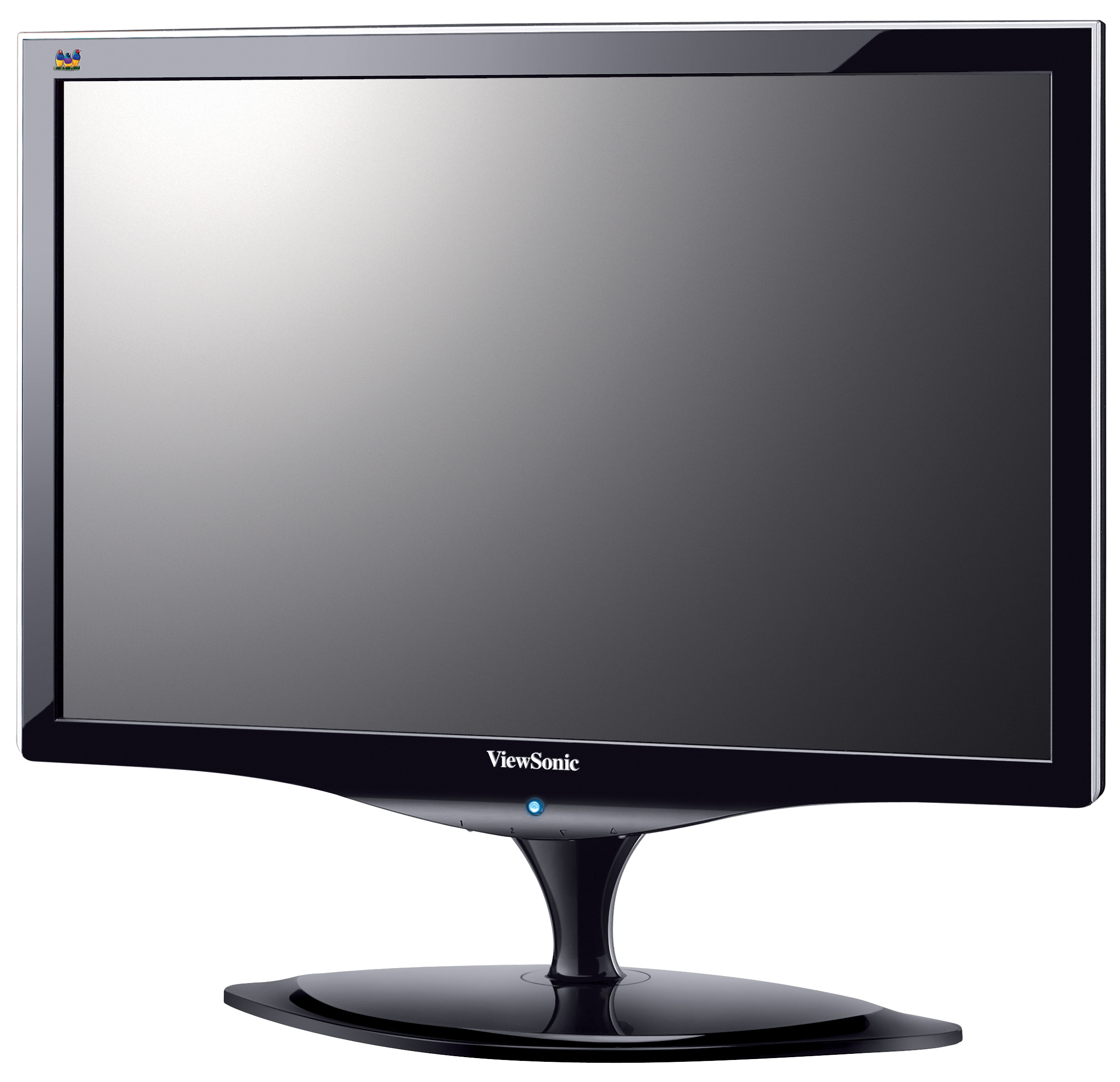 ViewSonic FuHzion VX2265wm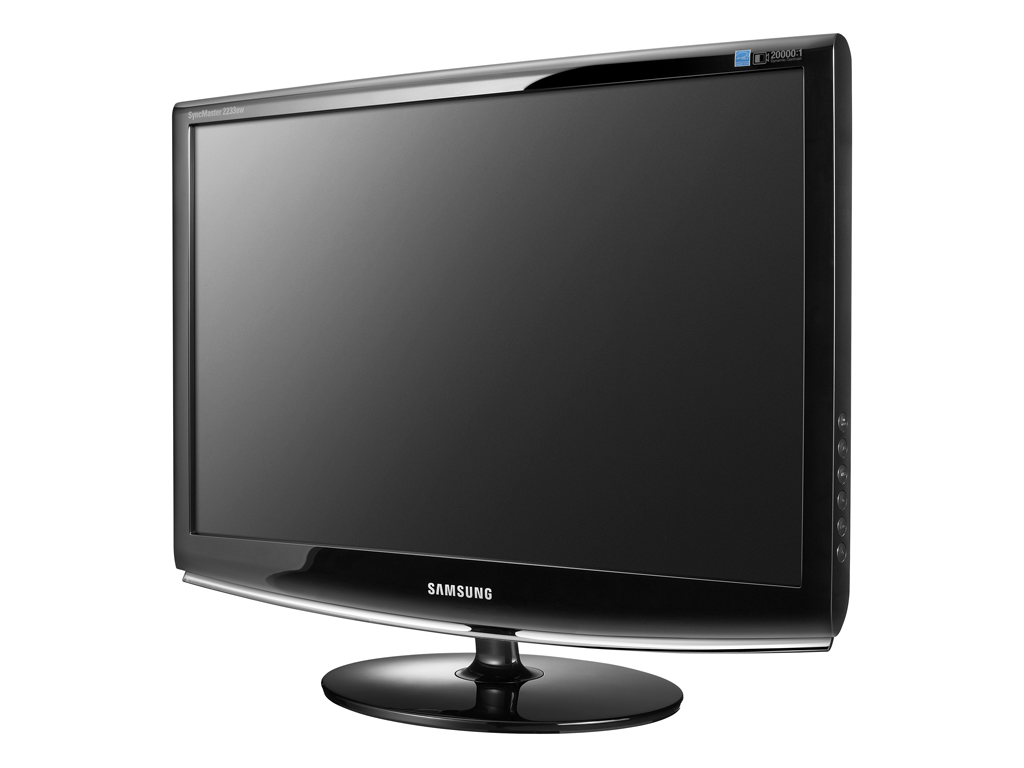 Samsung SyncMaster 2233RZ
To throw a little insert in once again, the reason that a 120 Hz monitor is recommended is that lighting in the USA is on a 120 Hz voltage based system. Not only does it provide 60 Hz per lens, it helps to prevent flicker from room lighting. We used the Samsung Model monitor and saw no flicker whatsoever.
Note: Please ensure Dual-Link DVI cable is used with the 120Hz LCD monitors.
Note: Many LCD HDTVs can support "120 Hz" mode. These HDTVs are not supported by GeForce 3D Vision as they do not offer a 120 Hz refresh rate input over HDMI and only accept a 60 Hz input. GeForce 3D Vision requires LCDs that can accept a 120 Hz refresh rate input over dual-link DVI to provide flicker-free stereoscopic 3D gaming.
DLP® HDTVs
Offering screen sizes up to a massive 73", supported DLP HDTVs can dramatically enhance the overall gaming experience and are ideally suited to a living room environment. Through the use of a unique checkerboard sampling pattern, the display is able to render a stereoscopic 3D image that offers exceptional image quality while minimizing flicker.
List of compatible DLP HDTVs
Mitsubishi WD-57833, WD-60735, WD-60C8, WD-65735, WD-65736, WD-65C8, WD-65833, WD-65835, WD-73735, WD-73736, WD-73833, WD-73835, WD-73C8, L65-A90
3D Projectors
Those looking to maximize the screen size of their viewing experience in a dedicated home theater can also opt to use a 3D projector. Utilizing a single lens video projector which has been customized to support frame synchronous output, custom color-sequencing, and a 120 Hz refresh rate a 3D projector is able to provide a phenomenal stereoscopic environment.
DepthQ HD 3D Projector by LightSpeed Design, Inc.
Look for these logos on compatible Products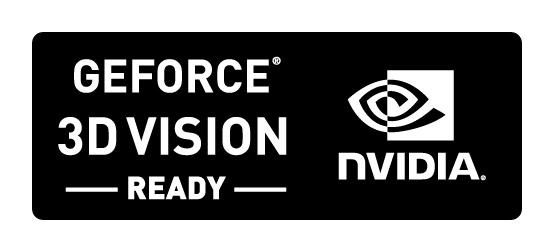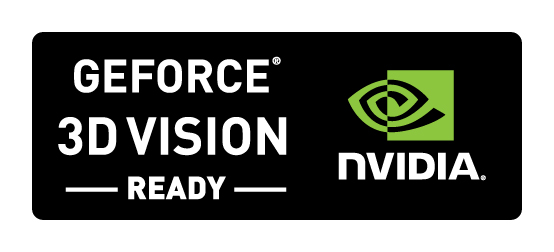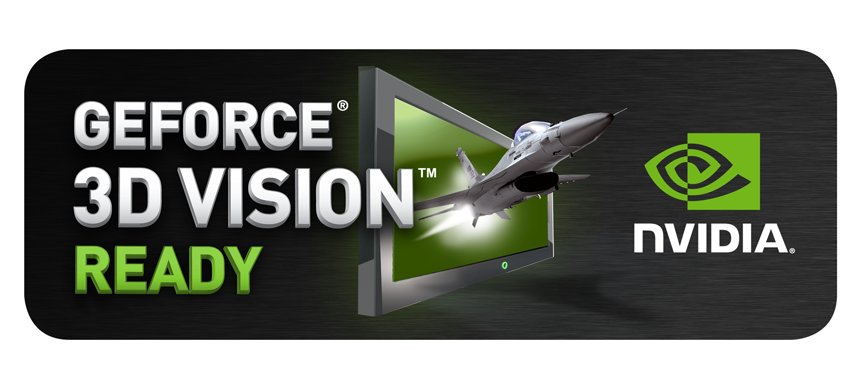 We're going to skip some install instructions here because if you purchase the kit you'll get those in the kit. We'll move along to key customizations and Crosshair depth solutions.
Customization Options
Configuring Keyboard Shortcuts
Within the NVIDIA Control Panel, there are several high-level customization options for keyboard shortcuts. Here, you can dictate what hotkeys will toggle a wide variety of stereoscopic settings.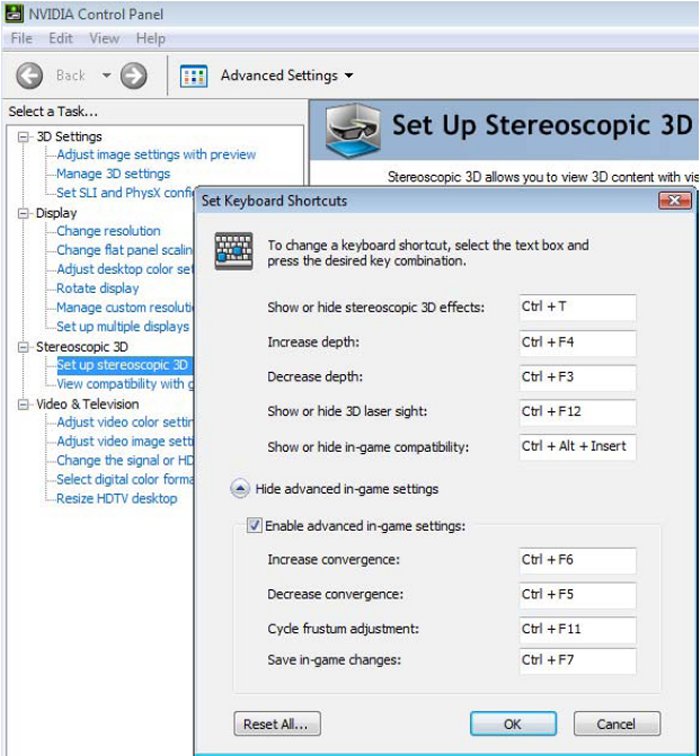 For those looking to make more granular adjustments to the stereoscopic experience, the NVIDIA Control Panel also provides an Advanced Adjustment screen. Here, you can deviate from the default profile settings and make a series of fine adjustments to see how the stereoscopic experience changes. Should you dislike the changes you make, you can easily reset all settings to their default value.
Configuring in-game NVIDIA Crosshair
Many first person shooter games use an in-game crosshair that is rendered at the screen depth and not at the object depth, which can cause problems. In such cases, users cannot properly aim at objects because the crosshair appears as two separate images for both eye views. For some, this rendered the game unplayable and severely hindered the gaming experience for others.
To solve this problem, NVIDIA GeForce 3D Vision has a unique built in driver feature that adds a new crosshair at the correct depth. This crosshair should only be used when the NVIDIA in-game Recommendation and Settings has a note to use the NVIDIA crosshair. For the rare occasion it is necessary, the use of the NVIDIA crosshair rendered at the correct depth means you'll be immersed in the game and not limited by the inability to properly aim. Please follow these instructions for enabling it.
1. Open the NVIDIA Control Panel > Stereoscopic 3D > Set up stereoscopic 3D.
2. Select Change 3D Laser Sight button and select the laser sight seen below and press OK.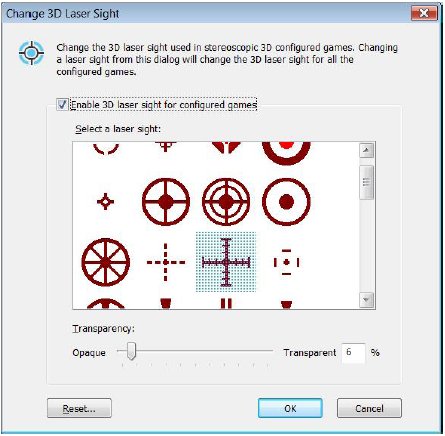 3. Run your application
4. Under the game "Settings" menu, disable the Crosshair
5. When playing a game press CTRL+F12 until the overlaid green text at the bottom says "Stereo laser sight is on".
6. Now press CRTL+ALT+F12 multiple times until the overlaid green text at the bottom says "Control panel defined laser sight." The red crosshair from above should now be visible in the game and should be rendered at the correct depth.
7. Press CRTL+F7 to save the game config in the registry. The overlaid green text at the bottom should say "Configuration Saved." This ensures the next time the game is launched, the new NVIDIA crosshair is displayed.
Note: When it is enabled, the NVIDIA crosshair will be displayed on all game screens including cut-scenes and menus.
In addition to games the Geforce 3D Vision system is designed to detect 3D capable content and you should be able to view a variety of 3D media. That means movies in 3D, 3D demos, and other content designed for true 3D viewing like 3D Stereoscopic pictures.
Well enough of the company content, we don't usually like to reproduce company content but we assure you that we've tested the bulk of the information contained here and found it to be true and accurate. We didn't test beyond a true 120 Hz LCD monitor. We reproduced the content because it would be very hard to present that much information in that format to get you up to speed on what you'll be seeing and reading in the following pages.
TECHNICAL SPECIFICATIONS
Minimum system requirements
Microsoft Windows Vista 32-bit or 64-bit
Intel Core2 Duo or AMD Athlon X2 CPU or higher
1GB of system memory. (2GB is recommended)
100 MB free disk space
Compatible GeForce 3D Vision-Ready displays devices
Desktop Monitors
Samsung SyncMaster 2233RZ 120 Hz LCD display
ViewSonic FuHzion VX2265wm 120 Hz LCD display
100 Hz and higher analog CRT
DLP HDTVs
Mitsubishi 1080p DLP Home Theater TV: WD-57833, WD-60735, WD-60C8, WD-65735, WD-65736, WD-65C8, WD-65833, WD-65835, WD-73735, WD-73736, WD-73833, WD-73835, WD-73C8, L65-A90
Generic DLP Home Theater TV supporting 3D checkerboard pattern format
Projectors
DepthQ HD 3D Projector by LightSpeed Design, Inc.

Compatible NVIDIA GeForce GPUs:

GeForce GTX 200 Series
GeForce GTX 295
GeForce GTX 285
GeForce GTX 280
GeForce GTX 260
GeForce 9 Series
GeForce 9800 GX2
GeForce 9800 GTX+
GeForce 9800 GTX
GeForce 9800 GT
GeForce 9600 GT
GeForce 8 Series
GeForce 8800 Ultra
GeForce 8800 GTX
GeForce 8800 GTS
GeForce 8800 GT
GeForce 3D Vision Kit includes:
One pair of GeForce 3D Vision active shutter glasses with storage pouch, adjustable nose pieces, and
microfiber cleaning cloth
GeForce 3D Vision USB controller/IR emitter
Custom 5' VESA stereo to 2.5 mm stereo audio plug cable
10' DVI to HDMI™ cable
10' USB 2.0 type A to 5-pin mini-B cable
6' recharge cable (USB Type A to 5-pin mini Type B)
Quick start guide
Installation CD
Demo Disc
Disks Not Pictured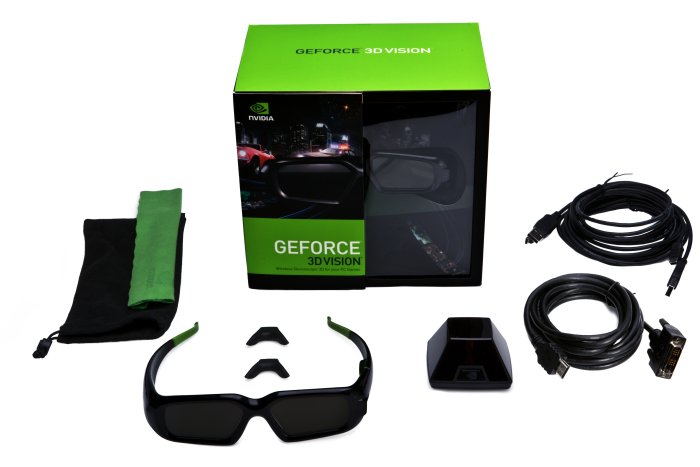 Tips and Tricks
Environment and Light Flickering
Flicker in your peripheral vision with LCD displays can be caused by differences in the operating frequencies of GeForce 3D Vision and the lighting in your room. This type of flicker can be avoided by turning off the lights or changing the stereoscopic 3D refresh rate. To see the refresh rates, run the Setup Wizard (see Run Setup Wizard). When you get to the page asking about flicker, select Yes. You can then select from the following refresh rates:
120 Hz refresh rate for use in North America when lights are on,
110 Hz refresh rate for daytime and when lights are off,
100 Hz refresh rate for countries with 50 Hz lighting and when lights are on.
Games Are Not Running in Stereoscopic 3D
If your game is not functioning in stereoscopic 3D, look at the list of compatible games shown on the NVIDIA Control Panel ► View Compatibility with Games screen. Verify that your game has been tested by NVIDIA and has been ranked as Excellent, Good, or Fair. Check out the NVIDIA recommended settings listed at the bottom right side of the screen when the game is launched. Make any adjustments recommended by NVIDIA to make your gaming experience better. If the NVIDIA recommended settings are not showing and stereoscopic is turned on, press Ctrl-Alt- Insert to enable them. NVIDIA is continually updating the list of supported games. Please go to www.nvidia.com/3dvision for the latest list of games.
Configure Your Game at the Correct Resolution and Refresh Rate
Make sure you are running your game in resolutions that support GeForce 3D Vision. In order to support GeForce 3D Vision, your game must be configured to run at the correct settings for your display. If you have:
120 Hz LCD: Select an in-game resolution of 1680×1050. Use the NVIDIA Wizard or in-game settings to set a refresh rate of 100 Hz or higher.
DLP HDTV: Select a resolution of 1920×1080, 1768×992 or 1280×1024 and set the refresh to 60 Hz
DepthQ® HD 3D Projector: Select a resolution of 1280×720. Use the NVIDIA Wizard or in-game settings to set a refresh rate of 120 Hz.

Run Your Game in Full-screen Mode

GeForce 3D Vision currently only supports full screen applications and cannot run in windowed mode. Be sure and select full screen mode from in-game settings.

Allow your 120 Hz LCD to Warm Up

For optimal stereoscopic 3D image quality, when using a pure 120 Hz LCD, please allow your monitor to warm up. This warm-up period is normal behavior for LCD monitors.

Ensure GeForce 3D Vision Glasses are Working

You must fully charge your GeForce® 3D Vision™ glasses for at least three hours before using them for the first time. You can check the battery level of your glasses by pressing the ON button on the left temple.

If the light next to the button is green, you have up to 40 hours of battery life remaining. Actual battery life is dependent on the recharge time.
If the light is red, you have less than two hours remaining and it is recommended that you recharge your glasses
If the light does not turn on, the battery is drained and the glasses must be recharged.

If you are charging GeForce 3D Vision glasses by connecting them to your PC using a USB cable, make sure your PC does not go into power save mode. When your PC goes into power save mode, GeForce 3D Vision glasses are no longer charging. To fix this, disable any power saving options on your PC under the Windows Control Panel. Alternatively, you can use a USB wall charging device to charge the glasses directly from your wall power outlet without connecting to the PC. You can use your glasses while they are charging.

Ensure You Used the Proper DVI Cable

Make sure you use the DVI cable that was shipped with your GeForce 3D Vision-Ready 120Hz LCD display. This is a standard dual-link DVI cable and GeForce 3D Vision will not operate without it.

Ensure Stereoscopic is Enabled

Make sure you have:

Activated the IR emitter. Press the green ON/OFF button on the front of the emitter. Emitter is on when the button is bright green.
Activated the GeForce 3D Vision glasses. Press the ON button on top of the left temple bar. The glasses turn off after 10 minutes of non-activity.
Checked the Enable stereoscopic 3D setting in the NVIDIA Control Panel ► Stereoscopic 3D screen.
Place IR Emitter in Line-of-Sight to Glasses
Ensure there is direct line-of-sight between the IR emitter and your GeForce 3D Vision glasses at a range of at least 1.5 feet (45cm) or greater. Any obstructions may cause the glasses not to function properly causing the lenses to flicker or turn off.
Do not place objects too close or in front of the emitter which could block the signal (e.g. keyboard, coffee mug, etc.) Also, make sure not to place your hand or other objects in front of the IR receiver on the glasses; located near the front left lens.
Run the Setup Wizard
To verify your hardware is operating properly, right click on the desktop and select the NVIDIA Control Panel option. In the NVIDIA control panel, select Stereoscopic 3D►Set Up Stereoscopic 3D. Select Run Setup Wizard from the Test Stereoscopic 3D drop down menu.
We included the tips and trick section to avoid the 210 emails we are going to get saying mine doesn't work help me. SO be aware if you send one of those emails we're going to require you to quote the entire tips and tricks section blindfolded. Then send you back to the tips and tricks section to read it again.
PICTURES & IMPRESSIONS
The GeForce 3D Vision system comes nicely boxed and the exterior of the package contains enough information to inform the consumer about its purchase.
Click Image For a Larger Version
The exterior package is attractive, but the thing we found of most interest in the packaging was the design of the interior packaging which came in two boxes.
Inside the exterior box we were greeted by this marvel of packaging technology. The Geforce 3D Vision glasses were safely tucked into a cocoon of foam. The spare nose pieces and IR Receiver are also protected in this manner. Everything arrived in good condition and we didn't see any scuff marks or shifting of the product.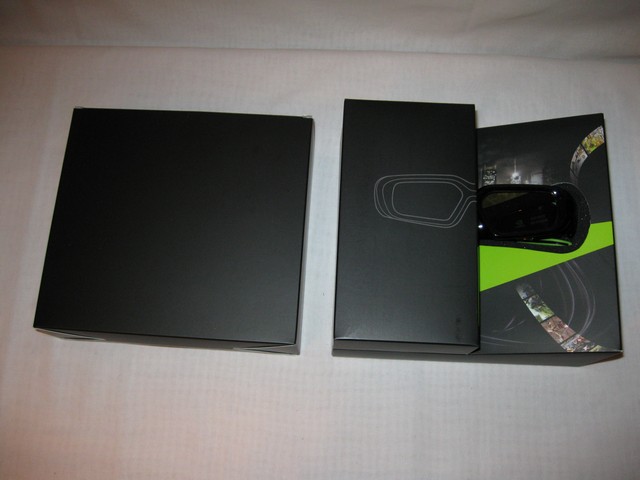 The two interior boxes are sandwiched together and the second box protects the exposed portion of the glasses themselves. We pictured the bundle with a description on a previous page so we're going to skip that here.
Some of the components on the Geforce 3D glasses contain small connectors and buttons so we're going to break from tradition here and display some graphics we got from Nvidia and the corresponding part. We'll stack the picture on top of the graphic so you can see the items we're pointing out.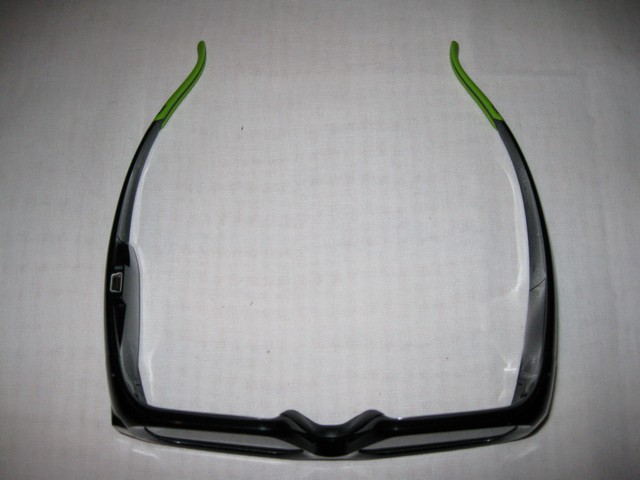 Geforce 3D Vision Glasses
Charging Graphic
With the glasses upside down you can see the charging port. You can run a USB cable from the computer to the glasses, and in a couple of hours you have up to 40 hours of gaming time. We like the convenience of the charging but would like to see replacement battery kits for when the chargeable battery reaches the point it doesn't hold a charge very well. We don't have any exact figures on the expected battery lifespan, but an available battery replacement kit would help to ease our fears about wearing out the battery eventually.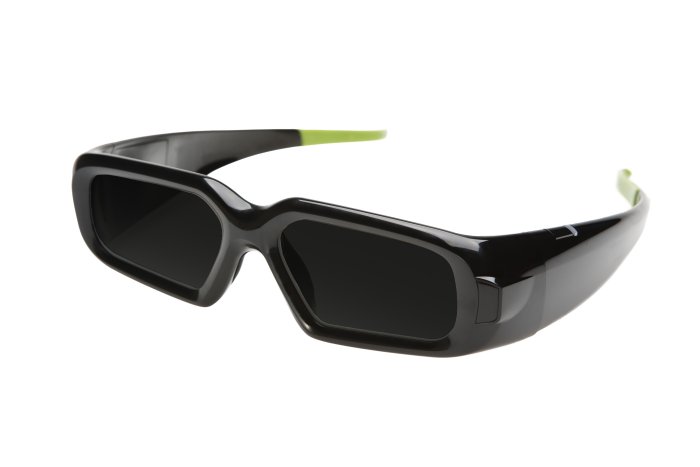 Geforce 3D Vision Glasses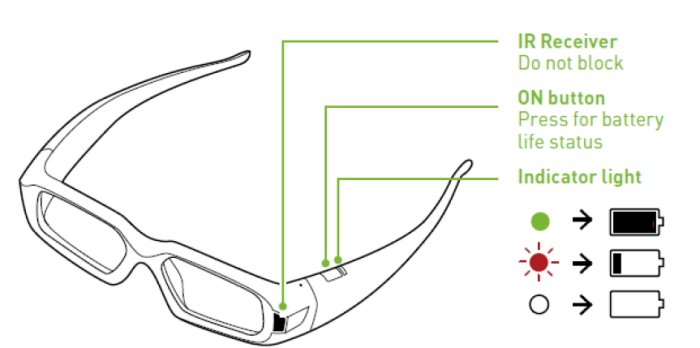 Geforce 3D Vision Glasses Graphic
The IR receiver is on the left hand front of the glasses. The ON button and battery indicator light is on the left leg of the glasses close to the IR receiver. You'll want a clear line of sight between the IR Base and the receiver on the glasses. We partially obstructed the line of sight of the pair and we did get some performance issues, mostly a little noticeable flicker. Other than the deliberate error we intentionally created, we had no problem with the 3D Vision glasses and they operated flawlessly.

Wrong Side Of The Nose Piece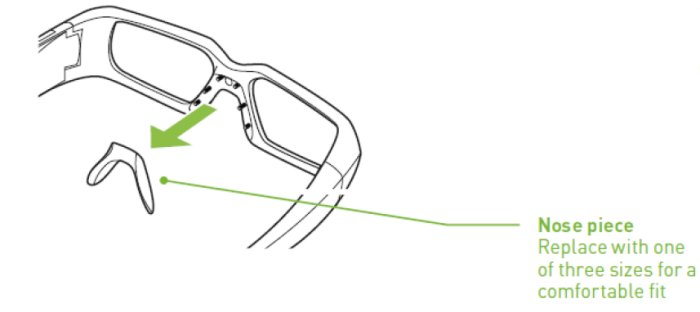 Nose Piece Graphic
The Nose Piece comes in three sizes so it shouldn't matter if you've got one of those big honkin' noses or a small one that is hardly fit to hold the glasses up. We tried all three sizes they were all comfortable. Some of you are probably thinking that you wear glasses already and there's no way this is going to work. We tested worst case scenario with glasses on under the 3D Vision extensively. It works, and while not quite as comfortable as without glasses, we didn't notice anything that could be described as annoying. We gamed for several four hour sessions, with glasses under the 3D Vision glasses and didn't notice any discomfort that would make us want to take a break. Frankly, we can't wait to finish the article and get back to some serious Zombie Slaughter in Left 4 Dead. The glasses really shine in that game, not that they aren't fantastic in other games we tested, but in Left 4 Dead the realism was unbelievable.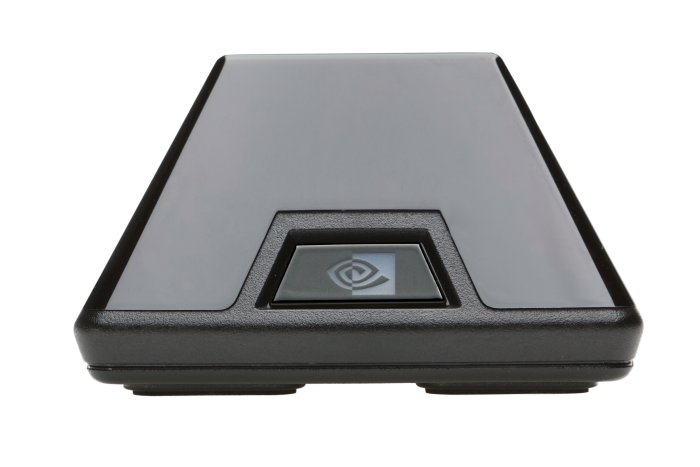 IR Emitter Front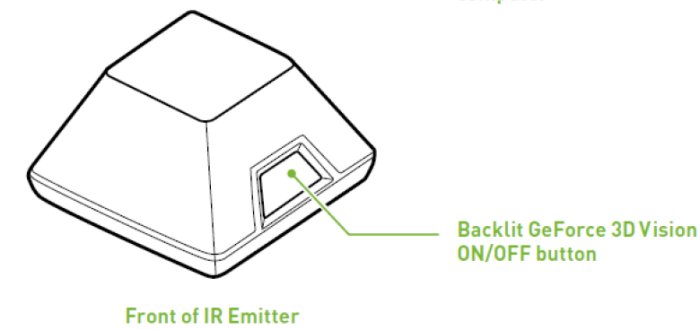 IR Emitter Graphic
The Front of the IR receiver is stylishly minimalistic. The light turns green when it's on and Red when not in use, then when it's off there's no backlight at all. Please be informed that in the booklet we got with the IR receiver that it clearly says the IR Emitter contains a class one laser, so no staring directly at it when you're taking a break from some awesome 3D slaughter in your favorite game. If we catch any of you trying to light a match with the IR emitter we'll be forced to make you wear a tinfoil hat and take away your ration of Hotpockets for a week.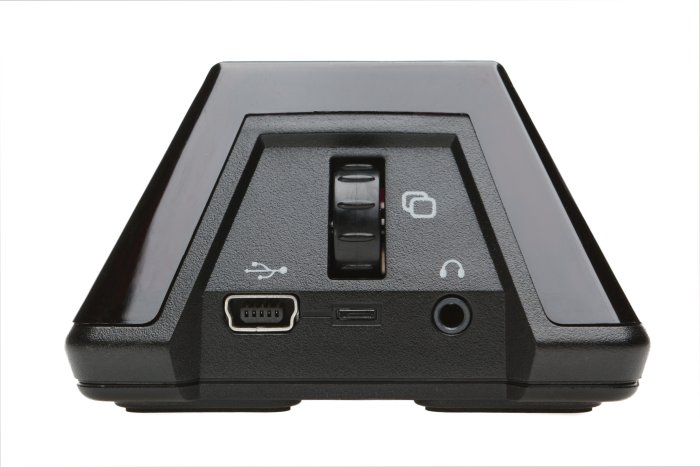 IR Emitter Back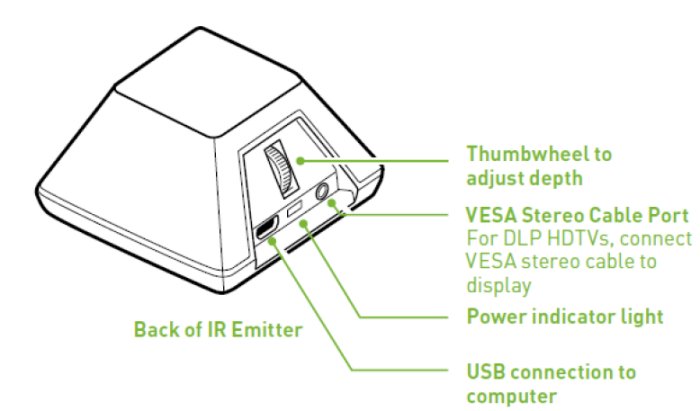 IR Emitter Back Graphic
The back of the emitter is a little busier than the front. You've got the USB connector from the computer, power indicator light, VESA Stereo cable port, and the thumbwheel to adjust depth. It looks complicated, but if you're using an LCD monitor like we were, then you'll need the USB port and the thumbwheel to adjust depth in the games. If you're using an approved HDTV with 120 Hz and the checkerboard pattern required for correct operation of the 3D Vision setup, then you'll need the VESA stereo cable port. We had it set up and playing in about ten minutes, including a few peeks at the book, so setup to play time is minor and easily accomplished.
RANDOM THINGS THAT NEED TO BE DISCUSSED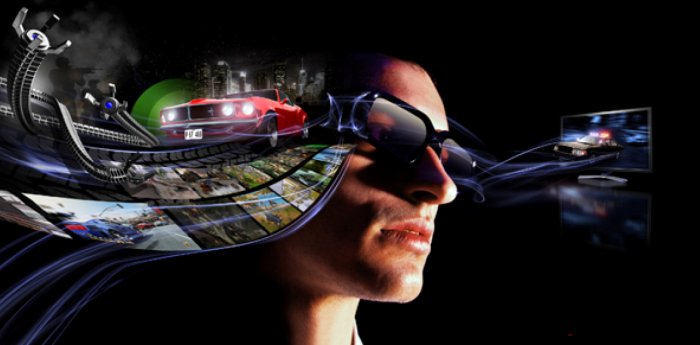 Test System and GPU's
There isn't really any test we can do to produce numbers for those charts we like to refer to so often. Testing the 3D Vision System is limited to subjective judgment from an experience based venue. We tested on our high-end Core i7 965 system seated on the Asus P6T Deluxe motherboard. We had the CPU cranked up to 3.74GHz, but also down clocked to 2.6GHz and the games and 3D Vision worked fine at the downclocked speed.
We tested an XFX 8800 GT, XFX 9800GTX+ Black Edition, BFG GTX-260 Core 216, and an EVGA GTX-280 with the system. All the cards worked great with the 3D Vision system, but you need to keep in mind the GPU needs to be beefy enough to handle the games you want to play. You don't need any stronger, better, bigger, shiner GPU just to drive the 3D Vision system. You just need a beefy enough card to drive the games you want to play. As expected, we saw some degradation in performance with the 8800GT in Crysis with higher settings, but that is a GPU issue and not a 3D Vision glasses issue. Your GPU will need to drive frames at an acceptable rate for the games you want to play. That's normal and has nothing to do with the 3D Vision system's functionality. The same games you can't play without upgrading your GPU you'll still have problems with using the system.
A Little On How It All Works
Lets touch on a couple of things just to get them out of the way. The drivers for the system render each frame twice and the offset of the frames determines the depth you perceive in the game. Initially, the system is set to 15%, which is a good setting to start at because most people can handle 15% without much adjustment. So image one would be rendered normally and image two would be rendered 15% off to the side of that image then one image sent to the right eye and one image to the left eye. That's how depth perception in binocular vision works. One of the reasons the system needs a true 120 MHz Monitor or HDTV is because to send the signal to the glasses, the frames are effectively split in half with each half going to one lens. That's a little deceptive because the frames are still on the LCD and anyone looking at the screen is going to see a kind of blurry picture that would horrify you if you saw it on your monitor without the glasses. You would most likely think that your monitor was crapping out on you. So what is really happening is the monitor is displaying a 120 Hz signal but each eye is seeing 60 Hz of that. To us it looks like the right eye is seeing the normally rendered frame and the left eye is seeing the offset. The end result of that is depth perception. You see the game rendered in 3D. The depth is adjustable both by software and the thumbwheel on the back of the IR Emitter. Increase the depth slowly from the 15% default in say 5-10% increments and you'll quickly adjust to the greater depth. The greater the depth the better the 3D effect you see. Now, we realize that this is a simplistic explanation, but we're aiming to inform the bulk of people, not the 2% that would like an in depth blow by blow account of a chip by chip breakdown. We would caution you that going straight from 15% to the highest setting, while a fun experiment, you do need the adjustment phase or you can easily be overwhelmed by suddenly finding yourself standing in the game.
Pushing The Depth To Deep To Quick
We, like you, couldn't resist cranking up the depth after about 15 minutes to get the feel for the depth and accuracy of rendering. We quickly found ourselves standing inside Left 4 Dead, surrounded by a mob of Zombies battling for our life. It was a battle we quickly lost because we didn't take the time to scale up the depth slowly and get used to it in stages. We do have to say that our death was one of the most moving experiences we've ever had inside a game. Yes, you read that right, inside the game, because effectively that's where we were. We could look down and see our feet, the entire body of the attacking Zombie, the distance they flew back when we butt stroked the Zombies with our shotgun, and the resulting blood flying off at a tangent from the hit with the butt of the shotgun. It's hard to describe without having the reader experience the sensation of being in the game and not looking at the monitor. Take our word for it, the hardware requirements are a little steep because you need a true 120 Hz LCD and the headset, and for good measure a backlit keyboard because the keys are hard to see with the 3D Vision glasses running. But if you're into gaming, scrap that console quick and get a piece of this technology. It's the hottest, most desirable piece of gaming technology we've ever seen. It changes the face of gaming and doesn't just take it to a new level, it skips a few levels and looks down on non-3D gaming with a sneer on its face.
Enhancing The 3D Experience
With the 3D Glasses, running and inside the game things around you will be a little dark, so you're going to need that backlit keyboard you've been lusting after. The gaming is more immersive if you turn the lights off and don a headset or earbuds. With the lights off and headphones keeping out the outside noises and distractions, you usually experience gaming the 3D Vision system is the most immersive pleasurable gaming experience we've ever had. If you can memorize the keys by touch you'll be fine, but we (not Nvidia) recommend a backlit keyboard. We'd easily have to say that it surpassed any virtual reality simulation we've seen because you can experience it from your gaming rig at home. Virtual reality seems to have been limited to trade shows and headsets that only want to work right with a few selected videos and applications. We'd like to see viable virtual reality, but this is as close to it as you can get at home unless you have some massive amount of money to throw at it. The biggest advantage to the 3D Vision system is it works independent of the game code.
The 3D Vision drivers handle the dual rendering of the frames so it's compatible with 350+ tested games and the list is growing all the time. To the end user that makes this an exceptional value. You can go back to games you've already played and it's like a new game in 3D. The story line might be the same, but the game play is totally different. We revisited some titles we hadn't dusted off in a while and replaying them in 3D renewed our interest in experiencing them like they should be experienced. In our opinion, gaming as part of the game is much superior to gaming just looking at a 2D monitor. The guy who came up with the game code independent driver idea for the 3D Vision system deserves a bigger office and free HotPockets for the mini fridge for life. It's a stroke of genius that really makes this a worthwhile gaming addition.
INSIDE THE GAME(s)
Obviously, we couldn't test all 350 Games. We did test Left 4 Dead (Extensively), Crysis, Crysis Warhead, FEAR, World In Conflict, Dead Space, Fallout 3, Company Of Heroes, and a few others. Mostly, the games we use for testing on Bjorn3D and the hottest game titles of the season. The 3D Vision system worked in all the games we tested but you can check the Nvidia list of tested games on their website. If you'd like to see the list of tested games open another window in your browser and surf over to: www.nvidia.com/ged3d and they maintain and update a list of tested games there. We can't really list all 350 games here but they cover the gambit of available gaming genre. We didn't have time to test with any Tomb Raider type games, where jumping from place to place is required, but we'd be willing to bet the depth perception would add a new facet to that type game that would blow your mind.
Rather than jump all over the map and try to half describe a bunch of games we decided to go with Left 4 Dead. We're gong to need to take a pause here and go inside the games for a few hours for inspiration before moving on. (Believe that if you want, we just want to get in some more game time)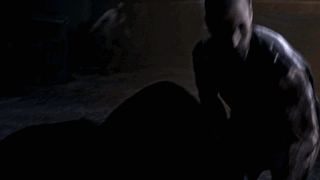 Taking the short animated .Gif as an example, you would see the gun barrel extending out in front of you and it would have depth. You don't just see it as a 2D representation of 3D with shadows and colors making it appear to stick out in front of you. You'd see the first Zombie coming, then when you snuff him the blob of blood and flesh flying off to the left wouldn't just fly across the screen, it would fly across and away from you and you'd be able to see the distance it flew. Then, the Zombie behind you, first you'd hear him, then catch him in your peripheral vision and when you turned to fire you'd see the shotgun extend out from you and be able to gauge the distance between the Zombie and the barrel. It's kind of sweet letting the infected get close before firing and seeing the blood spray fly past your head and splatter on the screen. The in game depth perception makes all the difference. When it's unexpected, we caught ourselves reacting to the blood spray and flinching back away from the spray. 3D Vision is good for some adrenalin rushes. That's for sure.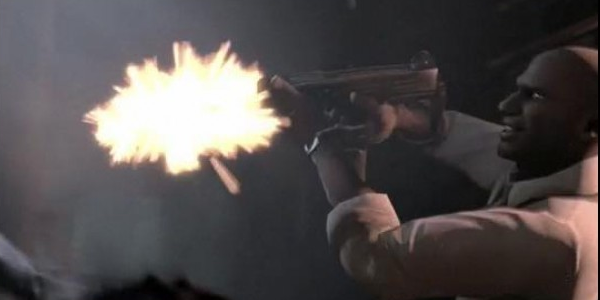 In this picture you can see how the flame from the gun is offset in 2D. In 3D it's coming off the screen at you. We were letting the team handle the combat and checking out the 3D and the one spark lowest on the screen seemed like it was coming right for our face. Try and get that effect in 2D. It sounds a little strange but (at lower offset/depth) imagine the picture above as filling a whole fish tank, bottom to top front to back and that becoming the play area. You're no longer playing on a 2D screen, you're playing in a 3D environment. When you crank up the offset it goes from fish tank play to drawn inside the game and it's almost like standing in the game.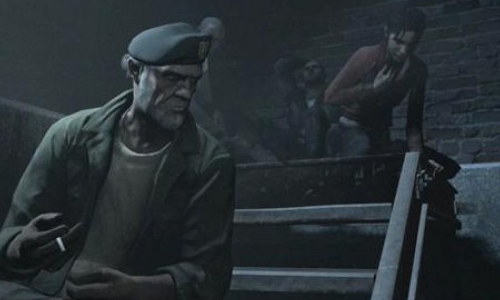 This shot is from the somewhat famous "We've crossed the street" scene. Now, in our opinion, the graphics are great, but turn on 3D and crank up the depth (offset) and look down at the stairs and you see stairs, not a flat representation of stairs. If you've ever been to a 3D movie that was done right you can almost get the idea. Multiply that effect by 10. When you can look down in game and see your own and enemies feet, it really does change the face of gaming. Judging the distances from enemies rushing you, and seeing what's coming behind them is a big plus.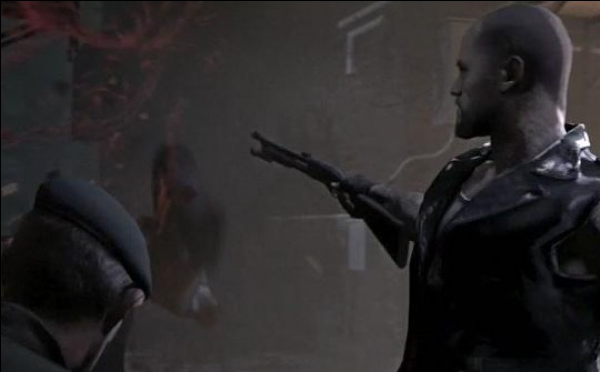 We remember this scene really well. It's the Santa Clause Zombies scene and it was plain awesome. When Santa Clause Zombie gets hit by the shotgun blast his head goes away in a cloud of red and that was cool in 2D. When you get to 3D it was a visual treat. The smoke from the shotgun blast curled up around the end of the shotgun barrel drawing our attention for a millisecond, then we noticed this red cloud spraying out from the sides of good ole St Nicks head, and the major portion of it flying back and away from us. In 2D it just flew out to the edges of the screen. In 3D it flew to the sides and back and the lingering cloud of Santa Clause muck floated in the air for a few seconds. That leads us to another one of our favorite 3D scenes below.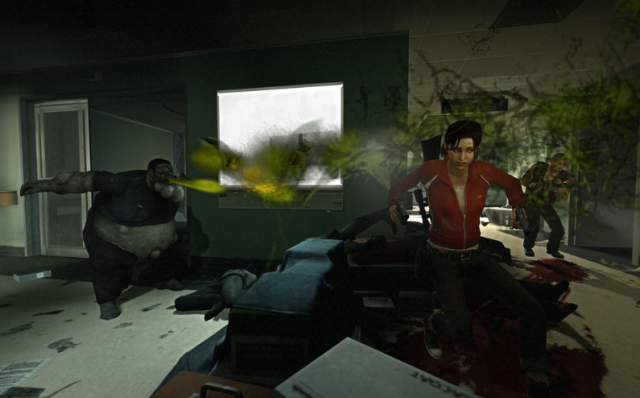 Now that's a pretty cool scene even in 2D. The Boomer is spewing the vile green slime and the Zombie hoards are mere moments away, but in that instant we fell in love with 3D gaming. We find ourselves almost at a loss for words on this one. Who are we kidding? We're never at a loss for words. In this scene we could see the length and depth of the cloud of slime. We're so used to the 2D representation that it seemed like a green river issuing forth from the boomer and sent us scurrying back. Not in the game though. We found the chair's we were in scooting back from the screen (desk chairs with wheels). Normally, we're right on top of it and would have dispatched the boomer with a snap shot. In 3D Vision mode we reacted to the stream of slime like it was coming at us in real life. That slowed us down just a hair in dispatching the boomer, but that's a lot more like what would happen if you were faced with Boomer slime coming at you in some universe gone horribly wrong. We were also aware of the objects in the room as a three dimensional object we had to navigate around (we had the depth cranked up; to date it's one of the coolest things we've seen in years of gaming). One of the things that impressed us with this scene was we could see Zoey leaving the stream of slime and exactly when she cleared the stream. We wish we had the ability to show you exactly what it looks like while wearing the 3D Vision headset. It changes the face of gaming, for the better, by a factor of too big to describe. Without experiencing it, you're only getting a glimpse of insight. We'd recommend not passing the booth with the 3D Vision glasses at CES 2009 without trying the glasses. The reason that we say that is because gaming will never be the same again until you have it on your own rig. Once you've tried it, you will wonder how you ever gamed without it. It's that good.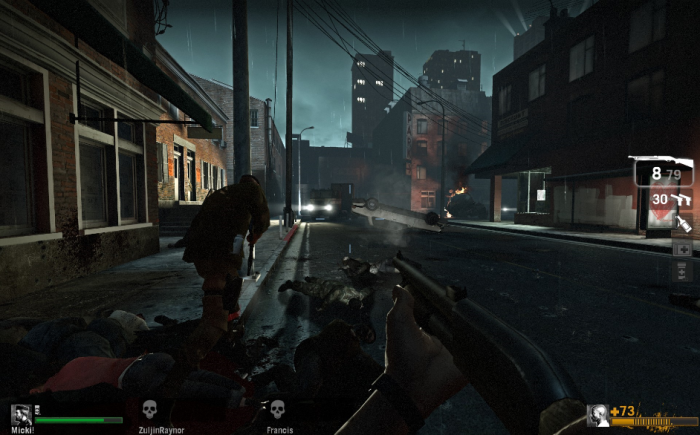 Now this is one of the best examples of 3D Vision we've seen. When you're in 2D, this is pretty much what you get. In 3D, you've just been hit heavily by the horde, two of your teammates are toast, you're living on pills and not much else. Then, the beauty of the ghastly scene overwhelms you. The shotgun extending out in front of you, your hand contrasting against it, and your teammate leaning over to inspect something. The sheer length of the scene overwhelms your senses and you're trying to track movement in the headlights of the truck with it's headlight beams zooming out from the truck like twin laser beams. No more flat 2D for us, it's got to be 3D gaming, 'cause now that we've experienced it, we think it should come with a potentially addictive warning you have to mail in before you can fire it up. "Yes, we understand the face of gaming has changed forever. We understand that we will be terminal 3D addicts. We don't care. We agree to be spoiled by 3D gaming and accept the graphics goodness therein 'til death do us part."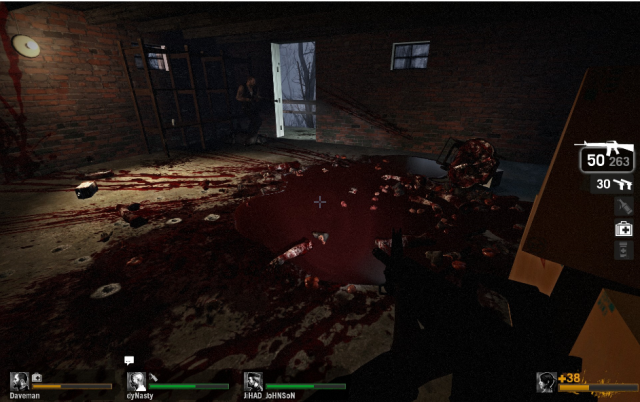 Here again, the graphics are great, but 2D doesn't do justice to the scene. Standing back to the corner, having just survived the horde, the room stretched out around you in 3D. You don't just see the post to your right, you know you're standing behind it, using it as an obstacle for the hoard to overcome before they can reach you. The blood that is splayed out of the floor got there by spraying through the air from the infected you've just snuffed (resnuffed?), each plume going in it's own direction, not just to the right or left of the screen. You can see out the door and if you shift just a hair to the right or to the left, the scene outside the door shifts with your movement. In effect, you're no longer looking at a room on a screen, you're in the room, wondering if the hordes are coming back for you. The difference is night and day. The biggest problem we can see with the 3D Vision system is it wasn't available earlier. Now we have the urge to go back and play the games we've already played just to see them like they should have looked like in the first place.
CONCLUSION
When we received the Nvidia 3D Vision system we didn't know what to expect. What we got differed greatly from what we had envisioned in our mind's eye. We'd envisioned an early release 3D system that would show us what the face of 3D gaming would look like in the next few years. We'd seen it at CES 2007, but we thought production quality was a few years away. What we received is a polished ready to go, out of the box 3D Vision system that blew us away. You'll need a true 120 Hz LCD or other video source that we listed earlier, but this technology is rockin'.
Yes, we noticed a few minor things, like the names hovering over team members rendered at screen level, while the character was at 3D level. We noticed a little clipping in a couple of games. where objects seemed to protrude through other objects. The rendering of the name and character at different levels is a minor thing. The clipping is a problem within the game itself and not with the 3D Vision Glasses or coding. The 3D Vision system makes the clipping more noticeable because you can see the depth of the clip. When things get more realistic, you notice mistakes a little more. It's possible to get too greedy too fast and dial up the depth too much when you haven't adjusted. That's a no brainer. Just hit the dial on the back or the IR emitter and dial it down a little.
Game play we saw was a new and refreshing experience in a highly polished ready for market manner. To date, there are 350 games tested and ready, with the list growing larger every day. We watched some 3D media on the system and that too is a mind blowing experience. Done well, it's visual feast that fills your senses and leaves you wanting more. While we concentrated on Left 4 Dead in our description, we've tested upwards of 20 games with 3D Vision and they all worked great. The onscreen details of how to optimize the game for 3D are good for helping to optimize the game. They stay on screen while you go through Options and make the settings, then a simple key combination clears them from the screen. Optimization tips are game specific and the software detects the game you're running and you can set the Options easily without reading a book or visiting a website. Remember, the 3D effects aren't game dependent. The 3d Vision drivers take care of the 3D rendering, which is why it works so flawlessly with such a wide variety of existing games. We expect gaming effects to become more pronounced as game developers realize the value of 3D optimization.
Words aren't enough to fully describe what we saw and experienced. A full 3D gaming environment where we had depth perception, and visual experiences like we'd never seen. Easily, the most revolutionary gaming equipment that we've seen. While we are sure the hardware requirements to get up and running are a little steep, we assure you that you're not wasting your money and that investment will be returned in the form of realistic 3D gaming that will rock your world. Acceptance could be slow because of the monitor upgrade, but once people start migrating to the 120Hz monitor, which is a superior technology in itself, then 3D Vision should be in the same shipment as the monitor.
We'd like to see 3D Vision bundled with 120 Hz monitors. It's that good. If you'd like 3D goodness without the investment, then some CRT monitors capable of 100 Hz display work pretty good, but you'll have to settle for lower resolutions than you're probably used to.
This is what a lot of gamers have been wishing and waiting for. It's here, it's real, and it's darn good. If you've been dreaming of the day 3D gaming would be available, dream no more. Your dream has manifested itself in reality and you can have that dream. In the mean time, if you get within three feet of our 3D Vision system, we're afraid we'll have to snuff you like one of the infected. That being said, is anyone ready for our favorite game in 3D to drop a sequel?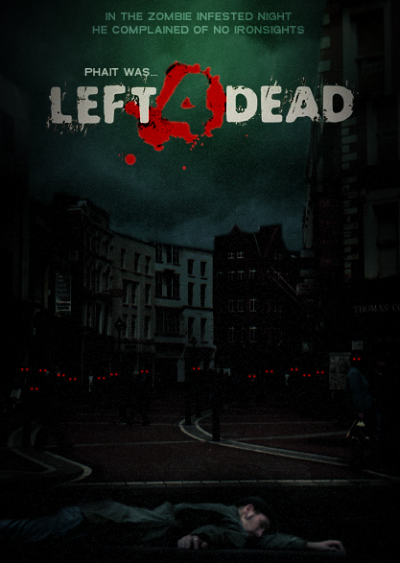 We can't confirm the sequel, but we can hope.
We are trying out a new addition to our scoring system to provide additional feedback beyond a flat score. Please note that the final score isn't an aggregate average of the new rating system.
Performance 9
Value Uknown
Quality 10
Warranty 10
Features 10
Innovation 10
Pros:
+  Fantastic 3D
+  Comfortable
+  Changes The Face Of Gaming
+  Provides Real Adrenalin Rushes
+  Depth Is Adjustable
+  Easy Setup
+  Game Code Independent 3D
+  Adds Not Only Depth But Also Realism
Cons:
–  Need a True 120Hz LCD or HDTV
The Nvidia 3D Vision system is the most revolutionary gaming equipment we've ever seen. Once you've tried it you'll have to have it. Once you have it you'll never give it up. Wives, Girlfriends, and family members will miss you.
Final Score: 9 out of 10 and the Bjorn3D Golden Bear Award.