The Koolance VID-487 waterblock build quality is great along with performance to match. So would I recommend it to someone looking to watercool their reference HD 4870 video card?"
INTRODUCTION
When the "Big Boss Man" said that we were getting another Koolance full coverage video card block in for review and it was for an ATi HD 4870, I jumped at the chance. Koolance has been around from the beginning and they are well known for their high quality products. As a matter of fact, my first ever video card water block was from Koolance many years ago. One of the main reasons I stopped using them back then is that they were primarily small tube low flow systems and I had moved on to massive big tube custom built high flow systems. But here in the past year or so, Koolance has developed products that work well with both types of water cooling loops. So I'm really looking forward to seeing just how well their block will stand up to one of the industries' favorites, the Swiftech MCW60, as well as Sapphire's own high-end air cooler, the Vapor-X.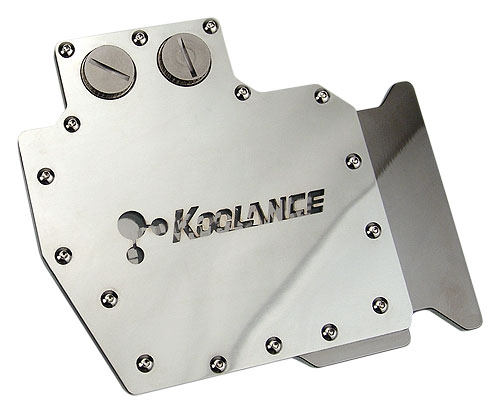 About Koolance
Koolance is the recognized leader in complete PC liquid cooling solutions. Providing the most professional products available, we cater to those who desire advanced, silent cooling technology without the hassle of consumer kits.
With research beginning in 1995 and incorporation in 2000, Koolance has become well-known for innovation. From smaller components, such as our patented cooling blocks, to the world's first professional PC external system, the Exos, Koolance has continued its role as a pioneer in cooling equipment and design.
Exceptional performance, reliability, and significant noise reduction are what make Koolance the thermal management choice for customers worldwide.
FEATURES & SPECIFICATIONS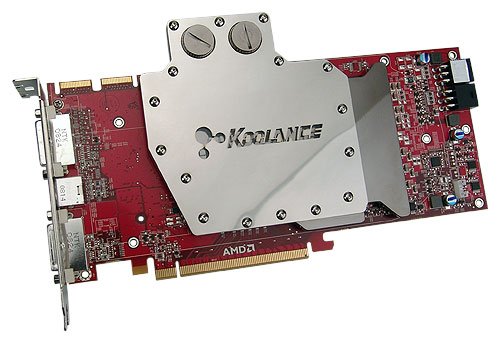 Overview
The Koolance VID-487 is a combined GPU and memory block for high-end water cooling of ATI Radeon HD 4870 video cards in single or multi video configurations. It combines a full nickel-plated solid copper cooler which targets all primary heat-producing regions of the HD 4870 (including the voltage regulators). An acrylic lid allows coolant visibility under the logo.
Nozzle threading is standard G 1/4″. For CrossFire configurations, Koolance connect nozzles are also available.
Specifications
 
Model
 
VID-487
 
 
Compatibility
 
(Please see list)
 
 
Materials
 
High Density Copper, Nickel Plating,
Acrylic, Steel
 
 
Tubing Size, ID
 
3/8″ (10mm), 1/2″ (13mm) and 1/4″ (6mm) available
 
 
Product Dimensions
WxHxD
 
6.25″ x 5.75″ x 0.62″ (15.9cm x 14.6cm x 1.6cm)
 
 
Product Weight
 
1.5 pounds (680g)
 
 
 
 
 
Components Included
Cooling block, thermal paste, mounting hardware, manual
PICTURES & IMPRESSIONS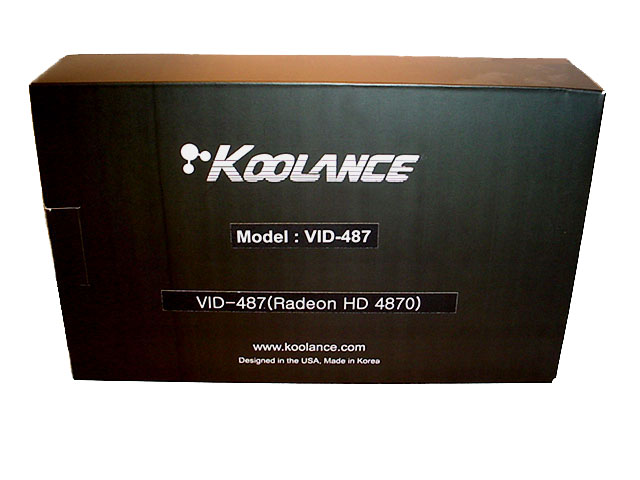 The Koolance VID-487 comes in a pretty plain black box with nothing much more than the Koolance Logo and the water block's model number printed on it, but that's about all that's required.
 Click Image For A Larger Picture
Inside the box you'll find the VID-487 securely packed in protective foam and a plastic bag with the mounting hardware and instructions. 
1 – Installation Guide
9 – Mounting screws
9 – Plastic mounting washers
2 – Thermal pads (2 different thicknesses)
1 – Thermal pad stencil
1 – Tube Thermal Paste (Stars)
1 – Fan jumper wire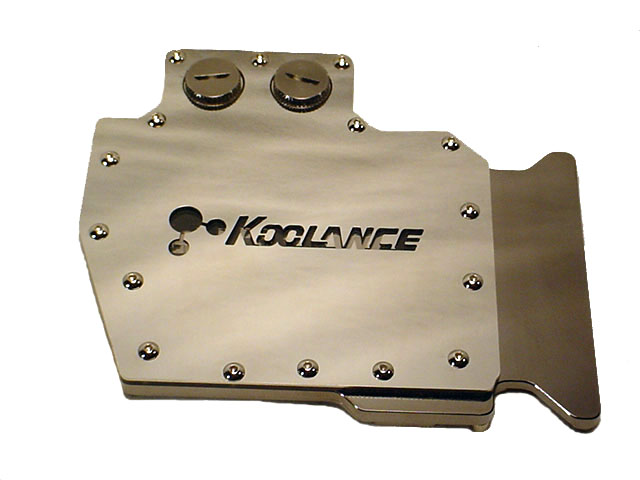 The Koolance VID-487 is made out of a combination high density copper, nickel plating, acrylic, and steel. In my opinion, it is one of the nicest looking full coverage GPU water blocks on the market.  
 Click Image For A Larger Picture
Above, you can see how the block is assembled. The base is nickel plated copper, the middle section is acrylic and the top is made out of a thin sheet of steel. The steel top cover also has the Koolance name and Logo cut into it that acts as a window so you can see inside the block itself. I normally would have opened the block up to show the internal water flow, but I couldn't find a hex drive wrench to fit the screws.
 Click Image For A Larger Picture
The underside of the VID-487 looks every bit as good as the top and it's nothing but the best fit and finish I've seen in a long time. All the edges are round and smooth and all the cooling contact surfaces are smooth and flat when checked with a steel machinist's rule.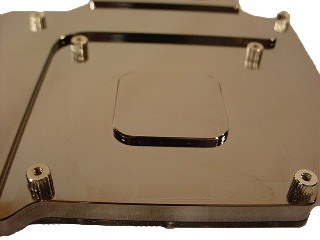 INSTALLATION
I'm not going to go into great depth here because most, if not all cooling enthusiasts that are going to the extremes of full coverage water blocks, already know what they're doing. 
The Victim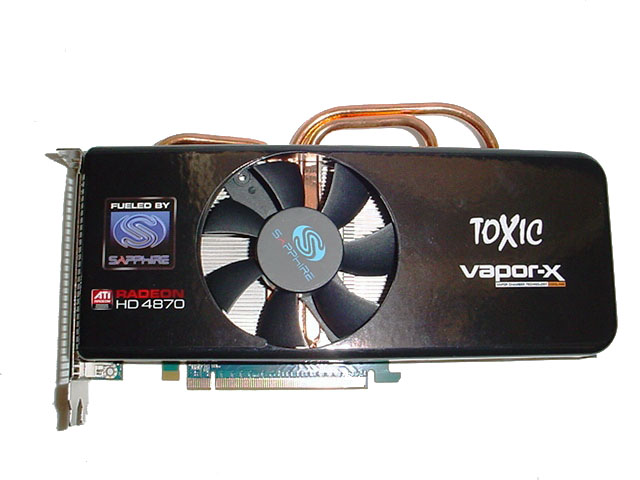 Here's the victim, a Sapphire Toxic HD 4870 with the factory Vapor-X cooler installed.
The Competition
 Click Image For A Larger Picture
The MCW60 Universal Waterblock (1st generation), the Sapphire Vapor-X, and the Koolance VID-487
 Installation
 Click Image For A Larger Picture
In the first shot of the back of the card you'll see the eight screws that need to be removed in order to remove the stock cooler.
In the second picture you'll see arrows pointing to the mounting holes needed to mount the Koolance VID-487. I would also check your board to see it has these as well before going out and buying the cooler.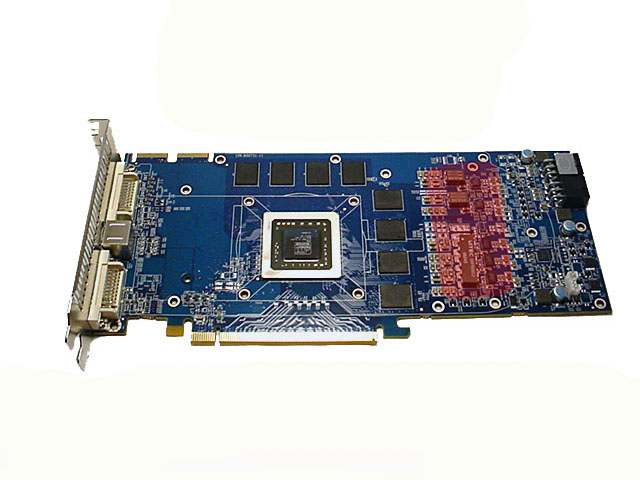 The Koolance VID-487 fits on reference designed PCBs only. The digital VRMS towards the rear of the card (PCI-e power connector end) is one of the easiest ways to check (the area marked in red in the picture above). There are a few makers out there with non-standard boards (Palit comes to mind), so check first. It's better to be safe than sorry.
 Click Image For A Larger Picture
In the right picture you can see the three different areas where you'll need to select the proper thickness of thermal pad, then cut them to proper size and apply them. It would have been nice if the thermal pads came pre-cut, but it's not really what I would call hard to do. 
 Click Image For A Larger Picture
Here we have the back of the card with the VID-487 completely mounted. You'll notice that the stock GPU back is required to be used according to Koolance instructions, which I think is a good idea as they make for better GPU core contact.
The second picture shows the card from the top with everything ready to go, including 3/8″ barbs from Koolance. Be sure to note that Koolance water blocks ship without barbs, so you'll either need to get them along with the block from Koolance or you can use any G1/4" standard fitting. Koolance also has (on their web site) special fitting for several different CrossFire setups.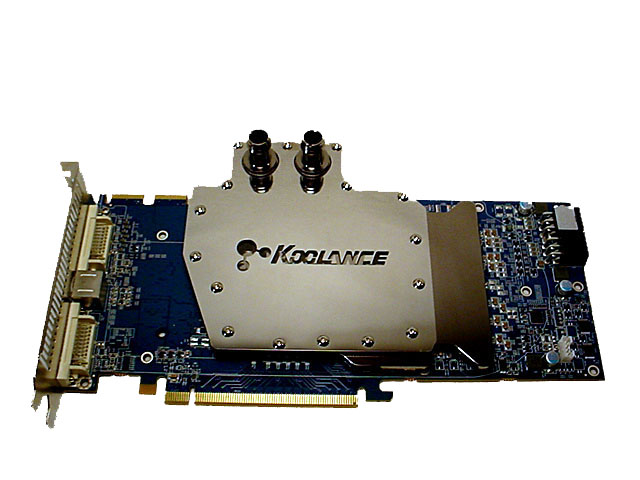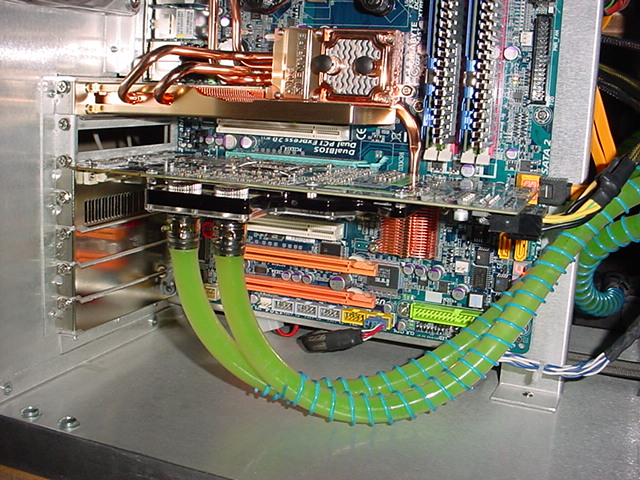 Just a few bling shots to show off the card and my rig.
TESTING & METHODOLOGY
All temperatures were taken using GPU-z v0.3.0 and HW Monitor v1.12, as well as the temperature monitor built into ATi Catalyst Control Center Overdrive feature. Idle temps were taken after the system sat idle in Windows for 30 minutes. Load temps were taken after running Rthdribl v1.2 for 30 minutes and three loops of 3DMark Vantage just to ensure that everything was heated up properly. Room temps were maintained as close as possible to 20°C throughout the testing. The GPU core and water blocks were cleaned and a fresh coat of thermal paste (Arctic Silver Céramique) was applied between each water block test run. Each water block was removed and reinstalled three times to ensure that there wasn't an error in mounting that resulted in incorrect temps. The temps from these tests are only a sample of what these cooling solutions can do on my computer system. Your results may vary as the temps are reported from the video card itself and no two report exactly the same, but the GPU temperature reading will show if one block performs better than the other on the same system given overclock settings and conditions are kept as close to the same as possible. The reported temps will have an error of 0.5 degrees C as the reporting software either rounds the temp to the nearest whole number.
Testing was completed at the following settings of video card default settings (780/1000) and ATi Catalyst Overdrive max OC (810/1175). We then pushed the card a bit harder using Riva Tuner to see just how high the card would actually go using the different cooling solutions, 850/1200 was the maximum OC used. These different setting should show how each water block's performance scales to the different heat loads compared to the stock air cooler. 
Test Rig
"Monster Rig"
Case Type
Mountain Mods U2 UFO
CPU
Intel Q6600 @ stock and 3.6 Voltage 1.45 vcore
Motherboard
Gigabyte EP45T-Extreme
Ram
Patriot DDR3-1600
GPU Cooler

Watercooling, GPU Loop
Pump – Swiftech MCP350
Radiator  – Swiftech MCR120
Reservoir – Swiftech Micro  res
Water Block – Swiftech MCW60, Koolance VID-875
Air Cooler- Sapphire Vapor-X
Appropriate3/8 inch hoses and fittings
Thermaltake 2000rpm 80CFM Fan @ 7v

Hard Drives
Seagate 250 Gig SATA 2
Optical
Lite-On DVD R/W
GPU
Sapphire Toxic HD4870
Case Fans
8 x 120mm fans total
Testing PSU
OCZ Game XStream 700w
Mouse
Logitech
Keyboard
Saitek
Just an every day little rig.
Rthdribl v1.2
Rthdribl is a technical demo of "High Dynamic Range Image-Based Lighting". DirectX 9.0 high-precision texture formats and version-2.0 of Pixel Shader represent real-time true HDR rendering.
Technical features of this demo are:
– True HDR (High-Dynamic Range) Rendering
– IBL (Image-Based Lighting)
– Glare Generation (Afterimage, Bloom, Halo, Ghost, and Star)
– Automatic Exposure Adjustment
– Iris shaped Depth of Field blur
– Realistic Motion Blur
– FSAA (Full-Scene Anti-Alias)
– Fresnel Reflection (Specular Reflectance, Metallic Color-Shift)
 
3DMark Vantage
For complete information on 3DMark Vantage Please follow this Link: www.futuremark.com/benchmarks/3dmarkvantage/features/
The newest video benchmark from the gang at Futuremark. This utility is still a synthetic benchmark, but one that more closely reflects real world gaming performance. While it is not a perfect replacement for actual game benchmarks, it has its uses.
RESULTS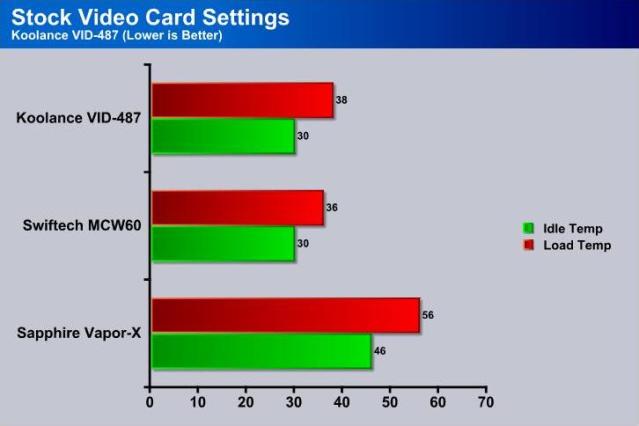 The Koolance VID-487 followed the Swiftech MCW60 by 2 degrees C, which isn't bad when you remember that the VID-487 is cooling both the RAM and voltage regulators.
The Sapphire Vapor-X doesn't stand a chance against water cooling of this caliber, but it does handle the heat of the Sapphire Toxic HD 4870 better than most stock air coolers out there, and with a lot less noise to boot.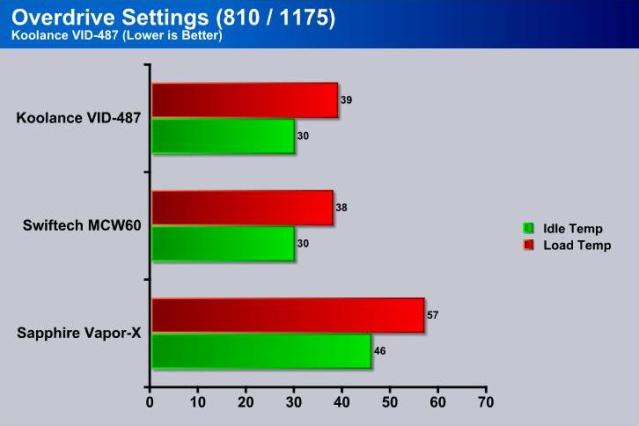 Here again the Swiftech is leading, but this time only by 1°C. So, when you factor in ambient room temp variables, they look to be pretty close performance wise.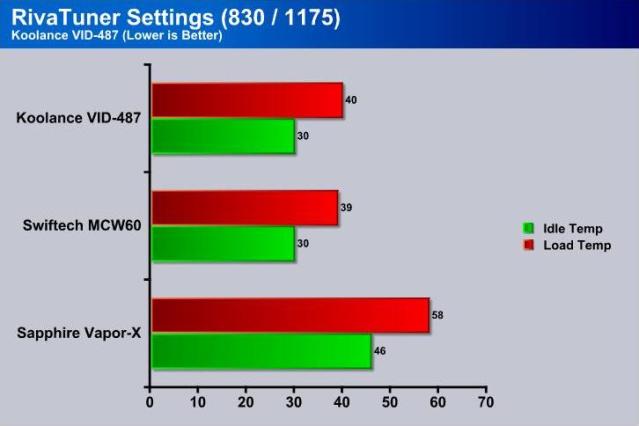 Once again we see the same thing as above, only 1 degree C separating the two.
At the Sapphire Toxic HD 4870's max overclock, both water blocks stayed within 2°C of each other. This has been a fairly consistent trend throughout the entire testing range, but like I stated earlier, the Koolance VID-487 has more components to keep cool.
At these maximum clocks the Sapphire Vapor-X just couldn't hang in there and as soon as I began to run any sort of graphics based test, the card would either artifact or locked up the system all together.
 
Conclusion
My only real complaint with the Koolance VID-487 is that when you order one retail, they don't come with any sort of basic fittings to get you started, which can raise the cost of the block somewhat depending on what type of fittings you're looking at. Other than that minor complaint, I found the VID-487 to be an outstanding performer, and let's not forget that it looks as good as it performs.
The Koolance VID-487 did get beat out slightly by the Swiftech MCW60 by a degree or two here and there, but that's nothing to complain about when you think about what the entire block is cooling and how well it does this. For example, under air cooling or water cooling with the Swiftech MCW60, the voltage regulators got extremely hot, 100°C or better under max load at any sort of overclock. With the Koolance VID-487, I was hitting 60°C on the voltage regulators at the cards maximum overclock.
So, would I recommend the Koolance VID-487 to someone looking to water cool their reference HD 4870? Heck yes, I would. Its build quality is great, the thing looks fantastic, and it's built thin enough that most any sort of CrossFire system shouldn't be a problem. That is, if you have that kind of extra cash lying around these days.
  
Pros:
+  Great performance
+  Outstanding build quality
+  Easy mounting
+  Low profile
+  Great looks


Cons:
–   No barbs included in base price
–   High startup costs (water cooling always is)
 
 
We are trying out a new addition to our scoring system to provide additional feedback beyond a flat score. Please note that the final score isn't an aggregate average of the new rating system.
Performance 9.5
Value 9
Quality 10
Warranty 9
Features 8.5
Innovation 9
Final Score of 9 out of 10 (Extremely Good) and the Golden Bear Award.
Conclusion