In the search for the highest overclock, heat is always an issue. Water cooling helps solve this by waters natural ability to absorb more heat than air. Today we test this theory.
INTRODUCTION
From the very first enthusiast computer to today's monster rigs worth much more than $2,000, there has always been a need for better cooling. Many manufactures have responded to that need with bigger and better air coolers, but what happens when that just doesn't cool enough? The simple answer is water cooling. Naturally, liquids such as water conduct heat much more efficiently than air, so it would only be natural to put this property to good use.
Granted, there are better cooling methods such as phase change. The problems with these other methods is the sheer upkeep. If you want to run sub-zero temperatures with a phase change system, you will have to insulate your motherboard from the liquid that condenses. Though water needs a little upkeep to keep it in good condition, it is not nearly as time consuming as phase changing. On top of that, there is the price difference.
These cooling methods have always been more expensive than traditional air coolers. Today, Cooler Master has helped sooth this issue by putting together their Aquagate Max cooling system. This system comes with everything you will need to get your water cooled rig ready to go. There have been many kits such as this that simply don't offer any benefit over air cooling due to their cheap construction. Cooler Master hopes to buck this trend, but can they do it while still maintaining a decent price?
About Cooler Master
Cooler Master was founded with the mission of providing the industry's best thermal solutions. Since its establishment a decade ago, the company has remained faithful to this mission, emerging as a world leader in products and services for companies dealing with devices where heat issues must be resolved.
A critical component of Cooler Master's ability to successfully pursue its mission is an unstinting commitment to quality, as demonstrated by the ISO 9001 certification granted to its main manufacturing plant in Taiwan. It has also enforced ISO guidelines and is in the process of applying for ISO 9002 certification at its second and third plants, located in China. Cooler Master has also implemented a number of analytical and testing protocols to ensure top quality, including at subcontractors, to further ensure thorough quality control. Moreover, Cooler Master's dedication to quality extends beyond manufacturing to every aspect of its operation, including service. 
Cooler Master's current business encompasses a comprehensive lineup of thermal solutions for a full range of applications. Its products range from heat sinks and fans to component housing, chassis, and ducting for computers, industrial machinery, telecommunications equipment, and many other devices.
In pursuing this mission, Cooler Master is absolutely committed to delivering solutions that precisely meet customer requirements for features, performance, and quality. Moreover, we strive to be a reliable long-term partner for our customers that they can truly depend on. It aims to be the first and foremost name that comes to mind for companies around the world seeking thermal solutions, and seeks to build such a reputation through outstanding technology, sophisticated design, and superior service.
FEATURES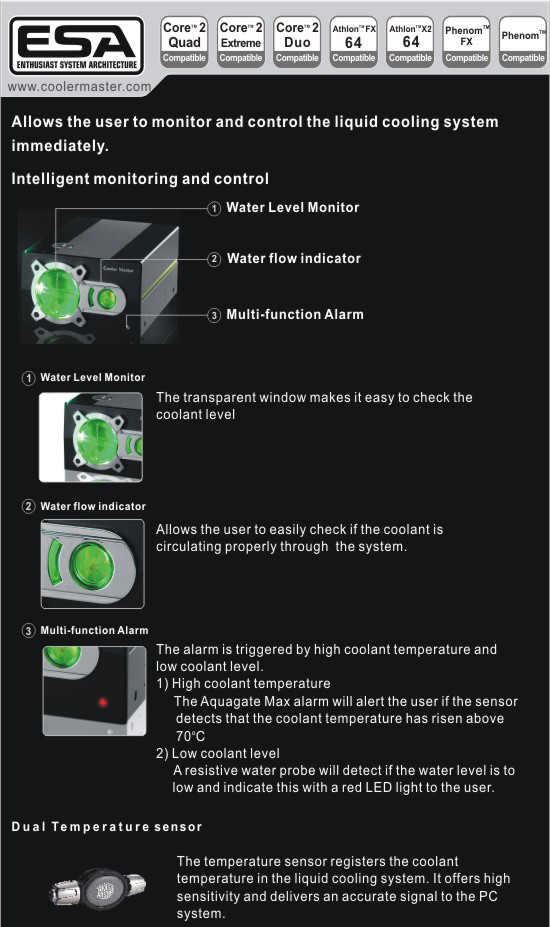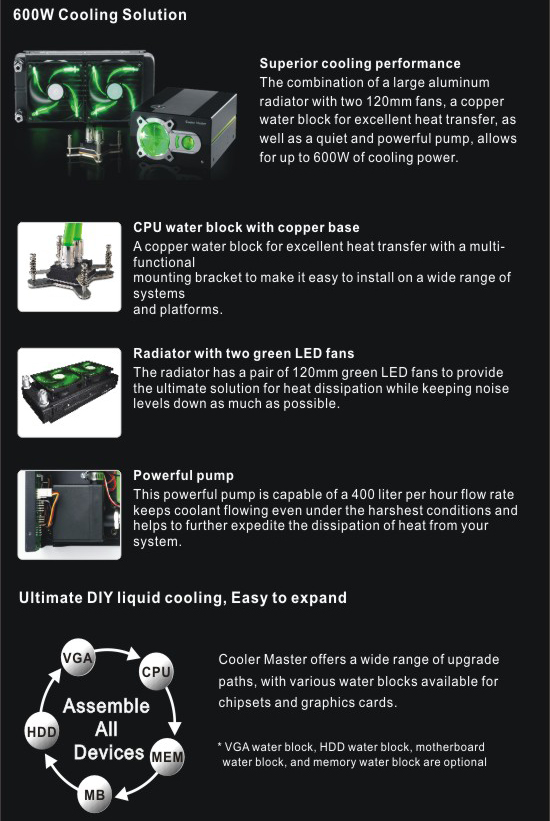 SPECIFICATIONS
| | |
| --- | --- |
| CPU Socket | Intel Socket LGA 775, |
AMD Socket (754/ 939/ 940 / AM2 / F)CPU SupportIntel Core 2 Extreme,
Core 2 Quad,
Core 2 Duo,
Pentium Extreme,
Pentium Dual-Core,
Pentium D,
Pentium 4,
Celeron Dual-Core,
Celeron D,
Celeron
AMD Phenom,
Athlon 64 FX,
Athlon 64 X2,
Athlon X2, SempronSupport Watt600 WWeight1700 gQuick install connector3/8 inch (9.5 mm)Water Block Dimensions50 X 50 X 42.5 mmWater Block MaterialCopperRadiator Dimensions300 x142 x 71 mmRadiator MaterialAluminumFan TypeGreen LED FanFan Dimension (W / H / D)120 x 120 x 25 mmFan Speed850~2400 R.P.M.Fan Airflow71.81 CFMFan Air Pressure2.73 mmH2OBearing TypeRifle bearingFan Life Expectancy40000 /hrsFan Noise Level (dB-A)22 dBAFan Connector4 pinFan Speed AdjustmentPWMFan Rated Voltage12 VFan Start Voltage7 V (Max.)Fan Operating Voltage10.8~13.2 VFan Rated Current0.4 A ( Max.)Fan Input Power4.8 WPump Dimensions47 x 62 x 60 mmPump H-max2 meterPump Q-max450 L/H (Max. )Pump Bearing TypeCeramic BearingPump Life Expectancy50,000 hoursPump Noise23 dBAPump Rated Voltage12 VPump Input Current0.6 APump Power6.5 WReservoir (Max. Capacity)340 mlReservoir Dimensions122 x 89 x 74 mmTubing size, ID3/8 inch (9.5 mm)Tubing MaterialPVCCoolant colorGreenCoolant Capacity260 mlCoolant Main MaterialGlycolCoolant Freezing Point-10 degreeCoolant Life Expectancy2 yearsTemp. Sensor Dimensions98 x 20x 450 mm
PACKAGING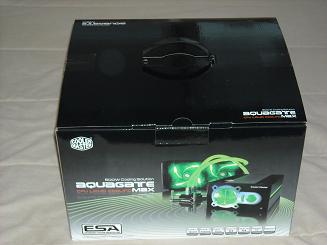 Front of box
As with many other boxes that contain computer parts, this one shows a picture of the product along with many of its features. Cooler Master promotes the fact that this is an ESA compatible device on the front of the box. This is a very nice feature that allows you to monitor the temperature of the liquid. To use this feature you will need an Nvidia chipset with ESA software installed.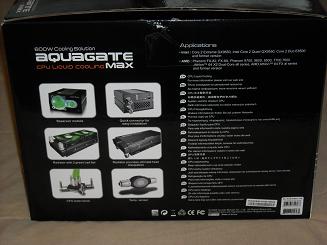 Back of box
Cooler Master has put the bulk of its features list on the back of the box. They include a list of the parts that reside in this kit. Oddly, Cooler Master mentions its compatibility with a Phenom FX-82, a CPU AMD has mentioned, but currently is not even believed to be put into production.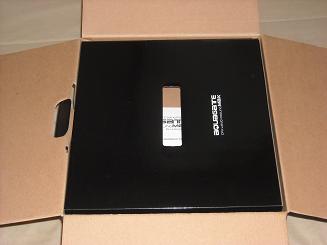 Inside the box
I must point out that Cooler Master has built a very good quality box. When you first open the box you will see another smaller box. Inside is the tubing along with a instruction manual.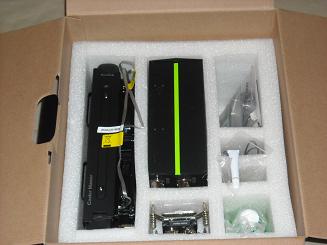 Accessories
As you lift up the box that contains the tubing and manual, you will see the real meat and bones of this liquid kit. These include the radiator, disk drive control unit, and a CPU block among others. Let's get into more detail for each of the individual parts of the kit.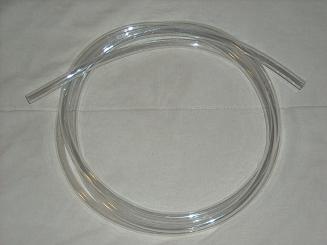 Tubing
Cooler Master includes plenty of tubing to route your whole system, even if you decided to include your GPU or northbridge. The tube is what is considered middle size, measuring a respectable 3/8″. Cooler Master made a good approach by going with 3/8″ tubes instead of 1/2″. More water will be able to flow through the liquid system, thus reducing temps.
Manual
Cooler Master went into great detail in this manual. This is especially good for the purchasers who have no experience with liquid cooling. One thing that Cooler Master has not mentioned is the fact that water cooling requires maintenance.
Accessories
Cooler Master has included a backplate if you need one. It has a cutout where the back of the CPU is, which can help cool the board better, as the circuitry behind the CPU can get quite hot. This hole allows some airflow through this area, thus cooling more efficiently, and possibly resulting in a higher overclock. There is also a USB connector that is used with ESA to tell the temperatures of the liquid running through the system. Cooler Master has also thrown in an adapter so this system can be used on 939 and AM2 motherboards. The included thermal paste can be used, but I recommend something better.
CPU block

The Cool Master CPU block will mount up to Intel 775 without any modifications. The one thing that I feel is the biggest let down of this system is its block. Cooler Master has decided to solder little fins onto the block. They would have achieved much more performance if they would have cut out groves in the block, and instead Cooler Master decided to save money.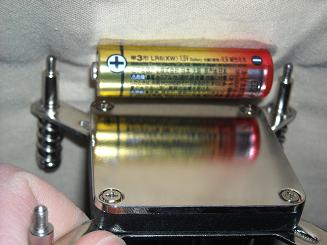 Bottom of CPU block
One thing I can say Cooler Master did good with this block is its bottom. Though it is not the best I have ever seen, it is quite reflective. You can clearly see groves if you look at the block closely, but Cooler Master can sell this kit for less if they spend less on polishing the block. It's a trade off, but I feel that Cooler Master should have cut somewhere else. The CPU block is a main part of the system.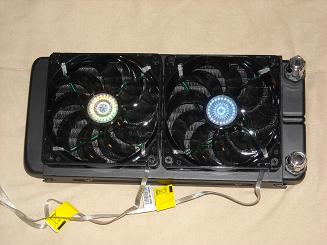 Radiator
The radiator is quite big for a kit like this. The down fall to this is the fact that it is made out of aluminum. Aluminum is not a great metal to use for getting rid of heat. This can also be a problem if you put in another CPU block that is made of copper. The mixing of metals causes galvanic corrosion, which in turn ruins your liquid cooling system.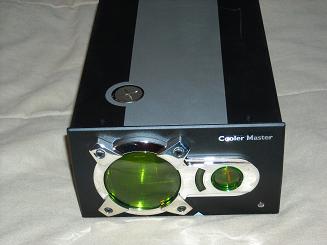 Front drive bay unit
This is what holds the pump and reservoir. Cooler Master has put in a 400 L/hr pump. This is 100 L/hr smaller than the pump that Thermaltake includes in many of their liquid cooling systems. This could potentially be a bad thing for the Cooler Master. They included a flow meter that will tell you if your liquid is flowing. There is also a small light in the bottom right corner that indicates when the liquid in the system has reached 70°C.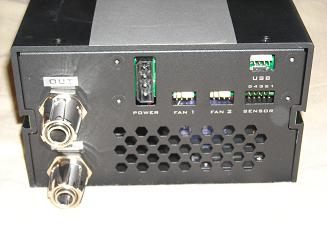 Back of drive bay unit
Cooler Master has clearly labeled the in and out connector for the tubes. This can help illuminate any confusion the user may have. The unit runs on a single Molex connection. I am quite surprised that everything runs fine off of just one Molex connector. There is a spot to plug in both of the fans for the radiator, along with connectors for sensor units. There are five different plug ins, even though there are only two sensors that come with this kit.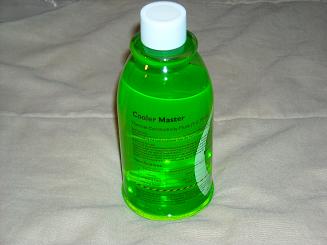 Liquid
Cooler Master includes their own liquid for this system. Cooler Master recommends that you mix the bottle with three times as much distilled water to achieve the best cooling possible.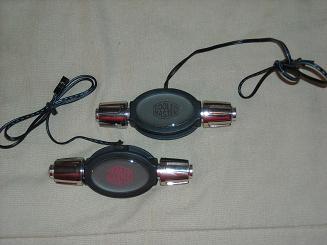 Temperature sensors
They included two temperature monitors. These plug into the drive bay assembly. You must have an ESA motherboard to read the temperatures of the liquid.
Methodology
To test this liquid cooling system I put it on my Q9550 CPU and left it running at 100% usage for over 24 hours, along with every day use for a week. This allowed the thermal paste to harden, and thus make the test results accurate. I used Arctic Silver 5 heat sink paste, as this is currently the best performing paste on the market. The TURE Black 120 was used as a comparison. It had one Ultra Kaze fan that blows at 133.3 CFM. Bjorn3D.com is NOT responsible for any damages you may or may not do to your CPU. Remember, overclock safely. Never make huge jumps, and keep your temps reasonable.
Test Rig
Test Rig

Case Type
Tagan El Diablo Advance
CPU
Intel Q9550 @ 2.83, 3.6 Voltage- 1.25, 1.325, 1.4
Motherboard
DFI X48 T3RS
Ram
G.Skill Pi 1333 @ 1411 6-6-6-16
CPU Cooler
Thermalright TRUE Black 120
Aquagate Max
OCZ Block
Hard Drives
WD SE16 640 GB
Optical
Lite-On DVD R/W
GPU
Sapphire 4850 Dual Slot
Case Fans

Two Top 180mm Extake
One Front 250mm Intake
One Side 360mm Intake

Testing PSU

Corsair HX1000W
Results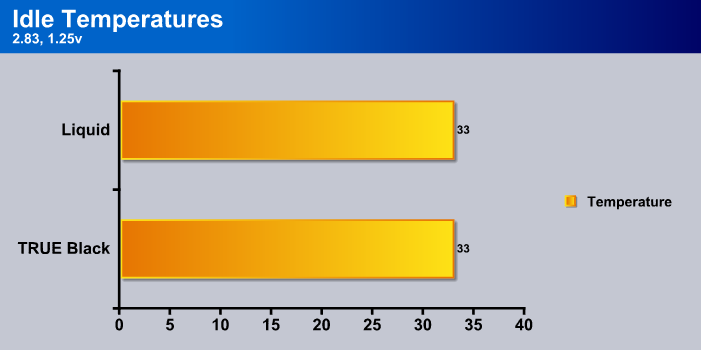 Both idle temperatures were the same. This doesn't come as much of a surprise, as water generally doesn't have much of an advantage, if any at all, on idle.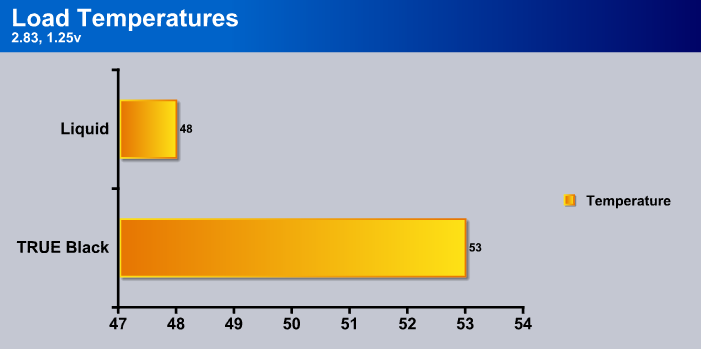 The liquid pulls ahead of air on load. It is only a difference of five degrees, but we should see the liquid start to pull farther ahead of the TRUE Black as the voltage is increased.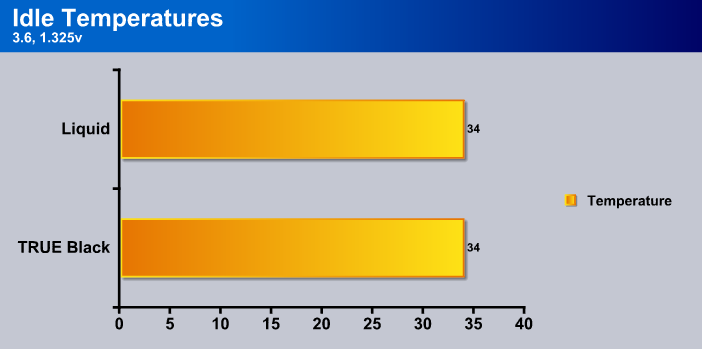 As with stock settings, the liquid and TRUE Black have the exact same idle temperature.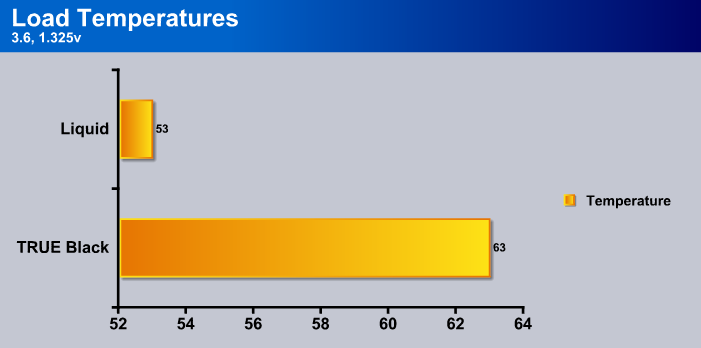 An impressive feat by the liquid when the voltage is increased to 1.325 on load. It managed to be a whole 10°C cooler than the TRUE Black.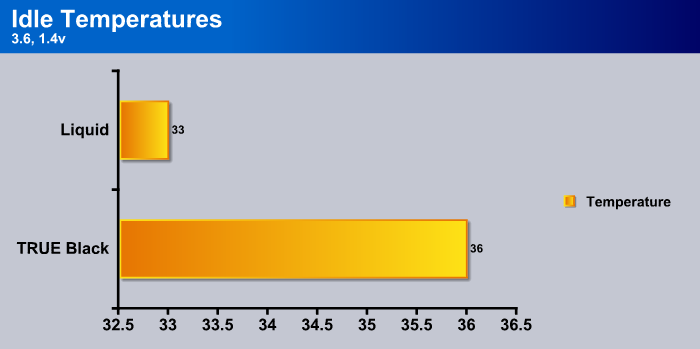 The idle temperatures are quite close, but the TRUE Black still gains 3° over the liquid on idle.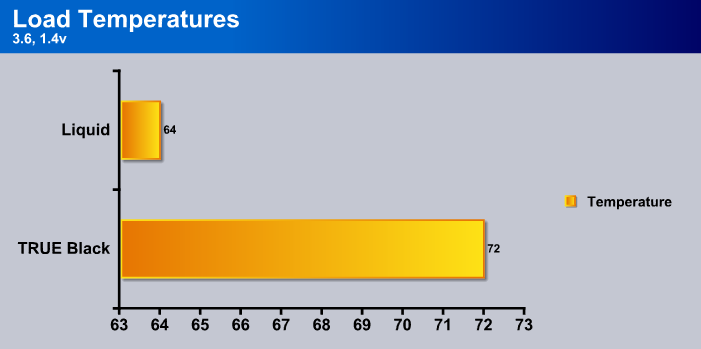 The liquid lost a bit of its lead, being only 8°C cooler than the TRUE Black, but this is still a significant gap. I would not operate this chip at 72°C 24/7. If you manage to achieve a higher overclock with 1.4 volts, then you will love the fact that your chip runs at a safe temperature for everyday use.
Overall, the liquid system easily managed to beat the TRUE Black on load, and put a beating on it when the voltages where increased. This is despite the fact that the CPU block was not of the greatest quality. A better CPU block would be a wise and relatively cheap investment to lower temperatures even further, for possibly a higher overclock.
Conclusion
The Cooler Master Aquagate Max did a good job at beating air cooling, but this does come at a price. With a retail price of $230 USD, the TRUE Black is much cheaper, at around only $70 USD. You do get more performance, but is it really worth an extra $160? Some would say it is. Personally, it's not my money I am spending, so the decision is up to you. If you want the absolute max overclock, I would say go for liquid. If you're just an everyday Joe who's new to overclocking, I would stay with air.
The performance difference is clear, especially at higher voltages. This liquid system will have no trouble cooling any 775 processor, even at its max overclock. As of right now, there is no mounting adapter for Intel's new socket 1366. Perhaps Cooler Master will make a new revision that includes mounting hardware for socket 1366. As for now, you can pick up one of the few socket 1366 CPU water blocks.
A nice feature of this system is its compatibility with Cooler Master cases. It will bolt up perfectly to a Cosmos S case, and any other Cooler Master case with the same mounts on the inside. Then your whole system can be enclosed inside your case so you will have a much lower chance of damaging any part of the system. Overall the Aquagate Max had excellent performance, but it is a little bit on the expensive side.
Pros:
+
Great Performance
+
Bolts up to Cosmos
+
 Appearance
Cons:
With a final score of 7.5 out of 10 the Cooler Master Aquagate Max receives the Bjorn3D Seal of Approval.