Just when you think your hard drive is fast enough along comes the Western Digital VelociRaptor and rips that thought to shreds.
INTRODUCTION
Hard drive storage has been a bottleneck point in computers for as long as most of us can remember. Solid State Drives have hit the market, but currently are so expensive for the amount of storage that you get that they just aren't feasible. When you're looking at $200 for 128 GB of storage (for a generic SSD) you're likely to keep your old slow hard drive and just drool over the SSD line of products, wishing they offered a better price performance ratio.
We feel your storage needs pain and went in search of higher speed, better price performance products that still offer good speeds, but a better price performance ratio than SSD's. The Western Digital VelociRaptor 300 GB hard drive offers faster transfer rates than traditional platter drives, larger storage capacities than their more expensive cousins, the SSD, and speeds that rival SSD's when used in RAID 0.
To show how the different drives perform we went to the ends of the Earth and collected seven hard drives and ran them in nine different configurations, but none will ever have the coolness factor of the Western Digital VelociRaptor. With one exception, the Western Digital VelociRaptor in RAID 0!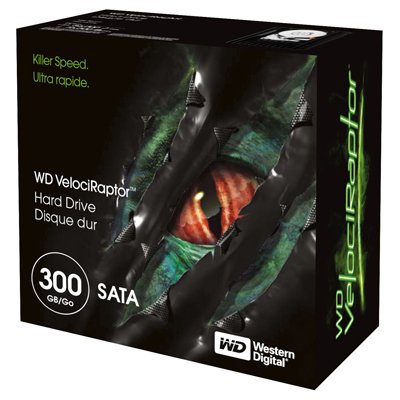 About Western Digital
We are thousands of people worldwide working to help you collect, manage and use digital information. Our reliable hard drives are just about everywhere that digital information and content is found, from desktop and portable computers to external storage devices and personal video recorders in living rooms. Our customers are some of the largest computing and electronics companies in the world, as well as you, who could be using a WD drive right now.
Our highest capacity drives securely store your videos, music and photographs on desktop computers and are quiet, cool and deliver your content fast. We know that you like to take your personal digital material with you, so our smaller hard drives for notebook computing and portable storage devices are frugal on power and strong on durability.
Because so much of what you do is now recorded in digital form, WD makes it easy to safely store and share the articles of our lives, and to make duplicates to prevent loss. WD designs and markets plug-and-play external storage devices that expand the capacity of our computers and personal video recorders. They carry a WD label and are found at retailers worldwide.
Businesses have been using our desktop drives in their employees' computers for decades, and now are taking advantage of WD's high reliability with our enterprise SATA drives in their servers and expansive corporate storage systems, quickly providing critical information to their workers.
Designing, manufacturing and selling hard drives is all that we do. We understand the importance of the data you put on your hard drives. We focus our passion, knowledge and innovation on products that reliably keep your information and content safe and close at hand.
John F. Coyne
President and CEO
FEATURES
Engineered for maximum speed! WD VelociRaptor, the newest member of our unique class of 10,000 RPM SATA hard drives, combines a SATA 3 Gb/s interface and 16 MB cache to deliver performance that's up to 35% faster than its speedy older brother.

Killer speed – Built on the performance bloodlines of WD Raptor®, these 10,000 RPM drives, with SATA 3 Gb/s interface, and 16 MB cache deliver mind-bending performance. Not only are they 35% faster than the previous generation WD Raptor drives, but they also beat out all other competitors in the field.

Rock-solid reliability – Designed and manufactured to mission-critical enterprise-class standards to provide enterprise reliability in high duty cycle environments. With 1.4 million hours MTBF, these drives have the highest available reliability rating on a high capacity SATA drive.

Double the capacity – State-of-the-art technology packs twice the capacity per disk compared to its older brother WD Raptor resulting in up to 300 GB of high-performance storage space in this enterprise-class 2.5-inch drive.

IcePack™ mounting frame – The 2.5-inch WD VelociRaptor is enclosed in a 3.5-inch enterprise-class mounting frame with a built-in heat sink that keeps this powerful little drive extra cool when installed in high-performance desktop chassis. (This drive is not backplane compatible.)

Ultra-cool operation – WD VelociRaptor consumes 35% less power than the previous generation of WD Raptor.

Rotary Acceleration Feed Forward (RAFF™) – Optimizes operation and performance when the drives are used in vibration-prone, multi-drive chassis.

NoTouch™ ramp load technology – The recording head never touches the disk media ensuring significantly less wear to the recording head and media as well as better drive protection in transit.

Ideal For

Blade servers, performance enthusiast systems, workstations, and low-end servers

Compatibility

Windows

Windows® Vista/XP/2000
SATA interface connector on motherboard or SATA host controller
Available 3.5-inch internal drive bay

Compatibility may vary depending on user's hardware configuration and operating system.
SPECIFICATIONS
Western Digital
Velociraptor

 

WD Raptor EL150

WD VelociRaptor

Features:

 

 

Models & Capacity

150 GB , 74 GB, 36 GB

300 GB

Buffer Size

16 MB

16 MB

Interface

SATA 1.5 GB/s

SATA 3 GB/s

 

 

MTBF

1.2M hrs

1.4M hrs

Warranty

5 years

5 years

 

 

Seek Time (Read)

4.7 ms

4.2 ms

Seek Time (Write)

5.9 ms

4.7 ms

Read IOPS (QD=1)

124

134

88 MB/s

120 MB/s

 

 

Operating Temp Ambient

5-55 ambient, 60 max case

5-55 ambient, 60 max case

Temperature Change Rate
(Op/Non-Op)

20C / 30C per hour


20C / 30C per hour

Non-operating Temperature


-40 to 70 ambient

-40 to 70 ambient


 

 

Idle:

29 dBA

29 dBA

Seek (avg):

36 dBA

36 dBA

Ramp Load/unload

N/A

2 (sones)
PICTURES & IMPRESSIONS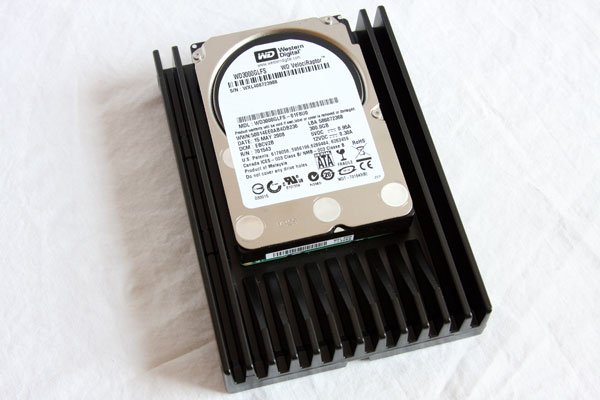 The first thing to know about a VelociRaptor is that it's a 2 1/2 inch SATA 2 drive in a 3 1/2 inch heat sink. The next thing to know is that it's not designed for your laptop or notebook so get that idea out of your head. Beyond that, it has to be the coolest looking drive we've ever seen.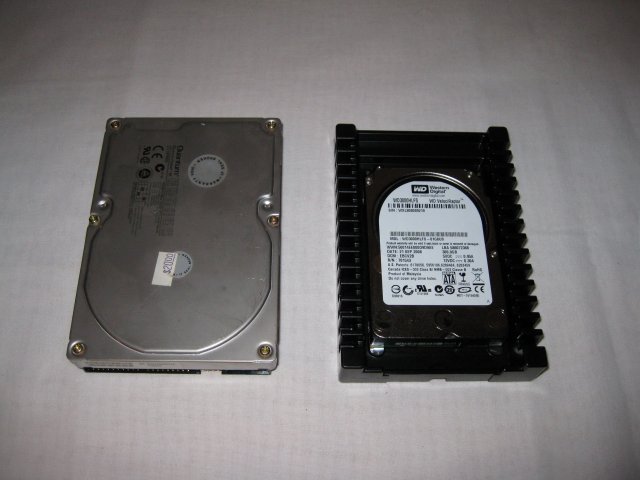 We threw an old 3 1/2 inch drive next to the VelociRaptor, but keep in mind that even though the VelociRaptor is a 3 1/2 form factor drive with the heat sink on it, the drive itself is a 2 1/2 inch drive.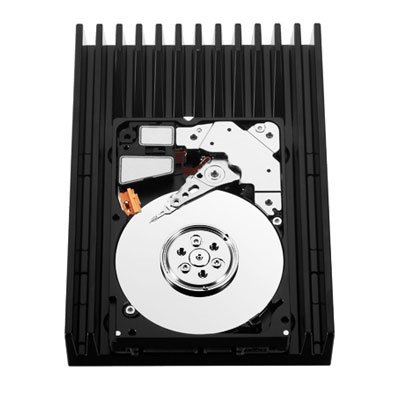 You get a little better look at the VelociRaptor from this angle. Just the center portion, where the platter is located, is the drive itself. The rest is the really cool looking heat sink that keeps the drive nice and chilled during operation.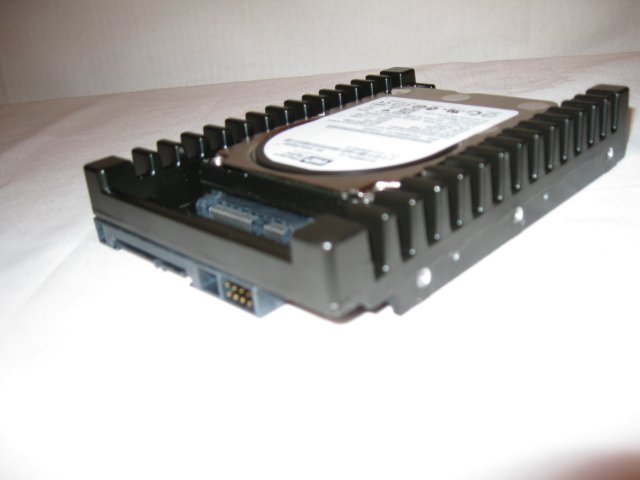 The heat sink is crenelated to maximize surface area to help conduct the heat away from the VelociRaptor. The heat sink is Aluminum but has a solid look and feel to it with no sharp edges. Overall, it has one of the highest quality look and feel factor of any drive we've seen. You can get a peek at the normal SATA connectors that help make the VelociRaptor a good choice for better performance without going to an expensive SAS controller.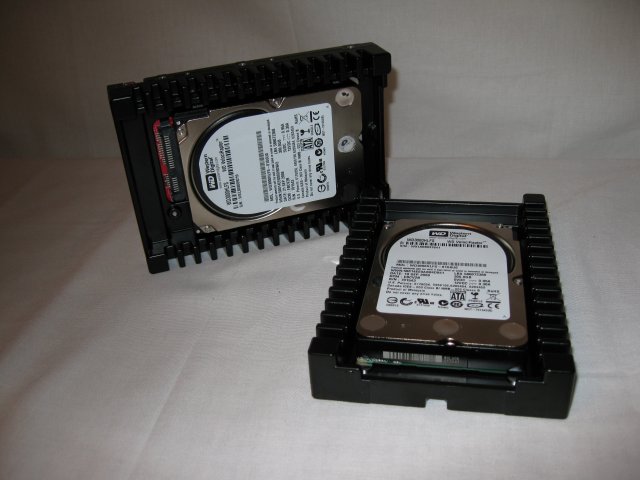 We put the VelociRaptors together in the hopes that they would successfully breed and we could set up an electric fence to contain the herd (Flock?), but they just laid there looking ultra cool.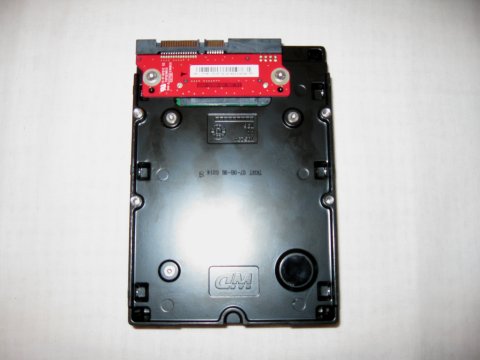 Since the VelociRaptor is a 2 1/2 inch drive in a 3 1/2 heat sink, Western Digital needed to use a connector extender to reach the outside of the heat sink.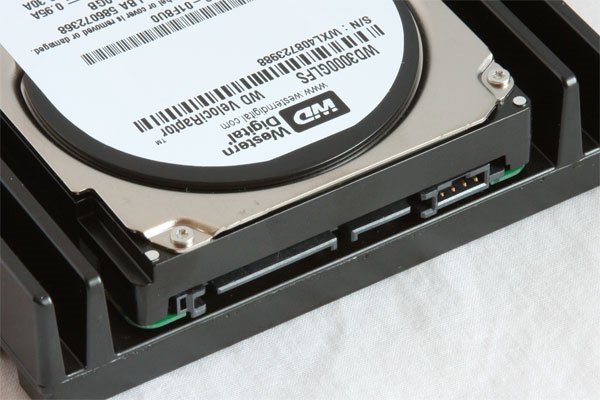 Some of the VelociRaptor family don't use the SATA connector extender, so we though we'd show you one that doesn't. On this model the heat sink is shorter and is called the Sata Connector ready model.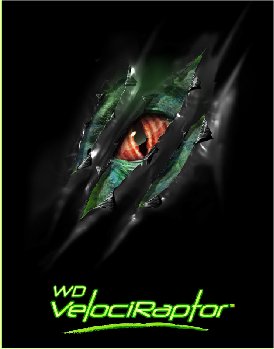 We thought we'd throw in the signature logo from the Western digital site just because it's so cool. The marketing guy that though of that just needs a raise, a nice parking spot, and, of course, free VelociRaptors for life.
TESTING & METHODOLOGY
We put the Western Digital VelociRaptors up against five other hard drives and we had seven hard drives total in nine different configurations. We would have had more but the SSD's we tried to RAID just wouldn't cooperate. We ran our usual battery of tests on the drives, and each test was run a total of three times and the average of the three runs reported here.
The drives were tested as primary boot drives, with the drives containing absolutely identical OS loads. We took a clone of the test systems drive and copied it to each drive and booted from the drive prior to testing. When we went to RAID 0 we cloned the single drive to the RAID 0 array ensuring that each and every drive had absolutely identical software loads. If you're wondering how we did that we, used Acronis Disk Director Suite version 10. It cloned both single and RAID 0 arrays flawlessly and we can't recommend it enough.
Test Rig
Test Rig
"Quadzilla"
Case Type
Top Deck Testing Station
CPU
Intel Core I7 965 Extreme (3.74 GHz 1.2975 Vcore)
Motherboard
Asus P6T Deluxe (SLI and CrossFire on Demand)
Ram
Corsair Dominator TC DDR3 1600 6GB
CPU Cooler
Thermalright Ultra 120 RT (Dual 120mm Fans)
Hard Drives
Intel 80 GB SSD
Optical
Sony DVD R/W
GPU's Tested
EVGA GTX-280 (2) Drivers 180.47
Case Fans
120mm Fan cooling the mosfet cpu area
Docking Stations
None
Testing PSU
Thermaltake Toughpower 1200 Watt
Legacy
None
Mouse
Razer Lachesis
Keyboard
Razer Lycosa
Gaming Ear Buds

Razer Moray
Speakers
None
Any Attempt Copy This System Configuration May Lead to Bankruptcy
Test Suite
Benchmarks
ATTO
HDTach
Crystal DiskMark
HD Tune Pro
PCMark Vantage
ATTO
ATTO is a benchmark that has been used for a long period of time. It features read and write tests in a variety of sizes and displays the information in textual and graph format. While it has been around for years, it still proves to be a reliable and trusted hard drive performance tool used in many hard drive benching sessions.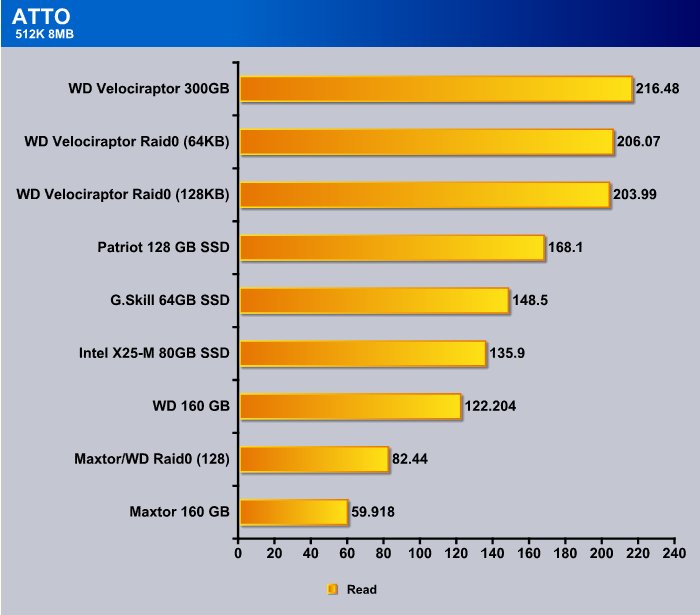 In the ATTO 512K 8MB test, the single Western Digital VelociRaptor came out in the lead, followed by the two RAID 0 configurations with the VelociRaptors. The arrays were built using the Marvell controller native to the Asus P6T Deluxe OC Palm edition motherboard we used during testing. Software RAID can be both a blessing and a curse. In this case, it wasn't either. Performance between RAID 0 and single drive was negligible. Notice, if you will, that two ordinary 8MB Cache SATA 2 drives, the Maxstor and Western Digital, came in next to last, and the single Maxstor drive (which is the dog in the pack) came in dead last. So if you're thinking RAID 0 on a couple of old hard drives is providing blazing speed in all cases, refer to the chart above.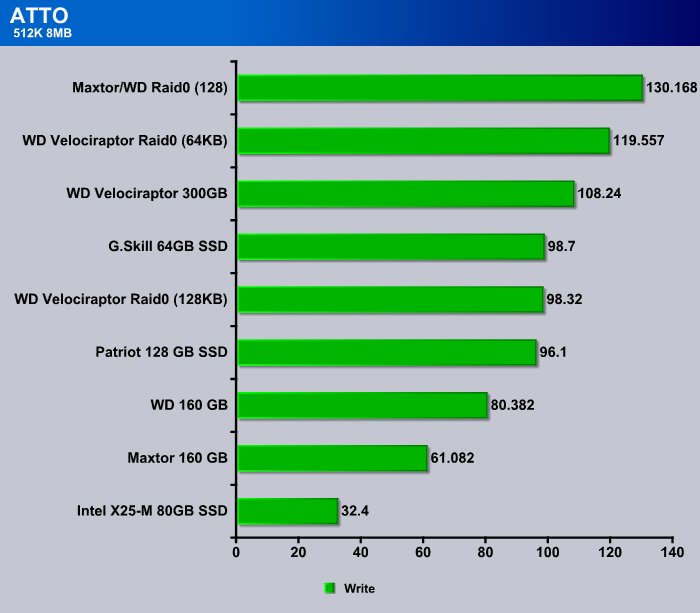 When we hit the 512K 8MB test in ATTO the Intel SSD dropping to last place in write speed had our mouths dropping open. Typical write speeds on the uber expensive SSD run in the 70MB/s range, until the drive gets close to full, then speeds drop off drastically. With its comparatively puny 80GB storage and a full load of testing software and games that we use daily on Bjorn3D almost filling the drive (8GB free space left), speeds did indeed drop drastically. Since we see this as a small drive that is uber expensive and the typical end user will quickly fill the drive with software, this is a typical result. You don't buy a hard drive to keep it half empty, nor do you expect it to slow down by over 50% when it gets close to full.
The oldest drives in the test rack, the Maxstor, and WD Raid 0 array came out ahead in write speed on this one. The problem with that for home users is, typically, we install programs once and read from them many many times. So you're getting good write speeds from the older array, but the read speed from the previous chart will kill performance.
The WD VelociRaptor on the other hand in RAID 0 with a 64KB Stripe came in close to the top in both read and write in this test. The single VelociRaptor was on its heels, showing us you can get by with one enterprise class VelociRaptor and still be ahead of the curve. Now, many people will say but they are expensive. Compare the 300 GB of storage you get from one VelociRaptor costing $216 (at the time of post) to the 80GB of Intel SSD for $600 and you quickly see that VelociRaptor storage is $.72 per gigabyte and that the Intel runs at $7.50 per gigabyte, so expensive is a relative term. Comparatively speaking, the WD/Maxstor array cost about $100 and provides 320 GB of storage, so you're running $.32 per gigabyte of storage, which is under half the cost of the VelociRaptor, but as you'll see as we progress, you get what you pay for.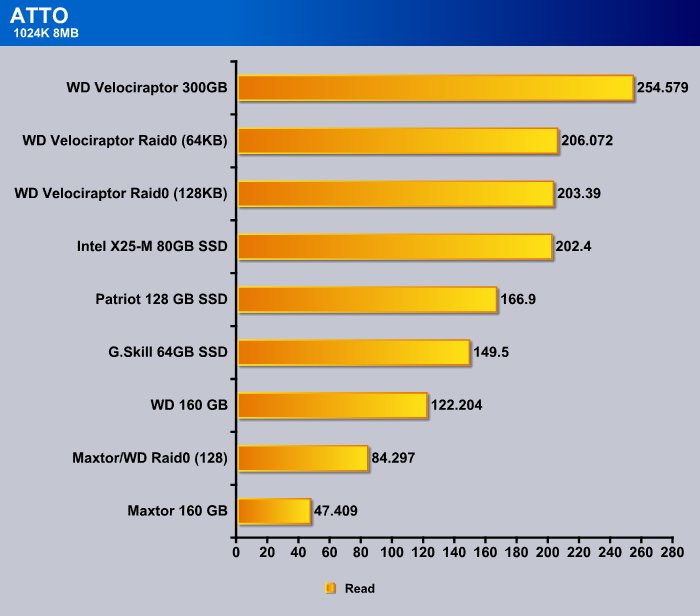 In the ATTO 1204K 8MB test the Western Digital VelociRaptor came in first, second, and third. The Intel SSD came in fourth right on the heels of the VelociRaptor RAID 0 arrays and, at this point, the VelociRaptor has started changing our views of the smaller more expensive SSD's. The VelociRaptor is eating them alive.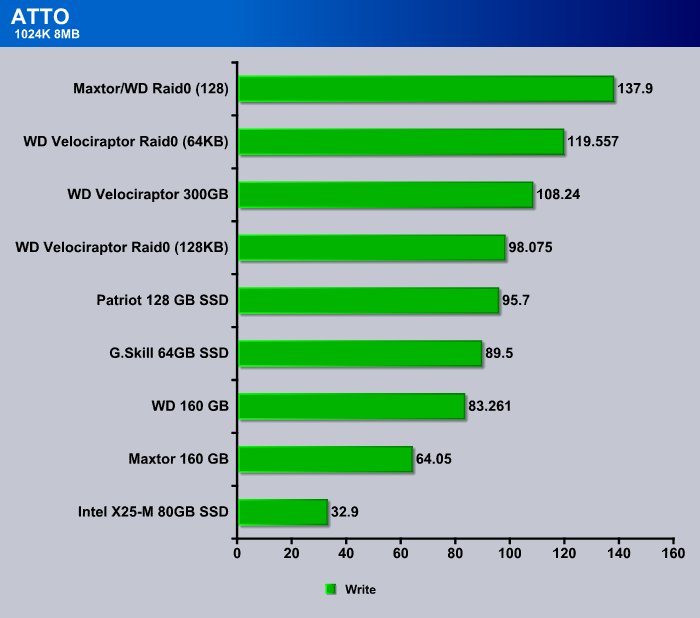 In the 1024K 8MB write test we see the older WD/Maxstor array out in front again. Maybe it's an older reliable benchmark that is more geared for drives from its generation, but they came out on top. The VelociRaptors came in second, third, and fourth, followed by all the SSD's and platter drives running in single drive configuration. Overall in ATTO, read and write performance considered, the VelociRaptor is tearing the competition to shreds.
CRYSTALDISKMARK
CrystalDiskMark is a hard drive benchmarking utility that features, sequential reads/writes, random 4KB/512KB reads/writes, text copy, change dialog design, and internationalization (i18n). It's an easy to use and free disk benchmarking utility that we have come to rely on and trust on our test bench.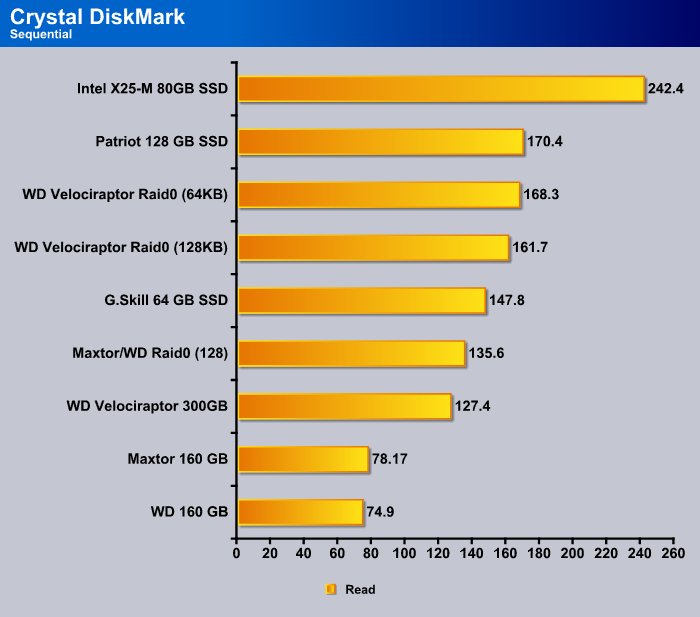 When we ran the CrystalDiskMark Sequential test, the Intel SSD jumps out to a commanding lead, the Patriot SSD comes in right behind the Intel SSD, and both VelociRaptors RAID 0 arrays come in next. The single VelociRaptor drops to 7th place in this test but is still running well ahead of traditional 7200 RPM drives. When it comes to hard drives though, you not only have to factor in raw speed, you have to consider access times. The SSD's have a blazing fast access time ranging in the .1 to .2ms range. They access blazing fast, but with costs so high for limited storage space, they are not very practical for the average user. Traditional 7200 RPM drives normally have an access time of between 13 and 15ms and are fast but have a little laggyness you can feel if you've used SSD's at all. The VelociRaptor balances all of those things. Access times ran in the 10ms range and seek times were blazing fast at just under 5ms. While SSD's access almost instantly, VelociRaptors take 10ms, but let's think about that for a second. 10ms. What is a millisecond? A millisecond is 1/1000ths of one second. So it takes a VelociRaptor 1/100th of a second to access information stored on it. It takes 1/200ths of a second to find it. In total, to find and access the information you're looking at, 15/1000ths of one single second. Whether it's 15/1000ths of a second or 1/10000ths of a second, human perception doesn't work on that scale. We're not going to grow old waiting on the drives unless the transfer rate is slow.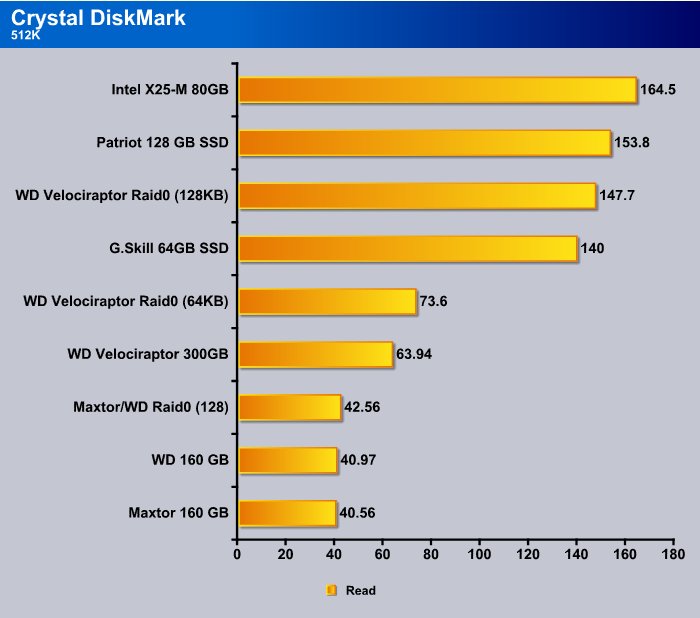 In the CrystalDiskMark 512K read test the Intel SSD maintains the lead, followed by the Patriot, then the VelociRaptor in RAID 0 with a 64KB Stripe. When we talk about RAID Striping what we're really talking about is the length of the data placed on each drive. In this case, the RAID controller places two 64KB blocks of data, one on each drive. Then, when it retrieves data from the drive it reads both 64KB blocks simultaneously and delivers them to the device that requested the read. In the case of the VeociRaptor RAID 0 array, the 128KB Stripe array came out ahead because the read/write head on the drive stays on the hard drive platter longer before it has to move on to the next block of data. In testing, we've found that the 128KB stripe is better all around, but not in every case.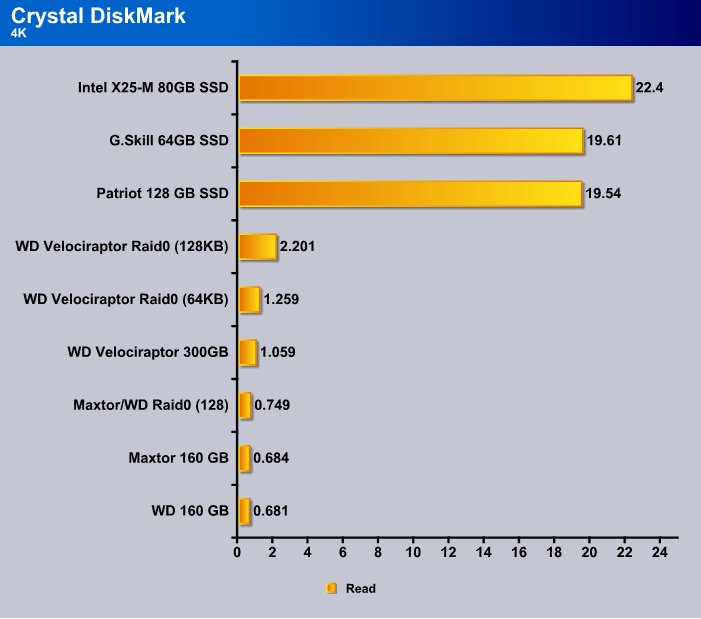 When it comes to the 4KB test, the short read test, short reads and writes are the hardest on hard drive speed. The read/write head on platter drives is reading and jumping from spot to spot, repeatedly, as fast as it can. SSD's don't have that mechanical limitation. The access the data directly without having to move a physical read/write head. When you get past the more expensive SSD's, which came in the first three spots, the platter design VelociRaptors take over and come in on top of the platter drive arena. Short reads are so short, that it might look like the drives are failing miserably, but if you Instant Message a lot, that's a typical short read and short dual write (one to the messenger, one to the log file). By the time you click the button, the short read or write is done and you won't notice the lag. Human perception doesn't work on that scale.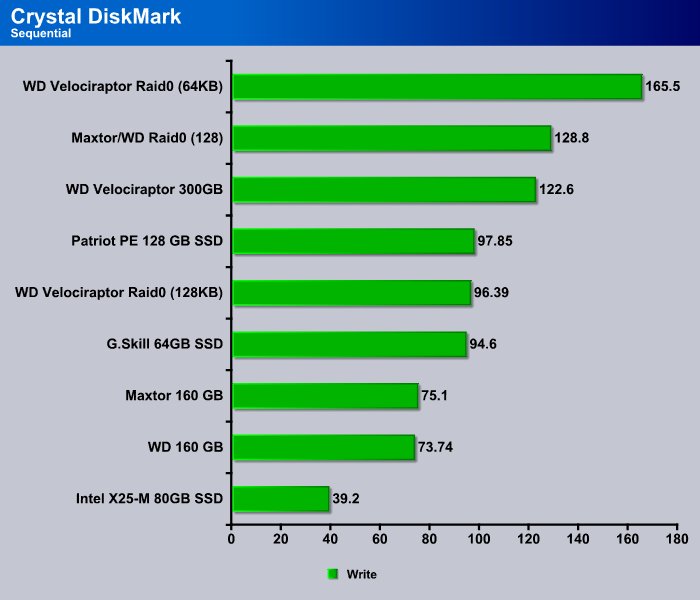 Getting back into the write testing portion, the Western Digital VelociRaptor RAID 0 Array 64KB Stripe came out in the lead. That surprised us. We thought that with its longer data block, the 128KB Stripe array would have an advantage. Behind the VelociRaptor array the older Maxtor/WD array again shows a good write speed. The single VelociRaptor comes in third, and the Patriot SSD 4th place. The VelociRaptor 128KB stripe array came in 5th. The thing that still surprises us is that the most expensive drive of the bunch, the Intel SSD comes in flat last again.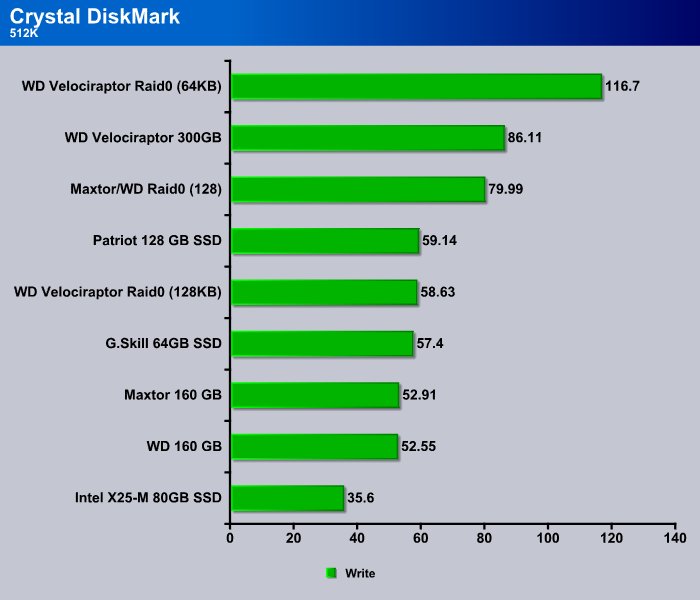 In the 512K test in CrystalDiskMark, the VelociRaptor 64KB Stripe RAID 0 array came out on top again, the single VelociRaptor came in second, and the Maxtor/WD RAID 0 array came in third. The VelociRaptor RAID 0 128KB Stripe came in 5th, and surprisingly, two of the expensive SSD's fell in the last four we tested.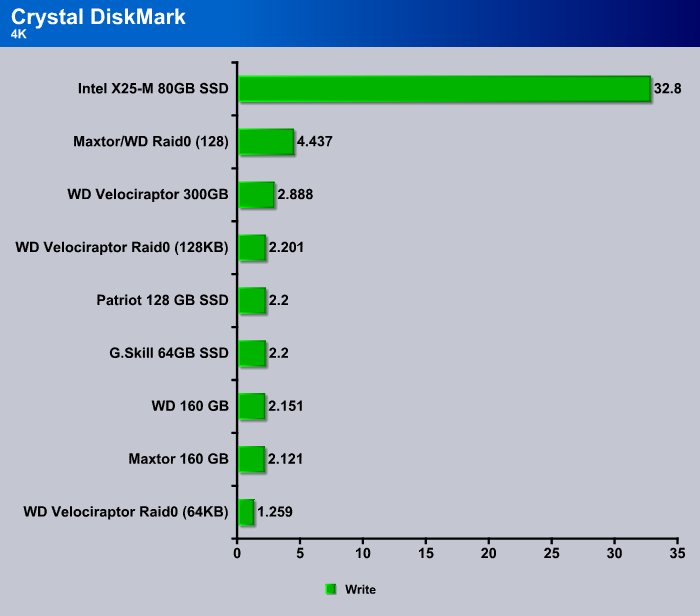 The Intel SSD rears its head in the 4KB test and jumps into the lead. We'd suspect that's due to two things. It stores information in 4KB blocks, and a bunch of blocks make up a page. It did manage to keep its 32MB range speed even in this demanding 4KB test, but overall, its write speed is lackluster when compared to the older Western Digital and Maxstor drives. We don't put a lot of stock in the short read and write tests for the reasons we stated earlier. They tend to be so short that they happen beyond the realm of human perception.
HD TUNE PRO
HD Tune Pro is another hard drive benchmark that we use for hard drive testing but it offers a little more than a raw benchmark. It will also check the health of your hard drive, offers a wipe some hard drive utilities, a disk monitor, and error scan. The benchmark portion produces uncannily consistent results across multiple tests and HD Tune Pro is quickly becoming one of our favorite hard drive testing tools.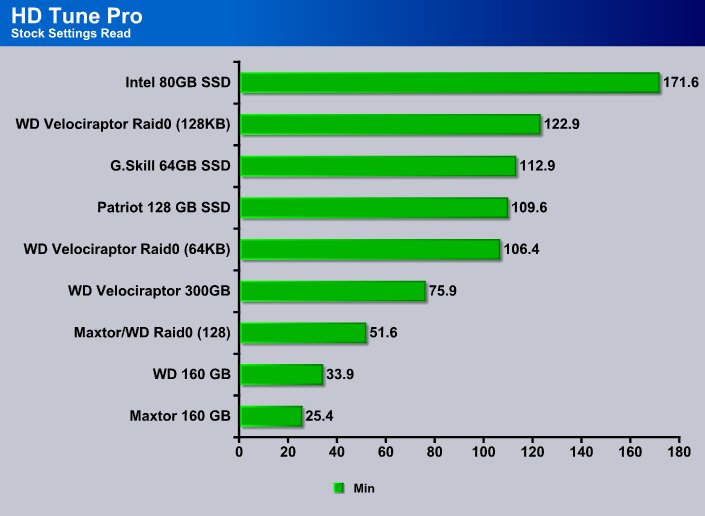 The minimum speed test in HD Tune Pro is just that, it reads the minimum speed no matter how long that drop in speed is. That can be a little deceptive. If the speed drops for 1ms, HD Tune Pro reads it. A drop in speed that short doesn't amount to a hill of beans, but we include the test anyway to provide the broadest range of data available. The Intel SSD came out ahead in this test, followed by the VelociRaptor RAID 0 128KB Stripe array. Then, the solid state design of the Patriot and G.Skill SSD kick in and they take 3rd and 4th, at which point the VelociRaptors take over again and place 5th and 6th. The older platter drives including the impromptu RAID array we did come in at the bottom of the heap.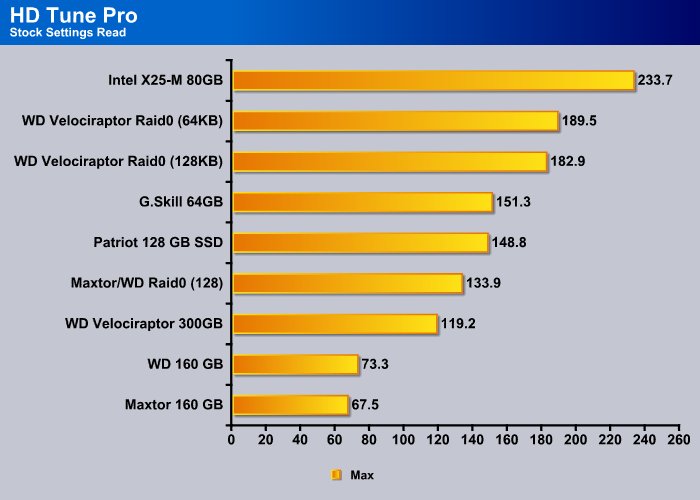 People tend to put way to much into the maximum read speed test. Much like the minimum speed test, it can be a momentary burst of speed. The Intel, again, comes out ahead. This being a strictly read test, we're not surprised about that. The VelociRaptor arrays came in 2nd and 3rd, the two other SSD's came in 4th and 5th. The ad hock Maxstor/WD array came in 6th, and the single VelociRaptor came in 7th.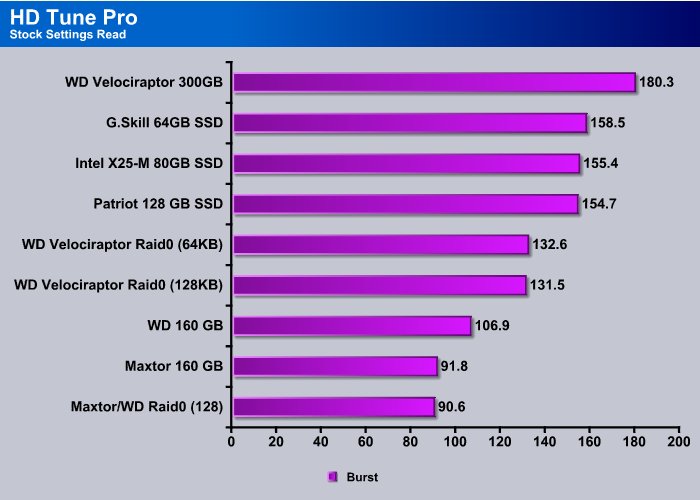 Burst speeds tend to be speeds attained while the data resides completely in the hard drives cache. With its hefty 16MB cache, it's no surprise that the single VelociRaptor comes in first here. The three SSD's came in behind that, then the VelociRaptor arrays come in behind the SSD's. The single VelociRaptor came out ahead of the RAID arrays in this case because it has a singe cache, and the RAID arrays have to coordinate two caches.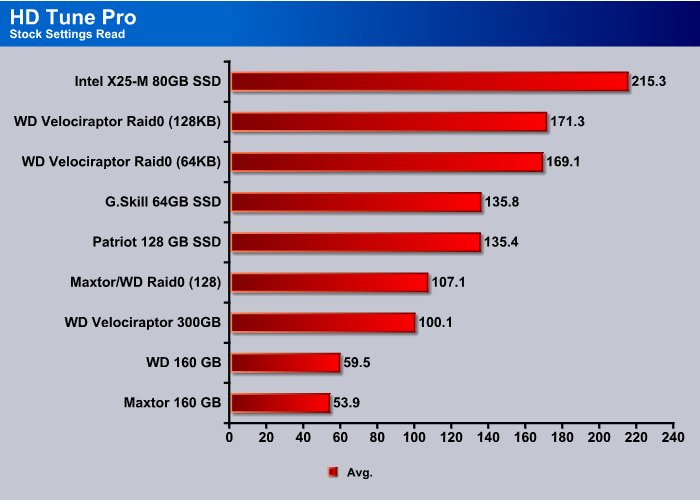 If you put serious stock into any test you can take the average speed test to the bank. It smoothes out the maximum, minimum, and burst, and shows you what you can really expect to see on an ongoing basis. The Intel drive comes out on the top of the heap, but keep in mind, on top of that shining performance the Intel SSD will sadly disappoint in the write department. If you were to average read and write speeds, it would be in the middle of the pack. Behind the Intel we see the two VelociRaptor RAID 0 arrays coming in 2nd and 3rd. The two "generic" SSD's come in behind the VelociRaptor arrays, followed by the WD/Maxstor array, then the VelociRaptor in 7th place. To keep things in perspective, the VelociRaptor is running at about 90% faster than the two platter type SATA 2 drives. When you view it like that, if you're setting on a lagging system, with a traditional 7200 RPM drive the VelociRaptor is some serious Geek Porn.
HDTach
HD Tach is a low level hardware benchmark for random access read/write storage devices such as hard drives, removable drives (ZIP/JAZZ), flash devices, and RAID arrays. HD Tach uses custom device drivers and other low level Windows interfaces to bypass as many layers of software as possible and get as close to the physical performance of the device possible.
The trial version of HD Tach measures the sequential read speed (at various points on the device), the random access speed, interface burst speed and CPU utilization of the drive.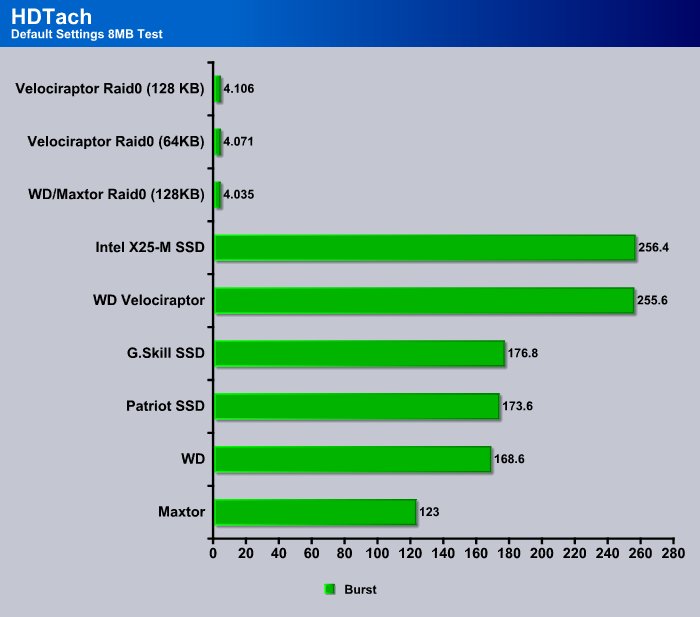 Now you might be asking yourself why those little bitty tiny bars are at the top of the chart where the best performing hard drives go. That's because we chose to represent the drive arrangement that scored up in the thousands with a decimal point value. Those drives, for whatever reason, scored up in the 4000 range. If we represented those with the 4000+ the rest of the chart would be lines too small to see.
The three RAID 0 arrays came in the first 3 spots so we really can't tell if HDTach has a probelm with RAID 0 of the data set it uses for burst is so small it fits entirely into the drives cache and really is that fast. Let's call this one a wash and move on.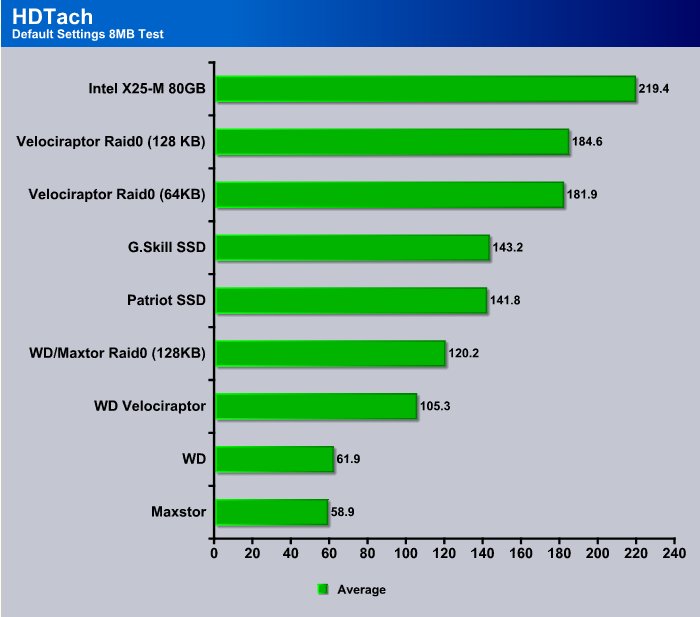 The Intel SSD came in first in the Average speed test and we know that this a read test just from that indication. We like to try and stay with free utilities that people can easily obtain and reproduce the testing results we got if they wish. The paid version on HDTach also does sequential Write testing.  Behind the Intel SSD we see the VelociRaptor RAID 0 arrays taking 2nd and 3rd, followed by the remaining two SSD's, then the single VelociRaptor. The single VelociRaptor drive is still running about 80% faster than the 7200 RPM drives.
CONCLUSION
We've run the gambit of hard drives commonly used in desktop systems in our series of hard drive reviews. From uber expensive SSD's to the common 7200 RPM 160GB $50 drive. We thought it fitting to end that series (for now) with the legendary Western Digital VelociRaptor. We're glad we saved it for last. If we had gone with the VelociRaptor, first the other drives would have been a little bit of a let down.
The SSD's provide an excellent read speed, but fall off in write speeds, especially the most expensive of the bunch, the Intel SSD. Currently, they tend to be smaller and cost a lot more per gigabyte than even the WD VelociRaptor. We quickly found our 80GB Intel SSD filling up and had to move some secondary testing files to a spare hard drive. When you spend half your day, every day searching for desktop files and folders that get rearranged with every GPU driver update, things get complicated enough. Searching across multiple hard drives for those folders can be a real pain. We can see the day that SSD's become more of a bargain, but that day hasn't arrived.
The older 7200 RPM drives that offer better storage for the dollar are often one of the big bottlenecks that can make an otherwise good system lag and drag. They do decently in RAID 0 in some of the write testing, but lack the snappiness that the SSD's and VelociRaptors give a system.
The WD VelociRaptor offers a balance between speed and price. Flinch, whine, moan, wail, and gnash your teeth having read that. The fact remains they are no longer the top priced desktop drive. SSD's, with their speed and small storage space and much higher per gigabyte price, have taken that spot.
The Western Digital VelociRaptor, coming in at $216, can revive a system that is lagging and rejuvenate the system to the point that you'd believe that you've done a major upgrade rather than just snap in a new drive. The difference between the VelociRaptor and regular 7200 RPM drives has to be seen to be fully experienced. We've already had to beat one nerd about the head and face to get his grubby hands off our VelociRaptors.
For the performance boost you get with a single drive, and the big boost you get with a pair in RAID 0, we'd have to say that the Western Digital VelociRaptor represents the best performance for the price you pay. It is holding the line against the SSD's and right now is a more economical choice. We've often heard that they are excessively loud. In all our testing, across more hours than we care to remember, we've never heard the drives spin up. Considering they were tested on a Top Deck testing station that's an open chassis, that's pretty good. The system felt as snappy as the SSD's made it feel and the extra storage you get compared to SSD's makes us really appreciate the VelociRaptor.
Yes, the Western Digital VelociRaptor costs more than a 7200 RPM drive, but if you're looking for top notch performance, the VelociRaptor will provide that. In many of our tests it came out ahead of the much sought after SSD line. For a balance of read and write speed, hands down, it devours the competition.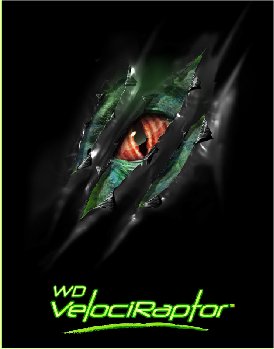 We are trying out a new addition to our scoring system to provide additional feedback beyond a flat score. Please note that the final score isn't an aggregate average of the new rating system.
Performance 9.5
Value 9
Quality 10
Warranty 10
Features 10
Innovation 10
Pros:
+  Looks Really Cool
+  System Was As Snappy As Running A SSD
+  Ran Nice And Cool Thanks To the Ice Pack Mounting Frame
+  Provides Some Nice Eye Candy
+  Decent Price/Performance When Compared To SSD's
+  Western Digital Quality
+  Did We Mention Blazing Speed
Cons:
– Cost More Than A 7200 RPM Drive
– Scared Our Other Hard Drives When They Saw The VelociRaptors Coming.
The Western Digital VelociRaptor with its blazing speed, best all around performance, and coolness factor devours the other drives we tested. If we turned our backs on the VelociRaptors we're afraid they would tear the other drives apart and devour them for dinner. That seems to be the way of the world. The creatures at the top of the food chain eat everything below them. The Western Digital VelociRaptor is in for a good dinner.
Final Score: 9.5 out of 10 and the Bjorn3D Golden Bear Award.