Thermalright may be best known for their IFX-14, Ultra 120 Extreme, and TRUE Black coolers, but if even better performance is wanted and price is no option then they just might have the solution you have been looking for!
INTRODUCTION
Heatsink coolers for computer hardware components have been around for ages now. Stock coolers are adequate for the vast majority of PC owners, and for the most part they are sufficient to get the job done. Not to mention a free cooler that comes with your CPU is still a free cooler. Yet those seeking to preserve the lifespan of their hardware or especially want to unlock untapped performance through overclocking will scoff at the notion of using a stock cooler, and rightly so.
Amongst aftermarket coolers there are the usual economical, performance, and no-holds-barred categories, and the cooler in this review most definitely is targeted at the no-holds-barred enthusiast that wants the best performance regardless of price. Of course, those simply wishing to own one of a very limited edition, high-performing, and flashy cooler to proudly display in their windowed PC during LAN parties might also crave a Thermalright Ultra 120 Extreme Copper and be willing to spring for it.
Regardless of why and especially regardless of practicality for such a cooler, Thermalright has decided to trump even their mostly-aluminum Ultra 120 Extreme by releasing a full copper version. The Thermalright Ultra 120 Extreme has made a name for itself and is often regarded as one of the top best air coolers currently on the market, so an all copper version has the potential to offer even better performance.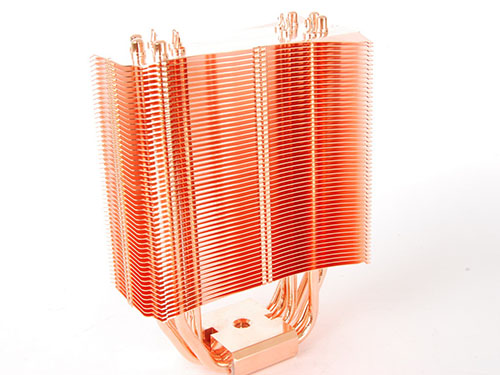 About Thermalright
Thermalright is an elite design house that manufactures cooling products for computer components for the best quality and performance your money can buy. In 2002, AMD released its first generation Thunderbird CPU and since then we have been there every step of the way to counter high voltage and high heat with innovative design and highly acclaimed cooling solutions not only for AMD but for Intel as well. One of early well known solutions was the SK-6. With many positive and rave reviews under its belt Thermalright bolted to the top as the heat sink manufacturer mostly preferred by Overclockers and enthusiasts around the World. To this day, innovation never left our vocabulary as we keep coming up with leading edge designs staying ahead of the competition
SPECIFICATIONS
For the unfamiliar, Thermalright has offered quite a few Ultra-120 models. It began with the excellent Thermalright Ultra-120, a 4/8 ratio heatpipe cooler that easily made a name for itself due to its extremely competitive performance. Then came the Thermalright Ultra-120 Extreme which added two more heatpipes to make a 6/12 ratio heatpipe cooler, increasing the performance by a surprisingly large amount. After the Extreme's debut and subsequent wide success Thermalright since released the TRUE Black, which is nothing more than the Extreme with an appealing black paintjob and minor tweaks. (TRUE is short for ThermalRight Ultra-120 Extreme) Not confused yet? Thermalright most recently announced the Ultra-120 eXtreme 1366 RT, which is intended solely for new LGA1366 socket and associated Nehalem processors.
The TRUE Black doesn't offer any performance gains over the original Extreme model, but the TRUE Copper looks to change this. Made of almost pure copper this literal heavyweight arrives packing extra muscle and aims to offer even better, if not the best, performance we have yet to see from an air cooler.
Unfortunately that is not the only thing this cooler offers. The TRUE Copper is the most expensive air cooler introduced to the market, and also carries the distinction of being the heaviest. Weighing in at an impressive 1800 grams (2.5x more than the TRUE Black!!), this is enough weight to make any motherboard buckle at just the mere thought of having to support the weight of this cooler horizontally. Besides the cost savings this is why most coolers use aluminum over copper in their construction whenever possible.
For those interested, Intel's oft-ignored guidelines recommend only 450g for cooler weight on the 775 socket platform, but to be honest just about any aftermarket cooler easily exceeds this limit. This is in thanks in part to the use of a backplate, which is not a part of Intel's socket 775 guidelines.
Features
Use high quality copper material for consistent heat absorption and transfer.
Utilizes six high quality 6mm heatpipes, strategically positioned to pick up the heat from the CPU.
Proprietary bent winglet design to minimize airflow resistance.
Heat pipes soldered to base (nickel plated) and fins for optimum heat transfer.
Stack of 52 pieces of copper fins, the most over any other heatsinks in the market. Can be covered entirely by a 120mm fan to absorb all in-coming air flow.
Vast compatibility list for multiple multi-core CPUs and platforms.
Includes both bolt-thru-board retention mechanisms for Intel 775 and AMD AM2 (backplate included for both platforms).
Includes two sets of fan wire clips for a duo-120mm fan installation (fans not included).
Includes the NEW thermal paste, Chill Factor 2 for even better conductivity.
Technical Spec
Dimension: L133 x W156 x H38 mm
Weight :1900g (Heatsink Only)
Recommended Fan (120x25mm)
Heat pipes: six Heat pipes
Material : Copper
Note
We have one quick word of caution to any potential buyers of the TRUE Copper. For some unknown reason Thermalright has decided to offer the LGA1366 mounting hardware as a separate (hence the word "optional") kit. Considering the steep price of this cooler we honestly don't understand why the TRUE Copper isn't bundled with the required mounting hardware.
The consumer most willing (and able) to spend over one-hundred dollars on an air cooler is also going to be the same consumer most likely to be using or building the highest performing Nehalem platform around one of the new LGA1366 based motherboards. Thermalright previously had the price listed at $69.95 for the mounting kit but has since corrected the error to a more palatable $10. Until the Buy link becomes active users will have more luck finding the kit at sites such as Jab-Tech or HeatsinkFactory.
A CLOSER LOOK: THE PACKAGE & COOLER
As previously mentioned the Thermalright Ultra 120 Extreme Copper can only be a premium cooler, so we expect nothing but the best when it comes to packaging. Not only must it fully protect the expensive cooler, but it should leave the buyer with the feeling they purchased a quality product.
Anyone that has previously purchased a Thermalright product will be familiar with the usual product packaging, namely a brown cardboard box with the company logo printed on the lid. The TRUE Copper arrives in an equally sized box as its predecessor, but that is about where the similarities end.
In contrast to the original Ultra 120 Extreme's packaging, this was an amazingly heavy, glossy box. It doesn't show well in the photo but the box was given a pure, glossy white finish with the logo and cooler name professionally embossed on the lid.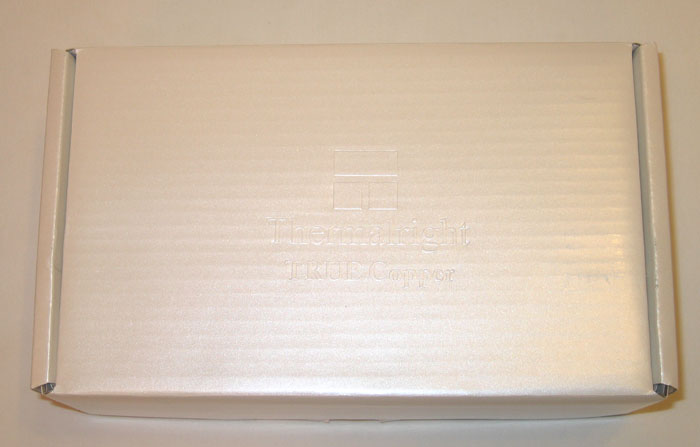 Inside we find the cooler, miscellaneous reference sheets, and a few other items. All mounting hardware is located within the second box to prevent any possible damage during transit to your door. We will get to those in a moment.
Removing the cellular foam block from the box we found the cooler to be well cocooned within the foam. At first glance it might not appear to be a sufficient amount of foam, but very little is needed when considering the Thermalright box will ship inside a standard peanut filled postal mailer. All this foam block needs to do is prevent anything from shifting so nothing will be bent of damaged. While probably not necessary, Thermalright went a step further and wrapped the TRUE Copper in a thick plastic bag.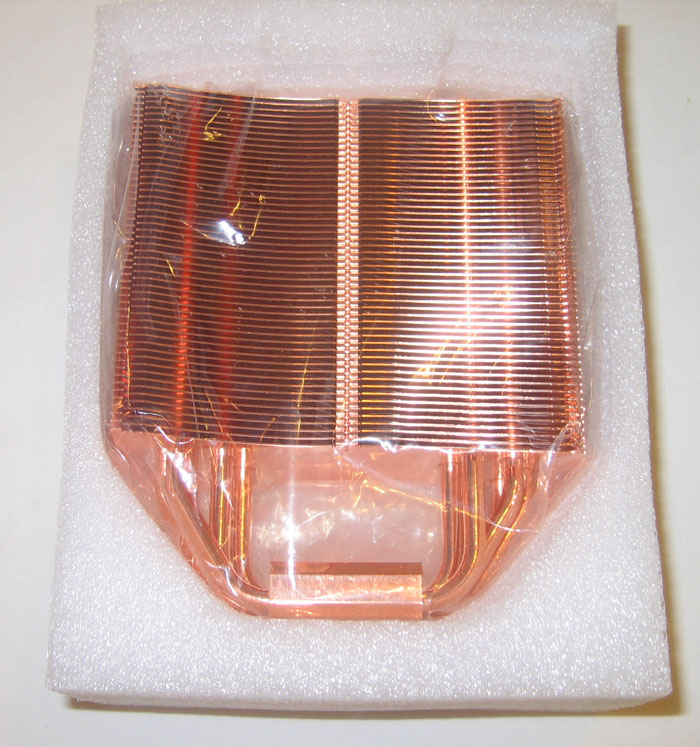 The contents include a professional looking Thermalright sticker, a crib sheet on the bag accessories, the bag of accessories, and lastly the installation guide.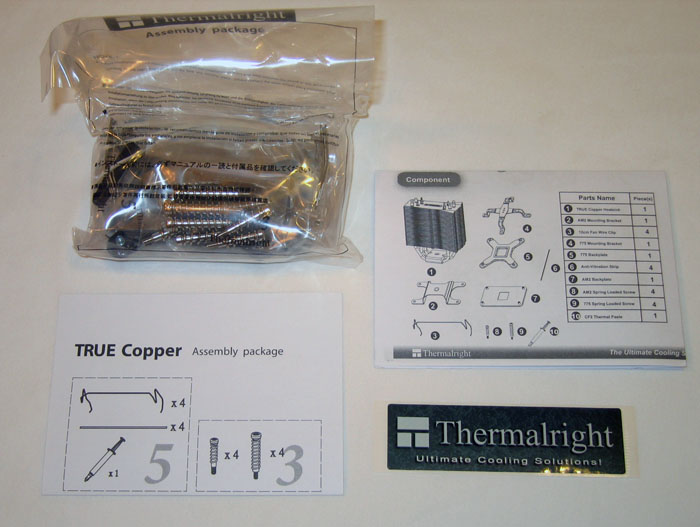 The crib sheet will likely make more sense when considering each bag was given a unique number, and the crib sheet lists both contents and quantity of each individual bag by their designated number. It is a nice gesture, but we suspect most of the hardware is fairly self-evident. The tube of thermal compound is Thermalright's own Chill Factor 2 paste.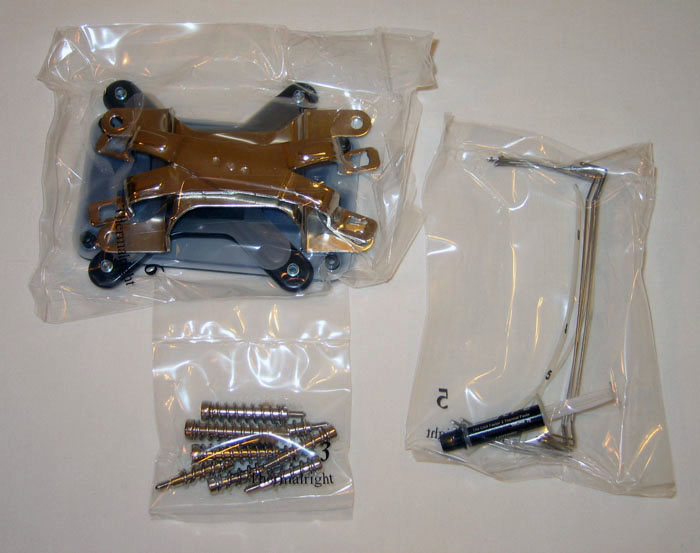 Unwrapped, the TRUE Copper proved to be a true pain to photograph with any sort of flash photography. Nonetheless the beauty, if not simple monstrosity, of this cooler still are still fairly self-evident. As far as the weight goes, just imagine holding onto a large brick!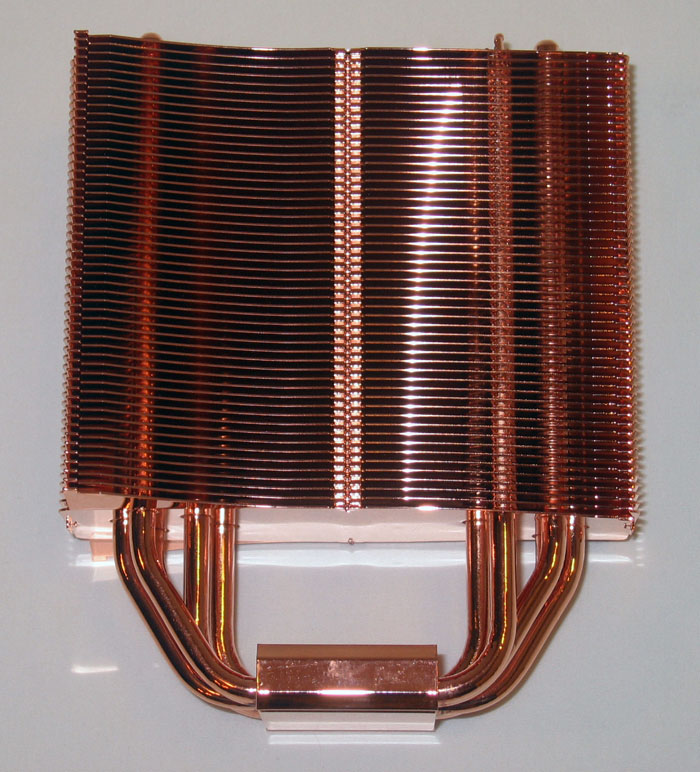 Here we can see the secret sauce to the Ultra 120 Extreme's success, namely the six/twelve heatpipe arrangement. The original Ultra 120 offers only a four/eight ratio of heatpipes. Densely packed fins make for plenty of surface area to dissipate heat, not to mention plenty of bling for your motherboard!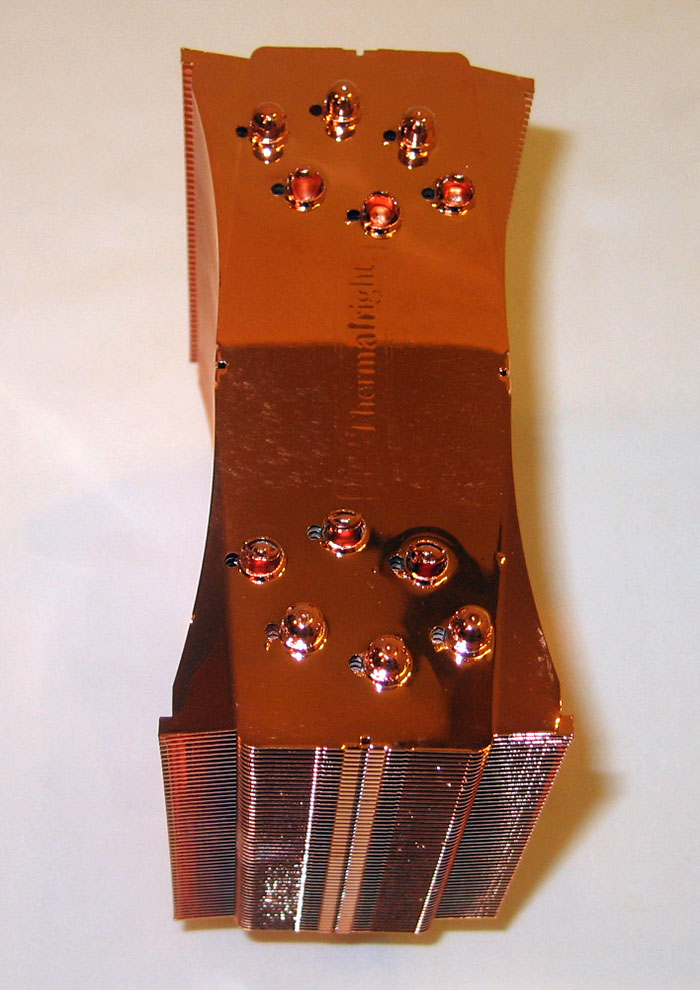 Those unfamiliar with the Ultra 120 design may be wondering how a fan mounts to this cooler due to the beveled, inward sloping curve, but suffice to say a 120mm fan can easily be mounted in place on either side (or both) of this cooler. We will mention bit more about this on the installation page.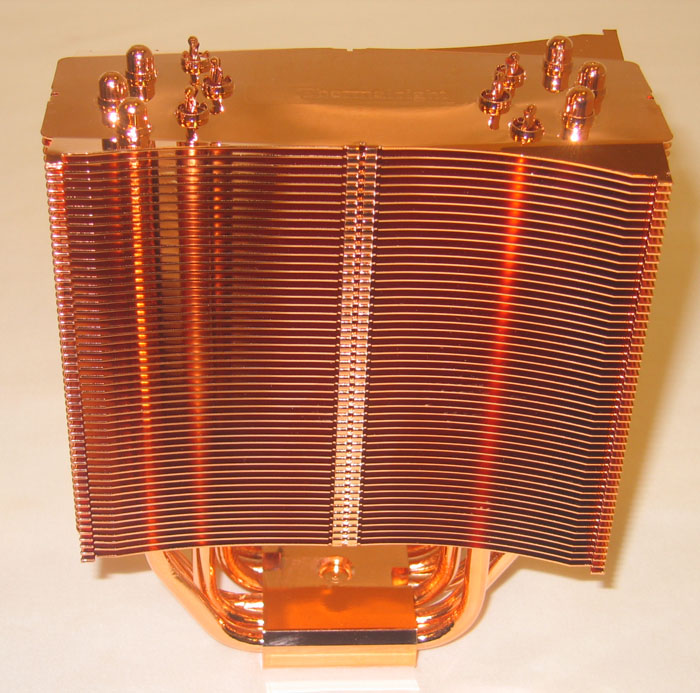 The base of the cooler retains the same cooper patina as the rest of the cooler, including the same mirror-like finish. No worries here, the base is completely flat.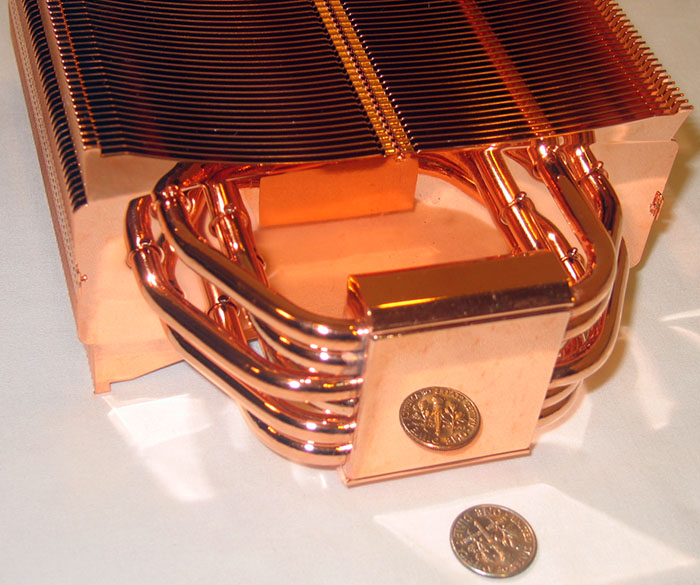 This is a quick reference shot of the mounting system. As with most coolers there is a notch inset into the base to lock the mounting bar over the base of the cooler. This does allow for mounting the cooler so it s oriented in almost any direction.
The only real drawback with this is it does not lock the cooler into position, allowing the cooler to rotate along this single axis after it is mounted. This honestly doesn't matter much with fresh thermal compound, but after the thermal compound "cures" and sets most tend to harden slightly. After this point any twisting will break the set compound and cost one or two degrees of cooling efficiency.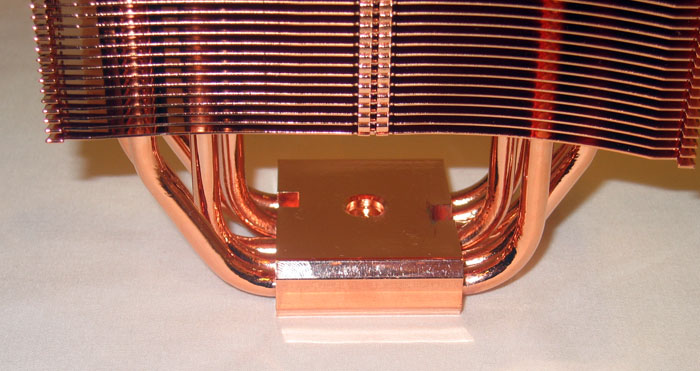 INSTALLATION
Installation of the TRUE Copper was fairly easy, no fumbling around behind the motherboard or hard to align clips are needed. We should note here that the TRUE Copper mounts fans via two metal clips. These clips are only compatible with flange type fans, not rib type fans. The differences are explained half-way down this page.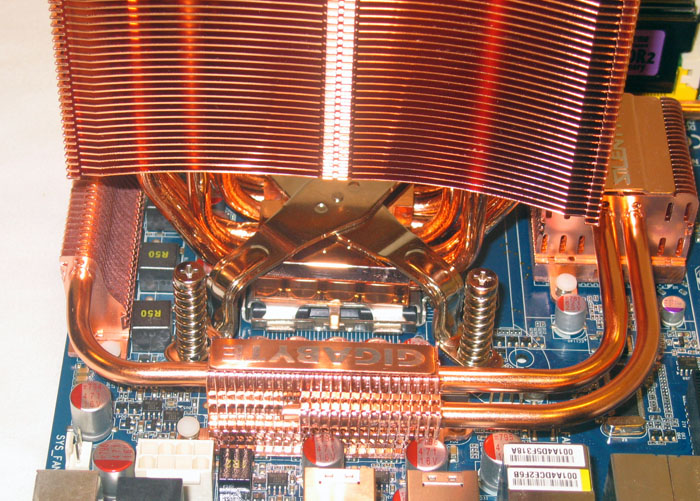 Obviously because of the nearly four pounds of weight the motherboard removal for the backplate install is going to be a must. And trust us, no motherboard would survive using this cooler without a backplate! Simply slide the backplate into the mounting holes, slip the adjustable crossbar into the notch in the base of the cooler, and use a screwdriver to screw down all four spring-loaded screws. That's it.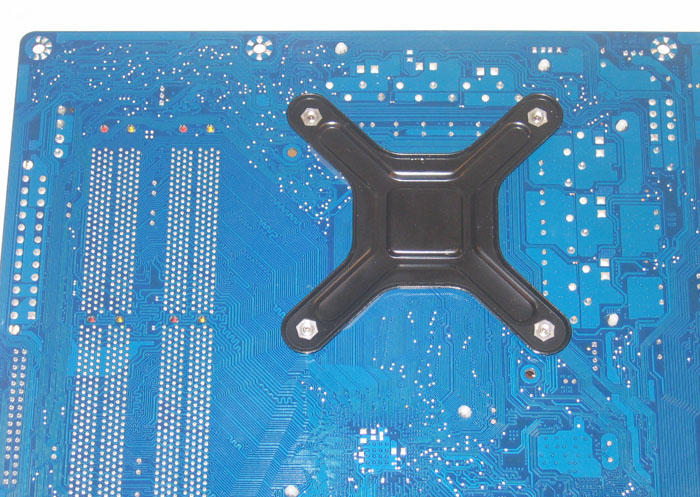 Oh, and one last thing. Be extremely careful when handling the motherboard with the cooler installed! The cooler can still swivel after it has been mounted, and the heavy weight can easily damage the motherboard. We would recommend holding the entire assembly with one hand fully supporting the cooler at all times.
TEST CONFIGURATION
It should be noted that the closely spaced fin design of Thermalright's 120 Extreme heatsinks, including the TRUE Copper, will favor high speed fans over silent fan designs (such as the Noctua NF-P12). Due to this we revised our testing procedures and are using a Silverstone FM121 fan where possible, the only exceptions obviously being the Zalman 9700 which has its own 110mm fan and the watercooling setup which uses three 120x35mm Panaflo fans. For simplicity's sake the FM121 and Zalman 9700 LED fans were tested at full speed, no fan controllers were utilized. The Panaflo fans were set to an approximate setting. All fans were easily audible; we wouldn't run these fans at these speeds for daily use.
Test Platform
Processor
Intel Q6600 Core 2 Quad (2.4GHz @ 1.20V and 3.6GHz @ 1.46V)
Motherboard

Gigabyte GA-EP35-DS4

Memory
4 x 1GB of Corsair XMS2-6400c4 800MHz @ 4-4-4-12
Drive(s)
4 x Seagate 320GB Barracuda 7200.10 SATA Drive
Graphics
XFX 8600GT
CPU Cooling

Cooler #1  TRUE Copper

Cooler #2  Scythe Ninja

Cooler #3  Zalman 9700 LED

Cooler #4  Custom WaterCooling

Power Supply
PC Power & Cooling 750W Quad Silencer
Case
None
Operating System
Windows Vista Ultimate SP1 64-bit
For testing we utilized a nifty program called IntelBurn written by AgentGOD over on XtremeSystem's forums. This program uses Intel's Linpack libraries to load the processor to its absolute maximum. We chose this program as temperatures typically exceed those reached by Prime95 and Orthos typically by as much as 10-20c. Not to mention IntelBurn works extremely well for pure CPU stability testing (Think your overclock is stable? Then give it a try!). We also elected to use Real Temp to monitor CPU core temperatures and write them to a log file. Ambient temperatures were kept to 23oC during testing.
Our methodology is to load Windows Vista with minimal programs and wait five minutes for activity to zero out, before taking five minutes worth of readings and averaging out to reach an idle temperature. For load readings we ran IntelBurn on maximum settings set for ten runs, which equates to roughly twenty minutes. Due to how IntelBurn loads the processor for several minutes then ceases to page memory any average would be skewed. Therefore we took the max reading available out of the roughly twenty minutes of data.
Please note Intel Speedstep technology and C1E state were both disabled during all tests!
The breakdown of the watercooling setup during testing is as follows: Swiftech Micro Resovoir, Swiftech MCP655 Pump (speed 3 out of 5), Swiftech Apogee GT block, D-Tek Fuzion GFZ 2 block (GPU unplugged), ThermoChill PA120.3 radiator, and ½ ID tubing.
TEST RESULTS
Each cooler tested falls within its own price category, which should give a fairly good idea what you are getting for pricier coolers. Obviously, the $110 isn't expected to trump the $300+ in watercooling equipment, but again this is to give prospective buyers an idea of where the TRUE Copper fits. The first chart is not the smoothest to read, but they will quickly get easier as the heat is turned up!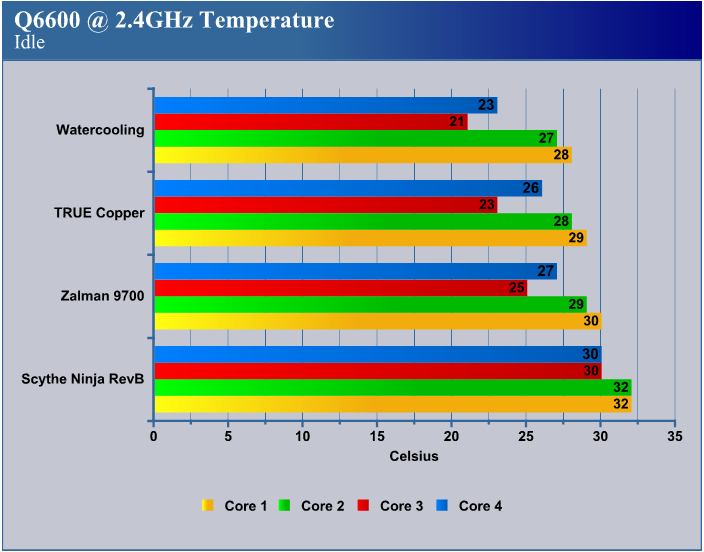 At first glance results appear to be a mixed bag, but that is about to change when we load down the processor.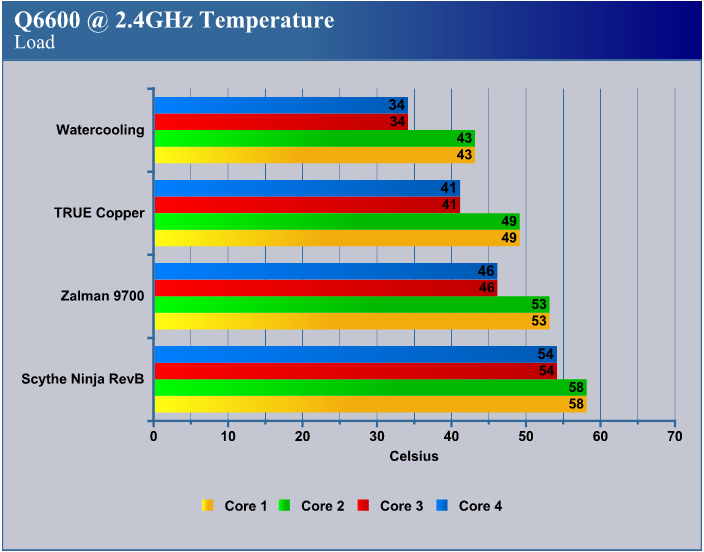 So far the Zalman 9700 LED is within 5oC of the TRUE Copper, and the watercooling setup is holding its own. Not unexpectedly the Ninja is already falling towards the bottom of the pack.
To get things cooking we overclocked our Intel Q6600 Quadcore processor to 3.6GHz. First the idle tests: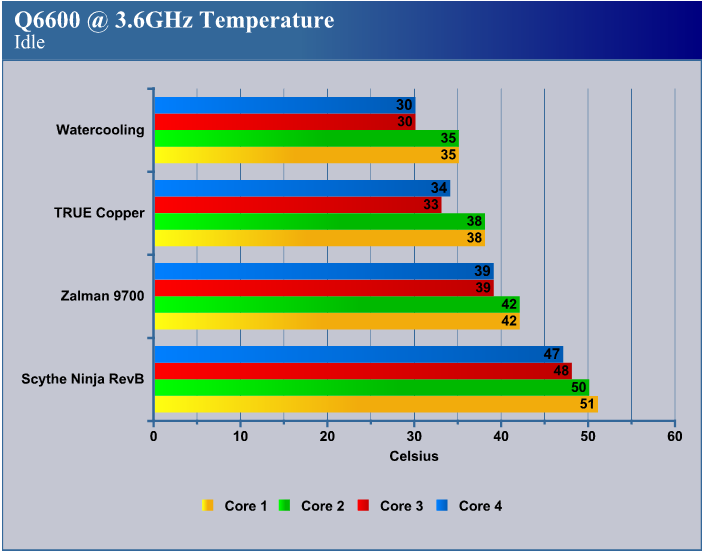 Even without any load applied to the CPU we can see the Ninja is showing signs of stress from having to cope with the heat load while all the other coolers seem to be doing fairly well. That is about to change!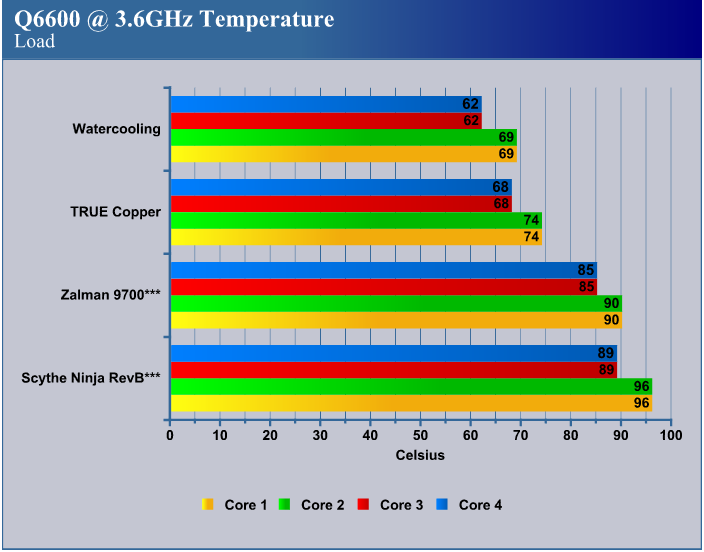 Finally, the most interesting and telling results of them all. Please note that the Scythe Ninja and Zalman 9700 LED both FAILED this test, less than twenty seconds after IntelBurn was started both of these coolers were overwhelmed and the system blue screened. We are sure that if the system had not crashed temperatures would have quickly exceeded 100oC for both of these coolers. We marked them with a *** to denote these were the last readings observed before the system BSOD'd using these two coolers.
With that unpleasantness out of the way, we can see both the TRUE Copper and watercooling setup are truly within their own element here. The TRUE Copper is simply unmatched amongst air coolers and requires a beefy, not to mention 3x more expensive watercooling setup to best it.
Surprisingly, the difference is only 6oC higher than the watercooling setup, which honestly is not very much. If anything, this puts the TRUE Copper in a very positive light, as for one third the cost you can get near watercooling performance from an air cooler!
Given our experience with self-contained watercooling "kits" that are found on the shelf and usually cost about the same as Thermalright's Ultra 120 Extreme Copper, the TRUE Copper would be an absolute shoe in and obvious choice. If it was possible to pack in any additional heatpipes into the base of the TRUE Copper we would really start to worry about the future of watercooling in general. We suspect our watercooling setup could've been tuned better to eek out a few more degrees of performance, but as it is you get to decide if approximately 6oC is worth all the extra effort and hassle for cooling just a single CPU.
FINAL THOUGHTS
The Thermalright "TRUE" Copper is somewhat of a misnomer in one regard. Pure copper will react with oxygen in the air, eventually forming a green patina such as with the Statue of Liberty. Just take a look at the TRUE Copper, and then try to imagine the Statue of Liberty sporting the same copper color early in her youth! Safe to say while the TRUE Copper's composition is mostly copper there are enough other metals used to create a sufficiently durable, verdigris-proof alloy.
Because it is an alloy and not pure copper, users won't have to worry about the attractive looks of their irreplaceable cooler developing a bright green luster with age. This is why copper heat sinks and heatpipe assemblies found on motherboards don't lose their luster after several years; most "copper" cooling assemblies actually have far more aluminum than copper in their composition. We don't know the exact amounts, but suffice to say due to the weight it is a safe bet the TRUE Copper is comprised significantly of copper. Far more copper than even the Zalman 9700 LED which is also completely "copper". This still won't save you from fingerprints though!
Before anyone decides to visit our forums to argue the validity of comparing a $110 air cooler against over $300 in watercooling equipment, here is our reasoning. The TRUE Copper is easily and by far the most expensive air cooler that has to been invented to date. It costs almost double that of the TRUE Black yet honestly from what we have observed offers somewhere between a 5-10oC performance improvement at most. This cooler has absolutely no regard for price/performance, and focuses solely on that last degree of performance at any cost. Those users concerned about absolute performance would be interested in the next higher performing option, and that answer is simply watercooling. Not a cheap $150 self-contained watercooling kit, because the TRUE Copper or even the TRUE Black would blow those out of the water, but a real high-performance watercooling configuration.
That said some readers may also see things with a different perspective. Sure the TRUE Copper may offer temperatures more or less 10oC above some of the best watercooling kit available. But at a third to a fourth the cost it would be a relative bargain alternative to watercooling. Not to mention there are no concerns about leaking water and significant amounts of time saved not having to install, hookup, and routinely service a watercooling loop. Of course to mollify fellow watercoolers out there, there are other advantages we declined to mention for watercooling, such as cooling multiple components in a single loop with a minimal performance penalty. But for the sake of brevity we are only looking at CPU cooling for this review.
CONCLUSION
 
Thermalright is not a new company, they have been making CPU and GPU coolers for over five years. It is common to see companies launch very limited edition "100%" copper one-offs of their best selling cooler designs, yet ironically they cost significantly more for nearly the same performance. So, the question is has Thermalright broken this overused mould?
Admittedly when a company already offers two of the currently top five best performing coolers such as the IFX-14 and Ultra 120 Extreme, re-releasing one of them as a pure copper alternative means the only way to go is up the performance ladder. We unfortunately lacked one of the original Ultra 120 Extreme coolers, but we can safely say there is a 5-10oC general performance improvement with the TRUE Copper. If that much in performance is worth almost doubling the original Ultra 120 Extreme's price, then this cooler is an easy choice.
There are downsides to almost everything, so here the TRUE Copper's own shortcomings. One thing we do not understand is why the LGA1366 mounting kit is not included with these coolers. This kit costs $10 plus shipping, as we detailed earlier in the article. For the current cost of the TRUE Copper we don't think offering this kit freely to those buyers that ask would have been to much to ask for. Other issues are going to be weight, and the afore-mentioned fan compatibility. Honestly any 120x25mm fan will work, but rib-type fans will require some jury-rigging to mount as the clips are unable to use the blocked fan mounting holes.
This cooler must be uninstalled before moving the PC, and extreme care must be used if the cooler will be mounted horizontally. Four pounds is a great deal more weight than any other cooler we have seen and will easily snap a motherboard in two faster than an irate WWWF champion if care is not taken. Just the thought of someone shipping a computer with this cooler pre-installed gives us horrible nightmares…
Thermalright's TRUE Copper is a beautiful cooler, and who doesn't at least slightly enjoy owning one of a very limited edition product? The specific number of TRUE Coppers is only a few thousand at most, but the specific number seems to be in debate with anywhere from 1,000 to 3,000 being mentioned.
Currently at a whopping $110 this cooler will not be on most shopping lists, but if similar performance is acceptable then the Thermalright Ultra 120 Extreme Black or the newest eXtreme 1366 RT (Nehalem only) will definitely suit you better at nearly half the price. Still, for those select few that want the best at any cost, we can safely say Thermalright's TRUE Copper is going to be extremely hard to beat indeed.
Pros:
+ Impressive Performance
+ Good Airflow (Aligns with rear case exhaust fans)
+ Appearance
+ "Optionally" Compatible with LGA1366
+ Easy Hardware Installation
Cons:
–  Weighs 1.8kg (~4lb)
–  No LGA1366 Mounting Hardware Included
–  Clips Fit Flange-type Fans Only
–  Price!

Final Score: 9 (Extremely Good) out of 10 paws and the prestigious Bjorn3D Golden Paw Award!