Introducing the Nvidia GTX-295, reportedly dethroning the 4870×2 as the fastest GPU on the Planet. The King is dead, long live the (new) King.
Nvidia GTX-295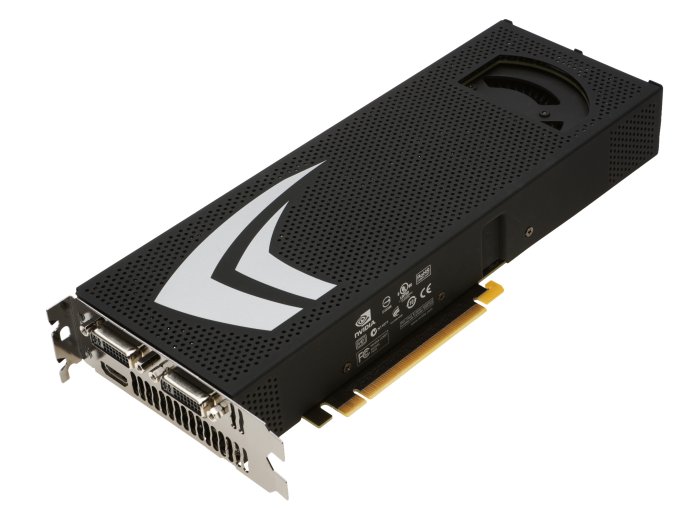 On Thursday December 18th 2008 Nvidia announced the up and coming release of a new Hybrid GPU, the GTX-295. The GTX-295 is poised to replace the ATI 4870×2 as the fastest GPU on the planet when it releases shortly after the first of the year. The photos supplied to us of the GTX-295 are of an Nvidia reference GPU. It's almost 2 GTX-260's on one GPU, by almost we mean it's a hybrid GPU that has most of the features of a dual GTX-260, but has some improvements that resemble the GTX-280. We'll let that go until it's time for the infamous Bjorn3D table.

The GPU sports two Dual Link DVI-I and one HDMI on the familiar dual slot cooler we've all become used to.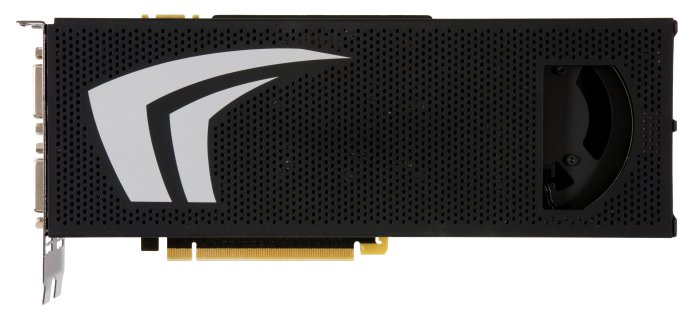 The reference model sports an Nvidia logo and the fan design has changed. We can't wait to see what the fan does for cooling the dual GPU setup. Dual GPU video cards have been known to have heat issues and it looks like Nvifia has addressed the issues with a new fan design.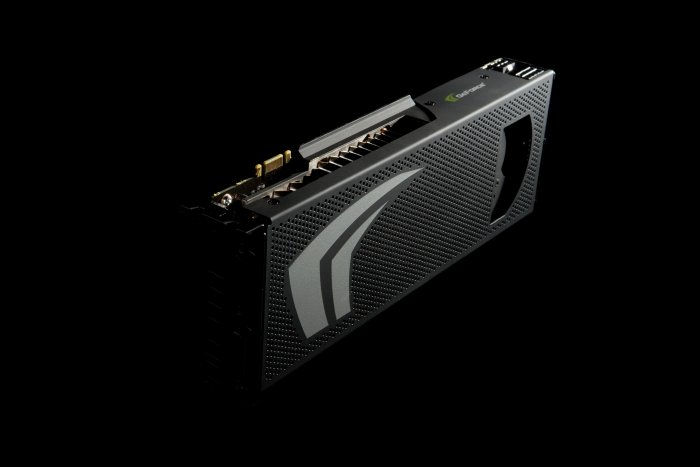 In addition to the fan the top of the GPU looks to be louvered to help release the heat from this graphics powerhouse. From what we can tell your going to be able to run two of these beauties in Vista and experience some Quad SLI goodness.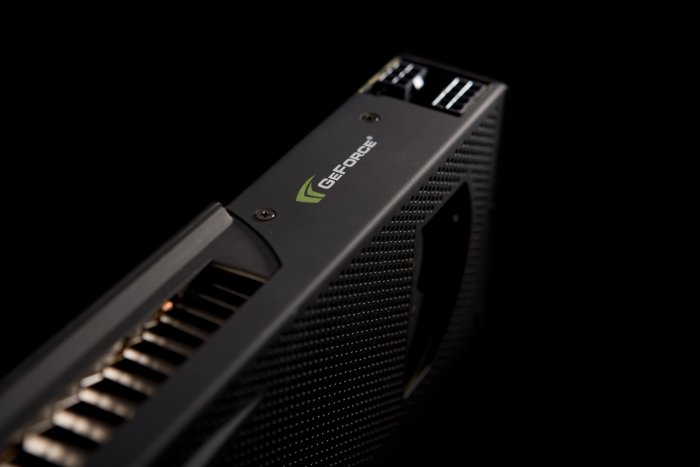 You can get a better look at the louvered top of the GPU in this shot, and get a hint that it's a 8 and 6 pin PCI-E power connector GPU. We find ourselves wondering if the holed design on the GPU is for cooling or will be covered with a sticker like previous generations of GPU's.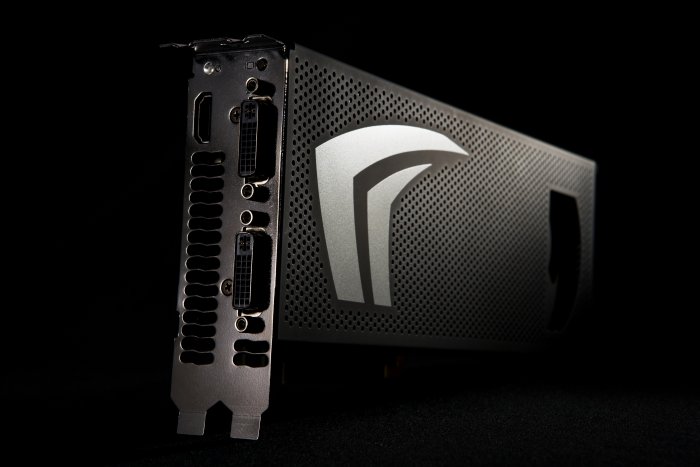 We don't really get to glean any new information from this shot of the GPU but it looks really imposing with the lighting like that. If you listen closely you can just about hear it saying, "The rest of you GPU's need to be afraid, be very afraid."
Major GPU Specifications
GPU
9800 GX2
GTX-295
GTX-260 
GTX-260 216
GTX-280
GPU frequency
600MHz
576MHz
576MHz
655MHz
602MHz
ALU frequency
1500MHz
1242MHz
1242MHz
1404MHz
1296MHz
Memory frequency
1000MHz
1000MHz
999MHz
1125MHz
1107MHz
Memory bus width
2×256 bits
448 bits per GPU
448 bits
448 bits
512 bits
Memory type
GDDR3
GDDR3
GDDR3
GDDR3
GDDR3
Memory quantity
2 x 512 MB
1792 MB
896 MB
896 MB
1024 MB
Number of ALUs
256
480
192
216
240
Number of texture units
128
160
64
72
80
Number of ROPs
32
28 x 2
28
28
32
Shading power
1152 GFlops
Unknown
715 GFlops
824 GFlops
933 GFlops
Memory bandwidth
128 GB/s
224 GB/s
111.9 GB/s
126.0 GB/s
141.7 GB/s
Number of transistors
1010 mil
1400 x 2 mil
1400 mil
1400 mil
1400 mil
Process
65nm
55nm
65nm
65nm
65nm
Die surface area
2 x 324 mm²
Unknown
576 mm²
576 mm²
576 mm²
Generation
2008
2009
2008
2008
2008
Shader Model supported
4.0
4.0
4.0
4.0
4.0
Here's where things get more interesting from an design standpoint. The GPU Frequency of 576 MHz is the same as the GTX-260, as is the ALU frequency. The memory frequency is 1 MHz higher than the GTX-260, and it still sports a 448 bit memory interface but it's a 448×2 interface. We can't help but think that it would perform a little better if it had full 512×2 bit interface. Maybe that's a hint of things to come. Dual GTX-280 goodness anyone? All the cards shown sport GDDR3 memory and the GTX-295 sports twice as much as the GTX-260. When you get to the number of ALUs though instead of having double the amount of the GTX-260 it has double the amount of the GTX-280. Same goes for the number of texture units, double GTX-280 not double GTX-260. We'd suspect these changes were needed to make the GTX-295 take it's rightful place as fastest GPU on the planet.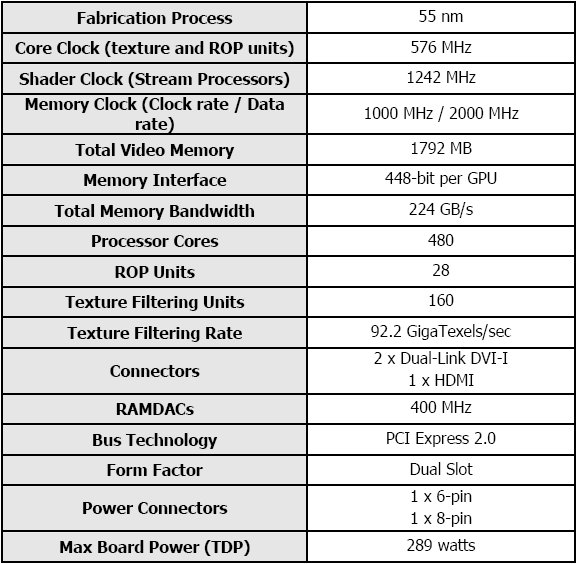 We had a very limited time to put this article together so in the off chance we got something wrong we went ahead and pulled the specs of the GTX-295 right out of the Nvidia PDF so you can see exactly what we got.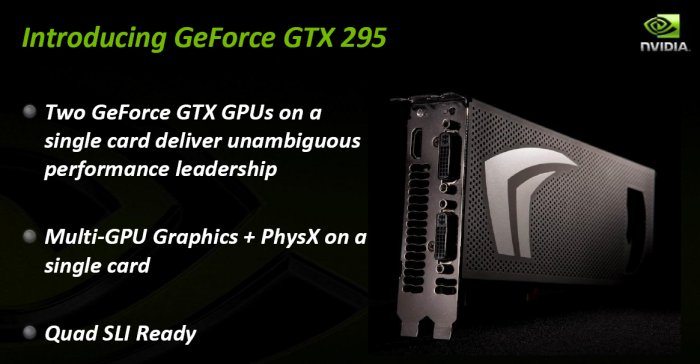 As you can see the first slide we got in the briefing on this monster GPU promises us unambiguous peformace leadership. We intrepret that to mean that it's going to kick the butt of every single GPU out there. Throw two of these puppies on an SLI board and you better be ready for some serious SLI goodness. If we are understanding Nvidia right not only can you have Multi-GPU graphics and PhysX on one card you can also have one or two of these beauties installed and use your older GPU (9600 and above) as a dedicated PhysX card. That will free up this powerhouse to handle Graphics and leave the PhysX to the dedicated PhysX card freeing up even more Graphics goodness.
You can see this GPU isn't going to sip at power and might require as much as 289 Watts per GTX-295, so all the people thinking that they'll never use that massive PSU they were lusting after probably should have gotten it if they want to drive two of these in Quad SLI.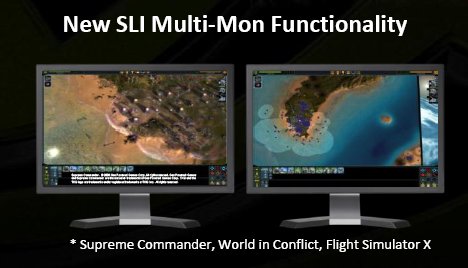 With the introduction of the new Nvidia 180.xx drivers you can now drive two monitors while in SLI mode. If running one game isn't enough you can try your hand in multiple arenas simultaniously. Or use one monitor for the game and the other to chat and surf. Some of the builder games might be conducive to this technology but if your in a FPS and get the urge to chat you might want to pause the game.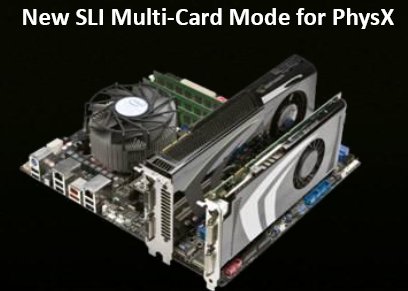 We mentioned earlier the ability to use one GPU as the primary GPU and another GPU as the PhysX card. We've been privvy to some things that we can't tell you about just yet, but take our word for it if you plan on some of the hottest titles up and coming you might want to consider keeping the old GPU and using it for a dedicated PhysX card. This will work on non-SLI boards as well as SLI boards with no SLI bridge required. So you Crossfire board owners, dust off that old GPU and fire up your PhysX engines.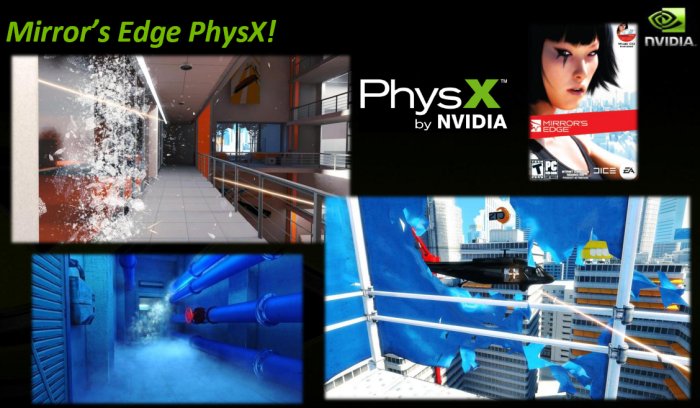 Very soon you'll be seeing Mirrors Edge on the market, it's going to be the first full fledged PhysX game on the market. Designed specifically with PhysX and featuring such effects as breaking glass that doesn't just lay there and dissapear. It will break in a realistic manner and interact with your charector and do such things as slide down the roof and kill people down below. You'll also be seeing interactive steam that changes as you move through it and air movement will affect the steam. In the Mirrors Edge PhysX world cloth will look and tear in a more realistic manner, you'll see it flapping in the wind as the helicopter approaces and when it tears and shimmers from the wind it will do so according to the applied laws of PhysX.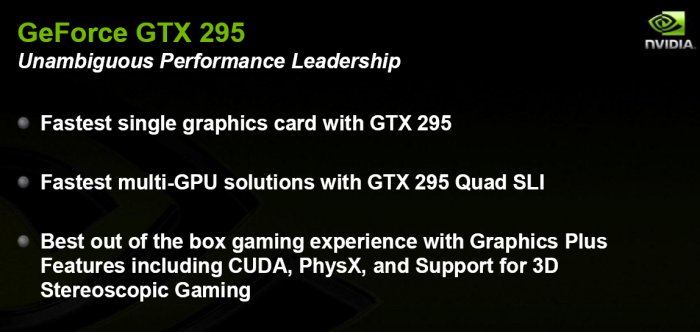 Then the last slide of the briefing promises us that the GTX-295 will be the fastest single GPU on the planet, and promises the fastest dual card graphic experience you've ever seen. We can't wait to get our hands on some of these beauties and test that claim ourselves. We would never imply Nvidia isn't giving us the straight and narrow, but we'd really like to run some Quad SLI goodness.
Coming to a machine near you soon!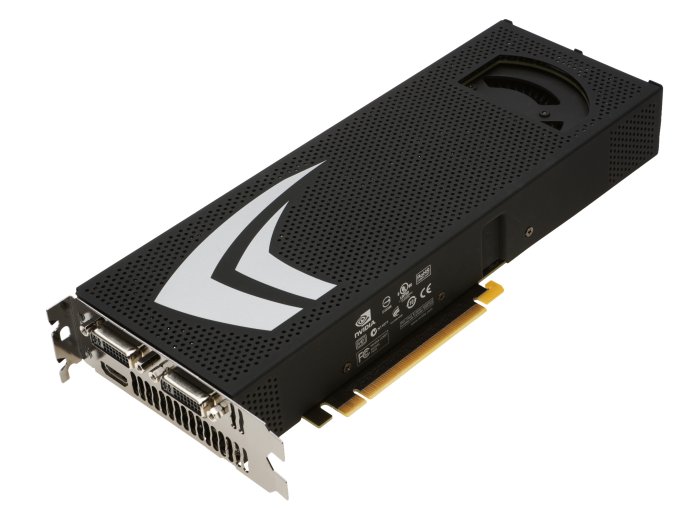 The GTX-295 Dual GPU's on a single card.