Today we present you with the HTPC 3000B from nMediaPC. Will it be a strong competitor in the ever-growing home theater PC market? Read on to find out!
INTRODUCTION
As many of us are already aware, computers are becoming a bigger part of our daily lives. Look around you, they're everywhere. Not only are they used for word processing. They're not even just for gaming anymore. They have become an integral part of our homes and workplaces. Several game systems will integrate with them directly, allowing you to stream audio and video over a wireless network to your TV. This has led to the advent of the Home Theater PC (HTPC). Now, with TV tuner cards, upgraded video, sound cards capable of producing 7.1 surround and outputting it digitally to your home theater sound system, somebody decided we should pretty up the cases and make them just another home theater component.
Several HTPC cases are the same width and height as a typical stereo system. The unit we are looking at today, however, is setup as a desktop computer. nMediaPC has done a pretty good job of dressing it up though, so it doesn't look out of place next to a stereo system. It actually reminds me of a powered subwoofer enclosure. With its sleek lines, ported opening on the bottom and a little LCD display, it doesn't look like a computer, at first glance. This is due to them tucking the optical drive, front panel ports, and even a card reader behind the two doors to keep everything looking nice.
ABOUT nMediaPC
From the nMediaPC website:
The Digital Revolution transformed the way we relate to media and entertainment; with the advent of broadband Internet, DVD burners, digital TV, MP3 players, DV Cams and digital Camera, consumers have more control over what they watch and listen to than ever before – creating a surging demand for efficient, innovative, convenient means to access audio and visual media. Microsoft Window Media Center appears to be one of the best solution to transform a home PC into a home entertainment media gateway.
Northern California, Castro Valley-based NMEDIA SYSTEM, INC. was founded in 2004. The company's vision is to create future home entertainment PC systems that are optimal for today's consumer electronic gear such as Plasmas TV, LCD TV, HDTV and Home Theater Projectors.
We manufacture Home Theater PC (HTPC) components to enable our clients to integrate various home Audio/Video functions and performance computing into one easy-to-use unit, and deliver consumers the rich home entertainment experiences for a new level of control and convenience.
Our vision is to transform the total home theater experience by intelligently converging digital entertainment AV functions, computer and networking technologies. We commit to deliver strong value to a number of key technology and entertainment market segments, including PC system builder and distributors, home theater installer and home AV system retailers.
FEATURES AND SPECIFICATIONS
At first glance, the 3000B seems like a pretty standard HTPC case. They did, however, throw in a few extras that are nice to see, things like a (rudimentary) fan controller to control the CPU fan. The LCD fan speed and temperature monitor is a nice idea too, though a thermal sensor attached to the outside of a heatsink will never be as accurate as what you find on-board your CPU.
One thing I really liked about this case is the sleek lines and the way they hide everything behind the two doors. It just doesn't look as much like a computer case as some of its competitors. It is also nice that it will accommodate a full ATX motherboard instead of only having space for the micro-ATX boards. It's always nice to have an on-board memory card-reader too.
Unfortunately, anytime you make a case smaller, there are compromises. Cooling and airflow is one of those compromises. nMedia made a decent attempt at it here using two 80mm fans for exhaust and one 120mm fan to cool hard drives. Placing it right under the front port and blowing upwards just doesn't seem to draw a lot of air into the case. The other compromise is often noise. Anytime you install smaller fans, like the dual 80mm set they make more noise trying to move the same amount of air, because they have to spin faster to do so.
Lastly, it was a little disappointing to see absolutely no attempt at cable management. The inside of the case is very cramped once everything is installed, and there is one place to put extra cables, right in the center of the case under the hard drive cage. Unfortunately, it kills any airflow that could have been used through that location.
HTPC 3000B Specifications
Micro ATX & ATX motherboard support
ATX Power Supply support
6 x 3.5″ internal bays, 1 x 5.25″ external
7  expansion slots
17″(W) x 6.5″ (H) x 16.4″ (I)
Automatic CPU fan control
Front Panel I/O:
Memory card reader
HD audio mic/headphone jack
3 x USB
1 x eSATA
1 x 1394 Firewire
One thing that I'd really like to emphasize here, this is one of the most robust front I/O panels I've seen in a long time. It goes beyond just a memory card reader (which is nice). How often do you see more than two USB ports, an eSATA port, and a Firewire port all in one place? I don't see it very often. It was a nice little change from the DD Tower 26, which has no front panel I/O gear.
A CLOSER LOOK: PACKAGING
Before I get too far into packaging, let's all remember that everybody is different and has a different idea of what packaging should look like. I first thought that the cardboard was just a shipping container and we'd find the standard packaging inside. You know what I'm talking about. Pictures, descriptions, lists of features, specification, and why you should buy this case over any other. Not here, not today. This package is about function, not marketing. Once I opened it up I found that it was reasonably well protected.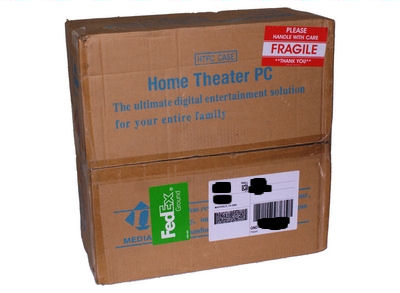 Don't mind the big black blobs on the label, I'm just no good at photoshop.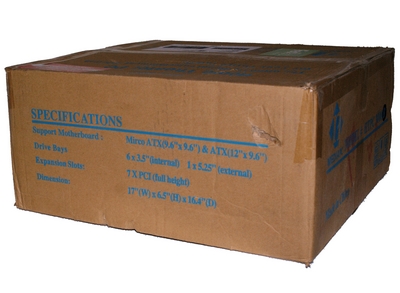 This is all the specification information you're going to get from the box.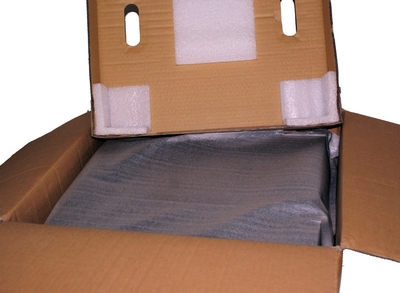 I did like how the case was secured, it's simple, it's not wasteful, but it's effective.
A CLOSER LOOK: EXTERIOR
As you can see in the pictures below, the case really does look like a powered subwoofer enclosure. You can also see the vented side panel, allowing for a little extra airflow. One thing that is not quite evident is the fit-and-finish of this case. It is lacking. Both side panels bow out at certain locations and protrude beyond the edge of the front panel, the top panel dips down a shade and the gaps are uneven at the back.
See what I mean about it looking like a subwoofer enclosure? It's even ported!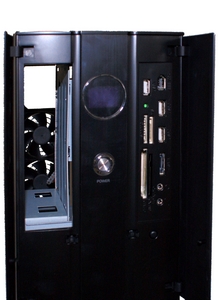 Here's a pretty good look at the outstanding front I/O panel, along with the LCD display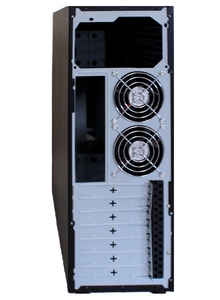 Look closely here at the back, you can see the PCI expansion slots are slightly bowed in. There is no reinforcing structure here.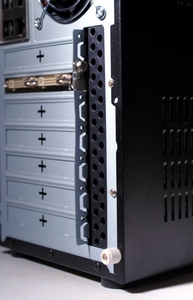 I am not a fan of the way the PCI slots are setup, the screws are on the outside of the case. You have to remove the black plastic just to get your cards seated on the screw points. This is a definite no-go in my book.

A CLOSER LOOK: INTERIOR
The inside of this case is pretty straight-forward as well. Luckily, the hard drive rack is removable with two screws. To give you an idea of how cramped it is, the hard drive racks sit just above the level of the motherboard, and about 1/2″ past the edge. The PSU very nearly touches the motherboard, with about 1/2″ of clearance. As mentioned earlier, I really disagree with the PCI mounting style, and its not something I've seen before. Honestly though, I'd rather see a case that's 1/2″ maybe even 1″ deeper, then you can move the PCI supports to the inside and give yourself a little extra room between the motherboard and the hard drive racks.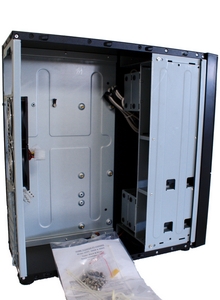 Here's a look at the inside of the case with the provided accessories.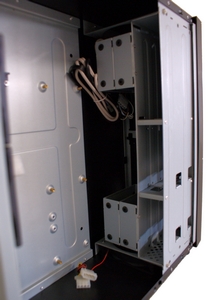 A closer look at the hard drive rack.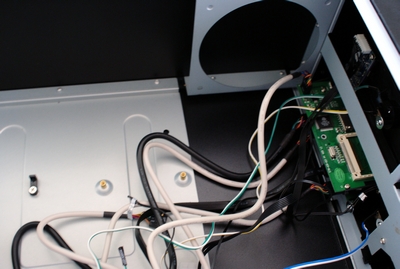 This is the only downside to a nice front panel, wires everywhere.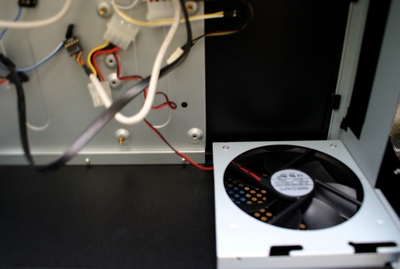 This is the only 120mm fan in the system, you can see that it is vented on the bottom.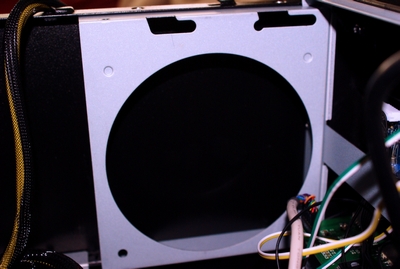 This bracket is mounted on the top panel exactly opposite of the bottom fan. I can't imagine that they actually expect you to mount a fan here as there is just enough room to put on in, but nowhere to draw air from or push it to.
INSTALLATION
This is the where the rubber meets the road, so to speak. This has got to be the most critical of all functions for a case. At least it is for me. I always want to know how easy it's going to be to get everything set-up and how well it's going to work once it is.
Unfortunately, this is where this case falls short. Once I started installing things, I started noticing problems. The power supply only has three screws holding it in because one of the holes on the case is drilled in the wrong spot. The optical drive has gaps around it. The I/O plate for the motherboard is loose, touch it and it falls inside the case, and it's not the plate that has the problem. I haven't forgotten the PCI expansion bracket either. Have a look for yourself: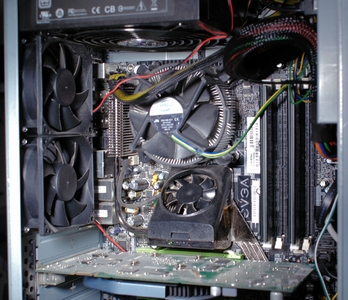 Take a look at how close the motherboard is to the power supply.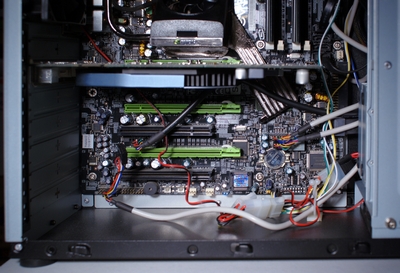 Not much room on the bottom half of the board either.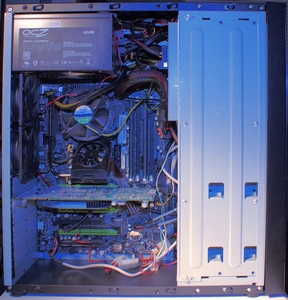 That entire drive tray is removable, but its a bit of a pain to put back in once all your wires are run. Good luck attaching a SATA cable to any side-mounted motherboard ports.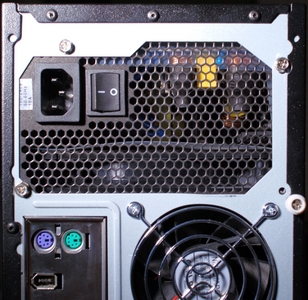 Notice the missing screw on the power supply, the hole is mis-drilled enough to not allow the use of the fourth screw.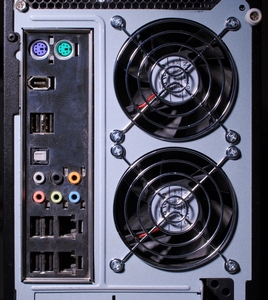 This is a little harder to tell, but the I/O plate is very loose. You bump it and it pushes in.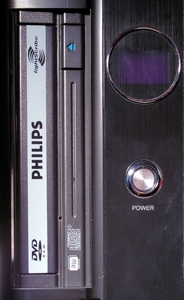 Looking at the left side of the drive, you can just barely see the light shining through the gap. Usually these are pretty tightly fit, but not here.
CONCLUSION
Well, it's not every day that you find a computer case that blends well with your home theater components. This is one thing that I felt the HTPC 3000B did extremely well. I don't think, however, that this is enough to completely overcome the poor fit and finish that I've witnessed. I wanted very much to like this particular case, but just couldn't. My wife even complained about how much noisier it was with its little exhaust fans than the DD Tower 26 that I was running previously, and that one was using 4 x 120mm fans!
This case could work well for you. If you're looking for an HTPC that blends in with your home-theater, this does that. The on-board fan controller was a nice thought, but I don't trust the automatic fan control. It's just not possible to get a close-enough for an accurate reading with a thermal sensor taped to base of your heatsink. Often it will be off by 10 degrees C or more compared to on-chip readings.
CPU cooler selection is important here too. Remember to keep in mind just how close the top of the motherboard is to the power supply, and how narrow the case is. You will not be able to fit a large tower cooler inside but should be able, with a little research, to find something better than the stock cooler.
Price for this case is not bad for an HTPC, it's available online for about $90.
Pros:
+  Blends well with home theater components
+  LCD readout of CPU fan speed
+  Superb front panel with media card reader
+  Small size
 
Cons:
–   Poor fit and finish
–   Flimsy construction
–   Noisy
–   PCI expansion card system


This really isn't a bad case, it's just not great, kind of a middle-of-the-road everything. All things being considered (including price) the nMediaPC HTPC 3000B will receive a final score of 5.5 out of a possible 10.