Most overclockers will tend to focus more on cooling than most, for example, You won't commonly find fans on the mosfets on your memory prom or the vr's in the backside of your motherboard. Most of the time it's just a heatsink or heatpipe assembly that in turn relies on the overclocker to keep it cool. Well welcome to the best of both worlds, because Thermaltake has a nice little hat-trick for us, the RamOrb…
INTRODUCTION
Deep within the realms of overclocking, you will find a lot of options for cooling your system. Nothing beats cooling your components properly than a series of fans, water, and what not (phase, ln2, etc.). Most overclockers will tend to focus more on cooling than most. For example, you won't commonly find fans covering mosfets on your memory prom or the VR's on the backside of your motherboard. Most of the time it's just a heatsink or heatpipe assembly that, in turn, relies on the overclocker to keep it cool. Well, welcome to the best of both worlds, because Thermaltake (TT) has copper hat-tricks for us with their RamOrb.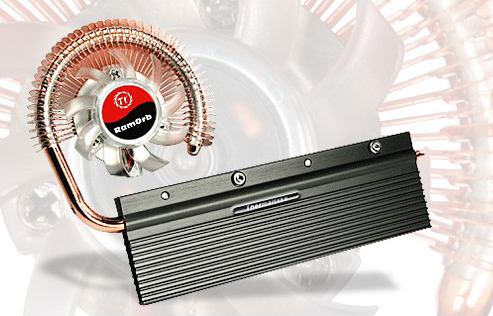 About Thermaltake
The Company
We live in a world where most things seem to move at the speed of light. At Thermaltake, we feel the same way and that is exactly how Thermaltake conducts itself to deliver innovative, reliable and customer-centric solutions to the worldwide market.
Since the beginning of Thermaltake in 1999, it has been at the forefront of creating new and exciting products at a time where most computer users were provided little to no choices for components that may seem irrelevant, but in reality crucial to the performance of a PC.
Thermaltake Server Series solutions, with years of thermal experience and industry leadership, sets its goal on reforming total thermal management in server segment by formulating the perfect mixture of versatility, efficiency and thermal management with each respective server product category: Rackmount Chassis, Server Fixed & Redundant Power Supply and Server CPU Cooling Management Solutions.
With its comprehensive line of products available, it enables Thermaltake's core customers to enjoy a one-stop-shop experience, reduce product design-in evaluation period and most important of all, flawless integration process. Each of Thermaltake's strengths enables its customer to focus on their core business while taking advantage of the skills and efficiency of a single thermal management solution partner.
Values & Principles
– While still a relatively young company, established in 1999, Thermaltake is built on unwavering will and dedication to address issues and innovate at the same time for computer enthusiasts and corporate users worldwide .
– With strong support of Research & Development team standing behind the brand, Thermaltake is committed to never-follow but always-lead.
– In past decades, the industrial and technological advancements in different fields have shaped the world we live in today and have also made a big impact on the environment. Thermaltake takes great measures to ensure the product that we produce relieve these impacts by being first to act on 80 PLUS® specification for computer power supply that greatly reduces the amount of electricity that a computer consumes.
– Always striving to be the best, we continuously benchmark our performance against the very best internally and externally.
– Customers are our greatest asset and Thermaltake does not take that for granted. That is why Thermaltake is the industry leading in customer service and customer support with around-the-clock automated product return service.
FEATURES
• Orb series inspired memory cooler with single channel heatpipe cooling architecture
• Superb thermal module, 5cm fan with copper heatpipe penetrating copper fins, allows for extreme thermal conductivity
• Angle adjustable design to maximize mechanical compatibility
• Aluminum extruded heat spreader provides additional heat dissipating surface area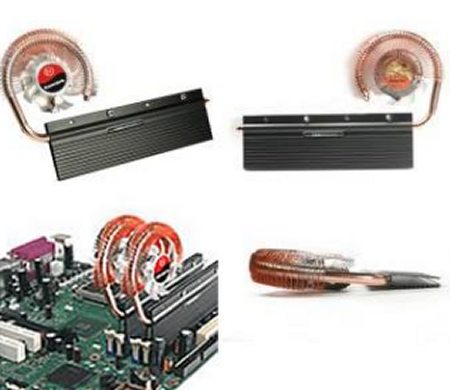 SPECIFICATIONS
Dimensions – 155(L) x 17(W) x 105(H) mm    
Heat Spreader – Aluminum
Thermal Module – 6mm Heatpipe & Copper Fin
Fan Dimension – 50 x 50 x 10 mm
Fan Speed – 4500 RPM 
Max. Air Flow – 8.18 CFM
Max. Air Pressure – 1.67 mm
Noise Level – 20 dBA
Power Connector – 4 Pins
Rated Voltage – 12 V
Started Voltage – 8 V
MTBF – 50,000 Hrs
Compatibility – DDR, DDR2
Weight – 136 g
PACKAGE CONTENTS
Thermaltake insures a damage free product, courtesy of packaging that is over-engineered. The only problem that I can see right off the bat is that you'll need two RamOrb's to run any existing dual-channel setup. Yup, you'll need another for your second stick of memory, so just keep that in mind.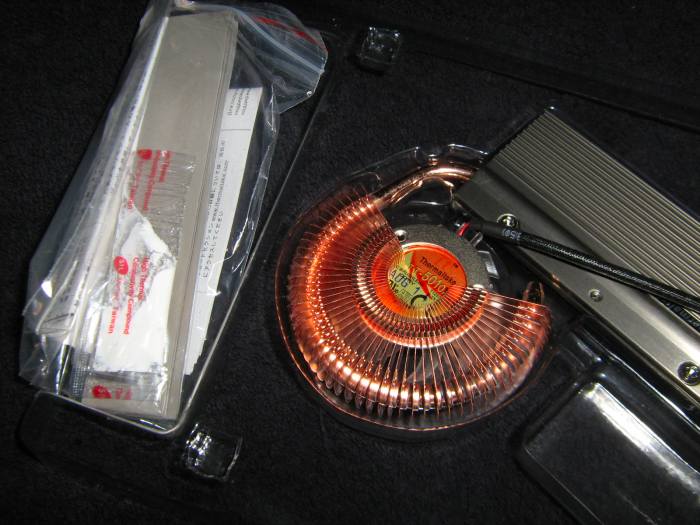 After taking the plastic shell out of the box you'll have to carefully pull the two packing halves apart. Here you can see most of what is contained in the kit. Two sets of heat transfer pads, an allen wrench, some thermal compound, and brief instructions. Big points for the sleeved power wire which also has RPM so you can monitor it if your board has RPM readout (most do).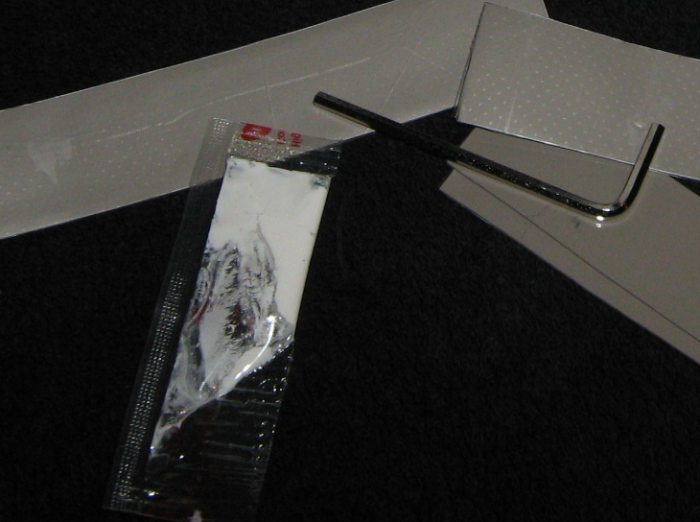 There are two sets of thermal pads that you must use for proper installation onto your existing modules. Included is the proper allen wrench that should be used very sparingly in order not to damage your memory. I would like to add that if you tighten each side hand-tight, then add 1/4-1/2 turn with the allen wrench, which should put you in the ball park, because it's very important to have proper tension all around your DIMM. The thermal paste will be used to attach the sinks to the heatpipe.
I was glad when I looked at the instructions regarding single and dual sided DIMM's. If you look carefully, you'll notice that you need to use the thin pads for dual-sided modules whereas, you'll use the thicker pads for single-sided DIMMS.
PACKAGE CONTENTS CONTINUED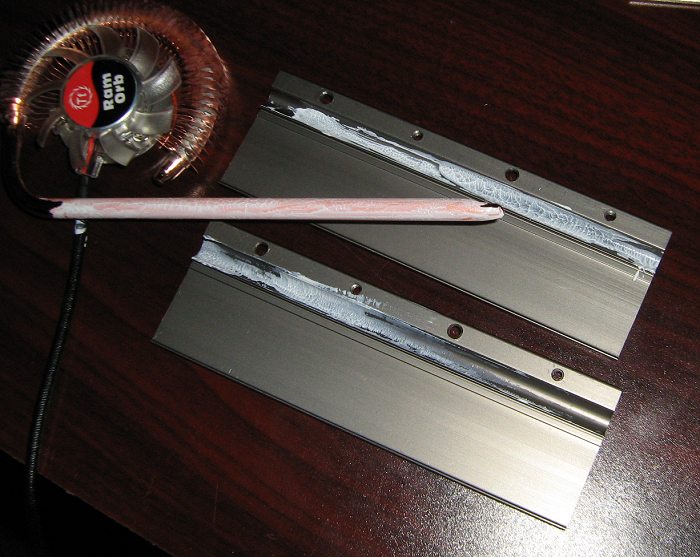 This was a good thing to notice during installation. This would be called improper use of paste, since it is clearly not enough. To some, this may make a 10°C difference.
After applying more of the included paste onto the center part of the TT RamOrb, I found that the RamOrb has a fairly decent edge in workmanship. If you are using this as a reference for installation, please be advised that this is after two razorblade-thin paste applications, with no sanding for proper seating. If you think about it, sanding would harm the design, due to brass being softer than aluminum. So it's nice to know that TT's over-engineering came through again.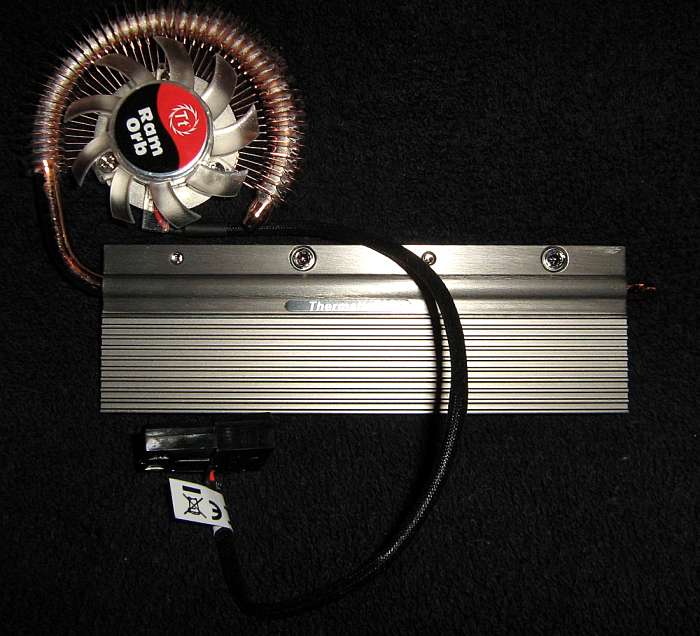 TT never disappoints in the cosmetic department. You can always depend on them for proper PC rep. I love the smoky grey brushed aluminum mixed with the copper heatpipe. Imagine having a slew of these in your system with a side-window. It would win points in a PC Show for sure.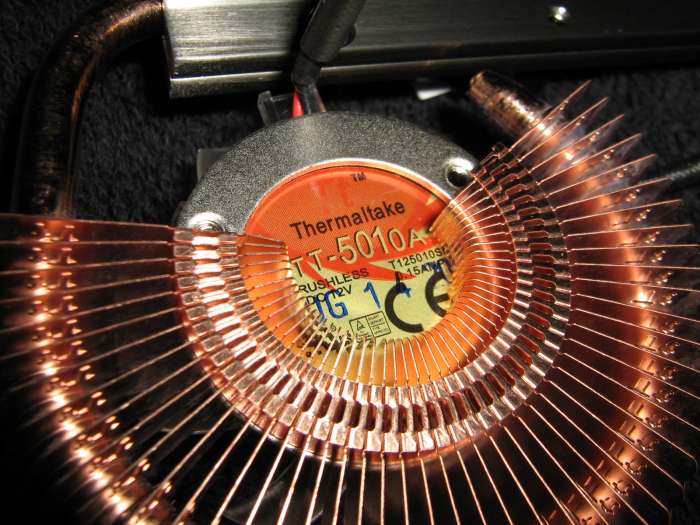 Here you can see the intricacy that goes into putting together a heat pipe cooler. What's even more impressive is how durable it is, which is probably attributed to its ram-slot friendly lightness.
TESTING
Test Configuration
Asus M2NR32-MVP (ATI Crossfire 3200, 1105 BIOS)
AMD 6000+ x2 125w (Windsor)
2x1GB Crucial Ballistix PC-6400 (5-5-5-12, 1.8v)
We used an IR Thermometer normally used in HVAC, and in order to maintain a consistent test configuration we looped Lavasys's Everest memory and cache benchmark for one half-hour to insure the memory was at its highest temperature. To insure that we would utilize passive cooling, we removed any fan that would change the control of our temperature testing.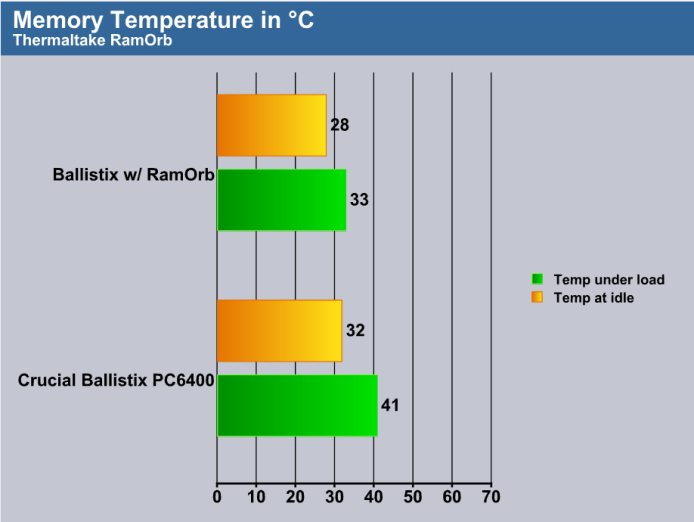 CONCLUSION
It appears that the RamOrb does a fine job of cooling your memory! I would like to add that this is at a meager 1.8v, and we all know that the more volts you add the more the wattage increases. For those of you running 2.2v or more, the effectiveness of the RamOrb becomes more beneficial. If you are overvolting, cooling your memory becomes an even greater task, and seeing the RamOrb perform this well on such a low scale really makes it an obvious choice for those of you wanting good memory speed.
Of course, the RamOrb is not without its faults, but they are all inherent to the design of a heatpipe cooler, namely expense and room. With an MSRP of $30, it's not too bad of a deal considering its performance and esthetics. It's just kind of unfocused, and I really think Thermaltake could have made it work with two instead of one stick of memory. Can you imagine buying four of these to cool your memory, much less find enough room to do so? It would require some work to get the RamOrb to work when you have that much memory in your system.
On a side note, I did appreciate the fact that Thermaltake's tech support took less then 12 hrs to respond to questions regarding disassembly of my existing modules. I'm also quite sure you can fit more than two in your case if the HSF side of the RamOrb is fitted so that it opposes the matching stick. To put things into perspective, the RamOrb does a great job of cooling your memory, and is a nice addition to any system.
Pros:
+ Looks very nice, especially if you have more than one
+ Performs exceptionally well
+ Low noise compared to the competition
Cons:
– Expensive design could be improved
– Occupies a lot of space
All in all, the Thermaltake RamOrb gets an 8 out of 10 (Very Good) and the Bjorn Seal Of Approval.