The Gigabyte EP45T-Extreme performed extremely well on all levels. It overclocks easy enough for the novice overclocker and it has enough left for a world class overclocker.
INTRODUCTION
When I heard that I was going to be getting the Gigabyte EP45T-Extreme I was extremely excited. It's been quite a long time now since I've gotten my hands on a motherboard designed specifically for overclocking. The last one was from DFI, back when their LanParty boards were king. My past few boards have been from MSI, and although they make quality products, their BIOS options for overclocking are somewhat limited and not what I would consider designed for advanced users.
Gigabyte has one of the top reputations for engineering and producing some fantastic products throughout their entire range of components and their motherboards are no exception to this standard. With that said, I'm ready to dive neck deep into this board to see what it brings to the table and if the results I've seen from some of my other cohorts in crime are any indication, this board should really standup and fly.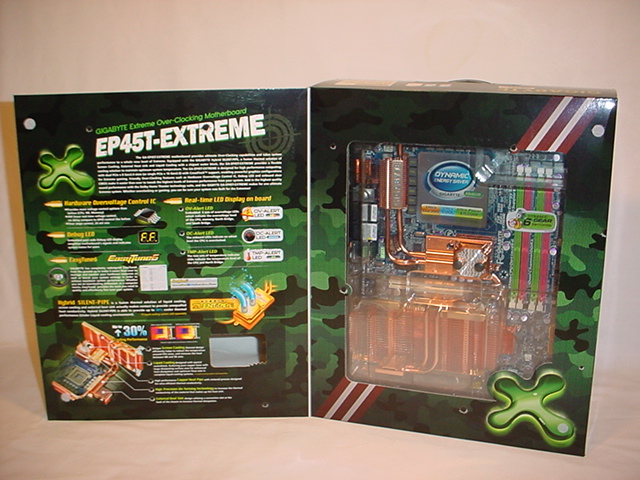 About Gigabyte
Founded in 1986, GIGABYTE started as a research and development team and has since taken the lead in the world's motherboard and graphics accelerator markets. To truly reach out to all consumers, GIGABYTE further expanded its product portfolio to include more diverse digital products such as Notebook and desktop PCs, digital home appliances, networking servers, communications, mobile and handheld devices, servicing every facet of people's lives at home or at work.

Everyday, GIGABYTE aims to "Upgrade Your Life" by knitting a global network to effectively honor its commitment to world wide customers. What's more important, GIGABYTE wishes all users to see and feel the brand through its products and all the touch points from GIGABYTE to the hands of all users.
FEATURES
Based on the new Intel P45 Chip set, the EP45T-Extreme supports a blazing 1600 MHz FSB and support for the latest 45nm Core 2 Duo/Quad processors, featuring dual PCI-E 2.0×16 connectivity with CrossFireX™ and DDR3 support.
Optimized for the 45nm generation of CPU's the EP45T-Extreme will accept any current Intel 775 LGA CPU adhering to the VRD11.1 power phase specification, and cannot be compatible with VRD10 designed CPU's. It'll accept any CPU with that standard from 800 MHz to 1600 MHz FSB, making it extremely flexible in CPU choice and upgrade path.

Experience the advanced technology of DDR3 1900 (O.C.) memory, featuring faster speeds and higher data bandwidth, which delivers superior performance for the most demanding applications.
DDR3 2000 (OC) with bios update F3.
Hybrid-Silent Pipe is all-copper thermal solution design which combines Air cooling with Liquid Cooling to enable effective heat removal from the North Bridge, South Bridge and CPU area.
If you're worried about PCI-E bandwidth issues on the old P35 or PCI-E 1.0 standard on your current board, you'll be glad to know that the EP45T-Extreme supports PCI-E 2.0 to address your future bandwidth needs. It carries 2 PCI-E 16X slots which will operate at 16x and 8x (8x – 8x in Crossfire) respectively and support the PCI-E 2.0 Standard while running ATI CrossfireX technology.
Supporting ATI CrossfireX technology you'll need to ensure you're using ATI boards that have the Crossfire bridges to get those blazing frame rates and superior graphics you crave so badly. With the release of the new ATI 4870 and 4850, the excellent performance Crossfire is looking pretty good these days. Great price, great performance, and you'll be on the forefront of technology with the Dual PCI-E slots running the 2.0 Standard.
Using the Realtek ALC889A codec and supporting High Definition Audio on 2/4/5.1/7.1-channel speakers and featuring support for Dolby Home Theater you'll be rattling those windows before you know it. Explosions, in game conversations, music, and sound effects will flow from your speakers delivering an incredible sound experience without the need for an add-in sound card. In trouble with the family for to0 much in game enthusiasm with the Volume Knob, you're covered with the inclusion on an on board HD audio connector for your gaming headphones ensuring that you don't get attacked by the family in a barrage of pillows and feathers while they try to sleep during those late night gaming sessions.
GIGABYTE Dynamic Energy Saver Advanced will allow you to save energy through dynamic energy saving features that will throttle back on energy usage during less demanding activities. It utilizes the world's only motherboard energy saving technology with hardware-based Dynamic 6-Gear switching and requires 45nm processors with the PSI signal enabled. Current energy prices have driven the design of a lot of energy saving motherboards in the recent months. While energy is a concern, we are planning on running this beauty at full throttle until our need for speed is satisfied or that Magic Blue Smoke ascends from the case in its majestic plume. We will of course test the energy saving features, but a beauty like this should run full throttle until the last piece of Coal at the energy plant is exhausted and the Power Company begs for mercy.
We also checked with Gigabyte on the power saving features and we were reassured to hear, "GIGABYTE has also retooled Dynamic Energy Saver to allow overclockers to experience the benefits of multi-gear power phase switching while over clocking, providing ultra stable, ultra smooth over clocking performance."
Of course, along with the dynamic energy savings, Gigabyte has mandated and implemented top quality highly efficient components to facilitate the energy savings we need and the smokin' performance we want.
Among those revolutionary features you'll find Ultra Cooling – Low RDS MOSFET Design which reduces switching resistance and provides faster charging and discharging.
Low Power Loss – Ferrite Core Choke Design comprised of a compound of Iron Oxide and other metals to hold energy much longer than traditional Iron core at higher frequencies.
The EP45T-Extreme addresses longevity with its Longer Life – All-Solid Capacitor Design. The capacitors contain a solid organic polymer as opposed to electrolytic capacitors which use a common liquid electrolyte. The high quality Japanese capacitors last longer than electrolytic and have gained public notice and became an issue with motherboard design recently.
After checking with Gigabyte we were told that all Gigabyte P45 motherboards uses 2 Phase power switching for the North Bridge and Memory allowing for cooler operation, a longer life span, higher frequencies, and better performance.
Ethernet port holding you back, sitting on a massive T1 or fiber optic trunk line that provides so much bandwidth that your Ethernet port is screaming for mercy? Want to drop that ping time in online gaming so you can get off that vital head shot before your brains get splattered on the wall? Need to run multiple routers to accommodate that hot point you're not supposed to be running, or use the old desktop for server purposes? How about Dual Gigabit Ethernet on board with teaming capabilities? Yes, you read that right. Two gigabit Ethernet controllers for increased speed or driving that impromptu Lan Party at the dorm.
How many times have you craved more voltage options for the CPU, NB and memory, left thinking if I could just get more NB voltage, or if I had more choices I could shave a little off the CPU voltage and knock a little heat off the CPU? This board can do it for you with Hardware Over voltage Control ICs which provide more voltage control options than before for the CPU North Bridge and memory. Yes, you can enjoy adjusting voltage in increments as low as 20mV for better over clocking performance.
For the less experienced overclocker, Gigabyte has included Easy Tune 6, which allows you to manage and monitor your hardware from the Windows GUI environment. While we're not big fans of GUI based tuning utilities, we realize the need for them to accommodate the "Sunday Driver" or less experienced overclocker community. With a feature rich BIOS designed especially for overclocking laid out in a user friendly environment, we'll test the Easy Tune 6 utility but will delight in running our fingers over the BIOS features.
During testing of Easy Tune 6 we were able to achieve a solid overclock on the E8400 we are using for the review. We punched it up to 3.6 with a FSB of 400 at 1.25 vcore but to go beyond that we had to go into BIOS to achieve a higher over clock. You should know that it took longer to achieve the Over Clock in Easy Tune 6 than it did in BIOS, but we would attribute that more to learning curve than the software's design.
Worried about Bios Flash issues and BIOS over writer viruses rendering your new prize nothing more than a paperweight? Gigabyte has included their patented DualBIOS on the EP45T-Extreme to protect and backup your BIOS and in case of BIOS failure or crash it will automatically recover your BIOS for you. During later testing we managed, with difficulty, to crash a few times while Overclocking. The BIOS recovery feature very politely booted us into a safe configuration where we were able continue our efforts to squeeze every ounce of speed out of the CPU. For those that like multiple BIOS profiles, Gigabyte has provided for that and the BIOS keeps track of the successful boots into each profile. Very helpful after a long days testing when things start to get fuzzy.
Ever wondered why that new board won't boot right out of the box? Left wondering if you have a bad board or bad component when you went to bed after a long day of trying to kick that new board to life? The EP45-Extreme has a Debug LED that will show diagnostic codes making it easy to determine what's wrong with your system.
Gigabyte has thought of every thing on this board. They've even included an Over Voltage LED that will let you know when you're in the "too much voltage range", or getting close to too much voltage.
There is even an OC LED letting you know the level of OC on your machine, though in our opinion if you don't know the level you're overclocked to, you shouldn't be overclocking.
Here's a dual LED setup that might be of some use. It's a set of two LEDs that will let you know if the NB or CPU is too hot, so you won't need to use the old lick the finger and touch the chip method (to see if it sizzles).
Stuck with a screw driver or razor blade trying to jump the board to life on the work bench? On this board you won't be. On the edge of the board (easily accessible) you'll find a reset and power button. On the rear I/O panel, a reset CMOS button comes in really handy on this board. The battery isn't located in the best of places (under the Silent-Pipe cooling solution). That feature alone makes this a noteworthy board by increasing the ease of testing and clearing CMOS after a happy little over clocking accident or hardware change.  We tested the CMOS reset button (on the back I/O panel), power on button, and reset button on the EP45-Extreme inside the case and they worked great and working at eye level with the case open were really handy.
SPECIFICATIONS & OVERCLOCKING FEATURES
Specifications
Gigabyte EP45T-Extreme
Specifications
Features
Support for an Intel® Core™ 2 Extreme processor/ Intel® Core™ 2 Quad processor/Intel® Core™ 2 Duo processor/ Intel® Pentium® Dual-Core processor/Intel® Celeron® processor in the LGA 775 package
2. L2 cache varies with CPU
Front Side Bus
1600/1333/1066/800 MHz FSB
Chipset
North Bridge: Intel® P45 Express Chipset
South Bridge: Intel® ICH10R
Memory
4 x 1.5V DDR3 DIMM sockets supporting up to 8 GB of system memory
Dual channel memory architecture
Support for DDR3 2000 (O.C. W/ F3 Bios or later) /1600/1333/1066/800 MHz memory modules
Audio
Realtek ALC889A codec
High Definition Audio
2/4/5.1/7.1-channel
Support for Dolby Home Theater
Support for S/PDIF In/Out
Support for CD In
LAN
2 x Realtek 8111C chips (10/100/1000 Mbit)
Support for Teaming
Expansion Slots
1 x PCI Express x16 slot, running at x16
1 x PCI Express x16 slot, running at x8
1 x PCI Express x4 slots
1 x PCI Express x1 slot
3 x PCI slots
Note: When using both 16X Slots in Crossfire they run at 8X
Storage Interface
South Bridge:
6 x SATA 3Gb/s connectors (SATAII0 – SATAII5) 6 SATA 3Gb/s devices
Support for SATA RAID 0, RAID 1, RAID 5, and RAID 10
iTE IT8213 chip
1 x IDE connector supporting ATA-133/100/66/33 and up to 2 IDE devices
iTE IT8720 chip:
1 x floppy disk drive connector supporting up to 1 floppy disk drive
IEEE 1394a
T.I. TSB43AB23 chip
Up to 3 IEEE 1394a ports

(via the IEEE 1394a brackets connected to the internal IEEE 1394a headers)

USB
Integrated in the South Bridge
Up to 12 USB 2.0/1.1 ports

(8 on the back panel, 4 via the USB brackets connected to the internal USB headers)

Internal I/O Connectors
1 x 24-pin ATX main power connector
1 x 8-pin ATX 12V power connector
1 x floppy disk drive connector
1 x IDE connector
6 x SATA 3Gb/s connectors
1 x CPU fan header
2 x system fan headers
1 x power fan header
1 x front panel header
1 x front panel audio header
1 x CD In connector
1 x S/PDIF In header
1 x S/PDIF Out header
2 x USB 2.0/1.1 headers
3 x IEEE 1394a headers
1 x serial port header
1 x chassis intrusion header
1 x power LED header
1 x power switch
1 x reset switch
Back Panel Connectors
1 x PS/2 keyboard port
1 x PS/2 mouse port
1 x optical S/PDIF Out connector
1 x coaxial S/PDIF Out connector
1 x clearing CMOS switch
8 x USB 2.0/1.1 ports
2 x RJ-45 ports
6 x audio jacks

(Center/Subwoofer Speaker Out/Rear Speaker Out/Side Speaker Out/Line In/Line Out/Microphone)

I/O Controller
iTE IT8720 chip
H/W Monitoring
System voltage detection
CPU/System temperature detection
CPU/System/Power fan speed detection
CPU overheating warning
CPU/System/Power fan fail warning
CPU/System fan speed control
BIOS
2 x 8 Mbit flash
Use of licensed AWARD BIOS
Support for DualBIOS
PnP 1.0a, DMI 2.0, SM BIOS 2.4, ACPI 1.0b
Unique Features
Support for @BIOS
Support for Q-Flash
Support for Virtual Dual BIOS
Support for Download Center
Support for Xpress Install
Support for Xpress Recovery2
Support for EasyTune
Support for Dynamic Energy Saver Advanced
Support for Time Repair
Support for Q-Share
Bundle Software
Norton Internet Security (OEM version)
Operating System
Support for Microsoft/ Windows/ Vista/XP
Form Factor
ATX Form Factor; 30.5cm x 24.4cm
Overclocking Features
Overclocking Features
FSB Settings: 100 – 1200MHz
MCH Frequency Strap: Auto, 200/266/333/400MHz
PCIe Settings: 90MHz to 150MHz
CPU Voltage Settings: 0.5V to 2.3V (in 0.02 steps)
Memory Voltage Settings: 1.5V to 2.5V (in 0.02V steps)
MCH Core Voltage Settings: 0.8V – 1.8V (in 0.02V steps, variable)
ICH I/O Voltage Settings: 1.0V to 2.3V (in 0.10V steps)
CPU Clock Drive: 700, 800, 900mv
PCIe Clock Drive: 700, 800, 900mV
CPU Clock Skew: 0 – 750ps (in steps of 50ps)
MCH Clock Skew: 0 – 750ps (in steps of 50ps)
Multiplier Selection: Yes, 6 – 16 (unlocked CPUs only)
PACKAGING
Click Image For A Larger Picture
The exterior of the EP45-Extreme's packaging is packed full of specifications and features about the product. Under the flip out front cover the buyer can see a full view of the board itsself through a clear plastic window. This type of packaging leaves no doubt in the consumer's mind as to what they are getting and if it will fully fit their needs.
 Click Image For A Larger Picture
Gigabytes EP45T-Extreme comes in one of the nicer retail packages I've seen in some time. The motherboard and Northbridge cooler are packaged in separate clear plastic clamshell containers and all the extra peripherals are enclosed in a full cardboard carton, making it darn near impossible for anything to damage the motherboard components, outside of crushing the complete box, that is.
THE BUNDLE
Overall, the bundle is pretty much standard. Gigabyte did, however, include an e-SATA Bracket W/Power Adaptor and cable which you don't see to often. They also included a external 1394 Firewire Bracket, although I would have liked it much better if they would have included a external 4 port USB Bracket instead, or maybe included both types.
1 – Manual
1 – Driver & Software disk
1 – Hardware Installation Guidebook
1 – Pata IDE Cable and Floppy Cable
4 – SATA Cables (2 Flathead)
2 – Case Badges
1 – 1394 Firewire Bracket
1 – e-SATA Cable
1 – e-SATA Bracket W/Power Adaptor
1 – Rear I/O Plate
1 – Intel CPU Install Guide
PICTURES & IMPRESSIONS
Okay, here's the Gigabyte EP45T-Extreme in all its glory. In general, I really liked the board at first sight, but that soon changed a little after I got into it a little. First off is the issue of battery placement. Just pray to your lucky stars that you never have to swap it out with the system completely assembled as pulling the battery out from the bare board is bad enough. Next up is the placement of the SATA ports. If you have a longer new card with a double slot cooler (like most have stock) you're going to loose two or even possibly all four of the vertical ports depending on the video card. We'll get into it a little deeper down the page.
Click Image For A Larger Picture
Here's a closer look at the NB slot cooler. The thing is huge and it should be more than enough to keep the NB cool for all but the most extreme overclockers. And if you noticed, the NB also comes with a water block to keep even the extreme overclockers happy. By looking at the cooling system that comes on this board, you can tell that Gigabyte really meant it for the "EXTREME" user.
But all is not 100% perfect here either. As noted in the user manual, you'll have to connect the onboard sound port first before installing the slot cooler. And then there is a problem of getting the slot cooler installed with the motherboard already in the case. Depending on the type PCI back plane your case has, there won't be enough room to fit the cooler out the back of the case and still clear the water block on the NB its self because there just isn't enough room. With the motherboard already installed in the case, the slot cooler needs to go straight down in order to clear everything and for the tab to fit into the slot on the motherboard tray. With my case, that wasn't possible due to the design of my PCI back plane. I ended up having to pull the board, install the cooler, and then fit it all in the case in one piece, which was a trick in itsself. One of the problems of installing the cooler in this manner is that there is one of the motherboard stand-off screws right under the cooler, so that has to be left out. And then you have to try and fish the rest of the wiring up under and through the cooler to the sound port. Okay, on to the next part. I'm done here.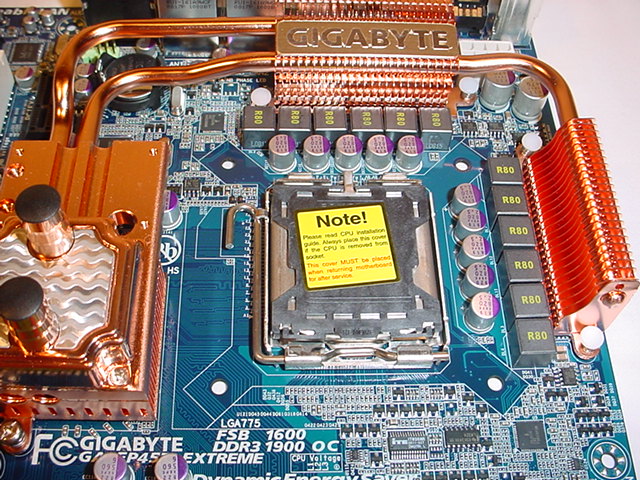 The CPU socket area seems to be clear of any and all obstructions. There looks to be plenty of room for most after market coolers. I'd comment on this more, but I'm water cooling the CPU and I don't own a single socket 775 air cooler.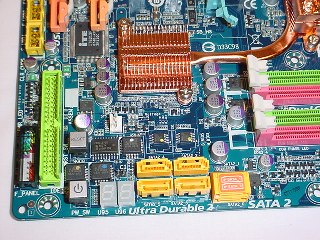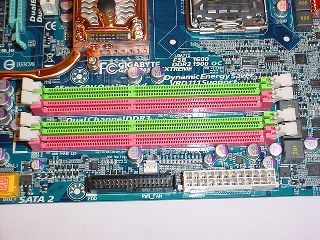 Click Image For A Larger Picture 
In this group of photos there's not really anything negative to mention that I haven't mentioned already. If Gigabyte would flip all the SATA ports over on their side like the two in the photo, then all would be good.
The IDE port could also be moved up on the side and put the floppy port down on the bottom (who uses a floppy anyways?).
On a positive note, the power and reset buttons (next to the IDE port) are a blessing when you're clocking the board outside the case. And across the bottom of the board Gigabyte has supplied a bucketful of Firewire and additional USB ports
Click Image For A Larger Picture
There are more than enough connectors here on the rear panel to keep just about anyone happy. Gigabyte has even included a clear CMOS button on the rear panel so that you don't have to open up your case and dig around inside to clear the CMOS in case of a bad overclock. Now, if it worked like it was supposed to, I'd be ecstatic, but I will admit that I had the BIOS crash on me several times (more than that really) and the only way to get the system to post again was to pull the battery and let it sit, and by now you should know how much fun pulling the battery is.
Click Image For A Larger Picture
Just a few shots of exactly where the battery is located as well as the front panel sound port. The photo on the left is with the slot cooler installed and the one on the right is without.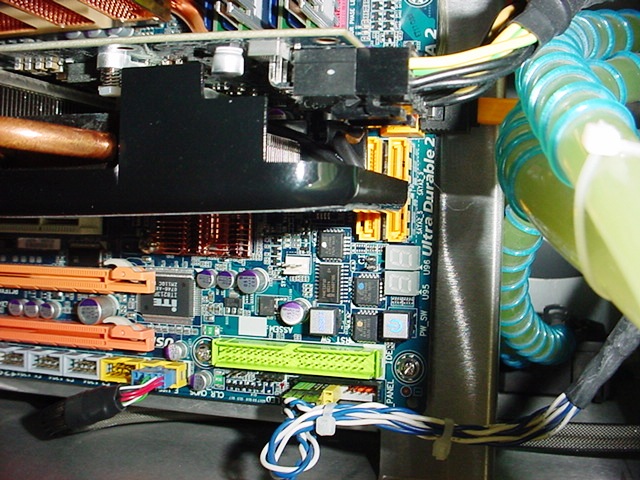 Here's what the SATA ports look like with a Sapphire HD 4870 Toxic installed. Basically, all the vertical SATA ports are blocked, but with a little luck, I might be able to fit another one or two cables in if I really need them.
BIOS
The EP45T-Extreme is a BIOS feature rich motherboard and the BIOS reflect that with its extensive options inside the Intelligent Tweaker (M.I.T.) sub menu section. Outside of the M.I.T. sub-menu, the Gigabyte EP45T-Extreme's bois is about the same as any other board that uses the current Award software.
Main Screen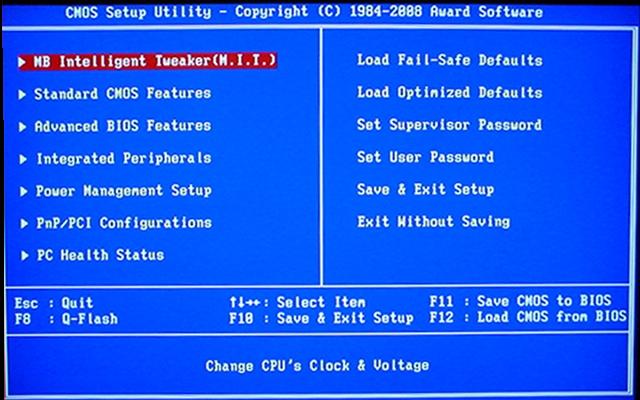 Main Bios Screen
The main screen is pretty much like every other board that uses the Award BIOS with a few notable exceptions, the F8 Q-Flash key and the F11/F12 Keys, but we'll cover those more in depth when we get to them.
MB Intelligent Tweaker (M.I.T.)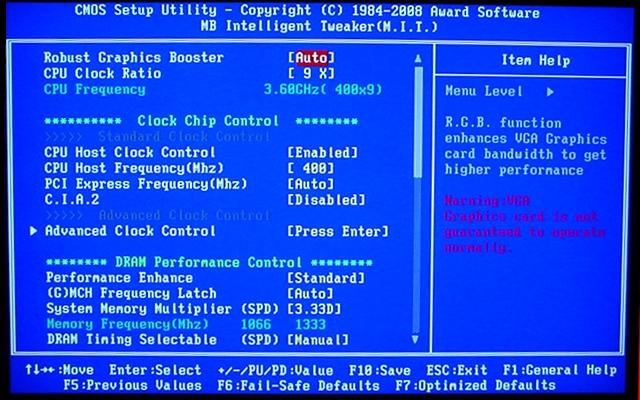 MB Intelligent Tweaker Screen #1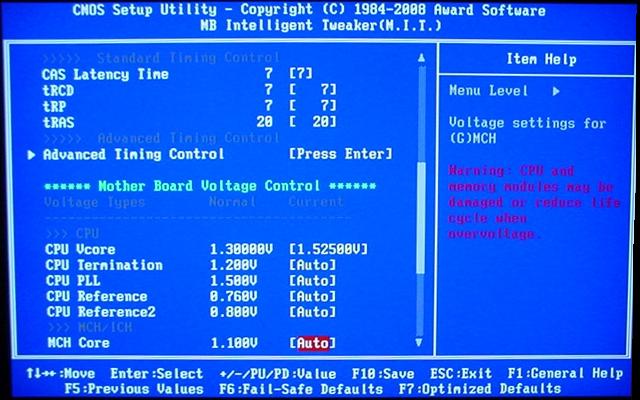 MB Intelligent Tweaker Screen #2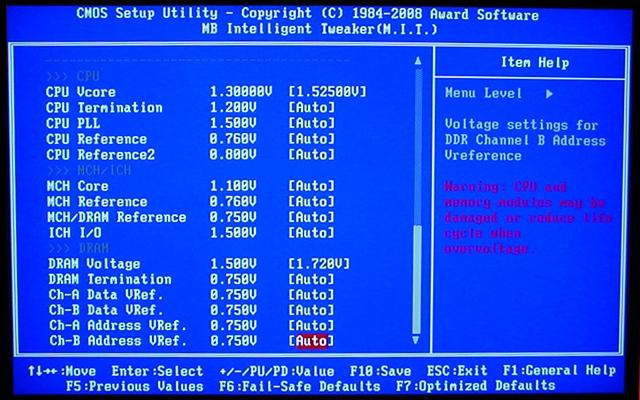 MB Intelligent Tweaker Screen #3
The MB Intelligent Tweaker Screen is really well laid out in the EP45T-Extreme BIOS, with a few exceptions, CPU Enhanced Halt (C1E) and CPU EIST Function (EIST), are found in Advanced BIOS section. For ease of overclocking they should be in the Tweaker section as they are normally disabled for overclocking the CPU. There are a couple of sub-screens embedded in the MIT screen for advanced CPU clock and advanced RAM timings.
Advanced Clock Control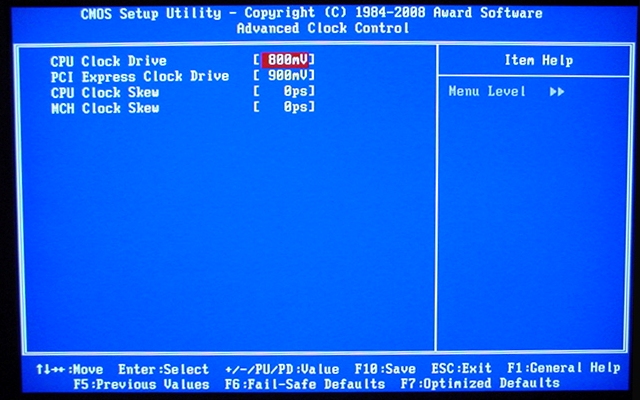 Advanced Clock Control Screen
On the Advanced Clock Control Screen gives you a few more options of squeezing the most out of your system, you can adjust the CPU and PCI-E Clock Drive Voltage and the Skew for both.
Advanced Timing Control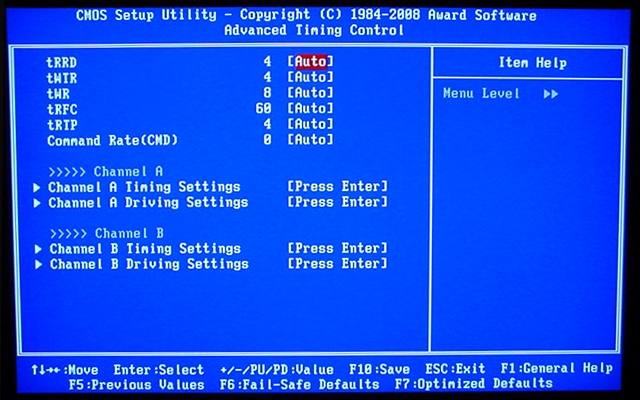 Advanced Timing Control Screen #1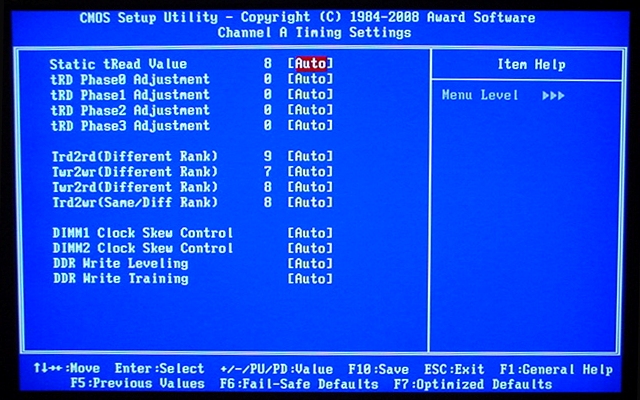 Advanced Timing Control Screen #2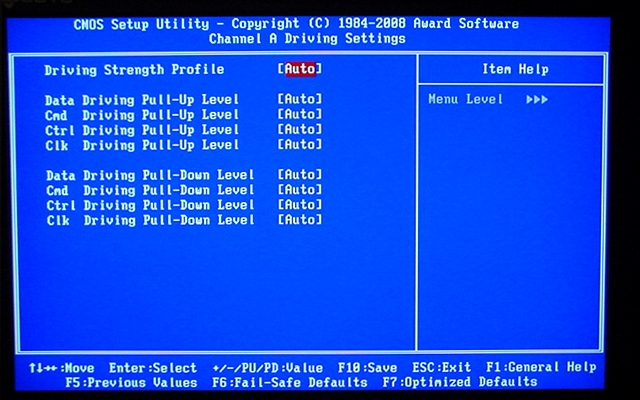 Advanced Timing Control Screen #2
The Advanced Timing Control screen contains enough ram Timing settings to overwhelm most people, and to be honest, most folks well never need to use them because the board overclocks that easily at Auto/Default settings.
Standard CMOS Features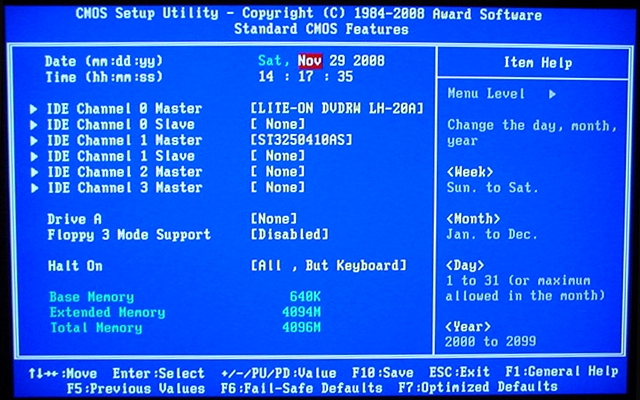 Standard CMOS Features Screen #1

No big surprises on the Standard CMOS Screen – Time, Date, Hard Drives, Floppy and Halt on error state. These are pretty much the same on every board out there.
Advanced CMOS Features Screen
Advanced CMOS Features Screen #2
Advanced CMOS is where you'll find the Thermal Management control that most overclockers disable. It would be nice if they were moved to the MIT section, but it's not a big deal as the controls are disabled and forgotten. The one that should be left enabled to protect your investment is the CPU Thermal Monitor 2. If the CPU gets too hot it will throttle the CPU to keep it from getting damaged.
Integrated Peripherals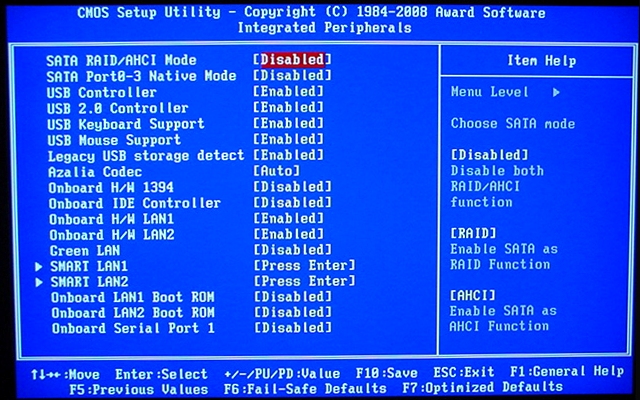 Integrated Peripherals Screen
Integrated Peripherals is where you can enable and disable the different on-board devices. I find it best to disable everything that is not being used..
Power Management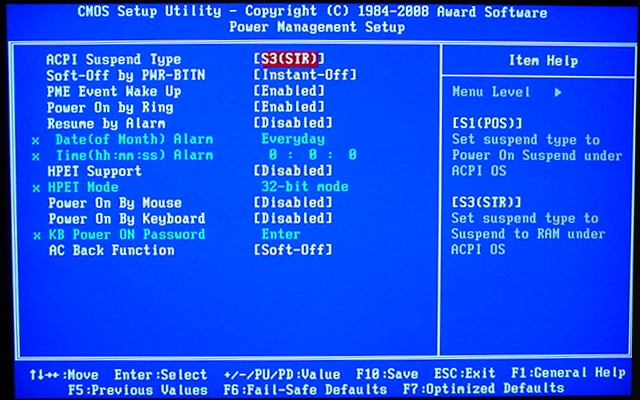 Power Management Screen
The power management screen is where you control how the PC acts when the power is interrupted if you want to power on by Mouse or Keyboard. One interesting feature there is, if you want to power on by Keyboard you can set a password; a nice option if you don't want folks messing with your stuff.
PC Health Status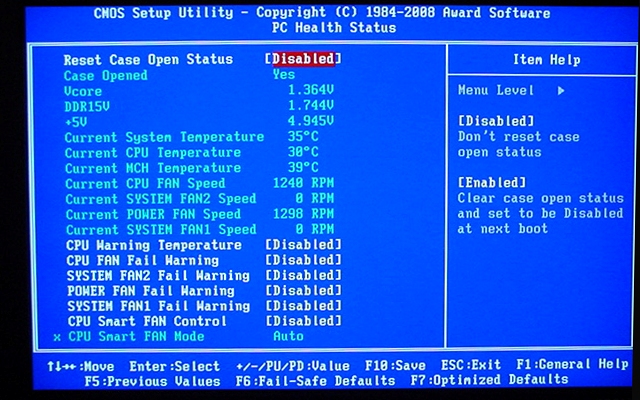 PC Health Status Screen
The PC Health Status screen is where the computer keeps track of temperatures and set alarms and alarm temps as well as controlling the fans.
Load and Save CMOS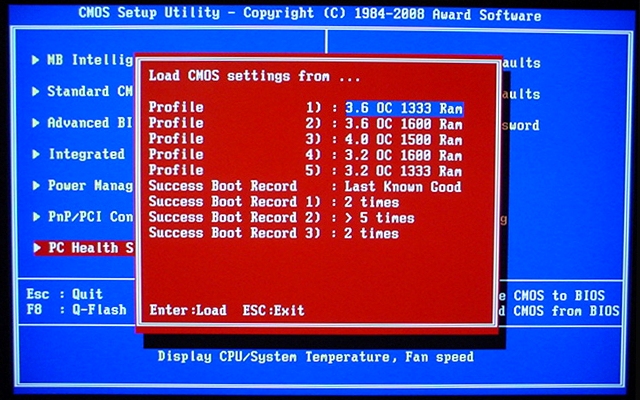 Load CMOS Settings Screen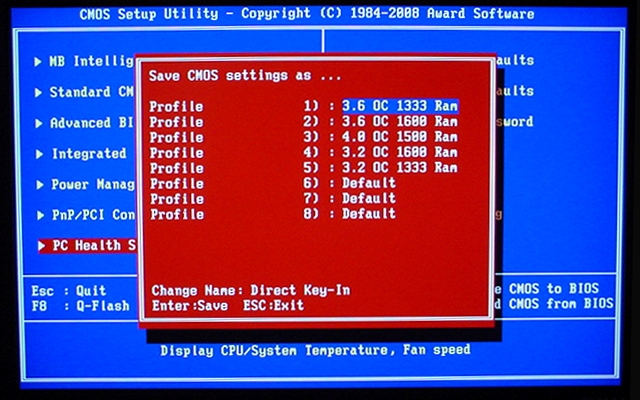 Save CMOS Settings Screen
These 2 screens can be a life saver for any overclocker. You can save or load any of your overclocks, up to a maximum of eight pre-sets, so you don't have to worry about writing them down or forgetting any one setting. All you need to do is press either the F11 (save) or F12 (load) key at the main screen, pick your overclock and you're ready to run.
One thing to note is that there is currently a Beta BIOS just out (F5d) that will allow you to save your overclock to a file on a flash or floppy drive, so that all the information isn't lost when you flash the bios to another version.
Click Image For A Larger Picture
NOTEWORTHY FEATURES
The Gigabyte EP45-Extreme has a ton of features, most of which we've already touched on but in all good conscience we couldn't get past not showcasing a few of them. We won't attempt to cover every feature in-depth because with this feature rich board it would just take too much time and space. We will cover the features we found most interesting.
Based on the relatively new Intel P45 and ICH10R chip set, the EP45-Extreme supports 45nm Intel Core 2 multi-core processors with FSB up to 1600 MHz running up to Dual channel DDR3-1600 (2000 OC).  We've run the RAM as high as 1780 MHz on this board, but was held back by the RAM itself. The RAM I have is only rated to DDR3-1600, so that's a good RAM overclock if you ask me, I'm sure that with higher rated memory, the DDR3-2000 rating can easily be reached.
We mentioned power savings earlier. With the new e8400 CPU we scored a while back we were able to test the Dynamic Energy Saver Features of the EP45T-Extreme.
Dynamic Energy Saver
6 Gear Switching
Even with our OC, the Dynamic energy saver operated flawlessly shifting from a throttled CPU to a full CPU utilization without as much as a stutter. We noticed it shifting from low to full utilization, but didn't notice visible hesitation and never experienced any problems with the feature. Totally seamless dependable power savings while still enjoying a sweet OC. You can't ask for much more than that.
DES Energy Savings As Seen By The OC LED
The EP45T-Extreme offers a wide range of LED information with its Over Volt LED, Temperature indicator LED's, and the onboard Diagnostic LED panel, but the CPU OC LED is the best to demonstrate the power savings features.
TESTING & METHODOLOGY
The Move To Vista 64
We've had to face the reality that Vista is here to stay for a while so we're doing most of our testing in Vista 64 bit. We've held on to the aging Windows XP platform for two years since Vista came out, and Windows 7 is just around the corner so we're in the process of standardizing to Vista 64 in preparation for Microsoft's latest and greatest offering.
For testing purposes I'll be running the Gigabyte EP45T-Extreme against the MSI P35 Platinum Combo, both boards running DDR3-1600. Each of the tests will be run individually and in succession three times, and an average of the three results calculated and reported. All other games were run with everything set to max and at 1680×1050. 3DMark06 and 3DMark Vantage were run at default settings, and just to keep things fair as well, we turned off PhysX for the BFG 8800GT OC runs. DirectX 10 games are tested in DirectX 10, and DirectX 9 games are tested in DX9.
The Test Rig
Test Rig
"Monster Rig"
Case Type
Mountain Mods U2 UFO
CPU
Intel Q6600 @ stock and 3.6 Voltage 1.45 vcore
Motherboard

Gigabyte EP45T Extreme

MSI P35 Platinum Combo

Ram
Patriot DDR3-1600
CPU Cooler

Watercooling, Loop #1
Pump – MCP655
Radiator  – Thermochill PA120.3
Reservoir – 5.25 dual bay res
Water Block – Apogee GTZ
Appropriate1/2 inch hoses and fittings
3 x Thermaltake 2000rpm 80CFM Fan @ 7v

Hard Drives
Seagate 250 GB Sata 2
Optical
Lite-On DVD R/W
GPU

Sapphire HD 4870, Catalyst 8.11 Drivers, (3D Mark 06 run only)

BFG 8800GT OC, 178.24 Geforce Drivers

Case Fans
8 x 120mm fans total
Testing PSU
OCZ Game XStream 700w
Mouse
Logitech
Keyboard
Saitek
Just an every day little rig.
Testing Suite
There's really no one test that will run a system and give a good indication of how it runs. It's necessary to test the CPU, GPU(s), Memory, and Hard Drives. We run a suite of tests that we feel is representative of the system's performance in its entirety. We'll draw our conclusions from the results of the tests and the overclocking capabilities of each board. With over clockerboards, a significant amount of the evaluation must be subjective and derived from the experience of the person using it. After weighing in the numbers, overclocking capabilities, and hands on experience, we'll have a pretty good idea of the capabilities of each board.
Synthetic Benchmarks
3DMark06 v. 1.1.0
SiSoft SANDRA XII Professional SP2
Everst Ultimate Edition v. 4.50.1330
SuperPi Mod 1.5XS
HD Tach RW 3.0.1.0
Cinebench R10 64 bit
WinRar v. 3.71
Games
Crysis v. 1.02 64 bit … Dx 10
Company of Heroes v. 1.71 … Dx 9
3DMARK06 V. 1.1.0
3DMark06 developed by Futuremark, is a synthetic benchmark used for universal testing of all graphics solutions. 3DMark06 features HDR rendering, complex HDR post processing, dynamic soft shadows for all objects, water shader with HDR refraction, HDR reflection, depth fog and Gerstner wave functions, realistic sky model with cloud blending, and approximately 5.4 million triangles and 8.8 million vertices; to name just a few. The measurement unit "3DMark" is intended to give a normalized mean for comparing different GPU/VPUs. It has been accepted as both a standard and a mandatory benchmark throughout the gaming world for measuring performance.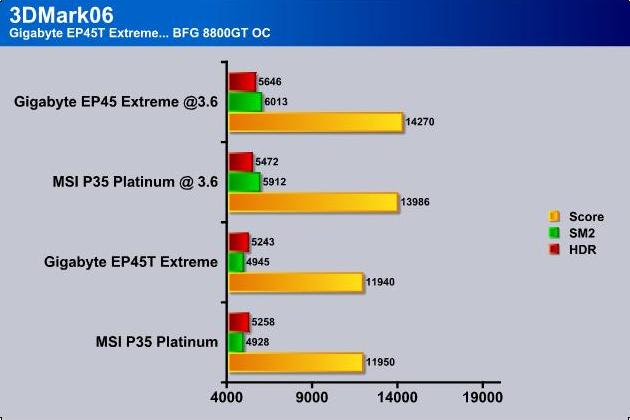 At stock speeds both boards performed pretty much the same, showing that the CPU speed was the bottleneck in the tests. After you toss in a good overclock to eliminate the bottleneck, the PCI-E 2.0 really started to shine, beating out the MSI P35 based board by almost 300 points.
HDTach v. 3.0.4.0
HD TACH performs sequential read and write tests on removable media and fixed disks. HD Tach is also capable of performing the sequential read and write tests on the entire disk instead of the small number of zones in the quick and long test. We opted to use the Long 32(MB) tests in the sequential read mode only, as sequential writes are covered by other benchmarks.
Hard Drive Tach
32 MB Test

 
EP45T-Extreme

MSI P35 Platinum

Random Access Time* (ms)
15.2
15.2
Average Read (MB/sec)
85.2
85.3
CPU Utilization*
2%
2%
Burst Speed (MB/sec)
226.2
227.6

*Lower is Better … Otherwise Higher is Better
With my aging old generation Seagate hard drive, both boards performed almost identical. I guess it's time for an upgrade in this area.
CINEBENCH & SANDRA
Cinebench
"CINEBENCH is a real-world test suite that assesses your computer's performace capabilities. MAXON CINEBENCH is based on MAXON's award-winning animation software, CINEMA 4D, which is used extensively by studios and production houses worldwide for 3D content creation. MAXON software has been used in blockbuster movies such as Spider-Man, Star Wars, The Chronicles of Narnia and many more. MAXON CINEBENCH runs several tests on your computer to measure the performance of the main processor and the graphics card under real world circumstances. The benchmark application makes use of up to 16 CPUs or CPU cores and is available for Windows (32-bit and 64-Bit) and Macintosh (PPC and Intel-based). The resulting values among different operating systems are 100% comparable and therefore very useful with regard to purchasing decision-making. It can also be used as a marketing tool for hardware vendors or simply to compare hardware among colleagues or friends."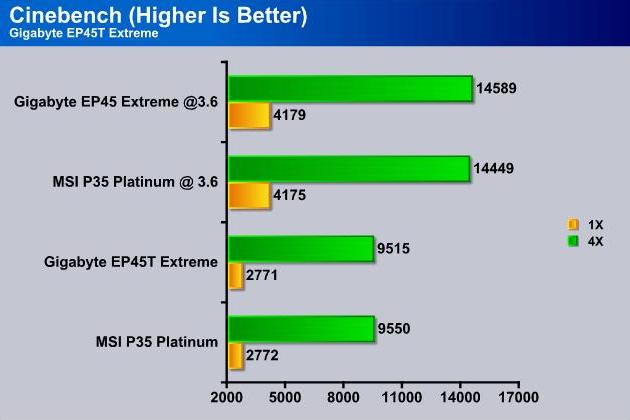 Here again at stock speeds both boards perform basically the same, with the MSI board taking the lead in one area. As with the 3DMark06 runs, after the CPU is overclocked, the Gigabyte pulls easily ahead. 
 Sisoft SANDRA 12 Professional SP2a
"SiSoftware Sandra (the System ANalyser, Diagnostic and Reporting Assistant) is an information & diagnostic utility. It should provide most of the information (including undocumented) you need to know about your hardware, software and other devices whether hardware or software. It works along the lines of other Windows utilities, however it tries to go beyond them and show you more of what's really going on. Giving the user the ability to draw comparisons at both a high and low-level. You can get information about the CPU, chipset, video adapter, ports, printers, sound card, memory, network, Windows internals, AGP, PCI, PCI-X, PCIe (PCI Express), database, USB, USB2, 1394/Firewire, etc."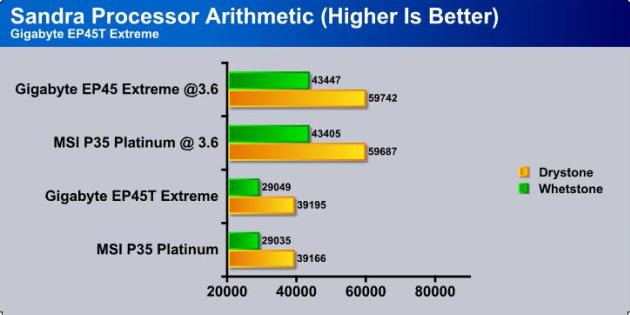 Sisoft Sandra Processor Arithmetic Test
.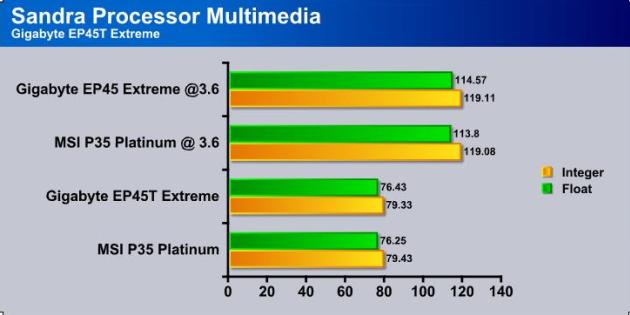 Sisoft Processor Multimedia Test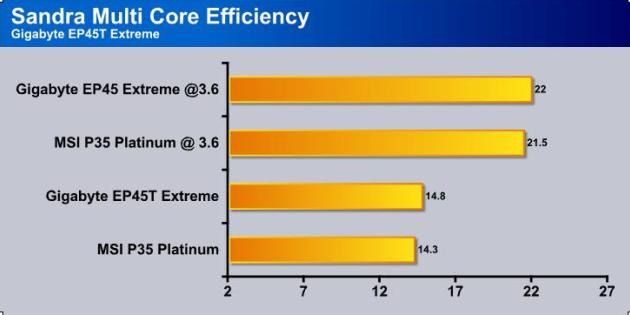 Sandra Multi Core Efficiency
I'm going to have to call all the CPU based Sandra tests a tie because there isn't but a point or two difference between either board at stock or overclocked settings. This may have something to do with my old generation Q6600 processor. I've seen larger differences between the two chipsets when using the latest generation of CPU's.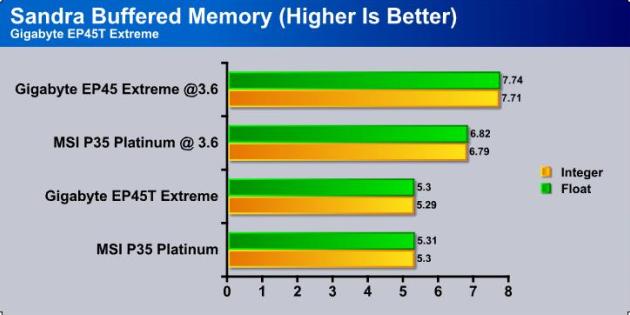 Here we see again, at stock speeds, even the memory performs the same, but as the FSB increases, so does the performance difference between the two chipsets. Part of this is due to the fact that the MSI can use either DDR2 or DDR3 and the memory channels are longer and MSI also uses a memory type switching card which does slow down both types of memory to a point.
EVEREST ULTIMATE
"EVEREST Ultimate Edition is an industry leading system diagnostics and benchmarking solution for enthusiasts PC users, based on the award-winning EVEREST Technology. During system optimizations and tweaking it provides essential system and overclock information, advanced hardware monitoring and diagnostics capabilities to check the effects of the applied settings. CPU, FPU and memory benchmarks are available to measure the actual system performance and compare it to previous states or other systems. Furthermore, complete software, operating system and security information makes EVEREST Ultimate Edition a comprehensive system diagnostics tool that offers a total of 100 pages of information about your PC."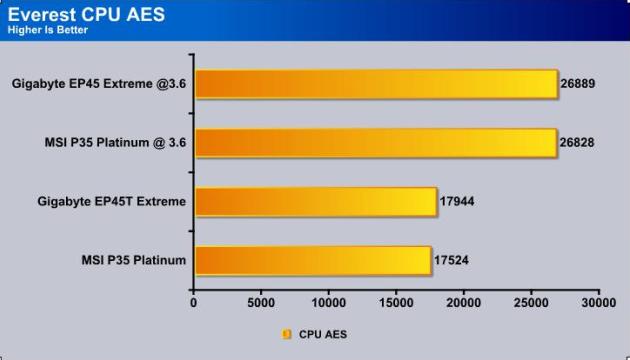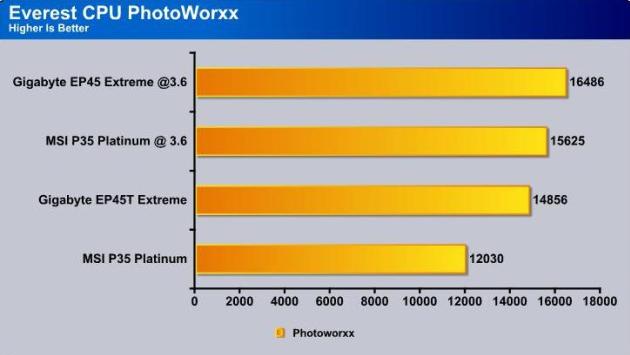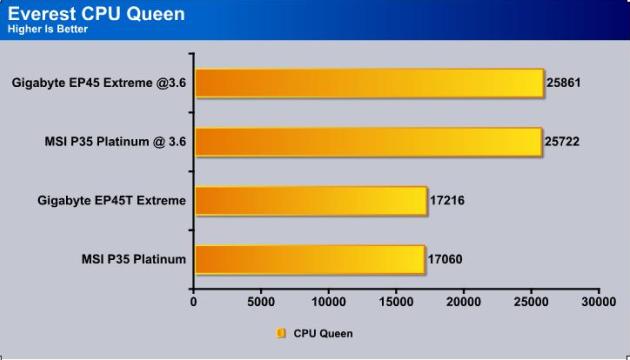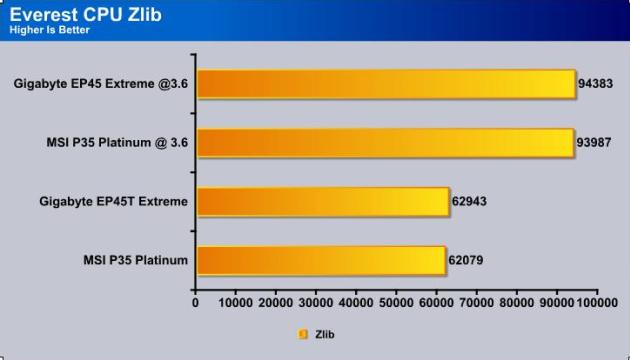 In Everest CPU benchmarks, the Gigabyte EP45T-Extreme board took the lead in every run, both at stock and overclocked settings.
SuperPi
SuperPi is the "Gold Standard" for many when it comes to judging system performance. We ran 1 and 2 Meg calculations, again running each test three times and reporting the average of the results.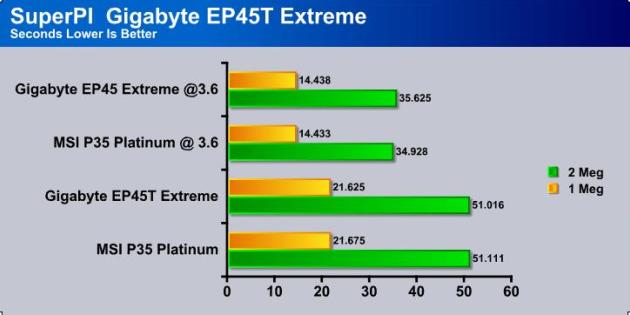 SuperPI Results
Again, the Gigabyte EP45T-Extreme won all the test runs, not by much mind you, but a win is a win as they say.
WinRar v. 3.80
This module in WinRar generates random data, which contains specially introduced redundancy, increasing the load to both the processor and memory. Data is the passed through RAR compression and decompression algorithms, and the output of the decompression algorithm is compared to the source data. If any differences are found, WinRAR then reports "Errors found – Yes" in the command window. WinRAR displays a size of processed data and compression speed, current and resulting, in kilobytes per second.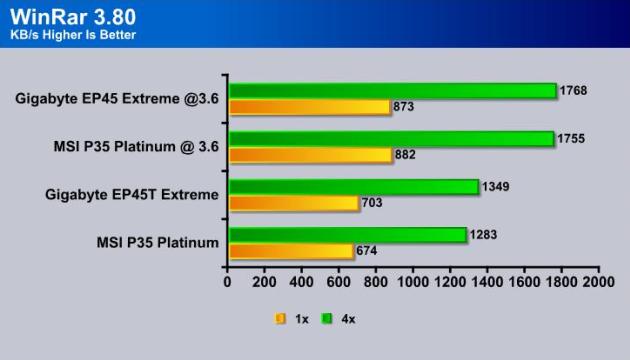 WinRar Compression Testing
The EP45-Extreme pulled out a another win in WinRar, beating out the MSI P35 board by a hair.
CRYSIS
Crysis is the most highly anticipated game to hit the market in the last several years. Crysis is based on the CryENGINE™ 2 developed by Crytek. The CryENGINE™ 2 offers real time editing, bump mapping, dynamic lights, network system, integrated physics system, shaders, shadows, and a dynamic music system, just to name a few of the state-of-the-art features that are incorporated into Crysis. As one might expect with this number of features, the game is extremely demanding of system resources, especially the GPU. We expect Crysis to be a primary gaming benchmark for many years to come.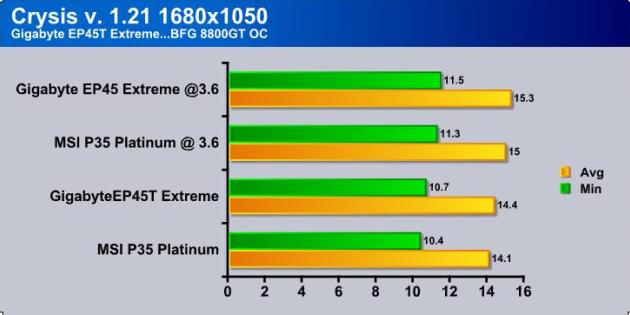 Crysis Benchmark Tool Results
Gaming in Crysis is pretty hard with the 8800GT card. It's just not up to the game's power demands, but I ran some numbers anyways just to see if there was much of a difference between the two chipsets in this demanding game.
The EP45T-Extreme did perform better, but at these extremely low frame rates, it's really hard to show the performance difference.
COMPANY OF HEROES
Company of Heroes(COH) is a Real Time Strategy(RTS) game for the PC, announced on April, 2005. It is developed by the Canadian based company Relic Entertainment and published by THQ. COH is an excellent game that is incredibly demanding on system resources thus making it an excellent benchmark. Like F.E.A.R., the game contains an integrated performance test that can be run to determine your system's performance based on the graphical options you have chosen. It uses the same multi-staged performance ratings as does the F.E.A.R. test. Letting the games benchmark handle the chore takes the human factor out of the equation and ensures that each run of the test is exactly the same producing more reliable results.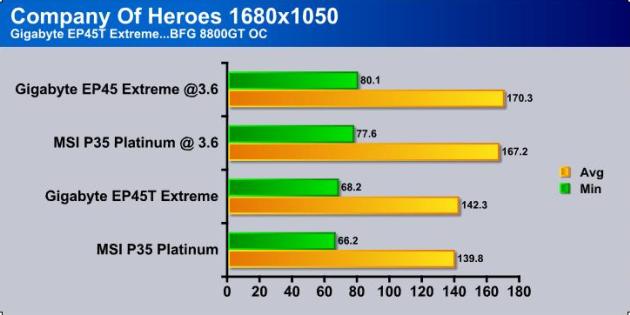 Again, the P45 chipset with its PCI-E 2.0 out shines its older brother in Company of Heroes.
POWER CONSUMPTION

We measured power consumption with a Kill A Watt P4400. Idle consumption was taken at the Windows Desktop after idling for 15 minutes with only the default background tasks running. Load consumption was measured with 3DMark06 running and the highest consumption was recorded. All the power saving features in BIOS were enabled. The overclock we used from the beginning 3.6GHz was maintained, and DES was running -taking care of the boards energy consumption and speed shifting with its virtual 12 Phase capabilities. Due to the nature of the test, at complete idle and complete load we didn't see a lot of stepping in the power consumption.
Power Consumption
In Watts
 
Idle
Load
Gigabyte EP45T-Extreme
170
291
MSI P35 Platinum
167
283
The EP45T-Extreme does require slightly more power than the MSI board at Idle and Load but who really buys a high-end extreme overclocking motherboard to save a few watts of power anyways. Considering that you can enable DES and still keep your OC and enjoy power savings, we have no complaints about the couple of extra watts it uses at Idle and Load.
TEMPERATURES

Here we'll be looking at NB temperatures instead of the usual CPU or GPU ones due to the special NB cooling options the EP45T-Extreme comes with from the factory. One of the advantages the EP45-Extreme offers is two water ports on the NB Hybrid Silent-Pipe Cooling Solution This gives you the option of water cooling the NB in case you can't keep the temperatures, otherwise, under control.
The large all copper slot cooler has Silent-Pipes (heat pipes) that connect to the NB via a polished copper block. The Silent-Pipes from the Mosfets and Southbridge feed into the NB Block and the Silent-Pipes on the Slot Cooler remove it from there. In most cases, this cooling will be enough to satisfy most people and it performed extremely well in my situation, but I do have above average airflow inside my case. We went ahead and measured the Temps on both boards' NB chips running the stock Air Cooling at idle then ran 3DMark06 set to run three iterations of the tests to make sure every thing was well warmed. Temps were measured with the motherboards' respective utilities and those temps were matched to Speedfan v4.37 temperatures to eliminate any possibility of the motherboard utilities being off a little, in favor of the vendor.
NB Temperatures
 
Idle
Load
Gigabyte EP45T-Extreme
37°C
54°C
MSI P35 Platinum Combo
44°C
60°C
The cooling system performs extremely well as it comes shipped from the vendor. Throughout all my testing and over clocking trials, I never had the NB temps over 56°Cc so I never really saw the need to add the water cooling to the NB at all. But I did have the chance to run the board at extremely high FSB's either as my CPU is FSB limited to under 450 MHz and at the FSB speed the Silent-Pipe still does a excellent job of keeping things cool. 
OVERCLOCKING

So what's the best overclock I got out of my old Q6600?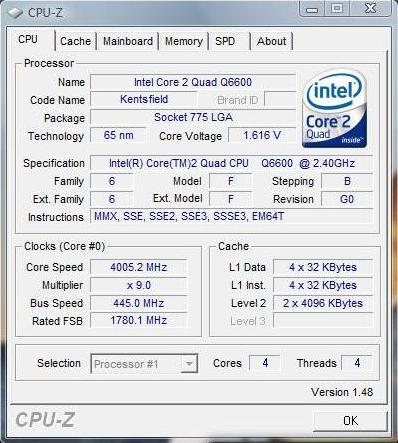 My Quad isn't the best overclocker out there, but it does a fair job of getting things done.
Best FSB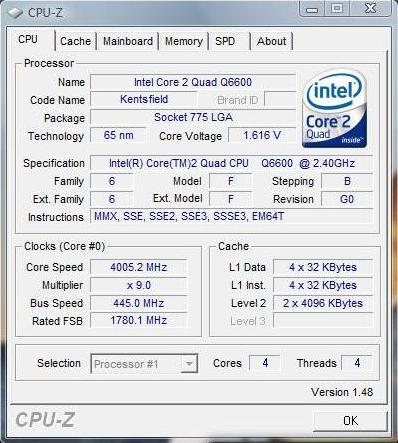 Sorry to disappoint everyone about the max FSB, but this is where my CPU really isn't all that great, its FSB limited, so what you see is what I got.
Best RAM Speed
For the best RAM speed, and we mean the best RAM, speed holding the rated timings of 7-7-7-20 on our 2GB kit of Patriot DDR3 1600 and loosening timings, we got a much higher speed along with increased efficiency and improved scores on the benches.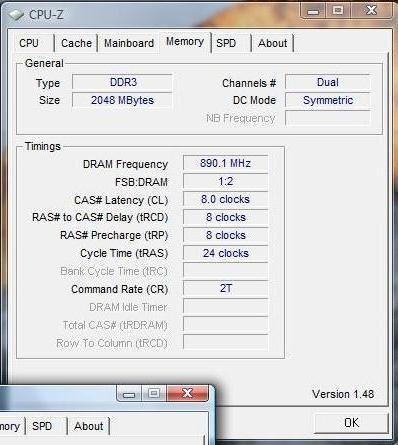 .
Best 3DMarks06 Score
I didn't get to spend as much time as I would have liked To with 3DMarks06 on the EP45T-Extreme testing because I got the Sapphire HD 4870 Toxic after I had already completed all the testing on both boards. So just to get a run or two in, I cranked up the overclock on the CPU and GPU and let it rip to see what it came up with. 16873 isn't a bad score for a single card these days.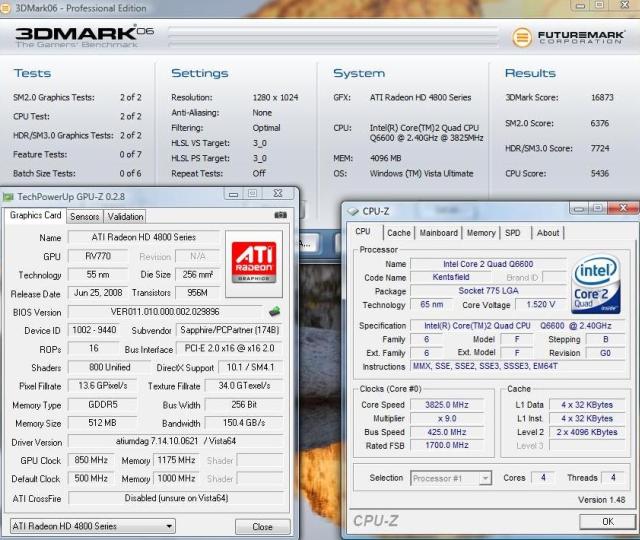 CONCLUSION
Okay, just where do I start with this board? This board was a pain in the rear from the beginning with its layout issues raising their nasty head at every turn. The layout issues aren't what anyone would call major faults and wouldn't stop me from buying the EP45T-Extreme, but they are issues that need to be addressed. The issue with battery placement, in the end, won't affect most people and won't be a problem, as the battery itself should last a life time. And, as for having to pull it to clear the BIOS because of a complete crash, I haven't had any issues like that again since I updated BIOS to the latest version. As a matter of fact, the system has been rock stable and the only reboots I've needed to do were to change settings and overclocks.
The issue with some video cards blocking some or all the vertical SATA ports can be a problem for some users, but there's a lot of motherboards in this chipset generation that have the same problem. There's no real solution to the problem except to choose your components wisely to be sure that they all fit the way you need them to fit for your configuration. As for the problem with the Silent-Pipe NB Cooler, if Gigabyte were to reduce the length of the end that protrudes out the rear of the case, fitting the thing in 99% of the cases out there wouldn't be a problem.
Enough of the bad and on with the good now that the system is all installed and running properly. With both the F4 and F5d (beat) BIOS, the board has been a complete dream to work with on a day to day basis; even with the CPU clocked to 3.6GHz 24/7, the board hasn't caused any problems. The EP45T-Extreme does a great job of overclocking both the CPU and memory, in my opinion. I was able to get my Q6600 to slightly over 4GHz by only increasing the CPU voltage and leaving everything else on Auto. Contrary to what I've read about the board's memory clocking issues, I had great success overclocking the memory on the EP45T-Extreme. I was able to push my Patriot DDR3-1600 to 1780MHz without having to increase the memory voltage beyond recommended settings, so I'd have to say that the latest bios updates are doing their job. 
After initial bios issues, the Gigabyte EP45T-Extreme performed extremely well on all levels. It overclocks easy enough for the novice overclocker, and has enough left over for a world class overclocker. The Northrbridge cooling design and function out of the box is fantastic (but hard to fit in some cases).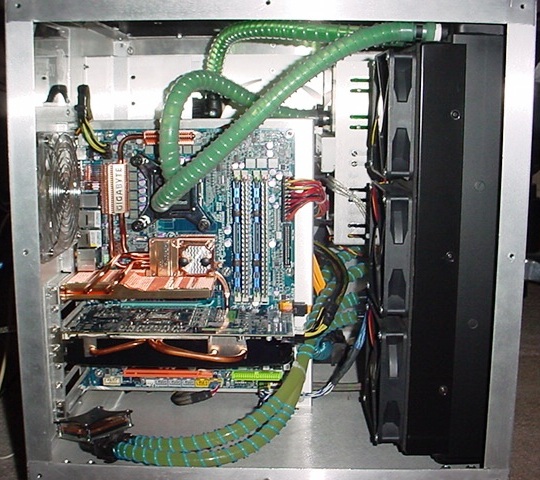 Pros:
+  Good performance
+  Over Clocking Dream
+  12 USB Ports
+  2 Gigabit Lan With Teaming
+  Nice Bundle
+  Good Power Consumption
+  Crossfire Ready
+  Supports A Wide Range Of CPU's and Ram
Cons:
– Battery is near impossible to replace when board/Silent Pipe NB Cooler is installed.
– SATA ports can be blocked by newer generation of high-end video cards.
– No external USB bracket
– Issues fitting the Silent-Pipe cooler in some situations.
– Occasional bios issues (hopefully fixed with latest update)
With everything said and done, we're giving the Gigabyte EP45T-Extreme a final score of an 8 out of 10 rating.