Silversone's Decathlon Series 1000W power supply (Model No DA1000) features 1000W of power for all of your needs. With its single +12V rail with 80A of power outputs, it should be strong enough to power any thing you wish to throw in it. We put it through our test system consists of three GeForce 9800 GTX running in SLI. Can it handle the power loads? Find it out.
INTRODUCTION
How things have change over the last couple of years with the computer power supply. It used to be that 500W was all you needed to power your system, but today we find 1kW and higher power supplies in many enthusiasts' systems. Of course, this is all because of the SLI and CrossFire technologies that have taken off since they first appeared. It's is possible to find many systems with two graphic cards or even three graphics cards, and sometimes the ones with only two cards each consist of two GPU cores, bringing the total to four GPU's. These high performance graphic cards draw insane amounts of power.
Yes, average users probably will find a 400~500W power supply more than adequate for their needs as today's components are far more efficient than they were before while at the same time performance is much better than it used to be. Still, as long as the industry keeps pushing for faster components, we may see the power demands for computers go even higher.
We have received Silversone's Decathlon Series 1000W power supply (Model No DA1000). With its retail price of $279.99 over at Newegg, this power supply is clearly designed for enthusiasts. Would its performance justify its price tag? We shall find it out in a moment.
SILVERSTONE
Founded in 2003, SilverStone is an established leader in its field, with an elite team of engineers; we started our quest of providing products that create inspirations.  We have since expanded the lines of products as well as types of products we produce, giving our customers a wide selection of choices. 
With distribution centers in different areas of the globe, SilverStone products can be seen all over the world, not just for computer users but also for home entertainment use.  Providing leisure with integration of advanced technologies that is functional and making them enjoyable to use.
Here at SilverStone Technology, we continue to pride ourselves in providing the highest level of standards in designing and manufacturing computer enclosures, power supplies, and accessories.  Our pursuit for the first class aesthetic appeal is relentless; our teams of devoted engineers are constantly searching for the best technologies that suit end-users with different needs and will make our products as technologically sound as they are beautiful.
FEATURES
The SilverStone Decathlon line of power supplies is targeted towards computer enthusiasts. The power supplies range from 650W all the way to 1200W. All of the Decathlon power supplies use 100% modular cables and have a single +12V rail. Many of today's power supplies have multiple +12V rails as it is required by the ATX specification. Despite this, some die-hard users swear by the single +12V rail power supply.
Many of today's components such as GPU's, CPU's, and HDD's draw power from +12V rail and when all of these components are running at their full blast they can put a big strain on the +12V rail. Depending on how the +12V is being distributed among the different components, it may result in certain components not getting enough power if two or more power-hunger components are drawing power from a single shared +12V rail in a multiple rail PSU. This is where the power supply with multiple 12V rails can be insufficient, even if the power supply has a beefy wattage.
Though many of today's high powered power supplies have taken into consideration multiple GPU's and quad core systems' power demand and have designed power supplies that do not share the +12V rails among these high-power demand components, some people still prefer to have a single +12V just to be safe. Depending on who you speak with, some die-hard fans would swear by a single +12V rail over having multiple rails.
SPECIFICATIONS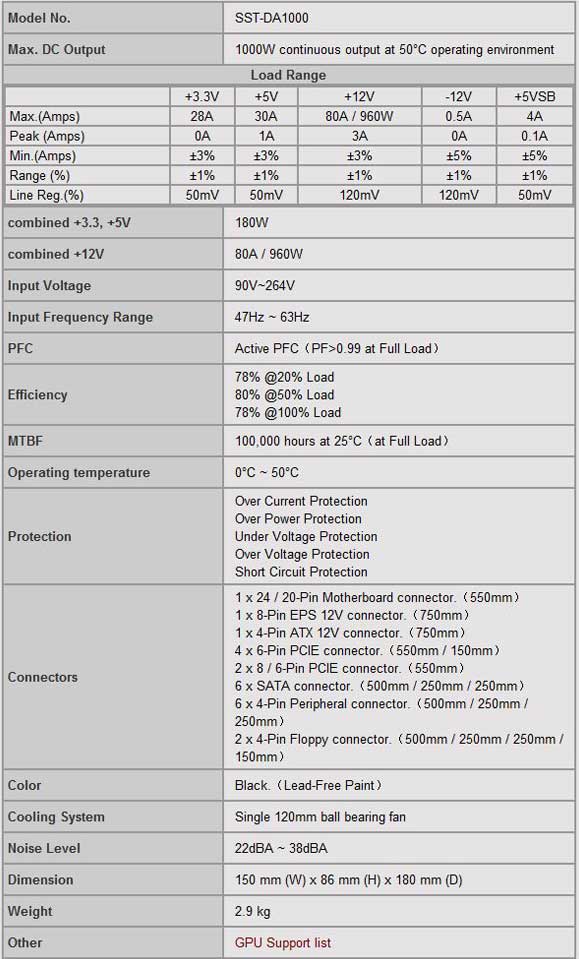 FEATURES
100% modular cables with cable bag
1000W continuous power output rated up to 50℃
Class-leading single +12V rail(s) with 80A
Low ripple & noise with ±3% voltage regulation
Efficiency greater than 80% 
Six PCI-E 6pin, dual PCI-E 8pin
Silent running 120mm Fan
SilverStone SST-DA1000W
The SilverStone SST-DA1000W comes in a rather small box. We have reviewed many high-end power supplies and a majority of them come in a rather big box (with the biggest of them all from Rosewill that was reviewed). In comparison, the SST-DA1000W's box is quite small. Do not be fooled by the packaging. It is filled with marketing information. As you can see, SilverStone puts many features of the power supply, detailed specification, and the cable information right on the outside of the box to easily assist end-users with their purchasing decision. There is a handy carrying handle above the power supply which is a nice touch as the PSU weighs 2.9Kg.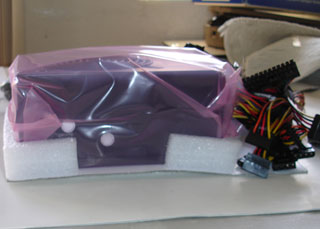 The first impression you might get after opening the box is that there is no padding at all. It is actually not correct. If you lift up the power supply from the box, you shall see that SilverStone actually places the power supply on two pieces of cardboard with Styrofoam padding around the power supply. The padding protects the power supply and prevents it from moving around inside of the box during shipping, so there is no way the power supply would be damaged during shipping.
My first impression of the power supply is that it's quite small. My past experience with the high-end power supplies is that they are usually larger than usual (Enermax Galaxy for example). By comparison, the DA1000W is only slightly bigger than standard ATX power supply. It has the dimension of 150 mm (W) x 86 mm (H) x 180 mm (D). This is nice because it will fit into almost any case, mid-tower or full-sized tower, without any issue. I installed it in the Tagan's Seenium case and had no issue at all.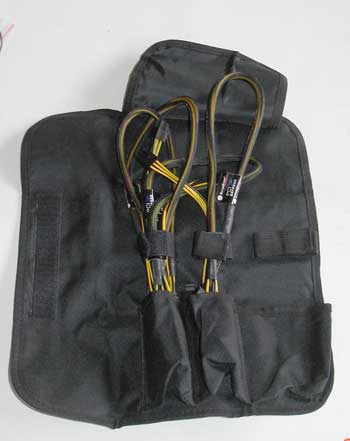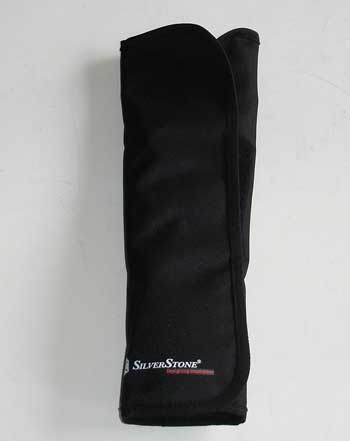 As mentioned earlier, this power supply is of a modular design. SilverStone actually has pre-attached the cables to the power supply. There are tons of cables included and SilverStone is nice enough to include a cable organizer and two cable ties to help cable organization and storage. In addition, four screws and the main PSU cable are included.
The pre-attached cables are nicely tied up inside of the box during shipping. Listed here are the cables included:
1 x 24 / 20-Pin Motherboard connector.(550mm)
1 x 8-Pin EPS 12V connector.(750mm)
1 x 4-Pin ATX 12V connector.(750mm)
4 x 6-Pin PCIE connector.(550mm / 150mm)
2 x 8 / 6-Pin PCIE connector.(550mm)
6 x SATA connector.(500mm / 250mm / 250mm)
6 x 4-Pin Peripheral connector.(500mm / 250mm / 250mm)
2 x 4-Pin Floppy connector.(500mm / 250mm / 250mm / 150mm)
All the cables are labeled and sleeves. I especially like the fact that two floppy connectors are included. Although not many of us still use the floppy drive, some of the hard drive enclosures and peripherals still use floppy connectors to power the device. So it's nice to see two connectors included. There are plenty of SATA and Molex connectors, although six SATA connectors may seem a little bit short for a power supply of this level. The main ATX 24-pin power connector is a bit too short in my opinion. Many cases nowadays place the power supply on the bottom of the case, thus making it harder to reach the ATX connector that is usually placed on the top part of the motherboard. The ATX power cable at only 5.5 cm can be slightly too short for people with larger case where the power supply is mounted on the bottom. The rest of the cables are long enough even for the biggest case.
Unlike some PSU's where the connectors have a spring to assist easy installation, the SilverStone power supply comes with standard type Molex connector. The spacing between the modular connector is a bit tight so it would be slightly difficult to install them once the power supply is installed inside the system. Also, there is not enough space if you wish to unhook the top cable without removal of the bottom cable first.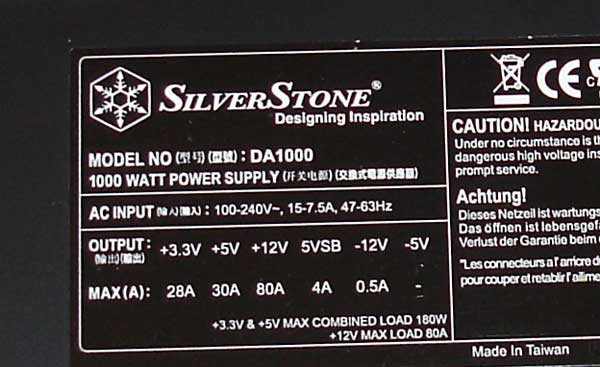 Over on the side, you will find the power supply's specifications. As you can see, the power supply supports AC input of 100~240V. It will output 28A on the +3.3V, 30A on the +5V, and a massive 80A on the +12V rails. The +3.3V and +5V has a maximum combined load of 180W and the +12V has a maximum load of 960W. It should give plenty of juice for any hardcore gamers out there.
This power supply is clearly designed for gamers in mind. The four 6-pin PCIE connectors and two 8/6-pin PCIE connectors and 80A on the +12V should be able to drive any hardware you throw into the system. With a total of six 6-pin PCIE connectors, the power supply will handle three GTX 260's or 9800 GTX's or HD 4870's without any issue. In addition, it would be able to support two HD 4870×2's or two GTX 280's without any issue. The only thing it won't support is three GTX 280's or GeForce 9800 GX2's due to lack of third 8-pin PCIE connector. Over at SilverStone's web site, there is a list of compatible graphic cards, so you can check it out before you buy the power supply.
On the bottom of the PSU, you will find a 120mm fan. Next to it, you will find a sticker with the label of the modular connectors. I really like this. Kudos to SilverStone for being so thoughtful. As you can see from picture above, there are three connectors for PCIEX cables, four connectors for SATA/IDE cables, one connector for main ATX and a connector for 4-pin ATX connector. Although SilverStone includes four PCIEX cables (two cables with two 6-pin PCIEX connectors and two cables with one 8-pin and one 6-pin PCIEX connector), only three can be used simultaneously. It is possible to run three GTX 280's if you use the Molex to 8-pin power adapter for the third 8-pin connector.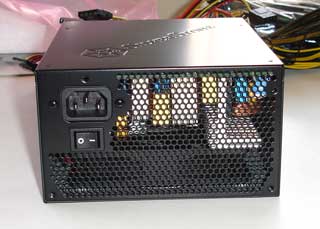 On the back is the honeycombed mesh that is common on many of today's high-end power supply. Next to it you will find the power switch and the cable connector. 
INTERNAL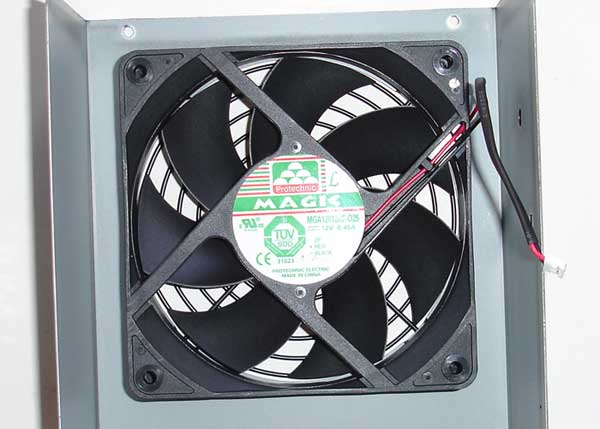 The fan that is used on the PSU is made by Protechnic Electric with model number MGA12012HF-025. Not much information is provided but it runs fairly quiet.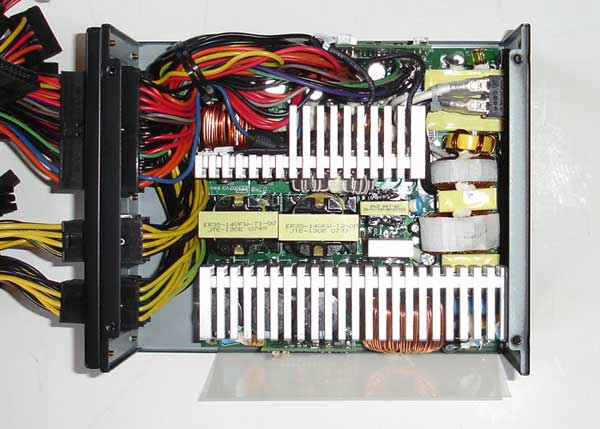 We see the power supply uses a small capacitor manufactured by Teapo just next to the main PCB board where all of the rails are connected. Three large capacitors are being used to deliver the power. They are manufactured by Japanese manufacturer Toshin Kyogo and are rated 450V with 220 uF. Above them has a big heatsink covering all three capacitors.
In addition to the big heatsink above the three large capacitors, there is another heatsink inside of the power supply. The two heatsinks are thick and have enough space for hot air to pass through them. The internal components are organized.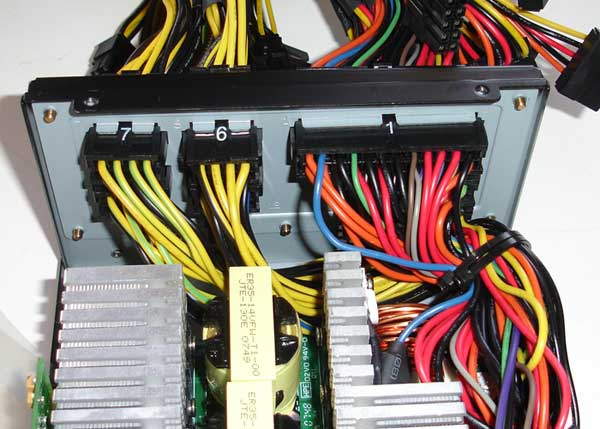 Inside, you will see how SilverStone connects the internal cable to the modular connector. Instead of soldering the cable to a PCB board like many other modular PSU's, SilverStone has chosen to have a PCB board with internal connector and connect the internal modular cable to the PCB board. Because of this, the modular cable will wiggle a little when you try to connect it to the PCB board.
TEST CONFIGURATION
Since Bjorn3D does not yet own a dedicated power supply load tester, we are not able to test the power supply to its fullest wattage.  However, we do strive best to load each power supply with the components and power demands that a potential buyer will use.  For this particular power supply, I will be installing these following components at the given condition:
Intel E6600 (OC to 3.0GHz)
EVGA 790i FTW Digital
1x1GB OCZ DDR3 PC3-10666 Gold Edition 
Three SATA hard drives
Three 9800 GTX/GTX+ 
ThermalRight XI-128 with Scythe S-FLEX SFF21F
DVDRW: NEC 3520AW
CoolIT Freezone and CoolIT Eliminator
Various peripherals that includes PS/2 keyboard, USB mouse, and other USB devices and storages.
With all these components, I was able push the power demand to 650W under a load. This represents approximately 65% of the power supply's maximum output. We would probably able to achieve higher power demand if we SLI three GTX 280 cards (although the SilverStone's power supply does not have enough connectors for it).  Unfortunately, at the time of the review, I do not have three cards available to SLI them. Still, with 650W of a power demand, it represents an average enthusiast computer's power usage with the three 9800 GTX/GTX+ cards in SLI.  This should give our readers a sense as to what this power supply is capable of.
We will test the power supply in four different configurations: with one, two and three graphic cards. In addition, a maximum power consumption reading is obtained as well. The voltage reading of each rail will be carried out with the Kill-A-Watt P4400. The test system is connected to an UPS to reduce any power spikes.
TEST RESULTS
Power Output Results(V)

Power Rail
1 GPU
2 GPU's
3 GPU's
MAX
Idle
Load
Idle
Load
Idle
Load
Idle
Load
Power Consumption (W)
182
252
237
388
310
536
410
650
3.3v
3.41
3.41
3.41
3.41
3.42
3.42
3.38
3.38
5v
5.10
5.10
5.10
5.09
5.10
5.09
5.05
5.05
12v
12.30
12.31
12.31
12.32
12.32
12.33
12.25
12.25
All three rails are well within the ATX specification. In fact, they are well within 3% of the specification so it's good. At approximately 25% of power consumption, all three rails are stable and do not change a lot. Once we push the power consumption to 30~50%, we start to see the 5V dipped a little (only 0.1V). Under our max load condition, the power supply started to drop in voltage, but they are all still well above the specification so it is nothing to worry about. We can see that the +12V is absolutely steady and does not alter much compared the load and idle condition.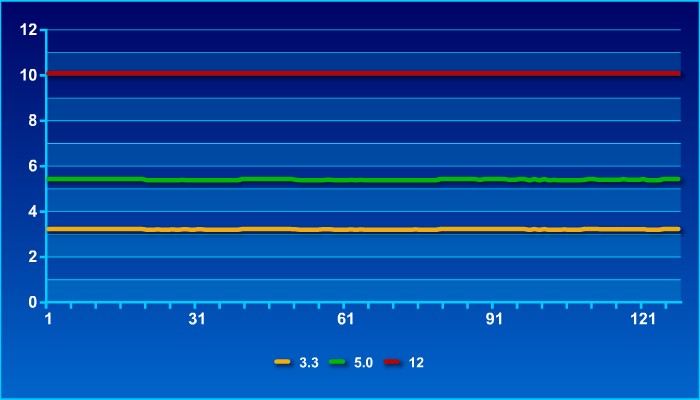 We used Everest to track the power supply's ripple. It is well-known that many software benchmarking tools do not read the voltage information accurately, so do not pay too much attention to the number, but look at the power stability. We only show the graph for the max load. It is obvious that this power supply's +12V is absolutely rock solid, with only a solid line and no spikes at our max load condition. The 3.3V and 5V do fluctuate a little bit. The 3.3V rail fluctuates between 3.2V and 3.23V and the 5.0V rail fluctuates between 5.38V and 5.43V. Looking at the highest reading vs. lowest reading, we can see that the difference is not a great one. The result can be somewhat boring but that is actually a good sign for the power supply. When the number does not change too much that means that the power supply is good quality power supply and is able to deliver the power.
Let's take a look at the power supply's efficiency. I compared the SilverStone DA1000 with Cooler Master UCP which is 80% Silver Certified power supply capable of reaching up to 88% efficiency.
Feature/Specification

 1GPU

2 GPU's

3 GPU's
MAX

SilverStone

182W

252W

237W

388W

310W

536W
410W
650W

183W

248W

238W

385W

298W

520W
395W
630W
At low power consumption (<20%), the SilverStone's power efficiency is similar to the Cooler Master power supply. However, as the power consumption increases, we can see the higher efficiency (up to 88%) Cooler Master is able to conserve as much as 20W of power compared to the 80% efficient SilverStone unit. Green is the big talk of the computer industry. Though SilverStone is certified for 80% efficiency and its power efficiency is actually not bad when we compare it against Cooler Master's UCP, it would have been appreciated to have higher efficiency, especially in a world where energy cost is rising.
As far as the noise-level is concerned, the SilverStone DA1000's noise level is one of the quietest among the high-end power supplies that I have encountered. Although it's not absolute silent, it's barely audible at all even under load. This is a great power supply for anyone who is looking for a quiet high-end system.
CONCLUSION
The SilverStone Decathlon power supply that we have tested is clearly designed for enthusiast's rigs. The massive 80A on a +12V single rails is more than enough to power almost anything you wish to throw on it. Our tests show that the power supply's all important +12V is steady and never dips below the specification even under the load condition. We are confident that it will have no issue powering a quad core system with three GTX 260's. There are some ripples with the +5.0 and +3.3 V rails but they do not dip below specifications even under load, so it's probably not going to be something to worry about.
The power supply does have some flaws. First, the main ATX power is unusually short and that could cause a problem for people with a large case where the power supply is mounted on the bottom of the case. In addition, the modular cable connectors wiggle slightly and that can be somewhat bothersome. The power efficiency can also be improved despite the fact it is capable of 80% efficient. We do see some high-end power supplies that are capable of achieving 85% or even higher efficiency.
The DA1000 shines in the noise department. This is one of the quietest power supplies that I have come across. The noise level is not absolutely silent, but compared to other high-end power supplies, this one runs extremely quiet.
At a retail price of $279.99 (Newegg), the SilverStone Decathlon DA1000 is somewhat expensive among other power supplies at this category. The unit is covered by a three year warranty which can be seen as a bit short considering its price. It is easy to find other power supplies, such as the Cooler Master UCP, with higher efficiency and a longer warranty length though with slightly higher noise-level and not the single 12V rail design. However, with this power supply, you can pretty much feel safe to have a quiet system with all of the high-end components running at maximum clock speed without worrying that anything being underpowered.

The SilverStone DA1000 Power Supply will receive a score of 8.5 (very good) out of 10 and Bjorn3D's coveted Seal of Approval for its steady +12V rails and extremely quiet noise-level.
Pros:
+  1kW of power
+  80A on single +12V rail
+  Very Quiet
+  Steady power
+  Japanese capacitors (only the main cap)
Cons:
–   Main ATX cable is a bit too short
–   Price
–   Only six 6-pin PCIE and two 8-pin PCIE connectors (means it won't work with three GTX 280's)
–   Modular cables wiggles slightly
–   "Only" three year warranty