Asus's commitment to new platforms is amazing. Even though this is an early release board Asus didn't cut any corners it's a full function feature rich board.
INTRODUCTION
Asus has always been one of the computer industry's leading innovators, being the first to field many new ideas and support new platforms. The introduction of Core i7 is no exception. Asus had initial offerings of X58 Core i7 motherboards in production before Core i7 even made market. Their early jump on the socket 1366 Core i7 platform shows heavily in the Asus P6T Deluxe. No features were overlooked, nothing was skimped on, and they fielded a fully functional, feature rich board capable of driving SLI and Crossfire on demand so that you don't have to be afraid that better motherboards will come out later. They might come out with other motherboards, but we seriously doubt any will come out better or stronger than the Asus P6T Deluxe.
We were lucky enough to get an Asus P6T Deluxe early and put it through extensive testing. We've run this board for several weeks on a daily basis, had so many GPU's and combinations of GPU's on the board that it makes our heads spin thinking about it. Every piece of hardware we've connected to this board, and every feature we were able to test has worked like it would work on a well proven, well tested veteran board. That, in itself, makes the P6T Deluxe an excellent choice for early adopters.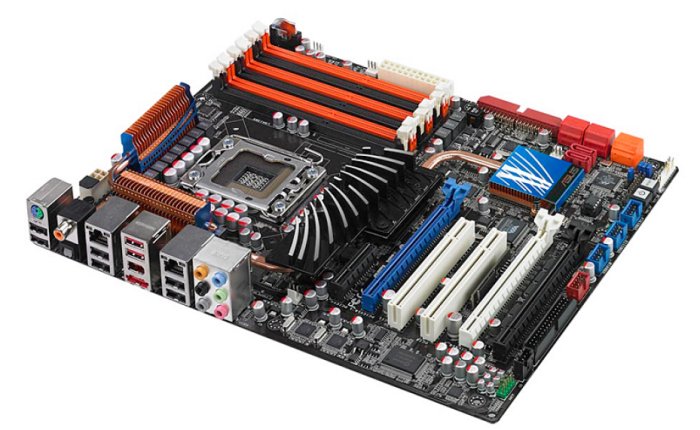 About Asus
ASUS, a technology-oriented company blessed with one of the world's top R&D teams, is well known for high-quality and innovative technology. As a leading company in the new digital era, ASUS offers a complete product portfolio to compete in the new millennium.
In 2007, one in three desktop PCs sold was powered by an ASUS motherboard; and the company's 2007 revenues reached US$6.9 billion.
ASUS products' top quality stems from product development. It's like learning Chinese Kung-Fu; one must begin with cultivating the "Chi" and inner strength. Besides innovating cutting-edge features, ASUS engineers also pay special attention to EMI (electromagnetic interference), thermal, acoustics and details that usually go unnoticed to achieve complete customer satisfaction. ASUS notebooks are the first TCO'99-certified notebooks worldwide.
The requirements for this honor include radiation emission control, energy (battery consumption), ecology (environment friendly) and ergonomics. To succeed in this ultra-competitive industry, great products need to be complimented by speed-to-market, cost and service. That's why all 8,000 over employees of ASUS strive for the "ASUS Way of Total Quality Management" to offer the best quality without compromising cost and time-to-market while providing maximum value to all customers through world-class services.
With unyielding commitment to innovation and quality, ASUS won 2,568 awards in 2007, meaning on average, the company received over 7 awards every day last year. BusinessWeek has ranked ASUS amongst its InfoTech 100 for the 10th straight year; and the company is ranked as No.1 in quality products and services by the Wall Street Journal. ASUS has also achieved the number one title on the annual league table of Taiwan Top 10 Global Brands with a brand value of 11.96 billion US dollars.
FEATURES
Intel X58 Express Chipset
Intel's new X58 chipset is the first to support the new Core i7 processors, which integrates the new Intel QPI (QuickPath Interconnect) that provides a lightning fast interface between the CPU and chipset. For the graphics enthusiast, it supports 36 PCI Express 2.0 lanes.
Triple Channel DDR3 Support
The ASUS P6T Deluxe supports Triple Channel DDR3 memory and clock speeds of 800-1333MHz with overclocking to 1600MHz. We've had it much higher. How high have we had memory on the P6T Deluxe?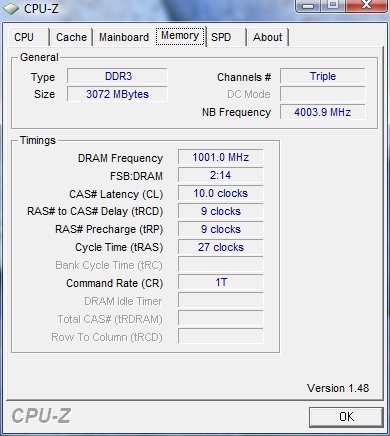 We've had it up to 2000MHz with a set of Kingston DDR3 and it didn't even break a sweat doing it. You have to love a board that you can exceed manufacturers specifications by that amount. DDR3 running at 2000MHz 1T, gotta love that.
SLI and Crossfire on demand
The Asus P6T is among the first boards out there for the Core i7 platform that support both SLI and CrossFire. With slots spaced for two Dual slot cooler GPU's you can easily drive dual SLI or CrossFire on the same board for the first time. Driver support is used for SLI so you'll need the Nvidia driver release 180.xx or later to drive SLI. Boards utilizing the nForce 200 SLI processor will be able to drive triple SLI provided slot spacing allows for it (Drool), but our P6T Deluxe doesn't use the nForce 200 so it's limited to dual SLI.
Hover on Pic.
16+2 Phase Power Design
Asus knows how to power a CPU properly. They designed the P6T Deluxe board with true 16+2 phase power. What does the Geek Speak actually mean? The VRM is designed with 16 phase power for the CPU (unparalleled stability for overclocking), and 2 additional power phases for the QPI/DRAM controller (IMC, Integrated Memory Controller) in the CPU. That's still pretty Geek Speak, but it's about as simple as we can make it without neglecting the subject.
Hover on Pic.
Express Gate SSD
This is just like it sounds, a miniature solid state drive on the motherboard containing a Linux distribution that drives the Express Gate application used to get online and boot in 5 seconds flat. How can we let that go without elaborating? We can't.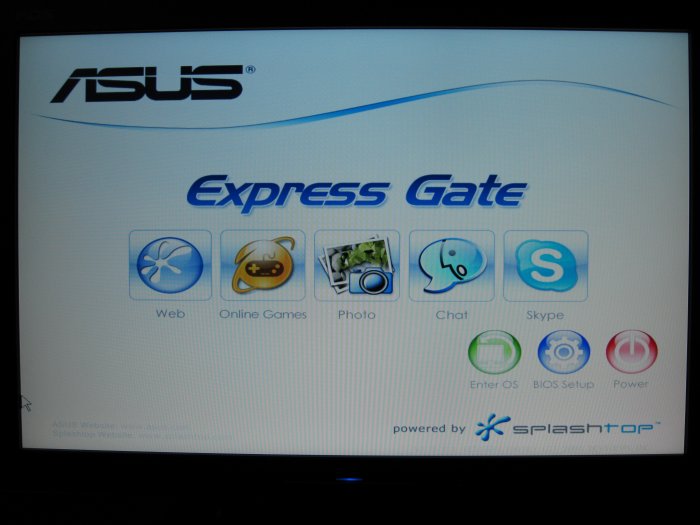 The splash screen offers web surfing, games, photo management, chat, Skype, Enter OS, BIOS Setup, and Power Off buttons.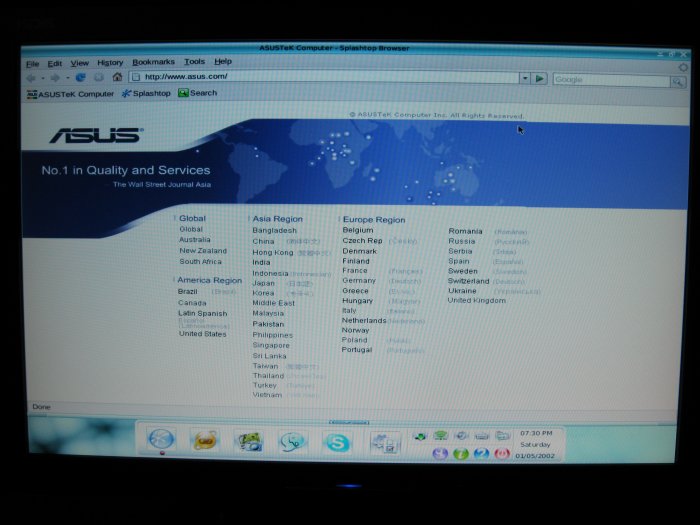 We clicked the web button and you'd never guess where it takes you.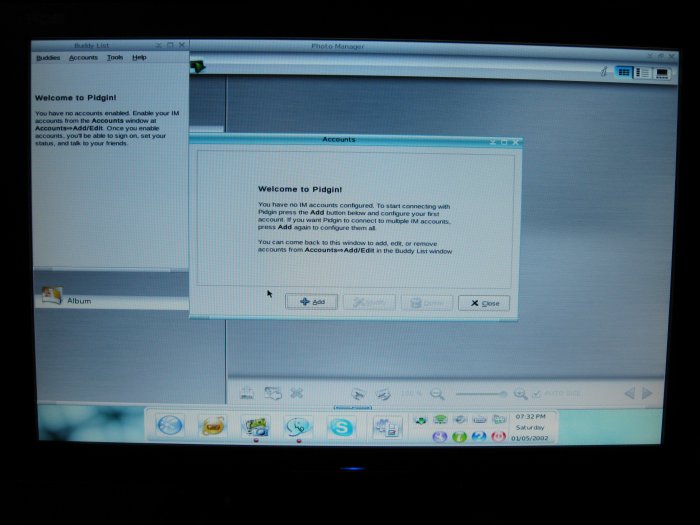 Chat takes you to it's Pidgin Chat/IM client.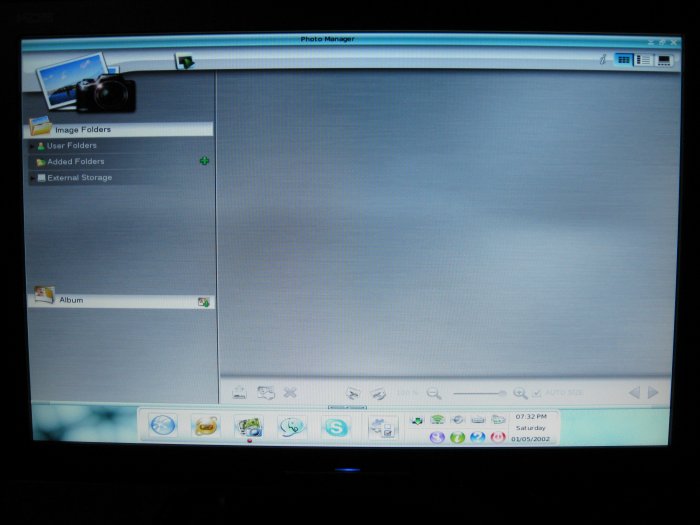 Photo takes you to the Photo Manager.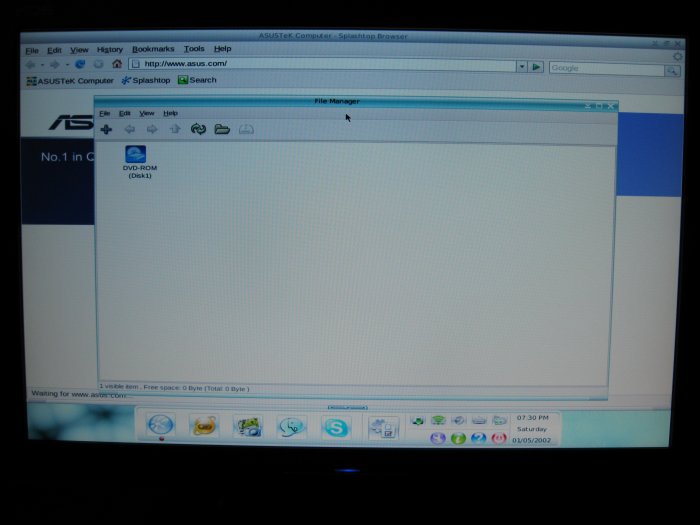 We slipped a disk into the DVD burner and we got File Manager. We tested everything but Skype, and it all worked like a charm. It's a really handy feature we'd like to see on all motherboards (especially ours).
EPU 6 Engine
The ASUS EPU-6 Engine is a power management utility designed to lower system power consumption by adjusting power to the CPU using the 16 phase power. The graphics card, memory, chipset, and most of the vital components on and connected to the P6T Deluxe are also adjustable.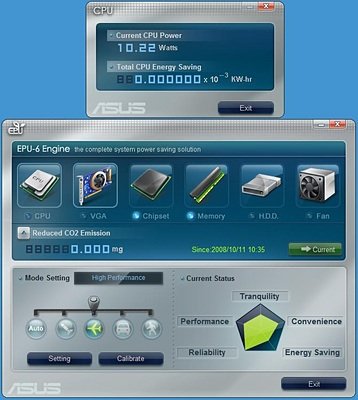 The EPU-6 Engine tool is full featured, easy to use, and fully functional. It even shows the effects of the changes on a graph at the bottom right. Maybe we're just easy to entertain, but it's a lot of fun to play with.
ASUS Quiet Thermal Solutions
One of the things Asus has been committed to for a long time is quiet computing. The P6T comes with the Asus Stack Cool 2 and a passive chipset and VRM cooler. The Asus Stack Cool 2 is based on a special PCB design that removes heat from the back of the motherboard. You'll also find several passive heatsinks with copper heatpipes to dissipate heat from vital components. There's also an optional fan for active cooling.
That has to be one ofthe coolest looking NB sinks we've ever seen. That surface area has to distribute heat effectivly, but they have still made allowances for the addition of a fan to the sink.
SPECIFICATIONS
ASUS P6T Deluxe
(OC Palm Edition)

CPU Socket

• Intel Socket B (LGA1366)

Chipset

• Intel X58 Express
• Intel ICH10R

Supported Processors

• Intel Core i7 Extreme
• Intel Core i7

System Bus

• Intel QuickPath Interconnect
• Up to 6.4 GT/s

Memory Type Support

• Six DDR3 240-pin DIMM slots
• Triple-channel support
• Maximum 12 GB

Memory Speeds

• DDR3-1600 (OC)
• DDR3-1333
• DDR3-1066
• DDR3-800

Expansion Slots

• 3 x PCI Express 2.0 x16 slots (x16/x16/x1 mode or x16/x8/x8 mode)
• 1 x PCI Express x4 slot
• 2 x PCI slots

Multi-GPU Support

• Supports NVIDIA SLI Technology
• Supports ATI CrossFireX Technology

Storage Connectivity Options

Intel ICH10R South Bridge
• 6 x SATA 3.0 Gb/s ports
• Intel Matrix Storage supporting SATA RAID 0, 1, 5 and 10

Marvell 88SE6320 Controller
• 2 x SAS ports supportimg SAS RAID 0 and 1

Marvell 88SE6111 Controller
• 1 x Ultra DMA-133/100/66 port
• 1 x External SATA 3.0 Gb/s port

LAN Features

• Dual Marvell 88E8056 PCI Express Gigabit LAN controllers

USB Connectivity

• 14 USB 2.0 ports (8 rear ports, 3 motherboard headers)

IEEE 1394 (FireWire)

• VIA VT6308 controller
• Two IEEE 1394a ports (one rear port, one motherboard header)

Audio Solution

• ADI AD2000B 8-channel high-definition audio (HDA) codec
• Coaxial / optical S/PDIF-out ports
• DTS Surround Sensation UltraPC
• ASUS Noise Filter

Rear I/O Connectors

• 1 x PS/2 keyboard / mouse combo port
• 1 x S/PDIF Out (coaxial + optical)
• 1 x External SATA
• 1 x IEEE1394a
• 2 x RJ45 LAN ports
• 8 x USB 2.0 ports
• 8-channel audio I/O

Internal I/O Connectors

• 1 x ATX 24-pin power connector
• 1 x EATX 8-pin 12V power connector
• 1 x 4-pin CPU fan connector
• 3 x 3-pin chassis fan connectors
• 1 x 3-pin power fan connectors
• 1 x Floppy drive connector
• 1 x Front panel audio connector
• 1 x CD audio in header
• 3 x USB 2.0 connectors (for 6 USB ports)
• 3 x Onboard On/Off/CMOS reset buttons
• 6 x Serial ATA II connectors
• 1 x Front panel connector
• 1 x Onboard power LED
• 1 x ATA-133 IDE connector
• 1 x IEEE1394a header
• 1 x S/PDIF out header
• 1 x Chassis intrusion connector
• 1 x TPM connector
• 1 x Power On switch
• 1 x Reset switch

BIOS Features

• 16 MB Flash EEPROM
• LAN Boot ROM
• PnP, DMI 2.0, WfM 2.0, SM BIOS 2.4 support

Special Features

• ASUS TurboV Overclocking Utility
• ASUS OC Palm
• ASUS True 16+2 Phase Power Design
• Express Gate SSD
• ASUS EPU-6 Engine
• ASUS AI NAP
• ASUS Quiet Thermal Solution

Form Factor

• ATX (12″ x 9.6″, 30.5 cm x 24.4 cm)
PICTURES & IMPRESSIONS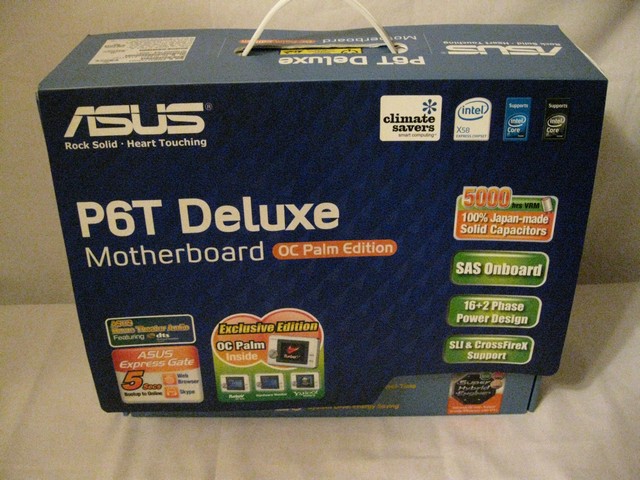 The P6T Deluxe comes in a really nice box that has plenty of information and specifications for the interested consumer to peruse.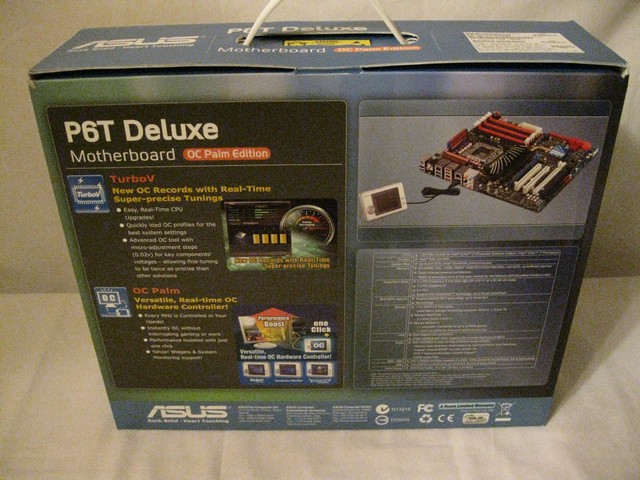 The back of the box has some interesting tidbits including a glimpse of the OC Palm Device.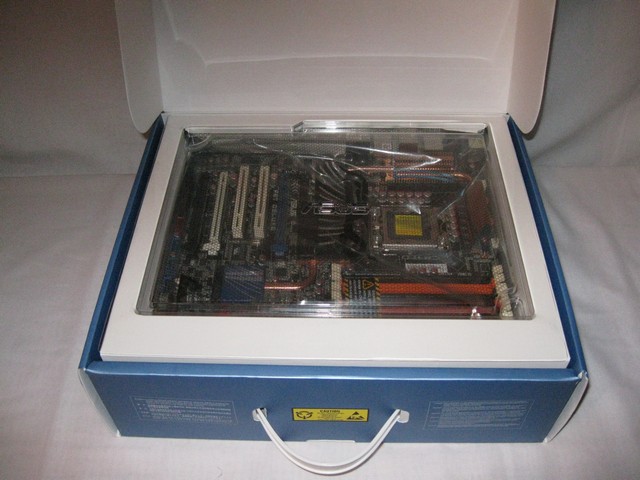 Inside the box Asus safely nestled the P6T Deluxe in a nest of protective cardboard and surounded it with an antistatic bag inside a plastic clam shell. It arrived in pristine condition, and despite the shipping company, arrived safely.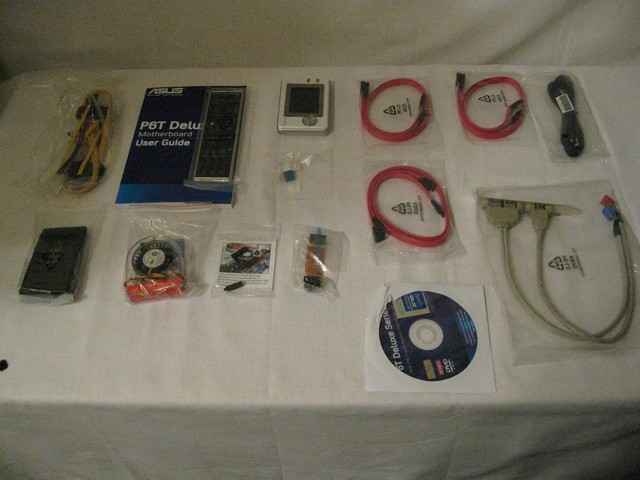 Inside the box you'll find a generous bundle with the P6T Deluxe:
One ASUS P6T Deluxe motherboard
One 2-port USB 2.0, 1-port IEEE 1394 module
Six Serial ATA data cables
Two SAS cables
One UltraDMA-133 cable
One OC Palm kit (device + USB cable)
One ASUS Q-Shield
Optional fan
One ASUS Q-Connector Kit
One ASUS SLI bridge connector
One ASUS P6T Deluxe Motherboard User Guide
One Driver CD
One Case Badge
It's a pretty sweet bundle considering we've been experiencing the shrinking bundle effect from other manufacturers lately. It's never a good thing when your bundle is all shrunken.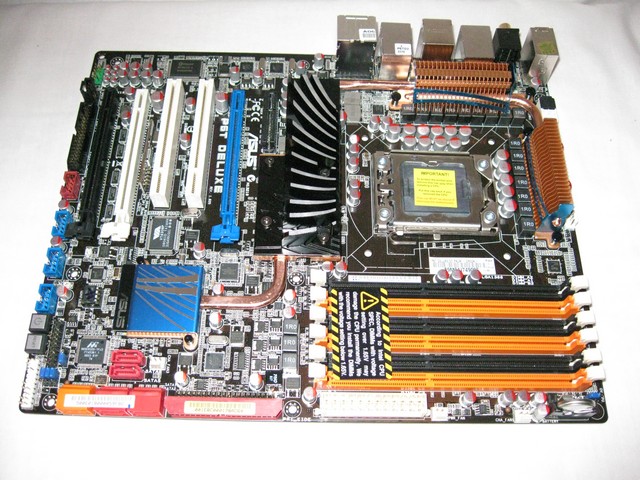 The layout on the board leaves little to be desired. Everything was where it should be and was easy to get to when running SLI or CrossFire. Six Sata ports mounted sideways made cabling a snap, and the two ports that are upright are native SAS ports in case you're looking to move to faster drives later on. We tried a couple of massive tower coolers on the board and even the Thermalright Ultra 120 RT with dual fans mounted to it fit the board, so the CPU area was well planned.
Notice the infamous Ram slot sticker warning of 1.65v limitation on RAM voltages. That sticker got this board a lot of press when it leaked on the web. The six ram slots will accommodate up to 12 GB of RAM, and appropriately are Black and Orange (we got the board around Halloween). The legacy IDE port is mounted sideways which is a nice touch and a little unexpected. We haven't seen this nice of a layout from Asus in a while, so we were pleased and surprised.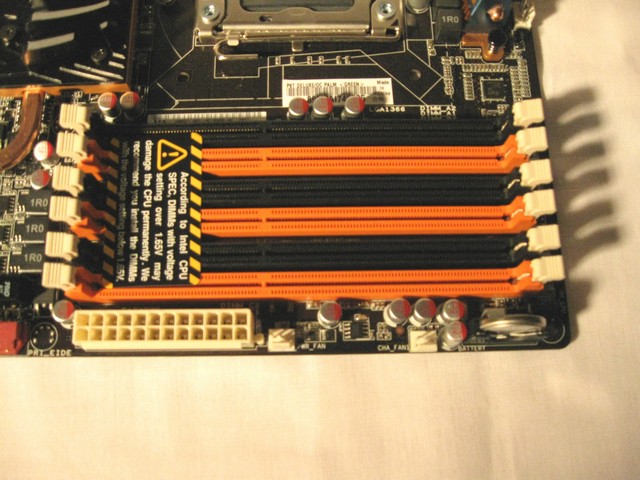 There's an up close and personal with the RAM slots, which is the only layout issue we had problems with. The 24-pin connector is pretty close to the first RAM slot. Also, notice the stand up battery design. That makes it easy to remove if the need should arise to hard clear the CMOS. We didn't need to remove it, but we do appreciate the smart design.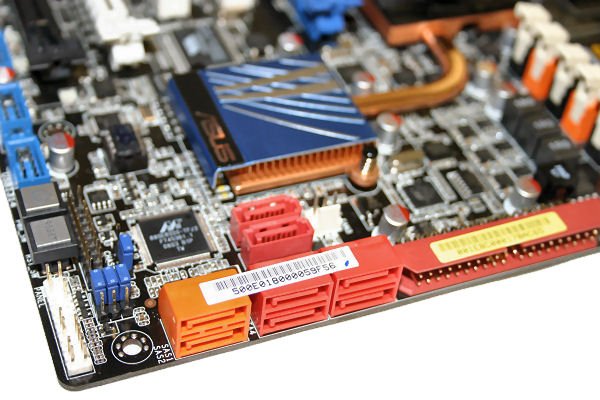 There's a good look at the 90 degree Sata ports, a design we think all manufacturers should adopt. It just makes things so much easier when you're manhandling dual slot GPU's on a board. We seriously hate having Sata ports interfered with and Sata cables touching GPU's. This readily available design avoids the whole issue and makes sure your Sata ports are unblocked and available for use. Asus, also included onboard power and reset switches, features we have come to know and love.
Far left on the I/O panel you'll find a single PS/2 mouse or keyboard port so you're going to need to use a USB mouse or keyboard on the P6T Deluxe. We don't see that as a disadvantage and PS/2 connectors on mice are passe anyway. If anything, it's handy for a keyboard for those little BIOS emergencies we OCers tend to have. Under the PS/2 multi use port we get a couple of USB's, right of that are optical and coxial SPDIF ports, and more USB's with a Gigabit Lan, eSata and Firewire, two more USB's. Then another two USB's and another Gigabit Lan and the usual smattering of Audio ports. It's nice having dual Gigabit Lan with teaming capabilities and all those external USB ports. With the two USB headers on the board we can have a total of 12 USB ports and that should be enough USB's for most of us.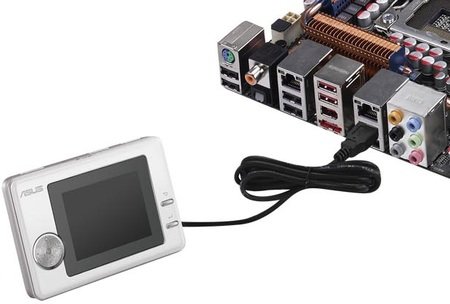 By far the most interesting part of the bundle is the Palm OC device. Connect it up with a USB cable and you're ready to OC without having to leave your game or current activities to boot into the BIOS and make adjustments. We set a couple of profiles and clocked on the fly with ease. This is an idea long overdue and much appreciated. The only way it could be better is if it were wirelessly connected, but then we'd probably lose it. You can use it for OCing and OCing profiles but it also supports Yahoo widgets and monitoring the system. While we tested its functionality for OCing, and it functioned well, we found we liked the hardware real time monitoring better.
BIOS
The Asus P6T BIOS is a feature rich and overclocker friendly BIOS that's a pleasure to use. We spent copious time in the BIOS overclocking and tweaking the Core I7 965 Extreme we used for testing, and we'd have to say it's one of the better BIOS setups we've seen in a while.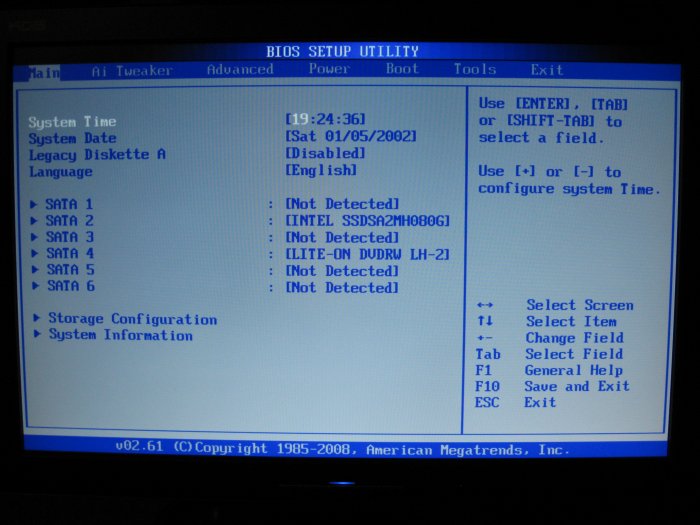 BIOS Main
The BIOS Main is just that, date time, drives connected, storage devices, storage configuration, and system information.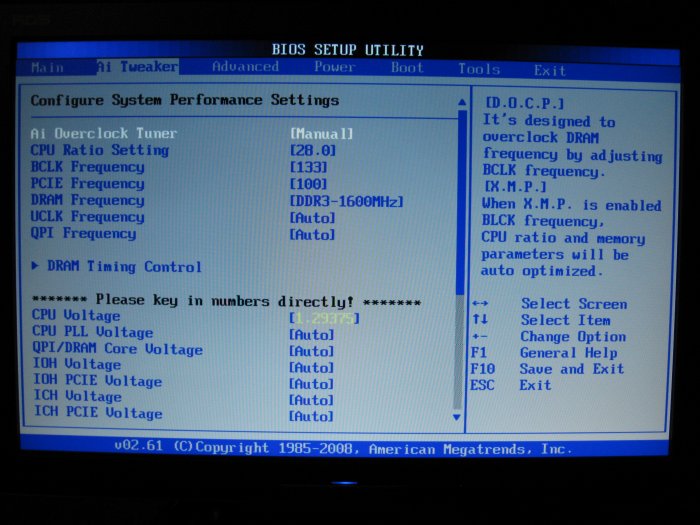 AI Tweaker 1
AI Tweaker is where it starts to get interesting and alomst all of your overclocking time will be spent here. HINT: Read the manual well. It's very comprehensive and ASUS threw some interesting information in there regarding OCing. Being a new platform you'll want to spend a few minutes in the manual as it will save you hours of trial and error.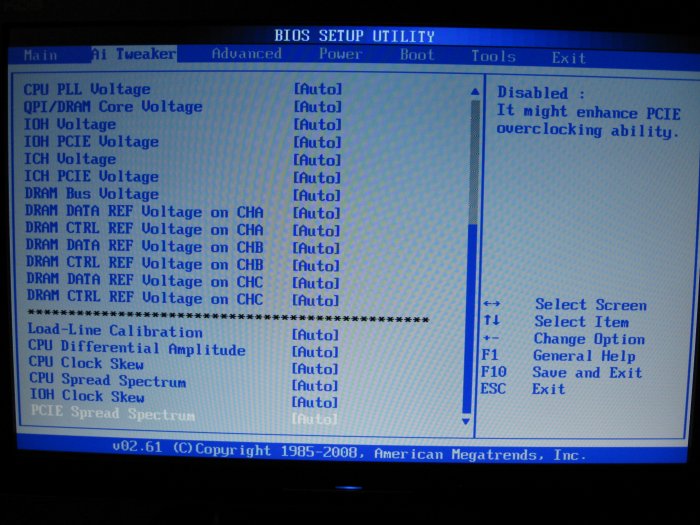 AI Tweaker 2
QPI/DRAM core voltage, keep it under 1.65v if you plan on adhering to Intel's warning about degrading and possiby killing your CPU. QPI/DRAM, it helps if you think of it as DRAM voltage but in reality is DRAM and QPI. QPI is internal to the CPU and excess voltage might kill it. IOH or Input Output Hub, think about it like NB, adjust voltage for it like you would the NB on the 775 platform.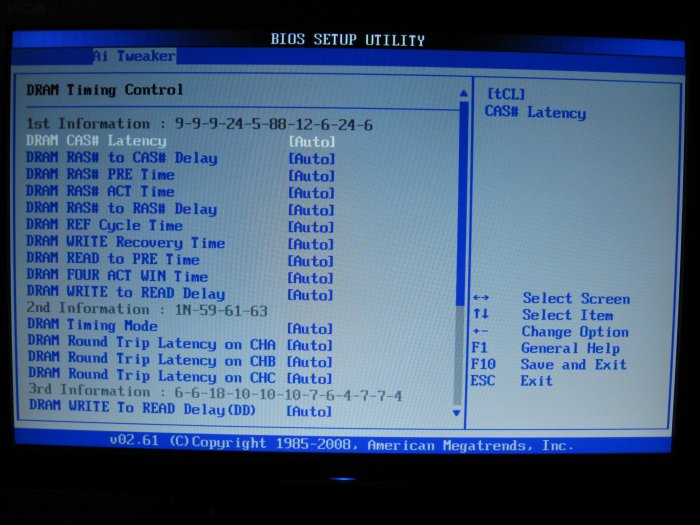 AI Tweaker Dram Advanced Timings 1
DRAM Timing, you adjust the CPU speed here. Doh, it's for ajusting and tweaking the DRAM.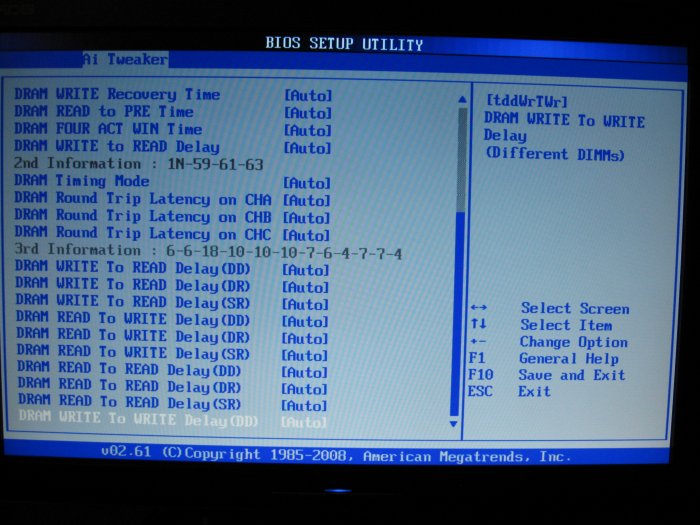 AI Tweaker Dram Advanced Timings 2
More good DRAM tweaking on the second part of the screen. You need to scroll down to see it.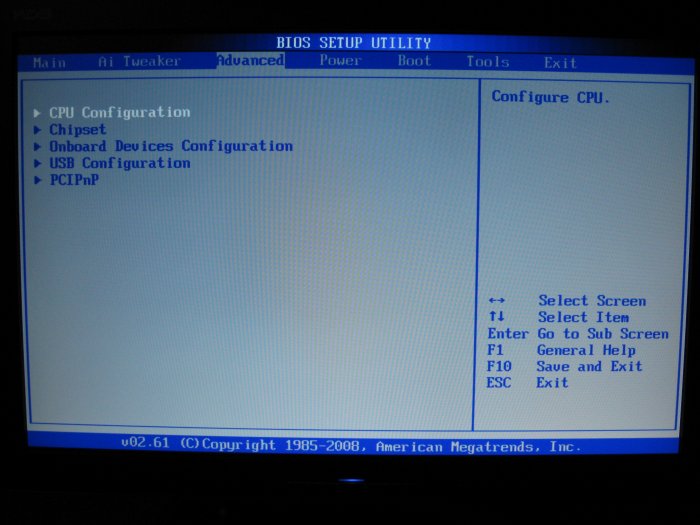 BIOS Advanced 1
In Advanced BIOS you can enable and disable devices.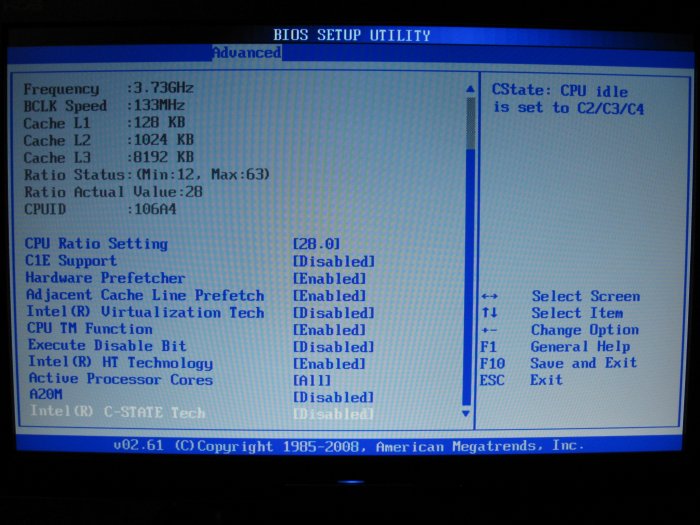 BIOS Advanced CPU Configuration
In the Advanced CPU screen you can disable those pesky Thermal safeguards. Leave CPU TM Function enabled, it only throttles if things get to toasty.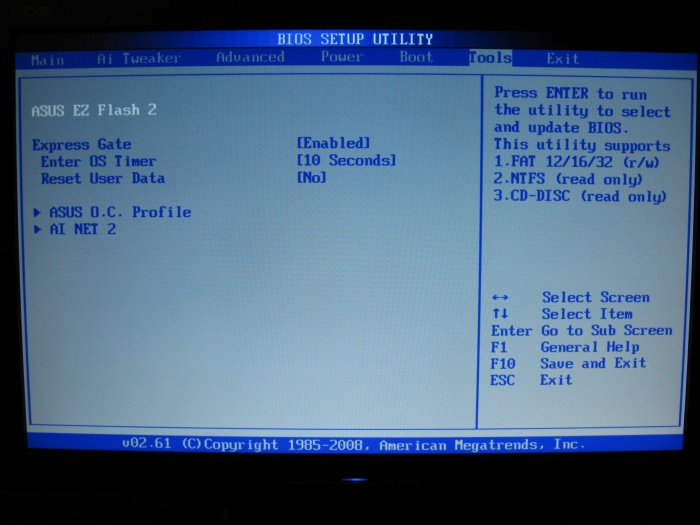 BIOS Tools
BIOS tools contains the ever handy EZ Flash 2, and you access the OC profile saving utility here.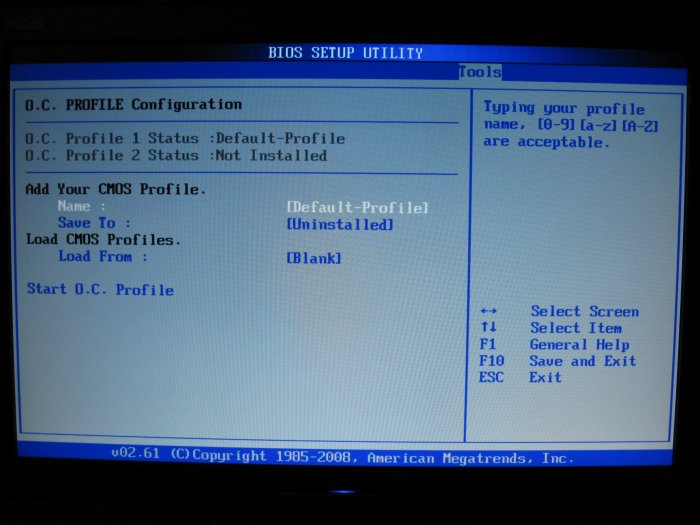 BIOS Tools OC Profiles
Then, the last of the interesting BIOS screens, the OC Profile area where you save profiles during OCing, and restore from them after your happy little OCing accidents.
TESTING & METHODOLOGY
We did a clean load from our Acronis Clone of the Operating system for the P6T. When we received the board we loaded the Intel 80GB SSD with a fresh copy of Vista 64 and loaded all the drivers except the Video driver. Since then, when we need a fresh install, we copy the clone back to the SSD and we're good to go. How many copies so far you ask? So far we've copied our clone back to the SSD 14 times. Every time we switch out GPU's we get a fresh clean install with minimal effort. In this case we used it to make sure we had a clean run of benches for the board itself. All the tests were run three times and the average reported here.
Before we get started though we wanted to tell you both boards share the same lineage, the X58 chipset, with identical hardware on each rig, so we're not expecting world shattering differences. The big selling point is going to be features, OCing ability, amenities, and the extras. Boards this similar can be expected to mirror performance in most areas so it's the little things that differentiate them.
The CPU-Z Story
Lets take a look at the CPU-Z story on this board before we move on to the test rig and testing suite.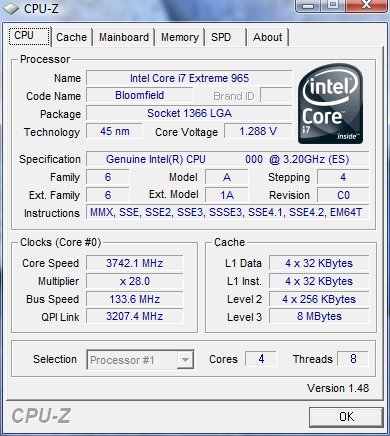 We're testing this board with our recently acquired Core i7 965 Extreme that's running at 3.74GHz on air.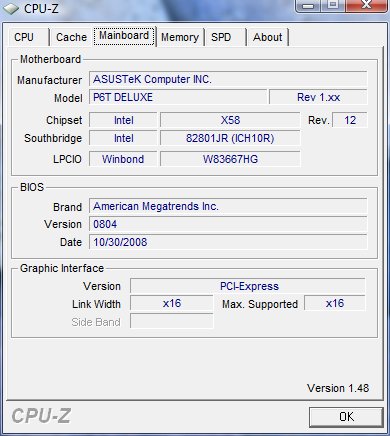 Notice this is a Rev 1.XX board, and one of the most well behaved initial revisions we've ever seen.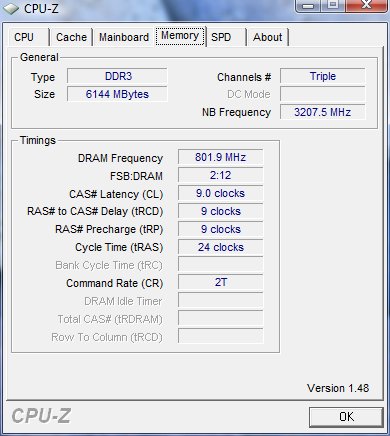 We're running with a 6 GB kit of G.Skill RAM and while we have faster RAM, this is probably going to be in the typical RAM speed most users will be running initially until prices drop.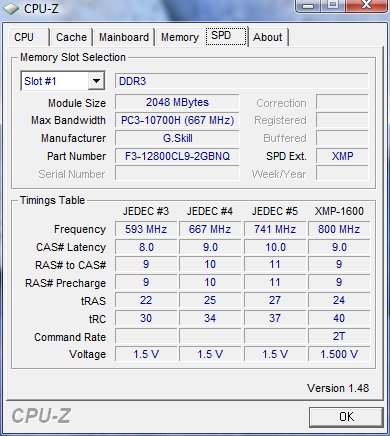 Nice spread of SPD on the G.Skill Kit. We were able to run the kit at 9-9-9-24 at all the listed speeds with no voltage increase.
Test Rig
Test Rig
"Quadzilla"
Case Type
Top Deck Testing Station
CPU
Intel Core I7 965 Extreme (3.74 GHz 1.2975 Vcore)
Motherboard
Asus P6T Deluxe (SLI and CrossFire on Demand)
Ram
G.Skill DDR 3 1600 (9-9-9-24 1.5v) 6GB Kit
CPU Cooler
Thermalright Ultra 120 RT (Dual 120mm Fans)
Hard Drives
Intel 80 GB SSD
Optical
Sony DVD R/W
GPU
BFG GTX-260 MaxCore Drivers 180.43
Case Fans
120mm Fan cooling the mosfet cpu area
Docking Stations
None
Testing PSU
Thermaltake Toughpower 1K
Legacy
None
Mouse
Razer Lachesis
Keyboard
Razer Lycosa
Gaming Ear Buds

Razer Moray
Speakers
None
Any Attempt Copy This System Configuration May Lead to Bankrupcy
Test Suite
Synthetic Benchmarks
3DMark Vantage
3DMark Vantage v. 1.01
3DMark06 v. 1.1.0
SiSoft SANDRA XII Professional SP2
Everst Ultimate Edition v. 4.50.1330
SuperPi Mod 1.5XS
HD Tach RW 3.0.1.0
Cinebench R10 64 bit
WinRar v. 3.71
Games
Crysis v. 1.02
3DMARK06 V. 1.1.0

3DMark06 developed by Futuremark, is a synthetic benchmark used for universal testing of all graphics solutions. 3DMark06 features HDR rendering, complex HDR post processing, dynamic soft shadows for all objects, water shader with HDR refraction, HDR reflection, depth fog and Gerstner wave functions, realistic sky model with cloud blending, and approximately 5.4 million triangles and 8.8 million vertices; to name just a few. The measurement unit "3DMark" is intended to give a normalized mean for comparing different GPU/VPUs. It has been accepted as both a standard and a mandatory benchmark throughout the gaming world for measuring performance.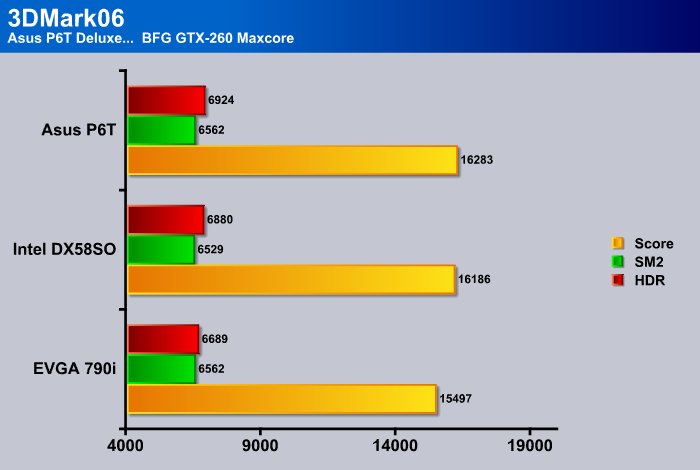 In 3Dmark06 it's a pretty close score between the Intel board and the Asus board. That's to be expected with both boards running the Intel X58 chipset. The Asus board did manage though to pull out a little ahead of the Smackover board. Both boards did better than the 790i running the Q6600 on the 775 platform. Single GPU performance on the older 775 is similar and in separate testing the biggest difference we see is in multi-GPU testing, which you'll be seeing more of.
EVEREST ULTIMATE
"EVEREST Ultimate Edition is an industry leading system diagnostics and benchmarking solution for enthusiasts PC users, based on the award-winning EVEREST Technology. During system optimizations and tweaking it provides essential system and overclock information, advanced hardware monitoring and diagnostics capabilities to check the effects of the applied settings. CPU, FPU and memory benchmarks are available to measure the actual system performance and compare it to previous states or other systems. Furthermore, complete software, operating system and security information makes EVEREST Ultimate Edition a comprehensive system diagnostics tool that offers a total of 100 pages of information about your PC."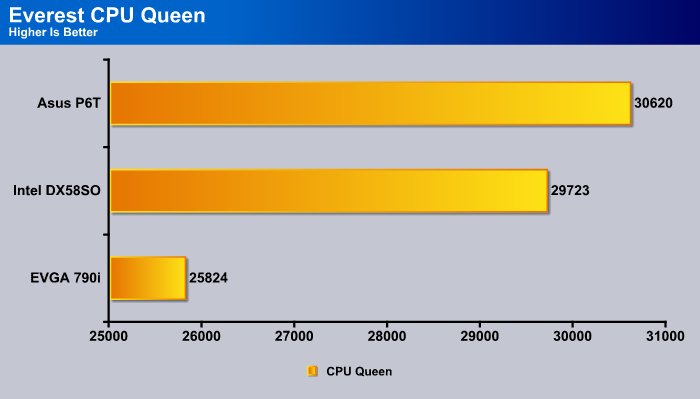 In the Everest CPU Queen test the Asus P6T Deluxe pulled out a little ahead of the Intel DX58SO. Both were clocked to 3.74GHz on the CPU and running the same set of G.Skill RAM. Considering that all things remained the same hardware wise, the Asus board did a little better than the Intel board. With both boards being new, and with immature BIOS's on both boards, that might be the telling difference.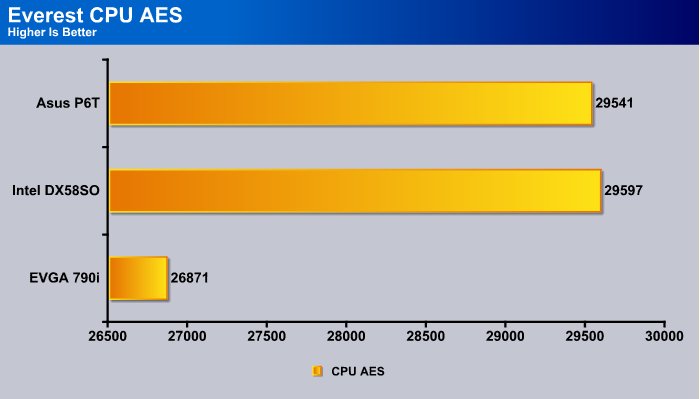 The Two X58 boards ran closer in the Everest CPU AES test. The Intel board ran a little better and the comparison 790i board with the Q6600 we threw in for comparison purposes brings up the rear. Please note, the 790i is a different platform and is only included to show the performance of the 775 platform as opposed to the Core i7 platform and not as a direct comparison.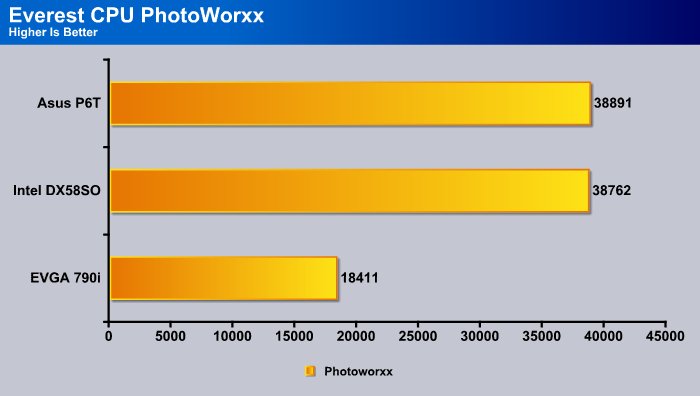 Photoworxx was another close test, With differences running that close, that could be no more than minute differences in the test runs. Both boards are running the X58 chipset, so close scoring isn't much of a surprise. Still, credit where credit's due, the Asus board did edge out the Intel board.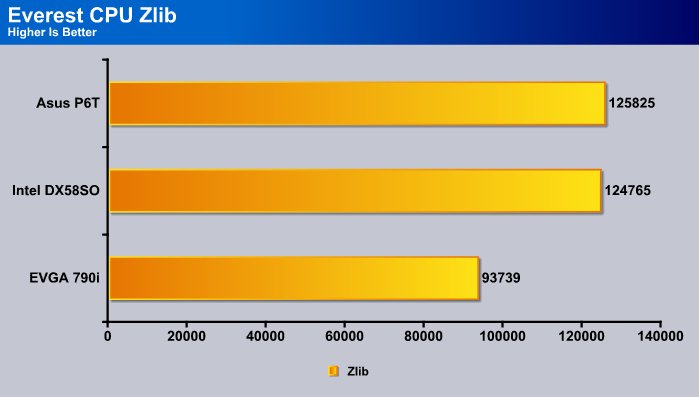 In the Zlib test the Asus board edged out the Intel board, and with it edging out the Intel board in so many tests, the minute differences in the boards might be showing an advantage to the Asus board. What really strikes us is the performance increase from 775 to Core i7. Clock for clock it smashes the 775 performance.
SuperPi
SuperPi is the "Gold Standard" for many when it comes to judging system performance. We ran 1 and 2 Meg calculations, again running each test three times and reporting the average of the results.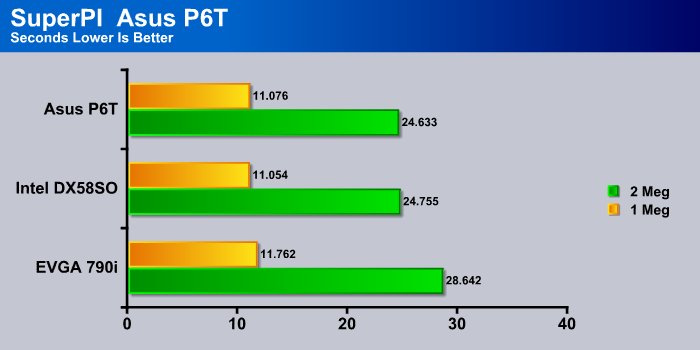 The Intel board edged out the Asus board in the 1MB test, but the Asus board took the 2MB test so we'd have to call SuperPI a wash. Considering the 790i was running Dual Channel DDR3 2000 and the P6T Deluxe was running Triple Channel 1600, it shows you the improved performance the IMC (Integrated Memory Controller) provides on the new platform.
WinRar v. 3.71
This module in WinRar generates random data, which contains specially introduced redundancy, increasing the load to both the processor and memory. Data is then passed through RAR compression and decompression algorithms, and the output of the decompression algorithm is compared to the source data. If any differences are found, WinRAR then reports "Errors found – Yes" in the command window. WinRAR displays a size of processed data and compression speed, current and resulting, in kilobytes per second.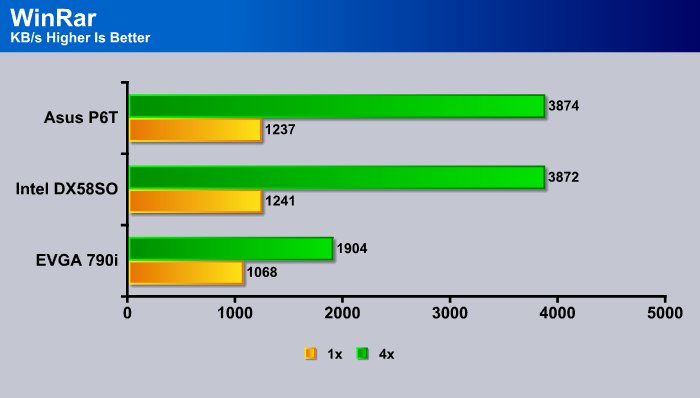 WinRar was another seesaw test with each of the X58 boards taking one of the tests. Both were close enough to show that they have the same lineage. Single core operation shows a decent improvement over the 790i but the multi threaded test shows Core i7 and the X58 chipset really shine in multi-threaded operations.
Cinebench
"CINEBENCH is a real-world test suite that assesses your computer's performace capabilities. MAXON CINEBENCH is based on MAXON's award-winning animation software, CINEMA 4D, which is used extensively by studios and production houses worldwide for 3D content creation. MAXON software has been used in blockbuster movies such as Spider-Man, Star Wars, The Chronicles of Narnia and many more. MAXON CINEBENCH runs several tests on your computer to measure the performance of the main processor and the graphics card under real world circumstances. The benchmark application makes use of up to 16 CPUs or CPU cores and is available for Windows (32-bit and 64-Bit) and Macintosh (PPC and Intel-based). The resulting values among different operating systems are 100% comparable and therefore very useful with regard to purchasing decision-making. It can also be used as a marketing tool for hardware vendors or simply to compare hardware among colleagues or friends."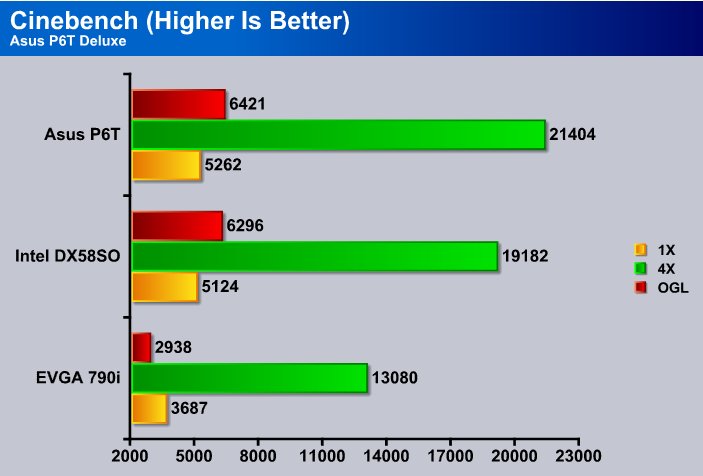 We did see some difference between the two boards in Cinebench. Despite running additional tests the results remained the same, so we're not sure what's going on with this test.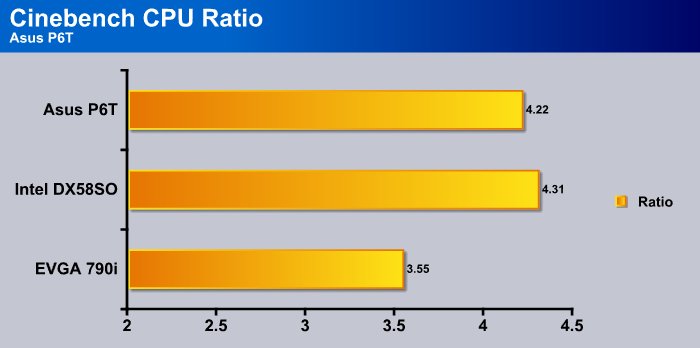 The Intel board showed a little better CPU ratio than the Intel board, but again differences that small can just be anomalies in the testing procedures. A background task might have run and caused the small difference.
Sisoft Sandra 2009 SP1
"SiSoftware Sandra (the System ANalyser, Diagnostic and Reporting Assistant) is an information & diagnostic utility. It should provide most of the information (including undocumented) you need to know about your hardware, software and other devices whether hardware or software. It works along the lines of other Windows utilities, however it tries to go beyond them and show you more of what's really going on. Giving the user the ability to draw comparisons at both a high and low-level. You can get information about the CPU, chipset, video adapter, ports, printers, sound card, memory, network, Windows internals, AGP, PCI, PCI-X, PCIe (PCI Express), database, USB, USB2, 1394/Firewire, etc."
These two X58 boards perform so close together that both would be a good choice, but we can tell you that we prefer the Asus BIOS and overclocking more than the Intel setup. It's going to be the small differences and amenities that differentiate the X58 series if this kind of close scoring holds true across all the X58 boards.
If this was a horse race it'd be a photo finish. It's just too close to declare one better than the other based on performance. The consistency between the two boards is a nice thing to see. Being the same chipset and performing simularly means it's a well engineered and well implemented technology.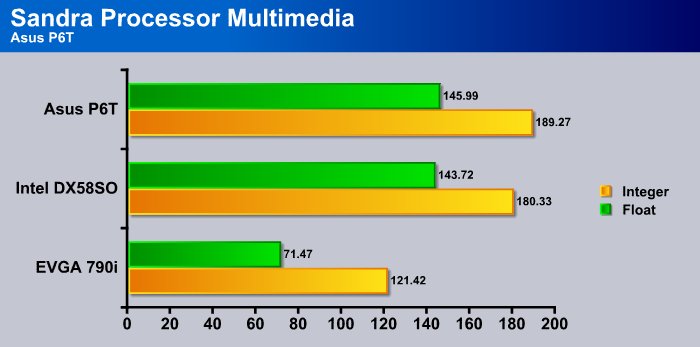 In the Multimedia test the Asus board did pull out enough to rule out anomalies and performed just a hair better. We can say that both of these boards have nothing to be ashamed of. With the increase in performance over the 775 platform, and with the workhorse 965 Extreme sitting on them, they're both formidable boards. The better handling of Multimedia might explain the results with the Asus board out performing the Intel board in Cinebench.
HDTach
HD TACH performs sequential read and write tests on removable media and fixed disks. HD Tach is also capable of performing the sequential read and write tests on the entire disk instead of the small number of zones in the quick and long test. We opted to use the Short 8 (MB) and Long 32(MB) tests in the sequential read mode only, as sequential writes are covered by other benchmarks.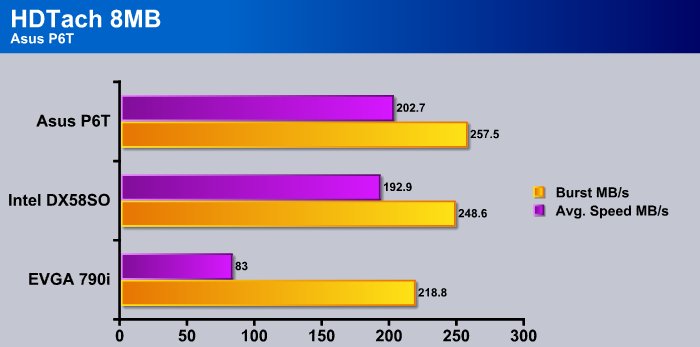 We've tested the Intel 80GB SSD across several boards and it always gets really good transfer rates on all the boards we've run it on. We've seen minute differences in speed but not enough to determine if it's the chipset implementation or background tasks that are the cause for the minute fluxuations in speed. The sustained speed of the SSD is really impressive and improves performance in a lot of areas.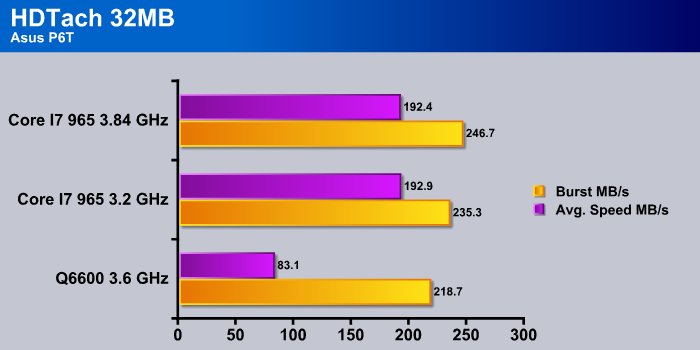 The Intel pulled a little ahead in the Average speed, but the Asus kept the lead in the burst test. With both boards sharing the X58 chipset, it's almost like testing twins. Not much difference in the two, but the minute differences bear closer examination.
Crysis v. 1.2

Crysis is the most highly anticipated game to hit the market in the last several years. Crysis is based on the CryENGINE™ 2 developed by Crytek. The CryENGINE™ 2 offers real time editing, bump mapping, dynamic lights, network system, integrated physics system, shaders, shadows, and a dynamic music system, just to name a few of the state-of-the-art features that are incorporated into Crysis. As one might expect with this number of features, the game is extremely demanding of system resources, especially the GPU. We expect Crysis to be a primary gaming benchmark for many years to come.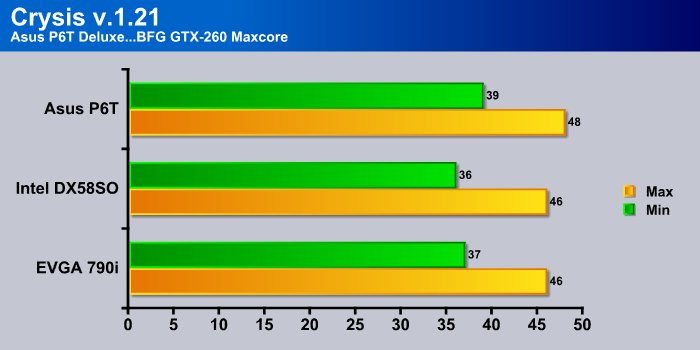 In Crysis, again we see that the differences are so small it's hard to call. We also confirmed what others are seeing, with a single GPU the older 775 platform and Core i7 aren't much different. With SLI and CrossFire we are seeing signifigant differences because Core i7 doesn't bottleneck the GPU's as much as the 775 platform.
3DMark Vantage

For complete information on 3DMark Vantage Please follow this Link: www.futuremark.com/benchmarks/3dmarkvantage/features/
The newest video benchmark from the gang at Futuremark. This utility is still a synthetic benchmark, but one that more closely reflects real world gaming performance. While it is not a perfect replacement for actual game benchmarks, it has its uses. We tested our cards at the 'Performance' setting.
Currently, there is a lot of controversy surrounding NVIDIA's use of a PhysX driver for its 9800 GTX and GTX 200 series cards, thereby putting the ATI brand at a disadvantage. Whereby installing the PyhsX driver, 3DMark Vantage uses the GPU to perform PhysX calculations during a CPU test, and this is where things get a bit gray. If you look at the Driver Approval Policy for 3DMark Vantage it states; "Based on the specification and design of the CPU tests, GPU make, type or driver version may not have a significant effect on the results of either of the CPU tests as indicated in Section 7.3 of the 3DMark Vantage specification and white paper." Did NVIDIA cheat by having the GPU handle the PhysX calculations or are they perfectly within their right since they own Ageia and all their IP? I think this point will quickly become moot once Futuremark releases an update to the test.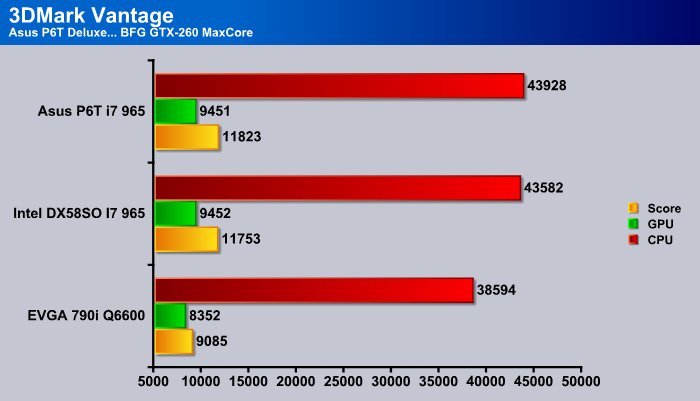 We'd have to say that while the two boards perform too close to one another (across all the testing) to declare a winner between them, that it's nice to see such consistency in the performance of both boards and that both boards are winners in their own right. It does appear that the Asus board handles multimedia applications a little better than the Intel board, which seems to be the one consistent area where it edges out the Intel board.
POWER CONSUMPTION
Power Consumption
In Watts
 
Idle
Load
Asus P6T Deluxe (i7 965)
181
310
Intel DX58SO Smackover ( i7 965)
183
305
EVGA 790i (Q6600)
172
307
Both the boards did pretty well in the power consumption test. The Smackover board came in 5 watts lower at load, but with a platform of this magnitude we won't begrudge either for using a few volts. Keep in mind that this is total system power, so your mileage may vary. We measured with a Kill A Watt power measurement device and continuously looped 3DMark vantage to get the power consumption readings.
OVERCLOCKING
Overclocking Voltages
Buses
BCLK Frequency: 100 – 500Mhz in 1MHz Increments
PCIE Frequency: 100 – 200Mhz in 1MHz Increments
UCLK Frequency: 1600 – 5600MHz in Various Increments
QPI Frequency: 4800/5866/6400Mhz
Voltages
CPU Voltage: 0.85v to 2.1v in 0.00625v increments
CPU PLL Voltage: 1.8v to 2.5v in 0.02v increments
QPI/DRAM Voltage: 1.2 – 1.9v in 0.02v increments
IOH Voltage: 1.1 – 1.7v in 0.02v increments
IOH PCIE Voltage: 1.5 – 2.76v in 0.02v Increments
ICH Voltage: 1.1 – 1.7v in 0.02v increments
ICH PCIE Voltage: 1.5 – 2.76v in 0.02v Increments
DRAM Bus Voltage: 1.5 – 2.46v in 0.02v Increments
The CPU
So far, the Core i7 overclocking limitation we've seen is of a thermal nature. The boards themselves aren't limiting the OC, but the heat of the CPU is. Using the Thermalright Ultra 120 RT we were able to hit 3.74GHz with a Vcore of 1.29675vcore in the BIOS. CPU-Z was reading 1.288v, so vdroop isn't too bad on the P6T. The maximum FSB we hit with the limited time we had was 200FSB, up from the stock 133FSB on the board.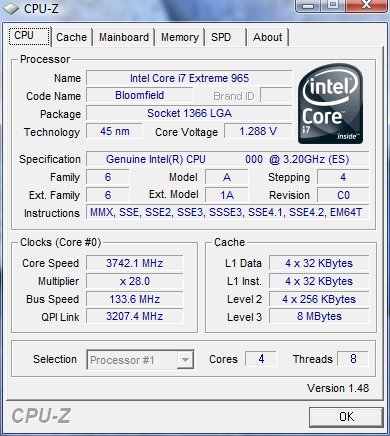 Like we mentioned, we hit 3.74GHz easily and with the TRUE running two 120mm fans we were hitting 60-61°C after an extensive run of Prime95 lasting several hours. We have hit higher speeds in the 4GHz range, but until the platform is more of a known quantity, we're not encouraging exceeding recommended specs because we don't want to feel responsible for bonehead stunts attempting to recreate what we already know exceeds safe thermal and voltage limits. At 4GHz we were seeing temperature spikes in the 80°c range, so if you go there you should know, "We accept no responsibility for Bone Head Stunts or suicide runs killing your equipment." Don't try this at home. We're professionals and well trained for bonehead stunts (plus we keep the kill switch really handy).
The Memory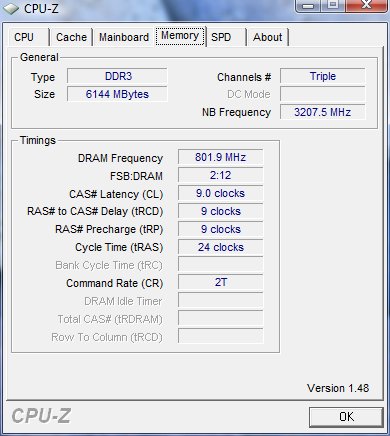 The G.Skill DDR3 triple channel kit runs well past the official 1333MHz speed this board supports and we're informed by G.Skill that it's not designed for overclocking. It does run at the unofficial OC speed of the board which is 1600MHz. Despite hours of trying, we couldn't get the G.Skill to budge. We're informed later kits will OC, but this particular kit isn't designed for it. We couldn't leave it at that so we strapped in a Kingston kit that will run at 2000MHz and went for it.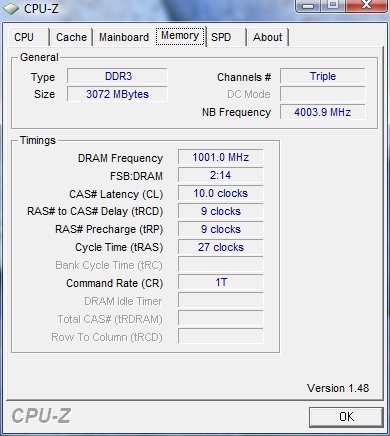 We were able to run the Kingston at 2000MHz completely stable on a board that officially supports 1333MHz and unofficially 1600MHz. That says a lot for the P6T Deluxe's design. Once again, with the limitations of the platform spiel. This kit will OC with some effort, but at 2000MHz we were already at 1.65v which is the limit on voltage with RAM that we've been informed by several memory companies and Intel is the safe hard limit to run RAM at. Exceeding 1.65v may cause your CPU to die or degrade slowly until it is Dead, Dead, Dead. So once again, we are not responsible for any WWF (World Wrestling Federation) type moves you want to put on your RAM, or CPU overvolting, or making that one suicide run (HereToForever after know as Bone Head Stunts). We are told that a method of delivering one voltage to the RAM and another to the QPI/IMC setup is in the works that basically tricks the board into sending one voltage to the RAM and another to the QPI/IMC. So if you want to get crazy insane with RAM overclocking you might want to wait for a board that supports that, if/when it comes into existence. We haven't received official notice of a board capable of that and until such time we consider it vaporware.
CONCLUSION
The extended testing we gave the Asus P6T was partially due to the plethora of features and partially due to it's just a fun board. Overclocking was easily achieved with a minimum of fiddling with voltages. The three different triple channel RAM kits we tested were plug and play even at high speeds. We ran six different GPU's on the board for a total of nine different configurations (Single GPU and SLI/CrossFire) and every configuration was pain free and easily setup. The board, to our amazement, ran SLI and CrossFire equally well.
Some may look at the board and bemoan that it's not a Maximus motherboard. It's not top of the line. That kind of attitude, frankly, sickens us. The board ran the Core i7 965 Extreme up and past its thermal limit and drove RAM way past the unofficially supported speed of 1600MHz. We would tend to think that the moaners haven't actually run the board. In which case they may want to get a big cup of "Drive it or don't whine about it."
We enjoyed the board. It overclocked like a dream and has more than enough features for the dedicated enthusiast. Hardcore enthusiasts may want to look at "Higher Models" but we'd hazard a guess that 98% or the enthusiasts out there would be perfectly happy, if not thrilled, with this board.
As predicted, differences in the performance of the two Core i7 boards weren't that large. The Intel board did the job but lacked the amenities of the Asus board. We like amenities. With the Intel board you adjust each core individually to OC. With the Asus board change one multiplier and all four change. There wasn't a BIOS driven flash program for the Intel board and flashes were done from within the OS. That's something that we're not really fond of. Power savings features on the Asus board were user friendly and GUI based. The Intel board left it up to BIOS settings that were cryptic and hard to understand. The amenities make running a board a pleasure or a struggle. Let it suffice to say that it wasn't a struggle to run and OC the Asus P6T Deluxe.
After living with and running the Asus P6T Deluxe, we'd have to give it a hearty "Thumbs Up". Ease of use was phenomenal. The manual was well written and cleared up a few overclocking questions that made the learning curve on the new platform a little easier to swallow. It will drive the Core i7 965 Extreme well beyond safe limits and a person can't ask for much more. If the capacity of the board exceeds CPU limitations, and your expectations, you've got a great board in your rig.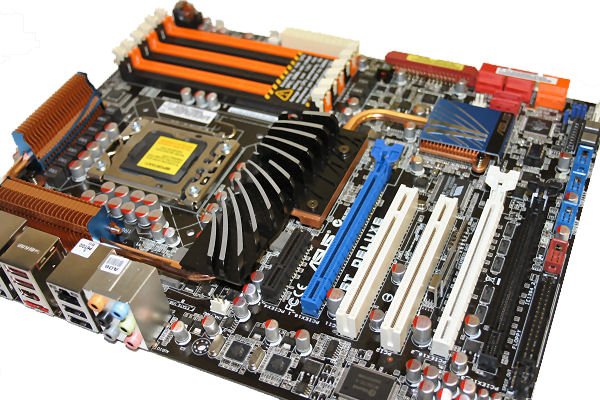 We are trying out a new addition to our scoring system to provide additional feedback beyond a flat score. Please note that the final score isn't an aggregate average of the new rating system.
Performance 9.5
Value 9
Quality 10
Warranty 10
Features 10
Innovation 10
Pros:
+  Every Feature We Tested Works Great
+  Easy Overclocker
+  Nice Looking Board
+  Ran RAM @ 2000MHz
+  Very Stable
+  Nice Bundle
+  Layout Is Excellent Even With Multi-GPU Setups
Cons:
– 24-Pin Mainboard Connector Close To RAM Slots
The Asus P6T Deluxe is an Easy Overclocker that is feature rich and delivers a good punch. The attention Asus paid to this early release board is phenomenal. Their attention to detail and dedication to industry leading innovation in the implementation of the P6T Deluxe earns it a:
Final Score: 9.5 out of 10 and the Bjorn3D Golden Bear Award.