The XFX 9800GTX+ is another great GPU from the masters of GPU Greatness XFX, Bundled with FarCry2 this deal gets even sweeter!
INTRODUCTION
A lot of enthusiasts set aback by the high cost of the current generation of GPU's are looking for GPU's that will still provide good FPS in demanding games, but are a little more pocket friendly. That usually means the last generation of GPU's which still provide plenty of punch, just not in the pocket. We're reviewing a single XFX 9800GTX+ Black Edition, but with the scaling improving on SLI a couple of these beauties on a 775 or 1366 socket board would yield pretty sweet results.
Set back and relax we've done all the testing for you on some of the most demanding games and benches out there so you can see what running the XFX 9800GTX+ Black Edition on that gaming shrine of yours will do for you, and don't forgot they tossed one of the hottest titles in the box with this monster, FarCry2.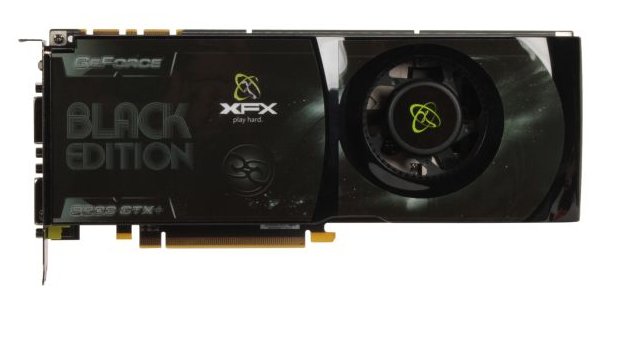 XFX: The Company

Founded in 1989, PINE Technology designs, develops, manufactures and distributes high-quality digital audio and video devices as well as computer peripherals. PINE also distributes branded computer and communications products. The company's movement into areas such as global B2B eCommerce and software development have helped keep it ahead of the competition. Today, PINE enjoys strategic alliances with companies such as Dell, NEC, Microsoft, Panasonic, Phillips, Ricoh, Samsung, Ingram Micro, Intel, Quantum, Connertech, Pioneer and Fujitsu.

Headquartered in Hong Kong, PINE Technology has more than 1,000 employees worldwide, with 16 offices around the globe, four research and development centers strategically located in the Asia Pacific region, and two factories in China.

Production output at PINE's factories exceeds an impressive 500,000 units of PC components and I.A. appliances per month. However, our line flexibility enables us to switch lines within a scant four hours to expand capacity to a staggering one million board-level products per month.

XFX, otherwise known as PINE Technologies, is a brand of graphics cards that have been around since 1989, and have since then made a name for themselves with their Double-Lifetime enthusiast-grade warranty on their NVIDIA graphics adapters and matching excellent end-user support.

XFX dares to go where the competition would like to, but can't. That's because, at XFX, we don't just create great digital video components–we build all-out, mind-blowing, performance crushing, competition-obliterating video cards and motherboards. Oh, and not only are they amazing, you don't have to live on dry noodles and peanut butter to afford them.
FEATURES
PCI Express 2.0 GPU Provides Support for Next Generation PC Platforms 
GPU/Memory Clock at 740/2200 MHz!!
HDCP capable
512MB, 256-bit memory interface for smooth, realistic gaming experiences at Ultra-High Resolutions /AA/AF gaming
Support Dual Dual-Link DVI with awe-inspiring 2560×1600 resolution
The Ultimate Blu-ray and HD DVD Movie Experience on a Gaming PC 
Smoothly playback H.264, MPEG-2, VC-1 and WMV video—including WMV HD
Industry leading 3-way NVIDIA SLI technology offers amazing performance
NVIDIA® unified architecture
GigaThread™ Technology
High-Speed GDDR3 Memory on Board
NVIDIA PhysX™ -Ready
Dual Dual-Link DVI
Dual 400MHz RAMDACs
3-way NVIDIA SLI technology
HDCP Capable
NVIDIA® nView® multi-display technology  
NVIDIA® Lumenex™ Engine
NVIDIA® Quantum Effects™ Technology
Microsoft® DirectX® 10 Shader Model 4.0 Support
Dual-stream Hardware Acceleration
High dynamic-range (HDR) Rendering Support
NVIDIA® PureVideo ™ HD technology
HybridPower Technology support
Integrated HDTV encoder
OpenGL® 2.1 Optimizations and Support
NVIDIA CUDA™ Technology support 
Specifications
XFX 9800 GTX+ Black Edition

Specification

Fabrication Process
55nm (G92)
Core Clock (Including dispatch,
texture units, and ROP units)
740 MHz
Shader Clock (Processor Cores)
1836 MHz
Processor Cores
128
Memory Clock / Data Rate
1100 MHz / 2200 MHz
Memory Interface
256 bit
Memory Size
512 MB
ROPs
16
Texture Filtering Units
64
HDCP Support
Yes
HDMI Support
Yes (Using DVI to HDMI adaptor)
Connectors
2 x Dual-Link DVI-I
1 x 7-pin HDTV Out
RAMDAC's
400 MHz
BUS Technology
PCI-Express 2.0
Form Factor
Dual Slot
Power Connectors
2 x 6-pin
Dimensions
270mm x 100mm x 32mm (L x H x D)
10.5in x 3.93in x 1.26in
PICTURES, IMPRESSIONS & BUNDLE
When you're dealing with XFX products you come to expect certain things. You expect quality, great performance, excellent Tech Support, a Modder friendly warranty (USA/Canada only), sharp good looks, and a Double Lifetime Warranty. Not only are you covered with this industry leading warranty, but should you sell the GPU to someone around upgrade time, you can transfer the Double Lifetime Warranty to the next lucky owner and they are covered for their lifetime. That applies to the original owner, and the person they sell it to, if the second owner sells the GPU the third owner isn't covered, hence the term Double Lifetime Warranty. You also expect nice packaging. While it might not be one of the most exciting things, it is important to know it's securely packaged and will arrive safely.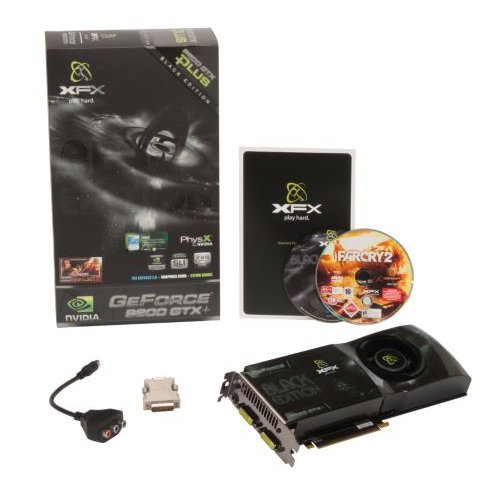 XFX typically uses a snazzy well constructed box, and isn't afraid to toss in a few perks. The perks in this case are:
1 – XFX 9800 GTX+ Black Edition
1 – FarCry 2 Game
1 – Driver Disk
1 – Quick Start Guide
1 – DVI to VGA converter
1 – SVideo to Analog dongle
They tossed in about everything you need to get started and chucked in one of the hottest game titles out there. We would have liked to see a couple of Molex to 6 pin PCI-E adapters included but that's becoming less of an issue as PCI-E capable power supplies saturate the market. What we really like to see in the value added bundle is a fresh game title. It's much sweeter when you crack open the box and find one of the year's hottest titles waiting inside for you to try out on that shiny new GPU.
Inside the outer box you'll find that XFX has taken good care to insure that your 9800 GTX+ Black Edition arrives in good condition.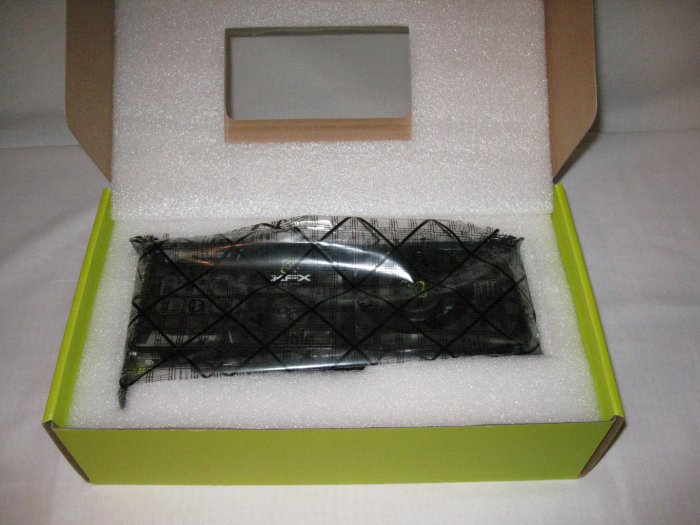 Once you get the box open you'll find what, another box, inside sandwiched between, and surrounded by, a thick layer of packing foam you'll find your prize. No matter how many times you open a box containing a GPU there's always this feeling of promise and pride you get. The pride of a new quality component that's going to improve your gaming experience, and the feeling that it's going to "rock". It's either that or all the Red Bull we've had this morning.
Once you've peeled back all of the obstructing layers, waded through the box, opened the interior box, peeled back the anti static bag you'll find your XFX 9800 GTX+ ready and waiting to be placed at the feet of your gaming shrine.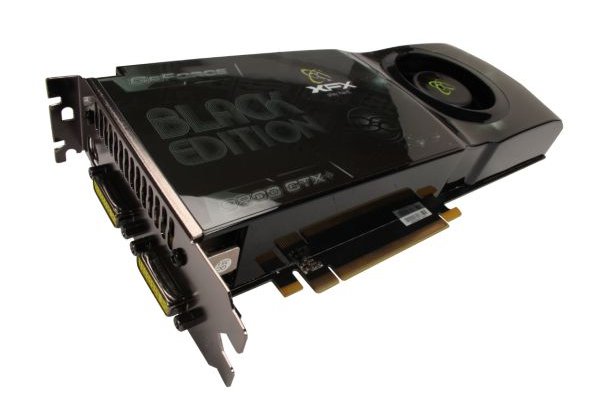 It always amazes us that XFX manages to give a GPU a little style and panache and that each one is more than a GPU, it's a small piece of computer art that not only provides functionality but is easy on the eye. It's almost a shame to hide one of these in a chassis. Who are we kidding? We can't wait to stuff it in a PCI-E slot and run it long into the night.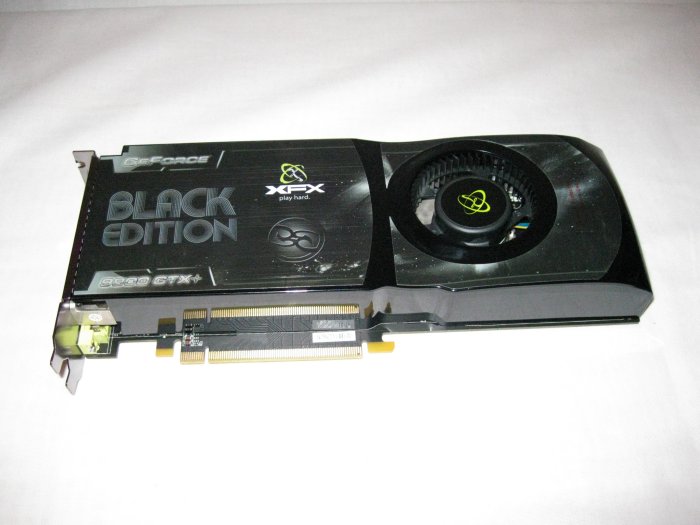 Viewing it from the top down you get a good look at the squirrel cage fan we've become used to seeing on higher end GPU's. The scale is a little hard to catch in a picture but this is another of the long GPU's we've been seeing since the 8800 GTX series came out, stem to stern it runs about 10.5 inches, so if you've got one of those tiny chassis you might want to make sure that you've got room for this beast.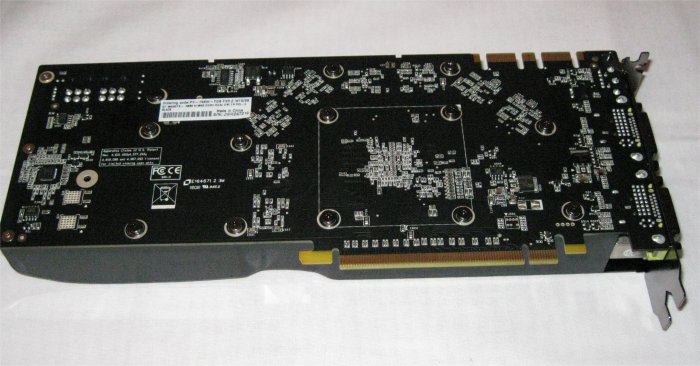 The back of the XFX 9800 GTX+ is fairly unremarkable but we need to show it to you nonetheless. No matter how bad the urge is, no matter how bad you'd really like to, restrain yourself from removing the little white sticker on the back. It's not quite as strong an urge as snipping those annoying cloth tags from the mattress that say "Do not remove under penalty of law", but still refrain from removing the sticker. It's tied to your warranty. We've always wondered if we snipped that mattress tag if the mattress police were going to show up and handcuff us to the bed or something.

Nvidia and XFX have dipped into the same dual slot cooler well they've been drawing from since the 8800 GTX line for the XFX 9800 GTX+ Black edition. We were hoping for a Black expansion port cooler for a little change up, but we're strange like that.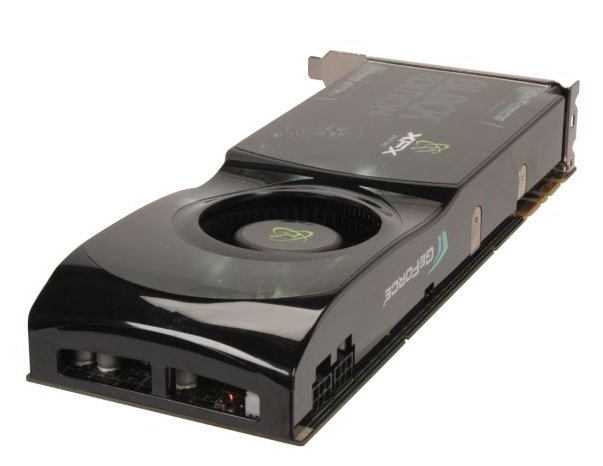 The XFX 9800 GTX+ requires two 6-pin PCI-E connectors to power it correctly. If you'll notice the openings in the end of the card they're used for drawing cool air in from the back of the GPU and the squirrel cage fan distributes it over the PCB to keep the components cool. It's exhausted out the dual slot expansion port we showed earlier, removing the excess heat from your chassis.
Before we move on to the Testing and Methodology section we'll leave you with one last shot of this beauty.
TESTING & METHODOLOGY
We did a fresh load of Vista 64 on our test rig to make sure that no pesky left over drivers interfered with testing, all applicable patches and driver updates were applied prior to testing. We ran each test at least 3 times and the average of the tests is reported here. The clock speeds of all the GPU's were kept at stock during testing, and the test system was kept at 3.74GHz, with DDR3 Triple channel ram left running at 1600MHz for each GPU. The hardware and clocking were kept the same for each GPU, un-needed background tasks were disabled, and a fresh load of Vista (From an Acronis Clone of the hard drive) was done each time a GPU was switched for testing. The Acronis clone has no GPU drivers installed leaving us as clean an install of the needed drivers as possible. With the move to Vista 64 games are tested in DX10 mode unless they don't support DX10 then they are tested in DX9.
The Test Rig
Test Rig
"Quadzilla"
Case Type
Top Deck Testing Station
CPU
Intel Core I7 965 Extreme (3.74 GHz 1.2975 Vcore)
Motherboard
Asus P6T Deluxe (SLI and CrossFire on Demand)
Ram
G.Skill DDR 3 1600 (9-9-9-24 1.5v) 6GB Kit
CPU Cooler
Thermalright Ultra 120 RT (Dual 120mm Fans)
Hard Drives
Intel 80 GB SSD
Optical
Sony DVD R/W
GPU
XFX 9800 GTX+ Black Edition
BFG GTX-260 MaxCore
Leadtek GTX-260
Drivers for Nvidia GPU's 180.43
Palit HD Radeon 4870X2
Sapphire HD Radeon 4870
Sapphire HD Radeon 4850 Toxic
Drivers for ATI GPU's 8.11
Case Fans
120mm Fan cooling the mosfet cpu area
Docking Stations
None
Testing PSU
Thermaltake Toughpower 1K
Legacy
None
Mouse
Razer Lachesis
Keyboard
Razer Lycosa
Gaming Ear Buds

Razer Moray
Speakers
None
Any Attempt Copy This System Configuration May Lead to Bankrupcy
Synthetic Benchmarks & Games
Synthetic Benchmarks & Games
3DMark06 v. 1.10
3DMark Vantage
Company of Heroes v. 1.71
Crysis v. 1.2
World in Conflict Demo
F.E.A.R. v 1.08
RESULTS
3DMARK06 V. 1.1.0

3DMark06 developed by Futuremark, is a synthetic benchmark used for universal testing of all graphics solutions. 3DMark06 features HDR rendering, complex HDR post processing, dynamic soft shadows for all objects, water shader with HDR refraction, HDR reflection, depth fog and Gerstner wave functions, realistic sky model with cloud blending, and approximately 5.4 million triangles and 8.8 million vertices; to name just a few. The measurement unit "3DMark" is intended to give a normalized mean for comparing different GPU/VPUs. It has been accepted as both a standard and a mandatory benchmark throughout the gaming world for measuring performance.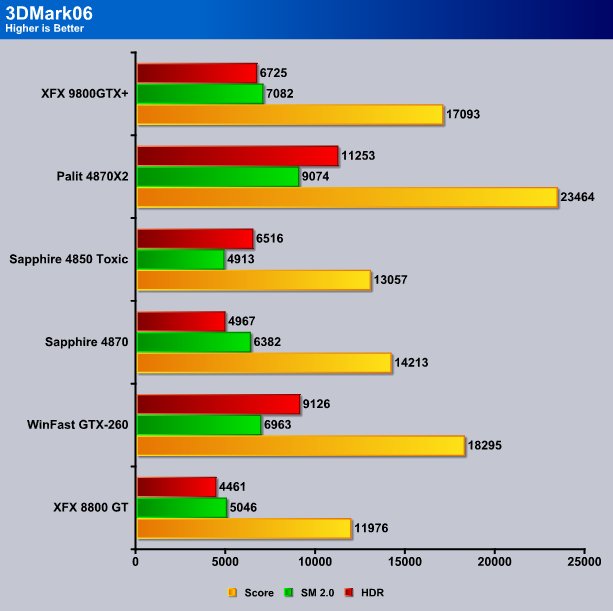 It looks like 3DMark06 liked the XFX 9800 GTX+ Black edition and it scored a 17093, it was bested by the uber expensive 4870×2 and the GTX-260. Which should show you that this old friend still packs a pretty good punch for the price you pay.
3DMark Vantage

For complete information on 3DMark Vantage Please follow this Link: www.futuremark.com/benchmarks/3dmarkvantage/features/
The newest video benchmark from the gang at Futuremark. This utility is still a synthetic benchmark, but one that more closely reflects real world gaming performance. While it is not a perfect replacement for actual game benchmarks, it has its uses. We tested our cards at the 'Performance' setting.
To avoid the whole PhysX skewing the score ordeal we're going to report the GPU score in Vantage this time around to keep the playing field level.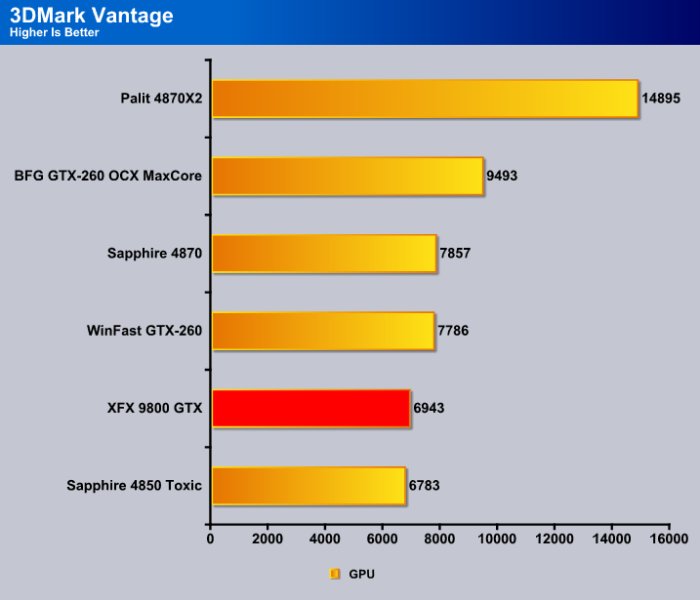 The XFX 9800 GTX+ wasn't treated quite as gently by 3DMark Vantage as it was by 3DMark06 but if you'll notice it's positioned correctly for it's price point and outperforms the similarly priced 4850 Toxic.
RESULTS
Company Of Heroes v. 1.71

Company of Heroes(COH) is a Real Time Strategy(RTS) game for the PC, announced on April, 2005. It is developed by the Canadian based company Relic Entertainment and published by THQ. COH is an excellent game that is incredibly demanding on system resources thus making it an excellent benchmark. Like F.E.A.R., the game contains an integrated performance test that can be run to determine your system's performance based on the graphical options you have chosen. It uses the same multi-staged performance ratings as does the F.E.A.R. test. Letting the games benchmark handle the chore takes the human factor out of the equation and ensures that each run of the test is exactly the same producing more reliable results.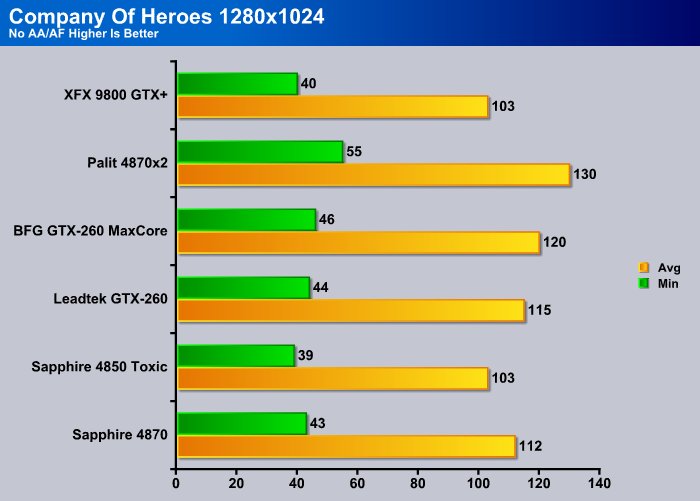 The XFX 9800 GTX did pretty good with no AA/AF at 1280×1024, keeping in mind that it's DX10 which is notoriously hard on GPU's. It's still in it's price point slot keeping up with it's closest priced competitor the 4850 Toxic.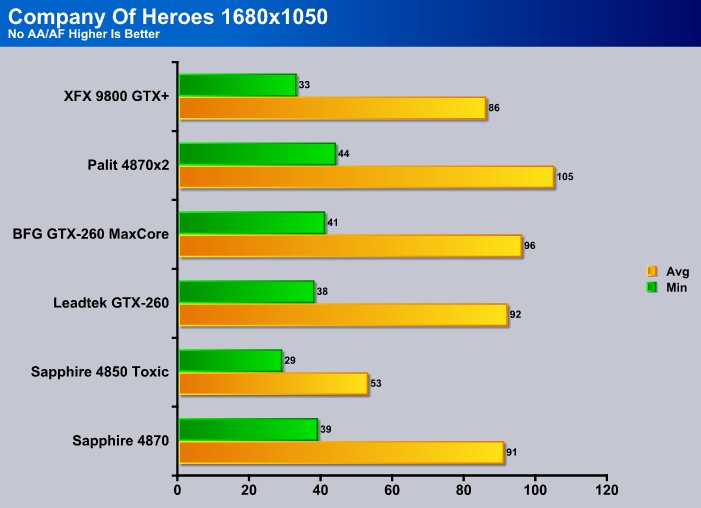 When we kicked it up a notch to 1680×1050 No AA/AF the XFX 9800 GTX+ remains in it's price point catagory but maximum frames jump out to a substantial lead over the 4850 Toxic.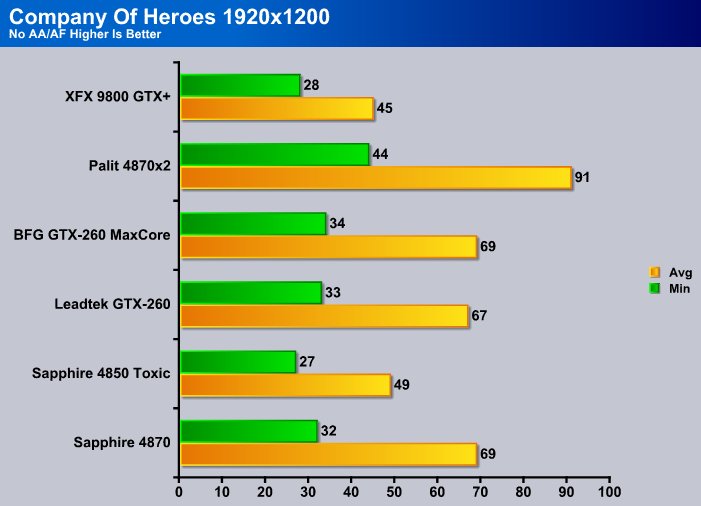 The minimum frames dropped below 28FPS when the XFX 9800 GTX+ hit's 1920×1200 but it must have been a momentary dip because it wasn't noticeable to the human eye. The game was still very playable with no annoying stutters that we could detect. That's pretty good performance considering we had every thing cranked up as high as it would go in the Eye Candy Department (Except AA/AF).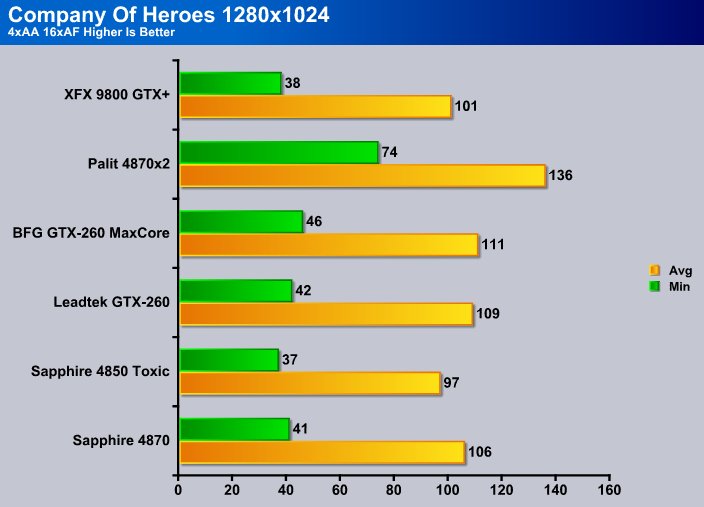 Backing down to 1280×1024 with 4xAA/16xAF the XFX 9800 GTX+ Black Edition didn't lose more than a frame or two from the same Non-AA/AF test and again remains more than competitive with it's price point counterpart the 4850 Toxic.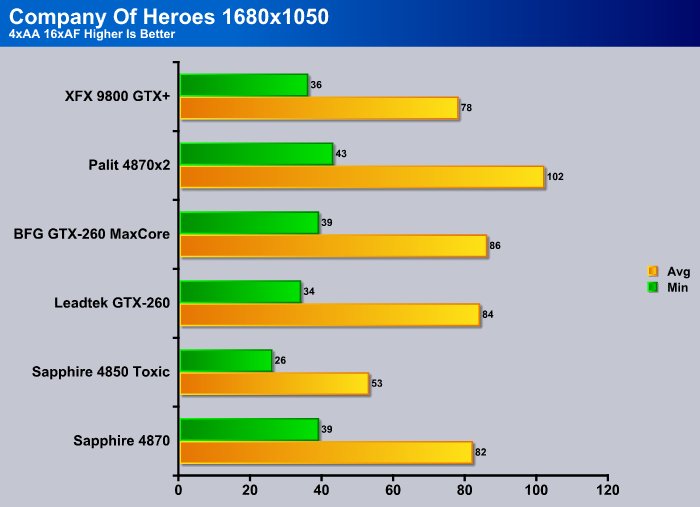 Increasing the resolution to 1680X1050 with AA/AF cranked up we're still well within the zone of flawless gameplay even in combat intensive scenes with multiple attackers advancing.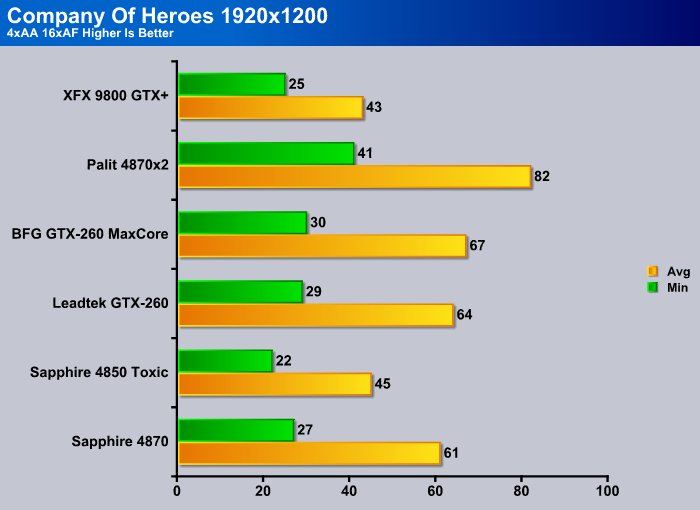 At the highest resolution we tested at 1920×1200 AA/AF turned on all settings maxed the XFX 9800 GTX+ still cranked out acceptable performance. Minimum frames dipped below 30 FPS but again with no noticable to the eye stutter. At this level of performance the game would be entirely playable with the XFX 9800 GTX+ Black Edition as long as your not bottlenecking the GPU.
WORLD IN CONFLICT DEMO

World in Conflict is a real-time tactical video game developed by the Swedish video game company Massive Entertainment, and published by Sierra Entertainment for Windows PC. The game was released in September of 2007
The game is set in 1989 during the social, political, and economic collapse of the Soviet Union. However, the title postulates an alternate history scenario where the Soviet Union pursued a course of war to remain in power.
World in Conflict has superb graphics, is extremely GPU intensive, and has built-in benchmarks. Sounds like benchmark material to us!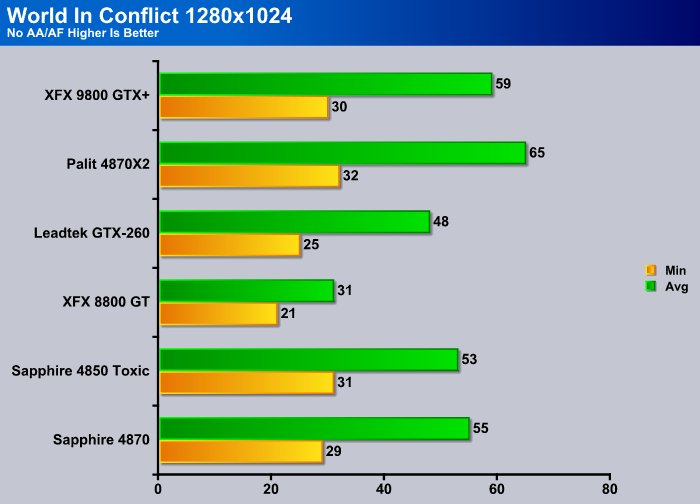 World In Conflict running DX10 with the Eye Candy maxed can be brutal on games. For this test we threw our old faithful XFX 8800 GT into the mix to show the performance increase from the 8800 GT to the 9800 GTX+. If the 9800 series is a rehash of the 8800 series we'd be glad to have some of that Hash on our plate. Once again the XFX 9800 GTX+ Black Edition remains competitive with it's price point match the 4850 Toxic, and in this test managed to do better than the Leadtek GTX-260. Moving to higher resolution we suspect that the GTX-260 will regain it's lead over the 9800 GTX+.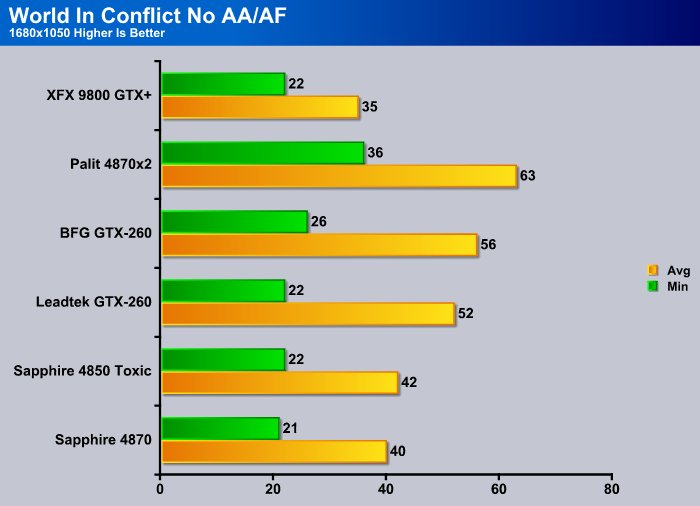 All of the GPU's with the exception of the 4870X2 dipped below the 30FPS level on minimum frames, but often the dip is so momentary that it's hardly noticeable to the eye.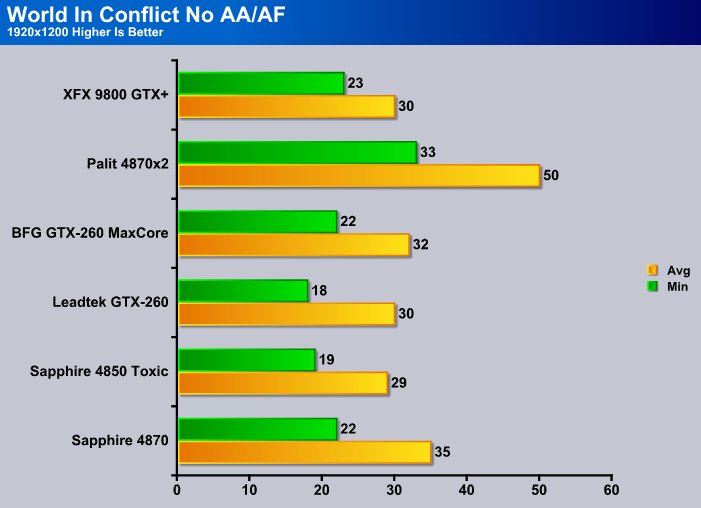 World In Conflict is a strange creature when it comes to benching. At the highest resolution tested some of the GPU's rebounded from 1680×1050 and scored a little better which is disturbing to reviewers. We like to see a linear scaling in our testing, but we'd also like to see beautiful Geek Chicks hanging around the water cooler but that's not going to happen either.
At this resolution the XFX 9800 GTX+ did as well as all of the other single GPU on a single PCB cards. We didn't expect it to do as well as the 4870×2 which sports an extra core. A couple of the GPU's pullled a few more frames in the average frames test but even at this resolution we only saw momentary stutters that would almost fool the eye into thinking they didn't happen. Perhaps we were thinking to much about the non-existant water cooler hotties.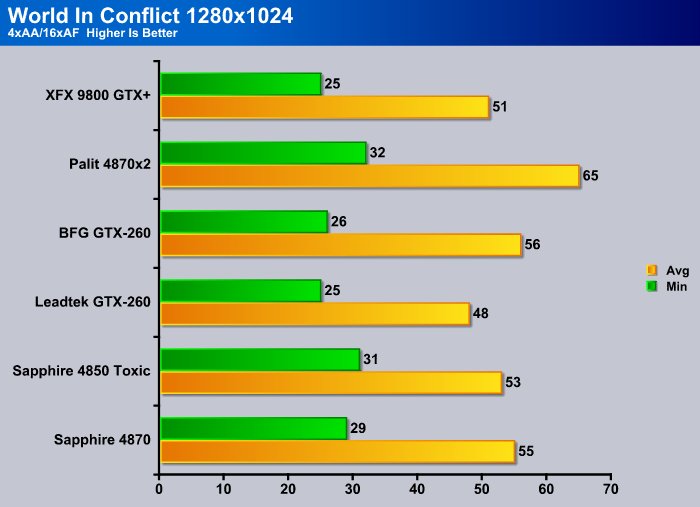 When it comes to the rubber meeting the road with GPU's if we see any degradation of performance it's when AA/AF is turned on. Adding the last vestige of Eye Candy to the mix usually tips the performance scale. Of late in a lot of GPU's we see them rebelling against the norm and picking up performance in some areas when AA/AF is cranked. Whether driver improvements or GPU Core design are responsible for the change we can't say. We prefer to think they just want to make our lives harder.
At this resolution several of the cards went under 30FPS, and again it wasn't really noticeable to the human eye. We've been taking notice of the phenomenon, and keeping a closer eye on the benchmark runs in this series of testing. With World in Conflict's built in benchmark during the bench run there's a bar on the left hand side of the screen, when it dips below 30FPS you can see exactly where and when it dips. At this resolution we didn't detect any stutter in the bench and the graphics looked smooth and steady with all the GPU's.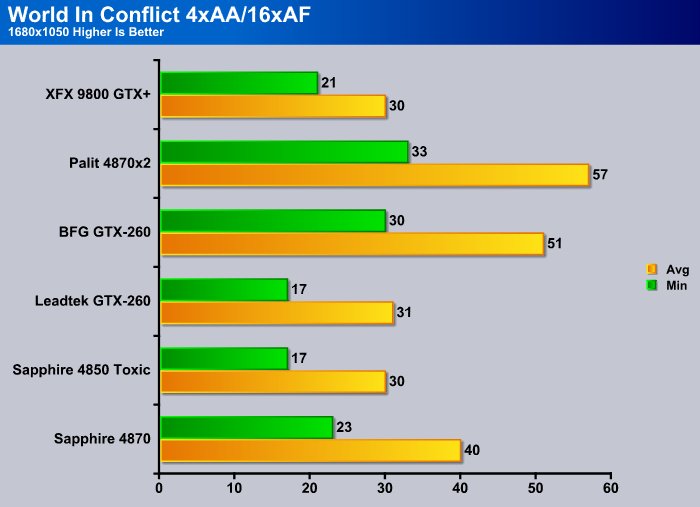 Moving to 1680×1050 the GPU's were starting to groan a little and the fans keeping them cool were starting to kick the speed up to keep them cool. That's a good indication that they are starting to stress well. We did notice a couple of momentary stutters in the Leadtek GTX-260 and 4850 Toxic but the rest of the pack looked pretty good. Being the 180.XX beta driver on the Nvidia GPU's we expected a few anomalies. Specifically an anomaly with the Leadtek GTX-260, we hate that so we made 3 additional runs with it but we couldn't account for it dipping like that.
At 1920×1200 you probably need to back off the Eye Candy a little with most of the GPU's in World Of Conflict running in DX10. Even the mighty 4870×2 was showing a stutter here and there. By this point the XFX 9800 GTX+ was pulling away from it's price point counterpart the 4850 Toxic. The Leadtek GTX-260 was unable to shake the previous tests anomaly so it might just be this game being designed before the GPU it doesn't handle it well.
Crysis v. 1.2

Crysis is the most highly anticipated game to hit the market in the last several years. Crysis is based on the CryENGINE™ 2 developed by Crytek. The CryENGINE™ 2 offers real time editing, bump mapping, dynamic lights, network system, integrated physics system, shaders, shadows, and a dynamic music system, just to name a few of the state-of-the-art features that are incorporated into Crysis. As one might expect with this number of features, the game is extremely demanding of system resources, especially the GPU. We expect Crysis to be a primary gaming benchmark for many years to come.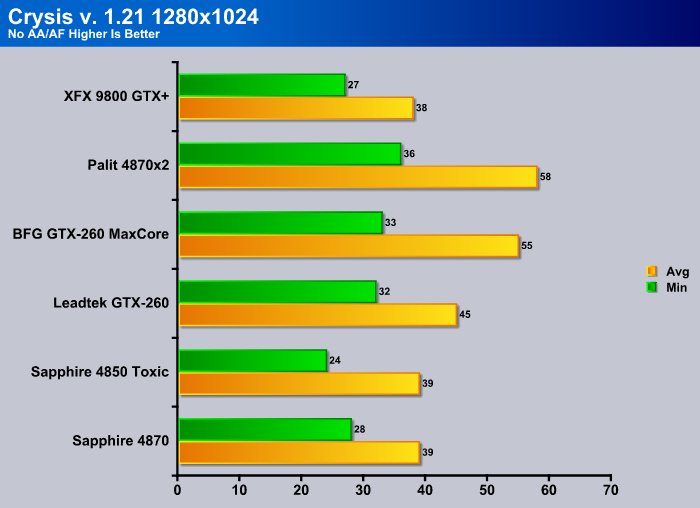 We're thinking it's time for things to get ugly when Crysis comes calling on GPU's. GPU's have been known to scurry away in fear of this GPU crushing game. Starting at the lowest resolution we tested we're already seeing GPU's below the magical 30FPS were graphics look rock steady to the eye. We didn't notice any real stutters at this point but the benches were picking them up. This could get ugly you might want to send the children out of the room.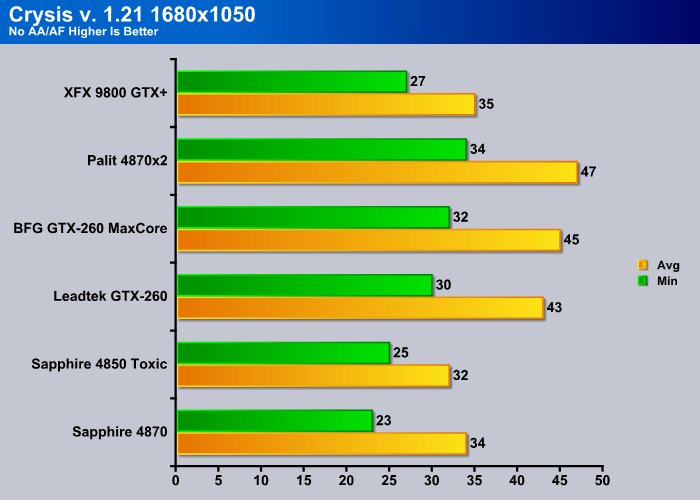 The XFX 9800 GTX+ still does pretty good at 1680×1050 and while we ran the standard Crysis benchmark test we also played the game at this resolution for a while and the game play was still smooth and more than acceptable. The XFX 9800 GTX+ still remains above it's price point counterpart the 4850 Toxic and surprisingly came in ahead of the 4870.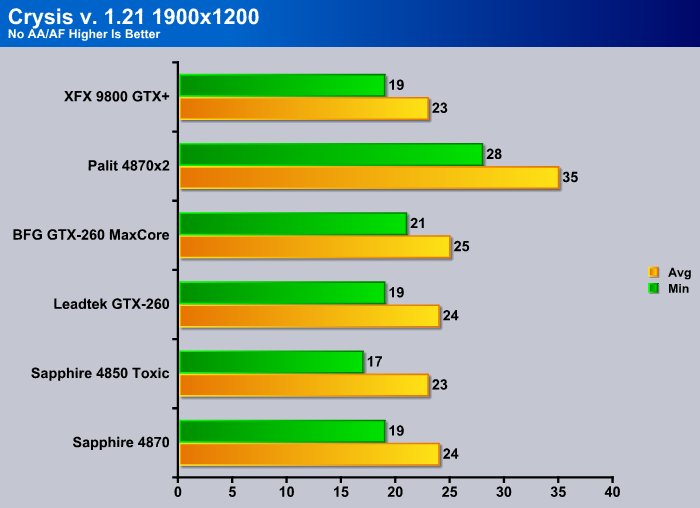 By the time we hit 1900×1200 things were starting to get ugly. Micro stutters were clearly visible in the benchmark tool and the only really smooth graphics we saw came from the 4870×2. At this resolution in Crysis entirely smooth game play is a little much to expect. We'd tend to blame the game more than the GPU's and weigh our conclusions with that in mind.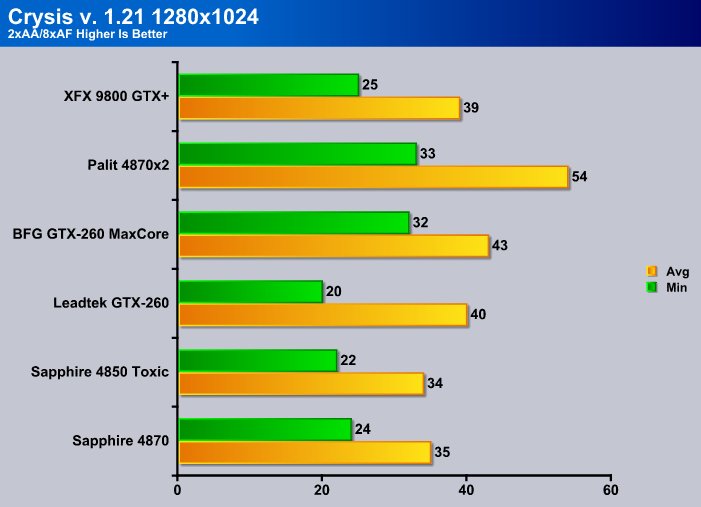 Moving to 1280×1024 with AA/AF turned on the XFX 9800 GTX+ did pretty respectably, it managed to beat out the GTX-260, the 4850 Toxic, and the 4870 two of which are in a higher price bracket. In a lot of testing we've seen the performance of the 9800GTX+ class GPU does well with AA/AF turned on.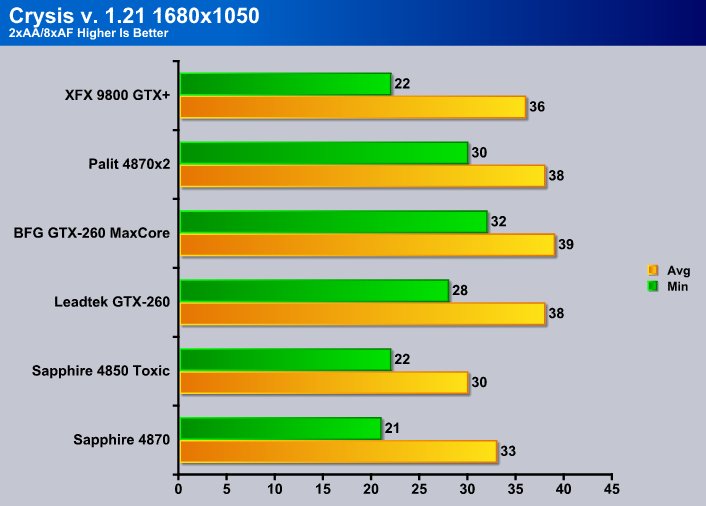 The 9800 GTX+ performed better that the 4850 and 4870 at 1680×1050 and at it's price point is looking good for a price performance sweet spot. Please take note that we are testing on Core i7 so your mileage might vary.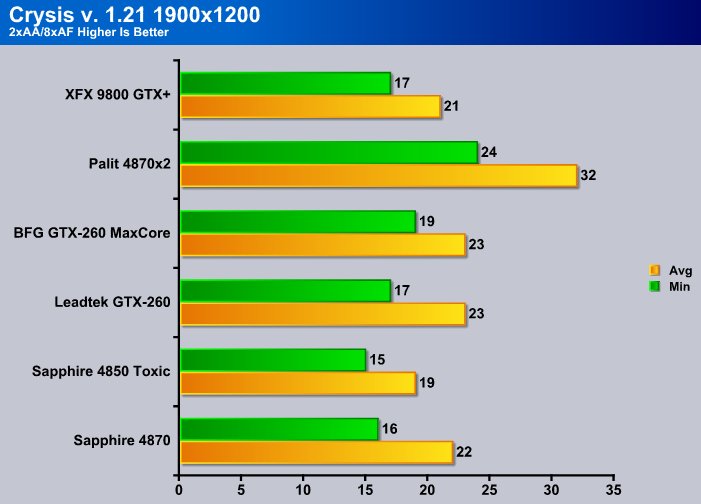 By the time you get to 1900×1200 in Crysis things are starting to get pretty ugly. Even with 2XAA/8XAF the gpu's are all struggling but we pretty much all know that. Even the 4870×2 was stuttering and we wouldn't recommend any of the tested GPU's at this resolution with the eye candy cranked up. For what it's worth we wouldn't recommend Crysis at this resolution with everything cranked up on any GPU or SLI/CrossFire setup. The fault isn't with the GPU's but the game developer deliberately designing a game that exceeds the capacity of GPU's designed two generations from the original 8800 series that were released around the time of the game. We'd suspect that 2 years from now and a couple of generations of GPU's down the road Crysis will still be making GPU's look bad when the criticism should be aimed at the game itself and not the GPU.
FEAR V. 1.08

F.E.A.R. (First Encounter Assault Recon) is a first-person shooter game developed by Monolith Productions and released in October, 2005 for Windows. F.E.A.R. is one of the most resource intensive games in the FPS genre of games ever to be released. The game contains an integrated performance test that can be run to determine your system's performance based on the graphical options you have chosen. The beauty of the performance test is that it gives maximum, average, and minimum frames per second rates. F.E.A.R. is a great benchmark, and one heck of a FPS.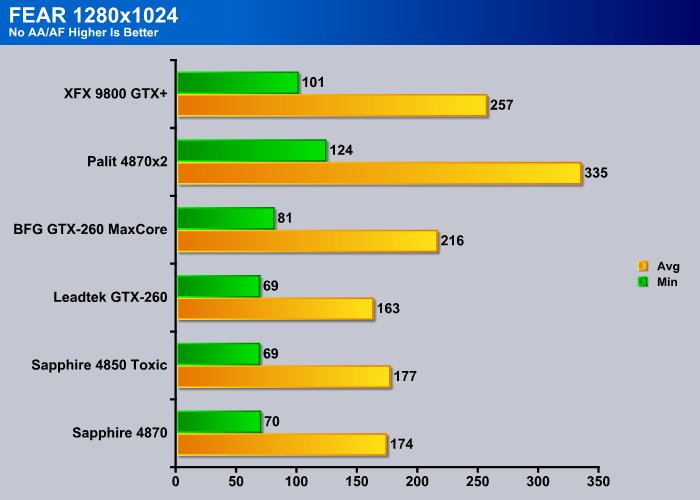 Considering the price point the XFX 9800 GTX+ Black Edition is at, in Fear at 1280×1024 No AA/AF it's kicking some serious GPU butt. We didn't expect to see that kind of performance increase so we ran three additional tests in Fear with the 9800 class GPU and the numbers held true.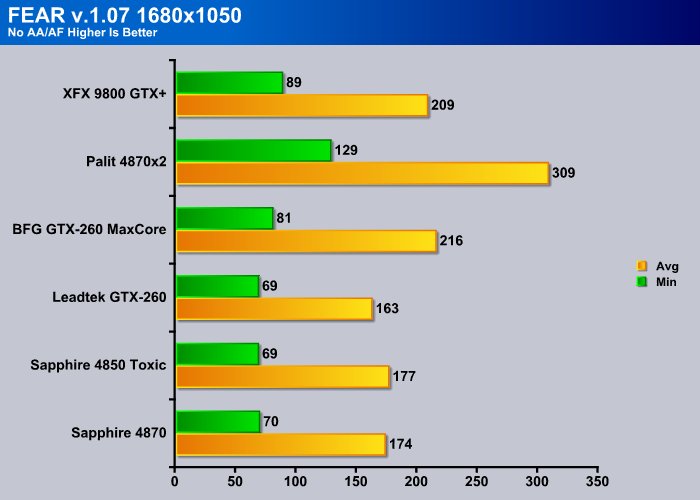 Moving to 1680×1050 we see that Fear must like the XFX 9800 GTX because it's still ahead of 3 for the competitors in maximum FPS and 4 of the competitors in minimum FPS. That's pretty good Bang for Buck performance.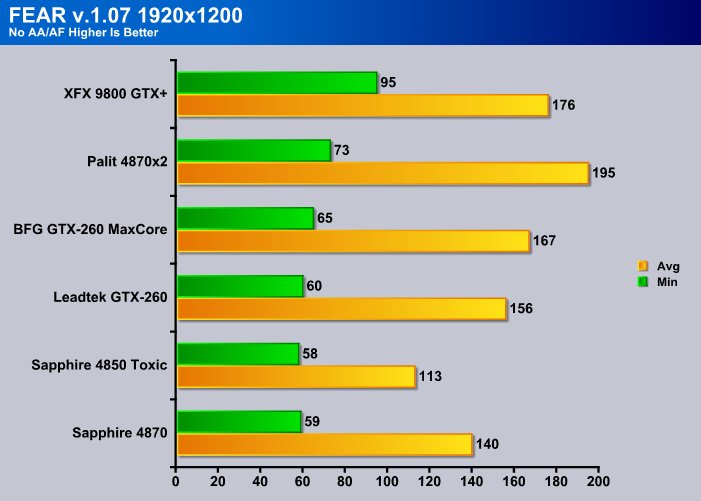 It puzzled and amazed us that increasing the resolution from 1680×1050 to 1920×1200 the performance of the XFX 9800 GTX+ Black edition got better on the minimum frames test. We retested it again and the numbers held good, it had us in anticipation of seeing the AA/FF turned on results.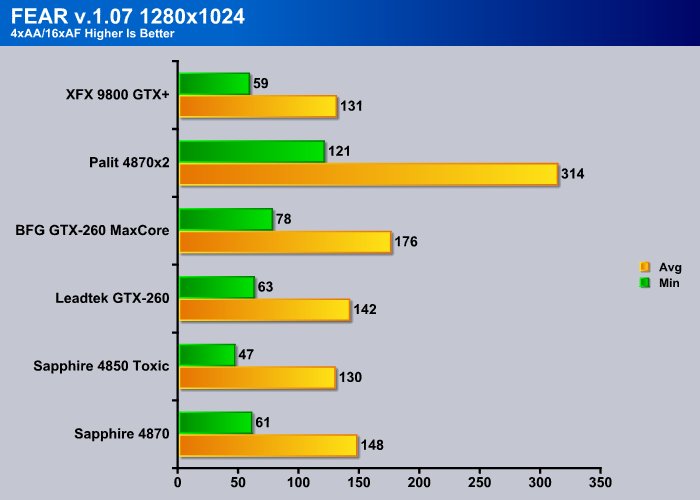 When we turned on AA/AF we got a little more of what we expected from the 9800 class GPU, it performs in it's price point spot nicely and all the GPU's did well at this resolution with AA/AF turned on.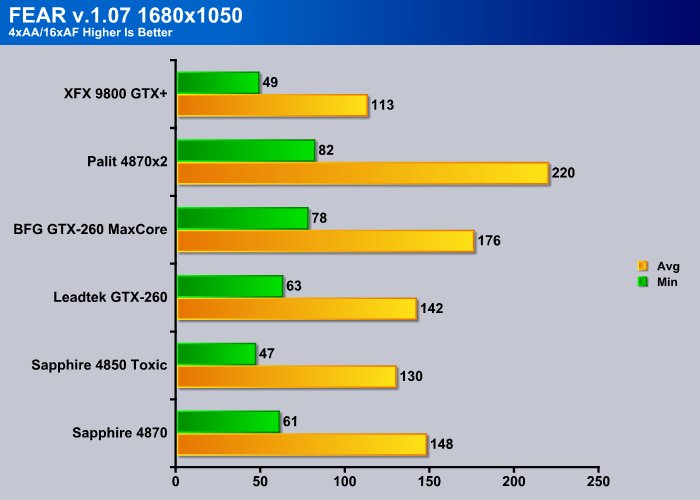 The XFX 9800 GTX+ fell a little behind it's price point counterpart the 4850 Toxic in maximum FPS in the 1680×1050 AA/AF on test but with FPS running this high it's nothing to complain about.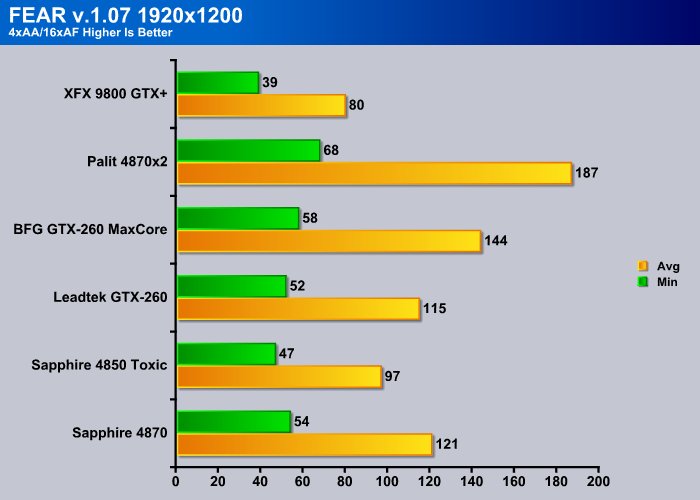 Even at 1920×1200 all the GPU's tested ran exceptionally well which is telling us that we probably need to be looking at a replacement for F.E.A.R. in our testing regiment. Which brings us to our FarCry2 testing. Since we have expanded results ready to go in FarCry2 we though we'd throw in a few results with SLI/CrossFire to spice things up a bit. FarCry2 is the game we are looking at as a replacement for F.E.A.R.
FarCry 2

Far Cry 2, released in October 2008 by Ubisoft, was one of the most anticipated titles of the year. It's an engaging state-of-the-art First Person Shooter set in an un-named African country. Caught between two rival factions, you're sent to take out "The Jackal". Far Cry2 ships with a full featured benchmark utility and it is one of the most well designed, well thought out game benchmarks we've ever seen. One big difference between this benchmark and others is that it leaves the game's AI (Artificial Intelligence ) running while the benchmark is being performed.
We had limited time to do extended testing in FarCry 2, and while we would have liked to do more extensive testing we just didn't have time to wade through a stack of 7 GPU's in 9 different configurations to give complete testing results in FarCry2. We opted to test at 1680×1050 because it's the medium resolution we've been testing at. While we understand that testing at 1920×1200 is desired by some readers we are throwing this early result in as an extra to our normal testing regiment so let's keep the resolution carping down to a minimum. We did go one additional step and test in DX9 and DX10 so that Vista and XP users get an idea of performance in this instance. Enjoy the preview of things to come.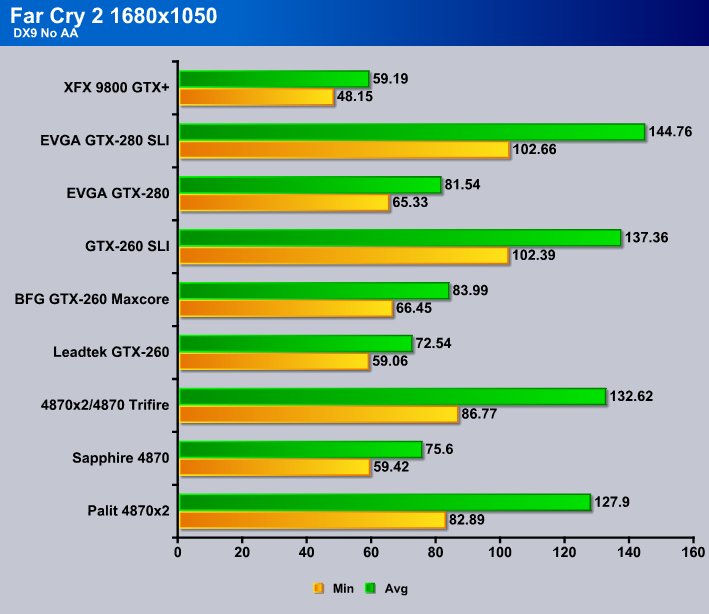 FarCry2 is a little different than most games in benchmarks, the benchmarking tool which is one of the best we've ever seen leaves the AI turned on while the bench is running. It also has the advantage of being optimized heavily for newer GPU's and SLI. While the XFX 9800 GTX+ is from a previous generation it still performs well enough at this resolution and setting to be entirely playable. The point being that with the economy being in a downturn, if your in a money crunch like many people are it's a good alternative to the more expensive current generation and still provides good performance.
In DX9 with No AA/AF at 1680×1050 the XFX 9800 GTX+ is well above the 30FPS level we consider the magical number for rock solid graphics. The newer GPU's outperform the 9800 class GPU but at a higher cost. It's closest competitor here is in the $300 dollar range, and the XFX 9800 GTX is in the $200 dollar range. The question we can't answer for you is if the extra 100 bones you'll spend for the newer (Closest Price point GPU's) is worth the extra 11 or 12 FPS you'll get moving to one. In the case of the uber expensive models which are out of the price range of many, is double the performance worth more than twice the money?
In DX10 No AA/AF the anomaly we saw with ATI drivers rears it's ugly head. Performance dropped sharply in DX10 with No AA/AF like we saw in previous testing. In this case, with the special circumstances the 9800 GTX+ class GPU out did the 4870×2, and 4870 TriFire. The 4870 alone out did the multiple GPU on one PCB solution (4870×2) and TriFire, so we pretty much know that's a driver glitch. The XFX 9800 GTX+ which is the focus of the review still performs well enough that it is entirely playable in this hot game title.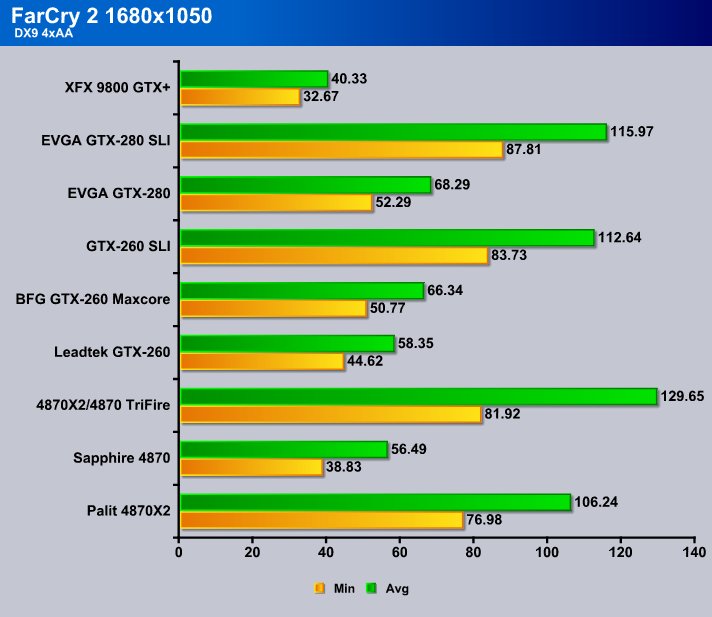 Moving to DX9 with AA/AF turned on we see that we're still getting acceptable frame rates from the XFX 9800 GTX+, keeping in mind the bang for buck aspect it's still looking like a good value that plays current titles well enough for all but the hardest core enthusiast.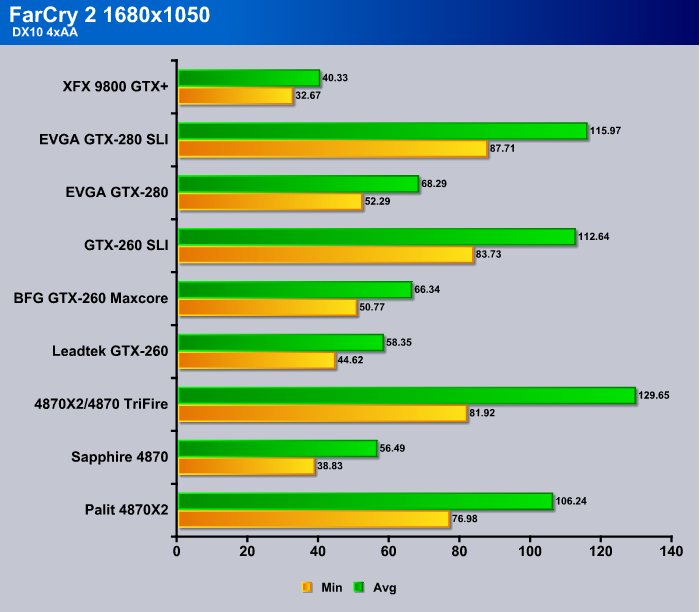 With the toughest eye candy we throw at it at this resolution the XFX 9800 GTX+ still gives us acceptable frame rates in this graphics masterpiece. DX10 AA/AF turned on we're still seeing good performance. Considering we crank all the settings up not just AA/AF it's holding it's own at it's price point.
Overclocking
At some point in a GPU review we like to confirm that every thing advertised about a GPU is correct and up to snuff. We're not implying that a deceptive statement or specification about a GPU would be intentional but mistakes happen.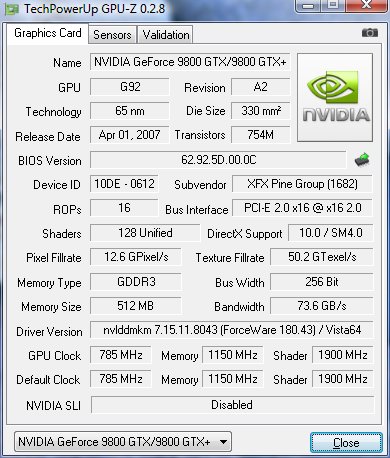 We're happy to report that the advertised specifications of the XFX 9800 GTX+ are spot on and we found no anomalies between the advertised specifications and what GPU-Z reports. Like always we pushed this already overclocked Jewel as far as we could to see what it would do. We're not expecting a mind blowing Overclock because of it's already overclocked nature but we like to see how far we can push things. So how does that tie to Overclocking, it shows the starting speed of 785/1150.
Space
We managed to push the XFX 9800 GTX+ to 825 on the Core and 1276 on the memory which gives a nice little performance boost. Pushing much past 825 we were starting to get artifacts but at 825 it was entirely stable and ran without error.
Power Consumption
GPU Power Consumption
GPU
Idle
Load
XFX 9800 GTX+ Black Edition
201 Watts
283 Watts
Sapphire Toxic HD 4850
183 Watts
275 Watts
Total System Power Consumption
Power consumption on the two similar performance GPU's came in with the XFX 9800 GTX+ Black Edition consuming 18 Watts more power at an idle and 8 more at load. These power consumption levels were taken with a Kill A Watt power meter and represent total power consumption for the whole system.
Temperatures
GPU Temperatures
 
Idle
Load
XFX 9800 GTX+ Black Edition
40C
66C
Sapphire Toxic HD 4850
45C
67C
Temperatures were well within the acceptable range on the XFX 9800 GTX+ Black Edition. They ran from 40C at idle after a half hour at the desktop to 66C after a half hour run of 3DMark06 looping contentiously. We can easily live with that without springing for the extra expense of aftermarket cooling.
CONCLUSION
While it might not be the newest cutting edge GPU on the market the XFX 9800 GTX+ Black Edition still has some life in it. It held up in most of the testing we did well enough to satisfy your gaming needs in the current economic downturn. If you're flush with cash or have enough cash to flush then there are better alternatives out there. If you're on a slim budget but still looking for a GPU that won't break the bank and still keep up in the hottest game titles, the XFX 9800 GTX+ is a good choice.
Even during periods where performance dipped below 30FPS we seldom saw anything that was noticeable to the eye. Often, the FPS drops we see with different GPU's aren't sustained drops which is what degrades graphics quality and enjoyment. We are happy with the XFX 9800 GTX+ because it performs at its price point like it should. Asking for more than that is not reasonable.
With one of the hottest game titles thrown in to sweeten the bundle, and it currently running $49.95 off the shelf, that makes it an even more attractive option. The Double Lifetime warranty and higher resale of the XFX line of GPU's in the North American region due to that warranty make it hard to resist.
Pros:
+  Runs cool
+  Able To Run SLI With GeForce 9800 GTX
+  Good Price Point Performance Ratio
+  Good Bundle
+  Decent Overclocking Result
+  Double Lifetime Warranty
Cons:
–  May be too large for some cases/systems
–  Availability
–  Newer GPU's Perform Better (if you don't mind paying more)
With the XFX 9800 GTX+ performing well at it's price point, and given it's more than adequate performance in testing:
The XFX 9800 GTX+ Black Edition receives a score of 8.5 (very good) out of 10 and the Bjorn3D Seal Of Approval.