The TRUE Black 120 certainly doesn't disappoint in the looks department; with its shiny black finish and admirable towering posture, it doesn't cease to amaze. But no matter how good it looks, we certainly can't forget the most important aspect of an HSF: cooling performance. So does the performance hold up to the looks? Stick around as we find out.
INTRODUCTION
As CPU thermal output is on the increase, heatsink companies are continually seeking new and improved thermal solutions. This time, Thermalright has sent us a TRUE Black 120. The TRUE Black 120 certainly doesn't disappoint in the looks department; with its shiny black finish and admirable towering posture, it doesn't cease to amaze. But no matter how good it looks, we certainly can't forget the most important aspect of an HSF: cooling performance. So does the performance hold up to the looks? Stick around as we find out.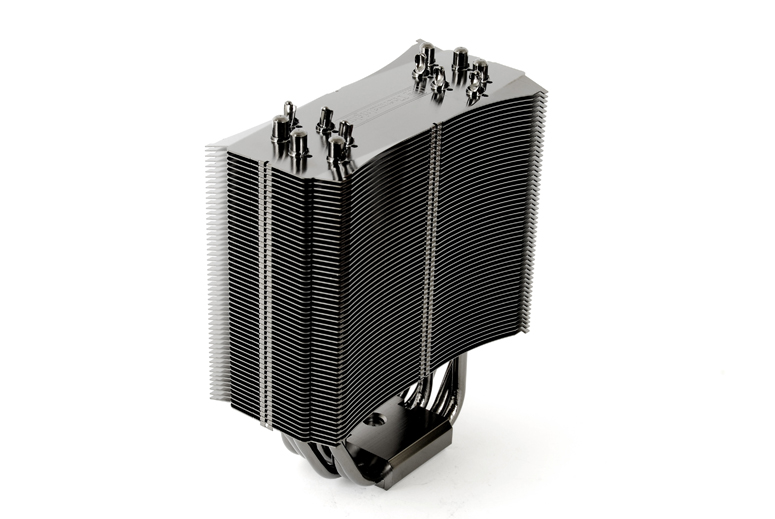 About Thermalright
Thermalright is an elite design house that manufactures cooling products for computer components for the best quality and performance your money can buy. In 2002, AMD released its first generation Thunderbird CPU and since then we have been there every step of the way to counter high voltage and high heat with innovative design and highly acclaimed cooling solutions not only for AMD but for Intel as well. One of early well known solutions was the SK-6. With many positive and rave reviews under its belt Thermalright bolted to the top as the heat sink manufacturer mostly preferred by Overclockers and enthusiasts around the World. To this day, innovation never left our vocabulary as we keep coming up with leading edge designs staying ahead of the competition.
SPECIFICATIONS & PACKAGING
Specifcations
 
Thermalright TRUE Black 120

CPU Socket's Supported

AMD 939/AM2, Intel LGA775
Cooler's Sink Base
Copper base with black nickel plated
Heat Pipes
Six heat pipes with black nickel plated
Cooler's Dimensions
L63.44 x W132 x H160.5 mm
Cooler's Weight
790g (Heatsink Only)
Recommended Fan
All 120mm*25mm Fan
 As you can see from this chart, the TRUE Black is one of the heavier heat sinks on the market today.
Packaging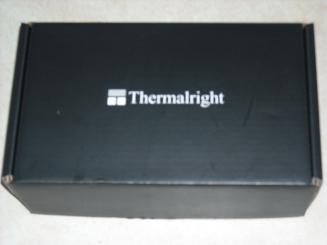 The box is quite plain with only the Thermalright logo and Thermalright in text on the front. Everywhere else the box is just black. Thermalright most likely went with a black color because of the TRUE Black 120's name.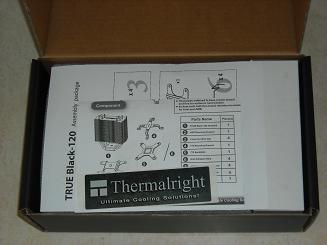 On the very top of everything in the box is a Thermalright sticker, along with directions on how to install the heat sink. To the right is a white box that includes the accessories to mount the heat sink.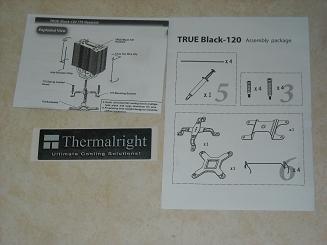 The directions are pretty straight forward and to the point. They don't go into a lot of detail, but I don't think that is needed, as most people who buy this heat sink will have the know-how to install a HSF without looking at directions.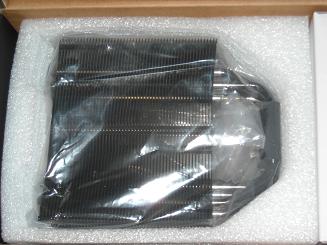 Comfortably surrounded by foam and what this review is all about, the TRUE Black 120. It aslo has a plastic bag over it to protect it even further from receiving any damage before you get your hands on it.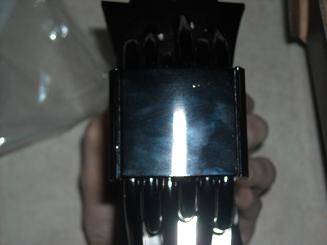 Looking at the bottom, I was far from impressed. The TRUE Black 120 did not have a very smooth block. In fact, it had small groves in it. I would reccomend to anyone that is buying this heatsink to lap it before installing it to lower your temperatures some.
From the picture you can see that it waves a bit from one side to the other. Overall, a cool design that adds a little flair, and separates it from the pack.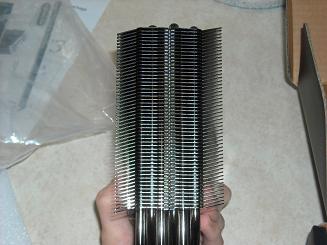 Again, Thermalright made a wave design. I don't really see this serving a purpose, but it does make it look a bit cooler.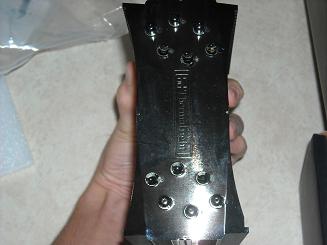 Thermaltake does a slight curve into the heat sink. This actualy serves a purpose by allowing air to flow through the heat sink more efficiently. They also put Thermalright in text to give it a nice touch.
Now for a closer look at the mounting brackets.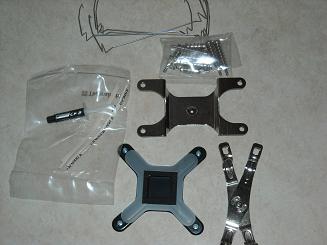 They look pretty standard, though the backplate looks a little small for this big of a cooler. I would suggest using a larger one just to be safe. There are four brackets that can be used to mount two fans on the heat sink.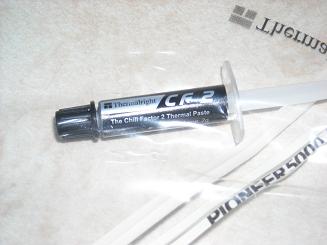 Thermalright includes their own brand of heat sink paste called "Chill Factor 2". Generaly, the included paste is not of the greatest quality, but since Thermalright took the time to point it out, I wouldn't write it off so soon.
INSTALLATION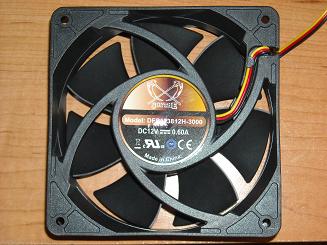 The fan used was a Scythe DFS123812-3000 "ULTRA KAZE". This fan blows at 133.6 CFM and is rated at 45.9 dBA.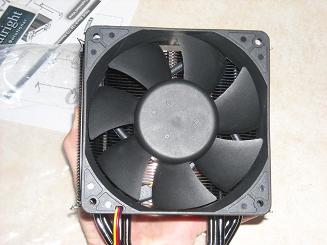 Fan installation was quite easy. You may think the clips themselves feel and look quite flimsy, but after you install the fan all of your doubts will be taken away. They keep the fan rock solid on the heat sink.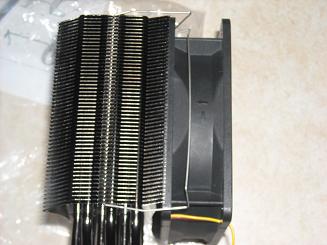 To secure the fan you have to insert the bent end into were you would screw in a screw. The other clip end gets inserted into a little notch at the top and bottom of the heat sink fins.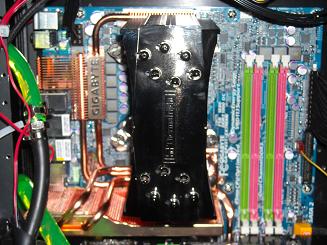 It was pretty easy to put it on the motherboard. The only issue was making sure it was completely on the CPU. During installation the fan was taken off to get a better view of where the heat sink was sitting.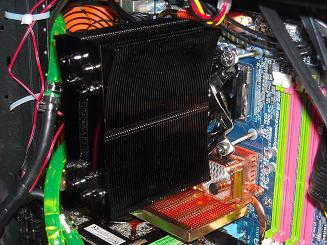 The stock retention bracket of the mother board was used, and because of that, the clip used to secure the TRUE Black 120 had to be inverted so it would have enough pressure to keep the heat sink on.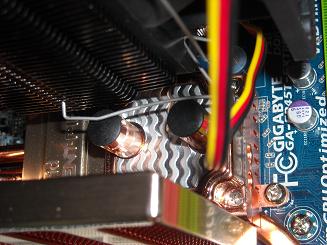 Not everyone will have this issue, but on this particular board the fan clip interfered with the water cooling block on the north bridge. Make sure you have enough room to fit this, as it is a fairly large peice of metal.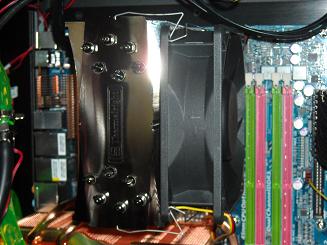 Here is the fan is clipped on. I must say it looks pretty cool, and quite big compared to everything else in the case.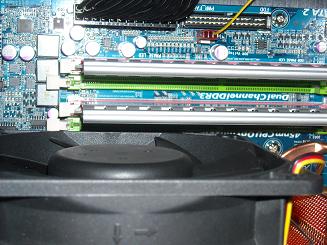 Once again, due to the huge size of the fan used, it obstructed the first RAM slot, so only 2 GB of RAM was able to be used. If you are using a standard size 120mm fan you wont have this issue, but you may have issues if you have a fan to help cool your RAM.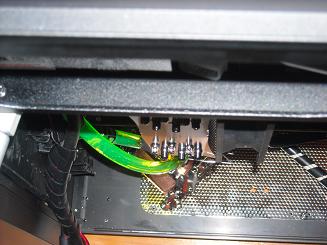 As with everything else about this cooler, it is very tall. In fact, the case door of the Thermaltake Sword M could not be shut with this heat sink installed. Granted, it has a radiator for water cooling on it, but just make sure you thoroughly measure your case before you consider purchasing one of these.
METHODOLOGY & RESULTS
Methodology
 
Test Rig

Case Type
Thermaltake Sword M
CPU
Intel Q6600 @ 2.4, 2.7, 2.8
Motherboard

GIGABYTE GA-EP45-EXTREME LGA 775 Intel P45

Ram

G.SKILL 4GB (4 x 1GB) 240-Pin DDR3 1333 

CPU Cooler
Thermaltake Sword M liquid cooling, Thermalright TRUE Black 120
Hard Drive
Seagate 1 TB
Optical
Lite-On DVD R/W
GPU's Tested

Sapphire 4870 X2 @ 750MHz core/900MHz (Quad Pumped)


Case Fans
Two 120mm  Front/Rear Push/Pull
Two 80mm Blowing on Graphics
Testing PSU
Corsair HX1000W
I used Prime95 to put a full load on the CPU until the temperature increase flat lined. I had a short time to overclock the Gigabyte board, and it was not responding well. So I had to increase just voltages instead of raising the clock speed with it. Most of the extra temperature you receive from overclocking is made by the extra voltage, so there shouldn't be much of a difference between these temperatures and the temperatures of a higher clocked CPU. The liquid cooling is the stock cooling that comes when you purchase a Thermaltake Sword M case. I have included a couple pictures to show what the system looks like.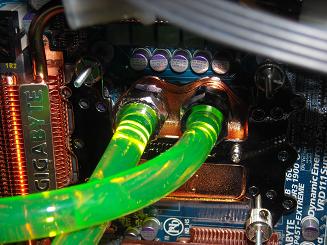 Liquid Block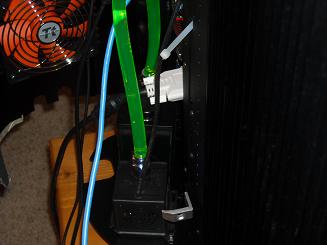 Pump and Reservoir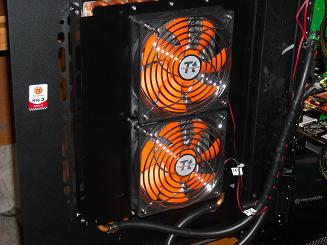 Radiator
 The Thermaltake water cooling was unable to post at 1.552 volts, so there is no data for it on the graph.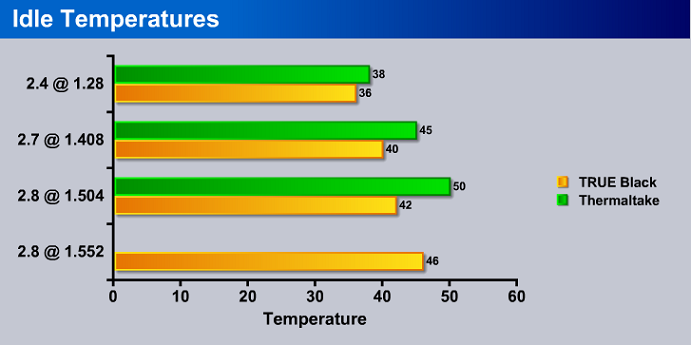 Idle Temperatures
The TRUE Black was much better than the liquid cooling, even able to get 8°C less at 1.504 volts.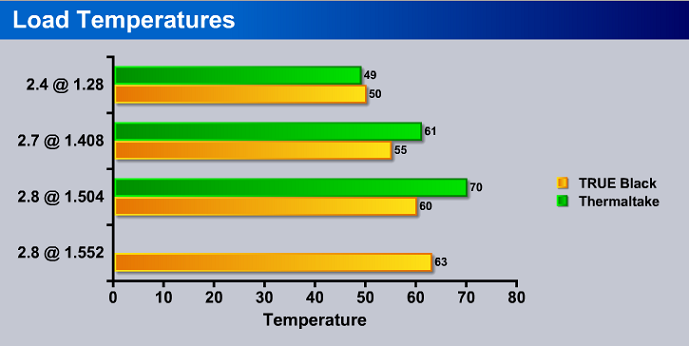 Load Temperatures
The TRUE Black once again beat the Thermaltake liquid system by quite a margin. There is a whole 10°C difference between them! That would make a huge difference, especially considering that the 70°C temperature of the Thermaltake liquid system is not an acceptable temperature for everyday use.
CONCLUSION
At the end of the day the Thermalright TRUE Black 120 showed outstanding performance. It was able to easily keep up with and surpass the Thermaltake liquid cooling. This is quite a feat for an air cooler, as liquid is a much better way to transfer heat. Granted, this was with using a 133.6 CFM fan, but I am sure that you would not see a huge performance drop if you used a slower fan.
The Thermalright TRUE Black 120 wasn't just a good performer, it looked amazing as well. Thermalright put in just enough fine details to set this cooler away from the pack. The Black finish was quite fitting for this cooler and it will accent nicely with any black case. The bottom of the cooler really did not look flat, but upon taking it off of the CPU, it felt smoother than when I put it on. I still think that you would see a slight performance gain if you lapped the cooler, but this is generaly true of anything you lap.
Overall, I thought the TRUE Black 120 was a great product that could really pack a punch. Though I was not able to get a higher clock more stably in the short time I had, voltages are where most of the extra heat comes from, so I am sure that there wouldnt be much difference in temperatures if the CPU was clocked higher.
Pros:
+  Awesome Performance
+  Looks Cool
+  Kept up with Liquid Cooling
+  Fairly Large

Cons:
–  Fairly Large
–  No Fan Included
A double edged sword of the Thermalright TRUE Black 120 is its size. While it may help to keep the temperatures down, it is also quite large for using in a tightly packed case. If you have the room, the size is well worth the performance. With a price of anywhere from $50 all the way up to $80, it is not overly expensive. Water cooling kits, which this system beat, generally start out at around $100. For a fraction of the cost you could have a cooler that not only matches, but also outperforms many entery water cooling kits on the market.
With a score of 9 out of 10, the Thermalright TRUE Black 120 receives the Bjorn3D Golden Bear Award.