Today we have the MSI 4670. A card that will give you great performance without breaking the bank. With 512MB of GDDR3 and 320 stream processors ATI doesn't skimp out on this card.
INTRODUCTION
The mid-range video card segment has been booming lately compared to just a few years ago when the HD 2600 and GeForce 8600 series were launched by ATI and Nvidia respectively. There was a huge gap then between the mid-range cards and the much more expensive high-end cards. This hole is being filled currently with the ATI HD 3670 and HD 3650 along with the 8800 GS, 9600 GT, and 9600 GSO from Nvidia. Now, ATI has engineered more cards to fill this gap with the HD 4650 and the HD 4670. Today we have the HD 4670 by MSI. This card hopes to keep money in your pocket while giving you great gaming performance.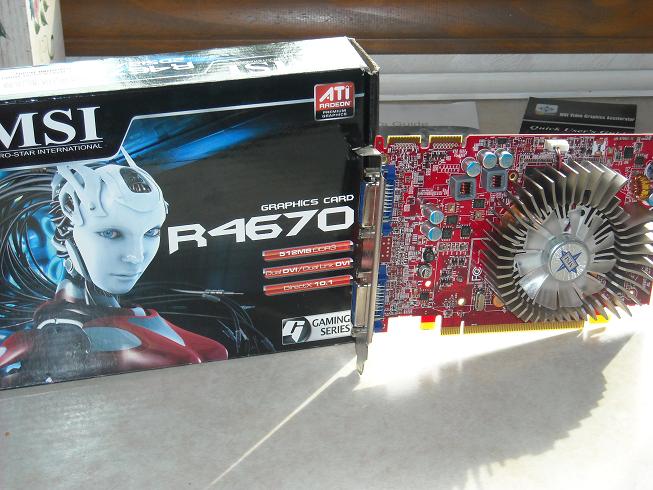 About MSI
Micro-Star International Corporation, Ltd. (TSEC: MSI, 2377) is one of the IT industry's leading manufacturers of computer hardware products and solutions, including world's top five and Taiwan's top three motherboard manufacturer, Taiwan biggest and world's top five server manufacturer, and has been the leading graphic card manufacturer for the past four years. Today MSI is pressing forward with the development of new products, such as notebooks and consumer electronic products. The sales of MSI's MP3 product has been growing rapidly, making MSI one of the top MP3 product suppliers in Taiwan since 2004. Through world class engineering, manufacturing & design innovation, MSI is dedicated to providing leading-edge hardware products and robust solutions that are easy to implement and integrate while also enhancing overall performance, value and ultimately the individual end user's personal digital life experience. With annual worldwide sales of US $2.4 Billion in 2005, MSI ranks 26 in the Taiwan Top 1000 Companies for 2005. For more information and product details please visit www.msi.com.tw .
FEATURES & SPECIFICATIONS
Specifications
This table shows the differences between all of the cards included in the tests.
GPU

HD 4670

GPU Frequency

625 MHz

777 MHz

750 Mhz

Memory Frequency

900 Mhz

2400 Mhz

1000 Mhz

Memory Bus Width

256-bit

256-bit

128-bit

Memory Type

GDDR3

GDDR4

GDDR3

# of Stream Processors

112

320

320

Texture Units

56

16

32

ROPS

16

16

8

Bandwidth (GB/sec)


57.6

72

32

Process

65nm

55nm

55nm
The HD 4670's bandwidth is hurt a lot by its 128-bit memory bus. This will most likely have a huge impact in its performance. The higher clocks should help compensate for the lower bandwidth.
Here at Bjorn3D we like to take a GPU-Z screen shot to verify that the card meets the stats as stated by the manufacturer.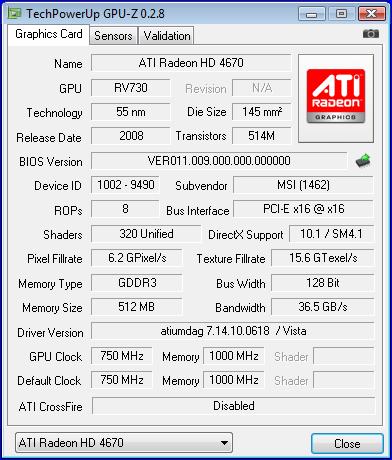 Everything checks out here. GPU-Z says there are 320 shaders, DX10.1, GDDR3, and that all of the clocks are correct.
FEATURES
 
 
 

| | | |
| --- | --- | --- |
| |   | Designed to run perfectly with new PCI Express 2.0 bus architecture, offering a future proofing bridge to tomorrow's most bandwidth-hungry games and 3D applications by maximizing the 5GT/s PCI Express 2.0 bandwidth (twice that of first generation PCI Express). PCI Express 2.0 products are fully backwards compatible with existing PCI Express motherboards for broadest support. |

 
 
 

| | | |
| --- | --- | --- |
| |   | MSI graphics cards offer the HDMI functionality to provide access to premium digital content. HDMI enables gaming enthusiasts to seamlessly connect to their LCD monitor to bring the ultimate multimedia experience. (Only 1 single HDMI cable is required while streaming audio/video data to flat-panel display devices, such as Plasma/LCD TVs, or projector.) |

 
 
 

| | | |
| --- | --- | --- |
| |   | The HDCP provides a robust, cost-effective and transparent method for transmitting and receiving digital entertainment similar to DVI/HDMI-compliant digital displays. HDCP encrypts the date transmitted between the DVI/HDMI connector on the graphics adapter and the display. (Optional Feature) |

 
 
 

| | | |
| --- | --- | --- |
| |   | Both support the latest specifications of Blue-Ray and HD DVD(High Definition DVD). It comes with the latest GPU and DDRIII superior processing performance in which users can easily enjoy the high-definition video of 1920×1080(1080p/i). |

 
 
 

| | | |
| --- | --- | --- |
| |   | Dual-link DVI is able to drive the industry's largest and highest resolution flat-panel displays up to 2560×1600 and with support for Hign-bandwidth Digital Content Protection (HDCP). |

 
 
 

 
MSI Vivid is an easy tool to enhance " image quality ". It can helps users to get better image quality in viewing " Digital photos, document & games "

| | |
| --- | --- |
| • | Vivid brings the easiest way to optimize graphic quality. |
| • | Colorize your vision when browsing digital photos!!! |
| • | Sharpen characters edge!!! |
| • | Enhance contrast when playing game!!! |

 
 
 

| | | |
| --- | --- | --- |
| |   | The MSI Live Update online is designed to automatically download and update the BIOS and driver when there's a new version online. It helps reduce the risk of getting the wrong file and minimize the trouble of searching the files from MSI website. |

 
 
 

| | | |
| --- | --- | --- |
| |   | Live Update 3 is a single utility software that automatically checks BIOS, driver and utility updates and installs for you , which can save your time for searching and lower the risk while updating. |

 
 
 

| | | |
| --- | --- | --- |
| |   | MSI products are the first to be in conformity of the EU's RoHS(Restriction of Hazardous Substances) regulations, reducing heavy metals and toxic materials in the products. This is an effort made for the Earth, and essentially for a clean future. |

 
 

RADEON HD 4670 Chipset Features

 

Fully DirectX 10.1 compliant, including full speed 32-bit floating point per component operations
Shader Model 4.0 geometry and pixel support in a unified shader architecture
32-and 64-bit floating point processing per component.
High performance dynamic branching and flow control.
High dynamic range rendering with floating point blending, texture filtering and anti-aliasing support.
16-and 32-bit floating point components for high dynamic range computations.
Full anti-aliasing on render surfaces up to and including 128-bit floating point formats.
Support for OpenGL 2.1
Anti-Aliasing Filtering
Temporal anti-aliasing
2x/4x/8x/16x modes
Up to 128-tap texture filtering
Acceleration Features
Works with any single- or two-channel data format
New vertex cache and vertex fetch design, to increase vertex throughput from previous generations
Up to 8k x 8k textures, including 128-b/pixel texture are supported.
High efficiency memory controller

 
 
Video Output Function
 

Dual-link DVI x 2
VGA (via DVI to D-Sub adaptor)
HDMI (DVI to HDMI adaptor)

 
 

HDMI 7.1 AUdio Output (optional)

 

| | |
| --- | --- |
| The ATI Radeon HD 4670 has a built in HDMI with HD audio support for one-plug HDTV connectivity. This unique feature is enabled with an intelligent DVI to HDMI adapter. The benefit of this approach is to preserve the traditional dual-DVI-I connectivity (with VGA support) that gamers demand while offering a seamless connection for big-screen HD gaming. No internal SPDIF or other audio cabling is required. | |
PACKAGING & BUNDLE
Packaging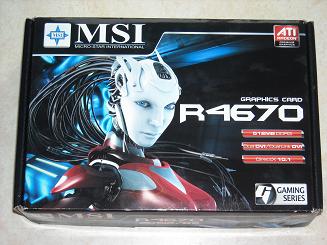 Front of 4670 box
On the front of the box MSI points out key features such as its 512 MB of GDDR3, its dual DVI output, and that it supports DX10.1. MSI also states that this card is part of its Gaming Series.
Back of 4670 box
MSI then goes on to explain some of the more advanced features of the cards. These include the ability to run video from the card to an HDMI TV with an adapter. This is a feature that is becoming the norm for all cards quite fast.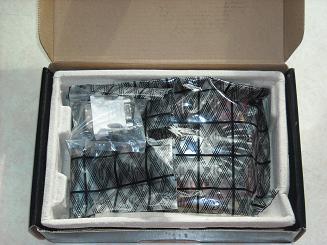 Inside of 4670 box
The Bundle
The packaging is pretty standard for this class of card. The DVI adapter is located in kind of a bad spot. If the box happened to be crushed a bit in the right spot, the DVI adapter may end up breaking the card.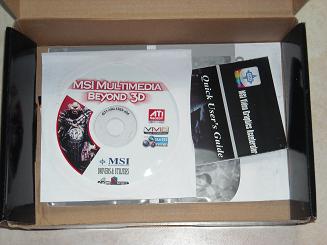 Bottom of inside of 4670 box
There isnt much in here, but theres enough to get you started. The driver disc includes Catalyst 8.9 along with some other MSI software to do various things with the 4670.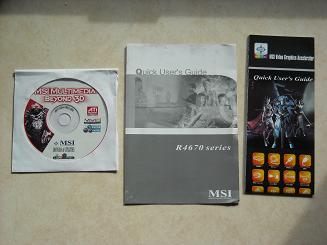 Bundled software and guide
This includes two quick user guides. These guides will show you step by step how to install your card. This will be a nice help for a newcomer to computer building.
Also a part of the packaging is the company's warranty. This is MSI's warranty as stated by the company:
Besides Seller Warranty provided by your vendor,

MSI Computer Corporation also provide Manufacturer Warranty to warrants its products delivered in Northern America for use in Northern America ONLY!

In order to obtain a faster service, MSI encourages customers to obtain service from his/her original vendor.  However, should customers have difficulty obtaining service, MSI is always willing to assist all customers to trouble shoot, repair or replace our defective product.
MSI also provides a fast on-line technical support.  A quick trouble shooting prior to any return may save a tremendous amount of cost and time.  Please access the On-Line Technical Support. Attention : Warranty period may not reflect warranty extension bought at point of purchase or local resellers. Please contact point of warranty extension purchase for services during extended warranty coverage. This warranty information does not apply to OEM products.  Warranty Effective Date 
From the Date of Manufacture

The warranty period starts from the manufacture date.  To determine the warranty entitlement for the product, the Customer must carefully verify the first four digits of the Products serial number.  The first two-digit number represents the manufacture year and the subsequent two-digit number represents for the manufacture month. 
For example:
" 0312 234562 "       means its manufacture date is December, 2003
" 0402 234562 "       means its manufacture date is February, 2004
 Limited Warranty Period by Product MSI VGA Products are warranted for 3 year limited warranty (Two (2) years Parts & Labor, and the third Year Parts ONLY, shipping and handling fee will be required).
Note: Repaired, replaced or exchanged Product will be warranted for the remainder of the original warranty.  Limited Warranty Coverage Should a product prove to be defective in material or workmanship during the warranty period, MSI will, at its sole option, repair the product or replace with a same or similar product.
Replacement Product may include new, remanufactured, or refurbished product and parts.
MSI will provide one-way freight free of charge via UPS or Fed-x Ground Service when returning the product to the customer.
3rd Year Warranty Shipping and Handling fees:
For Motherboard: $35.00 per unit
For VGA: $45.00 per unit
Note:

1.

In order to expedite service, MSI encourages all users to register their MSI products.

2.

Currently MSI does not directly offer any warranty extensions.  Please contact your place of purchase for any independent warranty extensions that may be available through the reseller.  Any warranty extensions provided by the reseller are independent of MSI.
 Limited Warranty Exclusions 
| | |
| --- | --- |
| 1. | Products damaged by any catastrophe, accident or from neglect, misuse, fault, improper assembly, improper maintenance, inadequate return packaging, or negligence by the  customer or any third party.  There will be no warranty for external cause to the Products such as, but not limited to, failure of or faulty electric power, air conditioning, operator error, failure or malfunction of any data communications system.  MSI will not repair or replace product that has not been sold or leased to customer or any third  party. |
| 2. | Service and repair of accessories, apparatus, attachments or any other devices which are not MSI Products or options. |
| 3. | Defacing of product or product labeling (label alterations, serial number missing, serial number no longer discernible, serial number invalid).  All serial numbers are recorded and tracked for warranty purposes. |
| 4. | Unauthorized changes, modifications or alterations in or to the Products not installed by MSI. |
| 5. | Damage to or loss of any programs, data, or removable storage media. |
| 6. | Installation, relocation or removal of the Products or any accessories, apparatus, attachments or other devices. |
| 7. | Normal wears and tears. |
| 8. | The furnishing of accessories or supplies. |
| 9. | Removal, installation, and set-up service charges. |
| 10. | Damage by shipping carrier. |
| 11. | Incompatibility issue. |
| 12. | MSI is not responsible for damages of any kind including, but not limited to, direct or indirect damages, lost profits, lost saving, or other special incidental, exemplary or consequential damages whether for breach of contract, tort or otherwise, or whether arising out of the use of or inability to use the product, even if MSI or any distributor, dealer, or authorized service provider has been advised or the possibility of such damages, or any claim by any other party. |
| 13. | MSI reserves the right to change this policy without advance notice. |
PICTURES & IMPRESSIONS
 Pictures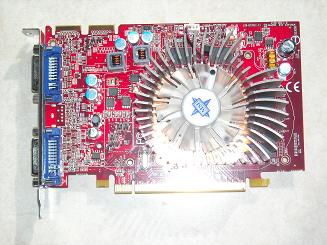 Top of HD 4670
As you can see, MSI chose to not use a stock cooler on their version of the HD 4670. It also has Crossfire connectors so you could potentially run two of these cards if you so choose. The heat sink has a copper base which should help keep the card cooler. One problem is that there are no heat sinks on the RAM (including heatsinks would be something that would allow a higher overclock on the RAM).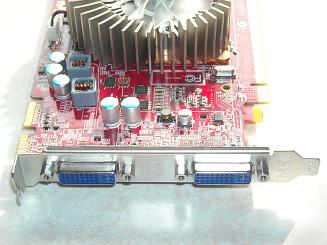 Front of HD 4670
This card has two DVI ports, so you can run dual monitors. The card also comes with a DVI to VGA adapter so if you have an older VGA monitor you will be able to use that. I have mixed feelings about the blue DVI ports, I can't say that I have ever seen this color used before.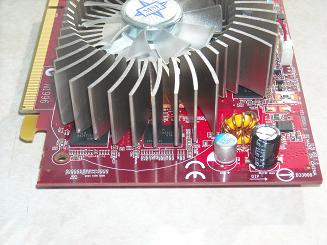 Back of HD 4670
The HD 4670 does not have an additional PCIe power connector. This is a very good thing for people with a older power supply that does not include a 6-pin PCIe power plug. This also means that the card doesn't use a lot of power, so you can use a much smaller power supply with it.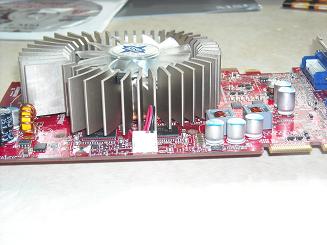 Side of HD 4670
From this picture you can see how tall the heat sink really is. It is extremely large for a mid-range card. A downside is that the fan connector has only two pins, which generaly means that you can't increase the fan speed.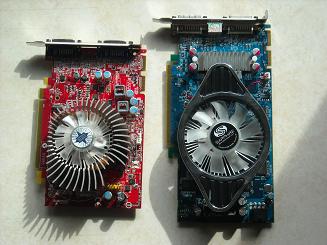 Comparison of HD 4670 and HD 4850
The 4670 is quite a bit shorter than my shortest card, the HD 4850. It will fit into any case (as it's not long enough to stretch out past the motherboard). This is a good thing for someone who has a small case with not a lot of room to spare.
SYSTEM & METHODOLOGY
All the tests were done in 1280 x 1024 (1280 x 960 was used in F.E.A.R.) and 1600 x 1200. All of the tests were performed five times to ensure accuracy. Crysis was run with all settings on Very High with no AA or AF due to its huge demands. Company of Heroes was tested with all settings maxed and with Model Detail was set all the way to the right. F.E.A.R. was run with auto settings. The CPU was set to High and the Graphics option was set to Maximum. In World in Conflict the Graphic Detail was set to Very High. I used the Performance preset in Vantage, and the default settings for 3DMark06.
The Test Rig
 
Test Rig

Case Type
InWin B2 Bomber
CPU
AMD Opteron 170 @ 2,800 MHz
Motherboard
DFI NF4 SLI-DR Extreme
Ram
OCZ Platnium PC3200 @ 466 MHz, 2.5-3-2-5-1T
CPU Cooler
Ultra Chilltec
Hard Drive
WD SE16 500 Gig 7200k RPM
Optical
Lite-On DVD R/W
GPU's Tested
MSI HD 4670 @ 750/1000 Drivers – Catalyst 8.9


Diamond HD 3870 @ 777/2400

Drivers – Catalyst 8.9


BFG 8800 GT OC @ 625/900

Drivers – 178.13
Case Fans
Two 120mm  Front/Rear Push/Pull
Two 80mm Blowing on Graphics
Testing PSU
Corsair TX650
Synthetic Benchmarks & Games
 
Synthetic Benchmarks & Games
3DMark06 v. 1.10
Company of Heroes v. 1.71 DX 10
Crysis v. 1.2 DX 10
World in Conflict Demo DX 10
F.E.A.R. v 1.08 DX 9

3DMark06 developed by Futuremark is a synthetic benchmark used for universal testing of all graphics solutions. 3DMark06 features HDR rendering, complex HDR post processing, dynamic soft shadows for all objects, water shader with HDR refraction, HDR reflection, depth fog and Gerstner wave functions, realistic sky model with cloud blending, and approximately 5.4 million triangles and 8.8 million vertices; to name just a few. The measurement unit "3DMark" is intended to give a normalized mean for comparing different GPU/VPUs. It has been accepted as both a standard and a mandatory benchmark throughout the gaming world for measuring performance.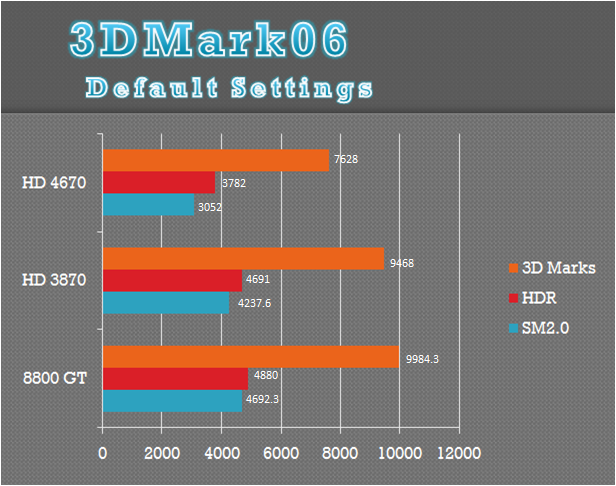 In this test the HD 4670 really falls behind the HD 3870 and 8800 GT. 3DMark is only a synthetic benchmark, so it does not necessarily reflect real game performance.

Company of Heroes (COH) is a Real Time Strategy (RTS) game for the PC, announced in April, 2005. It is developed by the Canadian based company, Relic Entertainment, and published by THQ. COH is an excellent game that is incredibly demanding on system resources thus making it an excellent benchmark. Like F.E.A.R. the game contains an integrated performance test that can be run to determine your system's performance based on the graphical options you have chosen. It uses the same multi-staged performance ratings as does the F.E.A.R. test. Letting the games benchmark handle the chore takes the human factor out of the equation and ensures that each run of the test is exactly the same producing more reliable results.
Once again the HD 4670 lags behind both the HD 3870 and the 8800 GT. The 8800 GT takes a commanding lead over both of the other cards.
The HD 4670 still falls behind, most likely because of its lower bandwidth. Strategy games favor more bandwidth so it is expected that a mid-range card with lower bandwidth would come up short.

Crysis is the most highly anticipated game to hit the market in the last several years. Crysis is based on the CryENGINE™ 2 developed by Crytek. The CryENGINE™ 2 offers real time editing, bump mapping, dynamic lights, network system, integrated physics system, shaders, shadows and a dynamic music system just to name a few of the state of-the-art features that are incorporated into Crysis. As one might expect with this number of features the game is extremely demanding of system resources, especially the GPU. We expect Crysis to be a primary gaming benchmark for many years to come.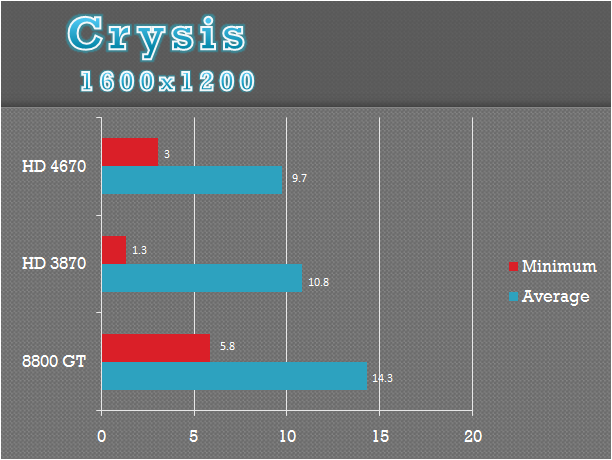 In the Crysis test the HD 4670 falls a little short of the average frame rate compared to the HD 3870 but it has a higher minimum frame rate.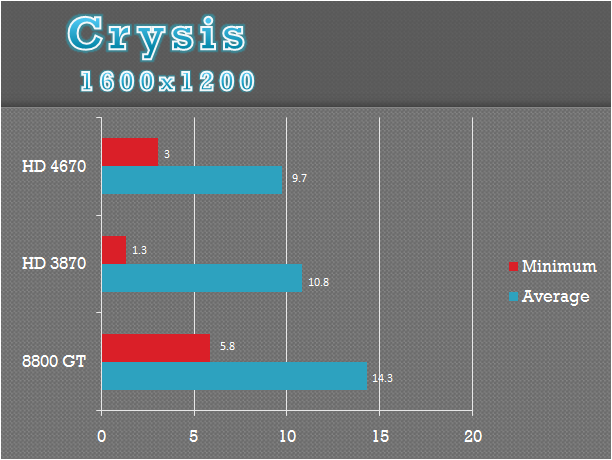 The HD 4670 again comes close to the HD 3870, but falls just short again. Perhaps with some overclocking this card would be able to beat the HD 3870.

World in Conflict is a real-time tactical video game developed by the Swedish video game company Massive Entertainment and published by Sierra Entertainment for Windows PC. The game was released in September of 2007
The game is set in 1989 during the social, political, and economic collapse of the Soviet Union. However, the title postulates an alternate history scenario where the Soviet Union pursued a course of war to remain in power.
World in Conflict has superb graphics, is extremely GPU intensive, and has built-in benchmarks. Sounds like benchmark material to us!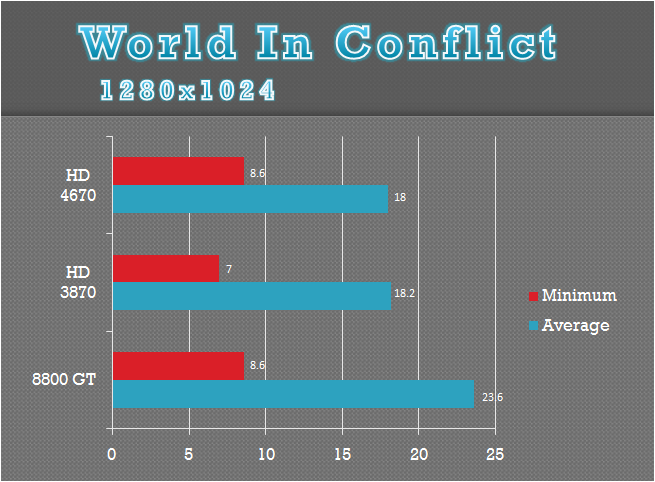 The HD 4670 was able to pull ahead of the HD 3870 in this test.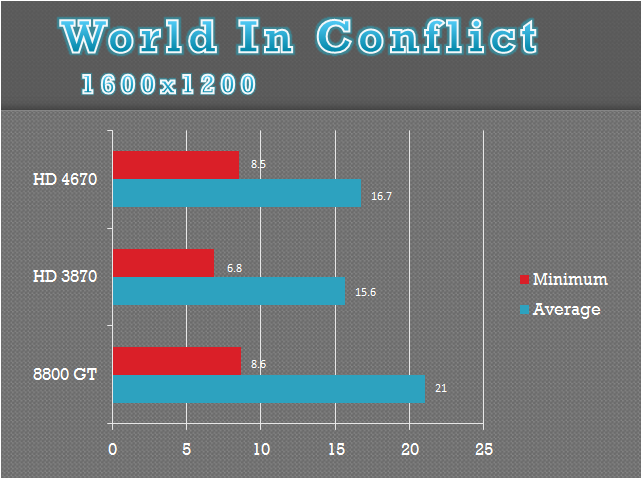 This is an unexpected result. The HD 4670 increased its lead over the HD 3870. It even managed to fall just short of its FPS from the lower resolution.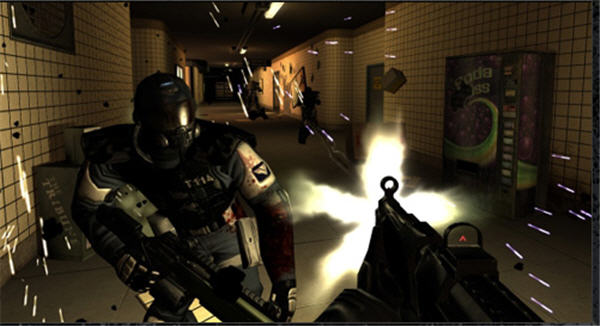 F.E.A.R. (First Encounter Assault Recon) is a first-person shooter game developed by Monolith Productions and released in October, 2005 for Windows. F.E.A.R. is one of the most resource intensive games in the FPS genre of games ever to be released. For this test I played the first section of the first level and did the same multiple times for all of the cards to insure accuracy.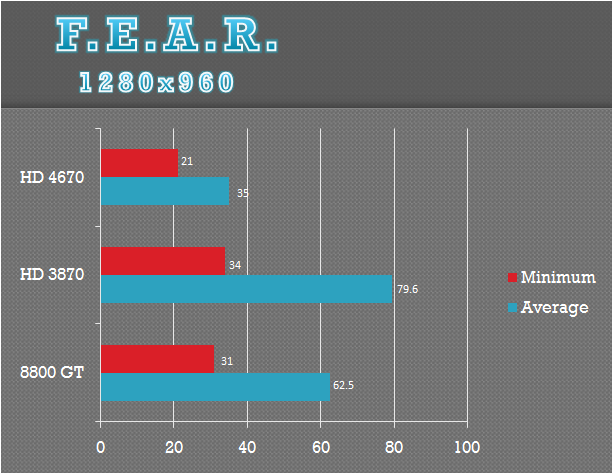 The HD 4670 really lags behind in this test. The average FPS was half of what the HD 3870 was able to get.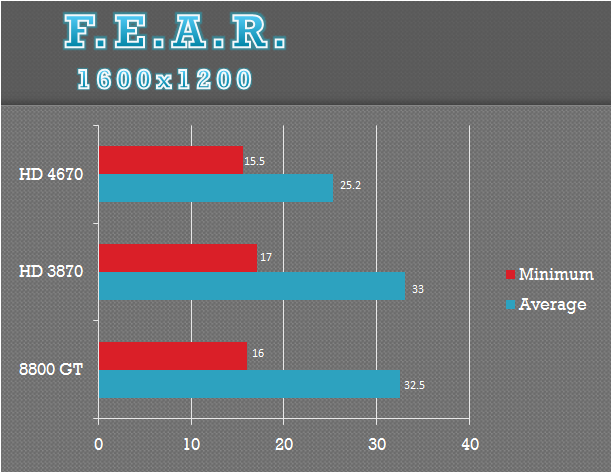 With the higher resolution the HD 4670 is able to gain a lot of ground on both the HD 3870 and 8800 GT.
TEMPERATURES & OVERCLOCKING
Temperatures
| | |
| --- | --- |
| Idle Temp |  27°C |
| Load Temp | 44°C |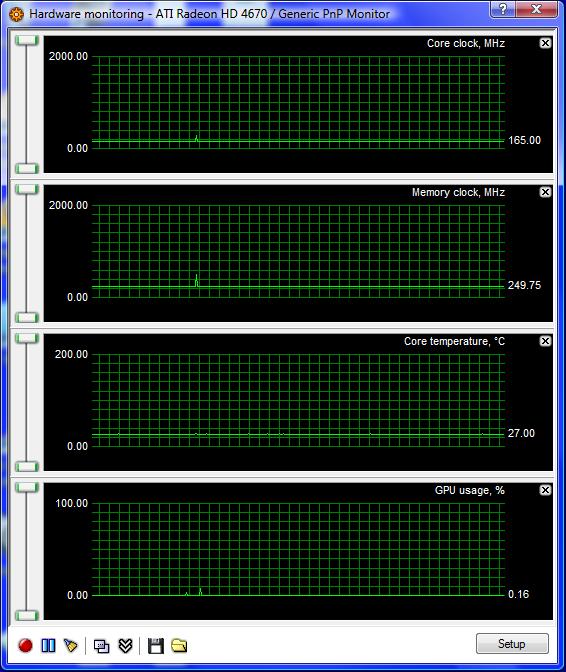 HD 4670 idle temp
When I got this card I was quite surprized at the size of the heat sink, but never did I think that this card was capable of a 27°C idle temp. This is incredibly cool for any GPU. In fact, this is more like an idle temp for a CPU on water cooling.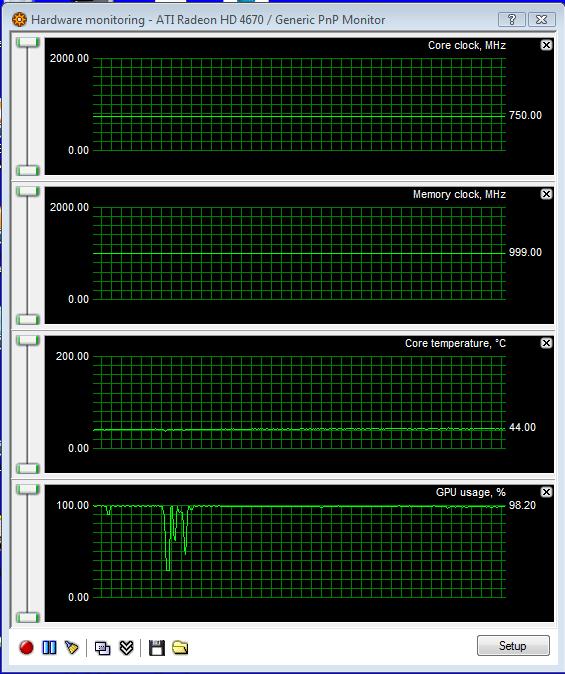 HD 4670 load temp
As you can see from the graph, the load temp is 44°C. This is extrememly cool for any graphics card. I'm quite impressed that MSI was able to have such low temps. This card would even be perfectly cool in a case with terrible cable management. This would be a great card for someone who bought a pre-built computer and is looking to get a little more gaming performance out of it.
Overclocking
For overclocking I used ATI Catalyst. With Catalyst, I was able to get a stable overclock of 778 MHz (up from 750) on the core, and 1140 MHz (up from 1000) on the memory. Overall, it's a pretty good overclock and it stays very cool, only hitting 47°C at full load.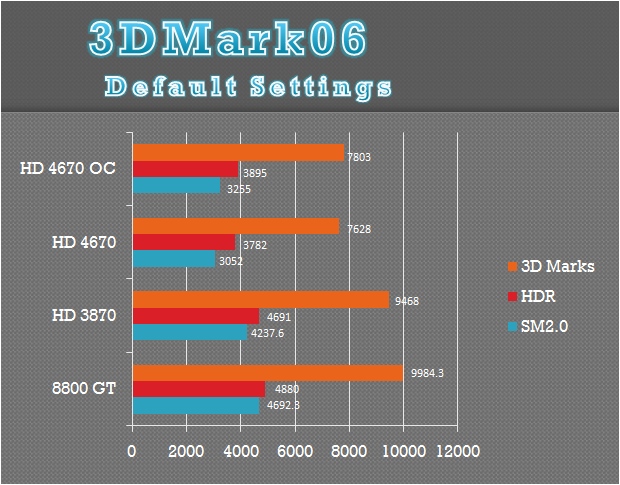 The HD 4670 didn't really get a very big improvement in 3DMark06. Only about 200 points which is quite a small gain. This is only a synthetic benchmark so in a game you may see better results.
CONCLUSION
The MSI HD 4670 is an exceptional mid-range card. It provides enough power to easily play games at lower resolutions. Currently, at about $80 USD, this card is cheaper than both the HD 3870 and 8800 GT. This card is certainly a good buy for someone who wants decent gaming performance without putting a big hole in their wallet.
One nice thing about this card is ATI and MSI don't skimp on features. Just like its big brother cards, the HD 4850 and the HD 4870, it has DX10.1. It also has what's called Unified Video Decoder 2. This takes the load off of the CPU and gives it to the GPU so you will get a smooth picture without any jumps.
The cooling on this card is simply phenomenal. It easily is the coolest running GPU I've ever owned. And the best part is, the cooling comes stock. This card will stay cool in any case regardless of the airflow and that's a good thing for someone who's not a computer wiz and just wants it to work good.
Pros:
+  Overclocking Ease
+  DX 10.1
+  Ease of Install
+  Crossfire Ready
+  Good Price/Performance
+  Excellent Cooling
+  No External Power
+  Good Warranty
Cons:
–  No Heat Sinks On The RAM
–  Not much more for a HD 3870/8800 GT
The card itself is a good card, but with the Nvidia 9600 GT and 9600 GSO generally cheaper in price, its hard to recommend this card to anyone but someone who either has a very small case, or no external power. ATI has priced this card a little high for the performance you get, though the performance is not bad. If there was a price drop on this card it would help it immensely. I would have liked to see how loud the card was, but my main intake fan is 45 dBA, and I can't hear the card over that, so it won't be blowing your ears completely off.
With a Final Score of 8.5 out of 10, the MSI HD 4670 receives the Bjorn3D.com Seal of Approval.