MaxPoint in Germany, the parent company of SilverPower, describes the SilverPower brand as being a full range and nice priced series. Hmmm. Can you say budget brand auf Deutsch?
INTRODUCTION
There's a new entry into the U.S. computer power supply market from across the pond called SilverPower. They are being brought to us by Tagan Technology Co., USA, which shares with SilverPower the same parent company, MaxPoint. Headquartered in Germany, MaxPoint describes the SilverPower brand as being a full range and nice priced series. Hmmm. Can you say budget brand auf Deutsch? Es ist haushalt marke.
Ranging in wattage from 350 to 850 watts, the SilverPower series is a no frills, non-modular cable offering that should appeal to those wishing to save a little money on a PSU that will provide them with enough power for their PC that is both adequate and economical. Though no MSRP has been anounced as of yet in the U.S., the SilverPower SP-S850 under review today is selling for about £80 (Including VAT) in the U.K. That's about $135 USD (no VAT). No VAT? No value added tax. Also note that there has been no official word yet on the U.S. warranty, but more than likely it's going to be three years parts and labor like its siblings from Tagan.
Checking in with my favorite online PC retail therapist, I found that 850 watt PSU's range in price from about $140 to $220 USD. Since I haven't won the lottery yet and I don't have an unlimited supply of cash, saving money on the endless supply of computer parts that I require is intriguing. If I can get adequate performance using economical means, I can justify my purchase by spending the savings in other areas. Let's take a look now at the SilverPower SP-S850 and see if its performance belies its nice price.

About MaxPoint
Our history – the strength is in the quality
MaxPoint is a leading and international operating producer and importer of innovative IT-peripherals with its headquarters in Ahrensburg near Hamburg (Germany). Established in 1993 the company repeatedly has attracted attention due to groundbreaking new product developments and awards. Further milestones in Maxpoint's global activity are the foundations of branch offices as follows:
1998  Raidsonic Technology GmbH, Germany
2004  NanoPoint SARL, France
2004  NanoPoint Co. Ltd, United Kingdom
2004  NanoPoint Technology Inc., Taiwan
2006  Tagan Technology Co., USA
At present, the MaxPoint Group consists of eight divisions concentrating independently from each other on their particular clientele, but offering a well-adapted overall portfolio.
With the emphasis on Power Supplies MaxPoint sells the following four brands:
Tagan – Full range PS for gamers and enthusiasts
Seasonic – High-end PS, highly efficient, reliable and silent
Silverpower – Full range and nice priced series
Etasis – PSU for server application (redundant PS and IPC)

MaxPoint, therefore, always satisfies specific clientele thus offering a well-adapted overall portfolio in the PS market. 
FEATURES
• Compatible with Intel ATX 12V Rev 2.2 & EPS 12V Ver. 2.91.
• Compatible to Intel Skulltrail Motherboard 2x 8-pin EPS12V
• Active Power Factor Correction (PF) > 0.95 at full load
• High efficiency : Typical 80% at full load on all outputs
• Built-in silent, blue illuminated 140 mm LED fan
• Four independent +12V rails
• Fan temperature speed control
• Support dual PCI-E 8-pin connectors & Quad SLI 6 pin connectors
• Perfect protection: OPP / OVP / UVP / OCP / SCP / OLP
• Operation temperature : 0°C ~ 40°C
• The demonstrated MTBF shall be 100,000 hours of continuous operation at 25°C, full load
• Universal AC Input Voltage (100-240Vac)
• Perfect for NVIDIA and ATI high performance graphic cards
• Ring Core: Multiple EMI protection prevents electro-magnetic field pulse leaking
• Industrial quality standard
• Complies with worldwide safety regulations
• Low noise design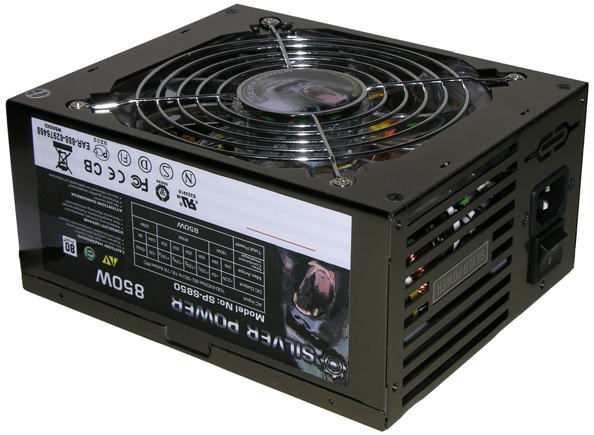 ATX12v Version 2.2
The SilverPower SP-S850 PSU is current with the ATX12v Version 2.2 standard which is pretty common on most computer motherboards today. If you want the long version of the Intel standard, take a peek at it over here. The portion that applies to power supplies is how the pins on each connector are laid out.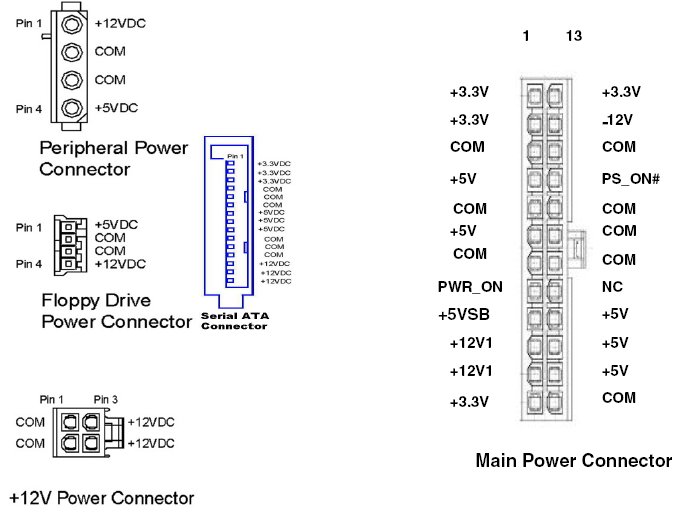 ATX Power Pinout
We though it might be handy to include a ATX12v Version 2.2 pinout diagram for you to take a look at. What is important to know is that it's the current accepted standard and works with most modern desktop computers.
Active PFC, PFC, & Non-PFC
Active PFC
The preferred type of PFC is Active Power Factor Correction (Active PFC) because it provides more efficient power frequency. Since technology uses a circuit to correct power factor, it is able to generate a theoretical power factor of over 95%. Active PFC also markedly diminishes total harmonics, automatically corrects for AC input voltage, and is capable of a full range of input voltage. Given Acitve PFC is the more complex method of Power Factor Correction, it is also more expensive to produce a power supply utilizing this technology.
Passive PFC
The most common type of PFC is Passive Power Factor Correction (Passive PFC). Passive PFC uses a capacitive filter at the AC input to correct poor power factor, which may be affected when environmental vibration occurs. This technology also requires that the AC input voltage be set manually (the dreaded orange switch on the back of the PSU). It also does not use the full energy potential of the AC line.
Non-PFC
Non-PFC power supplies are no longer recommended. In Europe, however, power supplies are now required to have either active PFC or passive PFC.
Quad 12v Rails & +5Vsb @ 20 Watts
The SilverPower SP-S850 is equipped with four 12v rails (for a detailed explanation of rails and more than you ever wanted to know about your PSU you can consult the "What About Them Rails?" section below). For now you'll have to settle for a voltage specifications chart.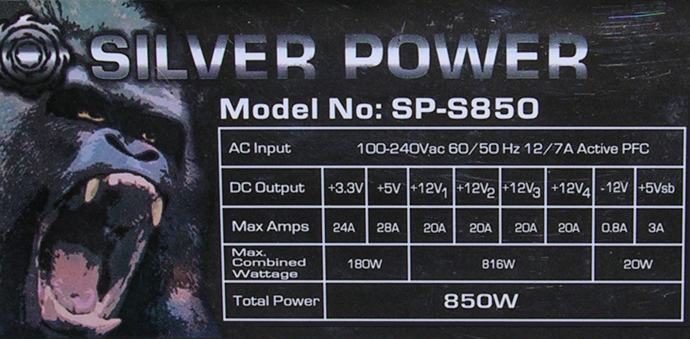 You can see that the quad 12v rails provide a total of 816 watts. Each rail provides 20 amps, for a total output of 80 amps. It's important to know the amperage your GPU will require before purchasing a PSU. Not enough amperage on the 12v rail will result in your GPU not recieving the power it needs, which in the end will cause undesirable performance. For a true gaming PSU, 80 amps should be plenty (or is it?), which is why we have come to believe that the SilverPower SP-S850 might have adequate power for those four 6-pin PCI-e connectors that can be used for many high performance GPU's (more on this later). The +5Vsb is the rail that stays on when the computer is shutdown. In this case, it can provide 20 watts and is used for such things as Power On By Keyboard or Mouse.
Operational Temps
The SilverPower SP-S850 should operate between 0°C and 40°C to operate at full efficiency. Anything above 40°C or below 0°C and it will lose efficiency. For most users, that's quite a generous range.
Protections
The SilverPower SP-S850 provides protection against overvoltage (OVP), overload (OPP), overcurrent (OCP), over temperature (OTP), and short-circuit (SCP), and under voltage protection (UVP).
Energy Star 80 Plus Criteria
Energy Star 80 Plus compliance means that the power supply will take the voltage from the wall and provide 80+ percent of that to the computer (in DC volts) within operating temperatures (in this case 0°C to 40°C). The environmental temperatures and age of the PSU will affect its efficiency.
The Fan
The blue illuminated 140mm fan on the SilverPower SP-S850 is controlled by the power supply itself. It will range from slow at low load, to wide open at full load. I don't know if it will remain on if the PSU is hot when the computer is powered down. It hasn't done so yet. Then again, I pretty much run my PC 24/7. I'll explain why later on. Should the fan continue to run after shutdown, it would help prolong the life of the PSU. But with a demonstrated MTBF (mean time between failure)of 100,000 hours (11.4 years) of continuous operation at 25°C and full load, I think that's long enough.

WHAT ABOUT THEM RAILS?
We have all been told that when purchasing a power supply that the number to look for is the amps on the 12V rail. What are each of the different rails for though, and why is the 12V rail typically the most important? Why the heck are they called rails? Let's take at look at each and see.
-12V – This rail is pretty much obsolete now and is only kept on to provide backward compatibility with older hardware. Some older types of serial port circuits required both -12V and +12V voltages, but since almost no one except industrial users use serial ports anymore you as a typical home user can pretty much disregard this rail.
-5V – Again, this is another obsolete rail. The -5V was used for old school floppy controllers and some ISA bus cards. There's no need for the typical home user to worry about this rail.
0V – Though not listed on any manufacturer spec sheet, every power supply has a 0V ground line. The ground signal is used to complete circuits with other voltages and provide a plane of reference against which other voltages are measured.
+3.3V – Finally, we are starting to get into something useful! The +3.3V rail was introduced with the ATX form factor in order to power second generation Pentium chips. Previously, the CPU was powered by the +5V rail (along with the system memory and everything else on the motherboard), but a reduced voltage was needed in order to reduce power consumption as the chips got faster. Until just recently, the +3.3V was used to exclusively power the CPU as well as some types of system memory, AGP video cards, and other circuits.
+ 5V – As mentioned above, the +5V rail used to run the motherboard, CPU and the majority of other system components on older pre ATX based systems. On newer systems, many of the components have migrated to either the +3.3V or +12V rails, but the motherboard and many of its onboard components still use the +5V rail. Hence, this rail is of importance to the typical home user.
+5V SB – The +5V Standby or "Soft Power" signal carries the same output level as the +5V rail but is independent and is always on, even when the computer is turned off. This rail allows for two things. First, it allows the motherboard to control the power supply when it is off by enabling features such as wakeup from sleep mode, or wake on LAN technology to function. It also is what allows Windows to turn your computer off automatically on shutdown as opposed to previous AT supplies where you had to bend over and push the button. Every standard ATX power supply on the market will include this rail.
+ 12V – The +12V rail, also known as the mother of all rails, is now used to power the most demanding components in your system including the CPU, hard drives, cooling fans, and graphics cards. Historically, the +12V rail was used only to power drives and cooling fans. With the introduction of the 4-pin CPU plug on P4 motherboards and AMD motherboards promptly following after, the +12V rail suddenly started to grow in importance. Today, dual core based motherboard require an 8-pin +12V connector to supply their power needs. High end GPU cards have also jumped on the +12V rail, which has required PSU makers to adapt. Where previously there was only a single +12V rail, there are now two or more, each designated to power specific devices in order to ensure that nothing is underpowered.
Now as to why they are called rails – The best explanation that we can find is that the term comes from the wacky world of electronics and it refers to a long metal bar or strip that is used to provide a particular voltage level. Perhaps someone with a deeper understanding of all things electrical could let us know whether or not that is true.
ATX 12V V2.3 Standard
ATX 2.3
2.3 is the current standard and has been the standard as of March 2007. The 2.3 standard calls for an efficiency requirement of a minimum of 65% or greater and a recommended level of 80% or greater. The +5VSB rail has also been increased to 2.5A peak current maximum.
In short, any power supply post 2.0 will do the job for you. The biggest advantage of purchasing a latter standard model would seem to be the increase in efficiency rating.
EPS12V Standard
The EPS12V specification is one of those standards that most people have heard about, but very few know what it actually does. The EPS spec itself is defined in the Intel Server System Infrastructure (SSI) spec and is currently at v2.92.
The EPS12V spec dictates that PSU's must have a 24-pin 12V connector as well as one additional 8-pin 12V connector. If a PSU is noted as EPS12V compliant you can be assured that it will have all the connections you need to power your new dual core based system. However, it should also be noted that units do not necessarily have to meet EPS12V spec to include an 8-pin 12V connector.
Our "What About Them Rails?" section needs a little updating but it'll provide enough current information that it's still useful for the novice hunting for a viable PSU for that monster gamming rig that they're building.
SPECIFICATIONS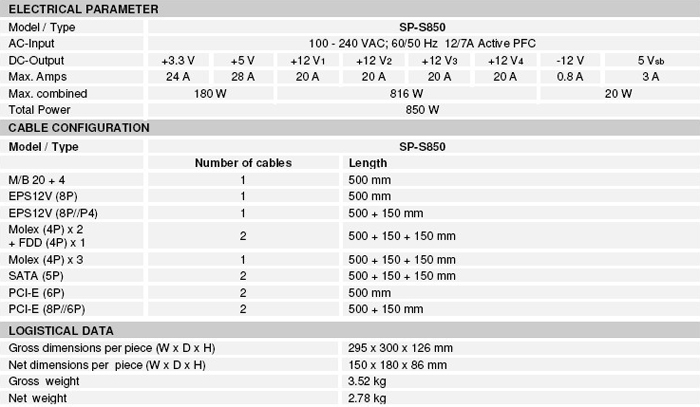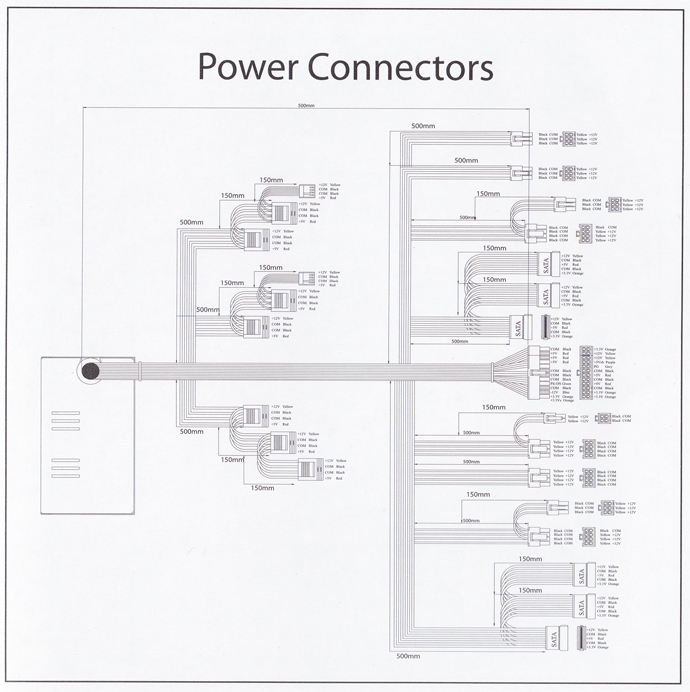 Click on the Power Connectors Diagram to see a larger view
PACKAGING
The SP-S850 came in the requisite cardboard box and was dropped off at my house in pristine condition. In fact, I had never seen a box that looked this good before (unless it was new and still unused at the local cardboard box store). However, upon opening this unmarked and remarkably clean carboard box, I saw what appeared to be something that was packed by the SilverPower mascot, a Silverback Gorilla.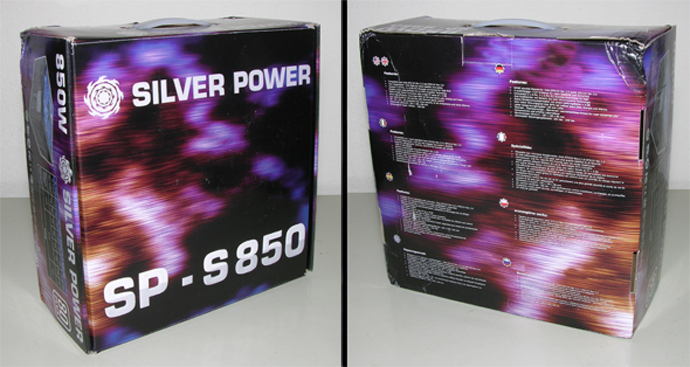 The pretty purple and black SilverPower SP-S850 box itself was all beat to hell. In the pictures above, you can see how the corners really took a beating. Though lightweight, that's one of the pitfalls of using airbags instead of peanuts or paper. There simply wasn't enough filler in the cardboard box to keep the SilverPower box from getting tossed around inside. Luckily, the power supply itself was rather well protected inside the SilverPower box.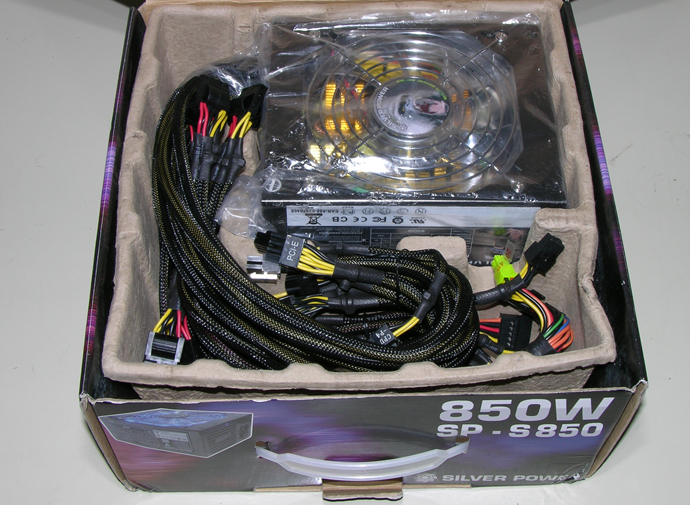 The power supply came nestled inside the SilverPower box in a compartment, tucked cozily in its egg carton material. The PSU itself was wrapped in plastic and its gun metal gray exterior glistened in the light. All the cables were sleeved in black and that's about the only flair to this power supply except maybe the shrieking gorilla logo on the 140mm metal fan grill. 
FIRST LOOK
At first glance, I thought that the unit was small. And I thought it to be rather lightweight. But then again, the last PSU that I had in my hands was a monster 1200 watt Thermaltake that I reviewed some time back (read that review here). Upon closer inspection, I realized that this unit wasn't as light as I thought it to be, and when compared to the PC Power & Cooling Turbo-Cool 510 SLI that it was going to replace, it wasn't that small either.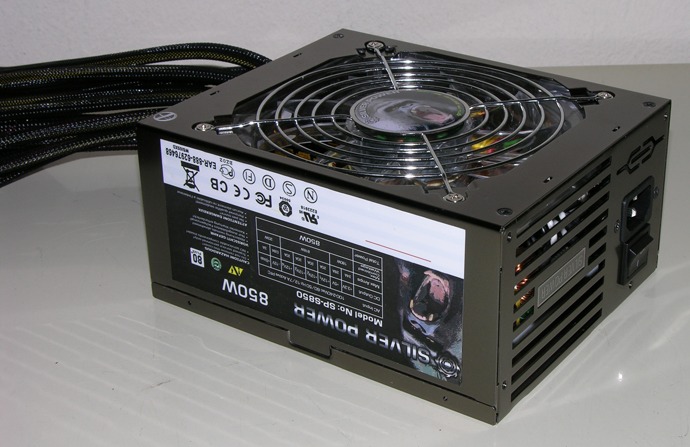 The 140mm metal fan grill mounting is recessed and it sits rather flush with the case. However, the plastic SilverPower gorilla logo in center does protrude a bit. It's a non-issue though. Notice the exhaust vents. They are stamped metal and the SilverPower nameplate in the center blocks airflow, but just by a wee little bit.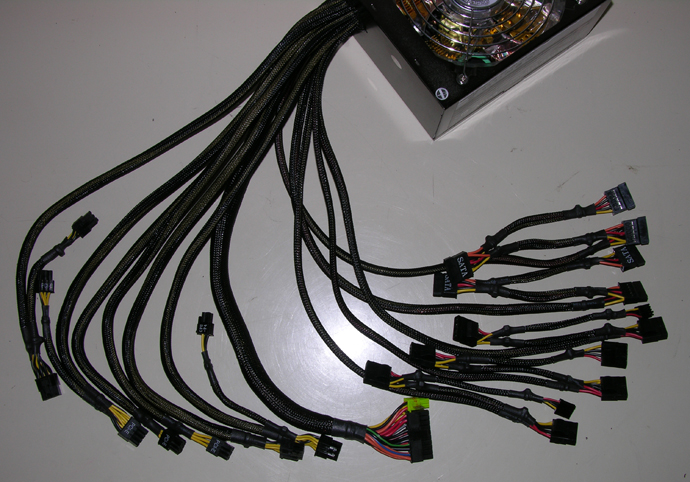 This thing has cables, cables, and more cables. Sadly, this isn't a modular cable PSU and having this many cables has its good points and its bad points. Having this many cables is a really good thing if you can and if you are going to use them all. Having this many cables isn't such a good thing when you can't or you aren't going to use them all. Hiding extra unneeded cables can be problematic, especially in smaller computer cases where extra space is prime real estate.
And now for many that read power supply reviews, this is the money shot. There's nothing like taking a perfectly good PSU and ripping it apart just to see what's inside. I could tell you all what it means, but I seem to have let my IEEE membership expire and I'm not at liberty to discuss the inner workings at this time. Suffice it to say that I can't talk about it and I'm not going to talk about it because I don't want to lose my lodge privileges when reinstated because Tuesday nights are not only Karaoke Night, but we also have Show & Tell on Tuesday nights where we get to oggle and drool over stripped down beauties like this.
TEST SETUP 
My Intel Core 2 Duo E6700 has a stock speed of 2.8GHz but I overclock it to 3.2GHz and it runs pretty stable 24/7. I also fold 24/7 (now with three GPU's; three XFX 9600GT XXX Alpha Dogs). If you don't know what [email protected] is, you can read about it in our forums here. It's for a good cause and we at Bjorn3D.com would welcome your participation. Just remember that we are team #41608. And by the way, if you stop on in at our forum, go ahead and join. It's simple. It's easy. And it's free. We give away prizes (shameless plug).
Test Platform
"Cerberus"
Processor
Intel Core 2 Duo [email protected]
Motherboard
EVGA 780i Model No. 132-CK-NF78-A1
CPU Cooling
Asetek Waterchill Xternal
Memory
2 GB (2 x 1 GB) G.Skill DDR2 800
Drive(s)
2 – Western Digital 120GB SATA
Optical Drive(s)
Plextor DVDR PX-708A
Teac DW-548D
Graphics
(3) XFX Geforce 9600GT XXX Alpha Dog
Sound
Creative Labs Soundblaster Audigy 2 ZS Platinum
Display
Dell 24″ 2405FPW
Case
Super Flower TT201BW
Case Fans
2-80mm Intake
2-80mm Exhaust
1-80mm Side Intake
1-80mm Top Exhaust
Legacy
Floppy Drive
Mouse
Logitech G-7
OS
Windows XP Pro 32-bit
TESTING
Not much has changed in the testing methodology that I use for power supplies and not much has changed in this section from a previous power supply review that I did a while back (Thermaltake Toughpower W0133RU 1200W ). Initial testing on the SilverPower SP-S850 was performed on the workbench using an Extech MN36 Digital Mini MultiMeter and a Rexus PST-3 Digital Power Supply Tester with LCD. The latter is designed with an LCD readout to show you your ATX power voltage. It's a simple tester for switching power supplies and it makes it easy to test the power supply output. It can check both 20-pin and 24-pin power supplies. It can also check 5-pin S-ATA connectors, 4-pin peripheral connectors (Molex), and floppy connectors. But what I like about it the most is that it negates the need for my having to bend a paper clip and and jump pins 13 & 14 on the main connector to make the PSU turn on. It's pretty sweet just for doing that alone. I'm still a wimp when it comes to electrical current coursing through my body. And recently, I've added a digital infrared thermometer to my toolbag for testing.
Testing Equipment
Multimeter
Extech MN36 Digital Mini MultiMeter
LCD Voltage Tester
Rexus PST-3 Digital Power Supply Tester
Thermometer
Micro Temp MT-Pro Digital Infrared Thermometer
Load Meter
P3 International Kill-A-Watt Model #: P4400
Having three video cards on a Windows XP platform provides a unique set of circumstances. To run two cards in SLI mode, you have to disable the third card. If you want to run all three cards, SLI doesn't work. I wanted to draw as much power as I could, so that meant that I needed to have all three video cards working. Unfortunately, 3Dmark06 didn't want to work with two of the three cards folding so I opted for another performance test. Instead of using 3Dmark06, I ran the performance test that's in the game Company of Heroes with the resolution set to 1920 X 1200 and all graphics options set to high. While this test was running on this first GPU, to generate a load on the PC, I was also folding with the two other GPU's, playing a music CD, copying the game disc Call of Duty 4 to a hard drive and as well copying an 18GB file folder from another hard drive to a networked attached storage device, playing a song in Windows Media Player, and I don't know what else. I had a lot going on. When it was all said and done though, what I discovered was that adding the third card back into the fold, so to speak, added another 20-25 watts to the total power consumption. Folding is power!
TEST RESULTS
The current ATX 2.2 specifications allow for the following variation in voltage outputs:
3.3 Volt Rail:   3.135V – 3.465V
5 Volt Rail:      4.75V – 5.25V
12 Volt Rail:   11.4V – 12.6V
SilverPower SP-S850 Power Output Results(V)
Measured With Extech MN36 Digital Mini MultiMeter And
Rexus PST-3 Digital Power Supply Tester

Power Rail
Idle
Idle
3.3v
3.327
3.329
5v
5.03
5.04
12v1
12.19
12.22
12v2
12.19
12.21
12v3
12.19
12.22
12v4
12.18
12.22
5vSB
5.02
5.03
Wattage Used
Idle Power: 285 Watt(± 5%)
Load Power: 444 Watt(± 5%)
 Power Factor Test Results
Power Factor Percentage
Measured with a Kill-A-Watt

Power Supply
Idle
Load
SilverPower SP-S850
0.99
0.99
Temperature Results
PSU Temperature Results
Measured with a IR Thermometer on the internal heatsink

Power Supply
PSU Temp
SilverPower SP-S850
46.9°C

System Temperature  Inside The Case

System
41.7°C

Ambient Room Temperature

Ambient
28.0°C
Note: System temperature and ambient room temperature measured with RadioShack Indoor/Outdoor Wired Thermometer/Hydrometer Model No. 63-1032.
CONCLUSION
I have really mixed feelings about the SP-S850 power supply from SilverPower. On the one hand, it seems to be pretty impressive when it comes to providing power within the ATX 2.2 specifications. Not only did it meet the 5% requirement, but it bested it on all rails by quite a solid margin. Then again, there's them rails. What about them rails? That's where the other hand comes into play, and quite frankly, it's an odd duck.
Though I could not get any official word from MaxPoint (SilverPower's parent company), it appears as though what I've read about this PSU is true. It's not that I doubted someone else's word, it's just that I had to see it for myself to believe it. Though I'm no expert when it comes to electronics (far from it), when I opened up this power supply for a second time, I traced the power cords to the markings on the circuit board. It was late at night and maybe I got it wrong or maybe I just wanted to believe, but it appears that that what I had read was true. There are two rails that handle the EPS12V connectors and just one rail that handles all the PCI-express connectors.
Now I have three video cards that require three of those four connectors, and some may have four video cards that would require them all or they may just have two cards that require all four of those PCI-e connectors. Any way you slice it, that could be a lot of GPU power being consumed on just a 20 amp rail. Luckily, my three video cards only draw 5 amps each (or so I've read). But you have to wonder why SilverPower designed it this way. In reality, not many users will require the two EPS12V motherboard connectors because in reality not that many users have a multiple CPU Intel Skulltrail system. Still, MaxPoint is true to its word. The SilverPower series is (at least in respect to the SP-S850) full range. It's just too bad that two rails are not dedicated to graphics alone. I think that that market is much wider. It just makes sense to me that more enthusiasts are going to have multiple GPU's in their systems than multiple CPU's.
Supporting Skulltrail notwithstanding, the SilverPower SP-S850, at 850 watts, provides plenty of good clean power. After using this PSU on a daily basis 24/7 for three weeks now, I'd say that it's been more than adequate and I'd recommend the SilverPower SP-S850 power supply to anyone (except maybe the most extreme enthusiasts using multiple high-end power hungry GPU's) looking for a good PSU zum günstigen preis (at a low price).
Pros:
+  850 watts of good clean power
+  Active PFC
+  Efficiency rating of 80+
+  Four 6-pin PCI-e connectors
+  Two 8-pin PCI-e connectors
+  Skulltrail ready with (2) P8 connectors
+  Fairly compact case for its output
+  Sleeved cables (and it has cables, cables, and more cables)
+  Cool & Quiet operation using 140mm fan
Cons:
–  Non-modular cable design
–  Extra unused cables may be hard to hide
–  Only two 8-pin PCI-e connectors
–  Power distribution on the rails is a bit odd
The SP-S850 850 watt power supply is a solid entry from newcomer SilverPower that provides plenty of good clean power that hopefully will make its U.S. debut at a nice price.
Final Score: 7 out of 10 and the Bjorn3d.com Seal of Approval