With the hard drive's price dropping, it is easier than ever to carry a large amount of data with you on the go. Simply put a hard drive in an external enclosure and you are ready to go. Today we are going to look at Eagle Tech's 2.5" external enclosure. This stylish enclosure with it's leather padding makes it looks quite professional. Read more and find out if this would be your choice of external enclosure.
INTRODUCTION
It seems to me that I can never find enough storage space. As broadband becomes much more widely available along with the digital media boom, the size of computer files seems to get bigger and bigger every day. That's not to mention that with every review we do, there are lots of pictures taken and these digital pictures need a place to get stored. These documents, digital pictures, music files, movie files, and program files quickly fill any storage space you originally thought would be enough.
The good news is that hard drives are getting cheaper by the day and you can get a TB hard drive (that is 1000MB of storage space) for as cheap as $120 online. The bad news is that carrying around these digital files can sometimes be troublesome. Despite the fact that current USB flash drives have up to a massive 64GB of storage space, they can run out of space pretty quickly if you consider carrying HD contents where a full two hour movie can take up to 25GB of space. This is where external hard drive storage comes into play. Not only does external hard drive based storage offer far larger storage space (up to 500 GB for the 2.5'' and 1.5TB or higher for the 3.5'' hard drives currently), it can also have much better average read time than most flash drives if it uses an eSATA port.
A simple search on any online retailer will show that there is no shortage of external storage manufactures. Many hard drive manufactures, such as Seagate and Western Digital, and third party storage manufactures, such as LaCie and AcomData, have portable storage products. Personally, I prefer to have an enclosure and buy the internal hard drive separately. This allows me to upgrade the hard drive when the need arrives. Also, it allows me to use my older hard drive as a portable storage device.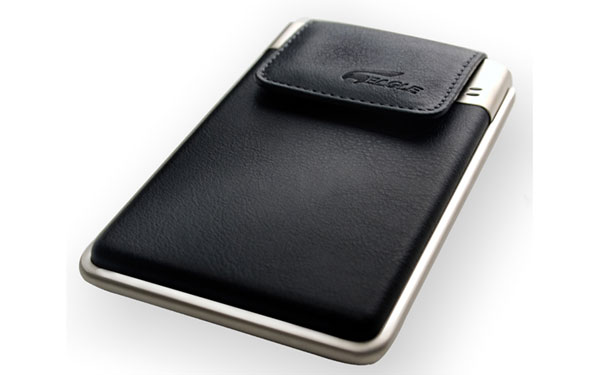 Recently, we have come across a very nice external storage enclosure from Eagle Tech, the ET-CS2LSU2-BK. This is an enclosure that will house a 2.5'' SATA hard drive. It features a USB port and a nice sleek look. Today, we will put this cool-looking enclosure to the test and see if its performance can match its elegant look.
EAGLE TECH
Eagle Tech is a trusted supplier to many Original Equipment Manufacturers. Our extensive experience in manufacturing high quality PC components that meet and exceed customer application requirements has enabled us to grow beyond manufacturing. We are not just a manufacturer, but a high quality technology solutions provider dedicated to the modern computer users market – both mainstream and enthusiast.
We know how important your data is and we strive to provide our customers with reliable power supplies and thermally efficient chassis like external HDD enclosures. We constantly monitor consumer needs to ensure our product lines are always up-to-date with the latest innovations. If there is an easier and safer way to store and access your important data, we will work hard to make it happen for you – at affordable prices, rugged constructions and stylish designs.
Most importantly, everything we do is based on a culture of customer care and trust that makes it an enjoyable and hassle-free experience. We guarantee it!
Eagle ET-CS2LSU2-BK
The Eagle Consus L series is Eagle's external storage enclosure series. The Eagle ET-CS2LSU2-BK (that's a mouthful) is a 2.5'' SATA hard drive enclosure. It will support mobile SATA hard drives. And since current 2.5'' SATA hard drives reach the maximum storage capacity of 500GB, it would mean that you can carry 500GB of data with you in a very small and compact space.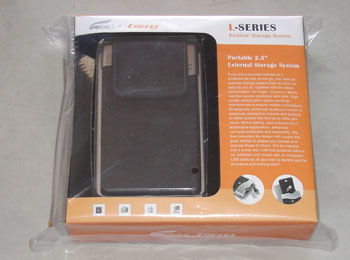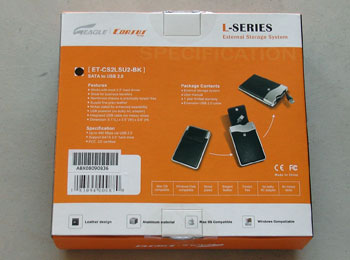 The Eagle Tech ET-CS2LSU2-BK is packaged in a cardboard box with the enclosure clearly visible. To be honest, I do not think the packaging does a good job showing off the enclosure. I would think a clear box maybe a better idea showing off just how thin and small this is. Luckily, you get a few pictures of the enclosure and marketing information on both sides of the box.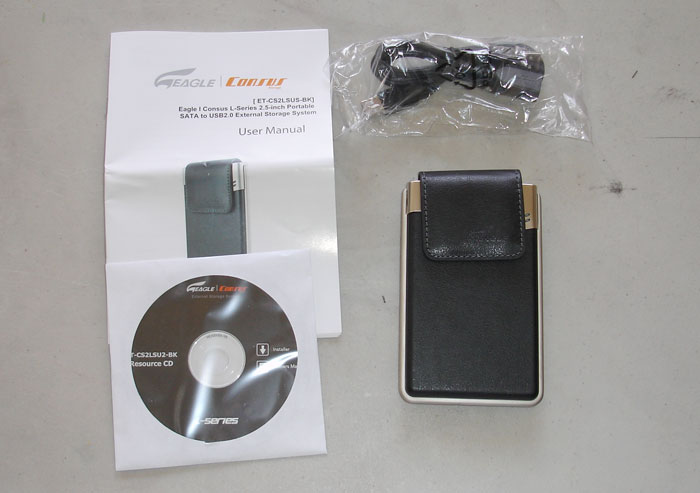 Eagle Tech includes a USB extension cable, a manual, and a driver CD in addition to the enclosure. The 25 page color manual shows the installation guide, setup the hard drive (partitioning and formatting), and general usage of the enclosure and external storage. It is a very nice guide for a first timer who is installing a hard drive. The enclosure will work with Windows 2000 and up, Mac OS 9 or higher, and Linux Operating Systems. No driver is needed if you are using Windows 2000 or higher and Mac OS X but for an older OS, the driver can be found on the CD.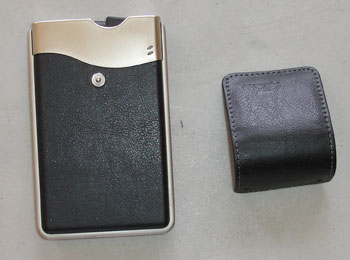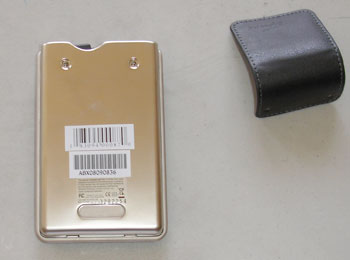 The Eagle 2.5'' enclosure is made with a nickel plated aluminum casing. On the front, there is actually a layer of leather padding to give it an elegant look. Although having a nice looking enclosure will not enhance its functionality or performance, it's never a bad idea to have a cool and elegant looking device, especially if the device is meant to be portable. Imagine putting the enclosure in your suite pocket; it would actually look quite nice. I am sure that most people probably wouldn't guess that it is actually a hard drive enclosure. It could easily be mistaken for a PDA as the picture below shows.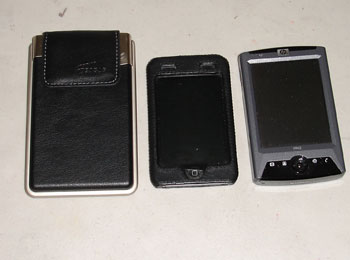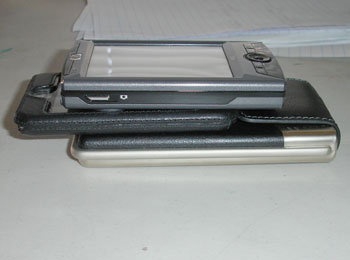 Placing the enclosure next to the iPod Touch, the enclosure is a bit taller and slightly thicker. Next to my old IPAQ RX 3715, it's a tad taller but just as thick. The slim design makes it very portably and easy to handle as well. With the enclosure measures 12.95 cm (L) x 8.89 cm (W) x 1.52 cm (H), you can see just how slim it is.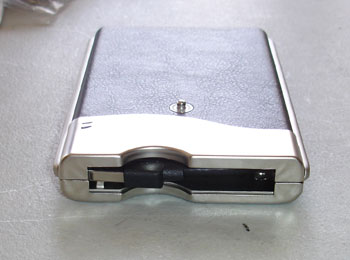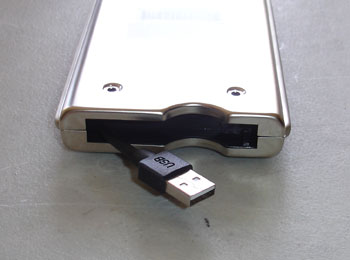 There is a short USB cable attached to the enclosure. The cable is way too short. If you are using a laptop with the enclosure the cable may be okay, but when the enclosure is connected to a desktop, the hard drive will be dangling off the USB port and that is really not a good idea. I would recommend Eagle Tech incorporate a slightly longer and a retractable cable for easy usage on the road. Of course, you can always use the included USB extension cable to hook up to the computer.
Eagle Tech has included a leader cover for the included USB cable. The cover will clip onto the front of the drive and hide the USB cable. Very nice. With the fold-over leather cover, the connector will be hidden and when it is needed, simply lift the cover up and use the connector.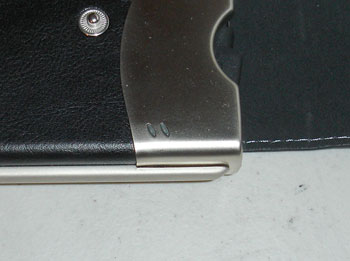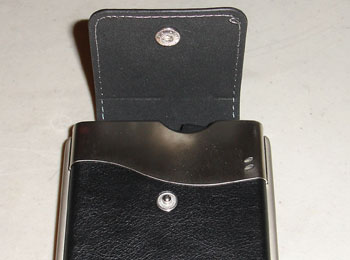 An LED indicator for the HD activity and another one for power are on the front of the enclosure. I really appreciate Eagle Tech putting these lights on the enclosure. When the drive is in use, the light will blinks so you will know it's not a good idea to unhook the drive. Nothing really to see on the back except a big piece of the aluminum metal.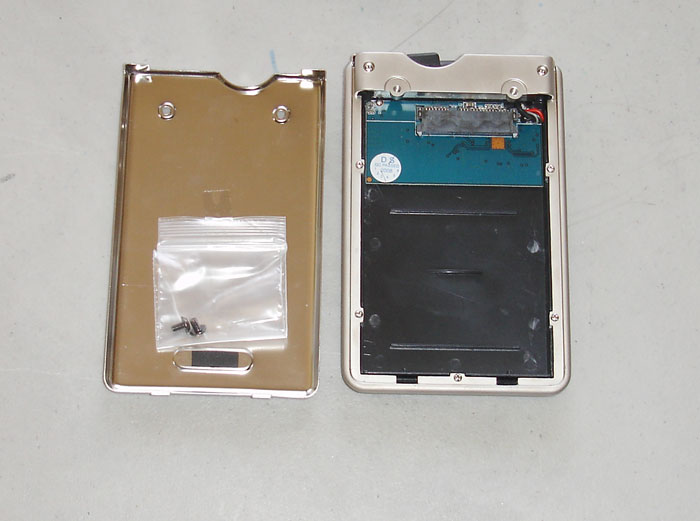 Not much to see inside of the enclosure either, except a small PCB board with the SATA connector. AS you can see from the picture above, there is a small bag with two screws to be used to screw the leather cap to the back of the enclosure.
FEATURES
Patented built-in USB cable
Eliminates power adapter and data cable
Supple fine grain leather
Nickel plated solid steel
Plug-n-Play USB 2.0
Virtualization software by VMWare (30 day trial)
Usage: Easy add-on storage for mobile users
SPECIFICATION
Type: External drive enclosure
Form Factor: 2.5"
Hard Drive Compatibility: 320GB
Internal Interface: SATA I/II
External Interface: Hi-speed USB 2.0
Data Transfer Rate: 480Mbps
Power Source: USB powered
Power Input: 5V DC
Certification: FCC, CE Certified and RoHS compliant
O.S. Required: Microsoft Win98SE/Vista/ME/2000/XP Mac OS 9.0 or higher Linux
Dimension: 5.1 x 3.2 x 0.6 inch
Weight: 0.9 lbs
INSTALLATION AND IMPRESSIONS
Installation is very easy with the enclosure. If you are not familiar with hard drive installation, I would suggest you check out Eagle Tech's video (link). I think anyone who knows how to use a screwdriver should not have any issue installing the hard drive to the enclosure.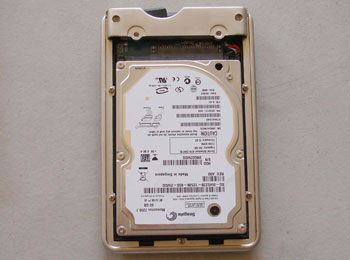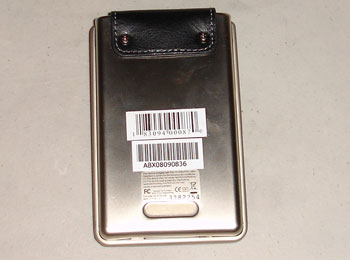 Simply align the 2.5'' SATA hard drive to the internal PCB board's SATA power and data connector. Afterwards, close the top cover and screw the leather cover to the back of the enclosure. That's it. The whole process is probably less than 10 minutes. Be sure to align the leather cover hole with the screw holes on the back so you will screw the cover to the back of the enclosure. One thing to note, two and half inch SATA hard drives come in different thicknesses. The hard drive that was used in the test (Seagate ST96023AS) has the thickness of 10mm and I had no issue installing it.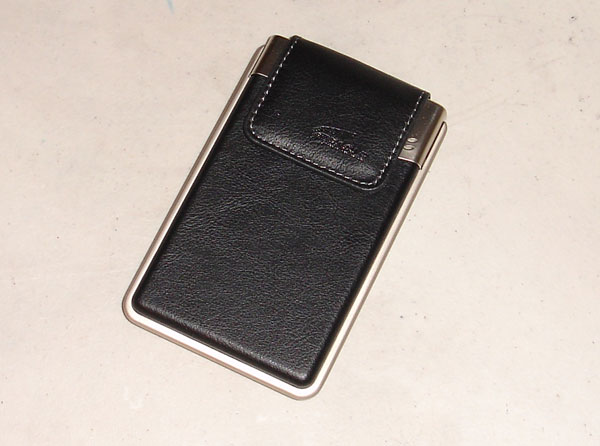 There is a small issue I found with the enclosure. As you can see from the image below, the bottom of the back cover has a small dent. As a result, it does not fit into the top cover evenly so there is a little gap on the left side of the enclosure. I can still screw the enclosure with a bit of force as the screw is a bit off-center. This does not affect the enclosure's functionality whatsoever.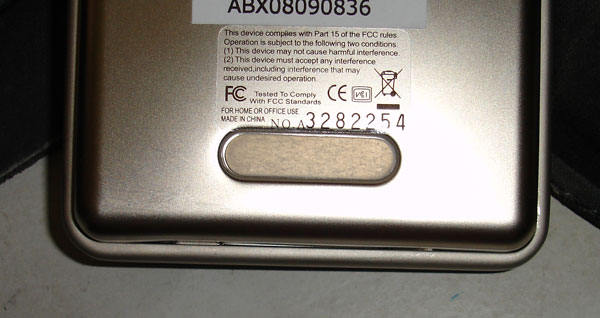 A couple other things that bother me a bit are the way the hard drive is being installed without any screws to secure it and the lack of any anti-vibration mechanism. Since the hard drive is being held by the plastic casing and the SATA connector rather than screws, I am a bit uneasy as to how secure the hard drive is going to be. It is probably not going to be a big deal but I prefer to have a more secure way to hold the hard drive as it is quite sensitive to movements. Also, there enclosure lacks any anti-shock or vibration mechanism or padding to protect the hard drive. Although most 2.5'' hard drives have an internal anti-shock/vibration mechanism, it would still be a good idea to have some sort of padding to protection for the hard drive in case it was dropped.
Another small issue I have with the enclosure is the fact it wobbles slightly. Because of the fact two screws are used to secure the enclosure and the leather cover, the enclosure will be slanted when it is placed on its back. As a result, it will wobble a little bit because the screws may not be fastened evenly. Even if the screws are fastened evenly, the enclosure will still be slightly slanted due to the extra piece of the leather on the back. I would suggest Eagle Tech place four rubber feet on the back of the enclosure so it will stay even when it's placed on its back.
Overall, the enclosure is fairly well-designed and has an elegant look despite small flaws.
TESTING
System Configuration

Processor

Intel E6600 Core 2 Duo

Motherboard

EVGA nForce 680i SLI (BIOS P30)

Memory

Team Group TXDD2048M800HC4DC-D

Hard Drive

Seagate Barracuda Barracuda 7200.10 SATA ST3400620AS (16MB cache) 

 Western Digital WD2500KS-00MJB0 SATA (16MB cache)

Graphics Cards

Foxconn 8600 GTS

Sound Card

Creative X-FI

Operating System

Windows XP SP2
The test is conducted with the Seagate ST96023AS (60GB, 7200 rpm, 8MB cache) hard drive installed in the Eagle Tech ET-CS2LSU20BK. In addition, we threw in a few extra SATA and IDE enclosures we have in our lab. For the SATA enclosure (ICY DOCK MB633UR-1S), we used the same 2.5" SATA hard drive but for the IDE enclosure (MB448UR), we paired it with the Toshiba 8026GAX (80GB, 5400rpm, 16MB cache). Do keep in mind that the result is highly dependable with the hard drive that is used.
RESULT
HD Tach
| | | | | | | |
| --- | --- | --- | --- | --- | --- | --- |
| Feature/Specification | Eagle Tech ET-CS2LSU2-BK |  ICY DOCK MB663UR-1S with Seagate ST96023AS (internal) | ICY DOCK MB663UR-1S with Seagate ST96023AS (external) |  ICY DOCK MB448UR with Toshiba 8026GAX (internal) |  ICY DOCK MB448UR with Toshiba 8026GAX (external) | SanDisk Curzer Micro (512 MB) |
| Burst Speed | 35.2 MB/S | 37.5 MB/s | 35.4 MB/s | 35.1 MB/s | 35.1 MB/s | 10.7 MB/s  |
| Average Read | 33.2 MB/S | 33.3 MB/s | 33.3 MB/s | 29.6 MB/s |  29.5 MB/s |  9.9 MB/s |
| Random Access | 15.3 ms | 15.2 ms | 15.2 ms | 18.2 ms |  18.3 ms |  10.3 ms |
| CPU Usage  | 4% | 5% | 4% | 5% |  3% |  2% |
It is obvious that any hard drive based storage should have better transfer rate than the flashed based (with the exception of random access time). We can see that the Eagle Tech's enclosure performs fairly similar to the ICY Dock enclosures we have reviewed. In fact, most of these enclosures really perform fairly similar to each other regardless of the type of controller or chip. What sets them apart usually are the aesthetic, portability, and the efficiency at cooling the hard drives. We will take a look at how efficient the Eagle Tech's enclosure is at keeping our hard drive cool.
TEMPERATURE 
To test the cooling, we ran the hard drive continuously for approximately 10 minutes. Initially, the hard drive would be idling at around 30°C. After 10 minutes of continuous use, the temperature would climb up to 53°C during hot mid-day. What is a bit troubling for me is that the temperature will stay at 51°C after the hard drive has been left idling for awhile. This strongly indicates that the enclosure may not be able to effectively dissipate the heat generated by the hard drive. The plastic casing surrounding the hard drive may have prevented the heat from dissipating through the top of the case and as a result, only the bottom of the enclosure was able to help to cool the hard drive. Since heat is the worst enemy hard drives, it may not be the best idea to use the enclosure in a hot environment. This enclosure may work best in an office environment with air-conditioning to keep it running cool.
CONCLUSION
Here at Bjorn3D we have tested many enclosures over the years. Almost all the enclosure we have tested do the job they are supposed to do: house the hard drives, achieve a decent transfer rate, and keep the hard drive running cool. The Eagle 2.5'' SATA USB enclosure is probably one of the few that I have tested which steps beyond this functionality by incorporating a sleek design that looks professional and eye-catching.
Believe me, I am more of a guy with functionality and features in mind but I have to say I really liked the looks of this enclosure. The leather finish on the top is really nice and the covered USB cable (albeit a bit short) sure will come in handy. The only major flaws that I can find with the Eagle Tech ET-CS2LSU2-BK are probably its slight inefficiency at keeping the hard drive cool and the minor dent at the bottom of the enclosure that results in a small gap on the bottom of the enclosure. Other than that, it is a great looking product that does its job well. Just be sure that you keep it out of hot places.
Pros:
+  Very sleek looking
+  Easy installation
+  Leather cover for the USB cable
+  HD activity and power indicator
+  Detailed guide
+  USB cable is attached to the enclosure
Cons:
–  No anti-vibration mechanism or shock resistant mechanism
–  Short cable
–  Hard drive runs a bit hot
–  A better way to secure the hard drive would be appreciated
The Eagle Tech ET-CS2LSU2-BK will receive a score of 8.5 out of 10  (Good) for its elegant and professional look.