Just when you think GPU's have topped out on speed along comes the Palit Raedon HD 4870X2 to change your perception of speed.
INTRODUCTION
With games ramping up their requirements and with the never-ending needs of enthusiasts on the rise, it seems like everyone is looking for a more powerful GPU that offers speed they need now, and that little extra "umph" for future proofing. Others are just looking for blazing fast frame rates with immersive graphics, while a select few are looking not only for blazing graphics performance, but a world record class GPU.
ATI has released the Radeon 4870 line which is a very capable GPU that the average enthusiast would be content with. Then they upped the ante with the Radeon HD 4870X2; currently the most powerful single card GPU in the world. Not that it's a single GPU, but in fact it's two GPU's married on one PCB.
We've got it for you to gander at, and we're gonna drive it like we stole it. So sit back, and hold on to your seats!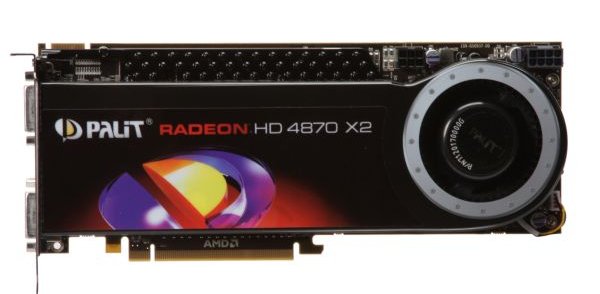 About Palit
Palit Multimedia Inc. provides a wide range of industry-leading graphics cards to North and Latin America with a focus on service, support and innovative products. Palit Multimedia is affiliated with Palit Microsystems, a world-leading supplier in the design, manufacture, and distribution of PC graphics accelerators which was established in 1988. Palit is well positioned to maintain an industry leadership due to the vast array of NVIDIA® and AMD's ATI® graphics products and on-going development efforts.
FEATURES & SPECIFICATIONS
GPU Comparison Table
Here's a graphic that show some of the hottest GPU's around so you can get a perspective of the changes from GPU to GPU, ATI to NVIDIA.
Major GPU Specifications
GPU
HD 3870 X2
9800 GX2
Palit 4870X2
GTX 260
BFG GTX 260 MaxCore
GTX 280
HD 4850
HD 4870
GPU frequency
825 MHz
600 MHz
750 MHz
576 MHz
655 MHz
602 MHz
625 MHz
750 MHz
ALU frequency
825 MHz
1500 MHz
750 MHz
1242 MHz
1404 MHz
1296 MHz
625 MHz
750 MHz
Memory frequency
900 MHz
1000 MHz
900 MHz
999 MHz
1125 MHz
1107 MHz
993MHz
900MHz
Memory bus width
2×256 bits
2×256 bits
2×256 bits
448 bits
448 bits
512 bits
256 bits
256 bits
Memory type
GDDR3
GDDR3
GDDR5
GDDR3
GDDR3
GDDR3
GDDR3
GDDR5
Memory quantity
2 x 512 MB
2 x 512 MB
2 x 1024 MB
896 MB
896 MB
1024 MB
512 MB
512 MB
Number of ALUs
640
256
128
192
216
240
800
800
Number of texture units
32
128
80
64
72
80
40
40
Number of ROPs
32
32
32
28
28
32
16
16
Shading power
1 TFlop
1152 GFlops
2.4 TFlops
715 GFlops
824 GFlops
933 GFlops
1 TFlop
1.2 TFlops
Memory bandwidth
115.2 GB/s
128 GB/s
115.2 GB/s (x2
111.9 GB/s
126.0 GB/s
141.7 GB/s
31.78 GB/s
115.2 GB/s
Number of transistors
1334 mil
1010 mil
956 mil X 2
1400 mil
1400 mil
1400 mil
965 mil
965 mil
Process
55nm
65nm
55nm
65nm
65nm
65nm
55nm
55nm
Die surface area
2 x 196 mm²
2 x 324 mm²
2 x 260 mm²
576 mm²
576 mm²
576 mm²
260mm²
260mm²
Generation
2008
2008
2008
2008
2008
2008
2008
2008
Shader Model supported
4.0
4.0
4.1
4.0
4.0
4.0
4.1
4.1
Feature & Specifications
Microsoft DirectX 10.1 support
Shader Model 4.1
32-bit floating point texture filtering
Indexed cube map arrays
Independent blend modes per render target
Pixel coverage sample masking
Read/write multi-sample surfaces with shaders
Gather4 texture fetching
Unified Superscalar Shader Architecture
800 stream processing units
Dynamic load balancing and resource allocation for vertex, geometry, and pixel shaders
Common instruction set and texture unit access supported for all types of shaders
Dedicated branch execution units and texture address processors
128-bit floating point precision for all operations
Command processor for reduced CPU overhead
Shader instruction and constant caches
Up to 160 texture fetches per clock cycle
Up to 128 textures per pixel
Fully associative multi-level texture cache design
DXTC and 3Dc+ texture compression
High resolution texture support (up to 8192 x 8192)
Fully associative texture Z/stencil cache designs
Double-sided hierarchical Z/stencil buffer
Early Z test, Re-Z, Z Range optimization, and Fast Z Clear
Lossless Z & stencil compression (up to 128:1)
Lossless color compression (up to 8:1)
8 render targets (MRTs) with anti-aliasing support
Physics processing support
Dynamic Geometry Acceleration
High performance vertex cache
Programmable tessellation unit
Accelerated geometry shader path for geometry amplification
Memory read/write cache for improved stream output performance
Anti-aliasing features
Multi-sample anti-aliasing (2, 4 or 8 samples per pixel)
Up to 24x Custom Filter Anti-Aliasing (CFAA) for improved quality
Adaptive super-sampling and multi-sampling
Gamma correct
Super AA (ATI CrossFireX configurations only)
All anti-aliasing features compatible with HDR rendering
Texture Filtering Features
2x/4x/8x/16x high quality adaptive anisotropic filtering modes (up to 128 taps per pixel)
128-bit floating point HDR texture filtering
sRGB filtering (gamma/degamma)
Percentage Closer Filtering (PCF)
Depth & stencil texture (DST) format support
Shared exponent HDR (RGBE 9:9:9:5) texture format support
OpenGL 2.0 support
Advanced power management technology for optimal performance and power savings
Performance-on-Demand
Constantly monitors GPU activity, dynamically adjusting clocks and voltage based on user scenario
Clock and memory speed throttling
Voltage switching
Dynamic clock gating
Central thermal management – on-chip sensor monitors GPU temperature and triggers thermal actions as required
Two Independent Display Controllers
Drive two displays simultaneously with independent resolutions, refresh rates, color controls and video overlays for each display
Full 30-bit display processing
Programmable piecewise linear gamma correction, color correction, and color space conversion
Spatial/temporal dithering provides 30-bit color quality on 24-bit and 18-bit displays
High quality pre- and post-scaling engines, with underscan support for all display outputs
Content-adaptive de-flicker filtering for interlaced displays
Fast, glitch-free mode switching
Hardware cursor
Two Integrated DVI Display Outputs
Primary supports 18-, 24-, and 30-bit digital displays at all resolutions up to 1920×1200 (single-link DVI) or 2560×1600 (dual-link DVI)
Secondary supports 18-, 24-, and 30-bit digital displays at all resolutions up to 1920×1200 (single-link DVI only)3
Each includes a dual-link HDCP encoder with on-chip key storage for high resolution playback of protected content4
Two integrated 400MHz 30-bit RAMDACs
Each supports analog displays connected by VGA at all resolutions up to 2048×15363
DisplayPort Output Support
Supports 24- and 30-bit displays at all resolutions up to 2560×16003
HDMI Output Support (Non Standardized)
Supports all display resolutions up to 1920×10803
Integrated HD audio controller with up to 2 channel 48 kHz stereo or multi-channel (7.1) AC3 enabling a plug-and-play cable-less audio solution
Integrated AMD Xilleon HDTV encoder
Provides high quality analog TV output (component/S-video/composite)
Supports SDTV and HDTV resolutions
Underscan and overscan compensation
MPEG-2, MPEG-4, DivX, WMV9, VC-1, and H.264/AVC encoding and transcoding
Seamless integration of pixel shaders with video in real time
VGA mode support on all display outputs
ATI CrossFireX Multi-GPU Technology
Scale up rendering performance and image quality with two GPUs
Integrated compositing engine
High performance dual channel bridge interconnect
ATI Avivo Video Post Processor
New enhanced DVD upconversion to HD new!
New automatic and dynamic contrast adjustment new!
Color space conversion
Chroma subsampling format conversion
Horizontal and vertical scaling
Gamma correction
Advanced vector adaptive per-pixel de-interlacing
De-blocking and noise reduction filtering
Detail enhancement
Inverse telecine (2:2 and 3:2 pull-down correction)
Bad edit correction
Full score in HQV (SD) and HQV (HD) video quality benchmarks
ATI Avivo HD Video and Display Platform
2nd generation Unified Video Decoder (UVD 2)
Enabling hardware decode acceleration of H.264, VC-1 and MPEG-2
Dual stream playback (or Picture-in-picture)
Hardware MPEG-1, and DivX video decode acceleration
Motion compensation and IDCT
PICTURES & IMPRESSIONS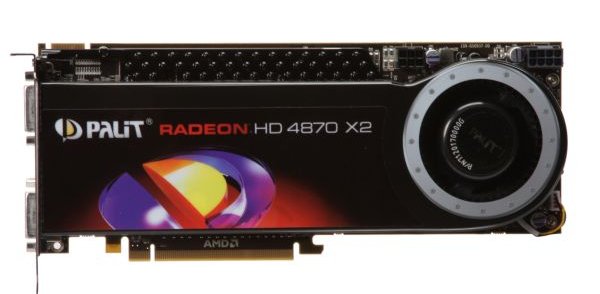 Just looking at the Palit Radeon HD 4870X2 you can tell you're not looking at your Dad's GPU. When you first get it out of the box the sheer weight of it will give you a moments thought about hanging it sideways in your chassis. We had no problem getting it in our chassis (Thermaltake Armor) after we got it off the test station, but if you have one of those small mid towers I'd think twice.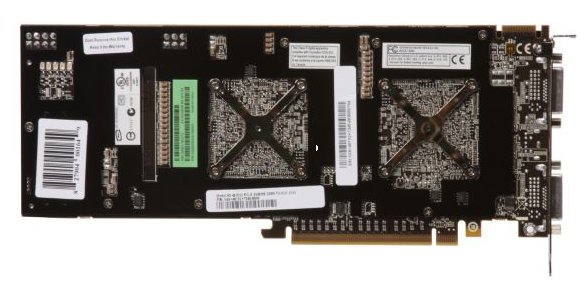 Taking a look at the back of the GPU you can see where the two physical cores are, and more stickers than any GPU of this magnitude should have to suffer.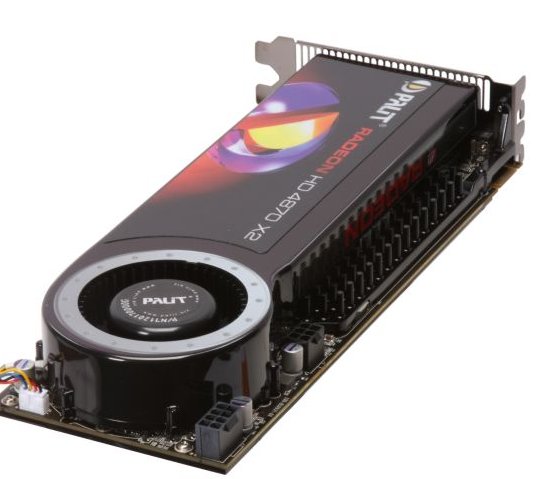 That's a manly looking GPU if you ask us, not one of those single slot models that make the E-Ego feleing deflated. Carry that bad boy into a LAN party inside a windowed chassis and they'll know you're serious about your gaming.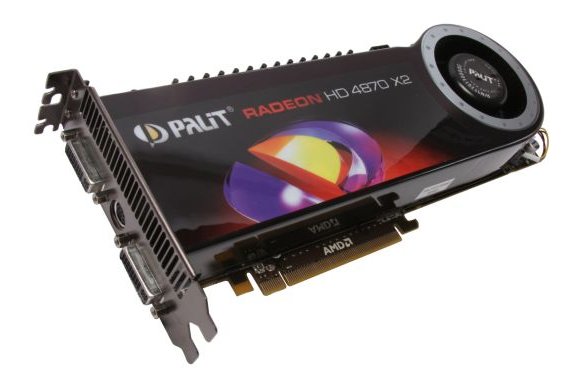 At that angle the GPU looks more like weapon than a graphics adapter. It's a little reminiscent of a shoulder fired LAW (Light Anti-Tank Weapon).

Looking at the end of the GPU we see the same dual slot arrangement we've been accustomed to since the 8800GTX series came out.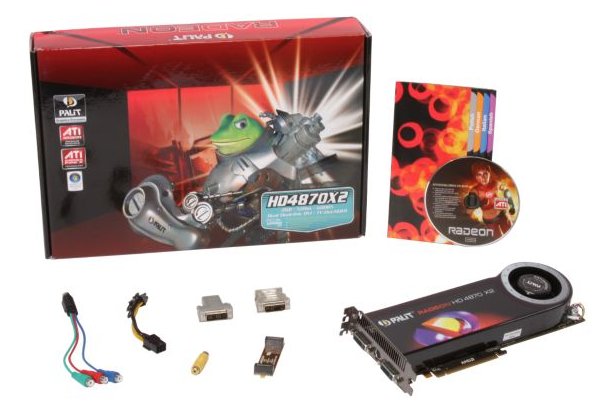 The bundle has all the needed hardware for you to get up and running, but any time we see a major GPU without a full game title we still cringe. In the bundle you'll find:
1 – Manual
1 – Driver Disk
1 – DVI to HDMI Adapter
1 – Crossfire Bridge
1 – S-Video to Composite Adapter
1 – DVI to VGA Adapter
1 – 8 to 6 pin power adapter
TESTING & METHODOLOGY
We did a fresh load of Vista 64 with all the latest drivers and patches applied on our test rig for the Palit Raedon HD 4870X2. We ran all the tests at least three times and the average of the test results are reported here. Testing on the games was done in DX10 if they supported it, otherwise they were tested in DX9.
Test Rig
Test Rig
"Quadzilla"
Case Type
Thermaltake Armor
CPU
Unknown
Motherboard
Unknown
Ram
Samsung DDR3 1066 3GB
CPU Cooler
Swiftech MCP655 Pump
Swiftech Apogee GT CPU Water Block
Swiftech Micro Res
Swiftech MCR320 360mm Radiator
3 Yate Loon 120mm 12v Fans 83CFM
Hard Drives
Intel 80 GB SSD
Optical
Sony DVD R/W
GPU's Tested
Palit Radeon HD 4870X2 Drivers Catalyst 8.10
BFG GTX-260 OCX @ 655/1125 Drivers – Vista 180.42
Sapphire HD 4870 @ 750/900 Drivers – Catalyst 8.10
Sapphire Toxic HD 4850 @ 675/1100 Drivers – Catalyst 8.10
Leadtek GTX-260 @ 576/999 Drivers Vista 180.14
Case Fans
Two 120mm Thermaltake Front/Rear Push/Pull
250mm Side fan
90mm Rear Exhaust
90mm Top Exhaus
Docking Stations
Tagan IB290 W/Deskstar 2 1/2 Inch 80 Gig Sata 2
Tagan IB390 W/Maxtor 160 Gig Sata 2
Thermaltake BlackX USB W/Seagate 80 Gig Sata 2
Testing PSUs
Thermaltake Toughpower 1K
Thermaltake VGA Express 650 Watt
Legacy
Floppy Drive
Mouse
Razer Lachesis
Keyboard
Razer Lycosa
Gaming Headset
Razer Piranha
Speakers
Logitech Dolby 5.1
Any Attempt Copy This System Configuration May Lead to Bankrupcy
Synthetic Benchmarks & Games
Synthetic Benchmarks & Games
3DMark06 v. 1.10
3DMark Vantage
Company of Heroes v. 1.71
Crysis v. 1.2
World in Conflict Demo
F.E.A.R. v 1.08
Far Cry 2
3DMARK06 V. 1.1.0

3DMark06 developed by Futuremark, is a synthetic benchmark used for universal testing of all graphics solutions. 3DMark06 features HDR rendering, complex HDR post processing, dynamic soft shadows for all objects, water shader with HDR refraction, HDR reflection, depth fog and Gerstner wave functions, realistic sky model with cloud blending, and approximately 5.4 million triangles and 8.8 million vertices; to name just a few. The measurement unit "3DMark" is intended to give a normalized mean for comparing different GPU/VPUs. It has been accepted as both a standard and a mandatory benchmark throughout the gaming world for measuring performance.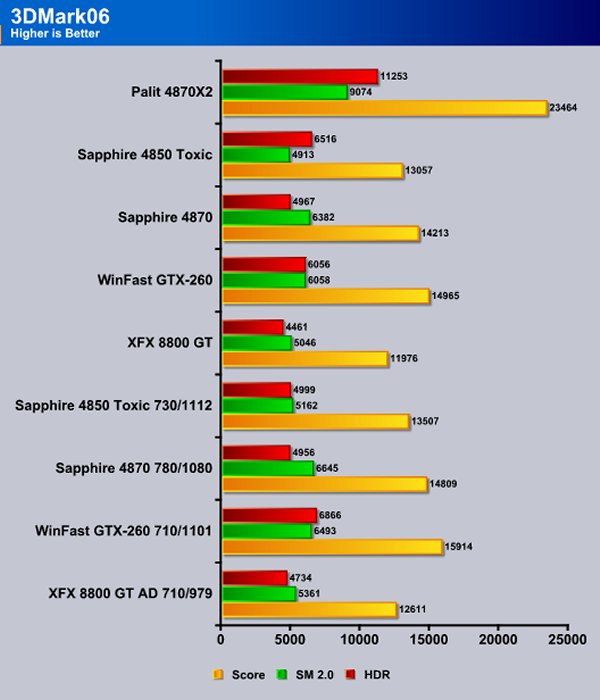 Even with the other GPU's overclocked as far as they would go, the Palit Raedon HD 4870X2 literally decimates the competition. It came in almost 7500 points better than the closest competitor. This might be a synthetic benchmark, but that shows the true power of the 4870X2.
WORLD IN CONFLICT DEMO

World in Conflict is a real-time tactical video game developed by the Swedish video game company Massive Entertainment, and published by Sierra Entertainment for Windows PC. The game was released in September of 2007.
The game is set in 1989 during the social, political, and economic collapse of the Soviet Union. However, the title postulates an alternate history scenario where the Soviet Union pursued a course of war to remain in power.
World in Conflict has superb graphics, is extremely GPU intensive, and has built-in benchmarks. Sounds like benchmark material to us!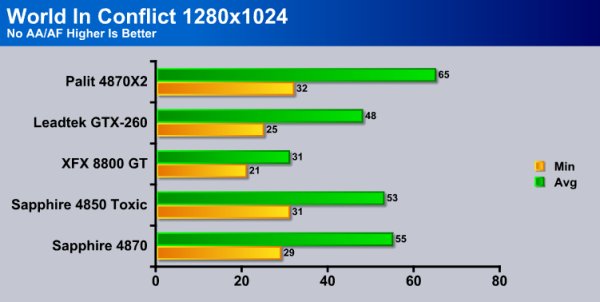 WIC 1280×1024 No AA/AF DX10

At 1280×1024 the Palit 4870X2 edged out the competition in minimum frames, and soundly took the lead on average frames per second.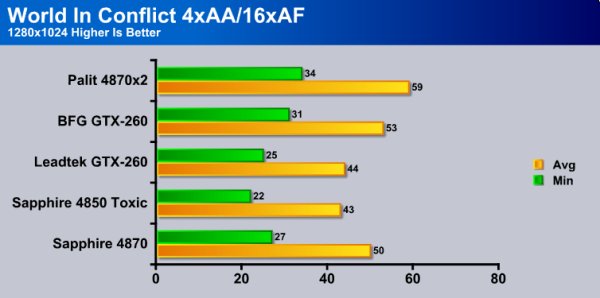 WIC 1280×1024 4xAA/16xAF DX10

Turning AA/AF up to 4xAA and 16xAF the Palit 4870×2 pulled a little farther ahead at this resolution.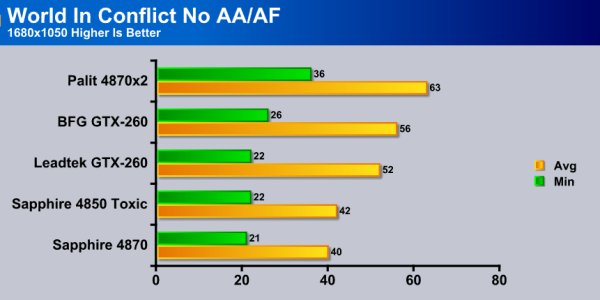 WIC 1680×1050 No AA/AF DX10
When we move to 1680×1050 the true power of the 4870X2 begins to show in WIC. It's the only card tested that stays above the magical 30 FPS that makes games look rock solid to the human eye.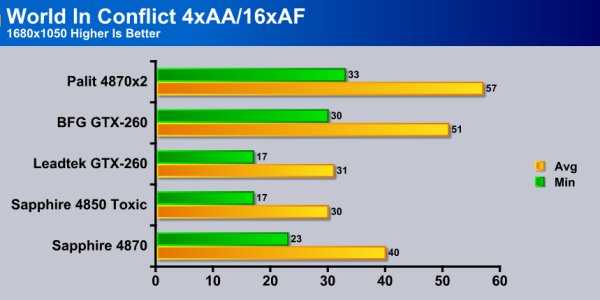 WIC 1680×1050 4xAA/16xAF DX10

Cranking up the AA/AF at this resolution, the other cards were starting to show visable hesitation and stuttering, but the Palit 4870X2 just kept churning out respectable frames.
FEAR V. 1.08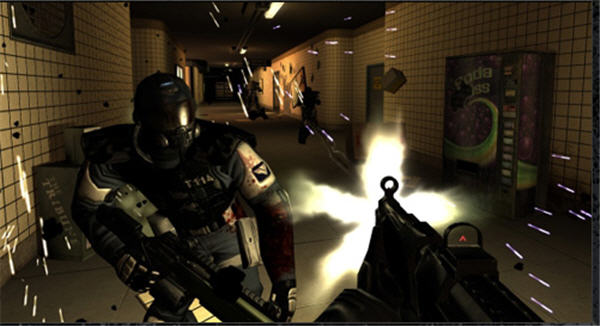 F.E.A.R. (First Encounter Assault Recon) is a first-person shooter game developed by Monolith Productions and was released in October of 2005 for Windows. F.E.A.R. is one of the most resource intensive games in the FPS genre of games ever to be released. The game contains an integrated performance test that can be run to determine your system's performance based on the graphical options you have chosen. The beauty of the performance test is that it gives maximum, average, and minimum frames per second rates. F.E.A.R. is a great benchmark, and one heck of a FPS.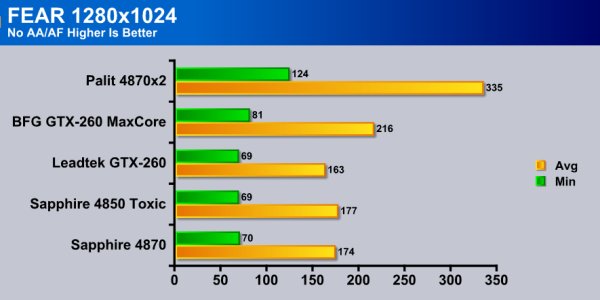 FEAR 1280×1024 No AA/AF
Once again, we see the Palit Radeon HD 4870X2 dominating the field in FEAR at 1280×1024 with no AA/AF.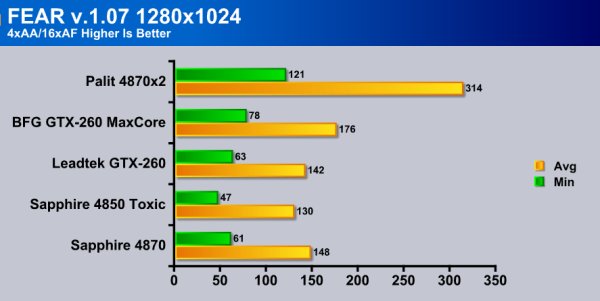 FEAR 1280×1024 4xAA/16xAF
Cranking the AA/AF up to the usual levels, the other GPU's struggled but the 4870X2 was throwing FPS at an unbelievable rate. If that kind of lead in a real life game doesn't impress you, then you need to lay of the medication.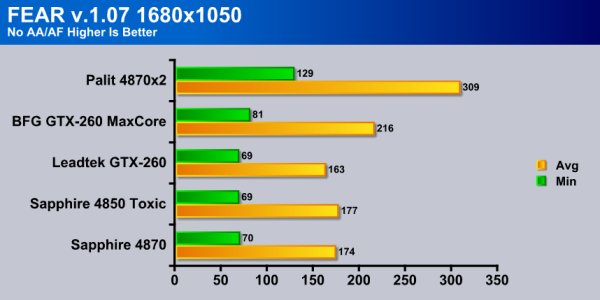 FEAR 1680×1050 No AA/AF
When we moved to 1680×1050 the 4870X2 picked up a few frames on minimum frames rates, almost like it was laughing at the added strain placed on it. The numbers held true at this resolution and the competition was scurrying to keep up.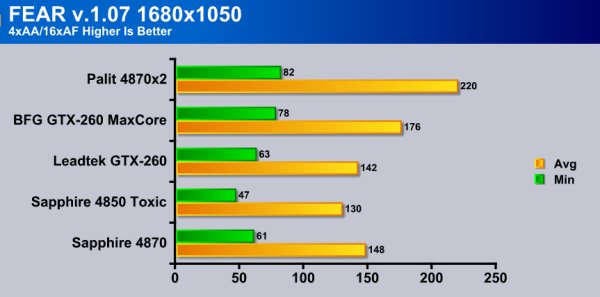 FEAR 1680×1050 4xAA/16xAF
When we applied AA/AF, the Palit 4870X2 still took the field but not by quite as much as we expected, so we re-ran the test a few times and confirmed the results.
COMPANY OF HEROES V. 1.71

Company of Heroes (COH) is a Real Time Strategy (RTS) game for the PC, announced in April, 2005. It is developed by the Canadian based company, Relic Entertainment, and published by THQ. COH is an excellent game that is incredibly demanding on system resources, thus making it an excellent benchmark. Like F.E.A.R., the game contains an integrated performance test that can be run to determine your system's performance based on the graphical options you have chosen. It uses the same multi-staged performance ratings as does the F.E.A.R. test, letting the games benchmark handle the chore takes the human factor out of the equation and ensures that each run of the test is exactly the same producing more reliable results.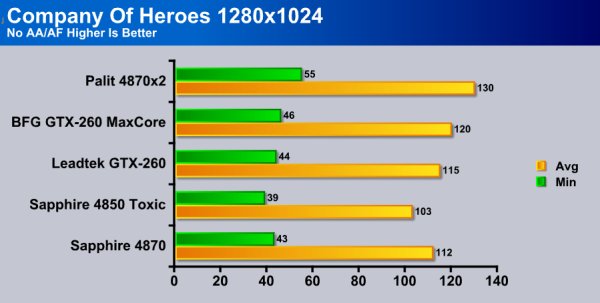 COH 1280×1024 No AA/AF
By this time we were seeing a pattern. So far, in every test, synthetic and otherwise, the Palit 4870X2 was in the lead and we expect it to stay there.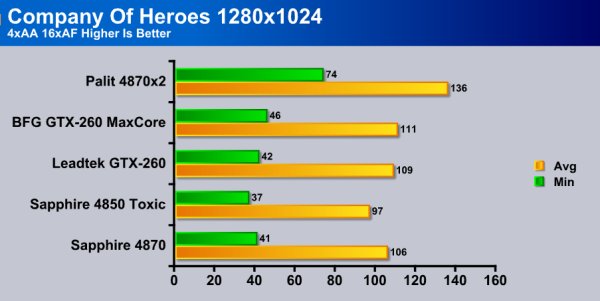 Turning AA/AF on to our normal testing levels the 4870X2 gave a much more acceptable performance.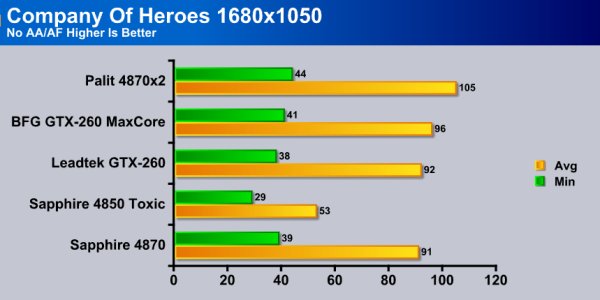 COH 1680×1050 NO AA/AF
Moving to the 1680×1050 testing, the 4870X2 still took the field, but not by quite as large a margin.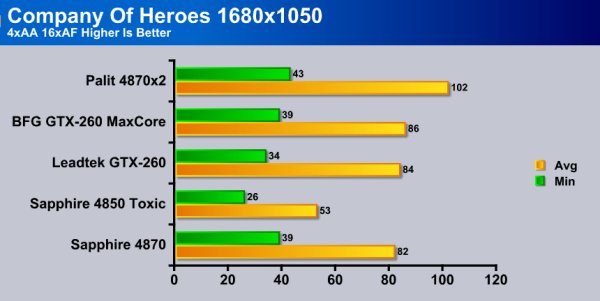 COH 1680×1050 4xAA/16xAF
The 4870X2 still chucks out more FPS at the higher resolution with AA/AF enabled. Pretty good for a DX10 test result.
CRYSIS V. 1.2.1

Crysis is the most highly anticipated game to hit the market in the last several years. Crysis is based on the CryENGINE™ 2 developed by Crytek. The CryENGINE™ 2 offers real time editing, bump mapping, dynamic lights, network system, integrated physics system, shaders, shadows, and a dynamic music system, just to name a few of the state-of-the-art features that are incorporated into Crysis. As one might expect with this number of features, the game is extremely demanding of system resources, especially the GPU. We expect Crysis to be a primary gaming benchmark for many years to come.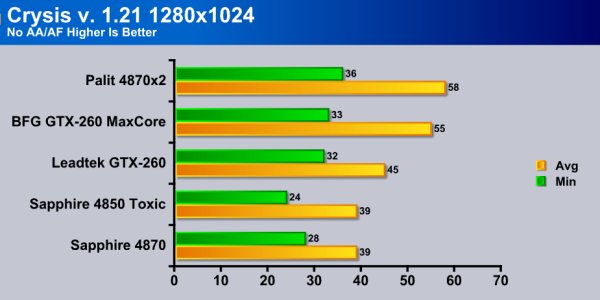 Crysis 1280×1024 No AA/AF
Crysis is a hard nut to crack, but at this resolution the palit 4870X2 did a good job of cracking it.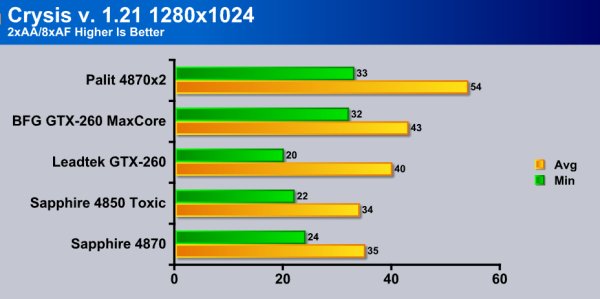 Crysis 1280×1024 2xAA/8xAF
Even when we cranked on as much AA/AF as we dared, it still did a good job of handling it.
Crysis 1680×1050 No AA/AF
We moved to 1680×1050 expecting Crysis to eat the 4870X2 for lunch, but suprisingly it held its own.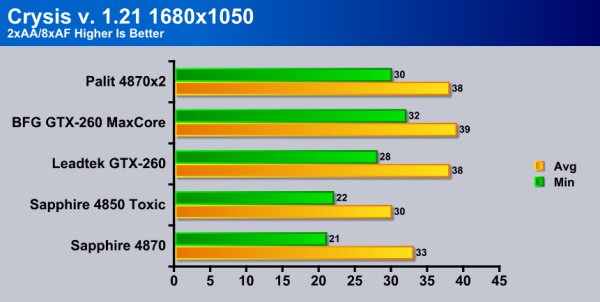 Crysis 1680×1050 2xAA/8xAF
When we got to 1680×1050 and saw the 4870X2 being beaten by the BFG GTX-260 Maxcore, we already understood that Crysis despises Crossfire and multi-GPU single PCB cards, so we don't attribute the lagging performance to the 4870X2, but rather the lack of optimization on the Crysis team's part. In all fairness though, maintaining 30 FPS minimum with all settings maxed out and AA/AF speaks a lot for the performance of the 4870X2.
3DMark Vantage

For complete information on 3DMark Vantage Please follow this Link: www.futuremark.com/benchmarks/3dmarkvantage/features/
The newest video benchmark from the gang at Futuremark. This utility is still a synthetic benchmark, but one that more closely reflects real world gaming performance. While it is not a perfect replacement for actual game benchmarks, it has its uses. We tested our cards at the 'Performance' setting.
Currently, there is a lot of controversy surrounding NVIDIA's use of a PhysX driver for its 9800 GTX and GTX 200 series cards, thereby putting the ATI 4850 Toxic and 4870 at a disadvantage. Whereby installing the PyhsX driver, 3DMark Vantage uses the GPU to perform PhysX calculations during a CPU test, and this is where things get a bit gray. If you look at the Driver Approval Policy for 3DMark Vantage it states; "Based on the specification and design of the CPU tests, GPU make, type or driver version may not have a significant effect on the results of either of the CPU tests as indicated in Section 7.3 of the 3DMark Vantage specification and white paper." Did NVIDIA cheat by having the GPU handle the PhysX calculations or are they perfectly within their right since they own Ageia and all their IP? I think this point will quickly become moot once Futuremark releases an update to the test. For now we will show the GPU and CPU score and let you judge.
Discounting the CPU performance that is boosted by PhysiX and relying on the GPU score alone seems more fair to us. Given that limitation, the Palit 4870X2 comes in 5002 points ahead in the somewhat point stingy benchmark. That's about 33% better performance than the closest competitor. Given the weight we put on the 3Dmarks benchmarks, you can bet that's going to help the 4870X2's final score significantly.
TEMPERATURES & POWER CONSUMPTION
Temperatures
We tested the Palit Radeon HD 4870X2 temperatures idling at the desktop with no applications running that would utilize the GPU beyond the normal programs that load at boot. To test it at Load we ran 3Dmark Vantage looping for 30 minutes then recorded the temperatures. Keep in mind this is in a well ventilated chassis. If you don't have a well vented case your temperatures will be higher.
Palit 4870×2 Temperatures Core 1
Idle Core 1
Load Core 1
Idle Fan 50% Core 1
Load Fan 50% Core 1
72°C
98°C
53°C
82°C
Palit 4870×2 Temperatures Core 2
Idle Core 2
Load Core 2
Idle Fan 50% Core 2
Load Fan 50% Core 2
67°C
85°C
50°C
69°C
Knowing that a dual GPU, single PCB card was going to run hot, we weren't surprised to see the 4870X2 reach 98°C under load conditions. What did surprise us was the amount it cooled down with a static fan setting of 50% in ATI Overdrive. With the fan set to 50%, the hottest the core reached was 85°C, which we could live with because inside the chassis the fan was almost silent. We did increase the fan beyond 50% and it was livable at 75%, but beyond that you'd have to be a hardcore enthusiast to live with the noise for more than benchmarking.
Power Consumption
To get the power consumption we idled the computer at the desktop with no un-needed background tasks running on the CPU or GPU. Load testing was done with 3DMark Vantage looping for 30 minutes then the temperature was recorded. We repeated the test three times with a 30 minute cool down time between each test.
GPU Power Consumption
GPU
Idle
Load
Leadtek GTX-260
211 Watts
299 Watts
Sapphire Toxic HD 4850
183 Watts
275 Watts
Sapphire HD 4870
207 Watts
298 Watts
Palit HD 4870×2
267 Watts
447 Watts
Total System Power Consumption
As expected, it takes a little more power to drive a dual GPU, but in our opinion the extra performance more than warrants the power requirement increase. Compared to running in SLI or Crossfire, the power consumption is similar. If you're looking at a dual GPU single PCB card you should be expecting increased power usage.
CONCLUSION
We were quite pleased with the performance of the Palit Radeon HD 4870X2! It churns out FPS like no other card we've tested, and does it consistently. We didn't discover any driver glitches or experience any problems with the GPU whatsoever. The 4870X2 tore up the synthetic benchmarks and scored well ahead of every GPU we had to throw against it.
We even ran it in TriFire with another 4870 and it was well behaved in CrossFire. We ran it on all our standard testing games and a few others (FarCry and Deadspace) and it ran well in all the games we tested. We kicked the fan up to 50%, which was almost silent, and temperatures were more than acceptable for a dual GPU single PCB card.
Other than being a little warm for our tastes and being a little pricey, we didn't find anything else we didn't like about it. If you're looking at this caliber GPU for your rig though, price probably isn't your largest concern.
If it came down to it and we were stuck on that mythical Desert Island and could only have one GPU, it would have to be the Palit Radeon HD 4870X2.
Pros:
+  Great Performance
+  Trifire and Quadfire Ready
+  30 FPS In Crysis WITH AA/AF On
+  Sexy
+  Unmatched in Synthetics and Games (OK Crysis by 1 Frame Phhhhht)
+  Design Doesn't Block Sata Ports
+  Good Power Consumption For A Dual Card
+  Well Behaved
+  Multiple Geekgasms
Cons:
–  Runs Hot
–  A Little Expensive For Some Mere Mortals
The Palit Raedon HD 4870X2 is the fastest GPU we've ever tested. Driving it to it's fullest capacity in DX10 on some of the most demanding games, it never failed to deliver blazing fast performance.
With the performance Palit Radeon HD 4870X2 offers, and being the fastest GPU we've ever tested, we have to give it:
Final Score of 9 out of 10 and the Golden Bear Award.