When the Intel Integrated Memory Controllers in the new Nehalem chip make their entry into the market, DDR3 will come of age and be all the rage. Crucial Ballistix Tracers anyone?
INTRODUCTION
Let's face it, DDR2 memory, while it's been a reliable product, is getting a little long in the tooth. Many of us have been looking to DDR3 for the next evolution of DDR. When the new Intel processors arrive, if you want to drive one of those bad boys, DDR3 is your only option. Though it took a while for DDR2 to be accepted and fully utilized, DDR3 is on a little faster track. When the Intel Integrated Memory Controllers in the new Nehalem chip make their entry into the market, DDR3 will come of age and be all the rage.
While rumors abound about voltage limitations on the new Intel chip, many are looking to lower and mid-range DDR3 as a solution. We're going to take a look at a Crucial Ballistix Tracers 4 Gigabit kit of DDR3 1333 and see if we can get a glimpse into the near future.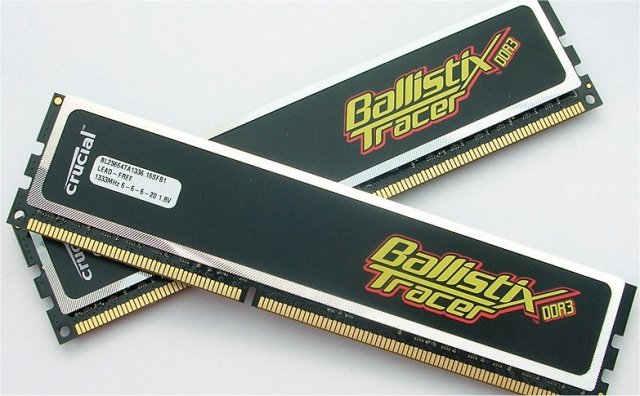 About Crucial
At Lexar Media, we know what's important.

A wholly owned subsidiary of Micron Technology, Inc., Lexar Media, Inc. boasts one of the most comprehensive offerings of memory product lines in the industry. We deliver high-quality, award-winning products in every memory category: USB flash drives, all popular form factors of memory cards and card readers, DRAM computer memory for PCs and Mac systems, and solid state drives (SSD). We back our products with outstanding customer support and industry-leading warranties, and we strive to expand our offerings to meet the ever-changing needs of our customers — customers just like you.

The Lexar brand has long been synonymous with reliable, high-performance products, which is reflected in the award-wining memory products and USB flash drives sold under the Lexar name.

Our Crucial brand reflects our status as the only consumer memory upgrade supplier that's part of a major DRAM manufacturer. We sell high-quality memory that has been qualified and approved by most major original equipment manufacturers (OEMs). The Crucial.com website features innovative online tools and an intuitive design that makes it easy to find compatible memory and recommended upgrades. And because we carry over 280,000 upgrades for more than 40,000 systems, we've got options for nearly every system out there.

Lexar Media has more than 10 years experience in the memory industry. Our strong retail brands, along with our direct online and OEM presence, make Lexar Media a global player in every major customer channel, including value-added resellers, system builders, and e-commerce. And we've built a name synonymous with quality, innovation, and customer service.

Lexar Media. If it's important to you, it's safe with us.
SPECIFICATIONS
Module Size: 4GB kit (2GBx2)
Package: Ballistix Tracer 240-pin DIMM (with LEDs)
Feature: DDR3 PC3-10600
Timings 6-6-6-20 1.8v
Unbuffered
NON-ECC
WHAT ARE BALLISTIX TRACERS?
What is Ballistix Tracer memory? Ballistix Tracer memory is specifically built for performance enthusiasts and case modders who want to push the performance envelope while adding flash appeal to their boxes. The Ballistix line of high-performance memory modules features advanced speed grades, low latencies, and integrated aluminum heat spreaders. Ballistix Tracer memory features a black PCB, black integrated heat spreaders, and one or two rows of eight "chasing" red and green LEDs atop the module, circulating in a random pattern based on memory utilization. A custom-designed circuit relays bus activity to the LEDs, allowing them to accurately reflect usage of each memory module. In addition, eight blue ground effects LEDs emit a constant glow near the pins.
What is a Ballistix Tracer 240-pin DIMM?
A Ballistix Tracer dual inline memory module (DIMM) consists of a number of memory components that are attached to a black printed circuit board. The gold pins on the bottom of the DIMM provide a connection between the module and a socket on a larger printed circuit board. The pins on the front and back of a DIMM are not connected to each other.
Ballistix Tracer 240-pin DIMMs are used to provide DDR2 SDRAM memory for desktop computers. DDR2 is a leading-edge generation of memory with an improved architecture that allows it to transmit data very fast. Ballistix Tracer 240-pin DIMMs are available in DDR2 PC2-5300 (DDR2 667), SDRAM, DDR2 PC2-6400 (DDR2 800), and DDR2 PC2-8500 (DDR2 1066).
To use DDR2 memory, your system motherboard must have 240-pin DIMM slots and a DDR2-enabled chipset. A DDR2 SDRAM DIMM will not fit into a standard SDRAM DIMM socket or a DDR DIMM socket. (Information about which memory technology your system uses is included in the Crucial Memory Advisor™ tool.)
PICTURES & IMPRESSIONS
 

Crucial has gone with their typical space saving package we've become accustomed to. We've come to like that form of packaging because it seems to protect the ram a little better than a hang card.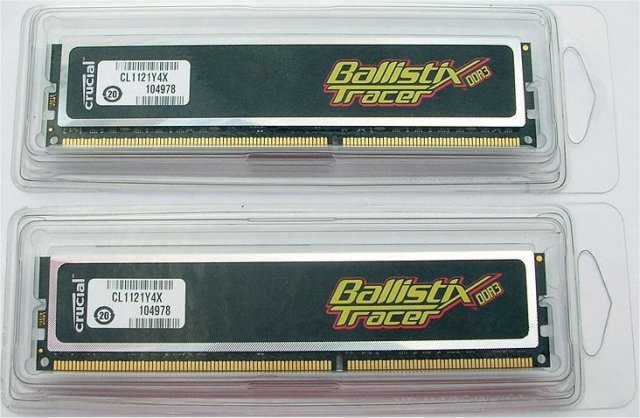 Each stick of the Crucial Ballistix Tracers has it's own individual clamshell and they're stacked on each other inside the cardboard holder. As usual, about all you get are the timings and voltages that the ram will run on a little sticker. If you need further assistance you'll have to visit the website.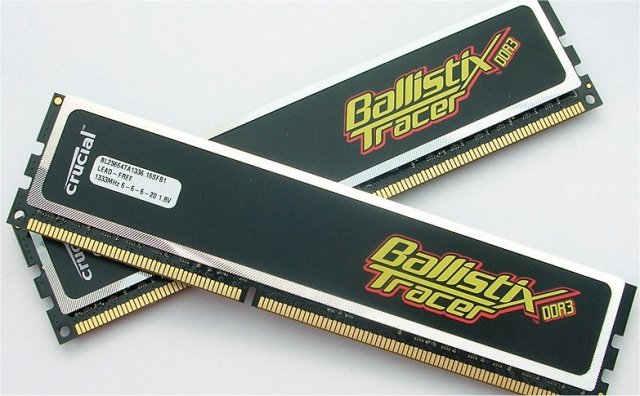 Ballistix makes some of the easiest to use ram and with their Tracer line and they managed to make it look really sweet. This set has a full length line of LED's that get active when the memory is being used. It also has blue LED's along the bottom of the ram to light up the slot. We have to say they look really sweet inside the chassis.

The little white modules you can see under the edge are the LED array, but laying there on the bench doesn't do them justice.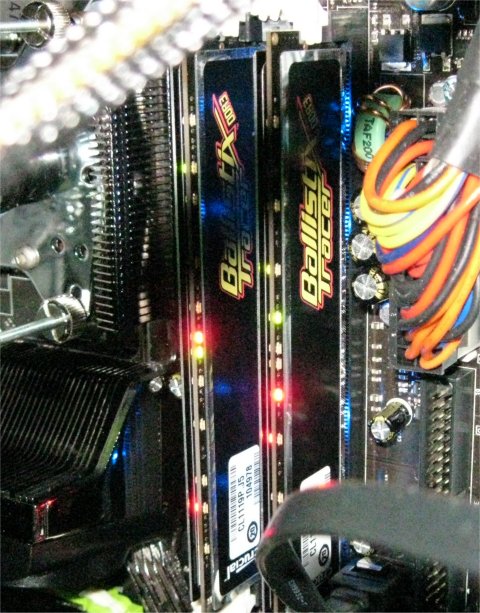 There's a shot of the Tracers using the camera's flash, showing that you can still see the LED lighting even in bright lighting conditions.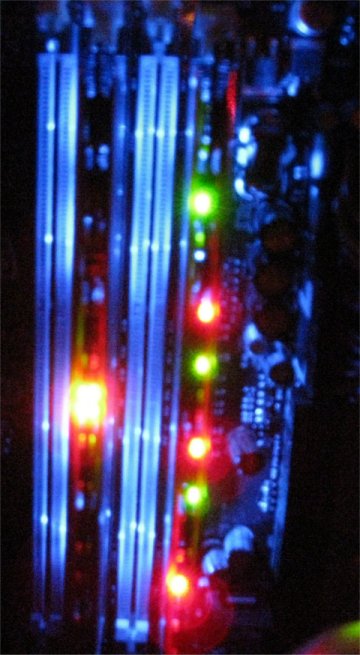 Then, there they are in all their lighted glory. Looks pretty good in there on the 790i platform we tested on, doesn't it?
TESTING & METHODOLOGY
We tested the Crucial Ballastix Tracers DDR3 1333 on our EVGA 790i platform. A fresh install of Vista Ultimate 64 SP1 was done and all updated drivers and patches were applied. All tests were run a total of three times and the average reported. We ran the kit for 10 full runs on Memtest86+ prior to testing and found no errors on the kit. We also ran the kit for 7 days prior to testing to get a feel for it and to give it a little break in time.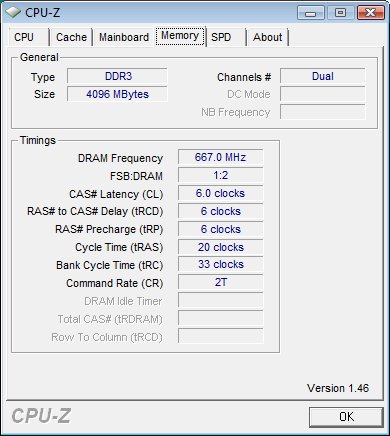 Taking a look at the Tracers on CPU-Z, you can see we were able to run them at the rated speeds and timings with no problems. The modules were almost plug and play. We did have to adjust the timings manually.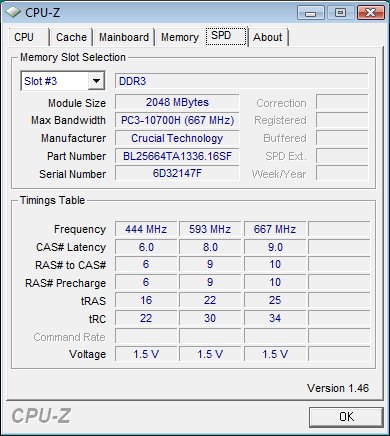 Strangely enough, CPU-Z doesn't even show a profile for the recommended settings. We just went with the 6-6-6-20 and 1.8v listed on the modules themselves and had no problems.
Test Rig
Test Rig
"Quadzilla"
Case Type
Thermaltake Armor ESA
CPU
Intel Q6600 @ 3.6Ghz,  1.4875 vcore
Motherboard
EVGA 790i
Ram
Crucial Ballistix DDR3 1333
OCZ DDR3 2000 MHz
CPU Cooler
Swiftech DIY Watercooling
Hard Drives
WD 250 Gig Sata 2
Two Maxtor 160 Gig Sata2
Optical
Sony DVD R/W
GPU
BFG GTX-260 OCX MaxCore
Case Fans
Two 120mm Thermaltake Front/Rear Push/Pull
250mm Side fan
90mm Rear Exhaust
90mm Top Exhaus
Docking Stations
Tagan IB290 W/Deskstar 2 1/2 Inch 80 Gig Sata 2
Tagan IB390 W/Maxtor 160 Gig Sata 2
Thermaltake BlackX USB W/Seagate 80 Gig Sata 2
Testing PSU
Thermaltake Toughpower 850 ESA Modular
Legacy
Floppy Drive
Mouse
Razer Lachesis
Keyboard
Razer Lycosa
Gaming Headset
Razer Piranha
Speakers
Logitec Dolby 5.1
Any Attempt Copy This System Configuration May Lead to Bankrupcy
SANDRA
Sisoft SANDRA 12 Professional SP2a
"SiSoftware Sandra (the System ANalyser, Diagnostic and Reporting Assistant) is an information & diagnostic utility. It should provide most of the information (including undocumented) you need to know about your hardware, software and other devices whether hardware or software. It works along the lines of other Windows utilities, however it tries to go beyond them and show you more of what's really going on. Giving the user the ability to draw comparisons at both a high and low-level. You can get information about the CPU, chipset, video adapter, ports, printers, sound card, memory, network, Windows internals, AGP, PCI, PCI-X, PCIe (PCI Express), database, USB, USB2, 1394/Firewire, etc."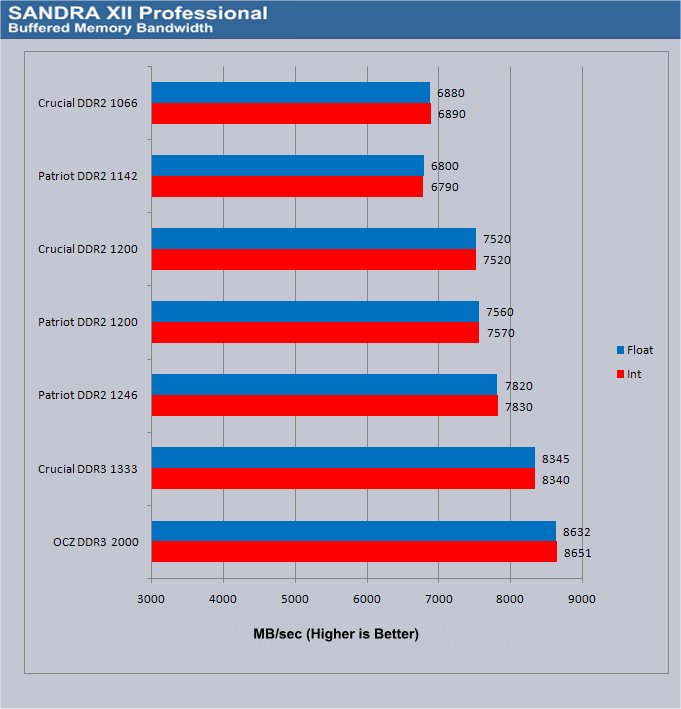 In Sandra's Memory Bandwidth test the Crucial out performed all the kits we tested with the exception of the much more expensive OCZ DDR3 2000 kit. Price to performance wise, we'd have to say the Crucial kit took the field here. With the Crucial kit we were up and running full speed and beyond in a matter of minutes.  With the OCZ kit they ran Plug and Play at a lower speed however, we spent about five hours just getting them to run at their rated speed and timings. Previously we did get the kit of OCZ DDR3 2000 to run faster, up in the 9000+ MB/s range, but during retesting we couldn't afford to spend that much time tuning them again. We don't know about you, but ease of use goes a long way with us.
SUPERPI & EVEREST
SuperPi
SuperPi is the standard many enthusiasts go by to determine the performance of that monster rig they've built. We ran the 1MB and 2MB calculations in our testing. We ran the calculations three times and reported the average of the three runs.
SuperPi is used by most computer enthusiasts to test the performance and stability of their computers. In the overclocking community, it provides a benchmark for enthusiasts to compare "world record" pi calculation times and to demonstrate their overclocking abilities. The program can also be used to test the stability of a certain overclock speed. If a computer is able to calculate PI to the 32 millionth place after the decimal without mistake, it is considered to be moderately stable in terms of RAM and CPU. However, longer tests with other CPU/RAM intensive calculation programs will run for hours instead of minutes and may better stress system stability.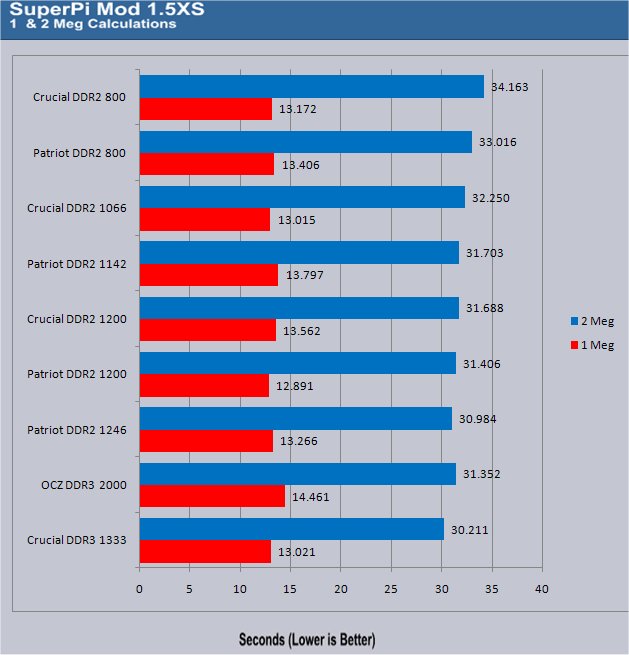 We were quite surprised and pleased with the SuperPi results. The 6-6-6-20 timings on the Crucial Ballistix out performed the OCZ DDR3 2000 kit that runs at 9-9-9-24. That should tell you a lot about RAM speed VS looser timings.
Everest Ultimate
"EVEREST Ultimate Edition is an industry leading system diagnostics and benchmarking solution for enthusiasts PC users, based on the award-winning EVEREST Technology. During system optimizations and tweaking it provides essential system and overclock information, advanced hardware monitoring and diagnostics capabilities to check the effects of the applied settings. CPU, FPU and memory benchmarks are available to measure the actual system performance and compare it to previous states or other systems. Furthermore, complete software, operating system and security information makes EVEREST Ultimate Edition a comprehensive system diagnostics tool that offers a total of 100 pages of information about your PC."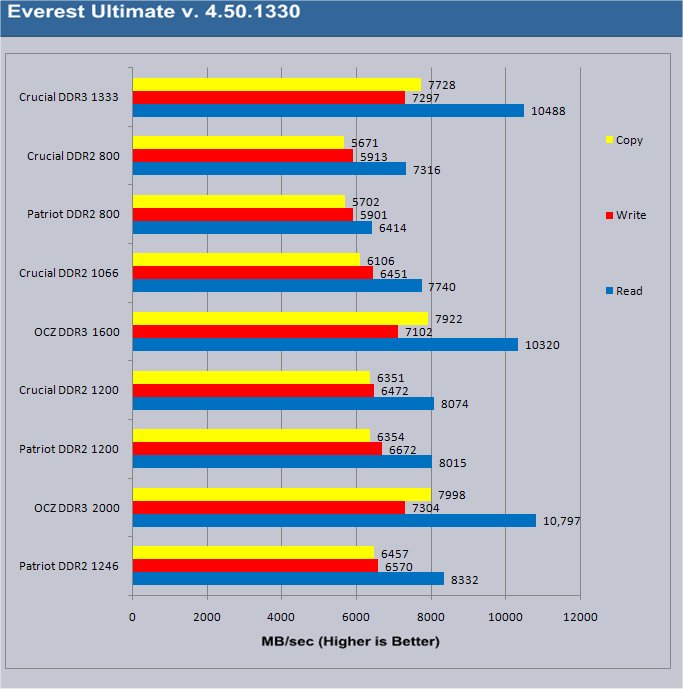 The Crucial Ballistix Tracers held their own in Everest. The sheer speed of the OCZ DDR3 2000 kit out performed them by a hair, but again price performance wise the Crucial still has the edge. The 2 Gig kit of OCZ DDR3 costs more than the 4 Gig kit of Crucial.
WINRAR & CRYSIS
WinRar
This module in WinRar generates random data, which contains specially introduced redundancy, increasing the load to both the processor and memory. Data is then passed through RAR compression and decompression algorithms, and output of the decompression algorithm is compared to the source data. If any differences are found, WinRAR then reports "Errors found – Yes" in the command window. WinRAR displays the size of processed data and compression speed, current and resulting, in kilobytes per second.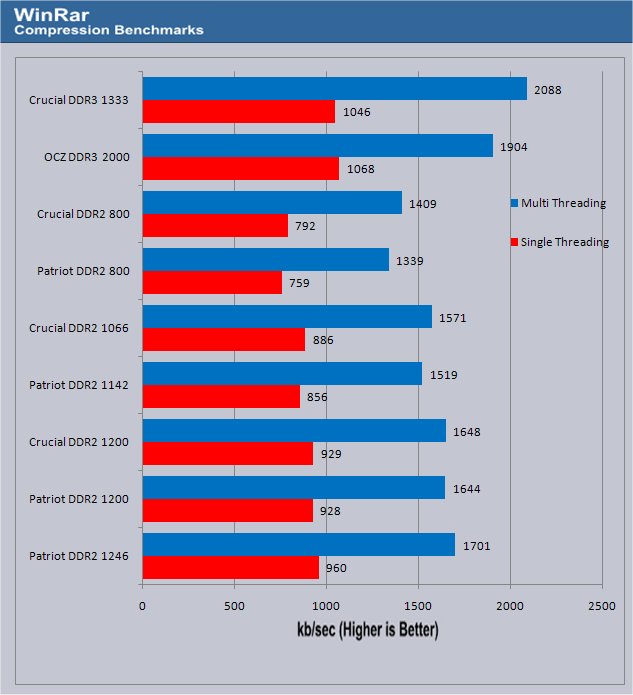 Once again, the tighter timings on the Crucial kit drove it to take the field. For a 4GB kit priced as much as some of the higher speed 2GB kits, we're thinking we've hit the sweet spot.
Crysis v. 1.2

Crysis is the most highly anticipated game to hit the market in the last several years. Crysis is based on the CryENGINE™ 2 developed by Crytek. The CryENGINE™ 2 offers real time editing, bump mapping, dynamic lights, network system, integrated physics system, shaders, shadows, and a dynamic music system, just to name a few of the state-of-the-art features that are incorporated into Crysis. As one might expect with this number of features, the game is extremely demanding of system resources, especially the GPU. We expect Crysis to be a primary gaming benchmark for many years to come.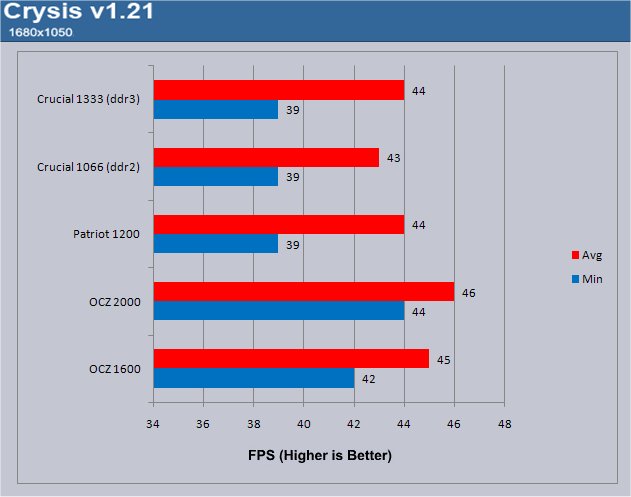 The Crucial kit came in behind the OCZ kit in Crysis, but not by enough to justify settling for a 2GB kit when the 4GB kit costs less.
CONCLUSION
The Crucial Ballistix Tracers DDR3 1333 4GB kit awed and amazed us on different levels. Price to performance wise, for DDR3, it's a steal at $200 when you consider the higher speed kits with looser timings run $200 for 2GB's. There's just no comparison when it comes to looking good. No other brand offers LED lighted kits that provide that little extra bling with a windowed chassis. Then for performance, the kit with it's tighter timings did almost as well as a kit running 667 MHz faster in most tests and beat it in others.
What knocks it out of the park for us is the ease of use. We've tested some kits that took hours on end to get to run at the rated timings, and days to tune. The Crucial Ballistix Tracers DDR3 1333 kit was up and running in minutes. Not only was it up and running in minutes, but in a couple more minutes we had it overclocked and stable. How overclocked did we get it?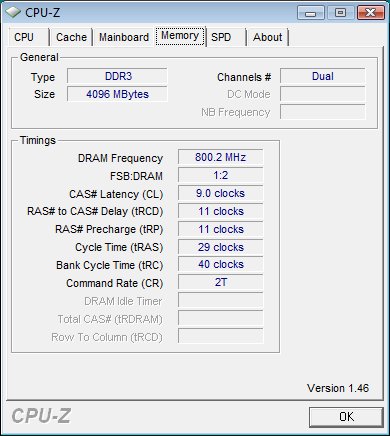 We were able to get the timings down to cas 9 across the board but had to increase voltages. We did get it to run as pictured with 1.84v which is just .04v more than they are rated to run at.
We really couldn't find anything we didn't like about the Tracers, which is a little unusual but pleasantly surprising. The 790i platform ran well with them and actually felt a little snappier than with the DDR3 2000 kit from OCZ. We would trade any performance lost with the speed for the advantage of the larger kit.
Pros:
+  Great Performance
+  SLI Ready
+  Kept Up With A Faster More Expensive Kit
+  Great Heat Spreaders
+  Looks Good
+  Very Stable
+  Nehalem Voltage Capable
+  Did We Mention Bling?
Cons:
–  They Are Just Too Pretty
Crucial has gone above and beyond with their Ballistix Tracers DDR3 1333 4GB kit which runs good, sets up easy, and provides some eye candy to a sorely neglected area!
Final Score: 8.5 out of 10 and the Bjorn3D Seal of Approval.