AMD has recently released Phenom X4 9950 Black Edition. This processor is AMD's highest clocked processor running at 2.6GHz and features either 125W or 140W thermal envelope. As its name implies, this processor also has an unlocked multiplier. With retail price of sub $200, how does it fares against similar priced Intel processors? Read more and you will find out.
INTRODUCTION
AMD has recently launched a Phenom X4 9950 Black Edition (BE) processor. This processor is currently the fastest processor that AMD is offering until the 45nm version of the Phenom comes to the market. The Phenom X4 9950 is clocked at 2.6GHz and is manufactured on 65nm Silicon on Insulator (SOI) technology. It supports a 2.0 GHz memory controller and HT 3.0. And as its name implies, Black Edition means that the processor will have an unlocked multiplier so it will potentially allows much higher overclocking.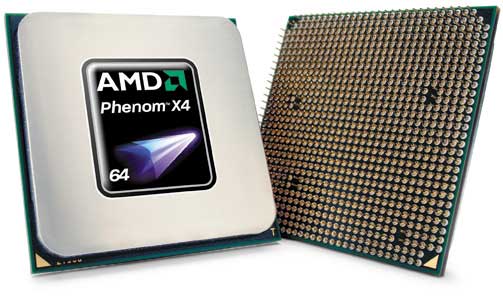 On thing to note about the Phenom X4 9950 BE is that AMD has two versions of the processor with a thermal envelope of 125W and 140W. The processor we have received is actually the newer 125W version of the X4 Phenom 9950 BE with label HD995ZXAJ4BGH. There is a 140W version available on the market for about $10~$15 cheaper with the label HD995ZFAJ4BG.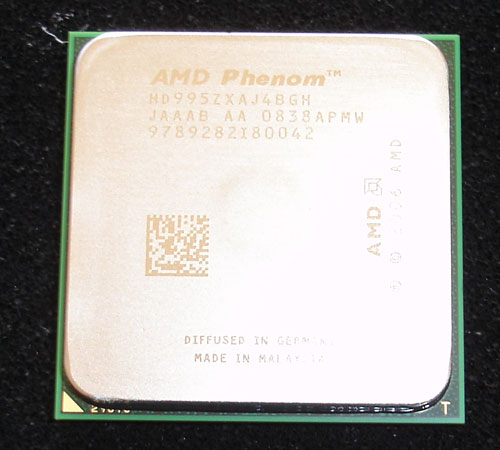 Phenom X4 9950 BE (125W) naked.
Due to its thermal envelope, this processor would require a motherboard that is capable of supporting a thermal design power (TDP) of either 125W or 140W. Unfortunately, not all AM2/AM2+ boards will support 125W/140W processors (even the board based on the new chipset), so be sure to check with your motherboard manufacture before you purchase and put the Phenom X4 9950 BE in your board. The XFX 750a which we have recently reviewed can only support processors with TDP of 95W, so it won't work with this CPU.
Since we are talking about the motherboard compatibility, it would be a good time to mention the new Southbridge, SB750, from AMD. This new Southbridge supports something call Advanced Clock Calibration (ACC) which basically allows the chipset to have a direct connection to the Phenom CPU. As a result, it could potentially yield a higher overclock. So if you are in the market for a new motherboard to go with the Phenom X4 9950 BE, it would be a wise choice to buy a board featuring the SB750. Currently, most boards with SB750 are bundled with the 790GX chipset, a chipset with integrated GPU aimed towards the mainstream market. However, some manufactures actually put the SB750 with a more enthusiast chipset, the 790FX, such as the M3A79-T Deluxe board from Asus.
AMD has strategically priced the processor below $200, which makes it very competitive against Intel's faster clockspeed dual core processor and Intel's entry quad core processor. How does this new black edition perform and how well can you crank it up with its unlocked multiplier? Keep reading and we shall answer these questions.
AMD at a Glance

A Leading Global Provider of Innovative Microprocessor and Graphics Solutions

Founded in 1969 and based in Sunnyvale, California, AMD designs and produces innovative microprocessor and graphics and media solutions for the computer, communications, and consumer electronics industries.

Quick Company Facts

Year Company Started: 1969
Number of Employees: approximately 16,500
Headquarters: Sunnyvale, California
CEO: Hector Ruiz
Number of Locations: 80
Revenue: $5.649 billion in 2006
NYSE ticker symbol: AMD

Innovation

Since the beginning, our focus has gone beyond integrated circuits and transistors. AMD is the informed choice for those who want superior microprocessor and graphics solutions designed from the perspective of the customer. After all, our customers' success is our success. That's why AMD products are always developed with customer needs in mind and not for the sake of technology alone. We provide real solutions for real customer problems that exist in the real world today. It's a philosophy we refer to as "customer-centric innovation," and it represents the guiding principle behind everything we do.

Vision

We never rest on our laurels. Our passion for what we do compels us to keep looking for the next opportunity to succeed. With corporate locations in Sunnyvale, California; Austin, Texas; and Markham, Ontario; and global operations and manufacturing facilities in the U.S., Europe and Asia, we're one of the world's leading integrated circuit manufacturers. We're also among the market leaders in each of our core businesses: microprocessors and graphics and media solutions for the computer, communications, and consumer electronics industries.

Execution

Because our customers' needs are ever-changing, AMD understands the value of looking towards—and keeping pace with—the future. To help ensure we meet our customers' needs today and tomorrow, AMD invests in state-of-the-art technology research many years in advance of first commercial use.

Like other world-class companies, we are proud of our success, but we are never satisfied. At AMD, we are committed to delivering the innovative solutions our customers need, building the framework for sustainable growth going forward.
TEST METHOLOGY
We will be putting the Phenom X4 9950 BE clocked at 2.6 GHz against the Intel E6600, which is clocked at 2.6 GHz. In addition, we will throw in the X4 Phenom 9600 and Xeon X3320 into the mix. This will show the performance of the Phenom X4 against both the Intel dual core and quad core processors.
TEST PLATFORMS

Element

AMD

Intel

Processor

X4 Phenom 9600 2.3 GHz
X4 Phenom 9950 BE 2.6 GHz
X3 Phenom 8750 2.4 GHz

Xeon X3320 2.5 GHz
Core 2 Duo E6600 2.4 GHz

CPU HSF

Thermalright SI-128 with Scythe S-FLEX SFF21F

Thermalright SI-128 with Scythe S-FLEX SFF21F

Motherboard

Asus M3A32-MVP Deluxe
790FX Chipset Socket AM2+
BIOS 1203

Gigabyte EX38-DS4
X38 Chipset Socket 775
BIOS F2

Memory

Super Talent Super Talent T800UX4GC5 @ 800MHz with 5/5/5/18 timings (2T)

Drive(s)

Samsung HD501LJ 500GB/7200rpm/16M Cache

Graphics

XFX Fatal1ty 8800 GTS 320MB Forceware 178.13

Power Supply

Zalman ZM460-APS

Case

None

Operating System

Windows Vista Ultimate SP1, 64bit
Benchmarks:
World Bench 6.0 Beta 2
Futuremark 3DMark06
Futuremark PCMark05
Futuremark Vantage
Cinebench R10
Sisoft SANDRA XII SP2
Everest Ultimate Edition v. 4.50.1330
Super PI mod 1.5XS
Crysis
TEST RESULTS
WorldBench 6.0 Beta 2
WorldBench 6.0 Beta 2 is an updated version of the ever popular World Bench 5. It uses a series of real-world benchmarks which includes a wide variety of applications scripted to test your system's performance. Once all the tests are completed, a single score is rendered with higher scores showing improved performance. We decided to publish the individual test results of WorldBench 6.0 Beta2 in lieu of reporting a single score which gives little or no meaning as to where the shortcomings of your system are. Our results from WorldBench do not include patched and unpatched results as there was little or no difference noted.
Also, note that the result for the Phenom X4 9600 is taken with the TLB errata patch applied. The results from WorldBench is pretty much self-explanatory.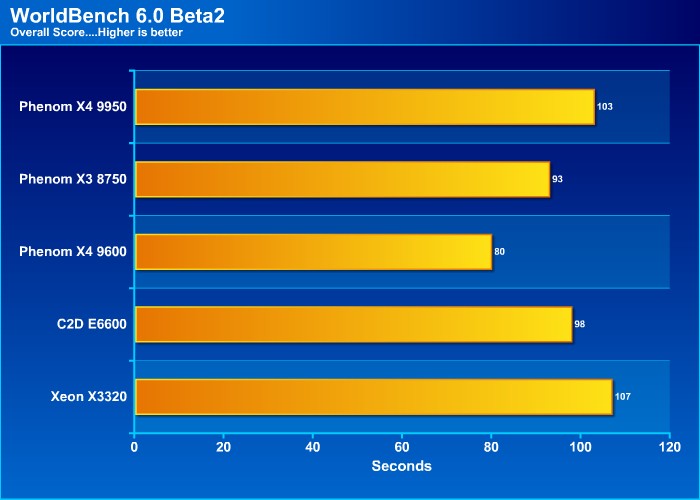 Looking at the overall result, it's clear that the X4 9950 lags a bit behind the X3320 from Intel, but it is able to edge out the dual-core E6600.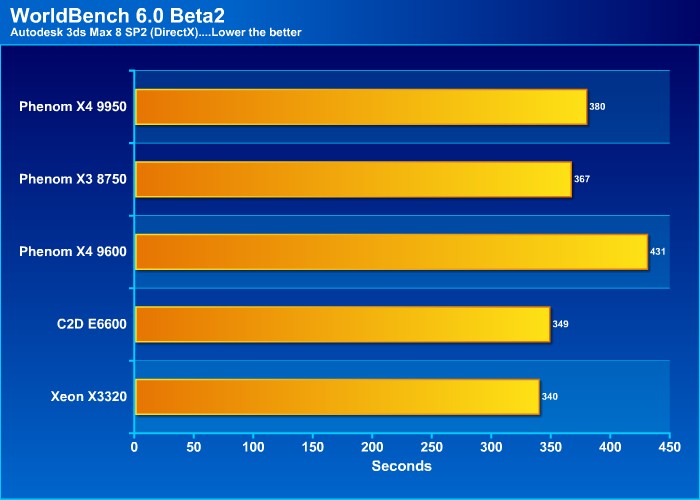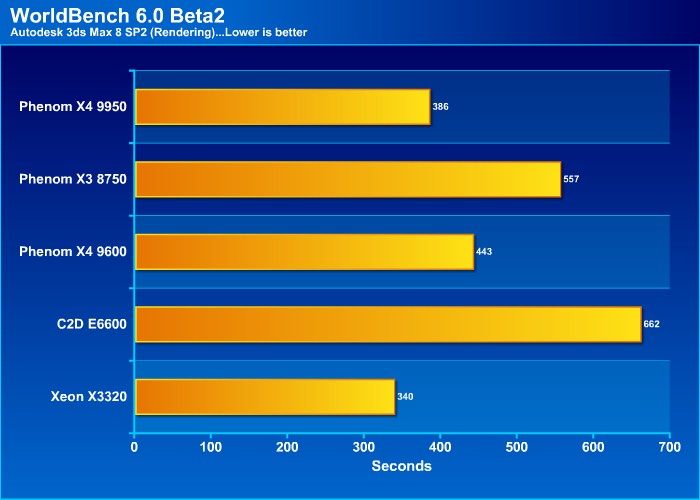 We can see that having multiple cores certainly helps the performance in the 3D rendering. The X4 9950 is trailing behind the X3320 a bit but definitely is able to out-performs any dual core processors out there.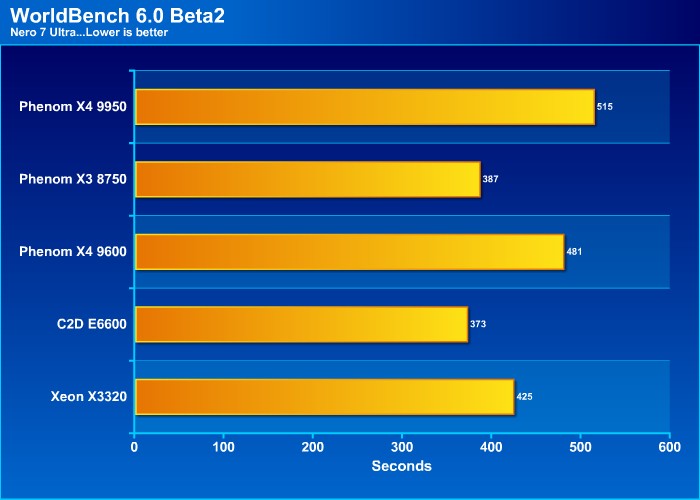 Do not pay too much attention to the Nero 7 benchmark. For some odd reason, all of the quad core processors seem to have worse performance in the Nero benchmark.
TEST RESULTS
WorldBench 6.0 beta 2, con't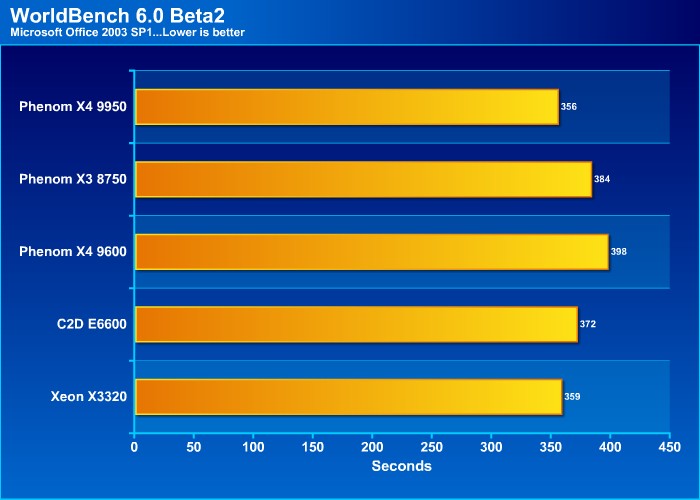 The X4 9950 is able to edge out the X3320 for the first time in this test.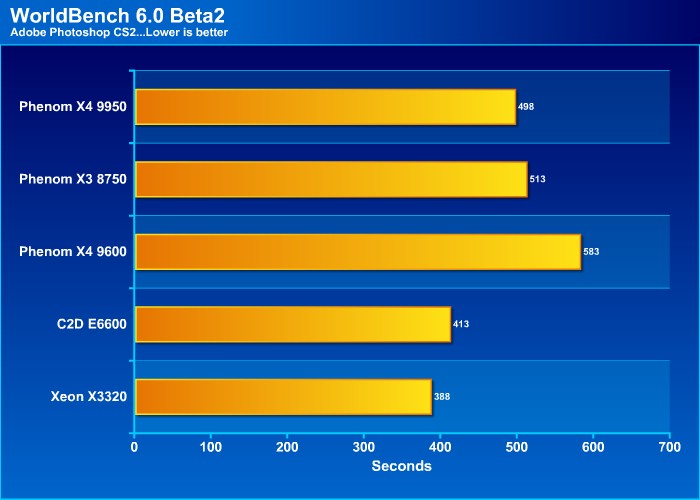 Intel is clearly the winner in the Photoshop benchmark.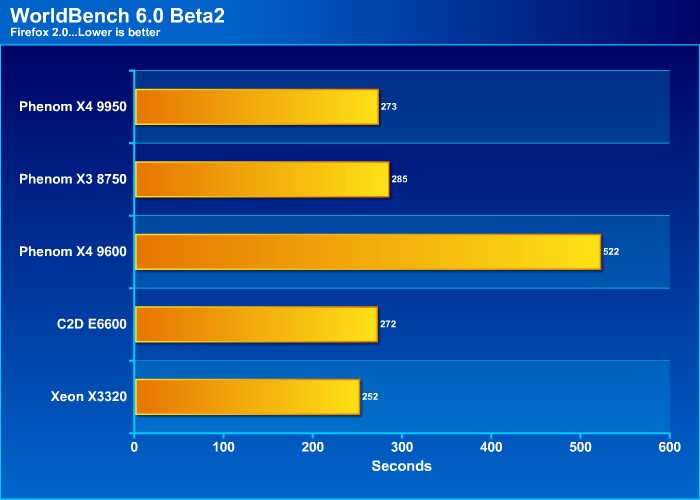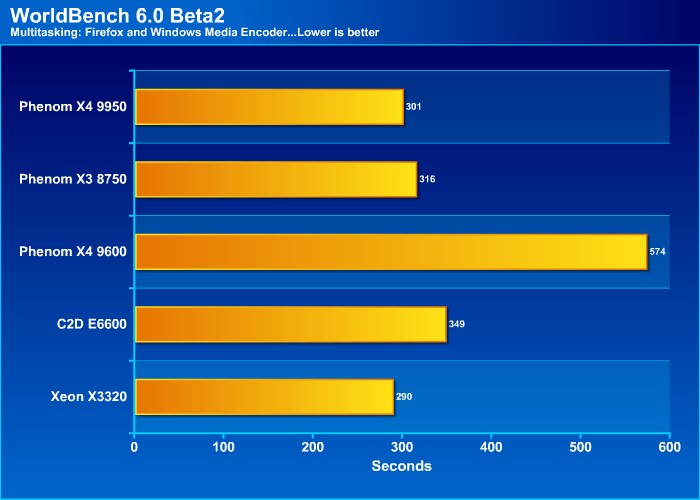 Unfortunately, not many applications are able to take advantage of multi-core processors too efficiently. In multitasking environments, we can see Intel still has the edge here, followed by the Phenom X4 9950 and then the E6600.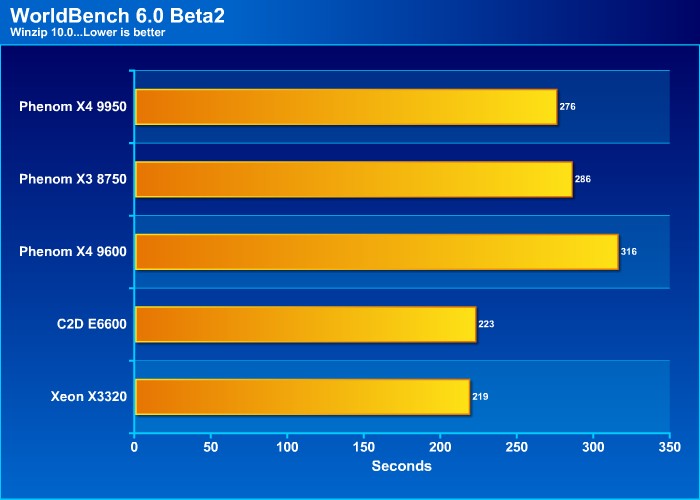 TEST RESULTS
SisSoft Sandra XII SP2a
"SiSoftware Sandra (the System ANalyser, Diagnostic and Reporting Assistant) is an information & diagnostic utility. It should provide most of the information (including undocumented) you need to know about your hardware, software and other devices whether hardware or software." Sandra has been a mainstay benchmark used by the vast majority of computer enthusiasts around the world for benchmarking their systems for as long as we can remember.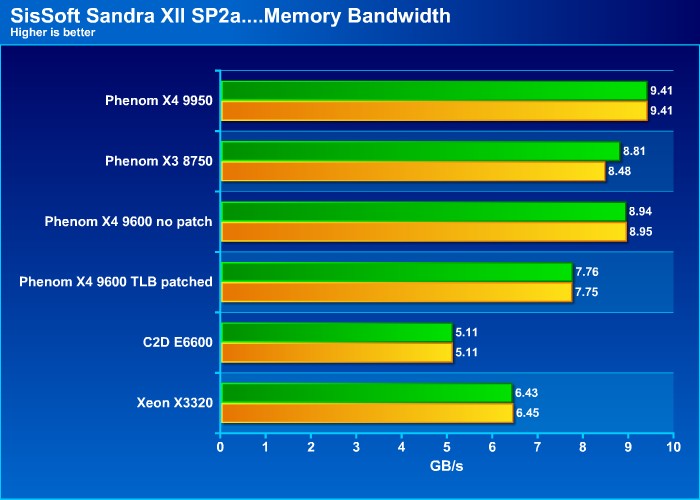 AMD processors, with an integrated memory controller, are able to offer far better memory bandwidth performance than the Intel processors with the memory controller on the Northbridge. The extra 200MHz Hypertransport speed further helps the Phenom X4 9950's memory performance, achieving a 9.41GB/s of bandwidth.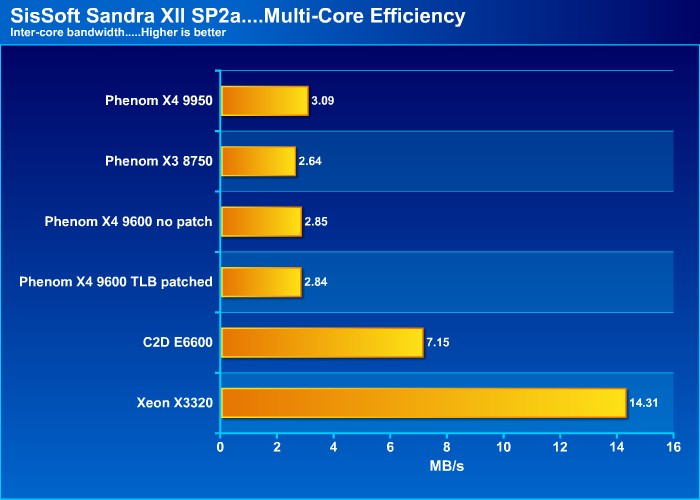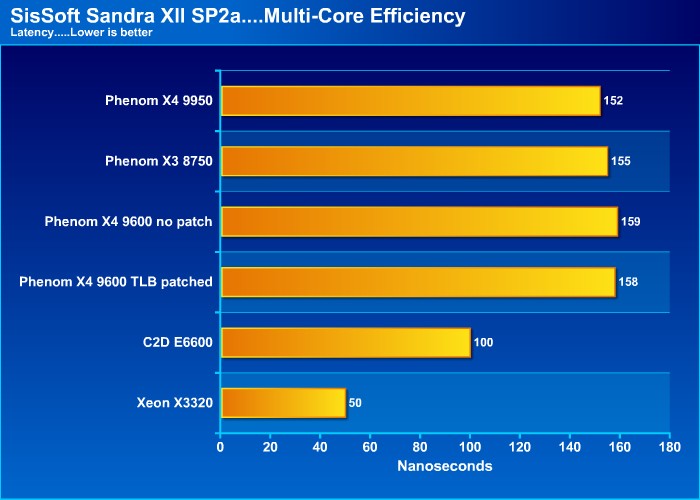 Intel is more efficient in the Sandra's multi-core efficiency test and also yields a much better latency.
Clearly the Phenom X4 9950's float point calculation is comparable to the X3320, but it certainly is not able to compete against the X3320's Integer calculation. In fact, we can see that the Phenom X4 9950's Integer calculation is just a tad better than that of the dual-core E6600.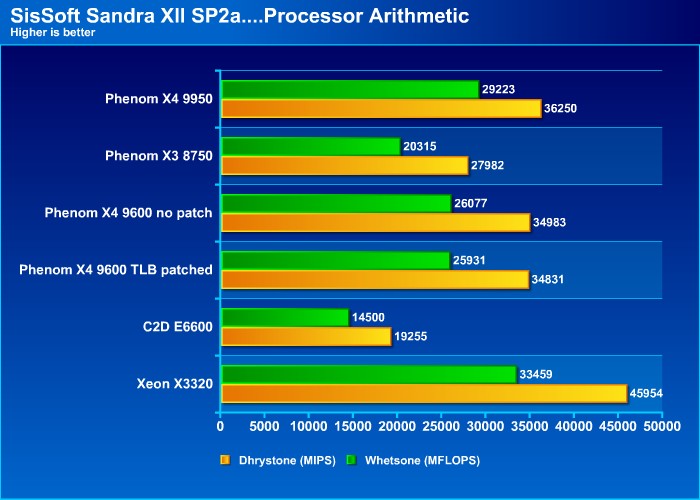 Although, the X4 processor scales fairly well in the processor arithmetic calculation benchmark of the Sandra, it still lags behind the X3320 slightly.
CINEBENCH R10
CINEBENCH is a real-world test suite that assesses your computer's performace capabilities. CINEBENCH runs several tests on your computer to measure the performance of the main processor and the graphics card under real world circumstances. The benchmark application makes use of up to 16 CPUs or CPU cores and is available for Windows (32-bit and 64-Bit) and Macintosh (PPC and Intel-based). The resulting values among different operating systems are 100% comparable and therefore very useful with regard to purchasing decision-making.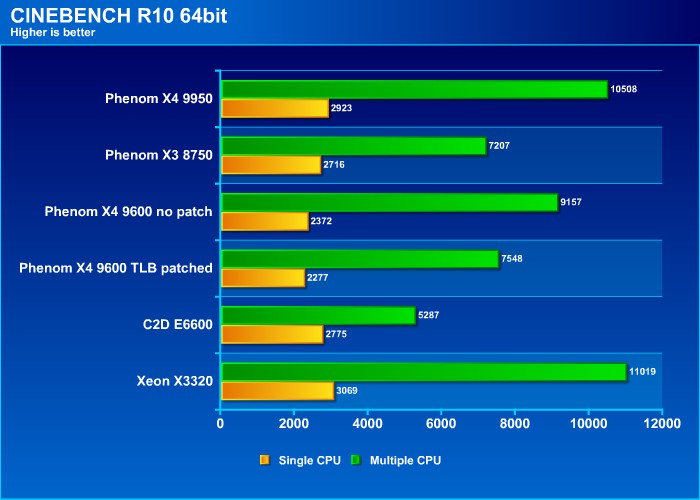 CINEBENCH shows that the Phenom X4's performance is just below the X3320 and above the rest of the processors tested. This alone seems to justify AMD's pricing of the Phenom X4 9950.
TEST RESULTS
Everest Ultimate v 4.50.1330
"EVEREST Ultimate Edition is the cutting-edge benchmarking and diagnostics tool to maximize security, performance, and trouble-shooting capabilities for home and home office PC environments, PC Professionals and consulting firms as well as OEM partners and Configuration Centers worldwide." Everest Ultimate Edition has been around for several years now and has over the last several versions gained huge credibility amongst the enthusiast sector. Everest Ultimate Edition offers several CPU and FPU benchmarks that are unlike others on the market and quite good.
Processor Benchmarks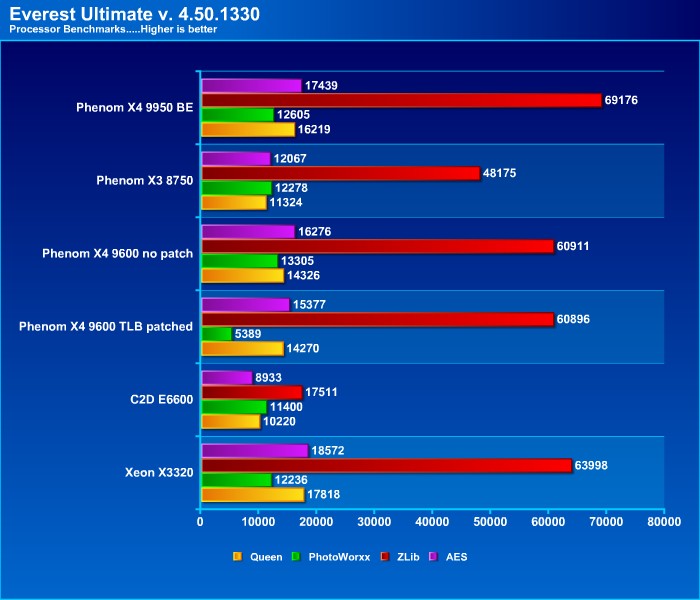 In this first set of Everest Processor benchmarks, we can see that the X3320 has won the Queen and AES benchmarks while the Phenom X4 9950 wins the PhotoWorxx and ZLib benchmarks. Looking at the performance differences, both processors are performing fairly close to each other.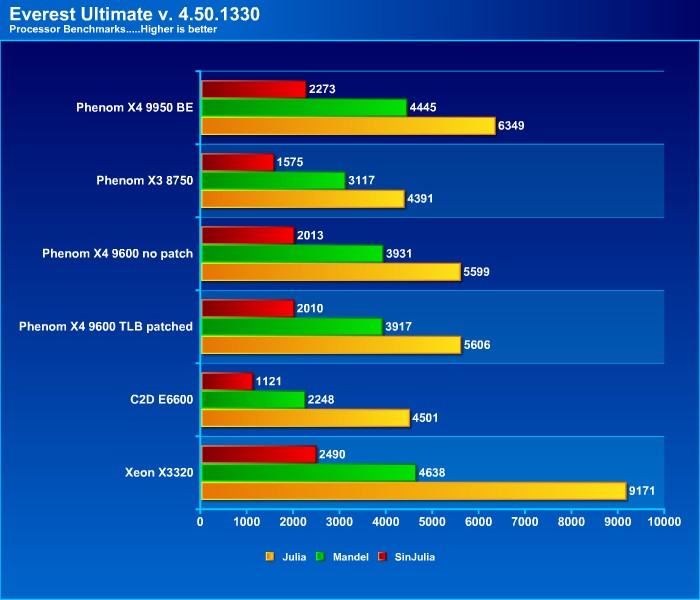 In the second sets of the Everest Processor benchmarks, we see that the X3320 won all three benchmarks and most noticeably the Julia benchmark, where the X3320 is able to offer approximately 45% better performance. The X4 Phenom does perform better than the E6600 however.
Memory Benchmarks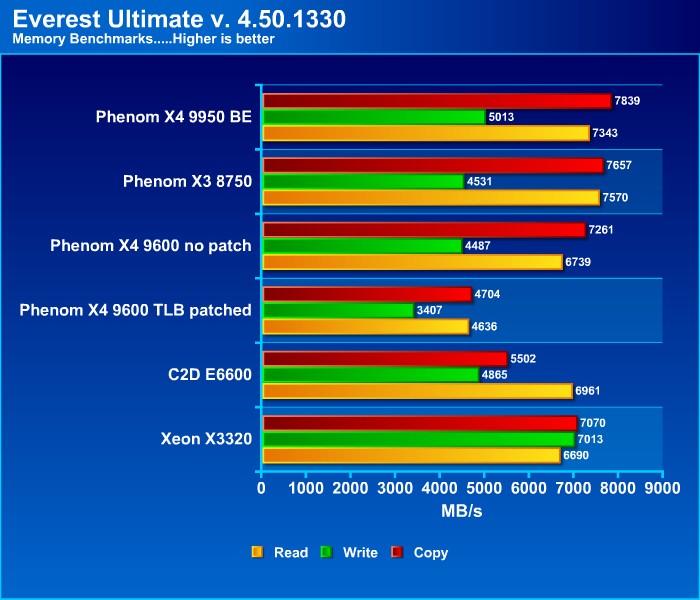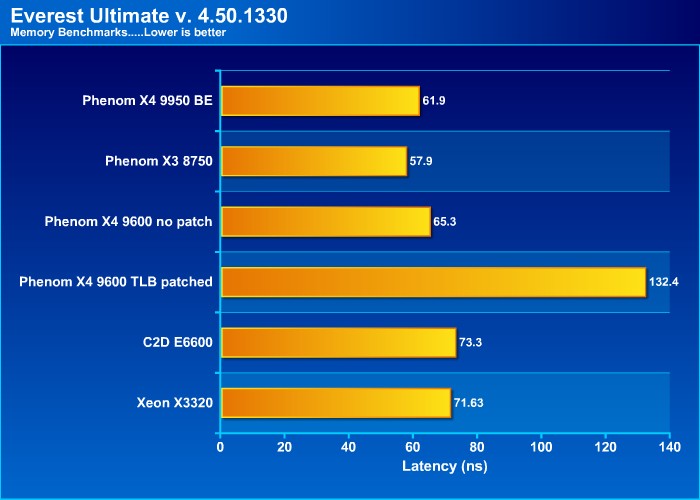 No surprise here. We can see that the Phenom has better result than the Intel processor. Interestingly, the Phenom processor actually has a weaker write performance than the Intel processors.
SuperPI Mod 1.5XS
"SuperPI is a computer program that calculates pi to a specified number of digits after the decimal point – up to a maximum of 32 million. It uses Gauss-Legendre algorithm and is a Windows port of the program used by Yasumasa Kanada in 1995 to compute Pi to 232 digits. Super Pi is used by many overclockers to test performance and stability of their systems. In this community, Super Pi has become the standard for providing benchmarks to compare pi calculation times and demonstrate their overclocking skills." The version used in our testing mod 1.5XS has been modified by Xtreme Systems and we feel is the best version currently available.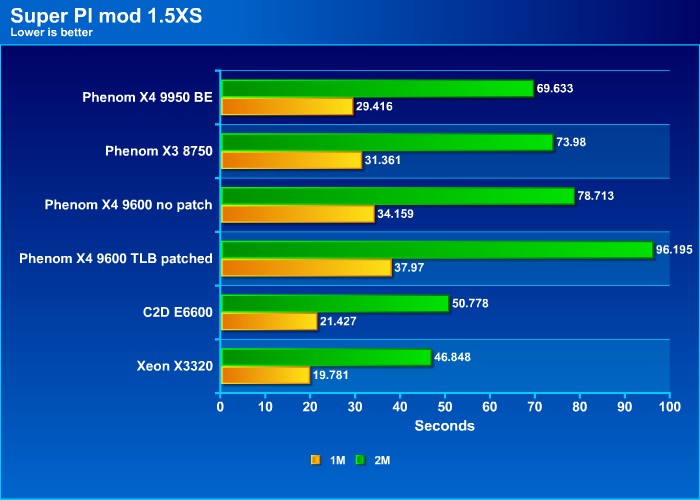 Intel dominates the benchmark here. Even the E6600 is able to offer a far better result than the 9950.
PCMark Vantage
PCMark Vantage is the updated version of the PCMark05.  It adds more updated benchmark applications for the test.  In addition, it also offers support for multi-threaded applications and multi-core processors, as well as 64-bit Windows Vista.  We will be running the benchmark using the 64-bit version.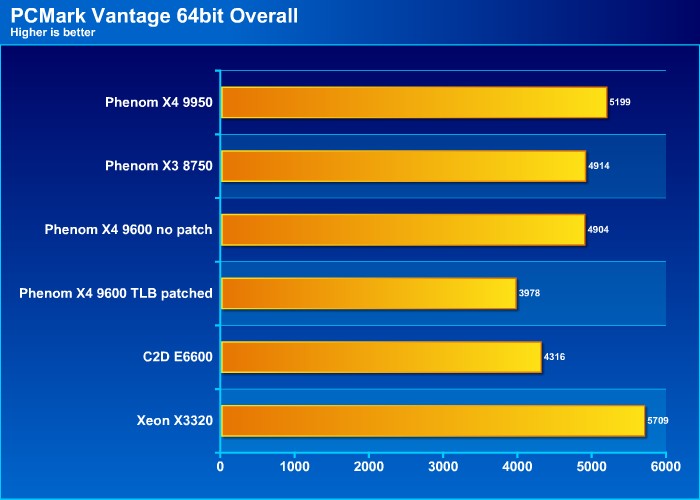 The Phenom X4 9950 performs fairly well in the PCMark Vantage 64 test. Only the X3320 was able to offer a slightly better performance among all the processors tested.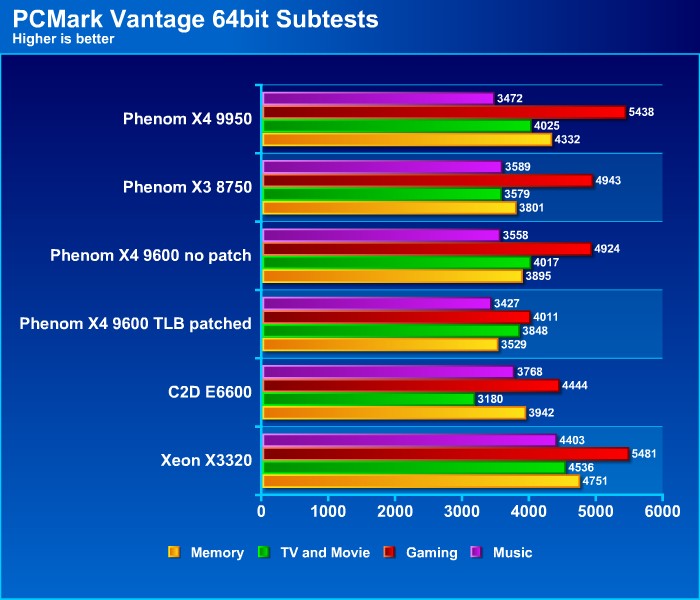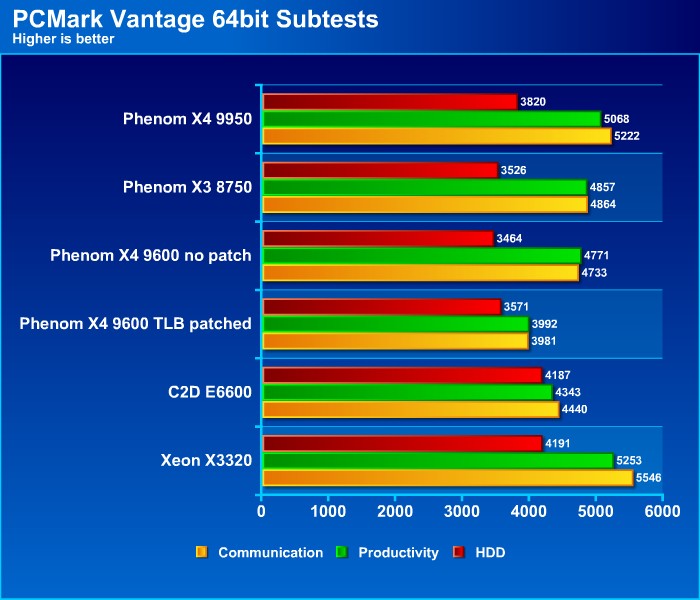 The results from PCMark subtests are pretty much self-explanatory, so I will spare you with the comments.
TEST RESULTS
3DMark06
3DMark06, developed by Futuremark, is a synthetic benchmark used for universal testing of all graphics solutions. 3DMark06 features HDR rendering, complex HDR post processing, dynamic soft shadows for all objects, water shader with HDR refraction, HDR reflection, depth fog and Gerstner wave functions, realistic sky model with cloud blending, and approximately 5.4 million triangles and 8.8 million vertices; to name just a few. The measurement unit "3DMark" is intended to give a normalized mean for comparing different GPU/VPUs. It has been accepted as both a standard and a mandatory benchmark throughout the gaming world for measuring performance.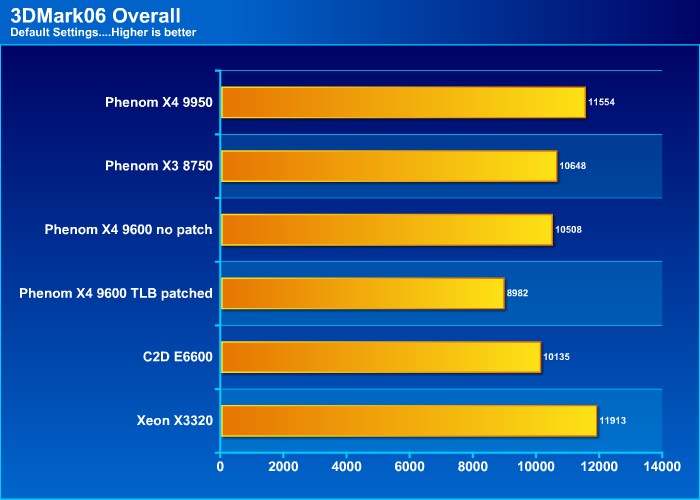 3DMark shows that the Phenom X4 9950 is actually not a bad processor for gamers. Although it does not overtake the X3320's lead, it sits right behind the X3320. Since the games are starting to take the advantage of the multi-core processors, having a quad core processor may be a good investment for future games.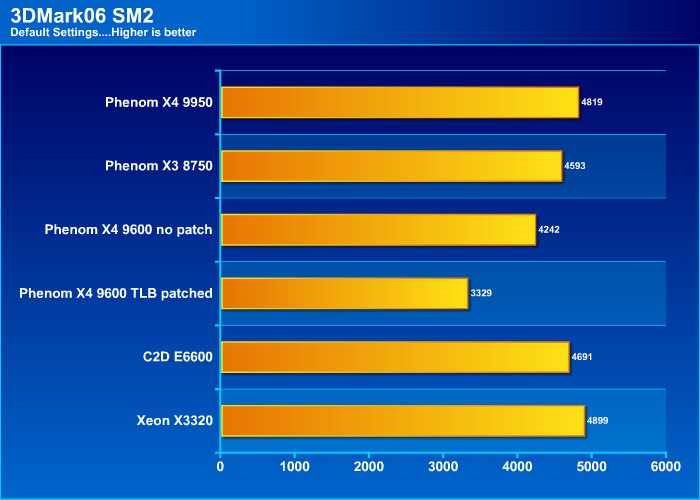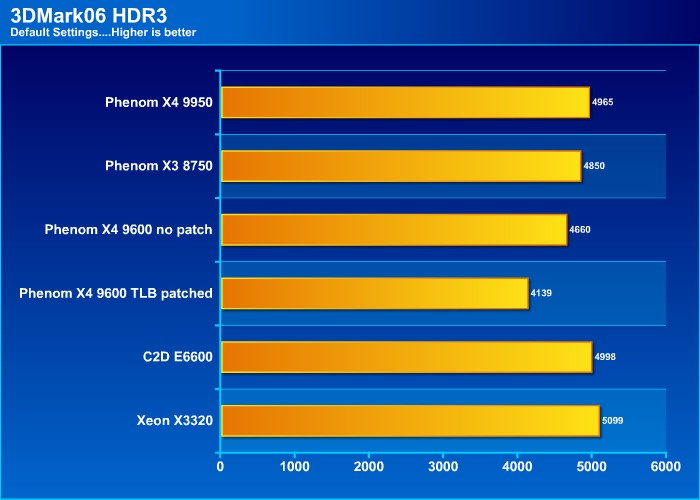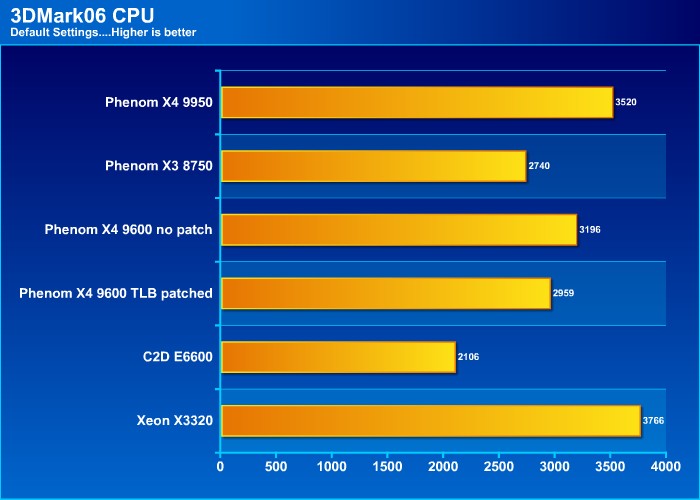 The 3DMark06 CPU benchmark has also placed the Phenom X4 9950 below the X3320 and further justifies AMD's pricing decision.
Crysis v1.21 64bit
Crysis is the most highly anticipated game to hit the market in the last several years. Crysis is based on the CryENGINE™ 2 developed by Crytek. The CryENGINE™ 2 offers real time editing, bump mapping, dynamic lights, network system, integrated physics system, shaders, shadows and a dynamic music system, just to name a few of the state of-the-art features that are incorporated into Crysis. As one might expect with this number of features, the game is extremely demanding of system resources, especially the GPU. We expect Crysis to be a primary gaming benchmark for many years to come.
Crysis has built in CPU and GPU benchmarks and we will run both benchmarks at medium global setting with 0AA and 0AF.  We ran the 64bit version of the benchmark at 1280×1024 resolution with the Crysis Benchmark Tool from Guru3D.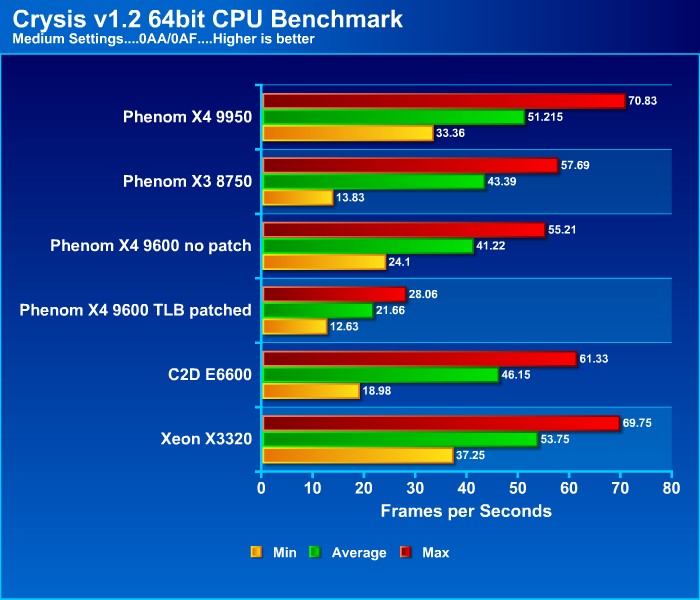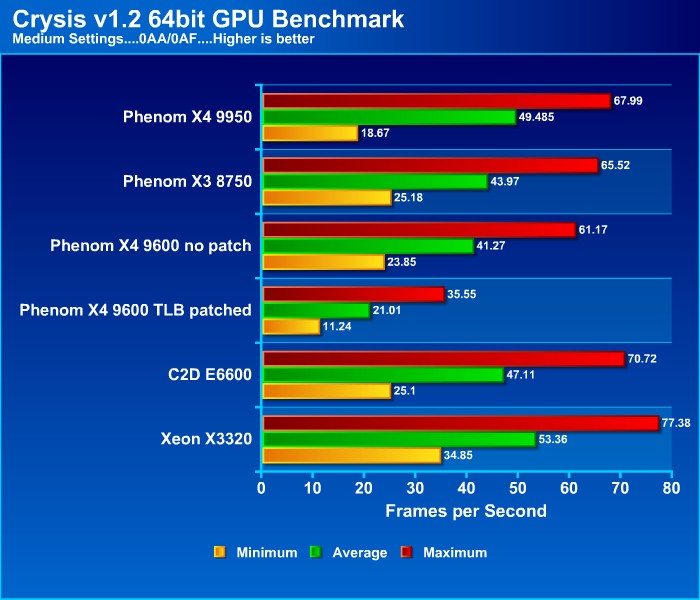 In the real gaming test, the Phenom x4 9950 certainly is not a slacker here. Although the Intel dual-core E6600 certainly performs admirably here.
OVERCLOCKING
Overclocking Phenom processors is not as easy as overclocking is on an Intel system or the old Athlon 64 because AMD has integrated a Northbridge that runs at its own frequency. It just adds a little extra thing which we must watch out for (the Northbridge frequency) in addition to the processor frequency, memory frequency, and HyperTransport. Luckily, the Asus M3A32-MVP Deluxe which we used in the review has all the goodies for overclocking.
Basically, with Phenom, you would have to keep the following equations in mind:
CPU Frequency = CPU Multiplier x FSB Frequency
HT Frequency = HT Multiplier x FSB Frequency
NB Frequency = NB Multiplier x FSB Frequency
Memory Frequency = Memory Divider x FSB Frequency
So, as you can see, changing the FSB frequency alone will have a dramatic effect on all the frequencies. The X4 9950 processor has the HT frequency and NB frequency of 2000 MHz. While overclocking the FSB, make sure that the HT and NB multipliers are lowered in order to keep these frequencies close to 2000 MHz in order to get a stable system. Since this processor has an unlocked multiplier, overclocking it would be much easier, as it can be achieved simply by raising the multiplier rather than the FSB.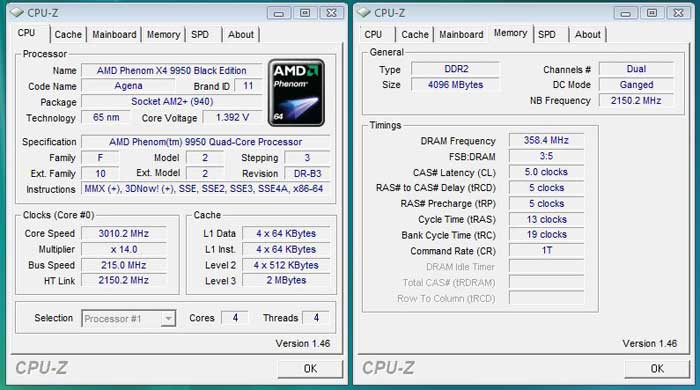 I was able to get the system to boot at 3.11 GHz (215 FSB x 14.5 multiplier and 9x CPU:NB Multiplier ratio), but the system wouldn't boot into Windows. Lowering the multiplier to 14 allowed me to get the system to boot into Windows. Initially, the CPU voltage was set to auto, which automatically bumps to 1.40v. I later reduce the voltage to 1.35v and the system still booted without any issue.
This is the first time that I was able to achieve the magical 3.0GHz with the new Phenom processors. At this speed, the CPU temperature was quite, hot reaching close to 70°C under load with a single fan on the CPU and the ThermalRight SI-128 heatsink, but after adding couple of case fans, the temperature dropped to 60°C. The CPU may potentially achieve even higher results with better cooling and/or with a motherboard featuring the SB750 chipset that features Advanced Clock Calibration. Although not earth shattering, with a 400MHz overclocking result, it's not bad a result, considering this is already the fastest processor from AMD.
POWER CONSUMPTION
The system power consumption is measured with a Kill-A-Watt P4400. All the power saving features (Cool & Quiet, SpeedStep, etc) are enabled under the BIOS.  We tested each system's power consumption by running the CINEBENCH benchmark. Since CINEBENCH was able to test single-core CPU's and multiple-core CPU's, we will report the power consumption under both conditions to see how much extra power is needed when all cores are running. The idle setting is measured with system booting into Windows without any programs running in the background.
Do keep in mind that the power consumption is overall system power consumption and since we have to use two different motherboards, it is not a direct comparison of the processors.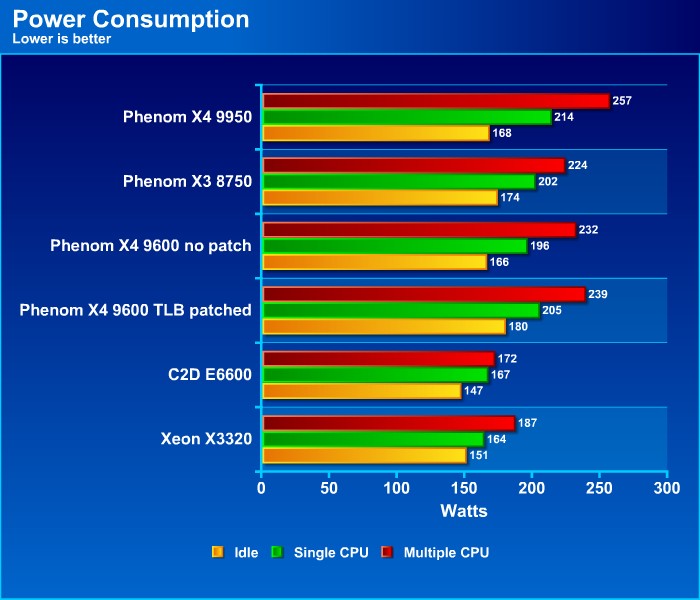 The Phenom was never known for being power efficient when standing next to the Intel processors. As we can see, the X4 9950 actually consumes 18W more than the 2.3GHz X4 Phenom 9600 and it actually consumes 12W more than the 2.4GHz X3 8750 under idle. Under load, it consumes 25W more than the X4 9600 and 33W more power than the X3 8750. Not too bad for a 300MHz (200 and one additional core when it's compared to the X3 8750) increase in the clockspeed when it's compared against the 9600 BE. Still, it looks pale next to the 45nm Intel quad core running at 2.5GHz with a max load of 187W.
CONCLUSION
The reality is that AMD currently has had a hard time in catching up with Intel's performance and power efficiency, although AMD's upcoming Shanghai (45nm die-shrink) should narrow the power consumption gap and bring its performance close to the current 45 nm Core processors.  Rumor has it that Shanghai may even come close to the entry Core i7's performance, but we will have to reserve our judgment and wait until both processors have been released before we jump into any conclusion.
AMD understands that it cannot compete against Intel's high performance and thus they have strategically placed the X4 Phenom 9950 BE at an affordable price. The processor is currently available at price of $184.00, just sandwiched between the Intel's dual-core E8500 running at 3.16GHz and Intel's quad-core Q8200 running at 2.33GHz. So, the processor is very competitive price-wise against Intel.
As our benchmarks show, the X4 9950 BE is able to keep up with the 2.4GHz dual-core processor when the application is single threaded. And it is able to offer a comparable performance against the 2.5 GHz quad core processor from Intel. One area where Intel has the absolute dominance is the multi-media encoding, due to the SSE4 instruction found in all of its 45nm processors. Other than this, the Phenom X4 9950 BE's performance is fairly comparable to the similarly priced Intel processor. Therefore, the pricing of the X4 9950 certainly makes it a good buy if you plan on sticking with an AMD system.
Not to mention that this processor has an unlocked multiplier, which means it will allow much higher overlcock. Our attempt to overclock the processor allows us, for the first time, to reach that magical 3GHz mark that was not possible with our previous experience with the Phenom processors (both triple and quad core version). And it is possible to go even higher, assuming that you are willing to spend hours fine-tuning your system and combine the processor with a motherboard featuring the SB750 chipset.
The biggest issue that I can see with the X4 9950 BE is the selection of motherboards. Not all AM2+ boards support the 125W/140W processor, so not everyone currently with an AMD setup is able to upgrade their system to this processor. Luckily, AMD has a 125W version of the processor, but even with lower TDP, there are still some boards out there that only support 95W TDP (as in the XFX 750a that we reviewed).
Ultimately, this processor is a good candidate for those die-hard AMD fans and those currently with an AM2/AM2+ motherboard running an older processor, ready for an upgrade to a fast quad core processor with great overclocking potential at a budget price. 
Pros:
+ Affordable
+ Good overclocking potential
+ Unlocked multiplier
+ Compatible with AM2/AM2+ boards
+ Performance is comparable to the competitor's CPU at similar price range
Cons:
– Higher power consumption than Intel processors
– Higher temperature
– 125W/140W TDP means not all board will work
The AMD Phenom X4 9950 BE will receive a score of 8 (very good) out of 10 and the Bjorn3D Seal of Approval.