Today we are loooking at the OCZ PC3-16000 NVIDIA SLI-Ready Edition DDR3. How would it performs? Read our review and find it out if this memory can satisfy you to your performance need.
Things are about to change in desktop memory. DDR3, which has been getting a bad rap from Intel users, is about to bloom into its heyday. DDR3 memory will run on pre-Nehalem series CPU's, but it was really designed with Intel's Nehalem in mind. People who scoffed at DDR3 as not being much better than DDR2 will soon have their noses rubbed in it in a big way.
The limitation with DDR3 hasn't been in the design of DDR3, which in itself is an elegant design that was well planned and well executed, but the bump in the road with DDR3 has always been with the motherboard and CPU limitations placed on it.
OCZ was nice enough to ship us a two Gigabit kit of their OCZ PC3-16000 NVIDIA SLI-Ready Edition DDR3. Scoff if you will, but you need to take heed from those that have had Nehalem in hand. DDR3 is coming of age and it's good. It's really good. It's really fast. And it will be one of the most sought after performance products as soon as the Nehalem flood gates open.
About OCZ:
Entering the memory market in August 2000, OCZ Technology was built around the determination to manufacture the best high speed DDR and RDRAM. OCZ was founded by enthusiasts, for enthusiasts, and our commitment to the end-user has not digressed. OCZ Technology has been an innovator in many areas. We were the first manufacturer to make Dual Channel optimized memory available to the public, which originally took advantage of nVidia's Twinbank or Dual DDR architecture, found in their nForce chipset. We have now taken that technology and tailored it for the Canterwood, and Granite Bay chipset's. OCZ developed and was the first to implement ULN technology, which has been a critical element in our manufacturing process for some time. We at OCZ diligently work to improve communication with CPU and motherboard chipset manufacturers prior to the release of their products. Only in this manner can we fine-tune our memory's SPD settings, ensuring a synergistic relationship between the memory module, memory controller, and microprocessor. In today?s rapidly evolving semiconductor industry, such communication is not simply research, but a necessary component of our manufacturing process.
SPECIFICATIONS, PICTURES & IMPRESSIONS
Specifications
2000MHz DDR3
9-9-9-30 (CAS-TRCD-TRP-TRAS)
Available in 2GB Dual Channel Kits
Unbuffered
OCZ Lifetime Warranty
1.8 Volts @ 2000 MHz
240 Pin DIMM
NVIDIA® SLI certified
EPP 2.0-Ready
NVIDIA SLI special XTC Heatspreader
2GB (2x1024MB) D/C Kit PN – OCZ3N2000SR2GK
We say that it's 1.8v @ 2000MHz because it will run at lower speeds with less voltage making it compatible with the whispers we've been hearing about ram voltage limitations on Nehalem.
Pictures & Impressions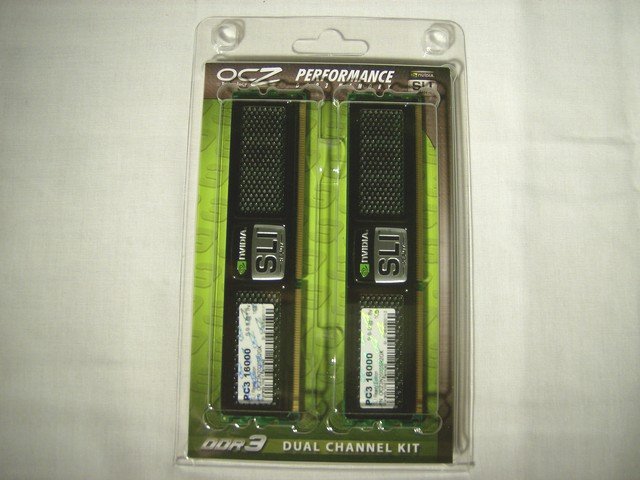 Like most ram the OCZ PC3-16000 NVIDIA SLI-Ready Edition, the 2GB kit comes in a plastic hang card with plenty of specifications and information to help inform the consumer about purchasing it.
The special edition black Nvidia SLI heatspreader gives this two Gig kit a killer look which is only fitting for the fastest speed DDR3 produced to date.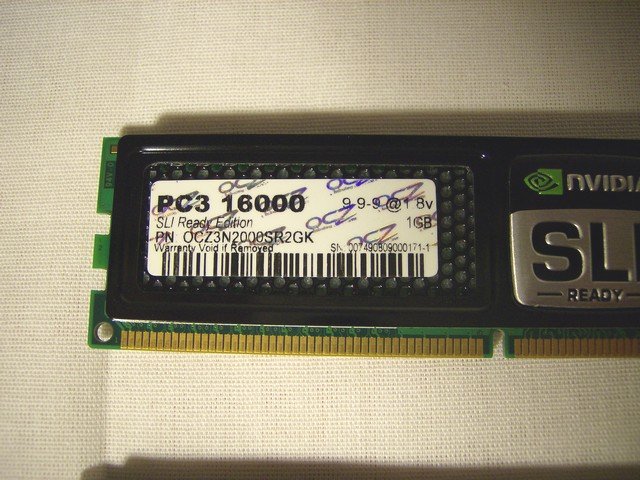 Getting up close and personal you can take a look at the Cas 9 (9-9-9) timings on the OCZ 2GB kit.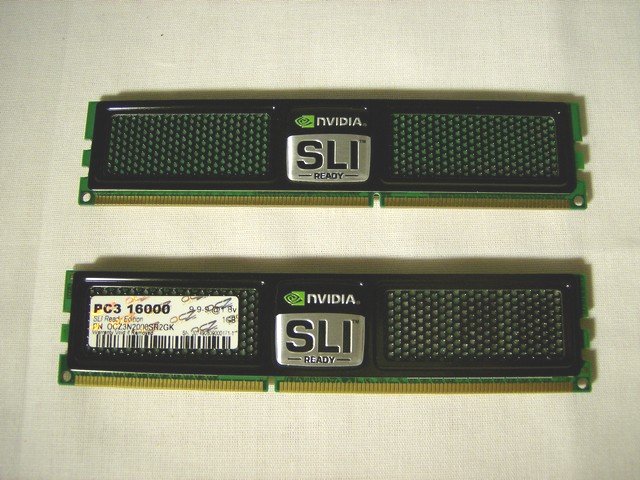 Even the back of this kit looks like it means business before you even get it in the rig.
TESTING & METHODOLOGY
Prior to testing we tuned the ram to 9-9-9-28 running at 2000 MHz and ran Memtest86 on it for 10 complete cycles to make sure it had no errors. We weren't surprised to see that it had no errors in Memtest. Before we ran the tests we used the memory in every day usage for about a week to get a feel for the kit and to give it a little break-in time. All the tests were run a total of three times and the average reported here.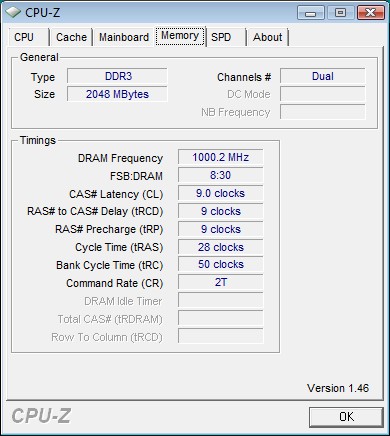 Getting a look at the kit in CPU-Z we can see that it runs at 2000MHz with no problems. We only mention that because, unlike this kit, some of the kits we've seen won't run at the rated speed with the rated timings. We had no problems with the OCZ kit kicking it right up to 2000MHz unlinked on our EVGA 790i SLI test rig. The kit was entirely stable and almost plug and play on that platform.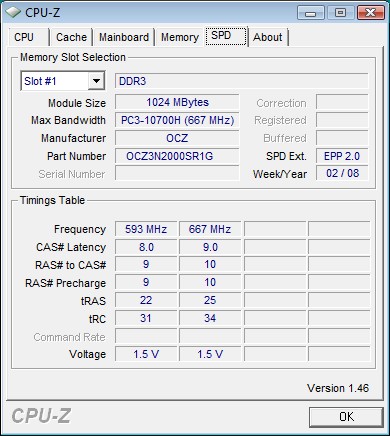 CPU-Z SPD didn't do a lot for us and showed us that the OCZ kit is only capable of hitting 1333. We've been seeing CPU-Z errors more often lately. We tinkered with the ram a little and ran it entirely stable at 9-9-9-28 and 9-9-9-24 with no problems.
Test Rig
Test Rig
Case Type
TT Armor + ESA Chassis
CPU
Intel Q6600 @ 3.6 vcore 1.4875
Motherboard
EVGA 790i for DDR3
Gigabyte EP45-Extreme for DDR2
Ram
OCZ DDR3 PC3-16000 (2000 MHz)
Crucial DDR2 1066
Patriot DDR2 1150
CPU Cooler
Swiftech DIY Water Cooling
Hard Drives
Seagate 400 Gig Sata 2, 8 meg cache
Optical
Sony DVD R/W
Graphics Cards In Crossfire
BFG GTX-260 Maxcore
Leadtek GTX-260
Power Supply
TT TP 850 ESA


Test Suite
Synthetic Benchmarks & Games
SANDRA XII Professional
Everest Ultimate Edition v.4.50.1330
SuperPI Mod 1.5XS
WinRar v.3.71 Compression Benchmark
Crysis v.1.2
SANDRA
Sisoft SANDRA 12 Professional SP2a
"SiSoftware Sandra (the System ANalyser, Diagnostic and Reporting Assistant) is an information & diagnostic utility. It should provide most of the information (including undocumented) you need to know about your hardware, software and other devices whether hardware or software. It works along the lines of other Windows utilities, however it tries to go beyond them and show you more of what's really going on. Giving the user the ability to draw comparisons at both a high and low-level. You can get information about the CPU, chipset, video adapter, ports, printers, sound card, memory, network, Windows internals, AGP, PCI, PCI-X, PCIe (PCI Express), database, USB, USB2, 1394/Firewire, etc."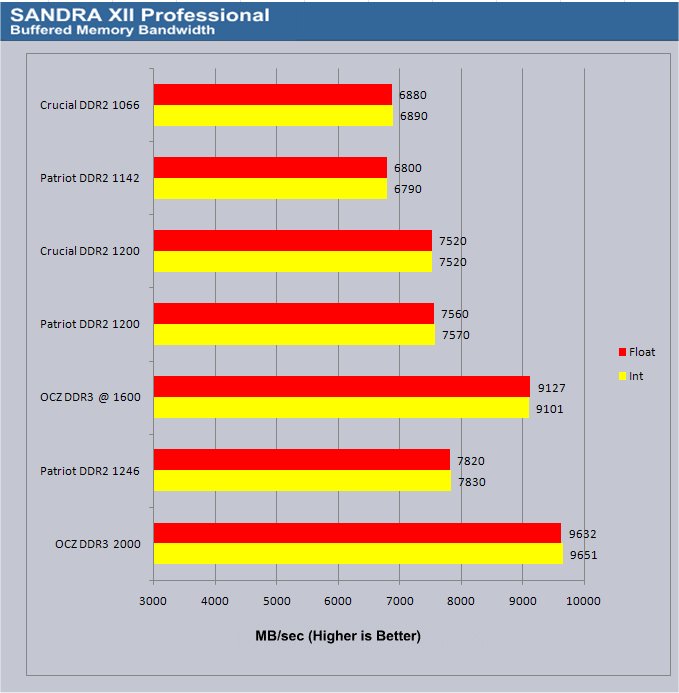 As you can see in Sandra, the OCZ PC3-16000 running 9-9-9-28 @ 2000MHz and 8-8-8-24 @ 1600 MHz dominated the field. We'd not only have to say it dominated the field, but handed out a severe whipping to the competition.
SUPERPI & EVEREST
SuperPi
SuperPi is the standard many enthusiasts go by to determine the performance of that monster rig they've built. We ran the 1 Meg and 2 Meg calculations in our testing. We ran the calculations three times and reported the average of the three runs.
Super Pi is used by most computer enthusiasts to test the performance and stability of their computers. In the overclocking community, it provides a benchmark for enthusiasts to compare "world record" pi calculation times and to demonstrate their overclocking abilities. The program can also be used to test the stability of a certain overclock speed. If a computer is able to calculate PI to the 32 millionth place after the decimal without mistake, it is considered to be moderately stable in terms of RAM and CPU. However, longer tests with other CPU/Ram intensive calculation programs will run for hours instead of minutes and may better stress system stability.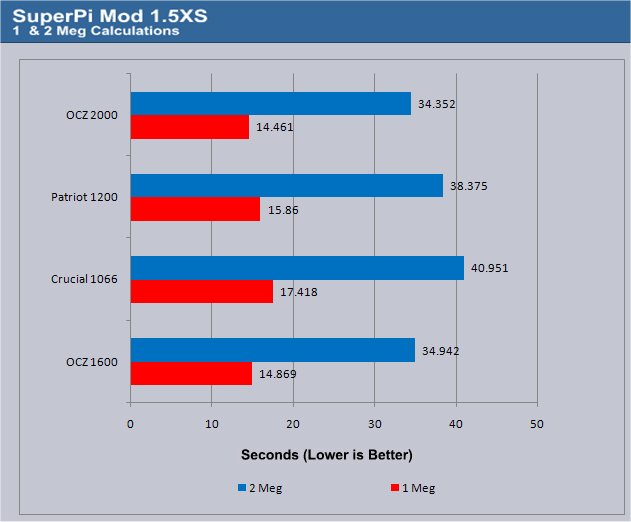 We see that in SuperPi that the OCZ PC3-16000 Nvidia SLI-Ready two gig kit clearly beat the Crucial 1066 and the Patriot 1200. We kept the bus at 400 on both boards to help level the playing field. The sheer speed of the DDR3 2000 kit, even at the lower speed of 1600 and 8-8-8-24, was enough to crush the other kits. Kicking it to 2000 @ 9-9-9-28 gave even better scores.
Everest Ultimate
"EVEREST Ultimate Edition is an industry leading system diagnostics and benchmarking solution for enthusiasts PC users, based on the award-winning EVEREST Technology. During system optimizations and tweaking it provides essential system and overclock information, advanced hardware monitoring and diagnostics capabilities to check the effects of the applied settings. CPU, FPU and memory benchmarks are available to measure the actual system performance and compare it to previous states or other systems. Furthermore, complete software, operating system and security information makes EVEREST Ultimate Edition a comprehensive system diagnostics tool that offers a total of 100 pages of information about your PC."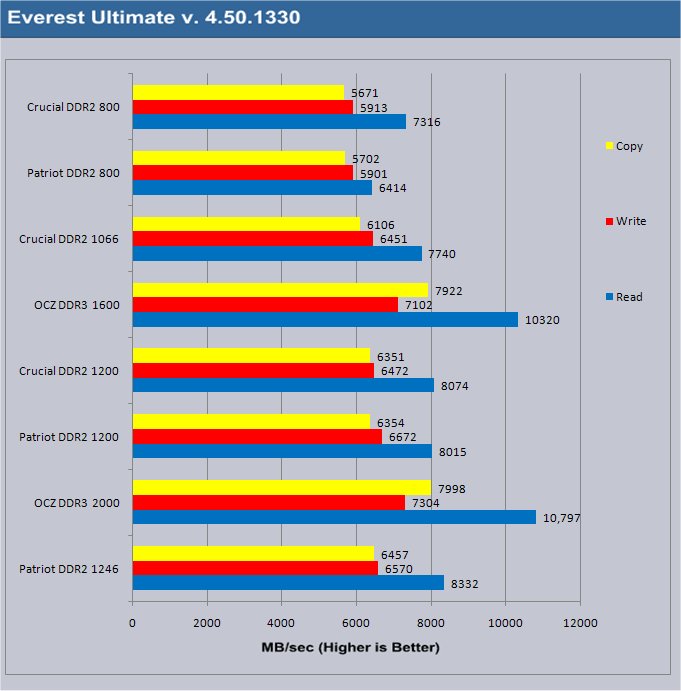 We wanted to get as much data out of Everest as possible so we ran the Patriot at 800 as well as previously tested speeds. We would have run the OCZ DDR3 @ 1333 as well but our 790i board complains if we run it below 1600.
In Everest, the OCZ PC3-16000 really shows it colors, pulling way out in front of the other kits. By way out there we mean more than 2 GB/s more bandwidth. Tuned properly, DDR3 yields some pretty good results.
WINRAR & CRYSIS
WinRar
This module in WinRar generates random data, which contains specially introduced redundancy, increasing the load to both the processor and memory. Data is then passed through RAR compression and decompression algorithms and output of the decompression algorithm is compared to the source data. If any differences are found, WinRAR then reports "Errors found – Yes" in the command window. WinRAR displays the size of processed data and compression speed, current and resulting, in kilobytes per second.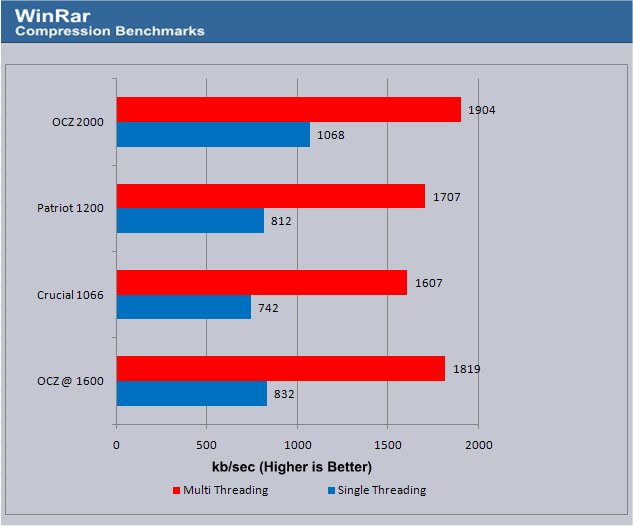 By this time, it came as no surprise that the OCZ two Gig kit dominated the WinRar benchmark. Running on the 790i chip set that it was designed and optimized for, it probably has a few advantages we're not privy to.
Crysis v. 1.2

Crysis is the most highly anticipated game to hit the market in the last several years. Crysis is based on the CryENGINE™ 2 developed by Crytek. The CryENGINE™ 2 offers real time editing, bump mapping, dynamic lights, network system, integrated physics system, shaders, shadows, and a dynamic music system, just to name a few of the state-of-the-art features that are incorporated into Crysis. As one might expect with this number of features, the game is extremely demanding of system resources, especially the GPU. We expect Crysis to be a primary gaming benchmark for many years to come.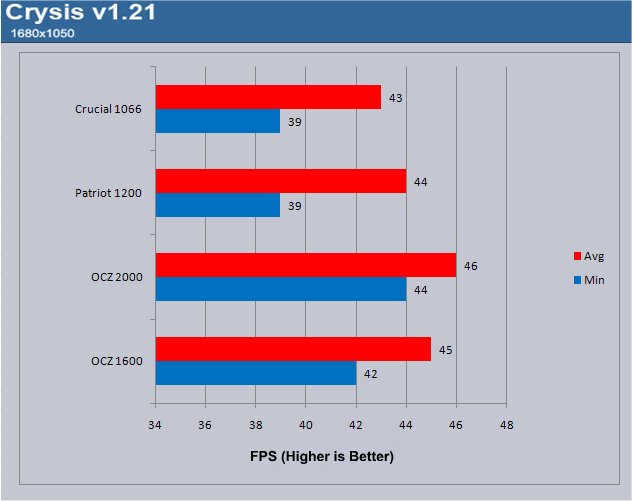 The Crysis benchmark, being run on two different setups with SLI on one and Crossfire on the other, is of limited use for comparison.
CONCLUSION
To reiterate what we mentioned earlier. The playing field with Ram is changing quickly. Previous limitations on DDR3 bandwidth will soon be lifted as Intel opens the gate on Nehalem. Take our word for it. We can't go into detail because at this time it's still under NDA (Non-Disclosure Agreement), but bandwidth results under Nehalem running DDR3 will change your mind about the current and future use of DDR3.
To matters at hand, the OCZ PC3-16000 NVIDIA SLI-Ready Edition two Gig kit outperformed all of the other kits in every test we ran. In most tests, it not only outran, but thoroughly smashed, the competition. A lot of that is due to proper tuning and running it correctly.
We also found that properly tuned, running at 1600 MHz 8-8-8-24 with the memory Synched and Linked on the 790i ,we got almost as good a result as running it at 2000 MHz 9-9-9-28. In some cases it ran better at 1600 MHz.
No matter how we ran the ram, we can easily say it's the fastest kit we've tested to date. Unfortunately, this kit is pretty much already cranked to the max. We attempted overclocking it, but even at 2020 MHz we didn't have any luck. Running at 2000 MHz is a feat in itself, so we really don't hold that against it.
Pros:
+  Great Performance
+  SLI Ready
+  Significant Advantages In Running It
+  Great Heat Spreaders
+  Looks Good
+  Very Stable
+  Nehalem Voltage Capable
+  Quality Construction
Cons:
–  Cranked High Enough – Overclocking Wasn't Possible
The advent of High Performance Enhanced Latency DDR3 has filled a niche that sorely needed filling. OCZ has done one heck of a good job with this PC3-16000 NVIDIA SLI-Ready Edition DDR3 2GB kit. It's the fastest ram we've tested to date! And it was almost plug and play.
Final Score: 8.5 out of 10 and the Bjorn3D Seal of Approval.