The Razer Goliathus High Speed mouse pad helps to bring speed and precision to your PC gaming endeavors.
Introduction
One of the most overlooked and least appreciated gaming accessories is the pad your mouse rests on. Taking its lowly place under the feet of your primary instrument of destruction: your gaming mouse.
On a daily basis at Bjorn3D we hear everything from "I don't use a pad" (Shame on you; your poor mouse's feet probably have blisters) to "I'm using a phone book right now." Most gamers like to have a nice mouse that fits the hand, becoming an extension of the arm when running and gunning on the battlefield, thusly PWNing everything that moves. Yet, they think nothing about the pad under that expensive mouse, and often end up on the desk's surface, a book, a piece of paper, a cutting board, or a simple piece of cardboard.
While Optical, Laser or Infrared mice can operate under those grueling conditions, we, and perhaps we alone, hear their cries of agony. Crying out into the glow of the LCD, "Help us our feet hurt, Help us Help you PWN". When Razer contacted us about testing their new Goliathus High Speed Edition Gaming Mouse Pad, we heard the cries of thousands of mice begging for relief and we were glad for the chance to be the voice of all those tortured souls.
If the mouse is an extension of your arm in the heat of battle, the mouse pad is logically an extension of your mouse; it can and will help your gaming experience if you let it. It will also help to extend the useful life of your mouse by protecting it's feet, which means it protects your investment, too.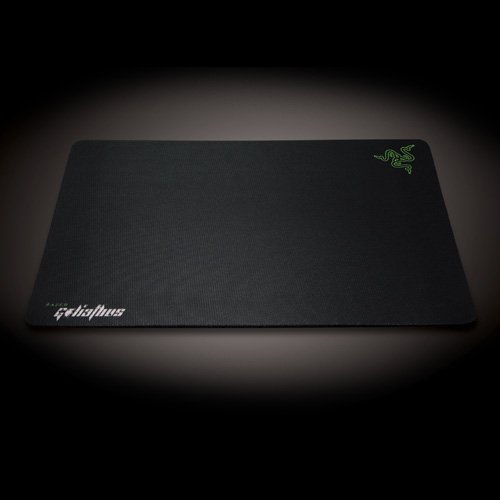 About Razer
Razer collaborates with gamers to develop, manufacture and market cutting-edge gaming peripherals utilizing proprietary technologies that give gamers the competitive edge. We reinvented the computer gaming industry by bringing this competitive edge to gamers when professional computer gaming was in its infancy. In the mid 90s, with the advent of networked gaming and competitive first-person-shooter (FPS) games, gamers found that their legacy peripherals were inhibiting rather than enhancing their gameplay.
In 1999, the Razer Boomslang™, the stuff of gaming legends, was launched after much research. Featuring an unprecedented precision of up to 2000 dpi when other mice maxed out at 400 dpi, the Razer Boomslang, powered by proprietary opto-mechanical technology, offered up to five times the accuracy of other gaming mice. It came as no surprise when professional gamers widewide such as Jonathon "Fatal1ty" Wendell and Sujoy Roy readily adopted the Razer Boomslang as their gaming mouse of choice. In just two years, more than 100,000 Razer Boomslangs were sold by Christmas.
Headquartered in Carlsbad, California, Razer collaborates with gamers to develop, manufacture and market cutting-edge gaming peripherals utilizing proprietary technologies that give gamers the competitive edge. Razer products have earned critical praise and won multiple awards from around the world for their precision, sensitivity, usability and distinctions in product design. Engineered to near perfection, Razer's reputation of being the leader in gaming peripheral technology is embodied in every single Razer product.
SPECIFICATIONS, PICTURES & IMPRESSIONS
Specifications
Advanced Cloth Weave For Unbridled Speed and Effortless Control
Pixel-Precise Targeting and Tracking
Optimized for All Mouse Sensitivity Settings and Sensor Types
Standard 355mm X 254mm X 4mm Design
Rubber Base for a Secure Grip on Smooth Surfaces
The Goliathus is available in three different sizes and two different flavors: the Speed Edition and the Control Edition. The one we have today is the Speed Edition. We found ourselves wondering… if we got one of each, cut them in half, and glued them back together so half of each pad was used, would it:
OR
We are pretty sure that this is one of those "Does it make a sound when it falls" issues, far too deep for scientific evaluation.
The different sizes are:
Oversized 444mm X 355mm X 4.3mm Design
Standard 355mm X 254mm X 4mm Design
Space-efficient 270mm x 215mm x 4mm Design
The one we have for testing is the Standard 355mm X 254mm X 4mm. It's actually quite large and should fit the needs of most gamers. For comparison purposes we snagged a photo of all three sizes from the Razer website.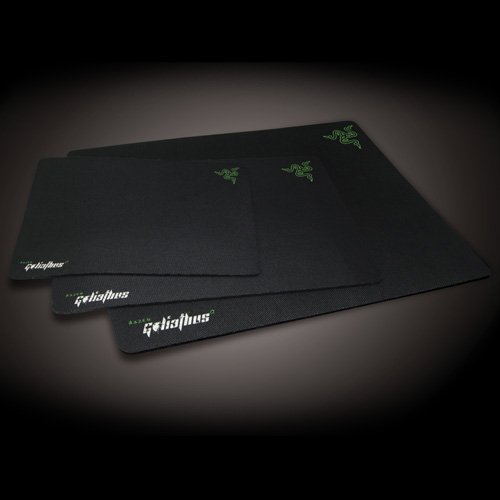 Razer Goliathus in three sizes
Given that the Standard edition is fairly large it would take a really manly desk to accommodate the Oversized edition. At Bjorn3D we were betting that you could almost cut the Oversized edition in half and have plenty of room to mouse around. Not that you'd want to mistreat this overlooked and under-appreciated accessory (you've been mean enough to that pad-less mouse, you brute).
Pictures & Impressions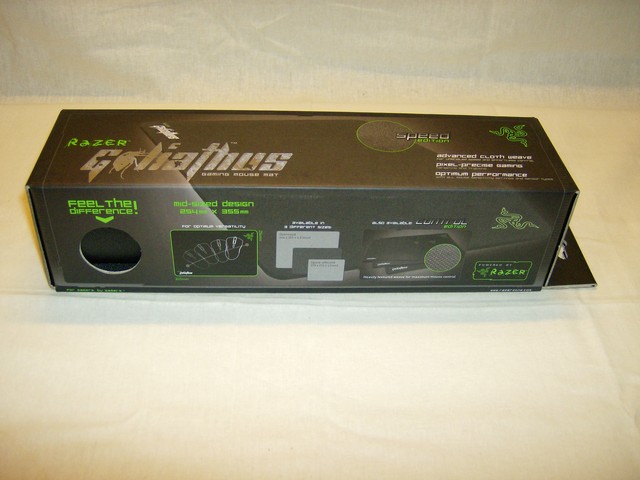 Razer Goliathus Packaging
The Goliathus comes in a typical "Razer Black" box that has plenty of information and specifications to help inform the consumer about his or her purchase. The packaging did have one feature we found a little disturbing. It has a hole in it for people to touch the pad's surface to see how it feels. We don't know about anyone else, but the general consensus here at Bjorn3D was that we weren't sure we liked the idea of anyone else stroking our pad. So take heed, if we catch you trying to stroke our pads, we'll make you wait in the lobby for five minutes before gaining entry into these hallowed pages.
Despite having been confined to that small box and rolled up like a newspaper, as soon as we flopped the Goliathus down on the desk it laid out smooth and flat. We are pretty sure that we heard a sigh of relief emitting from it, secure in the knowledge it had landed in a gaming shrine and not some spinsters desk that smelled remotely of baby powder.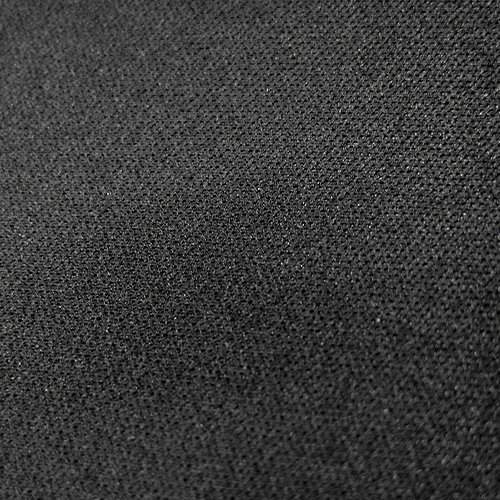 Goliathus Cloth Weave
We were quite impressed with the fine weave of the slick cloth covering of the Goliathus. It's a nice tight weave that has enough texture for the mouse to scan and read accurately. A lot of off-the-shelf mouse pads that are really tightly woven, or are that funny rubberized material, cause the higher end mice to respond a little sluggishly, giving occasional tracking errors (usually right before your brains gets splattered on the wall, you know who you are, you mousal abusers).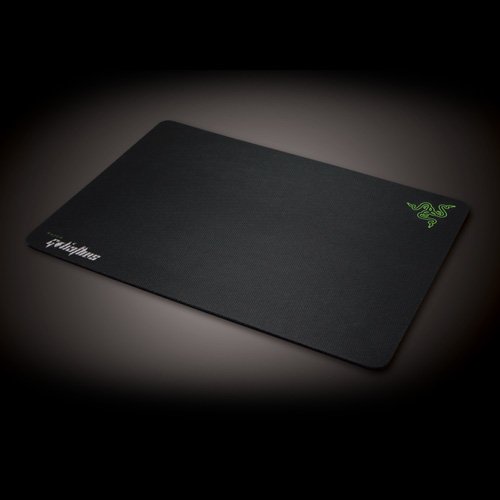 The Goliathus has a professional look and feel to it and would be at home at any gamers shrine or on the desk at the office. The weave is especially taut and creates a slick seamless surface that is much more comfortable than those hard mats; yet, like the hard mats, it provides razor sharp precision, but takes mouse pad comfort to a new level.
On a side note we were somewhat disappointed when we opened the box, as Razor didn't see fit to include a manual with the Goliathus and we couldn't seem to find the On Switch or power cord.
TESTING, RESULTS & CONCLUSION
Testing
Once we received the Goliathus we scurried around the lab looking for our Mouse Pad Testing Machine, but much like the Manual and power cord it was nowhere to be found. That was until we realized we had the Mouse in our hand and were already using it.
For testing purposes we went with a Razer Salmosa basic gaming mouse. We figured this would help make up for the lack of a power cord and manual. The Salmosa has a DPI switch on the bottom that allows us to quickly switch between 800 and 1800 DPI, streamlining the testing of high and low DPI mice. The Salmosa also has a polling switch on the bottom that allows us to easily switch the polling rate of the mouse so we can test all the way from "low DPI low Polling" to "high DPI high Polling" without having to switch the mouse three or four times.
We decided to run some extensive testing in Crysis because we are stuck on the Aircraft Carrier looking for some Engineer and really need to find him. We did the testing on our Q6600 test rig we named Quadzilla. Quadzila is running at 3.6 Ghz, with a sweet 4 Gig kit of Crucial Ballistix Tracers OCed to 1200 (from 1066), we pumped up the hard drive storage a while back with a Raid0 Matrix array and dual boot operating systems. For our graphics pleasure we installed a Sapphire 4870 and a Sapphire 4850 Toxic in Crossfire. We have all that sitting on a Gigabyte EP45-Extreme, with a Swiftech water cooling system on the CPU and a Thermaltake Bigwater kit cooling the chipset. We're pretty sure even Crysis flinches when it sees Quadzilla coming. If weight is any indication of quality, Quadzilla weighed in at 62 Lbs the other day (He's on a low voltage diet now).
Results
We started out at the beginning of the Aircraft Carrier scene in Crysis. After talking to the Admiral, we were promptly attacked by a bunch of flying enemies and were quickly ordered to defend the flight deck.
After breaking down the door we collected what few weapons we could find in the interior of the ship, and staggered our way out to the deck where we found a bountiful supply of armaments right outside the door. We quickly realized that, through no fault of the Goliath, we needed to go to a higher DPI to get those snap shots off quickly, so we flipped the mouse over and clicked into 1800 DPI mode.
After giving the Instrument of Destruction that fast tweak we quickly found ourselves ducking in and out of the piles of debris scattered around the deck. Movement was quick and decisive with the Goliathus/Salmosa combination. We switched over to the Gauss Rifle and started dealing out a little destruction Bjorn3D style (swift and merciless).
Having previously used an off-the-rack cloth mouse pad, we were immediately impressed with the comfort of the Goliathus (and the lack of Hot Pocket stains). The Salmosa with it's Teflon feet was gliding across it like a skater on mirror smooth ice.
Positioning ourselves behind a pile of debris we started taking well aimed shots at the flying nightmares coming at us in seemingly endless waves. The Goliathus was making it much easier to get our shots lined up quickly, snap them off and duck back behind cover while the Gauss rifle was recycling.
We decided to dash back across the deck and pick up a rocket launcher since we forgot to get it earlier. Enemy fire was raining down on us like the wrath of a woman left alone in bed while her better half plays Crysis late into the night (oh wait a minute – that was a woman raging at us… we better move this along).
Several hours after stepping out onto the deck of the Aircraft Carrier and laying waste to to those Alien flying machines several times, we decided to shut things down and let what we had learned soak in (we had to get to bed before we had to suffer the repercussions of our actions).
Conclusion
Having lived with and used the Goliathus for more than a week we still found ourselves wondering if someone had stroked our pad. Some denizen of the warehouse hearing the call of the hole in the box and not being able to resist sticking his grimy finger in and touching our Goliathus. In the end though we will never know if we were the first to caress it's silken length with our straining Teflon mouse feet.
That shimmer of doubt didn't hinder the Goliathus in it's performance. During our week long testing of the Goliathus Speed Edition Gaming Mouse Pad we used it in everyday computing and gaming on a regular basis. It would have been negligent of us to purposely avoid gaming with it at least once a day.
Compared with the off the shelf Hot Pocket Stained pad we had been using the Goliathus was a sheer delight to use. Tracking was crisper, shots lined up easier, in game movement was precise and natural. You do need to keep in mind though that if your still using a Lab Rat with a string tied to his tail for a mouse that the quality of the mouse you use will affect the performance of your mouse pad. On the flip side of that the quality of your mouse pad will affect the performance of your mouse.
After the exhaustive testing of the Goliathus we still hadn't found the Engineer and are beginning to wonder if he really exists. We can't complain though. The Goliathus did it's part in improving our gaming stats. When we do find the Engineer though, we hope the game lets us kick his greasy butt.
We've been through a lot of Mouse Pads at Bjorn3D. If you knew how many, you might consider us the "Paid Escort" of mouse pads. It turns out that our wandering ways came in handy while testing the Goliathus. With the wide range of pads we've tested over the years we are uniquely qualified to say that the Goliathus was a pleasure to use. It tracked accurately and improved our accuracy. And it saves us money on wet wipes to get that Hot Pocket grease off our hands.
Pros:
+  Great Performance
+  Comfortable
+  Affordable (14.99-24.99)
+  Non-Slip Backing
+  Looks Good
+  Helps Improve Accuracy
+  Satisfies The Needs Of That Neglected Mouse
Cons:
–  Never Did Find The Power Cord Or On Switch
–  Price With Shipping Might Keep A Few Mousal Abusers From Purchasing One
With games becoming more demanding on your reflexes and shooting skills it pays to have a high quality, comfortable Goliathus High Speed Edition Gaming Mouse Pad tickling your mouses toes(and please remember, no stroking the pad during gaming it's distracting).
Final Score of 8.0 out of 10