We are going to take a look at the NVIDIA's latest budget graphic card, GeForce 9500 GT. This card has the same specification as the older GeForce 8600 GT and it aims to replace the 8500/8600 cards. We are going to put it against the GeForce 8600 GTS and look at the performance difference. The result is somewhat surprise to us. Check it out.
INTRODUCTION
Although not getting much news and reviews, budget graphics cards are actually a big market. These cards usually are cut-down version of the enthusiasts and mainstream cards. They are usually bundled with many pre-built system and are often what you will find at your local retailers. The budget graphic cards often are a good choice for people who wish to upgrade their system with integrated graphics to a discreet card because they free up the precious system RAM that the integrated GPU utilizes. Furthermore, by upgrading the integrated GPU to a discreet GPU, you are not only getting a better performance but usually also getting more features and functions.
Since the GTX 200 series' launch, NVIDIA has revamped their whole current line-up of graphic cards. They have shifted to 9000 series and GTX 200 series, with the GTX 200s sitting on the top of the performance bracket and the 9000 series occupying the mainstream and budget market. Their new budget card is the GeForce 9500 GT. This card will initially be manufactured with 65 nm fabrication process but soon NVIDIA will move it to the 55 nm as do all of the current NVIDIA cards.
GeForce 9500 GT takes over the old GeForce 8500 GT/8600 GT.  As the specifications reveal, both cards have very similar specs.  The biggest changes 9500 GT brings is the PCI Express 2.0, other than that, there is no major functional difference between this and older cards.
Testing Cards' Specification

 
GeForce 9500 GT
GeForce 8600 GTS 
GeForce 8600 GT
GeForce 8500 GT
Fabrication Process
65 nm (55 nm coming)
65 nm
65nm
65nm

Core Clock Rate

550 MHz
675 MHz
540 MHz
450 MHz
SP Clock Rate
1,400 MHz
1,450 MHz
1190 MHz
900 MHz
Streaming Processors
32
32
32
16
Memory Type
DDR2/GDDR3
GDDR3
DDR3
DDR2
Memory Clock
800 (GDDR3) and 500 (DDR2)
1,000 MHz
700 MHz
400 MHz
Memory Interface
128-bit
128-bit
128-bit
128-bit
Memory Bandwidth
25.6 (GDDR3) and 16.2 (DDR2) GB/s
32.0 GB/s
22.4 GB/s
12.8 GB/s
Memory Size
256/512 MB
256/512 MB
256/512 MB
256/512 MB
Texture Filtering Rate
8.8 GigaTexels/sec
10.8 Giga Texcels/sec
8.6 GigaTexels/sec
3.6 GigaTexels/sec
Bus Type
PCI-E 2.0
PCI-E 1.0
PCI-E 1.0
PCI-E 1.0
All GeForce 9500 GT share the same 32 processor cores, 550 MHz of core clock, 1400 MHz of processor clock, and 8.8 GT/s of texture fillrate. However, you can find cards using either DDR2 or GDDR3 and with 512MB or 256MB of RAM.  The memory clock will be difference depends on types of RAM is being used.
Feature/Specification

 

GDDR 2

 GDDR 3

Memory Clock

500 MHz

800 MHz

Memory Amount 

256/512 MB

256 / 512 MB

Memory Interface 

128 bit

128 bit

Memory Bandwidth 

16 GB/s

25.6 GB/s
All of the cards will support NVIDIA's SLI technology, HD PureVideo,  PhysX, DirectX 10, OpenGL 2.1, and Shader Model 4.0.  The cards will also support HDCP and HDMI via adapter.  They will draw a maximum 50W of power thus no adapter is needed and with maximum temperature of 105°C.
In this review, we will take a look at the Foxconn 9500 GT, which comes with 256MB GDDR3.
FOXCONN GeForce 9500 GT
Foxconn actually has a total of five GeForce 9500 GT's to choose from. They differ in the type of memory being used, amount of RAM included, and the clock speed. Our review sample is their 9500GT-256FR3 (std OC), which by its name, we can tell that this is a GeForce 9500 GT card with 256MB DDR3 (as the R3 indicates). In addition, the card is clocked at the speed of 560 MHz core, 810 MHz memory, and 1400 MHz shader. Despite the "std" on its name, the card is actually a bit overclocked from the reference speed of 500/800/1,400 MHz (core/memory/shader).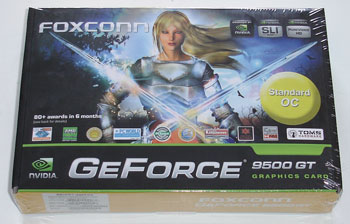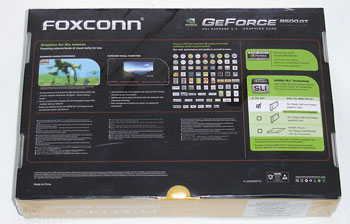 The Foxconn 9500 GT we have received came in a rather tiny box. After seeing so much big box packaging, seeing such a small box feels a bit weird.  Though the small box is nice as it saves space and packaging material, which in this environmentally-conscience world we live in is definitely a plus.  As always, the box is filled with marketing information.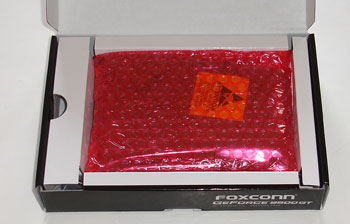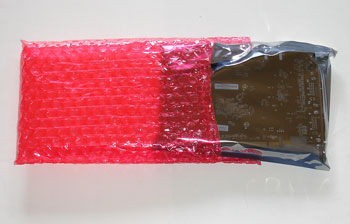 Open up the box and you will see the card is very well protected. Not only does the card has padding all around it, it is also double bagged. There is an anti-static bag outside of the card and then the contents are placed inside of a bubble bag. So there is no way that the card can be damaged during shipping.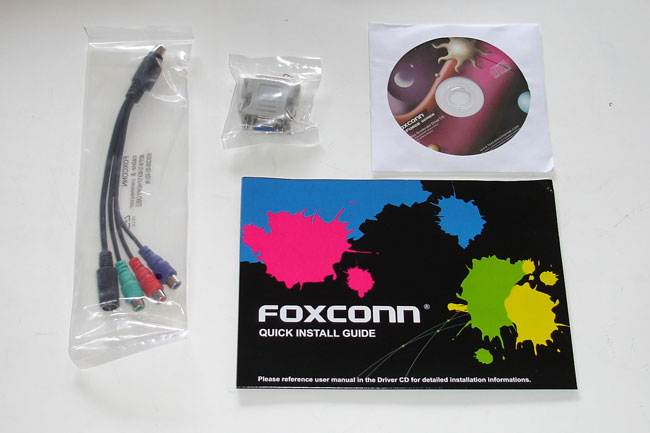 Being that this is a budget card it won't be surprised to find that it lacks much of the accessories.  Here are what has been included:
A Quick installation guide
A HDTV adapter
A DVI to VGA adapter
A CD disk
Noticeably missing from the packaging is the HDMI adapter, which in my opinion is an oversight as this card is a prime card for HTPC.  Though, you cannot really expect much from card at this price range.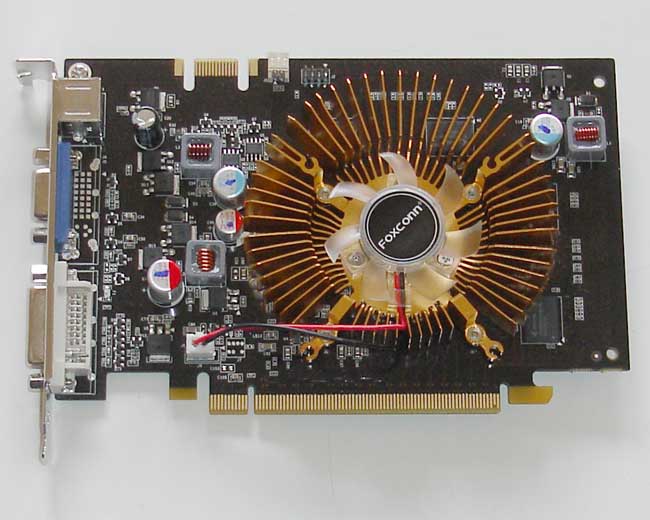 The card is rather small, measuring only 17.5 cm in length and 11.2 cm tall.  Foxconn chose to use non-reference cooler on the 9500 GT.  Rather than using a shroud covering the whole heatsink and fan, Foxconn opted for a simple radial cooler with a small fan.  The heatsink and fan only provides cooling for the core only and not the memory so it can limit the memory clock speed's overclocking.
One thing to take a note on the top of the card in addition to the SLI is the two pin HDMI audio connector next to the SLI connector. By using a HDMI audio cable (not included), users would be able to route the audio signal from the onboard or sound card's SPDIF audio to the card.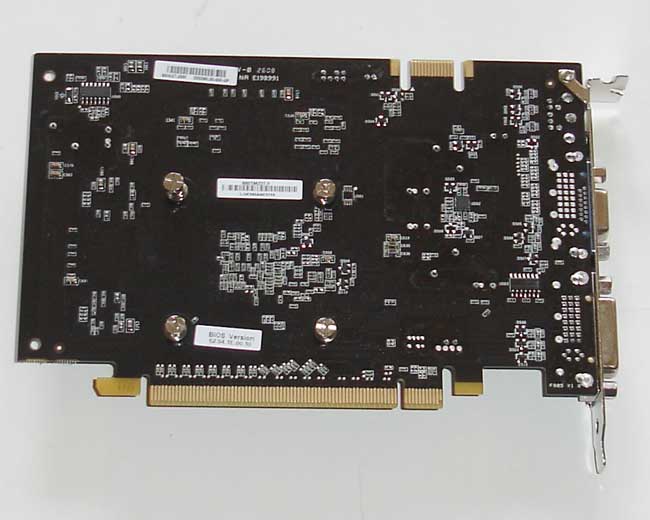 The card is a single slot card and as you can see on the top there is a gold finger connector for the SLI.  You can run two cards together but not three cards in tri-SLI.  What is nice about the card is that there is no additional power needed as it only draws a maximum of 50 W of power so you do not find the power connector.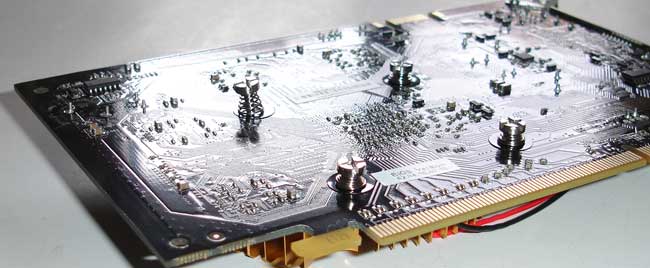 Normally we do not get anything interesting when we looked at the back of the graphic cards but with the Foxconn card we get something interesting. As you can see from the picture above, one of the screws for the heatsink is not being screwed in completely.  After careful examination of the screws, it appears that part of the screw has been broken and stuck inside of the thread on the heatsink.  Thus, the screw cannot be fastened onto the heatsink. This is a poor reflection of quality control, however, I am sure this is probably an isolated incident. After contacting Foxconn about such issue, Isaac Poon from Foxconn is quick to respond and he is sending me a replacement card.
Because the screw is not being completely fastened, the heatsink does not sit on the core evenly and as a result, the core heats up fairly quickly.  Initially the card heats up to close to 100°C.  After I took the heatsink off the card and re-assembled the unit with only two screws to ensure the heatsink is evenly sitting on top of the core, the temperature drops to 70's °C.

Looking at the video connectors, the card comes with a DVI, a VGA, and a HDTV connector.  I actually would prefer to see two DVIs.
TEST CONFIGURATION
Test Platform

Processor

AMD Phenom X3 8750

Motherboard

Asus M3N78 Pro

Memory

2 GB (2 x 1 GB) TeamGroup DDR2-800

Drive(s)

Samsung HD501J (500GB/7200rpm/16MB cache)

Graphics

Foxconn 9500 GT (ForceWare 177.79)
Foxconn 8600 GTS (ForceWare 177.79) 

Cooling

Thermalright SI-128 with Scythe S-FLEX SFF21F

Power Supply

Enermax Galaxy 850W

Display

Gateway FPD2485W

Case

None

Operating System

Windows Vista Ultimate 64-bit, SP1
The following software will be used for testing.  All games are running at 1280×1024 resolution with the settings indicated in each benchmark. 
 Software
3DMark06 v1.2
World in Conflict v1.009 (Medium, High, Super High)
Devil May Cry 4 (0/2/4 MSAA)
RESULTS
3Dmark06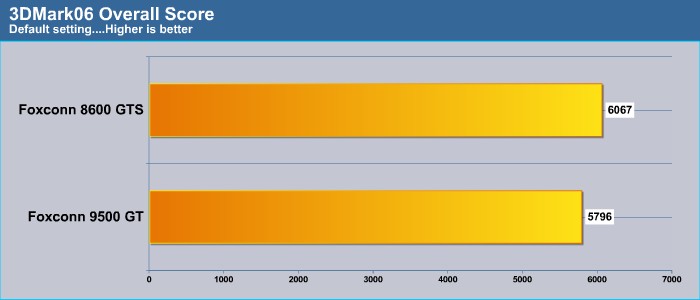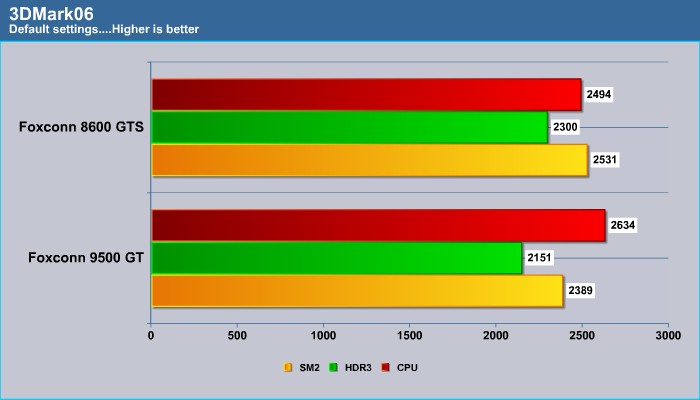 3DMark06 shows that the slightly faster clocked GeForce 8600 GTS actually has a slightly better result.
3DMark Vantage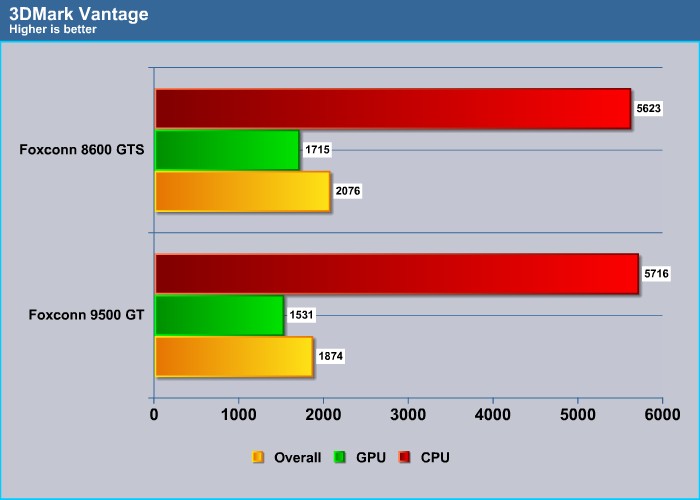 Vantage's performance also shows that the GeForce 8600 GTS has a tad better performance than the GeForce 9500 GT.  Though, it's nice to see the budget card GeForce 9500 GT actually is performing close to the last generation's mainstream card.
RESULTS
Crysis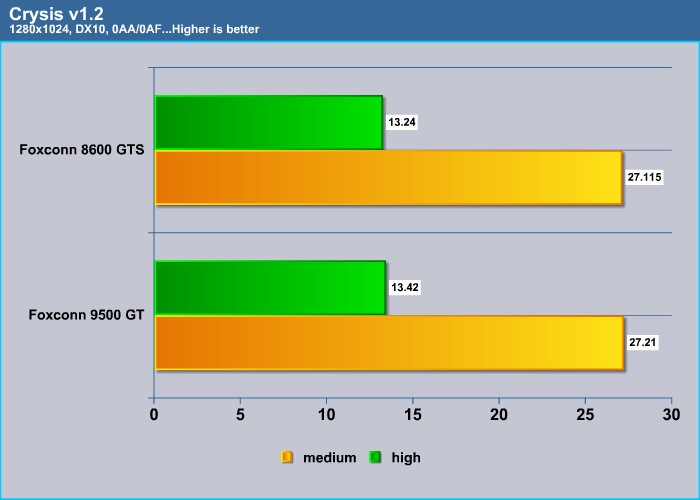 A big surprise with the Crysis as we see the GeForce 9500 GT actually is able to offer a tad better frame rates per second than the GeForce 8600 GTS despite the slower clock speed.
World in Conflict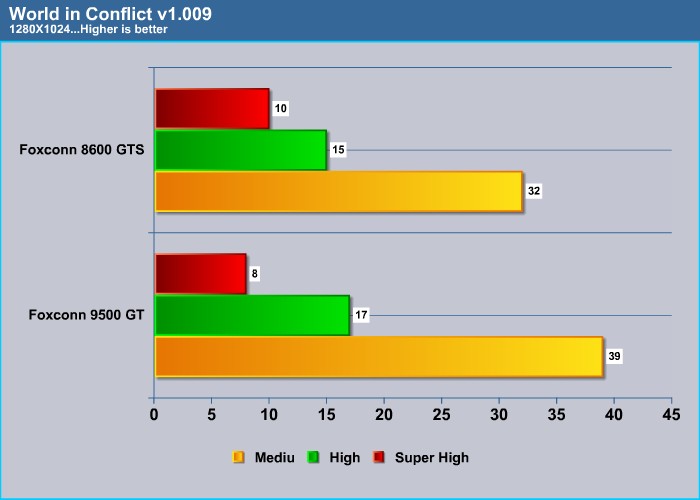 World in Conflict has the same result as what we have seen in Crysis. Here we see the G92 based GeForce 9500 GT actually has a much more noticeable performance gain over the 8600 GTS.  We see the performance gain seems to have narrowed with the higher graphical setting.
Devil May Cry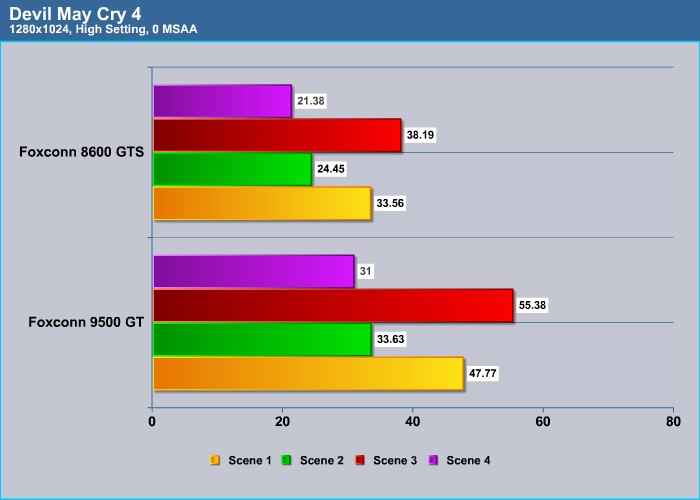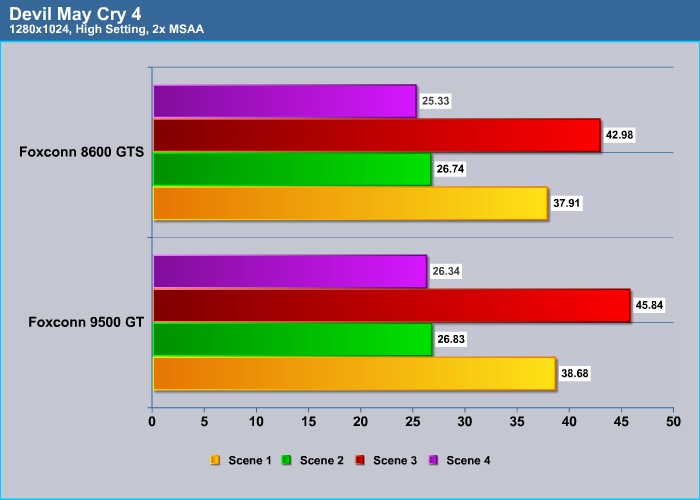 The same result is found here with the Devil May Cry 4. 
POWER CONSUMPTION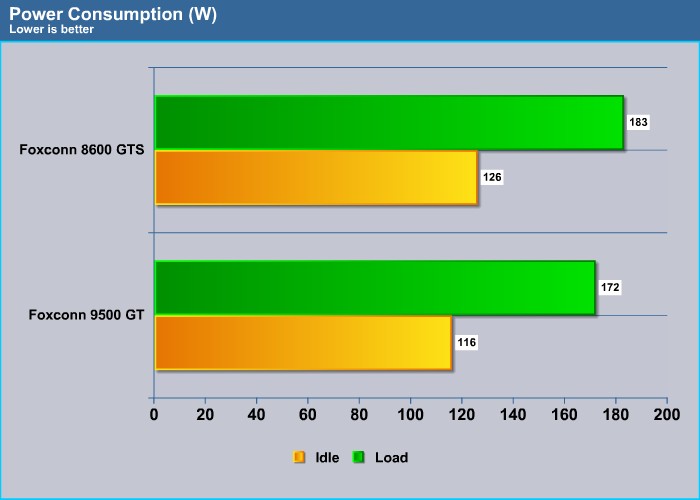 Looking at the power consumption, we can see that the GeForce 9500 GT consumes approximtaly 10W less power than the GeForce 8600 GTS.  It's nice to see the card actually consumes less power yet is able to offer better result in games and at the same time, does not require an additional power connector.  Looks like the GeForce 9500 GT is a good all around budget graphic cards and maybe even a good upgrade choice for those with 8600 GT or 8500 GT.
TEMPERATURE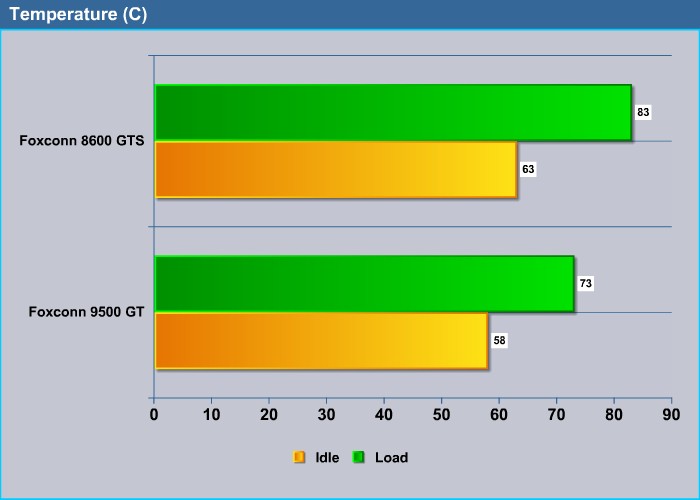 In terms of the temperature of the card, we see that the GeForce 9500 GT is also able to run cooler than the GeForce 8600 GTS.  We see a 5 C lower under idle and 10 C lower under load.  Do keep in mind that the Foxconn sample we are reviewing is not using the reference cooler so the temperature can be slightly different when we are comparing it to the reference cooler.
OVERCLOCKING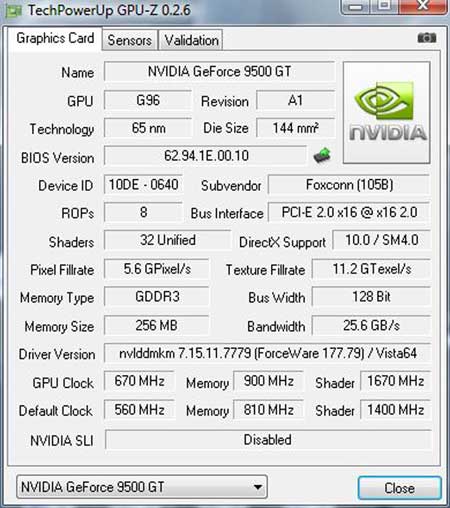 We were able to overclock the card to 670 MHz/900 MHz/1670 MHz (core/memory/shader) from the stock 560 MHz/810 MHz/1400 MHz. This represents 20% overclocking for the core and shader and 10% for the memory. The overclocking result is excellent. Keep in mind that the Foxconn card we are testing today has a different cooler than the reference card but I believe even with the stock cooler, it wouldn't be too hard to achieve such result.
CONCLUSION
I am pleasantly surprised by the performance of the GeForce 9500 GT. Given to the similar specs as the GeForce 8600 GTS, I was expecting it to perform similar and maybe even slightly worse than the GeForce 8600 GTS.  However, our benchmarks show that it is actually able to offer a tad better performance than the older mainstream card. Adding this to the fact that there is no need for additional power connector, the support for the PCI Express 2.0, and the fact that it is a budget card, this makes the GeForce 9500 GT a great value.
Although this card is definitely not for hardcore gamers who are playing games at higher resolution than the 1280×1024, it certainly would be an excellent choice for the casual gamers or people with integrated graphics.  In fact, this card would even make an excellent choice for the HTPC with the PureVideo to offload the decoding task to the GPU.
The Foxconn GeForce 9500 GT which we have tested today does not alter much from the reference GeForce 9500 GT with the exception of the heatsink and the slightly overclocked. It leaves a big head room for overclocking, runs fairly cool and quiet.  The bundle of the card is a bit scarce but has all of the essentials, with probably one little exception of HDMI audio pass through cable. Not much I can complaint about the card except maybe two DVI connector rather than DVI+VGA combination would been appreciated.
At retail price of 60~80, the GeForce 9500 GT has shown to be an excellent investment for the budget buyers.  In fact, it would also be a good choice to upgrade for those with integrated GPU or older 8400/8500 cards.

The Foxconn 9500 GT-256FR3 (std OC) will receive a score of 8.5 (very good) out of 10 and Bjorn3D coveted Seal of Approval.
Pros:
+  No external power is needed
+  Decent performance
+  Great value
+  Runs quiet
+  Great overclocking potential
 
Cons:
–  Only comes with 1 DVI 
–  Heatsink is not screwed on the card evenly
–  Lacks HDMI audio pass through cable