AMD Fusion Gaming Utility lets you temporarily optimize your AMD-system with the click of a button. How does it work? We've taken it for a quick spin to find out.
INTRODUCTION
Fusion has for quite some time been the codeword for the future AMD CPU and GPU convergence. This is however set to change as AMD today is launching a brand new marketing campaign where they promote the word Fusion as something bigger.
"Fusion is how AMD marries innovation with collaboration. Far more than just the convergence of the CPU and graphics processing, Fusion is how AMD and its partners enable next-generation technologies that change our lives."
The whole Fusion campaign is meant to show how AMD has innovated in many areas and is continuing to innovate (I'm sure the marketing people are crying now after hearing that explanation). You will however see both print ads and online ads promoting this new campaign starting today and AMD has even started a new site explaining all this at fusion.amd.com.
Today's article is however not about the whole Fusion campaign. Instead we have taken a look at a new utility that AMD is launching at the same time as the campaign, albeit in beta-form. The utility is called AMD Fusion Gaming Utility and is aimed to bring together the power of Catalyst, AMD Overdrive as well some own tricks to help users to get the best possible performance out of their computers when they are playing games.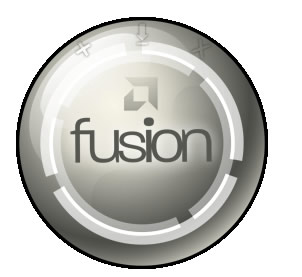 AMD FUSION GAMING UTILITY
So what is this little utility for? The aim for the utility is not really the enthusiast users who have their computers fine-tuned and optimized, even though as we will see it still has something to offer for them to. Instead the utility is aimed to the rest of us who use our computers for all sort of stuff and thus tend to have quite bloated installations of Windows.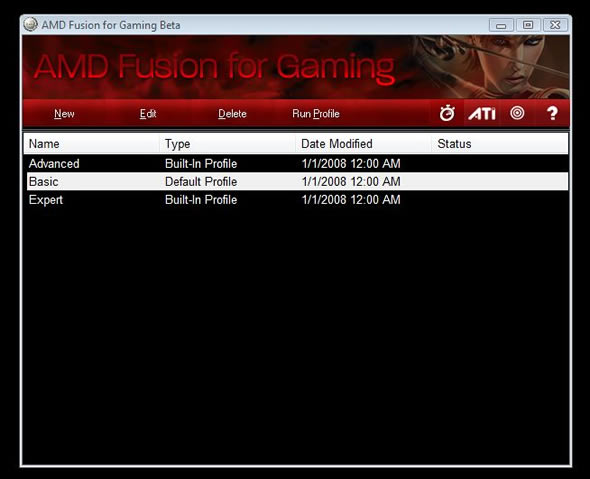 The utility works with profiles. These profiles dictate what should happen when we turn on/off the utility and in addition to the three profiles that are included AMD has made it possible to create your own profiles. They also hope that people will start to share profiles.
So what happens when we turn the utility on? Well, it depends on the profile.
Basic Profile
This profile basically turns off a bunch of services and programs that are running in the background in Windows. These include ICS (Internet Connection Sharing), Remote Registry and fax services.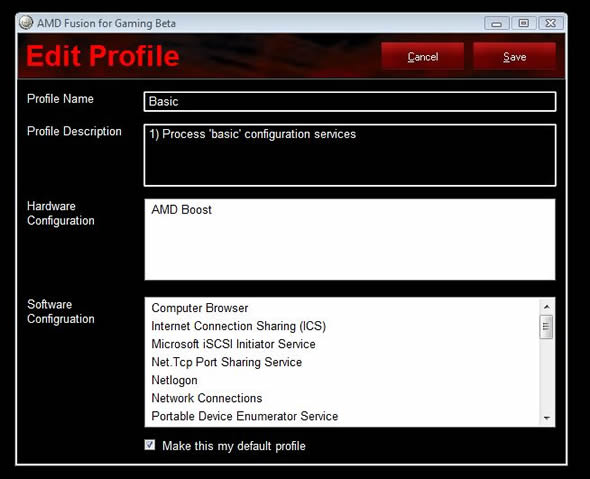 Advanced Profile
The advanced profile basically is the same as the basic profile but with more stuff that is turned off. This include the Aero desktop and the sidebar in Windows Vista.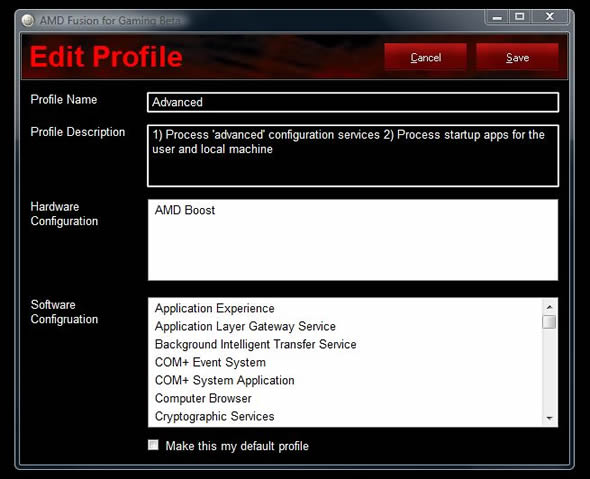 Expert profile
The expert profile is the one that takes things much further than the others. In this profile you also get some GPU and CPU tuning/overclocking, at least if you got Catalyst and/or AMD Overdrive installed. The Fusion Gaming Utility hooks into these programs to get even more speed out of the system.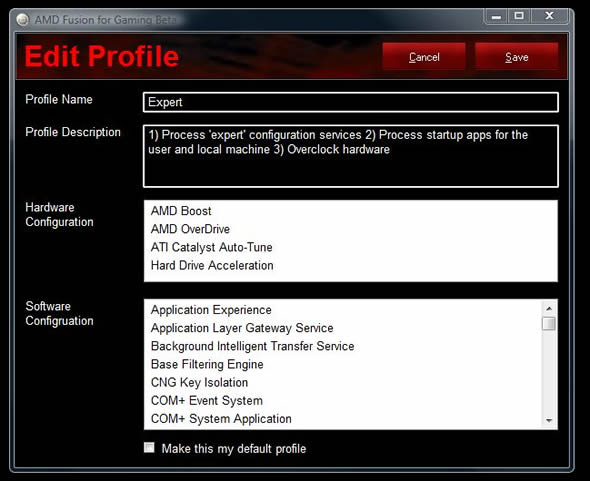 Custom profile
As we mentioned before you can also create your own profile. Right now it is hard to know what all these different services do and we are not clear if AMD will include information about this when the utility goes out of beta.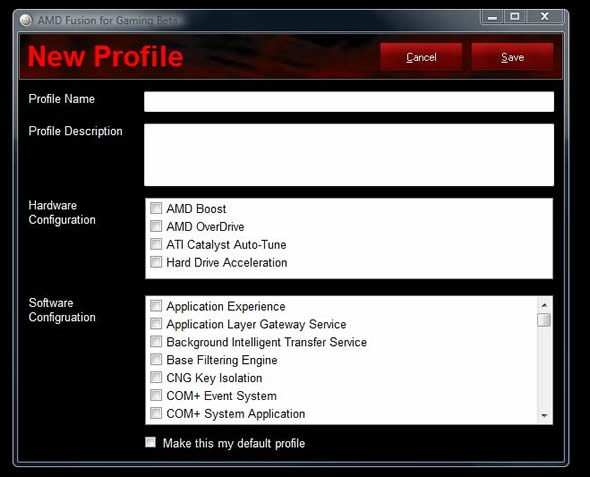 PERFORMANCE
We asked AMD about the performance win that this utility can give and got the answer "it depends". If the system is well optimized or freshly installed the utility will not do much since the system already works well. However if the system is bloated with tons of programs that are running at the same time the benefit should be greater.
AMD was keen on pointing out that the performance gain not necessarily would manifest as extra frames in games. Just as important was the fact that it could help reduce loading times and make sure that the performance of a game was smooth as it would make sure that your system would not start indexing or doing something else stupid in the background as you were playing.
 
Since we got the utility just hours before it was released we decided to just quickly take it for a spin in 3Dmark Vantage (Performance setting) just to see if it would do anything to the score. The system we used was a computer that mainly was used as HTPC and which had the following components:
Phenom 8650 Tri-core
Gigabyte 780G motherboard
2 GB DDR2 memory
500 GB Seagate HD
IiMON LCD with iMON running
Vista 32-bit with SP1
Catalyst 8.9
We did not see any real benefits on this machine and in this benchmark when using the basic or advanced mode. The scores were basically the same, even dipping slightly with the basic profile.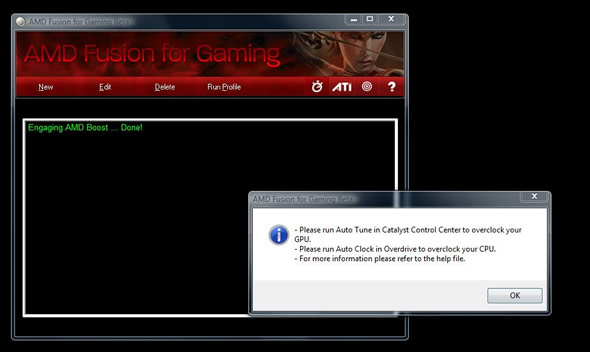 The expert profile turned out to be a bit strange. When applying the profile it told us to run the auto-tune feature in Catalyst first as well as the auto-clock feature in the Overdrive application. We figured that it needed to know the limits of the GPU and CPU and thus ran them both until it found the best overclock for each item. As we turned on the expert profile it no longer complained and said it was turning on auto-tune and Overdrive. However, the 3Dmark Vantage score did not change indicating that neither the GPU nor the CPU was overclocking as it should. As we saw this profile working fine with a AMD 9950 BE on a AMD webcast it seems we did not get it to work properly so this is something we need to spend more time investigating to see where we did wrong.
Conclusion
The idea behind the AMD Fusion Gaming Utility is sound. A utility that helps users to turn off all the junk running on their systems definitely is a nice idea. Stardock has a similar utility called TweakVista that dows the same thing by turning off various services but that program cost money as well as do not hook into the various other AMD utilities.
The price for that extra features is that it requiers a AMD Series-7 motherboard to work. To get the Overdrive hook working properly you might also have to update the bios of the motherboard.
The utility still is in beta-state which we noticed as we could not get the Catalyst auto-tune and AMD Overdrive settings to save before starting the expert profile and the fact that it still is a bit buggy but as the utility is maturing it should become a usefull utility for all AMD-owners.
The utility officially only supports Vista 32-bit but AMD said users of both Vista 64-bit and Windows XP can try it out as it should already work even there. The plan is to have official support for those two operatingssystems as well.
You can try out the utility yourself by downloading it from either game.adm.com or fusion.amd.com.