The GlacialPower GP-AL650 is a non-modular 650 Watt Power Supply aimed at mid-range gaming systems.
INTRODUCTION
Have you ever found yourself in need of a decent mid-range power supply unit for your personal computer? Maybe you don't feel like you need 1200 watts of thumping power to drive the family PC? Most people really don't need one of the PSU's that's a 1000 watts or more that we see popping up all over the market. The average home computer doesn't consume nearly that much power. Heck, most enthusiast systems don't consume that much power.
Still, most people in the know want a good quality power supply that will leave room for a little growth, while providing good clean power to their computer. GlacialPower was nice enough to send us one of their GP-AL650 650 watt gaming power supplies to take a look at. It's a non-modular power supply aimed at the mid-range gaming market. We say aimed at the mid-range gaming market because most high-end gaming systems are going to require more native PCI-E connectors than the GP-AL650 provides. It has two 6+2 pin PCI-E connectors for your graphics cards. Still, if you're planning on running two single connector GPU's or a single GPU that uses two connectors and you don't plan on going any farther, it's nice to have a mid-range alternative.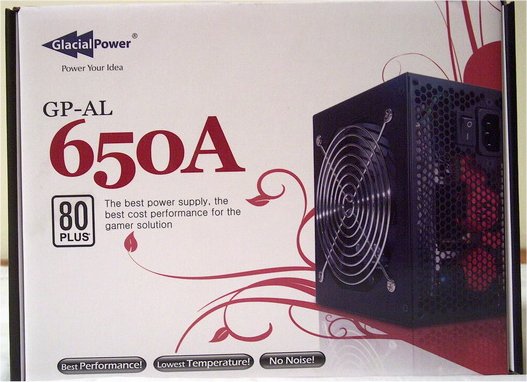 About GlacialPower
GlacialPower Inc. was established in April 2006 by a talent engineering team from the Switch Mode Power Supply (SMPS) Industry . The team members of GlacialPower has averagely 12 years rich experience in designing, quality controlling and manufacturing SMPS products. During past years the team designed for A brand companies of Acer, Asus, Cisco, Dell, Fujitsu-Siemens, Gateway, HPQ, IBM, LG Electronics, Microsoft, Samsung, Sony, Toshiba and Wistron. The team also invented the solid quality control manufacturing process approved by companies of Dell, HPQ, IBM, etc.

The company goal is to be one of the leading SMPS solution provider in the world and will use solid design to deliver quality products that possess the features of innovation and usability for customers. We will work closely together with our customer and our slogan is Power Your Idea.
FEATURES, & WHAT ABOUT THEM RAILS
Features
ATX12V Version 2.2
Design with active PFC function
Dual +12V rails and +5Vsb capability 15 W
Full output power from 0°C to 50°C
Full protection features of SCP, OVP, OCP, OPP, OTP
Power efficiency meet Energy Star 80 plus program criterion
Fan speed control and delay shut down to extend components life time
Fan switch off (0 dBA) at low load and selectable between 8cm and 12cm
RoHS compliance and 2 year warranty
ATX12v Version 2.2
The GP-AL650 PSU is current with the ATX12v Version 2.2 standard which is pretty common on most computer motherboards today. If you want the long version of the Intel standard, take a peek at it over here. The portion that applies to power supplies is how the pins on each connector are laid out.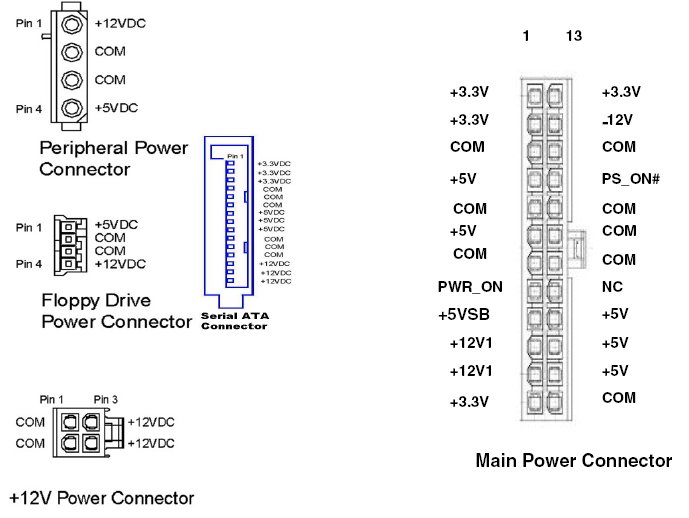 ATX Power Pinout
We though it might be handy to include a ATX12v Version 2.2 pinout diagram for you to take a look at. What is important to know is that it's the current accepted standard and works with most modern desktop computers.
Active PFC, PFC, & Non-PFC
Active PFC
The preferred type of PFC is Active Power Factor Correction (Active PFC) because it provides more efficient power frequency. Since technology uses a circuit to correct power factor, it is able to generate a theoretical power factor of over 95%. Active PFC also markedly diminishes total harmonics, automatically corrects for AC input voltage, and is capable of a full range of input voltage. Given Acitve PFC is the more complex method of Power Factor Correction, it is also more expensive to produce a power supply utilizing this technology.
Passive PFC
The most common type of PFC is Passive Power Factor Correction (Passive PFC). Passive PFC uses a capacitive filter at the AC input to correct poor power factor, which may be affected when environmental vibration occurs. This technology also requires that the AC input voltage be set manually (the dreaded orange switch on the back of the PSU). It also does not use the full energy potential of the AC line.
Non-PFC
Non-PFC power supplies are no longer recommended. In Europe, however, power supplies are now required to have either active PFC or passive PFC.
Dual 12v Rails & +5Vsb @ 15 Watts
The GP-AL650 is equiped with two 12v rails (For a detailed explanation of rails and more than you ever wanted to know about PSU you can consult the "What About Them Rails" section below). For now you'll have to settle for a voltage specifications diagram.

You can see that the twin 12v rails provide a total of 504 Watts. The 12V1 provides 26 amps and 12V2 provides 21 amps, for a total output of 47 Amps. It's important to know the amperage your GPU will require before purchasing a PSU. Not enough amperage on the 12v rail will result in your GPU not recieving the power it needs, which in end will cause undesirable performance. For a true gaming PSU we'd expect more amps on the 12v rails, which is why we have come to believe that the GP-AL650 is to be targeted at mid-range gaming systems. The +5Vsb is the rail that stays on when the computer is shutdown. In this case, it can provide 15 Watts and is used for such things as Power On By Keyboard or Mouse.
Operational Temps
The GP-AL650 should operate between 0c and 50c to operate at full efficiency. Anything above 50c or below 0c it will lose efficiency. For most users that's a quite generous range. I suppose if you live in the Arctic or in a desert it might be a concern.
Protections
The GP-AL650 provides protection against overvoltage (OVP), overload (OPP), overcurrent (OCP), over temperature (OTP), and short-circuit (SCP). Missing from that list is UVP or Under Voltage Protection. We downloaded and read the PDF file on the GP-AL650 and found no mention of UVP. If you'd like to take a look at the GP-AL650 PDF you can find it here.
Energy Star 80 Plus Criteria
Energy Star 80 Plus compliance means that the power supply will take the voltage from the wall and provide 80+ percent of that to the computer (in DC volts of course). That usually means within operating temperatures, in this case 0c to 50c. The environmental temperatures and age of the PSU will affect it's efficiency. (Pouring a soda in it or pounding on it with a hammer might affect it so we don't recommend that)
The Fan
The 12cm fan on the GP-AL650 is controlled by the power supply itself. It will range from off at low load, to wide open at full load. It will remain on if the PSU is hot when you power down the computer. The fan staying on will help to prolong the life of your PSU. At 75% load and with the ambient temperature of 35c, it will generate between 0 and 25dBA. The PSU was whisper quiet even at the heaviest load we could throw at it.
Warranty
The GlacialPower GP-AL650 is covered against failure for a period of 2 years. It's not covered against the soda or hammer we mentioned earlier.
WHAT ABOUT THEM RAILS?
We have all been told that when purchasing a power supply that the number to look for is the amps on the 12V rail. What are each of the different rails for though, and why is the 12V rail typically the most important? Why the heck are they called rails? Let's take at look at each and see.
-12V – This rail is pretty much obsolete now and is only kept on to provide backward compatibility with older hardware. Some older types of serial port circuits required both -12V and +12V voltages, but since almost no one except industrial users use serial ports anymore you as a typical home user can pretty much disregard this rail.
-5V – Again, this is another obsolete rail. The -5V was used for old school floppy controllers and some ISA bus cards. There's no need for the typical home user to worry about this rail.
0V – Though not listed on any manufacturer spec sheet, every power supply has a 0V ground line. The ground signal is used to complete circuits with other voltages and provide a plane of reference against which other voltages are measured.
+3.3V – Finally, we are starting to get into something useful! The +3.3V rail was introduced with the ATX form factor in order to power second generation Pentium chips. Previously, the CPU was powered by the +5V rail (along with the system memory and everything else on the motherboard), but a reduced voltage was needed in order to reduce power consumption as the chips got faster. Until just recently, the +3.3V was used to exclusively power the CPU as well as some types of system memory, AGP video cards, and other circuits.
+ 5V – As mentioned above, the +5V rail used to run the motherboard, CPU and the majority of other system components on older pre ATX based systems. On newer systems, many of the components have migrated to either the +3.3V or +12V rails, but the motherboard and many of its onboard components still use the +5V rail. Hence, this rail is of importance to the typical home user.
+5V SB – The +5V Standby or "Soft Power" signal carries the same output level as the +5V rail but is independent and is always on, even when the computer is turned off. This rail allows for two things. First, it allows the motherboard to control the power supply when it is off by enabling features such as wakeup from sleep mode, or wake on LAN technology to function. It also is what allows Windows to turn your computer off automatically on shutdown as opposed to previous AT supplies where you had to bend over and push the button. Every standard ATX power supply on the market will include this rail.
+ 12V – The +12V rail, also known as the mother of all rails, is now used to power the most demanding components in your system including the CPU, hard drives, cooling fans, and graphics cards. Historically, the +12V rail was used only to power drives and cooling fans. With the introduction of the 4-pin CPU plug on P4 motherboards and AMD motherboards promptly following after, the +12V rail suddenly started to grow in importance. Today, dual core based motherboard require an 8-pin +12V connector to supply their power needs. High end GPU cards have also jumped on the +12V rail, which has required PSU makers to adapt. Where previously there was only a single +12V rail, there are now two or more, each designated to power specific devices in order to ensure that nothing is underpowered.
Now as to why they are called rails – The best explanation that I can find is that the term comes from the wacky world of electronics and it refers to a long metal bar or strip that is used to provide a particular voltage level. Perhaps someone with a deeper understanding of all things electrical could let me know whether or not that is true.
ATX 12V V2.2 Standard
ATX 2.20
2.20 is the current standard and has been the standard as of March 2005. It was released the same month as the short lived 2.1 revision which is why you won't see any units bearing that standard. The 2.20 again increased the efficiency requirements which now stand at a minimum of 65% or greater and a recommended level of 75% or greater. The +5VSB rail has also been increased to 2.5A
In short any power supply post 2.0 will do the job for you. The biggest advantage of purchasing a latter standard model would seem to be the increase in efficiency rating.
EPS12v Standard
The EPS12V specification is one of those standards that most people have heard about, but very few know what it actually does. The EPS spec itself is defined in the Intel Server System Infrastructure (SSI) spec and is currently at v2.1.
The EPS12V spec dictates that PSU's must have a 24pin 12V connector as well as one additional 8-pin 12V connector. If a PSU is noted as EPS12V compliant you can be assured that it will have all the connections you need to power your new dual core based system, however, it should also be noted that units do not necessarily have to meet EPS12V spec to include an 8-pin 12V connector.
My "What About Them Rails?" section needs a little updating but it'll provide enough current information that it's still useful for the novice hunting for a viable PSU for that gaming monster their building.
Enough of the boring stuff, lets get on to some pictures.
PICTURES & IMPRESSIONS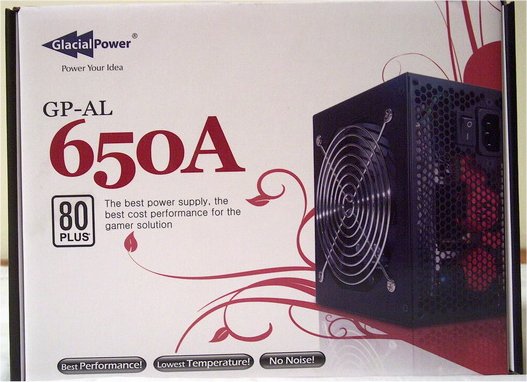 Box Front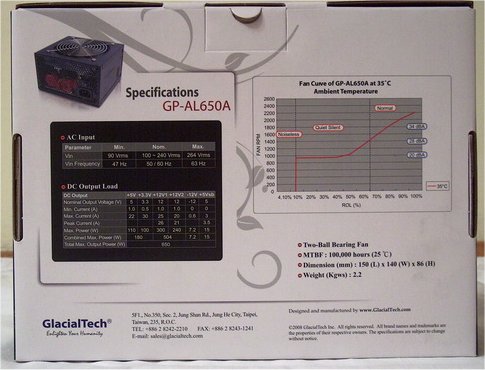 Box Back
The GlacialPower GP-AL650 comes in a sturdy white box with plenty of information and specifications listed to help the consumer make an informed decision about the PSU.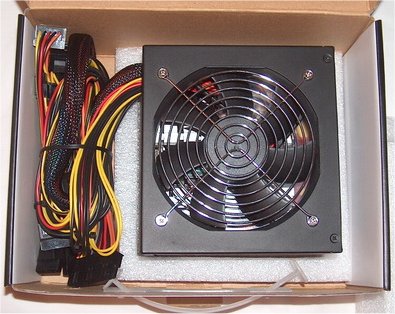 Interior Packaging
The interior packing finds the GP-AL650 snugly fitted into a foam enclosure that provides plenty of protection for the power supply. It was packed well enough that it arrived in pristine condition and showed no signs of shifting out of it's intended position.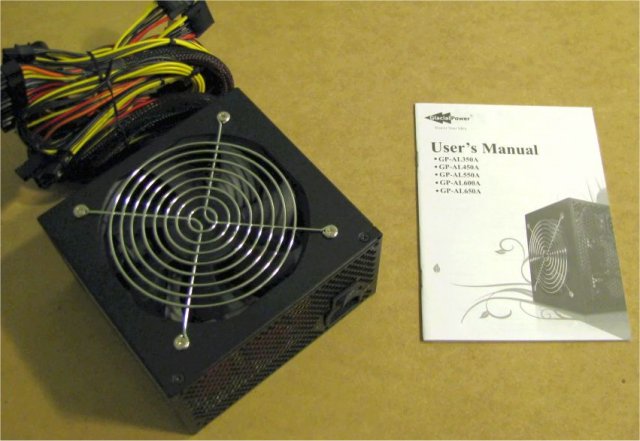 Inside The Box
Inside the box you'll find the power supply itself and the manual. No screws were included to mount the PSU with. Most cases come with the correct screws so it's not really a big deal that none were included. Still, we usually like to see a package of screws included for convenience.
That's a pretty big bundle of wires there so lets pause and take a look at the connectors on the GP-AL650.
(1x) 20 + 4 pin ATX
(1x) 4 + 4 pin ATX12V
(2x) 6 + 2 pin PCI-express power
(6x) Molex power with grip for easy removal
(6x) Serial ATA power
(1x) Floppy power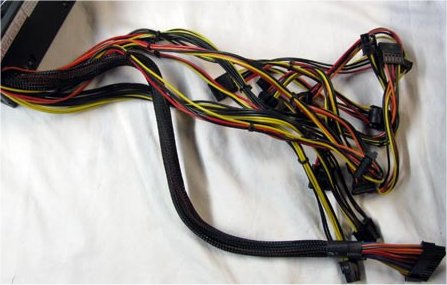 The Whole Bundle Of Wires
Only the main 24 pin ATX power connector is sleeved while the rest of the wires are cable tied at intervals. Cable sleeving on all the wires would have made things look a little nicer, but GlacialPower wanted to keep the cost down without compromising the internal components. At the MSRP of $90 for the GP-AL650 and most quality units in the same range costing $145-$155, it doesn't really impact the price performance ratio of the GP-AL650 much.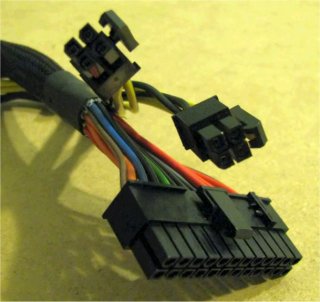 24 Pin ATX & 4+4 CPU Power Connector
The 24 pin connector is a 20 + 4 so the GP-AL650 will work with older 20 pin motherboards and the newer 24 pin boards. The 8 pin CPU power connector is a 4 + 4 so it'll work for 4 and 8 pin CPU power connectors.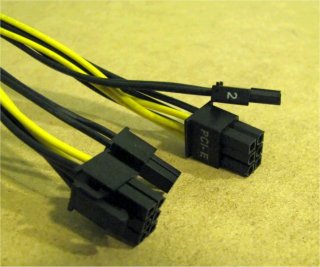 PCI-E Connectors
The GlacialPower GP-AL650 has two 6 + 2 PCI-E connectors so it'll be able to connect one dual connector GPU or two Single connector GPU's. Keep in mind though that 12v1 pushes 26 amps and the 12v2 pushes 21 amps, so you'll need to make sure your GPU will operate with that amperage.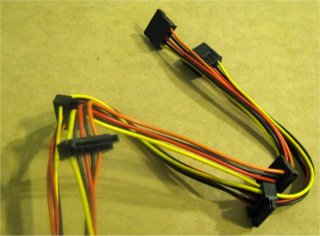 6 Sata Connectors
There's a total of 6 Sata connectors available which is plenty for most systems.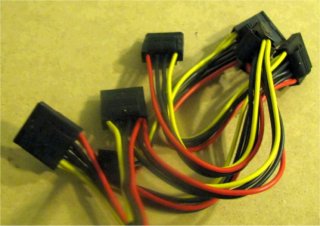 6 Molex & 1 Floppy Connectors
Then finally, there's 6 molex connectors with easy release connections and one floppy connector.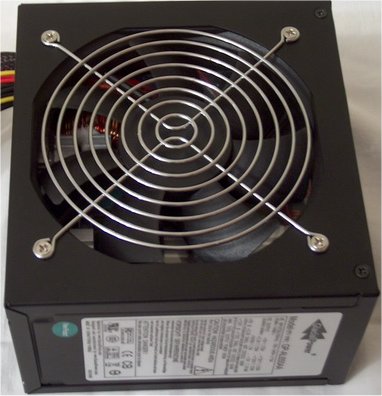 The Top
The top of the GP-Al650 gives us a look at the 120mm exhaust fan (we peeked inside and the fan is removable and uses a plug to connect so it's replaceable without soldering). The fan itself is thermally controlled and will vary in speed as thermal load increases. GlacialPower took into consideration the trend toward silent computing and at 75% load the fan will produce between 0 and 25dBA. During testing, the fan was whisper quiet when it was running and seldom kicked on until we got into 3D applications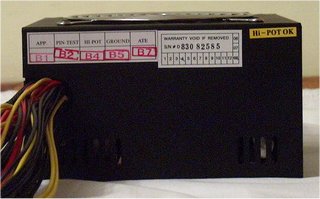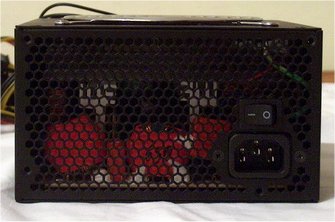 The Front and Back
The front of the GP-AL650 is fairly unremarkable, but the wires coming through the casing are protected by a ring that prevents the wires from being chafed. The back of the unit is a mesh design that allows for good airflow and gives a sneak peek at the internal components.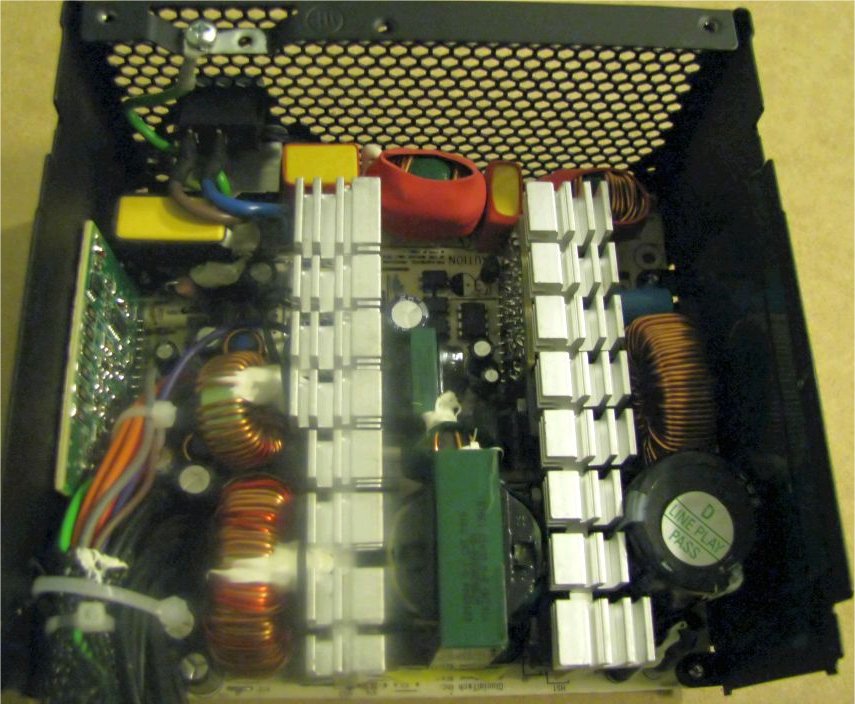 The Guts
Inside the GP-Al650 you see a symmetrical design which we pretty much already deduced from the two independent rails. With 12v1 at 26 amps and 12v2 at 21 amps, we expected to see an almost symmetrical design. The main capacitor is OST and is rated for 420 volts and 560uF.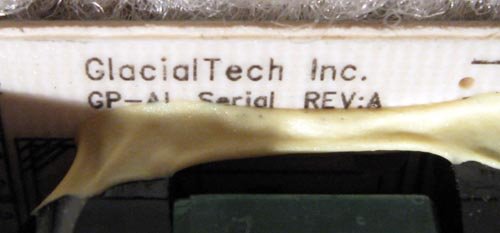 The OEM
GlacialPower, while relatively new to the game, manufactures their own power supplies rather than outsource them to a known manufacturer. That's a good indication that they're well funded and that they're going to be around long enough to be a force in the power supply manufacturing field.
The GP-AL650 has a quality look and feel about it that comes from quality manufacturing. We'd love to see a modular version of the GP-AL650 that maintains the price performance ratio of the wired unit.
TESTING & METHODOLOGY
No matter what type of power supply you're looking for, what you really need is good clean voltage and plenty of it. Current standards are 5% variance on any rail maximum, which is a little more lax than my personal standard of 3% max with the exception of the +5vSB (+5v stand by) which is always on, even when the power supply and computer are off. On the +5vSB it's not unusual to see 5% variance. But since this rail is only for wake on LAN or by device feature, it's not a big deal.
Like a lot of you enthusiasts out there, my PC is an ongoing work of art that I have a lot of cash invested in. If a PSU won't hold to 2 or 3% load/idle no matter what I do to it, I won't use it or recommend it.
Testing Equipment
Testing Equipment
Multimeter
Craftsman
LCD Voltage Tester
Coolmax Digital LCD PSU Tester
Thermometer
Micro Temp Digital Infrared Thermometer
Connectors
24 Pin Motherboard Connector Splitter
Wall Voltage
Kill A Watt Voltage Measurement Device
I do things a little different than a lot of testers with power supplies. I take readings with a Craftsman multimeter, then I use a 24 pin motherboard connector splitter to connect to the PSU and the mobo, leaving one connector open for a digital LCD PSU tester to connect to during load and idle tests. This gives the advantage of measuring all the same voltages you can test with a multimeter plus getting the -12v which can't be tested with a multimeter and the +5vSB. I also use an IR thermometer to record the input air temperature and exhaust temperature because the input/output temps can tell you how hard the PSU is working to provide the voltage.
Test Rig
Test Rig
"Quadzilla"
Case Type
Thermaltake Armor
CPU
Intel Q6600 @ 3.6 Voltage 1.3675 vcore
Motherboard
Gigabyte EP45-DQ6
Ram
Patriot DDR2 1150 @ 1200
CPU Cooler
Swiftech MCP350 Pump
Swiftech Apogee GT CPU Water Block
Swiftech Micro Res
Swiftech MCR320 360mm Radiator
3 Yate Loon 120mm 12v Fans 83CFM
Hard Drives
WD 250 Gig Sata 2
Two Maxtor 160 Gig Sata 2
Optical
Sony DVD R/W
GPU
Sapphire 4870
Sapphire 4850 Toxic
In Crossfire
Case Fans
Two 120mm Thermaltake Front/Rear Push/Pull
250mm Side fan
90mm Rear Exhaust
90mm Top Exhaus
Docking Stations
Tagan IB290 W/Deskstar 2 1/2 Inch 80 Gig Sata 2
Tagan IB390 W/Maxtor 160 Gig Sata 2
Thermaltake BlackX USB W/Seagate 80 Gig Sata 2
Testing PSUs
GlacialPower GP-AL650
Thermaltake Toughpower 1000 Watt Modular
Tagan BZ1100 1100 Watt Modular
Legacy
Floppy Drive
Mouse
Razer Lachesis
Keyboard
Razer Lycosa
Gaming Headset
Razer Piranha
Speakers
Logitec Dolby 5.1
Any Attempt to Copy This System Configuration May Lead to Bankrupcy
Even in a rig running Crossfire, an overclocked quad core processor, every spare hard drive within reach, 10 fans of various sizes, and several docking stations; it probably won't pull 650 watts. Which gives you an indication that the 1K crop of PSU's are overkill. To run the Crossfire setup I had to use a molex to 6 pin adapter on the GP-AL650. I didn't have to worry about that with the other two massive PSU's since they already had the required connectors. Now you may be asking yourself; "Is comparing two 1K watt and above PSU's to a 650 Watt PSU fair play?" They're all marketed as gaming PSU's, so there shouldn't be any foul there.
To drive the rig I'll be running Prime95 to load all 4 cores, a song looping continuously in Windows Media Player, 3Dmarks06 to drive the Crossfire setup, and several applications to keep the various hard drives and docking stations running. It'll be a stroke of luck to get out of this without a BSOD.
I'll be measuring the voltages coming off the power supplies on every rail 2 different ways, multimeter and digital LCD PSU tester. Each rail will be measured 3 times on all three PSU's using both methods. Then, each set of results will be averaged into a conglomerate number (ie., the 6 readings will be averaged to give me a result for each rail). Then, during every test I'll be taking the intake air temperature and the exhaust air temperature. That should yield some pretty accurate results.
Lets move on to some testing results.
TESTING RESULTS & CONCLUSION
Testing Results
Wall wattage used, as measured by a Kill-a-Watt metering device, was 260W at idle and 487W at load. Rated at 650 watts delivered, that leaves a little headroom on the GP-AL650. Figuring that's on an OC'd Quad running Crossfire at the minimum 80% efficiency, the computer is pulling 389 watts from the PSU during load. At this load the PSU is rated at 86% efficiency, but we'd rather be on the conservative side. Despite the rated 26 and 21 Amp specification, on 12v1 and 12v2 we didn't run into any problems with the Crossfire setup. With a heavy duty system running virtually every extra device we could lay our hands on, we were pulling a mere 389 watts. This really shows you how much overkill the popular 1K and 1K+ power supplies are.
The current ATX 2.2 specifications allow for the following variation in voltage outputs:
3.3 Volt Rail:   3.135V – 3.465V
5 Volt Rail:      4.75V – 5.25V
12 Volt Rail:   11.4V – 12.6V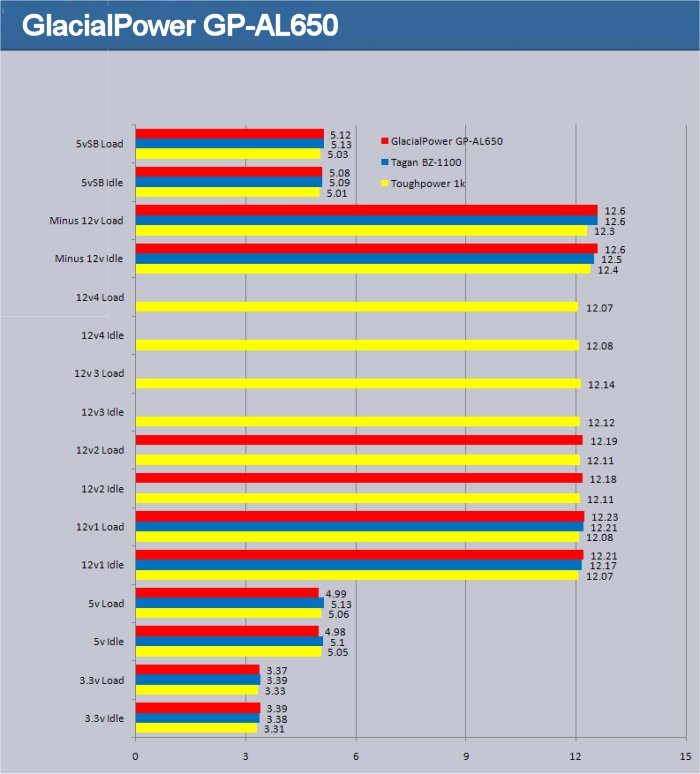 PSU testing Results Chart
On the 5Vsb rail the GlacialPower Gp-AL650 was 2.4% away from the targeted 5V. At 2.4%, it's well within the recommended tolerance. The -12V rail was 5% off specs, but it's allowed a much wider tolerance than the normal rails. Most power supplies are in this range when tested. The 12v1 rail was holding the line at 1.9% and the 12v2 rail was holding at 1.6%, both well within specifications. The rails didn't fluctuate when going from a 3D application to the desktop indicating voltage regulation is pretty tight on the GP-AL650. The 5v rail was just a hair under the rated specification, but nothing to worry about. The 3.3v rail was 2.1% off and the GP-AL650 was gaining a measure of respect.
Of the three tested power supplies, the Thermaltake Toughpower 1K was the only one that was rated by the manufacturer to run under 3% variance. Despite the rating, the GlacialPower was running right up there with the Toughpower.
Power Factor
Definition found here
Power Factor and Power Factor Correction:
Power factor is expressed as a ratio and is the percentage of electricity that is being used to do useful work. For example, a power factor of 0.34 would mean only 34% of your power was being used to do useful work (This would be a highly inefficient system!). On the other hand, a perfect power factor by the computer's PFC power supply is expressed as 1.0 (which is unity) and means that 100% of the power is being used totally efficiently. Power Factor Correction is achieved by a circuit design technique and increases a device's power factor so that it is closer to 1.0, or unity power factor.
Power Factor Percentage
Measured with a Kill A Watt

Power Supply
Idle
Load
Thermaltake Toughpower 1000 Watt
96%
97%
Tagan BZ1100
95%
95.9%
GlacialPower GP-AL650
96%
96.8%
The GlacialPower GP-AL650 did better than the Tagan did, and just slightly worse than the Toughpower. All three power supplies did really well in the Power Factor percentage test.
Intake & Exhaust Temps
Air Input/Output Tempreture Results
Measured with a IR Thermometer

Power Supply
Input Temp.
Output Temp.
Thermaltake Toughpower 1000 Watt
23C
34C
Tagan BZ1100
23C
37C
GlacialPower GP-AL650
24C
39C
Ambient
22C
23C

Ambient Measured Inside The Case
The GP-AL650 looks like it's working a little harder than the other two PSU's we've tested but since it's a smaller PSU that is expected.
CONCLUSION
Recently here at Bjorn3d we've been swamped with power supply review requests. That means two things:
There are a lot of new and exciting power supplies out there
We've been doing some thing right with the power supply reviews
Keeping in mind price to performance ratio, the GlacialPower GP AL650 priced at $90 provides a decent bang for your buck. The amps on the 12v1 and 12v2 are a little lower than we'd expect for a PSU that is being marketed as a "Gaming Power Supply" and in our opinion should have carried at least 30 amps on both rails. That being said, we used a power splitter to run a Crossfire setup with a 4870/4850 combo and the PSU handled it.
Voltage regulation was tighter than current ATX standards and ran under 3% variance. After using and living with the GP-AL650 for about a month and testing the voltages almost every day, then more intensive testing to get the reported results, we never experienced any problems with it.
While they are new to the power supply manufacturing game, GlacialPower brought a lot of experience into the manufacturing process. And given time to mature as a company, we expect to see good things from them. With GlacialPower manufacturing their own PSU and not relying on 3rd party manufacturers, they have the freedom to produce high quality equipment and the funding to hang around long enough to do it.
Pros:
+  650 watts of clean, solid, and stable power
+  Active PFC
+  Efficiency rating > 80%
+  Price
+  Compact case dimensions
+  Dual Core/Quad Core CPU ready
+  6+2 pin PCI-E connectors
+  Good Power Regulation
+  Quiet operation
Cons:
–  12v1 only 26 Amps/12v2 only 21 Amps
–  Only The Main Power Cable Is Sleeved
–  Non-Modular
The power regulation on the GlacialPower GP-AL650 rivaled the regulation of much more expensive power supplies. At the MSRP of $90 it's hard not to like the performance. It's good to see a company provide a quality product at a reasonable price!
Final Score: 8 out of 10 and the Bjorn3D Seal of Approval.