The Thermaltake VI-ON 3 1/2 inch USB & e-Sata drive enclosure not only provides external storage but does it with active cooling and won't "Ugly Up" your desk.
INTRODUCTION
External storage for computers comes in so many different flavors it's hard to make a choice. Unfortunately, many of those choices don't include Active Cooling for the hard drive. Many of the external HDD enclosures provide the functionality you need, but are utilitarian in design and tend to "ugly up" your desk. Not only do they raise the "ugly" factor of your desktop, they seldom have Active Cooling for the hard working drive inside, and Active Smart Cooling is pretty much non-existent.
At least until now, Active Smart Cooling for HDD enclosures has been ignored. Thermaltake decided it was time for Active Smart Cooling in HDD enclosures and came up with the Thermaltake VI-ON. The Thermaltake VI-ON brings style to the never ending parade of external HDD enclosures, and raises the ante with Active Smart Cooling.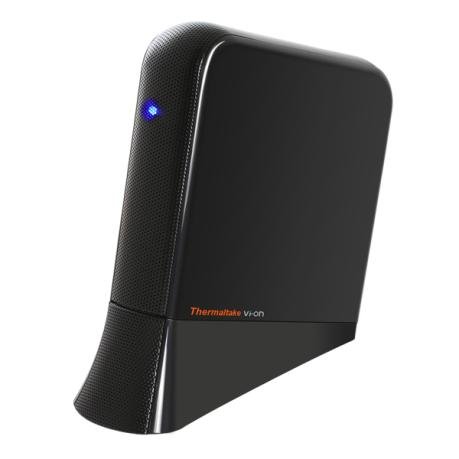 About Thermaltake
We live in a world where most things seem to move at the speed of light. At Thermaltake, we feel the same way and that is exactly how Thermaltake conducts itself to deliver innovative, reliable and customer-centric solutions to the worldwide market.

Since the beginning of Thermaltake in 1999, it has been at the forefront of creating new and exciting products at a time where most computer users were provided little to no choices for components that may seem irrelevant, but in reality crucial to the performance of a PC.

Thermaltake Server Series solutions, with years of thermal experience and industry leadership, sets its goal on reforming total thermal management in server segment by formulating the perfect mixture of versatility, efficiency and thermal management with each respective server product category: Rackmount Chassis, Server Fixed & Redundant Power Supply and Server CPU Cooling Management Solutions.

With its comprehensive line of products available, it enables Thermaltake's core customers to enjoy a one-stop-shop experience, reduce product design-in evaluation period and most important of all, flawless integration process. Each of Thermaltake's strengths enables its customer to focus on their core business while taking advantage of the skills and efficiency of a single thermal management solution partner.

Values & Principles

– While still a relatively young company, established in 1999, Thermaltake is built on unwavering will and dedication to address issues and innovate at the same time for computer enthusiasts and corporate users worldwide .

– With strong support of Research & Development team standing behind the brand, Thermaltake is committed to never-follow but always-lead.

– In past decades, the industrial and technological advancements in different fields have shaped the world we live in today and have also made a big impact on the environment. Thermaltake takes great measures to ensure the product that we produce relieve these impacts by being first to act on 80 PLUS® specification for computer power supply that greatly reduces the amount of electricity that a computer consumes.

– Always striving to be the best, we continuously benchmark our performance against the very best internally and externally.

– Customers are our greatest asset and Thermaltake does not take that for granted. That is why Thermaltake is the industry leading in customer service and customer support with around-the-clock automated product return service.
FEATURES & SPECIFICATIONS
Features
Active SMART Cooling System incorporates an auto temperature sensing fan that reacts to hard drive temperature change in real-time for utmost efficient thermal management.
Hard Drive Suspension system minimizes hard drive vibration to eliminate operating noise.
All around metal mesh opening provide unobstructed airflow intake ensuring proper cooling.
Stable detachable base unit allows for easy transportation and mobility when needed.
Elegant glossy black finish.
Supports SATA to Hi-Speed USB 2.0 interface.
Supports SATA to eSATA interface.
Supports Hard Drive capacity up to 1 TB (1,000GB)
Plug & Play
Specifications
Thermaltake VI-ON Specifications

Enclosure Interface

eSATA & Hi-Speed USB 2.0
Transfer Rate
USB 2.0: up to 480 Mbps
eSATA: up to 3.0 Gbps
HDD Compatible
SATA I & SATA II
HDD Capacity
3.5″ SATA up to 1TB
OS Compatible
Windows XP & Vista / Mac OS 9.04+
Material

SECC Steel & ABS Plastic
Power
External Universal Switching Power Adapter
UL, FCC, CE, CSA Certified
Dimension
255 x 70 x 205 mm, 10.04″ x 2.76″ x 8.07″
Accessory
Hi-Speed 2.0 Cable
eSATA Cable
Full-Range A/C Power Adapter
Dust Cloth
Fan
Active SMART Cooling 40mm Fan
Fan Current: 0.06Amp (Max)
Fan Power : 0.76W
Fan Speed : 1000 ~ 4800 RPM (thermally controlled)
Rated Voltage: 12 VDC
Fan Noise : 27 dBA @ Max
Weight

480 g
Speical Features
Embedded Disk Drive Suspension System eliminates most of vibrating noise from HDD.
Active SMART Cooling System effectively manages the thermal efficiency to maximize cooling and minimize noise.



PICTURES & IMPRESSIONS
Click For A Larger Image
Thermaltake VI-ON Packaging
The Thermaltake VI-ON comes in a sturdy black box with enough information and specifications listed to help the consumer make an informed choice about the purchase of this stylish enclosure.
Click For A Larger Image
VI-ON Un-Assembled
Without even assembling the VI-ON you can already tell that it's not going to take up much space on your desktop and it's not going to be painful to look at.
Click For A Larger Image
VI-ON Assembled
With the VI-ON assembled, you can really see it's designed to be easy on the eye and the footprint of the VI-ON is designed to take up minimal space.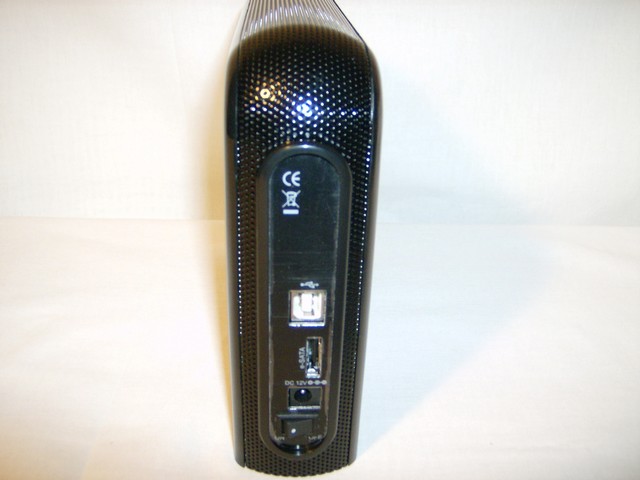 On the back of the VI-ON you can see (Top to bottom) the USB connector, the e-Sata connector, the DC Converter port, and the on/off switch.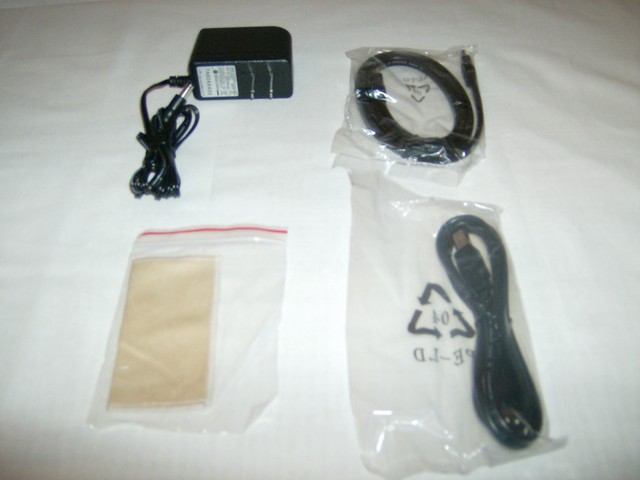 The Bundle
In the box along with VI-ON you'll find an AC to DC converter, a USB cable, an e-Sata cable, and a cleaning cloth. If you handle the VI-ON you'll need the cloth because it's shiny surface picks up fingerprints easily.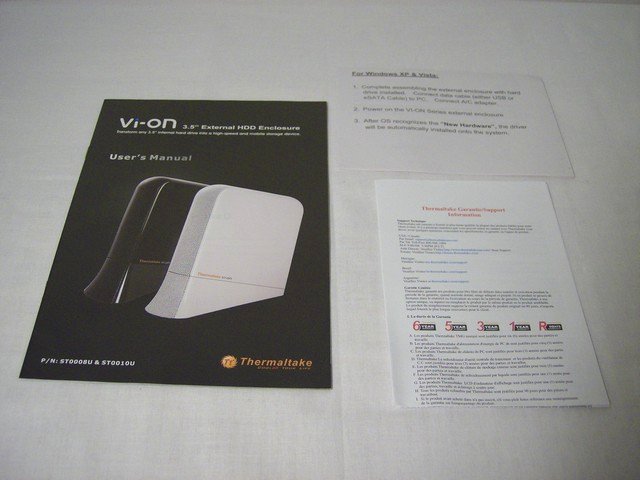 The Papers & Manual
You'll also find a Operating System Specific quick start guide and Manual. Setup was simple enough that we didn't have to crack the Manual open. Just slide the drive into the enclosure and connect it to the computer, switch it on and your up and running.
TESTING & CONCLUSION
Test Rig
Test Rig
Case Type
NZXT Tempest
CPU
Intel E8400 @ 3.214Ghz 1.22 vcore
Motherboard
Gigabyte EP45-Extreme
Ram
2GB Patriot Viper DDR2 1150  5-5-5-15 2.3v (2.0v on the P45)
CPU Cooler
Thermalright Ultra 120
Hard Drives
Seagate 400 Gig Sata II 8MB cache
Optical
Sony DVD R/W
Graphics Cards In Crossfire
Sapphire 4870
Sapphire 4850 Toxic
Power Supply
Thermaltake ToughPower 1K
NB Cooling
Thermaltake Bigwater 760I
External Enclosure
Thermaltake VI-ON


Testing
To test the Thermaltake VI-ON we ran HDTach in both the USB and e-Sata modes available on the enclosure. We ran the test three times, and of those three runs the average was reported. The HDD used to run the test was a 400GB 16MB cache Western Digital Sata II HDD.
Test Results
Hard Drive Tach
32 MB Test

 
USB
e-Sata
Random Access Time* (ms)
15.1
14.7
Average Read (MB/sec)
27.54
107.2
CPU Utilization*
2%
2%
Burst Speed (MB/sec)
29.71
121.6

*Lower is Better … Otherwise Higher is Better
In USB mode the VI-ON transferred at 27.54 MB/s, which is actually a little better than most USB interface enclosures we've tested. It turned a 15.1 ms access time, and the burst rate climbed a little to 29.71 MB/s. That's pretty good considering it's a USB interface. On average we see about 25 MB/s average read on most USB enclosures.
In e-Sata mode things got quite a bit faster. The VI-ON came in at 107.2 MB/s average read, with a 14.7 ms access time, and a burst rate of 121.6 MB/s. It's not quite as good as an internal hard drive, but it's pretty respectable for an external. For data purposes both the USB and e-Sata modes would be acceptable. The e-Sata mode would make imaging your operating system drive a snap and you'd always have a backup of your operating system and files.
Conclusion
Thermaltake managed to bring a little style to the table with the VI-ON, then threw respectable speeds and access times in with it to boot. Setup was a snap and we didn't even need to open the manual to accomplish it. It's footprint was the smallest we've seen in a while and it was easy on the eye. The top portion of the VI-ON is removable for easy mobility and is a nice added feature.
We took the temperature of the HDD utilizing Active Smart Cooling during extended data transfers (copying an entire DVD to the drive). The temperature never went above 43°C, with an average of 42°C. For comparison, we used an un-cooled Sata drive enclosure and the temperature during the same data transfer peaked at 52°C. The VI-ON reduced the operating temperature with it's Active Smart Cooling by 9°C. The lower temperatures mean a longer life for the drive so the decrease was a welcome sight.
You'll be hard-pressed to find fault with the VI-ON. Other than fingerprints showing up easily on the casing and the power cord being a little short, we really couldn't find anything else to complain about.
Pros:
+  Active Cooling
+  Small Footprint
+  e-Sata & USB
+  Easily Portable
+  Good Transfer Rates
+  Looks Better Than Most Enclosures
+  Vibration Dampening
+  Quiet Operation
Cons:
–  Fingerprints
–  Power Cord A Little Short
The Thermaltake VI-ON transfers data at a good rate, doesn't take up much room on the desk, comes apart easily for portability, and keeps the "ugly" away from your rig.
Final Score: 8 out of 10 and the Bjorn3D Seal of Approval.