Ultra's latest products have shown some serious innovation and Voltron-like intercompatability. The X3 800-watt modular PSU is another fine example of synergistic design that augments the unique Power Bar feature in certain Ultra cases, and the unit blends topnotch build quality with a great efficiency rating and modular capability. If you're in the market for a new PSU, any member of the X3 line should join your short list.
Introduction
Ultra's X3 800-watt Modular Power Supply is the upper-middle class guy in the X3 neighborhood. He hangs out in the modular part of PSU-ville and drives some serious wattage – but nothing over the top like his 1600-watt neighbor. And for the majority of systems out there running enthusiast-class, top end gear, 800-watts is generally more than enough.
If you're in the market for a new PSU, consider giving up the excess wattage you'll never see on that Core Duo rig, and put the difference in price towards some hardware that will really take advantage of the juice the mid-range X3's are already cranking out.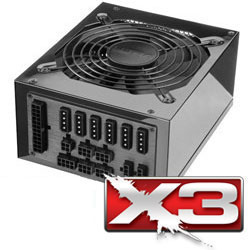 Every model in Ultra's X3 line that Bjorn3D has reviewed has provided very clean, reliable power; and with FlexForce modular cabling, there's also enough artistic zing to give you a reason to polish that case window. If you pair the X3 with a self-modded box or Ultra's stock m998, it suddenly meets the design principle of Form Following Function, affording "30% better airflow than ordinary cables," according to the manufacturer.
All things considered, the X3 800 is money well-spent for an MSRP of $249.99 if you're hunting for a topnotch PSU that will take you in to the foreseeable future, although there are some cheaper and comparable alternatives.
Ultra Products
Ultra is a Fletcher, Ohio tech company manufacturing "a wide range of solutions, products and services all with a common thread: Innovation, value and quality." For the most part, (see the plastic front panel of the m998 case) they deliver on their self assessment and marketing copy. Ultra produces a myriad things like batteries, Bluetooth devices, mp3 players, their own Flex Force cable line, Flash memory, HD coolers, LCD alarms, power inverters, projection screens, power supplies, and much more. It takes a lot of guts and money to own that diversity.

One of the company's notable features is its solid warranty, which is called "The Ultra Advantage". Power supplies and cases carry a three-year manufacturer's guarantee, and this is upgradeable to a lifetime warranty when you register your product. It's an easy process to ensure that Ultra will "provide the most comprehensive warranty coverage possible," just in case disaster strikes. They describe it like this:
"To ensure your complete satisfaction, all Ultra Power Supplies and Cases now carry a three-year warranty that they will be free from defects in materials or workmanship. In addition, that warranty can be upgraded to a LIFETIME warranty by simply registering online for the Ultra Advantage. The incomparable Ultra Advantage provides the most comprehensive warranty coverage possible. If you opt for the Ultra Advantage, all power supplies, cases and memory products are protected by our Lifetime Warranty, upgraded from three year. Under Ultra Advantage, all our other products are upgraded from the standard one-year to 3-year coverage! No other company delivers a consumer care package that can top ours. At Ultra, customer service is our most important mission. That's why every Ultra product must meet the highest industry standards for quality and reliability. And our warranty program is second to none."
Lately Ultra has been focusing on multiple-product integration, and we'll talk more about that later. For now: the specs.
Ultra X3 800-watt Specs & Product Sheet
Dimensions
Weight: 7.00 lbs
Length: 7.50″
Width: 5.75″
Height: 3.25″
Output
AC INPUT

115V/230V 10A/6A 60/50Hz

MAX OUTPUT
CURRENT

+5V

+3.3V

+12V

-12V

+5VSB

28A

24A

55A

0.8A

3A

800W

Max
Combined
Watts

160W

660W

9.6W

15W

782W

19.7W

800W
Total Output Power:
800W (Full Load, Nominal Input Voltage)
Efficiency:
85% at Typical Load
Input
AC Input Voltage: 115V/230V
AC Input Frequency: 50-60Hz
AC Input Currents:
· 13A (RMS) for 115VAC input
· 8A (RMS) for 230VAC input
Additional Features
Supports AMD and Intel Motherboards
Low Acoustic Noise
135mm Fan
Meets ATX Version 2.2, v1.3, and ATX 12V Version 2.2 Specifications
Short Circuit Protection
In-Rush Current Protection
Thermal Overload Cutoff Protection
MTBF > 100,000 Hours at Full Load, 110VAC and 25°C Ambient Condition
FCC and UL Recognized All New X3® Modular Power Supplies
Ultra pulls out all of the stops for their latest power supply. By combining our "EE" (Energy Efficient) platform, which converts as much as 85% of AC power into DC power during typical loads, with a quiet 135MM ball bearing fan, our patented modular interface and our Limited Lifetime Warranty, Ultra clearly dominates the market with the new X3 power supply!
Product Sheet
All New X3® Modular Power Supplies
The X3 is super efficient, using less electricity than other power supplies when providing power to your computer and it generates less heat. Cooling is substantial yet silent by utilizing a thermostatically controlled 135MM ball bearing fan and a honeycomb cut exhaust grill. The X3 also has full range active PFC, which improves apparent power used by the computer. The modular interface allows you to only plug in the cables you actually require for your particular PC. The X3 is ready for even the most high end gaming rigs by providing up to four 6-pin PCI-e connectors, and the 800W and 1000W models provide the newest 8-pin PCI-e connector for the latest 300W graphics cards.
If you're looking for an efficient, quiet, powerful, modular power supply with a Lifetime Warranty, there's no reason to look any further than the Ultra X3!

What is FlexForce Cabling?
Manageable – FlexForce Cables are designed to be easily routed and hidden within your case.
Increased Airflow – Special design promotes easy cable management and 30% better airflow than ordinary cables by easily routing cable under the motherboard, behind drive bays, etc.
Design – Cables are dressed in a sleek looking titanium like finish.


| | | |
| --- | --- | --- |
| Qty | Cable Description | Length(inches) |
| 1 | 24 Pin Motherboard Connector | 19.5 |
| 1 | 4 Pin +12V Motherboard Connector | 19.5 |
| 1 | 8 Pin EPS Connector | 19.5 |
| 4 | 6 Pin PCI-Express Connectors | 19.5 |
| 2 | 8 Pin PCI-Express Connectors | 19.5 |
| 2 | 5 Pin SATA Power Cable (3 Devices) | 25.5 |
| 2 | 5 Pin SATA Power Cable (2 Devices) | 21.5 |
| 1 | 4 Pin Power Cable (2 Devices) | 23.5 |
| 2 | 4 Pin Power Cable (2 Devices + 2 Floppy) | 29.5 |
| 1 | 4 Pin Power Cable (3 Devices) | 23.5 |
| 1 | 4 Pin Power Cable (1 Device) | 7.5 |
| 1 | 3 Pin Fan Connector (3 Devices) | 25.5 |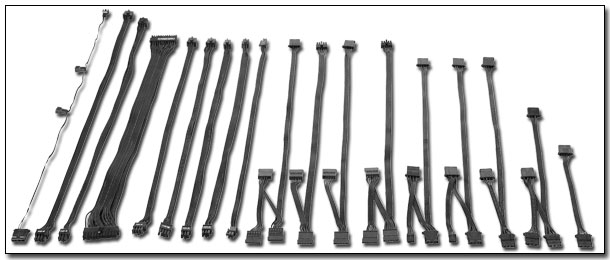 There should be enough options here to get this unit in anyone's case without cable hassle. Let's look at the design and installation, and see if everything makes sense in use.
Product Design
The Box
The packaging is all about simplicity and font, making way for the giant X3 splash, and when you pull the top there's a nice spec piece with the product highlights and features. Outer layers of cardboard can take quite a beating in the mail as you can see on the edges of the box, but the power supply itself should emerge unscathed.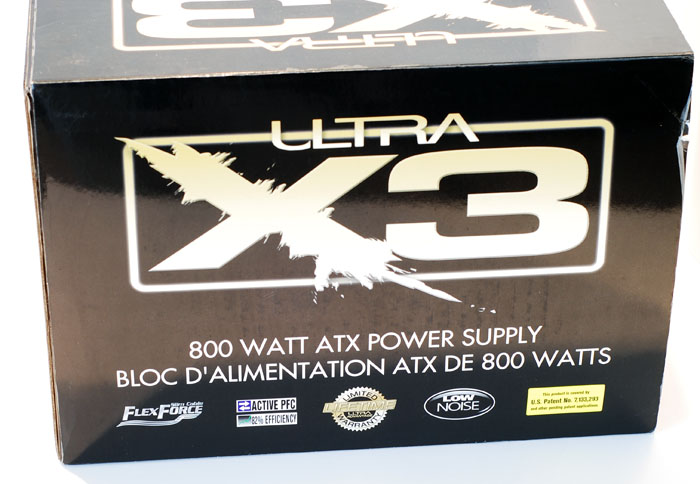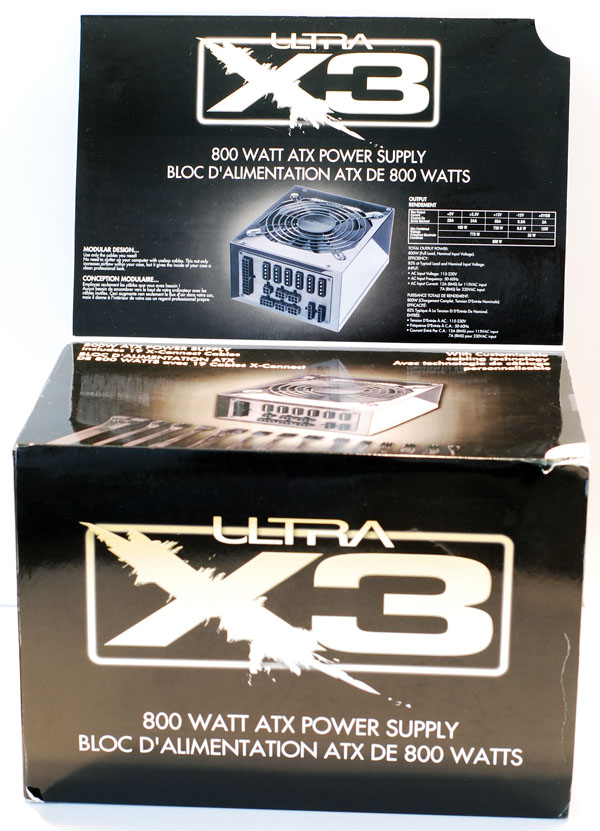 X3 PSU Design
As alluded to by the box, Ultra chose to theme the unit with a deep mirror obsidian, and its reflective paint has got some serious eye-grabbing appeal. The problem as always with shiny objects is fingerprint retention, but 9/10 times, any nice-looking PSU is going to be stashed away in the depths of your case where no one will see it anyway. The cooling fan is 135mm, very quiet, and pulls plenty of cool air through the rear honeycomb. Besides the pretty paint job everything is more-or-less standard until you arrive at the front of the unit.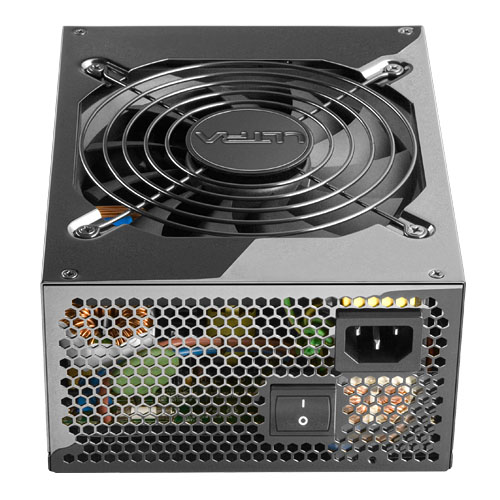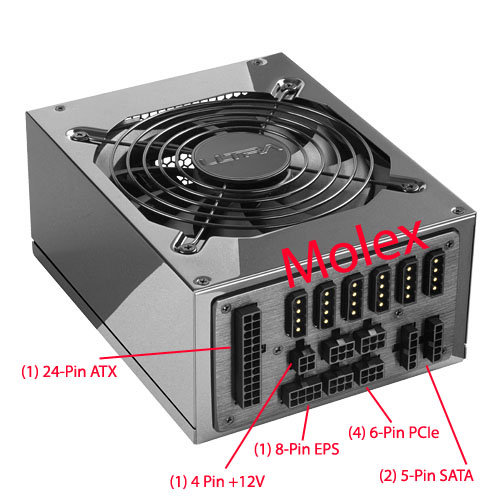 X3 Modular Connections
Here is the reason people will buy this PSU – besides the 85% efficiency rating at typical load. The X3 800 comes with 19 FlexForce cables that can be configured to suit your system's needs using the 15 modular connections on the unit.
On the X3, you've got the standard 24, 4, and 8-pin connectors to provide thirsty modern motherboards and CPUs the juice they need; followed by (4) 6-pin PCIe connectors for those 8800s; a whole slew of (6) molexes; and (2) 5-pin SATAs. If you also have the m998 case, you can take advantage of Ultra's Power Bar feature, which puts everything right where you need it and reduces case clutter even further. See my Ultra m998 case review for more info… and uh… just ignore that PATA cord below. I really should Sharpie it black.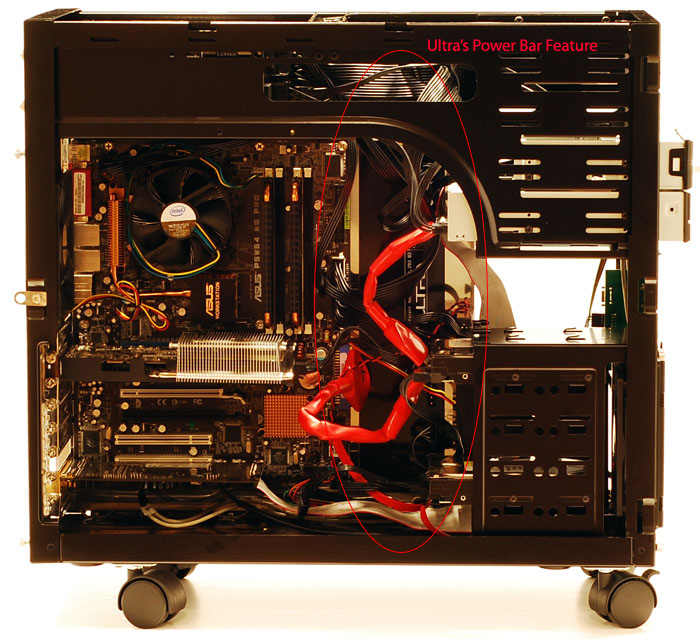 Installation
Typical PSU install, no hassles; in Ultra's m998, the top of the case pops off to accomodate this rather wide unit, but the X3 should squeeze in anywhere.
Now that it's in, let's get down to business.
Testing
The Ultra X3 800-Watt Modular PSU was benched in a real-world test environment. Presently, Bjorn3D does not have a dedicated load simulator, which is both a blessing and a curse, because we are forced to achieve stress using typical and extended idle and load scenarios. However, these tests should give users an indication of measurable performance in an environment much like their own. Test conditions follow:
Voltages taken using Radioshack's 22-218 Pocket Multimeter.
Idle voltages taken 24 hours after initial bootup.
Load voltages measured an hour after stressing began.
Stressing was achieved by running the Crysis demo at 1024 x 768 on High settings while copying a 4GB DVD ISO across hard drives. Adobe Flash CS3, Adobe After Effects CS3, and Adobe InDesign CS3 were also used simultaneously for content production. All tasks were run at once, and were tabbed between regularly.
Test Platform
Processor
Intel Q6600 Core 2 Quad 2.4GHz @ 3.01 GHz
Motherboard

Asus P5W64 WS Pro | Rev 1 | BIOS 903

Memory

2 x 1GB OCZ RPR-1066 DDR2 @ 5-5-5-15

Drive(s)

WDC WD2000JB-00GVA0 PATA

WDC WD5000AAKS-22YGA0 SATA

PIONEER DVD-RW  DVR-107D PATA

Graphics

XFX GeForce 7950 GT (169.09 Beta)

Power Supply
Test Item:  Ultra X3 800-Watt Modular Power Supply
Case
Ultra m998 mid-ATX
Operating System
Vista Home Premium 64 Bit
  Results
Test Results

Voltage Parameter

Idle

Load

+3.3V

+3.36

+3.36

+5V

+5.02

+4.99

+12V

+12.31

+12.30
Extremely impressive!
These are definitely winning numbers; I'm running a workstation motherboard for productivity reasons where voltages need to be spot-on stable. I am comletely satisfied with the X3 800-watt PSU's reliability, and it's going to live in my system for the time being. Nice job Ultra!
Conclusion
Lately Ultra has been leaning towards a consumer phenomenon I like to call the "Pokemon Effect." This is an excellent way to design and market computer components. The idea is to create a single product that is impressive on its own – but when that product is paired with an additional product by the same manufacturer, somehow the units become more than a sum of their parts – kind of like Voltron.
If, then, additional items of varying quality are added to this two-product series, and the same illusion of a beneficial relationship can be established, the consumer feels like he or she has "gotta' catch 'em all," so to speak, on the quest for the ultimate streamlined rig.
There is some progressive, low-key brainstorming going on at Ultra, and they haven't put out their best equipment yet. The Power Bar feature is still the most interesting idea they've got going on for enthusiasts, and the famous carbon fiber case is in the works. Ultra is presently rolling out some great stuff – although for products of comparable and occasionally world-class quality (see
Miles' ABS-Tagan TG800-U88 BZ PSU review
), you can feel comfortable paying a bit less than Ultra's MSRP for the X3 800. However, the efficiency rating on this PSU is a knockout, and I suspect that doesn't come cheap. If you need the stability: go for it!
Pros:
+ Ridiculously stable
+ Sensible modular design
+ Tons of options for connections
+ Molex for days for people who need it
+ Fantastic efficiency rating of 85%
+ Flex Force cabling
Cons:
– MSRP is a bit too high
Final Score: 8.5/10 and the Bjorn Seal of Approval