The Antec NeoPower line features power supplies ranging from 380 watts to 650 watts, all with three 12V rails, modular cable designs and high effiency in mind.
INTRODUCTION
Lately, it seems like power supplies have been a hot topic at many of the major review sites, including here at Bjorn3D. We reviewed three units in October, two in November and will have at least one in December. I think this is due to the fact that many companies have finally realized that PC enthusiasts really do care about the power being fed to their components.  And while there are many long-standing companies bringing new lines of power supplies out on to market by the masses, not many of them have the history that Antec possess.  The Antec NeoPower line features power supplies ranging from 380 watts to 650 watts, all with three 12V rails, modular cable designs and high efficiency in mind.  The NeoPower 650 Blue clocks in at 650 watts and features blue LED lighting to spruce-up the inside of your case.  Follow along to see just how the NeoPower 650 Blue performs.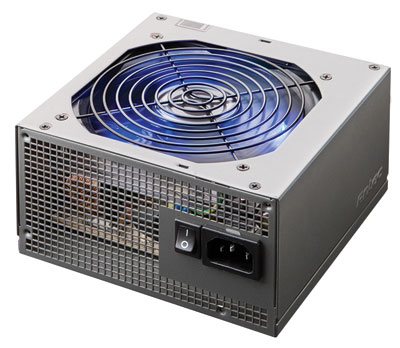 ABOUT ANTEC
If for some reason you have no idea who Antec is or what they are about, here is a little bit of information right from their site:
"Antec, Inc., is the leading global brand of high-performance computer components and accessories for the gaming, PC upgrade and Do-It-Yourself (DIY) markets. Founded in 1986, Antec is recognized as a pioneer in these industries and has maintained its position as a worldwide market leader and international provider of efficient, quiet, and reliable products. Antec has also achieved great success in the distribution channel, meeting the demands of quality-conscious system builders, VARs and integrators."
Now that you know a little bit more about Antec, let's take a look at some of the features and specifications of the NeoPower 650 Blue.
FEATURES
Before we get up close and personal with the NeoPower 650 Blue, here is a quick run down of its features and specifications.
NVIDIA SLI certified
High Efficiency, Super Quiet Operation – Highly efficient (up to 85%) with one blue LED super-silent 120mm fan keeps NeoPower cool
Advanced Cable Management System – Improves internal airflow and reduces system clutter by allowing you to use only the cables you need
Universal Input with Active PFC – Use anywhere in the world without worrying about input voltages, Active PFC to reduce electrical waste
Dedicated Power Circuitry – Delivers safer, more reliable output to your system's delicate components. Includes dedicated voltage outputs, triple +12V output circuits, voltage feedback circuitry, and tighter regulation for improved system stability
Supports ATX12V v2.2 and EPS12V systems
Low-speed 120mm blue LED fan delivers whisper-quiet cooling and ensures quiet operation by varying fan speed in response to load and conditions
Three +12V output circuits provide maximum stable power for the CPU independently of the other peripherals
Accurate power rating allows NeoPower to deliver its full rated power, 24 hours a day rated at 50ºC
One 8-pin and one 6-pin PCI Express graphics card power connectors
Four SATA connectors for your Serial ATA drives
Industrial grade protection circuitry prevents damage resulting from short circuits (SCP), under voltage protection (UVP), power overloads (OPP), and excessive voltages (OVP)
AQ5 – 5 year warranty
SPECS
Antec NeoPower 650 Blue
Specifications
Output Voltage
Output Current Max
Max Combined
Total Combined
+3.3V
24A
170W
794W
+5V
24A
+12V1
19A
624W
+12V2
19A
+12V3
19A
-12V
0.8A
9.6W
24.6W
+5Vsb
3A
15W
Voltage

100-240 VAC

Frequency

47 – 63Hz

Input Current

10A for 115V; 5A for 230V

Efficiency

up to 85%

MTBF

80,000 hours

Approvals

UL, CUL, CE, CB, FCC Class B, TÜV, CCC, C-tick

Total Wattage

650W continuous output at 50C

Actual Dimensions

3.4″ (H) x 5.9″ (W) x 5.9″ (D)

Weight

5lbs
CLOSER LOOK: EXTERNAL
The NeoPower 650 Blue has a nice gray paint job on the exterior surfaces that is sure to blend in well for those that have windows on their cases.  At the rear of the unit is the standard power plug connection as well as an on/off switch.  The plug and switch are surrounded by a perforated pattern that functions as the exhaust area for the power supply.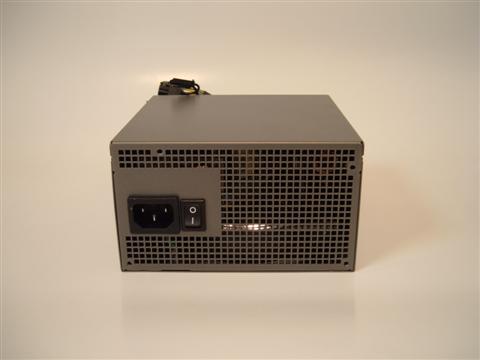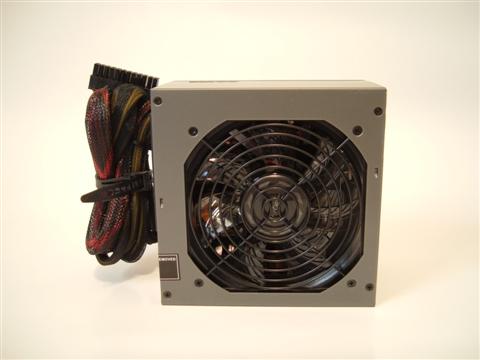 Around front we find a 20+4-pin ATX connector, along with a 4-pin and 8-pin 12V connector for the motherboard.  Located right beside the permanent connections are five modular plugs for the optional modular cables.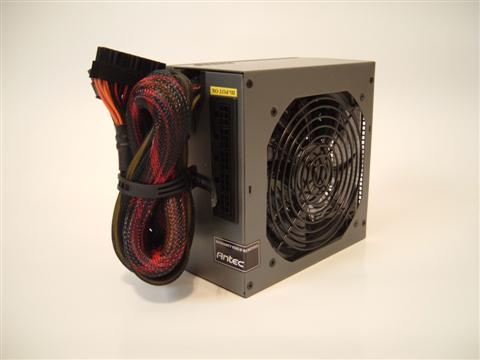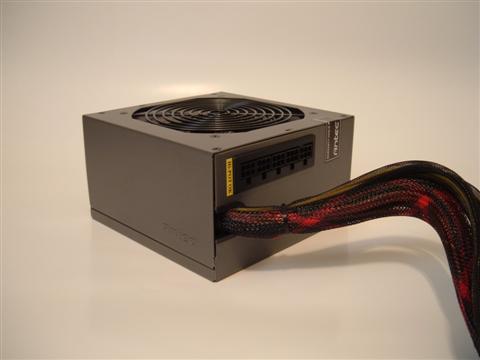 CLOSER LOOK: INTERNAL
Keeping the NeoPower 650 Blue cool is a 120mm  ADDA ball-bearing fan.  This fan is controlled not only by the temperature of the power supply but also by the load being placed on the unit.  Three blue LEDs mounted on the heat sink fins illuminate the unit and give off a nice glow inside the case.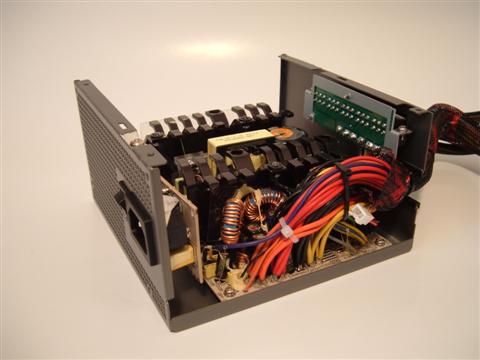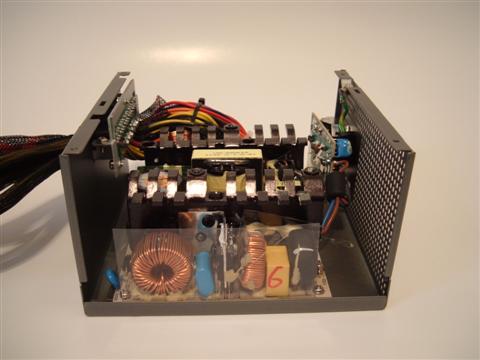 The heat sinks are located directly under the fan to ensure the best airflow across the fins.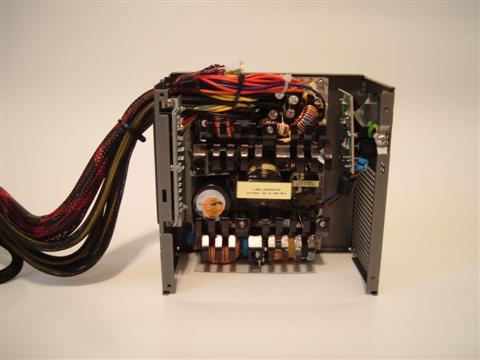 CLOSER LOOK: MODULAR CABLES
As stated in the introduction, the Antec NeoPower 650 Blue uses a modular cable design to promote internal airflow and to reduce case clutter.  Antec includes quite a wide variety of cables with this unit to ensure that you are able to power just about anything that you can throw at it.  Each cable is covered from end to end with the standard cable loom found on most other power supplies.  Below is a listing of all of the cables that Antec includes with the NeoPower 650 Blue.

24-pin ATX    
EPS 12V   

1 x 4-pin 12V

1 x 6+2-pin PCI-E   

1 x 6-pin PCI-E   

4 x SATA

6 x MOLEX   

2 x Floppy
INSTALLATION
Modular power supplies are my new best friend.  I not only love the ease of installation that modular units provide, but they also aide in better air flow in your case.  After mounting the NeoPower 650 Blue in the bottom of my Antec P182 case, I simply connected the 24-pin ATX motherboard plug and the 12V EPS plug to the motherboard.  Next, I plugged in a single SATA power cable to provide power for my hard drive and then a single 4-pin Molex cable for my DVD drive and case fans.  So now, instead of having a mess of un-used cables taking up space in my case, I only have four power cables running through my entire case.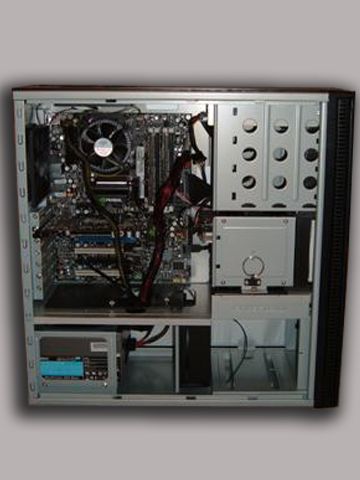 TESTING
Test Platform

Processor
Intel E4300 Core 2 Duo
Motherboard
EVGA 680i 122-CK-NF63-TR
Memory
2GB OCZ PC2-6400
Hard Drive (internal)
250GB Western Digital SATA 3.0Gb/s 16mb cache
Hard Drive (external)
250GB SimpleTech SimpleDrive
Video Card
XFX GeForce 8600GT
Power Supply
Antec NeoPower 650 Blue
Case
Antec P182
Operating System
Windows XP Pro SP2
TESTING METHOD
Without a dedicated power supply load simulator, it is tough to know exactly how much load you are putting onto a power supply at any given time.  In order to create a somewhat significant load for the NeoPower 650 Blue, I copied a large DVD ISO between my internal hard drive and my USB-powered external hard drive, while looping the 3DMark06 demo from the primary hard drive.  I also fired up a few games like World of Warcraft, Call of Duty 4 and Unreal Tournament 3 to see how the power supply stood up in an environment much like it will be used in.  Idle readings were taken 15 minutes after a fresh boot into Windows XP.  All voltages were taken using an Equus Innova 3320 auto-ranging digital multimeter.
TESTING RESULTS
Antec NeoPower 650 Blue

Test Results

Parameter

Idle

Load

+3.3V
+3.29
+3.36
+5V
+5.02
+4.98
+12V1
+12.21
+12.14
+12V2
+12.19
+12.09
+12V3
+12.25
+12.18
There has been much debate in the PC world lately about whether a single 12V rail is better than multiple 12V rails.  The main argument against the multiple rails is that they are locked at a certain output and once that limit is hit, good luck on getting any extra power out of that rail.  Fans of the single rail design argue that this configuration is superior as it does not have the limits on the rail.  Although the Antec NeoPower 650 Blue may not have been taxed to its full potential, I found no problems with the use of multiple rails.  As you can see in the results table, the NeoPower 650 was able to provide ample power for all of the testing scenarios, and has been a stable power supply for the entire review process.
Another item worth mentioning is the low noise output that the NeoPower has.  In fact, I have not been able to hear the 120mm once in all of the testing.  Even during a marathon 14-hour LAN party this last weekend, I was still unable to notice any noise coming from the NeoPower unit.
CONCLUSION
With the performance computer user in mind, Antec has provided consumers with great power reliability without some of the drawbacks that can be associated with high-output units.  The NeoPower 650 Blue power supply features a mostly modular cable design in order to provide maximum airflow in your case, as well as keeping the insides nice and tidy.  Modular cables also do a great job of making the installation of the power supply and addition of new components easier than ever before with their simple to use connections.  The 120mm fan keeps the unit cool while spinning at lower RPMs than can be found on many other power supplies that utilize 80mm fans.  With today's PC enthusiasts demanding more performance for their buck without sacrificing their ambient noise, the NeoPower 650 does a great job fulfilling this request.
Pros:
+ Modular design for ease of installation, less clutter and better cooling
+ Fully sleeved cables
+ 120mm fan keeps the NeoPower at optimal temperatures
+ Antec's AQ5 5-year warranty
Cons:
– Only one 8-pin PCI-E plug
Final Score:  8 out of 10 and the Bjorn3D Seal of Approval.