The registry is one of the most important parts of Windows. Inside it we find settings that make both Windows and other programs tick. RegistryBooster 2 from Uniblue is a program that promises to clean, repair and optimize the registry for you. We have tested it to see if it is worth its asking price.
INTRODUCTION
The registry is one of the most important parts of Windows. Inside it we find settings that make both Windows and other programs tick. Anyone who has delved into it knows it is a dark and scary place and one you usually try to stay out of unless you really need to change one of those settings Microsoft would wish you did not try to change. Over time the registry, just like Windows in general, has a tendency to fill up with unneeded content, many times left by uninstalled programs that do not know it is not polite to leave stuff behind. Registry cleaning programs have been around as long as the registry has existed. A quick search for "Registry" and "Clean" over at Tucows.com results in several hundreds of results so it is obvious that this is a lucrative niche.
Today I am testing the program RegistryBooster 2 from Uniblue, a program that promises to clean, repair and optimize the registry for you.

ABOUT UNIBLUE
Uniblue has been around since 2003 and offers a wide range of tools for the PC. They have concentrated on 3 areas: optimization, backup and security and in addition to their tools they also have several free services where you can get information about processes, dll's and file extensions.
 
REGISTRYBOOSTER 2
As the name implies this is a program that intends to take care of the registry. It does this by scanning the registry and looking after various pre-defined problems. As this product supports Windows XP and Vista it knows which parts to scan for each operating system.
The program looks into the following areas:
ActiveX, OLE and COM Objects: Registry Booster performs complete heuristic analysis of ActiveX, OLE and COM sections as they are interlinked and interdependent.
User Software Settings: Registry Booster will search for the software settings of the currently logged user for invalid references.
System Software Settings: Registry Booster will search for all the system software settings for all users. Most Windows items are hidden within this section.
Shared DLLs Section: Registry Booster analyses your registry to detect entries that refer to shared control files or Dynamic Link Libraries (DLLs) that are not or were never on your hard drive.
System Drivers: Device Drivers are important software files that Windows loads into memory when it starts up to support specific hardware devices like printers. Registry Booster analyses and detects for any such errors arising.
File Extensions: Registry Booster fixes all the file extensions that are no longer associated with applications installed on your computer system.
Invalid File Associations: Registry Booster fixes all invalid file associations.
Application Paths: Registry Booster detects and repairs invalid or missing application path references that keep cluttering the registry.
Fonts Section: Windows store each reference to a font in the registry. Registry Booster cleans any references to missing or inexisting fonts.
Startup Sections: Registry Booster analyses the Windows Registry to repair missing references to processes that Windows has been configured to start up but are missing or inexisting.
Sound and App Events: Registry Booster repairs references to sounds and other events that are missing or inexisting.
Uninstall Sections: Registry Booster will report and repair all errors relating to incorrectly uninstalled programs or programs with problems during removal.
Help Section: All applications following Microsoft standards must register their help files to the Windows Registry. Registry Booster looks for missing, erroneous or orphaned links.
The first time you start up the program it automatically starts to scan the registry. Since this is a time consuming process (it takes at least a few minutes) you end up sitting there looking in horror as the errors start to add up. My first scan resulted in 331 problems. After this first thorough scan, any subsequent scans can always be chosen to be complete scans or you can select which kind of problems the program should scan for by selecting the Registry Scan tab.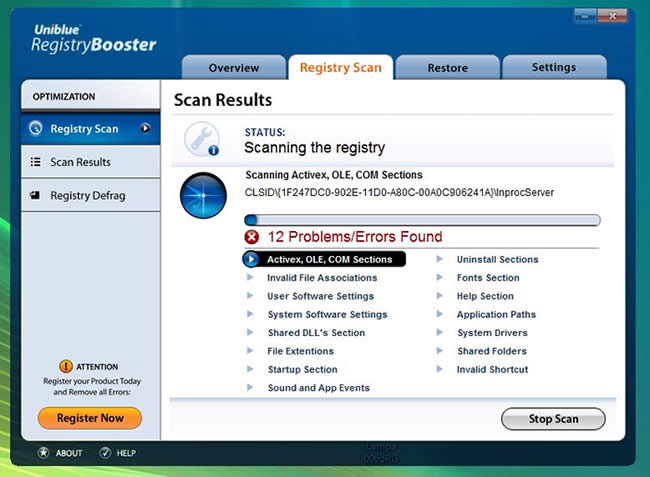 As the screenshot shows there are tons of stuff the program scans for. Maybe a program left some entries behind when being installed or a driver installation went wrong leaving stuff in the registry that should not be there. RegistryBooster looks for that and lots more. I was however a bit confused about some of the errors.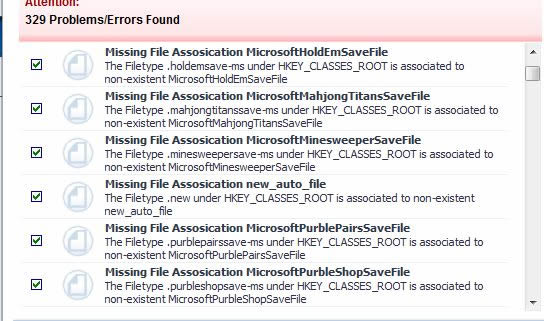 These errors do all seem to relate to the built-in games in Windows Vista. I tried several of these games after the repair was done and everything worked fine, including saving and continuing so I'm not sure what actually was repaired.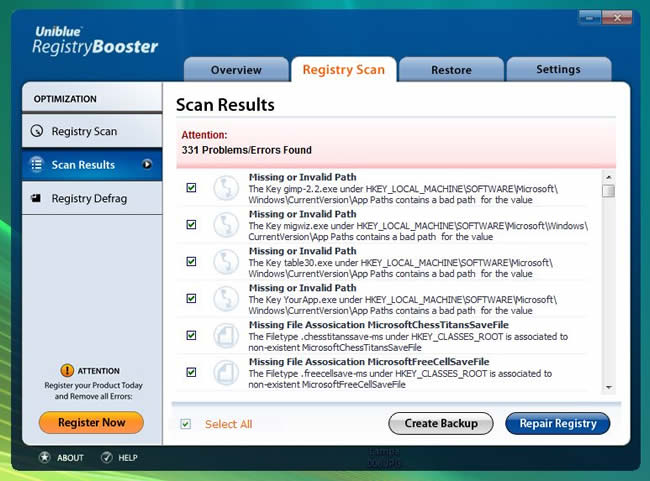 Overall the program mainly found leftovers from programs I had uninstalled previously.
Before you repair the registry you get the option to make a backup of the registry. This makes it possible to go back and restore the registry to a previous state.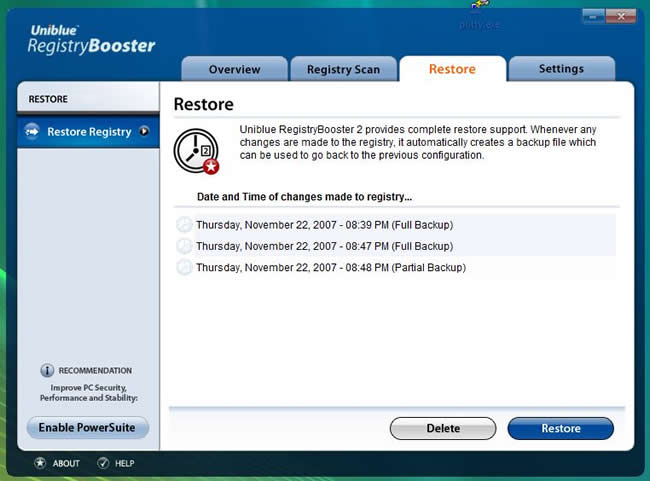 You can set up the program to always do the backup and I suggest doing it as the extra space needed for the backup is a small price to pay for the ability to restore a backup. The backups are actual copies of the registry, zipped, meaning it is possible to open them up and look at them afterwards.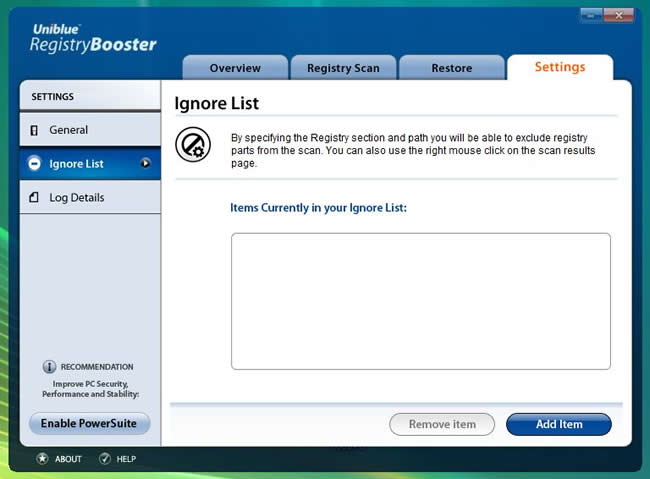 If you want to make sure that the program does not touch a certain part of the registry when scanning for problems you can specify these forbidden areas in a ignore list.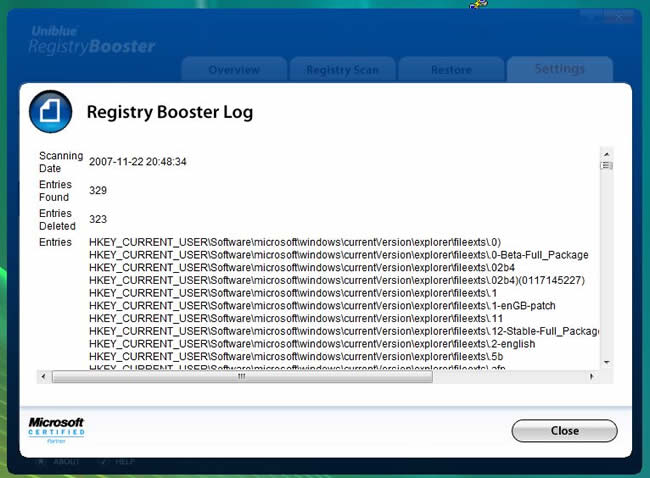 All the changes that are done to the registry are not only backed-up but also logged. Each scan and repair is logged and can be clicked on in the log list. You then get a full view of exactly what has been done meaning you can in theory change back separate fixes if something went wrong.
In addition to repairing the registry, RegistryBooster2 also can defrag the registry. Registry fragmentation is a phenomenon similar to fragmented hard drives. Your computer will slot new pieces of data in empty areas of your registry. If the file is too big for the slot, your computer will break it up and put a piece in one slot and another elsewhere. This creates gaps, wasted space and increase the probability of corruption of your registry. 
CONCLUSION
RegistryBooster 2 is an well made software that feels both professional and is very user-friendly. Uniblue has made sure that anything the program does is both well documented (through the logs) and that backups are being made. To me this fills me with a certain level of confidence for the program. I do not want to let any program mess with my registry and if this means paying a bit of money instead of finding a free alternative, then so be it.
The question for me is not so much if RegistryBooster2 is worth the $29.95 it now can be had for from www.uniblue.com as much as what a registry cleaning program actually can do for you. In my case cleaning up the registry and defragging it did not really result in much improvement in my system. I ran it on my Dell Inspiron 9400 which has tons of programs installed in Vista and which has been quite sluggish lately. The program found over 300 errors and I of course both repaired them and defragged the registry. After this the computer started a bit faster (3 minutes 30 seconds instead of 3 minutes and 50 seconds) but right after the first boot my programs (Word, IE, Firefox) took 3 times the time to start as before. Apparently the clean-up and defrag had done something with the pre-fetch caching that Vista does to programs that you often use. However, after these programs had been run once they started just as quick as they had done before.
If you expect a registry cleaning program like RegistryBooster2 to speed up your computer a lot then you probably will be disappointed when you run it. What it can do is to help keep the registry fit as well as minimize the risk that stray registry-leftovers affect the performance or the stability of your system. And in the end that is pretty good itself.
Pros
+ Very easy to use
+ Allows you to backup any changes you make
+ Log-files that shows you exactly what has been done
+ Both repair and defrag of registry
+ Ability to select areas to ignore in the registry
+ It is possible to scan for specific types of errors (for example only look in the Uninstall Files section)
Cons
+ A bit expensive for the result you get
+ Even a big clean-up does not necessarily result in lots of performance
+ Some of the "errors" seem odd
RegistryBooster 2 gets a solid 7 out of 10 from me.