Besides the standard functions, it's possible to assign a long combinations or macros for each key. This is an ideal solution for those needing to automate their movements and actions during a game. It will be especially useful in RPG games where you need to do 3-4 things in one sitting
INTRODUCTION
A while ago I've checked out some of Revoltec's gaming gear: Revoltec FightMouse, Lightboard and Gamepad. All three products were designed for gamers and anthusiasts. You can gather more information on Revoltec's gaming website: FightPatrol. The site is devoted to the latest gaming gear announced by Listan. It gives you a good look at each FightProduct including latest drivers and news.
Are you ready for the Revoltec FightPatrol?

»Gamers, a t t e n t i o n! This is Sergeant Revoltec speaking!

Starting now, you're only gonna play with the battle gear I give you! Do I make myself clear?

I can't afford to have any losers in my brigade! If you can get that through your skull, then answer with »Sir, yes, Sir!« and say it so loud that I can actually h e a r you.

I might even be able to make winners out of you yet! Playing around is a thing of the p a s t. Now it's time to f i g h t! Your virtual opponents will come to fear you.

And starting now, you're gonna use the most efficient gaming hardware around: my FightProducts. Your game is going to be quicker and more exact than ever before by using the Revoltec FightMouse. If you use the Revoltec FightBoard, you'll definitely end up as a winner. And don't think for a second that I don't control you: my FightPatrol and I will find you!

So if you've got any guts, then inform your sergeant what you need for your game! What do you expect from good gaming hardware? Have courage soldier! I'm waiting for your constructive criticism: sergeantrevolte[email protected] As compensation, you'll get a friggin' Revoltec key holder

Yours,

Sergeant Revoltec
[email protected]
Today I will be checking out Revoltec's FightPad, the last of the gaming gear. It's basically a micro gaming keyboard designed for those gamers that require the ultimate control.
FEATURES & SPECS
The pad features a compact like design and packs 20 marco keys, various combinations and text sequences can be programmed using the included software.
Tech specs
Progammable keys
Optimized for EGO-Shooter
Unique player design
Ergonomic key layout
Its shape signifies the letter "S", kind of like your hand laying on the keyboard. There is also a slip-resistant rubber wrist rest for your hand and a blue LED that backlights the keypad.
CLOSER LOOK
For the most part, the shape of the FightPad seems to be justified. It's been designed for the ultimate control — so says Listan at least. Testing however revealed all kinds of flaws that users will immedietaly notice. More on that just below.
Click a picture to see a larger view
---
---
Remember the FightMouse? It had this carbon feel to it. Well so does FightPad, it's a paint job rather than real carbon of course. The buttons feel cheap and bulky though. To tell you the truth I couldn't get used to the pad. I always use my keyboard for gaming and switching to this standalone pad just brought weird thoughts. First and foremost, I couldn't get used to the grey movement keys (equivalent to WASD) and kept hitting volume keys for crouching. The top keys maybe hard to reach. If you have a small hand you'll definitely need to move your hand up a little just to hit one of them. The good thing is most of the keys are programmable so it's not like you're left with what Revoltec had set up.
TESTING & SOFTWARE
I've checked out Revoltec FightPad in Counter-Strike as it's probably the most playable online game ever. With macros however, RPG gamers will sprout and cheer to this functionality.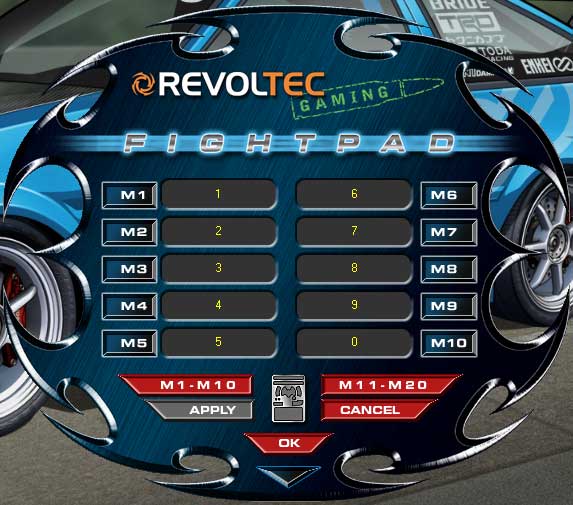 The included software runs fine and is supposedly Vista ready (haven't checked). I didn't quite like this application as it feels cheap and unprofessional. Above you can assign your 20 function keys the way you prefer. The "M" keys are scattered all around the pad, M18-20 are hard to reach thus kind of useless.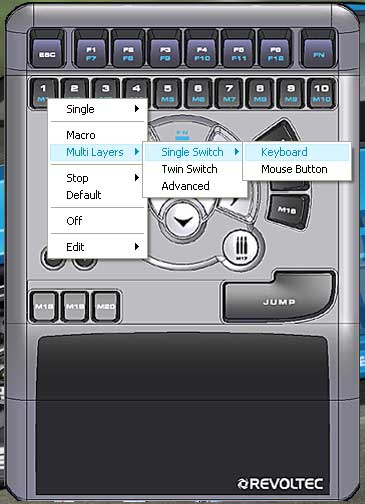 Besides the standard functions, it's possible to assign a long combinations or macros for each key. This is an ideal solution for those needing to automate their movements and actions during a game. It will be especially useful in RPG games where you need to do 3-4 things in one sitting. Don't forget the pad can be used in business applications as well.
In general the use of the FightPad is valid when it comes to software that can take advantage of it. For regular gaming I wouldn't bother.
CONCLUSIONS
I have to say I was a bit skeptical when first saw Revoltec's FightPad. All these years I've used regular keyboard and didn't have the urge to do otherwise. I myself like it simple without bells and whistles, but the younger crowd might appreciate the use of macros and multi layer switches.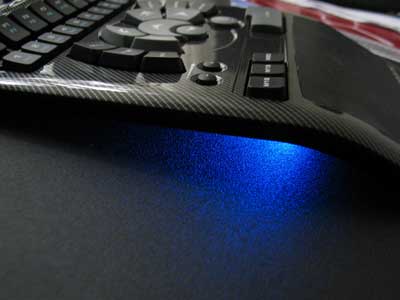 backlight LED
A more thoughtful decision would be to get a fully blown out gaming keyboard that packs far more features than Revoltec's FightPad. Of course if you like gadgets and have surplus money I won't stop you from getting this pad. I'm just a messenger that brings you friendly advice and thoughts.
Pros:
+ Nicely shaped
+ Combinations and macros
+ Long cord
+ Rubber wrist rest
+ Plenty of function keys
Cons:
– Nothing out of ordinary
– Cheap plastic keys
– Some buttons hard to reach
– Takes time to get used to it
Revoltec FightPad gets the score of 6.5 (Pretty Good) out of 10