Today at Bjorn3D we have the distinct pleasure of reviewing the second product in XFX's Fatal1ty Professional series, the GeForce 8600GT. With an endorsement from the world's #1 gamer this gaming graphics solution has big shoes to fill. We plan to use typical testing regimen modified ever so slightly to determine if this product can fill those shoes, or maybe even go beyond.
INTRODUCTION
When we mention the name Fatal1ty chances are most of you will will realize that we're speaking of Jonathan "Fatal1ty" Wendel, who over the last several years has become a gaming icon. Fatal1ty is reputed to be the current best that the gaming world has to offer. In December, 2006, XFX launched the first card in their new Fatal1ty Professional Series, the 7600 GT which was endorsed by the worlds #1 gamer. XFX stated the following in their press release of this product: "This card proves that teaming XFX technology with the hardcore gamer's demands results in performance that buyers literally haven't seen before".
One would think that a graphics card bearing the endorsement of Fatal1ty would the fastest and ergo the most expensive available. Realizing that most gamers are on a tight budget and need a product that will get the job done at a reasonable price, XFX decided to follow a slightly different premise. They chose to take a proven NVIDIA based card and to safely overclock its default speed by over 10%. XFX stated that the first in the Fatal1ty Professional series was: "a performance overclocked product that features an affordable price that will appeal to all players." Best of all, with input from Fatal1ty, this card was a competition-ready piece of equipment that will satisfy the most serious gamer's needs.
Today at Bjorn3D we have the distinct pleasure of reviewing the second product in XFX's Fatal1ty Professional series, the GeForce 8600GT. With an endorsement from the world's #1 gamer this gaming graphics solution has big shoes to fill. We plan to use typical testing regimen modified ever so slightly to determine if this product can fill those shoes, or maybe even go beyond.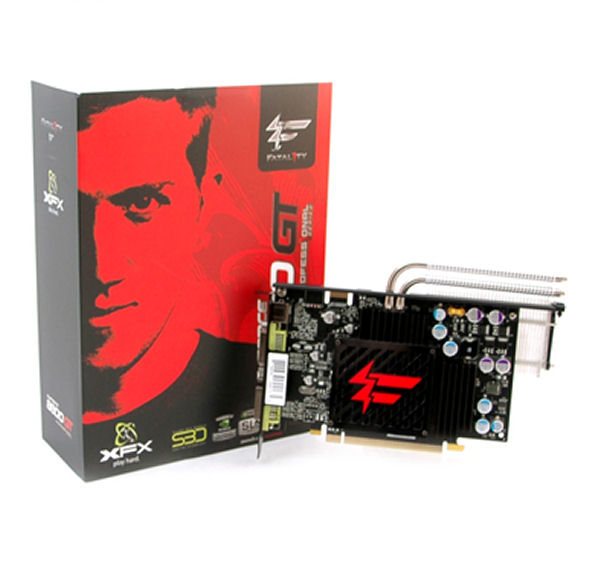 XFX: The Company
XFX®, a company that is very well know not only to the general computer consumer but to the Computer Enthusiast community as well operates on the following corporate philosophy:  "XFX® dares to go where the competition would like to, but can't. That's because, at XFX®, we don't just create great digital video components–we build all-out, mind-blowing, performance crushing, competition-obliterating video cards and motherboards." "Oh, and not only are they amazing, you don't have to live on dry noodles and peanut butter to afford them."
FEATURES & SPECIFICATIONS
Features
Full Microsoft® DirectX® 10 Support:  World's first DirectX 10 GPU with full Shader Model 4.0 support delivers unparalleled levels of graphics realism and film-quality effects.
NVIDIA® SLI™ Technology:  Delivers up to 2x the performance of a single graphics card configuration for unequaled gaming experiences by allowing two cards to run in parallel. The must-have feature for performance PCI Express® graphics, SLI technology dramatically scales performance on today's hottest games.
NVIDIA® Lumenex™ Engine:  Delivers stunning image quality and floating point accuracy at ultra-fast frame rates.
OpenGL™ 2.0 Optimizations and Support:   Ensures top-notch compatibility and performance for all OpenGL applications. NVIDIA® nView® Multi-display Advanced technology provides the ultimate in viewing flexibility and control for multiple monitors.
Built for Microsoft® Windows Vista™:   NVIDIA's fourth-generation GPU architecture built for Windows Vista gives users the best possible experience with the Windows Aero 3D graphical user interface.
PCI Express™ Support:  Designed to run perfectly with the next-generation PCI Express bus architecture. This new bus doubles the bandwidth of AGP 8X delivering over 4 GB/sec. in both upstream and downstream data transfers.
Dual DVI Support:  Able to drive the industry's largest and highest resolution flat-panel displays.
Dual Link DVI:  Capable of supporting digital output for high resolution monitors (up to 2560×1600).
NVIDIA® unified architecture with GigaThread™ technology:  Massively multi-threaded architecture supports thousands of independent, simultaneous threads, providing extreme processing efficiency in advanced, next generation shader programs.
128-bit floating point High Dynamic-Range (HDR):  Twice the precision of prior generations for incredibly realistic lighting effects—now with support for anti-aliasing.
16x Anti-aliasing:  Lightning fast, high-quality anti-aliasing at up to 16x sample rates obliterates jagged edges.
NVIDIA® ForceWare® Unified Driver Architecture (UDA):  Delivers a proven record of compatibility, reliability, and stability with the widest range of games and applications. ForceWare provides the best out-of-box experience and delivers continuous performance and feature updates over the life of NVIDIA GeForce® GPUs.
NVIDIA® Quantum Effects™ Technology:  Advanced shader processors architected for physics computation enable a new level of physics effects to be simulated and rendered on the GPU—all while freeing the CPU to run the game engine and AI.
Dual 400MHz RAMDACs:  Blazing-fast RAMDACs support dual QXGA displays with ultra-high, ergonomic refresh rates–up to 2048×[email protected]
NVIDIA® nView® Multi-Display Technology:  Advanced technology provides the ultimate in viewing flexibility and control for multiple monitors.
NVIDIA® PureVideo™ Technology:The combination of high-definition video processors and NVIDIA DVD decoder software delivers unprecedented picture clarity, smooth video, accurate color, and precise image scaling for all video content to turn your PC into a high-end home theater. (Feature requires supported video software.)
XFX 8600GT Fatal1ty Specifications

Memory Interface
128 bit
RAMDACs
Dual 400 MHz
Memory Bandwidth
22.4 GB/sec
Fill Rate
8.6 billion/sec
Shader Clock
1355 MHz
Chipset
GeForce™ 8600GT
Memory Clock
1.7 GHz
Dual Link DVI – Supporting digital
output up to 2560×1600
Dual Link
Clock Rate
620 MHz
Memory
256 MB
Bus Type
PCI-E
Memory Type
DDR3
Highlighted Features
Vista
Dual DVI Out
RoHS
HDTV ready
SLI ready
TV Out
CLOSER LOOK
Packaging
We are extremely happy to see that XFX has chosen to return to a smaller, more environmentally friendly package for distribution of the 8600GT Fatal1ty Series graphics card. For the longest time it appeared that all graphics' solution manufacturers subscribed to the philosophy that bigger is better. In most of the larger packages there was a huge amount of wasted space not to mention the fact that storage of these larger containers was a real hassle for the consumer. This smaller package is no less protective of the valuable contents that it contains and much more user friendly.
As one might imagine a likeness of Jonathan "Fatal1ty" Wendel is on the front cover of the package. XFX also departs from their typical green, black and white color on the package cover to the red, black and white scheme associate with their Fatal1ty Professional series of products.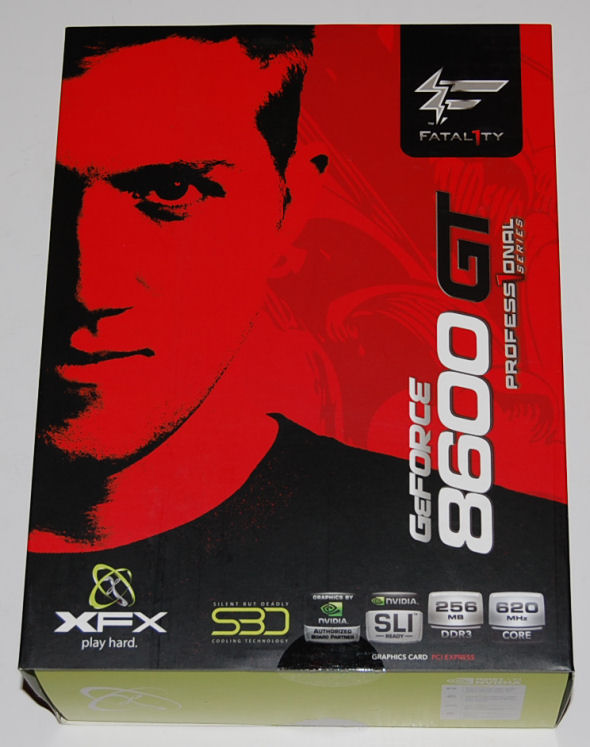 Package … Front
The rear of the package cover offers the product's features as well as a mini mission statement that discusses the philosophy behind the product's build.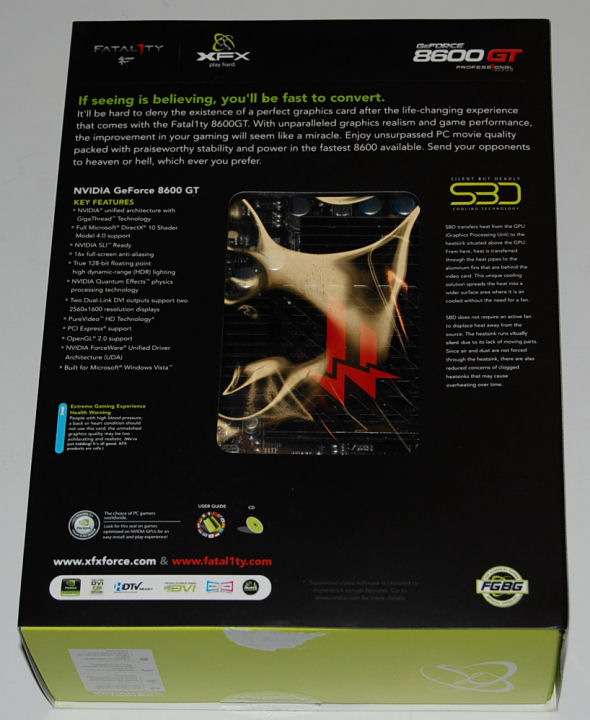 External Package … Rear
Now for the most important aspect of the packing, the inner container. This portion of the packing system actually houses your valued investment and protects it from damage when the shippers are bored and decide your package is the perfect size for a game of "lunchtime Rugby". This container is made of very thick cardboard and filled with extremely thick cellular foam which completely surrounds this prized possession.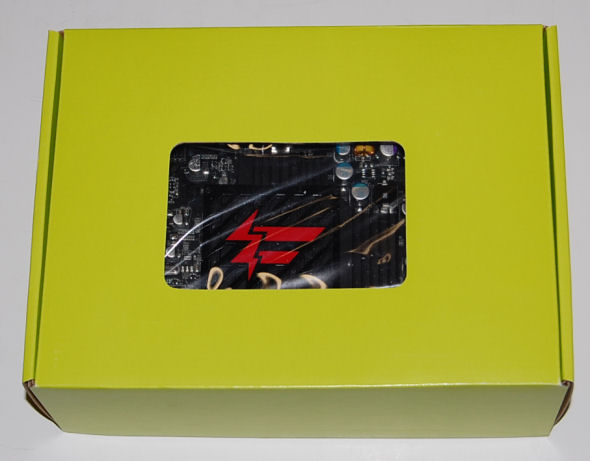 Inner Package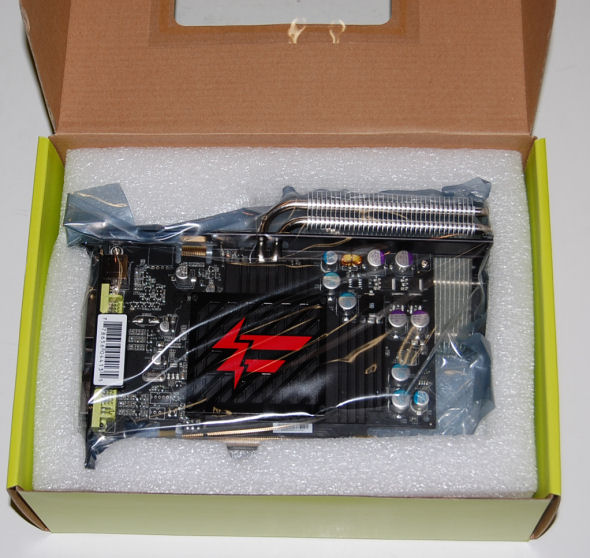 The Inner Sanctum
CLOSER LOOK cont.
The Card
A year or so ago most extreme gaming enthusiasts wanted the fastest system available, categorically speaking, and seemed somewhat impervious to the sound generated by the number of cooling devices necessary to achieve that goal. Today the emphasis has changed rather markedly with many of the same enthusiasts opting for water, T.E.C. or vapor phase cooling to stem the ever rising decibel levels presented by the devices necessary to facilitate adequate air cooling.
One of the most distinguishing features of the Fatal1ty Professional series of gaming cards is the passive "Silent But Deadly" (SBD) cooling solution that XFX has opted to use. This cooling strategy relies heavily on heat pipe technology for dissipation of the heat produced. We tested this same solution on XFX's 7950 GT XT card back in September of 2006 and were quite impressed with it then. We'll discuss the cooling aspects of SBD passive cooling in more depth later in the testing phase of the review.
Another item overlooked (namely because it doesn't exist) on the 8600GT Fatal1ty Series is the lack of a PCI-e power input on this card. This card only draws somewhere in the neighborhood of 100W at full load preempting the need for an additional power source.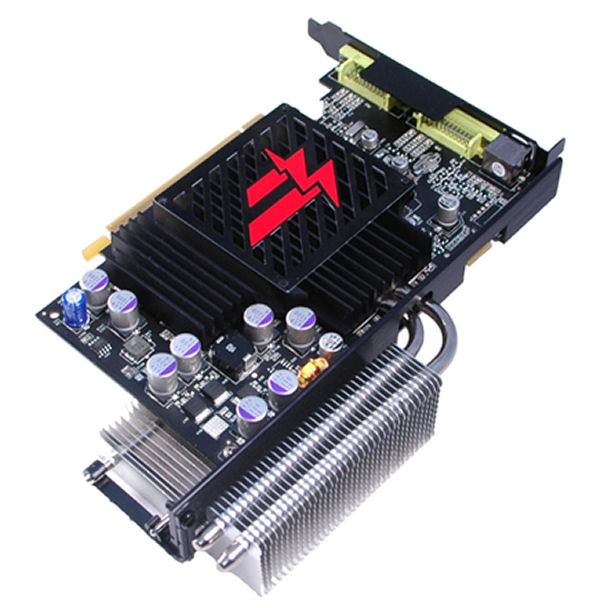 XFX 8600GT Fatal1ty … Angled View
The rear of the 8600GT Fatal1ty is generally unremarkable but the image below does give a better view of the heat pipe technology used with the SBD passive cooling solution.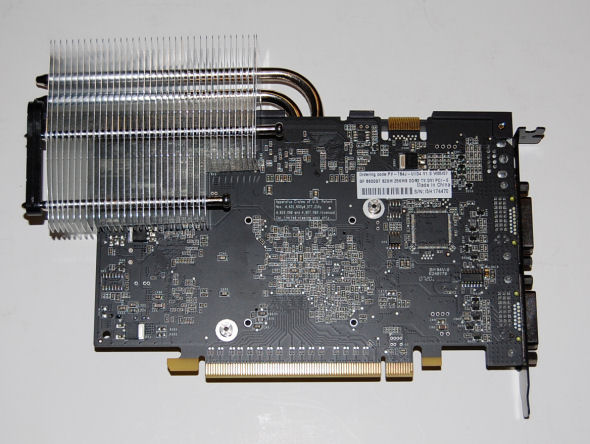 XFX 8600GT … Angled View
The rugged looking green and black dual DVI connectors are a trademark of XFX graphics solutions, that's one element we're happy did not change with the Fatal1ty Professional series.

XFX 8600GT … Angled View
Bundled Accessories
I would appear that the days of the grandiose bundle of accessories that use to accompany most graphics cards have come to an end. I would call the included accessories bare bones at best and certainly inauspicious. Whatever happened to the days of including a full version of a game with a video card? The accessories include:
1 – DVI-to-VGA adapters
1 – S-video cable
1 – quick installation guide
1 – setup disk
1 – installation tips guide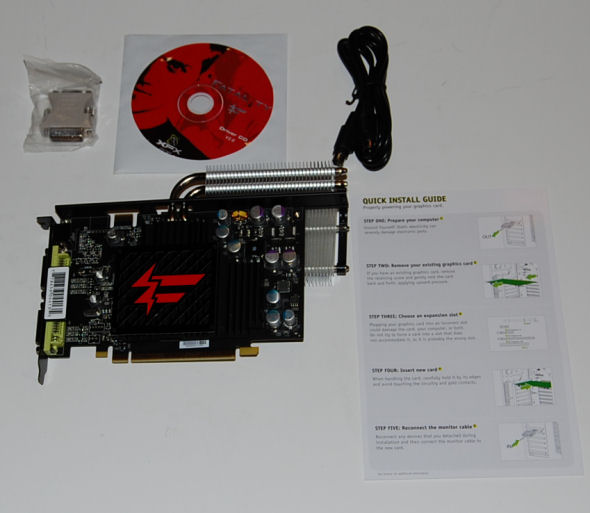 XFX 8600GT Fatal1ty … Bundled Accessories
TESTING
We mentioned earlier in the review that in 2006 we tested an XFX 7950GT XT which also used the same "Silent But Deadly" Cooling technology as does the 8600GT Fatal1ty Series card. The specifications of the two cards are very similar and therefore we decided to pull the 7950GT XT out of mothballs and pit it against the 8600GT Fatal1ty in today's review. Below is a small table highlighting the major specifications of each card for comparison purposes:
XFX 8600GT Fatal1ty vs. XFX 7950GT XT

Specification
XFX 8600GT Fatal1ty
XFX 7950GT XT
Memory Interface
128 bit
256 bit
Memory Bandwidth
22.4 GB/sec
44.8 GB/sec
Fill Rate
8.6 billion/sec
13.2 billion/sec
Chipset
GeForce™ 8600GT
GeForce™ 79500GT
Memory Clock
1.7 GHz
1.46 GHz
Clock Rate
620 MHz
570 MHz
Memory
256 MB
512 MB
Test Platform
Test Platform

Processor

Intel E6600 Core 2 Duo at 2.4GHz

Motherboard

Gigabyte GA-P35-DQ6

Memory

2GB of Mushkin Redline XP2-8500 DDR-2
(4-5-4-12 @ 2.2 volts)

Drive(s)

3 – Seagate 750GB Barracuda ES SATA Drives

Graphics

Test Card 1:   XFX GeForce® 8600GT Fatal1ty running ForceWare 158.19

Test Card 2:   XFX GeForce® 7950GT XT running ForceWare 93.71

Cooling

Enzotech Ultra-X with Delta 120mm fan

Power Supply

PC Power & Cooling 1KWSR PSU

Display

Dell 2407 FPW

Case

Lian Li G70 (highly customized)

Operating System

Windows XP Pro SP2
Testing Methodology
We will be testing the XFX 8600GT Fatal1ty graphics card on a comparative basis versus the XFX GeForce® 7950GT XT. We will run the below captioned benchmarks with each graphics card set at default speed. Our synthetic benchmark 3DMark06 will be run in default mode with no anti-aliasing or anisotropic filtering. We will run the gaming tests at a variety of different resolutions both with and without anti-aliasing and anisotropic filtering. Each of the tests will be run individually and in succession three times and an average of the three results calculated and reported. F.E.A.R. benchmarks were run with soft shadows disabled.
Synthetic Benchmarks & Games

3DMark06 v. 1.10

Default Settings

Company of Heroes v. 1.7

1280×1024 & 1600×1200 No AA/AF
1280×1024 & 1600×1200 4xAA/8xAF

F.E.A.R. v. 1.08

1280×1024,1600×1200, & 1920×1200
No AA/AF

1280×1024,1600×1200, & 1920×1200
4xAA/8xAF

Serious Sam II v 2.070

1280×1024 & 1600×1200 No AA/AF
1280×1024 & 1600×1200 4xAA/8xAF

S.T.A.L.K.E.R. v. 1.3

1280×1024 & 1600×1200 No AA/AF
1280×1024 & 1600×1200 4xAA

Lost Planet Demo

1280×1024 & 1600×1200 4xAA/8xAF
TEST RESULTS
3DMark06 v. 1.2.0
3DMark06 developed by Futuremark is a synthetic benchmark used for universal testing of all graphics solutions. 3DMark06 features HDR rendering, complex HDR post processing, dynamic soft shadows for all objects, water shader with HDR refraction, HDR reflection, depth fog and Gerstner wave functions, realistic sky model with cloud blending, and approximately 5.4 million triangles and 8.8 million vertices; to name just a few. The measurement unit "3DMark" is intended to give a normalized mean for comparing different GPU/VPUs. It has been accepted as both a standard and a mandatory benchmark throughout the gaming world for measuring performance.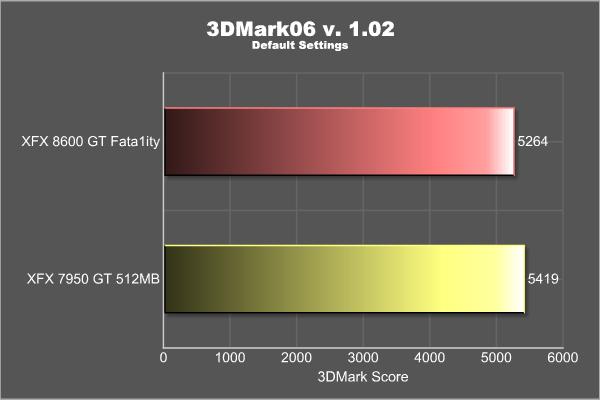 Quake4
Quake4 was released to gaming world in 2005 the year after Doom 3 by Raven Software. It uses the highly touted Doom 3 engine in its operation which means it also functions with the OpenGL API during rendering. Quake 4 and Doom 3 are two highly valued benchmarks that have lost little popularity since their inception.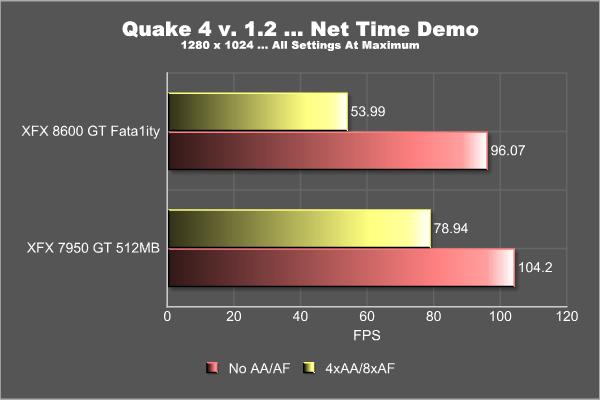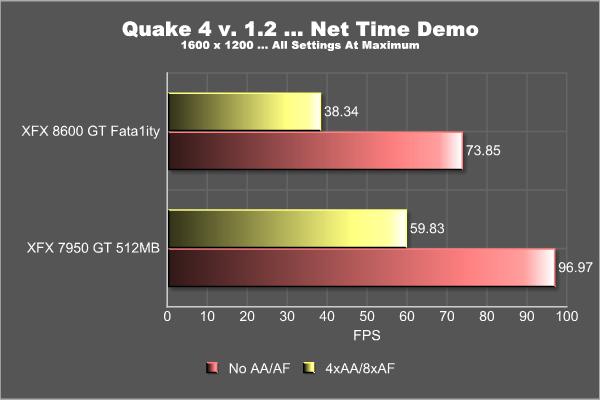 F.E.A.R
F.E.A.R. (First Encounter Assault Recon) is a first-person shooter game developed by Monolith Productions and released in October, 2005 for Windows. F.E.A.R. is one of the most resource intensive games in the FPS genre of games ever to be released. The game contains an integrated performance test that can be run to determine your system's performance based on the graphical options you have chosen. The beauty of the performance test is that it gives maximum, average, and minimum frames per second rates and also the percentage of each of those categorical rates your system performed. F.E.A.R. rocks both as a game and as a benchmark!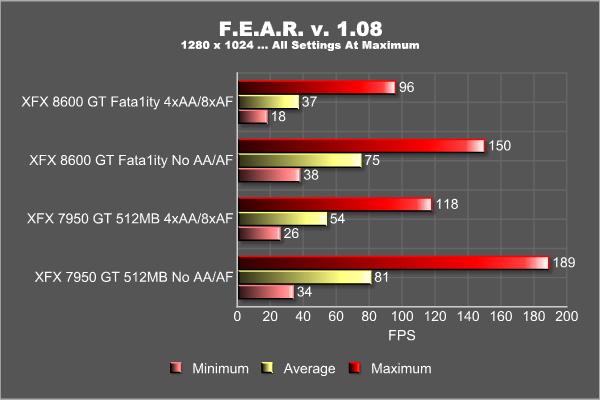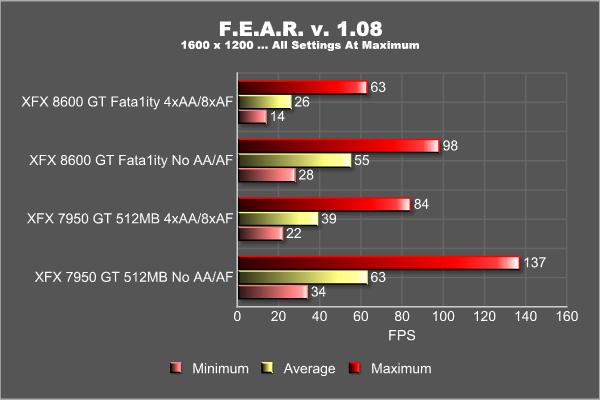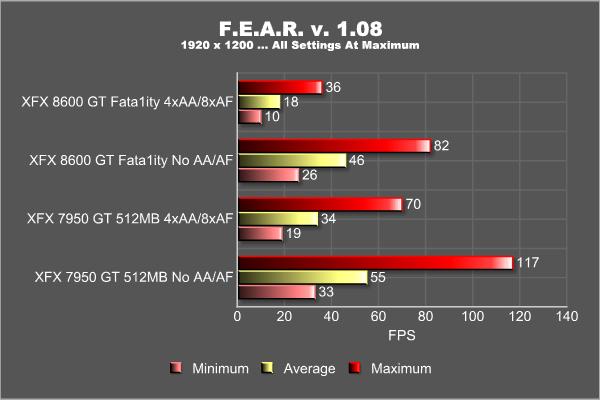 Serious Sam 2
Serious Sam 2 is a first-person shooter released in 2005 and is the sequel to the 2002 computer game Serious Sam. It was developed by Croteam using an updated version of their Serious Engine known as "Serious Engine 2". We feel this game serves as an excellent benchmark which provides a variety of challenges for the the GPU/VPU you are testing. We once again automate the benchmarking process by using benchmarking software from HardwareOC to automate and refine the process.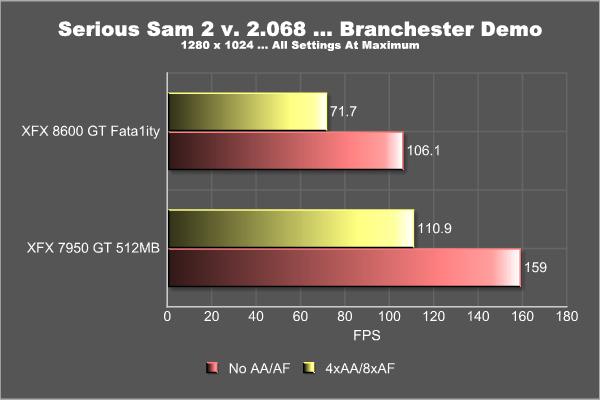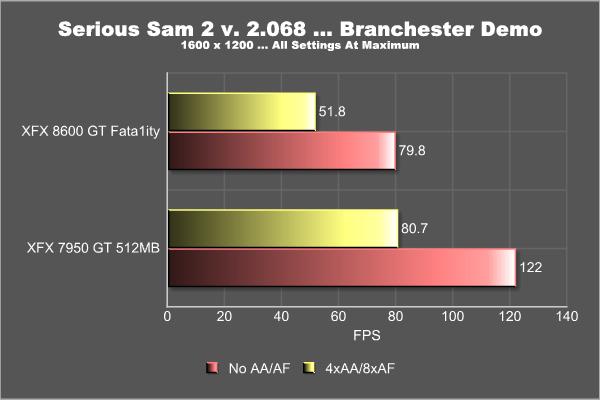 TEST RESULTS cont.
Company of Heroes
Company of Heroes(COH) is a Real Time Strategy(RTS) game for the PC, announced on April, 2005. It is developed by the Canadian based company, Relic Entertainment, and published by THQ. We gladly changed from the first-person shooter based genres of the rest of our gaming benchmarks to this game which is RTS. Why? COH is an excellent game that is incredibly demanding on system resources thus making it an excellent benchmark. Like F.E.A.R. the game contains an integrated performance test that can be run to determine your system's performance based on the graphical options you have chosen. It uses the same multi-staged performance ratings as does the F.E.A.R. test. We salute you Relic Entertainment!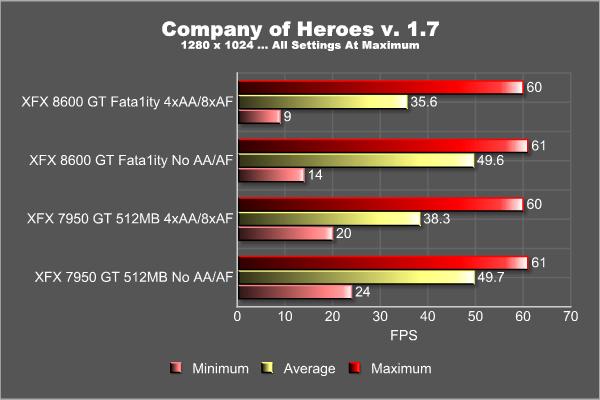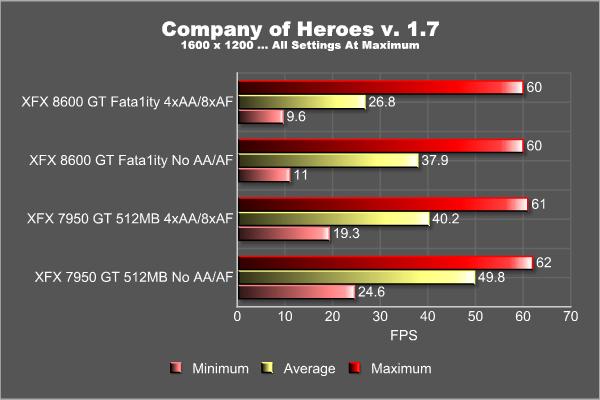 S.T.A.L.K.E.R.:   Shadow of Chernobyl
S.T.A.L.K.E.R.:   Shadow of Chernobyl this highly anticipated game was expected to debut well over a year ago and went through various delays. Just released in the last few months the game makes use of a proprietary DX9 game engine. It features an advanced DX9 renderer with Defferred Shading capabilities, which allows the engine to draw a vast amount of dynamic light sources. Needless to say this baby is very GPU intensive. We used the short time demo available as a free benchmarking tool from czweb.org.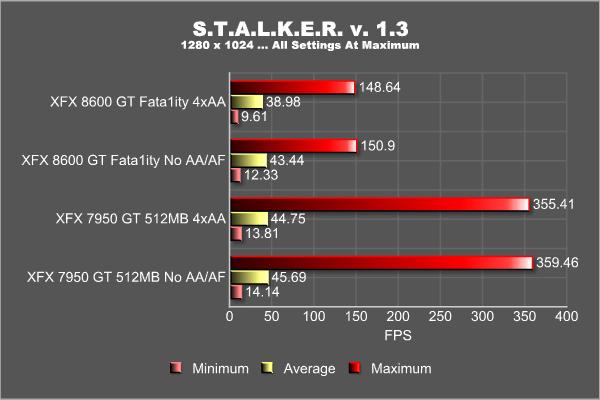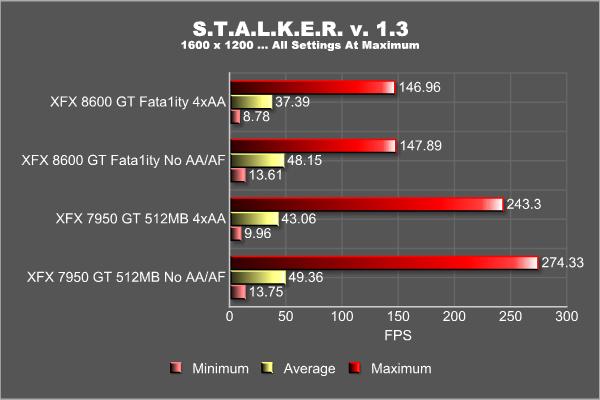 Lost Planet:   Extreme Condition Demo
Lost Planet:  Extreme Condition is a game that had its beginning in the console realm as it was originally designed and released for the XBOX 360 in January, 2007. In May, 2007 the first copies of the game's demo for PC began to surface and to many people's surprise there was both a DX9 and DX10 version available. Also unique to a new game demo was the inclusion of a performance test. The performance takes two sections of the games environment, Snow, which is set in the worst Winter conditions imaginable and Cave, which is set in more of a semi-tropical environment and throws all it has at your rig. The performance test is extremely GPU and CPU intensive.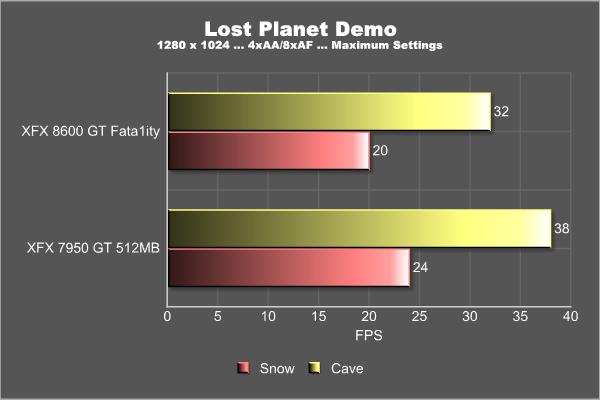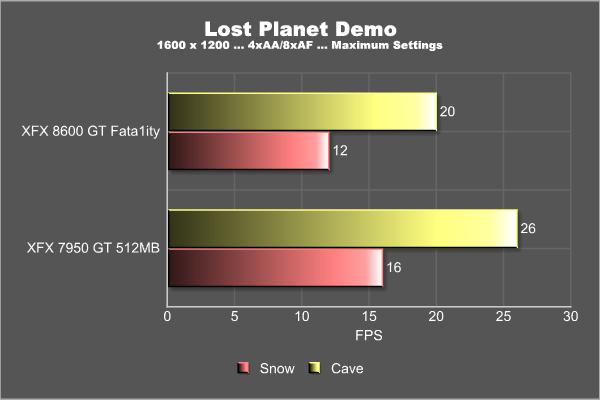 Temperature & Noise
The temperatures of the cards tested were measured with ATI Tool Version 0.26. to assure consistency and remove any bias that might be interjected with the respective card's utilities. We measured the idle load after 15 minutes of totally idle activity on the desktop with no processes running that mandated additional power demand. Load was measured after looping 3DMark06 for 15 minutes at maximum settings.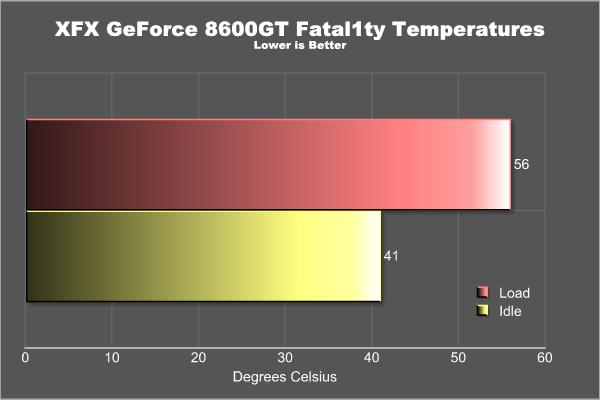 While we were extremely elated at the results of this test we weren't altogether surprised. We got similar results from this same "Silent But Deadly" cooling solution back when we tested the XFX 7950GT XT approximately nine months ago. Who says you can't have both quiet and cool on air? Speaking of quiet we dropped decibel of our test rig by a whopping 10 decibels by using this card in lieu of the XFX 8800GTX XXX and removing the 120mm side fan we had as adjunct cooling…not to shabby!
Overclocking
We made every effort push the 8600GT Fatal1ty further than its factory overclock. We attempted to overclock both the GPU and the memory both together and separately and found even a 10 MHz increase made the card unstable. We can only assume from these efforts that we either got a card with very little headroom; or a more like scenario is XFX found the optimal overclock prior to bringing this version of the card to market.
CONCLUSION
With all the testing completed all we can say is Uh Oh. We were under the assumption that the considerably higher GPU and memory clock of the XFX GeForce® 8600GT Fatal1ty Professional Series graphics card would help equivocate it with the 7950GT XT which has double the memory bandwidth. You know what they say about people that make assumptions. Even though the 7950GT XT was the clear victor in all of the testing; in most tests the margin of victory was rather small. This should in no way demean the performance of the 8600GT Fatal1ty as it certainly performed considerably better than its standard 8600GT counterpart. Unfortunately we did not have one of its siblings to test it alongside. Even though we would have liked to have seen better performance (and that's the case with every video card we review) we feel this 8600GT Fatal1ty stayed true to its purpose. It provided rock stable performance at an affordable price. The XFX 8600GT Fatal1ty Series card is currently priced in $155 – $175 USD range and is universally available at most of the major vendors.
While this card is not the Taj Mahal of video cards like the elder members of its family it certainly is the meat and potatoes of gaming. We must remember that a goodly portion of the gamers out there can't afford to dabble on the extreme end of the spectrum. The 8600GT Fatal1ty is certainly competitive and consistently produced average to above average results in every testing scenario we put it through. We would have expected nothing less from a product with the XFX label on it.
Now to recommendations, can we recommend this card? That answer is an unequivocal yes! We can heartily recommend this card to anyone on a budget that likes to game or to anyone simply wanting the quietest and coolest 8000 series card currently available.
Pros:
+  Vibrant and very life-like image rendering
+  Full Microsoft® DirectX® 10 Support
+  Fully Vista compliant
+  Totally silent
+  Runs extremely cool under load
+  SLI™ certified
+  A quality product
Cons:
–  A bit expensive for the average consumer
–  We'd like to see a better bundle of accessories and games included
Final Score: 7.5 out of 10 and the Bjorn3D Seal of Approval.