Today we are going to an in-depth look at the new Antec SOLO Case; the newest member of their LifeStyle Series of computer enclosures. In this review we'll focus on determining how well this case fits each of the above captioned criteria which hopefully will answer most if not all of your questions about whether this case is right for you. We'll also look at whether a case of this stature would solve the common complaints that ever present.
INTRODUCTION
Antec® is without a doubt one of the top two case manufacturers for the Computer Enthusiast in the world today. These are very bold words on my part, but I support them in total having read the description of literally thousands of rigs on the various Enthusiast forums that I frequent. Antec® has kept the more traditional image and design in their cases that that tends to appeal to the vast majority of computer owners in addition to the Enthusiast market.
For a number of years the case was taken for granted by the consumer when building a system and was often times the cheapest component in the system that was being built. This decision led many individuals to readily acknowledge how great his/her system was but yet freely complain about how poorly it cooled which was vastly limiting their performance. In most events of the type they (the consumer) opted to buy more higher RPM fans to fill the case that they initially purchased. In some situations this solved the problem but inturn irritated the user by taking noise to distasteful or even uncomfortable levels. I've even read about the consumers that run their rigs 24/7 for utilization as either a server, "Folding at Home", or some other type of demanding function. These same individuals complain about having their sleep often interrupted by the noise their system generates. Again a poor choice of case on their part! If only they'd done their homework before they purchased and spent as little as $20 – $40 more on their case, these complaints would be nonexistent!
Design and style alone does not sell cases! For a case to sell it must also have many other features that are appealing to potential buyers meshed with an internal function that also meets the current and perceived future needs of the market that it services. Those of you that have read my other case reviews have heard the following words used times: "We all know that an object's looks and style are in the eyes of the beholder, and cases are certainly no exception." "I think if most "Computer Enthusiasts" were totally honest they'd list the following order of preference for cases:  1) Looks and style; 2) Functionality; 3) Price; and 4) The potential longevity of the product based on impending technology changes of the components it will house." I still feel they echo the sentiments of the vast majority of Enthusiasts and general customers alike who are in the market for a home for their prized system!
Today we are going to an in-depth look at the new Antec SOLO Case; the newest member of their LifeStyle Series of computer enclosures. In this review we'll focus on determining how well this case fits each of the above captioned criteria which hopefully will answer most if not all of your questions about whether this case is right for you. We'll also look at whether a case of this stature would solve the common complaints that ever present.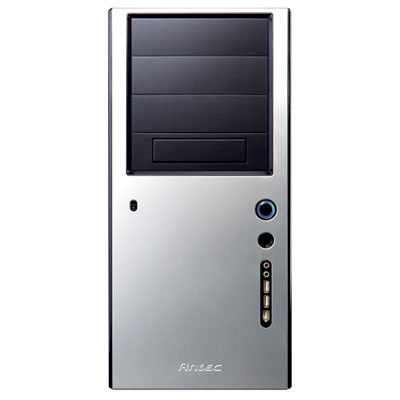 FEATURES & SPECIFICATIONS
Features
These captioned features place this product in the mid-tower range of cases; probably one of the most popular lines of case:
Piano black finishing
Dual hard drive mounting system – two ways to mount your hard drives for best possible quiet operation.

Tray Mount – Four HDD trays with extra soft silicone grommets to reduce hard drive noise
Suspension Mount – HDD suspension system for up to three hard drives to maximize noise reduction

Power supply flexibility. Accommodates any ATX12V or ATX12V v2.0 form factor power supply. For truly silent computing, the choice of power supply is crucial. Antec recommends choosing from our NeoHE, Phantom, or TruePower 2.0 power supplies.
8 Drive Bays (or 7 drive bays with Suspension Mount of the HDD)

External: 4 x 5.25" (one with 5.25" to 3.5" adapter)
Internal: 4x 3.5" (Tray Mount) or 3 x 3.5" (Suspension Mount) for HDD

Dual-layer steel & plastic sound-deadening panels
Front-mounted ports provide convenient connections

– 2 x USB 2.0
– 1 x IEEE 1394 (FireWire®, i.Link®)
– Audio in/out

Cable Organizer behind drive bay minimizes cable clutter
Built-in washable air filter
Enhanced Cooling System

1 rear 120 mm TriCool™ fan with 3-speed switch control
2 front fan mounts for optional 92 mm fans to cool the HDD

Motherboard: Fits micro and Standard ATX
Specifications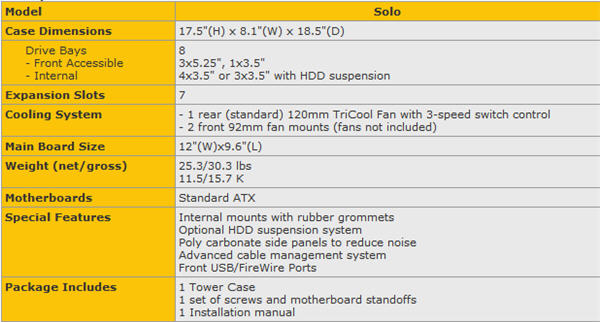 As with many cases the external 3.5″ floppy drive slot can be easily converted to a fourth 5.25″ slot simply by opting to remove the floppy drive bay.
A CLOSER LOOK
Packaging
Once again Antec® meets this author's expectations by securely packaging their precious cargo. The case I received for evaluation was not only packaged in the original packing; it was double boxed to further protect the contents. This is a huge plus to not only me but most consumers. There is nothing more frustrating than to receive your valued case or any product for that matter that is shipped to you, only to find a ding, scrape, or other damage resultant from rough handling during its journey to your door step.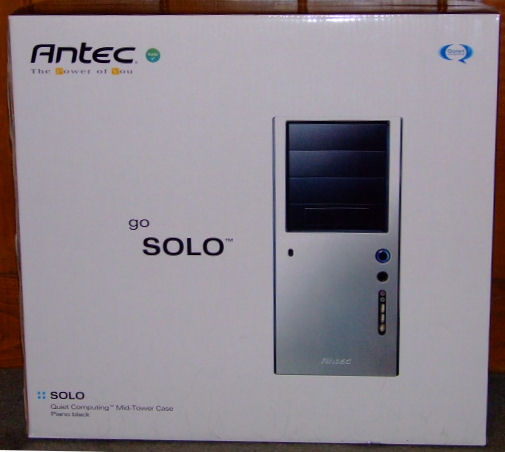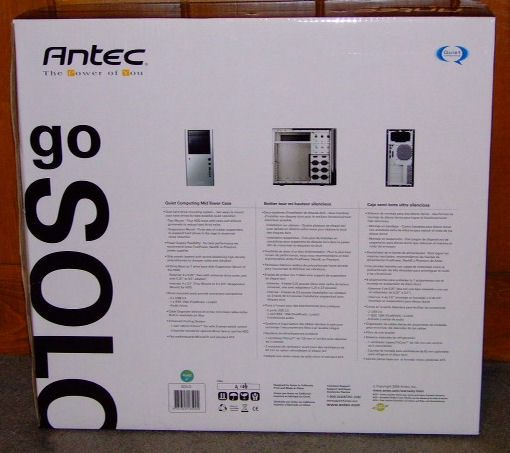 As you can readily see the case is well protected from damage not only from the outside, but the inside as well. Antec® has begun using compressed formed cardboard as opposed to styrofoam in its support material used inside the package. Not only is it equally as secure but it doesn't take up near as much space and is certainly more environmentally friendly. Good job, Antec®!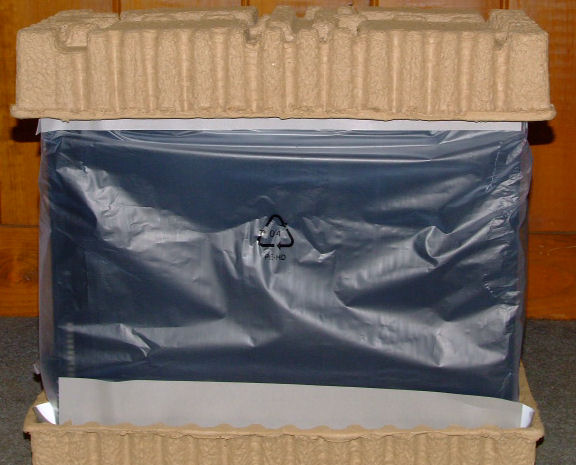 The Antec®SOLO bundle of extras is more than adequate, it includes:
Instruction manual
6 – 5.25″ Drive Rails
Bag of assorted screws & hardware
110 volt cord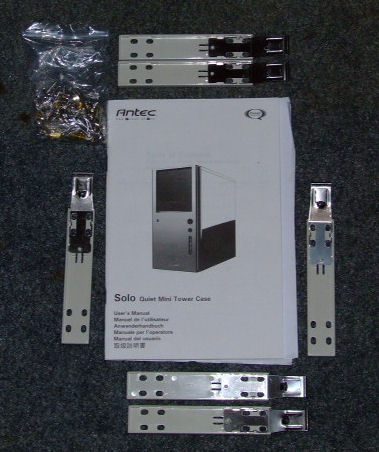 Bundle of Extras
First Impressions
Immediately upon removing this case from its shipping container(s) and even before removing the plastic sheeting, I was completely taken back by its beautiful high-gloss piano black paint job. I had seen pictures of this case on web sites prior to its arrival and I must say none do it justice as compared to the real thing. After removing the balance of the packing materials I was able to see the brushed aluminum bezel which ever so nicely accents the paint job. Although many will certainly argue the point that black is a much more visually appealing color scheme for a case, I'm a big fan of either white or silver. Combining the two, in the case of the SOLO™ (no pun intended), makes for one of the nicest looking black color combinations I've seen in years. Personally, I much prefer Antec's high-gloss pearl white paint job on their P 150 case if for no other reason than it doesn't show fingerprint smudges on the finish nearly as easily as does the black.
A CLOSER LOOK – EXTERNAL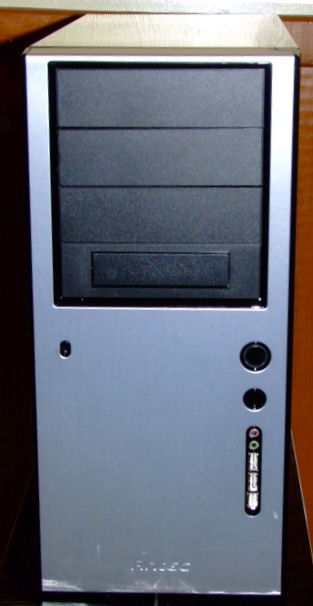 Notice the clean cut lines of the front bezel. To the right is the power switch with a nicely sized reset button immediately below it. The power switch is well illuminated by a bright blue LED. Just below the two buttons are the front-mounted ports for multimedia connections consisting of 2 x USB 2.0 ports, 1 x IEEE 1394 (FireWire®,) port, and an audio in and out port. To the left of this array of controls is a nicely placed hard drive LED which is also bright blue in color.
Unlike its twin brother the P-150, the SOLO doesn't offer the top two 5.25″ bays with hinged bay covers offering the option of both hiding and protecting your two optical drives. A flush mount of the optical drives is the only achievable option, which I personally prefer greatly over the hinged covers which with age have a tendency to hang open and can easily foul as each of the drives opens. This setup is by far a much more favorable option in this writer's view.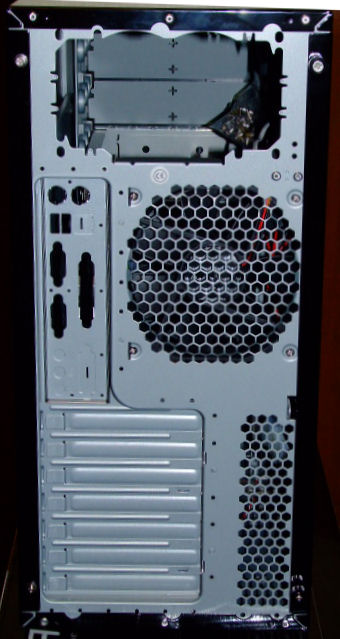 The rear of the case shows the well engineered grill for the 120mm Triflo™ which is included with this case. A hasp styled locking device is attached to both the case and the left door to facilitate manually locking the case against intrusion. Slots for up to seven PCI/PCI-E cards are also provided.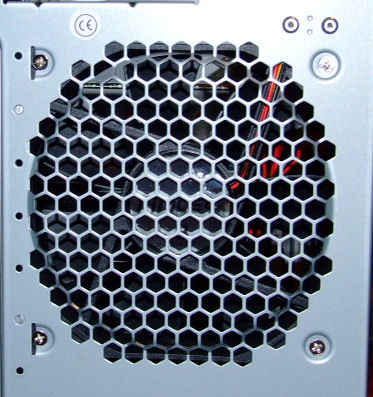 The size of the grill openings is optimal for excellent airflow with very little resistance to create turbulence.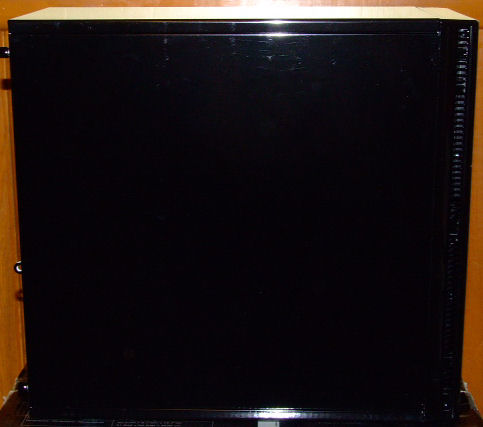 Both side panels of the case are virtually identical with the exception that the left side panel is removed with two spring loaded permanently affixed thumbscrews as opposed to the right side which is held in place by two hex headed screws.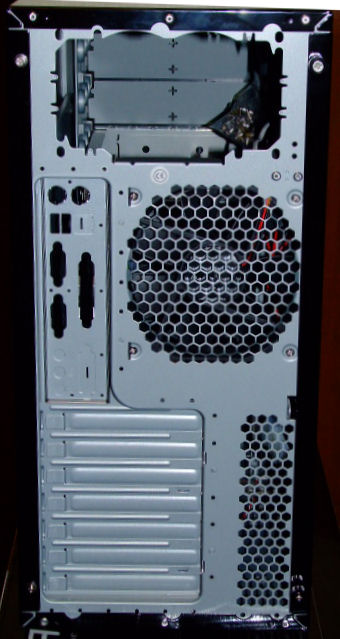 A CLOSER LOOK – EXTERNAL
The Interior of the case is not what I would call spacious by any stretch of the imagination. It does offer more than adequate room for in installation of either a standard ATX or micro ATX motherboard.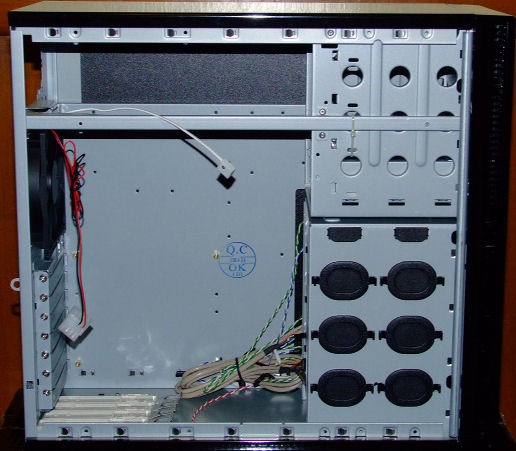 This image above show an interior view of the right side of the case's interior. Antec® has gone to great lengths to make cable management easier than ever before by the inclusion of cable hooks on the right side of the case in the lower left hand corner.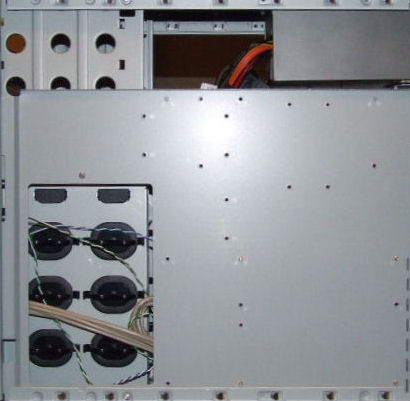 Interior Right Side w/ Cable Hooks
Opening the hinged front bezel is a snap. After removing the left side door release the tension on the three plastic retaining clips and the bezel swings open to the right. Notice that the bezel is mounted on steel hinges that allow for fluid movement as well as easy removal of the bezel. The lower front of the case contains the front fan cage which is also hinged and held in place by two thumb screws. The cage is easily removed and designed to hold up to two 92mm fans. It is covered with an easily removable filter which does an excellent job of catching dust bunnies and debris before it enters the case without significantly impeding airflow.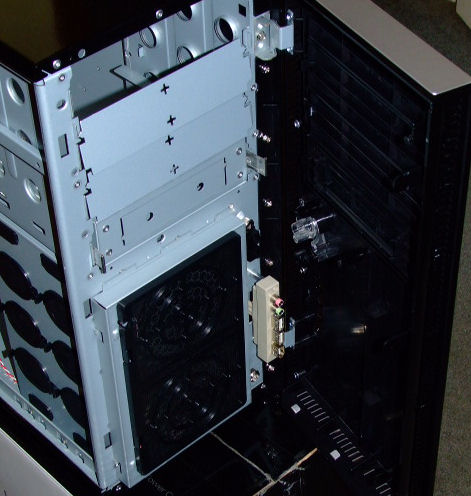 Case Front with Bezel Open(Front)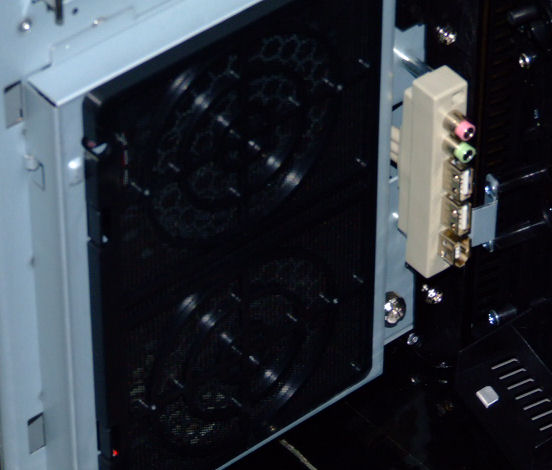 Front Intake, Filter, and Front Connections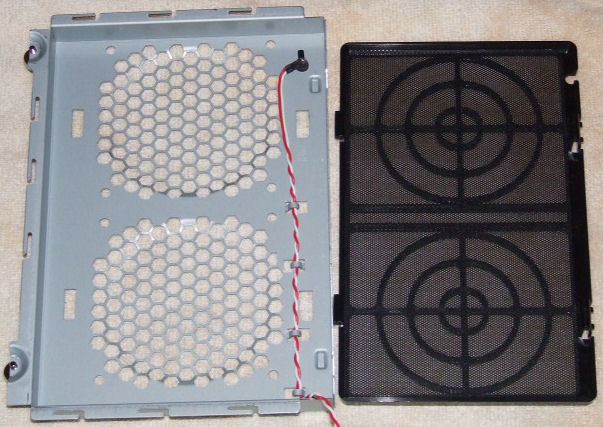 Front Fan Cage Removed w/ Filter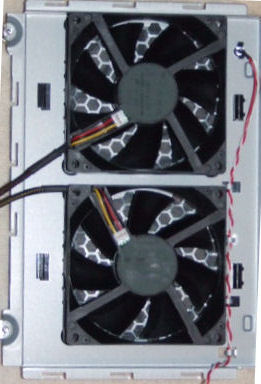 Front Fan Cage
w/ 2 90mm Panaflos Mounted
A CLOSER LOOK – INTERNAL cont.
Once the fan cage has been removed the hard drive bays with their front access is visible. The image below shows the four bays with all four of the removable drive cages in place.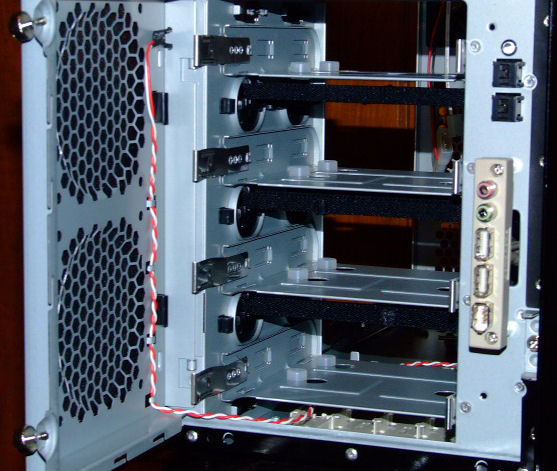 Front View of Removable Hard Drive Cages
Next an image showing both the suspension method of literally hanging a hard drive along with a drive mounted in one of the removable drive cages. The suspension method is to reduce virtually all hard drive vibrations thus eliminating any associated noise. Using the suspension method limits you to being able to install only three hard drives. Mounting the drives in the silicon supported trays allows for a total of four drives to be installed and still provides ample cooling room for each.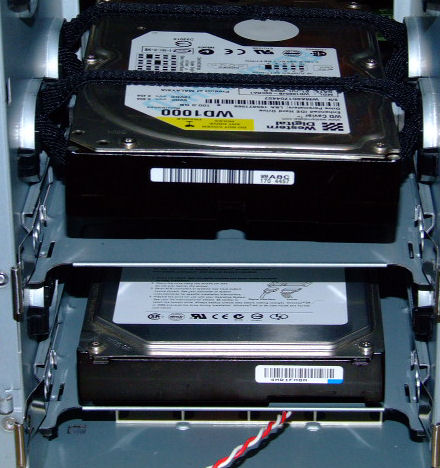 Suspension (top) vs. Drive Cage (bottom)
Initially in cases using the suspension method of hanging hard drives such as the P-150 Antec® used thinner, round rubber bands for the job. This proved effective but after hearing some customers complain of the drives being easily dislodged Antec® chose to move to a thicker, better adhering band made of commercial grade elastic. This appears to be a very sound decision as it appears to be a much better solution for holding the drive in place.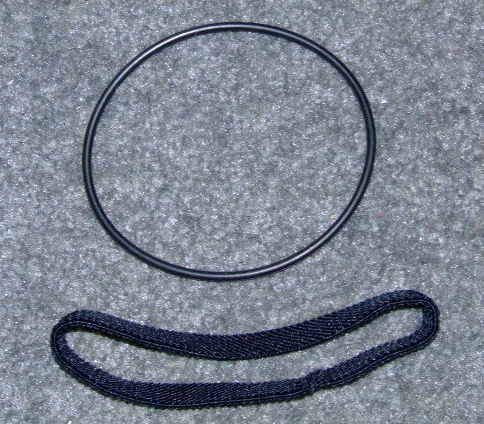 Current Elastic Band (below) vs. Rubber Band (top)
Looking at the case interior from front to rear we see the rear mounted 120mm Triflo™ fan, along with the seven PCI slots, and Antec's method for storing 5.25″ drive rails that are currently not in use.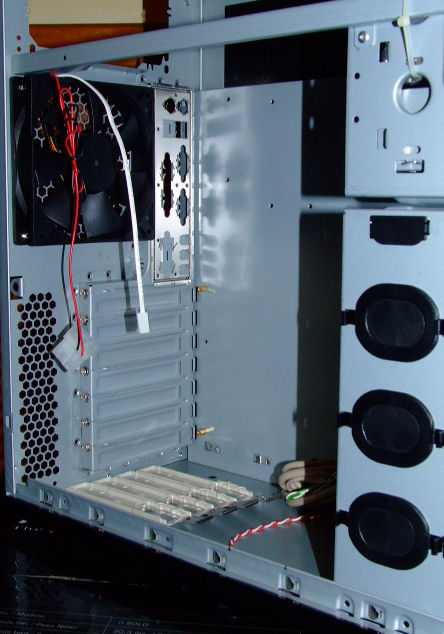 Front to Rear View of Case Interior
A CLOSER LOOK – INTERNAL cont.
The next set of images shows and interior view of both the 5.25″ drive bays with a floppy drive or extra 3.5″ bay along with the four hard drive bays. A removable hard drive cage is also shown, note the silicon isolators on the bottom of the cage that do an excellent job of virtually eliminating vibratory sounds.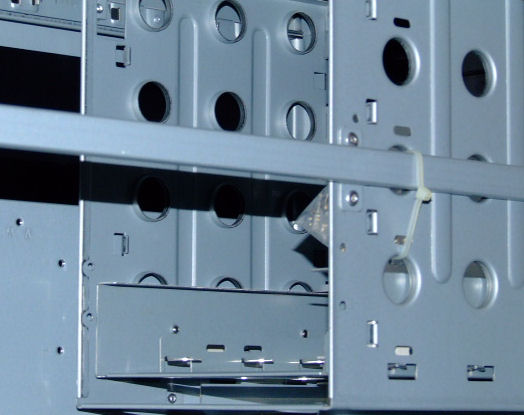 5.25″ HD Bays & Floppy Drive Bay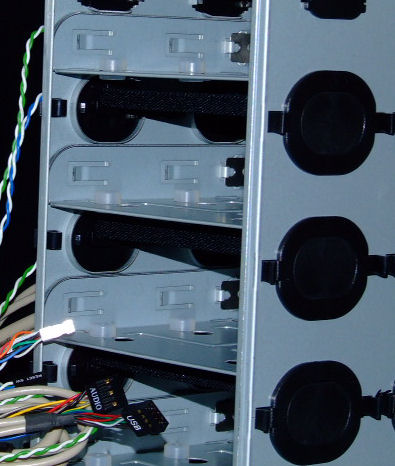 Hard Drive Slots from Interior View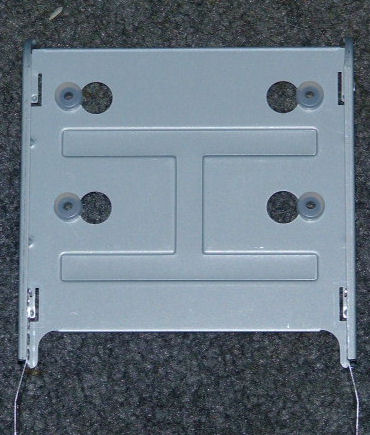 Removable Hard Drive Cage
The two images below show an interior view of both the left and right sides of the case. Antec® has gone to great lengths to make cable management easier than ever before by the inclusion of cable hooks on the right side of the case in the lower left hand corner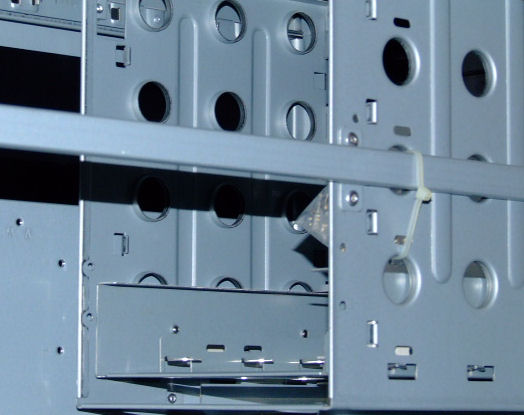 5.25″ HD Bays & Floppy Drive Bay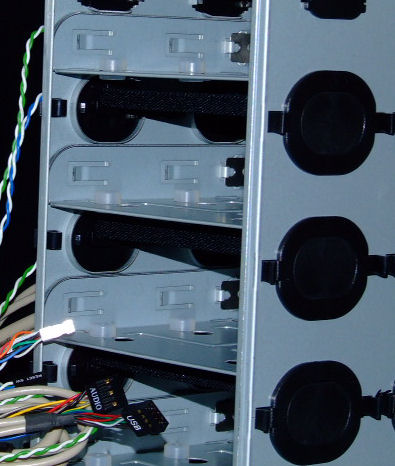 Hard Drive Slots from Interior View
Each of the interior door panels as well as the top of the case have been lined with a polycarbonate liner. The polycarbonate acts the same as sound proofing does in a music room by dampening the sound from inside the case. In theory the polycarbonate adds little if any thermal insulation to the case thus not sacrificing the cooling properties of the case in the name of making the case more environmentally friendly.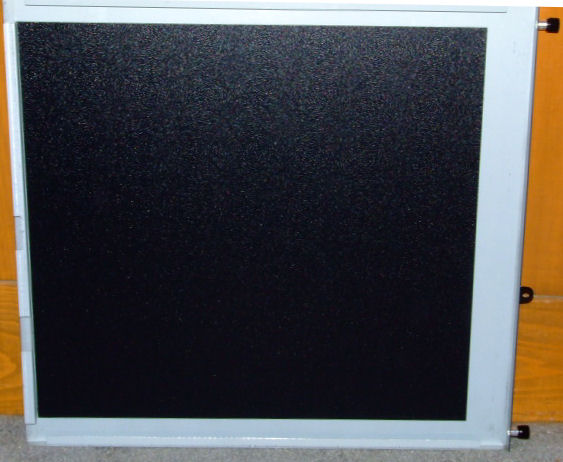 Side Panel w/ Polycarbonate Liner
INSTALLATION
As with most mid tower cases that do not provide a removable mother board tray, space is tight and conditions are somewhat cramped. To be perfectly honest because of the arrangement of the SOLO™ and its advanced cable management system, I found the installation of my complete system in this case to be somewhat easier. Other than space limitations installation was otherwise unremarkable.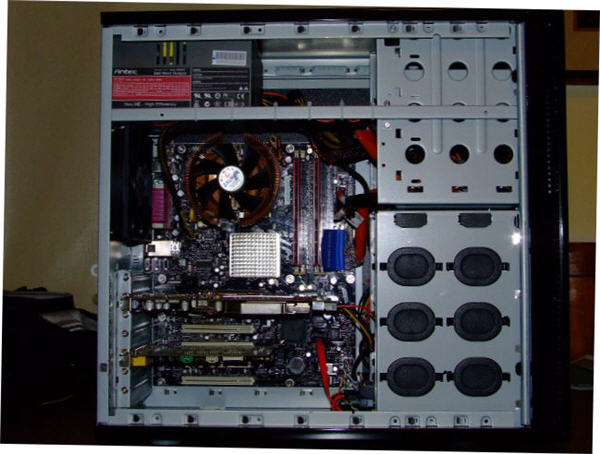 Antec® SOLO™ w/ Test System Installed
Although I'm not the expert with cable management that many of my friends are, I was quite able to keep cable litter to a minimum!
TESTING
Test System
Motherboard:    Intel D875PBZLK
Processor:   Intel 3.4 GHz Northwood run at default speed
HSF:  ZALMAN CNPS7000B-ALCU
Video Card:   ATI X800XL run at default speed
Power Supply:   Antec NEO HE 550 watt PSU (Next item to be reviewed)
Optical Drives:
Hard Drives:   Seagate Barracuda 7200.7 80 GB SATA drives
Memory:   2 GB (2- 1,024 MB sticks) Patriot PC 3500 DDR SDRAM (review)
Hard Drives:   2- Seagate 7200.7 Sata Drives (non-RAID)
Sound Card:   Turtle Beach Santa Cruz
Test Methodology:  Temperature
I will continue my tradition of comparing all of the cases I have reviewed to date. Essentially all of the cases reviewed have very little difference aside from different sizes and numbers of fans. In the systems current configuration is the SOLO™ will be using two 92mm Panflo™; front intake fans. For load conditions, I will run two simultaneous sessions of CPU burn in hyperthreading mode for a period of 15 minutes and test each case with the fans running at 7 volts and 12 volts. Ambient room temperature is held consistent at between 21-22 degrees celcius.
Until such time as funds will allow me to purchase a decent decibel meter ($250 – $500) I have devised a subjective noise quantification system to measure perceived system noise, it consists of five measurements at different distances from the computer. Each is incrementally scored from 0-2 with 0 being the best and 2 the worst. The scores are then totalled for a possible (or should I say impossible) score of "0" to a hopefully impossible score of "10". While still not perfect it will have to suffice for now. It should also be noted that I have mild to moderate hearing loss from years of not using proper hearing protection in various arenas where noise was a factor when I was was in my youth. These deficits should if anything cause me to err on the side of being conservative in my quantification of noise levels.
TEST RESULTS

Temperature & Noise Results
Impression
You will notice that In the testing the Antec® SOLO™ performed identically to the Antec® P-150. Why? They are identical in build and features, with a few very subtle differences:
Color:  P-150 is pearl white gloss as opposed to the SOLO™ which is Piano black gloss
PSU:  P-150 uses the Antec® Neo HE 430 watt PSU which comes with the case, the SOLO™ doesn't come with a standard PSU but I used the Antec NEO HE 550 watt PSU the big brother to the PSU included with the P-150
5.25″ Bay Covers:   The P-150 comes with hinged covers and the SOLO™ does not
Dimensions & Build:   Identical
Features & Speciafications:   virtually identical
Conclusion:   The Antec® SOLO™ is identical to the Antec™ P-150 aside from the color and the other minor differences captioned above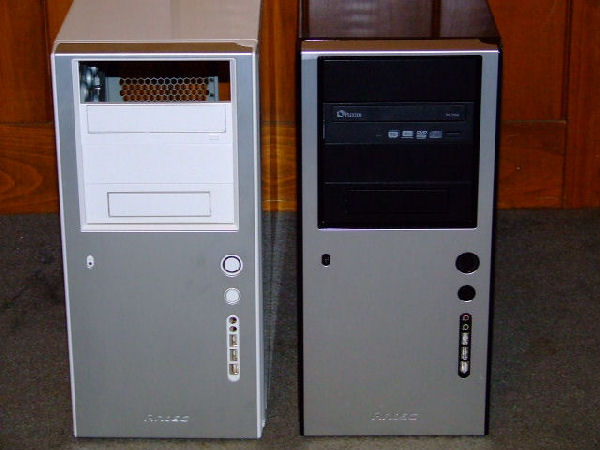 "Twins"
CONCLUSION
This is probably one of the more enjoyable case reviews that I've had the pleasure to perform, although not as much fun as the P-150 review. Why? As previously stated this is like performing the review of the P-150 a second time. Thus much of the information has not changed. The Antec® SOLO™ is an excellent case, just like it's older brother the P-150. I personally have heard numerous members of the enthusiast community ask why a black version of the P-150 was never manufactured. I have heard even more ask why the P-150 was not available for purchase without a power supply. I guess Antec® also heard these comments loud and clear ergo the rationale for creating the SOLO™. One question I have for Antec® is why build an identical case, excepting the noted extremely subtle differences and not place it in the same Performance One series of cases? I ask this primarily not for marketing reasons but because this case is such an excellent performer like its predecessor!
The SOLO™ is equally as stylish as its twin, especially for those that prefer a shiny Piano black finish as opposed to the glossy pearl white. The Piano black finish is also somewhat reminiscent of a distant cousin, the Sonata although the silver trim sets it apart. The SOLO™ retails in the $85-$90 USD price range and I would consider this a steal for the quality and performance this case provides. The case is extremely cool and quiet and should easily support even the hottest performing systems coupled with the appropriate HSF. The SOLO™ has a certain sleek elegance about it that is on a par with the P-150 and other fine cases of this same type of genre like the Sonata.
The case performed impeccably cooling my test system right along with the best mid-tower cases I've reviewed over the years. It was extremely quiet given the volume of air passing through the case! Yes, I ran the fans on high for the utmost cooling and still appreciated noise levels that were low enough to carry on a conversation with my wife in a normal, non-exaggerated tone of voice.
As previously mentioned in the P-150 review this case is exceptionally heavy for it's size, weighing in at around 22 lbs. without any additional components. The weight is due in no small part to its 1.0mm thick SECC construction throughout. The only reason this case weighs less than the than its kin is that it doesn't ship with a power supply installed. Fully loaded it's with a power supply it's still closer to 40 lbs. With the weight comes added rigidity that certainly helps to enhance the system's quiet performance. If I were Antec® and designing a dream case for the enthusiast market I would take this case's design in total and make it 3-4 inches taller, 2-3 inches deeper, and an inch or two wider and that's all it would take as at that size no removable mother board tray would be necessary, although it would be nice. P.S. Antec, this is my second such request and I've talked to many other enthusiasts that agree!
In the introduction of this review I listed what I felt to be the primary concerns of the computer enthusiast when purchasing a case: 1) Looks and style; 2) Functionality; 3) Price; and 4) The potential longevity of the product based on impending technology changes of the components it will house. I have addressed numbers 1-3 in detail in throughout this review and feel the SOLO™ more than addresses each of these concerns Given the current state of mother board designed and the feeling that BTX has been shelved, I think it's safe to say that the SOLO™ also satisfies #4. As far as complaints are concerned I'm sure that these will be minimal as this cases addresses most of the issues I relayed in the Introduction head on. All that being said, I heartily recommend this case to any consumer looking for a case that totally exudes quiet, cool, and stylish eloquence. Oh and the price is definitely right!
Pros:
+  Stylish and eloquent design
+  Excellent cooling performance
+  Extremely quiet operation
+  Beautiful high-gloss paint job
+  Excellent component fit and finish
+  Advanced cable management system
+  Improved hard drive suspension bands
+  Excellent price
Cons:
– No removable motherboard tray
– Somewhat cramped
Final Score: 9 out of 10 and the Bjorn3D Seal of Approval.