Ok, I hope I've made my point that the days of determining your system's power needs using the SWAG (Scientific Wild Ass Guess) approach are most certainly over. All things being said, it's now review time; and the subject of today's review is? You guessed it, a power supply and a high high quality one at that: The Antec® Neo HE 550 power supply. Join us while we investigate this unit's performance and quality.
INTRODUCTION
To own an enthusiast level system today means you have in your midst a Power Hungry Monster! Why do I say this? Well here's a perfect example of my rationale: A few days ago the best Extreme PSU Calculator that I have found to date over at Outervision eXtreme. This calculator takes everything and I do mean everything into consideration I ran my current system through it and determined that @ 100% PSU utilization I needed around a 500 Watt PSU. I then wondered at 100% utilization how much of a lifespan would my PSU have? Not to mention cooling. I have always been told that a good rule of thumb is even in those full load, overclocking sessions where you're testing the maximum your system will deliver you should not stress your PSU more than 90% for a prolonged period of time. I personally prefer to drop that percentage down to about 75% for periods greater than about 10 minutes and 90% to 100% for short term testing of less than 5 minutes in duration.
If I were to apply my standards that would suggest adding another 25% to the PSU I needed bringing me now up to 600 Watts. Ok then we have to remember that no PSU is 100% efficient. The very best power supplies are only 70% to a max of around 75% efficient at full load. That means add another 30% to my PSU needs bringing my requirements up to around 780 Watts. Throw in a 10% fudge factor for, there's nothing scientific about this but I like to err on the side of caution when it comes to PSU utilization, and that brings me up to around 850 Watts. This would allow me to have a silent powerful system with the PSU hardly ever being taxed more than around 60% of its capabilities ensuring a decent longevity and return on my investment.
I most certainly believe the above captioned calculations. There also usage patterns and surge current during start up compensation and literally another 4-5 factors like whether the PSU has PFC (Power Factor Correction capabilities) or not which I will not go into currently that would play a role in my decision on what size PSU to buy. Then we get into the quality of the product produced which is probably as big of an issue as all of the other factors that I have mentioned thus far. Oh and one other thing I forgot to mention my system is not what I would consider and extremely high level enthusiast grade system, that is by some peoples'standards who have really high level enthusiast grade rigs. All of this information is to get you in "thinking mode" so that you don't take your PSU for granted. Just think how many problems you read about today at forums and other computer related web sites that when the true cause is finally diagnosed are directly or indirectly related to the power supply.
Ok, I hope I've made my point that the days of determining your system's power needs using the SWAG (Scientific Wild Ass Guess) approach are most certainly over. All things being said, it's now review time; and the subject of today's review is? You guessed it, a power supply and a high high quality one at that: The Antec® Neo HE 550 power supply. Join us while we investigate this unit's performance and quality.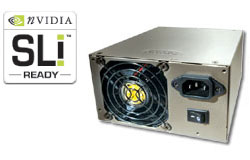 FEATURES & SPECIFICATIONS
Features
Highly efficient (up to 85%), one super-silent 80mm fan keeps Neo HE cool; less than 18dBA noise level.
Advanced Cable Management System improves internal airflow and reduces system clutter by allowing you to use only the cables you need.
Universal Input with Active PFC: Use anywhere in the world without worrying about input voltages; Active PFC improves voltage stability and delivers environmentally-friendlier power.
Dedicated Power Circuitry: Delivers safer, more reliable output to your system's delicate components. Includes dedicated voltage outputs, triple +12V output circuits, voltage feedback circuitry, and tighter ±3% regulation for improved system stability.
ATX12V v2.2 and EPS12V compliant; backward compatible with all ATX12V v2.01 systems. Special 4+4 pin connector allows multi standard compatibility
Three +12V output circuits provide maximum stable power for the CPU independently of the other peripherals.
Accurate power rating allows Neo HE to deliver its full rated power, 24 hours a day rated at 50ºC.
Low-speed 80mm fan delivers whisper-quiet cooling and ensures quiet operation by varying fan speed in response to load and conditions.
SATA connectors for your Serial ATA drives.
Industrial grade protection circuitry prevents damage resulting from short circuits (SCP), under voltage protection (UVP), power overloads (OPP), excessive current (OCP) and excessive voltages (OVP).
Detailed Features & Specifications
FEATURES

Switches
ATX Logic on-off
Additional power rocker switch
Maximum Power
500W

Transient Response

+12V, +5Vand +3.3V independent output circuitry provides stable power and tighter cross regulation (+/- 3%)

P. G. Signal

100-500ms

Over Voltage Protection
recycle AC to reset

+5V trip point < +6.5V
+3.3V trip point < +4.1V
+12V trip point < +14.3V

Special Connectors

ATX12V/EPS12V Compate 4 + 4 pin +12V
Molex Peripheral
Floppy
SATA
PCI Express

Leakage Current

<3.5mA @ 115VAC
DIMENSIONS

Unit Size

5.9″(W) x 3.4″(H) x 7.2″(L)
15cm(W) x 8.6 cm(H) x 18.3 cm(W) x 8.6 cm(L)

Net Weight

5 lbs/2.5 kg
OUTPUT

Output Voltage

+3.3
V
+5
V
+12
V1
+12
V2
+12
V3
-12
V
+5V
sb

Max. Load

24A

20A

18A

18A

18A

0.8A

2.5A

Min. Load

0.5A

0.3A

1A

1A

1A

0A

0A

Regulation

3%
3%
3%
3%
3%
3%
3%

Ripple & Noise
(mv)

50

50

120

120

120

120

50

Available Power

79.2W

100W

504W

9.6W

12.5W

Total Power

550W continuous output @ 50C ambient temperature
INPUT

Input Voltage

100Vac to 240Vac +/- 10%

Input Frequency Range

47Hz to 63Hz

Inrush Current

60A @ 115V , 100A @ 230V

Input Current

9A @ 115V, 4.5A @ 230V

Hold-up Time

20ms at full load

Efficiency

Up to 85%
115V – Full load 76%; Typical load 82%, Light load 77.9%

EMI/RFI

FCC Class B
ENVIRONMENTAL

Operating Temp.

10 ºC to 50 ºC

Operating Alt.

Sea Level-10,000 ft

MTBF

80,000 hours at 50'C

Safety Approval

UL, CUL, TUV, CE, FCC, CCC, CB,
C-tick
A CLOSER LOOK
The Neo HE 550 power supply arrived as does every shipment that I receive from ANTEC® in double packaging and very well protected.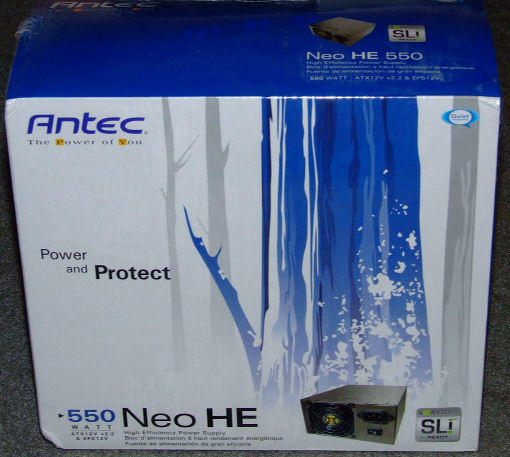 The Package
As you can readily see the power supply is well protected from damage not only from the outside, but the inside as well. Antec® has begun using compressed formed cardboard as opposed to styrofoam in its support material used inside the package. Not only is it equally as secure but it doesn't take up near as much space and is certainly more environmentally friendly. Good job, Antec®!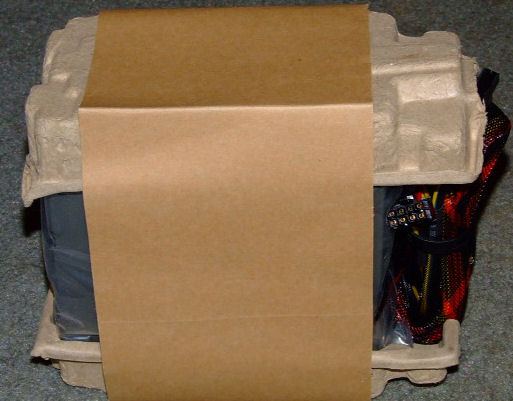 Internal Packaging
The package contained the following contents:
Neo HE 550 Power Supply Unit
Cabling
Instruction Manual
Installation screws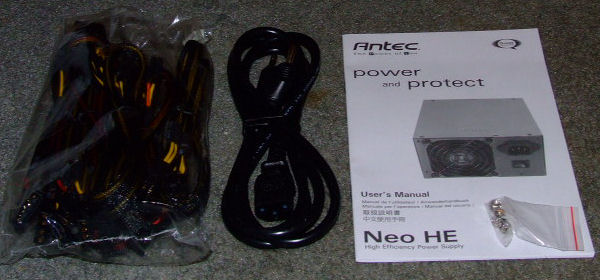 Accessories
A CLOSER LOOK – External
External View
Since I've never been one to adorn power supplies as being "pretty" or "stylish" I won't go off on a great tirade about the looks of this power supply. For all intents and purposes it looks like just about every other power supply except for the color. Antec® has chosen what I would classify as a pewter gray case, but then my description of colors aside from the primary ones isn't that great. We'll place the major emphasis on the components contained within this gray case and their functionality, but no review would be complete without a few external pictures of the product. This cases uses what appears to be a rebadged ADDA 80mm fan.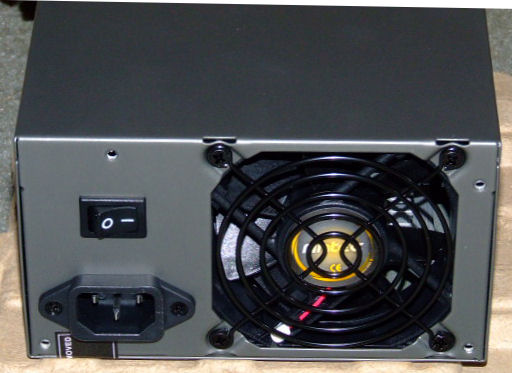 Even though I'm not one to lavish a great deal of praise with regard to a power supply's container, I must readily admit this unit offers some of the best, unimpeded case ventilation that I've ever seen. Just above the vent holes we see the see the five 6 – pin outputs for the modular cabling to attach.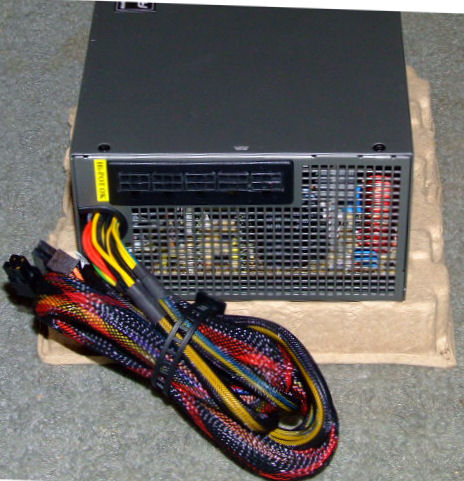 A view from the side shows the usual label depicting the unit's operating specifications. Another label just to the right reflects the various organizations that have certified the safe operation of this power supply. Pretty impressive the various safety certifications Antec® has chosen to seek.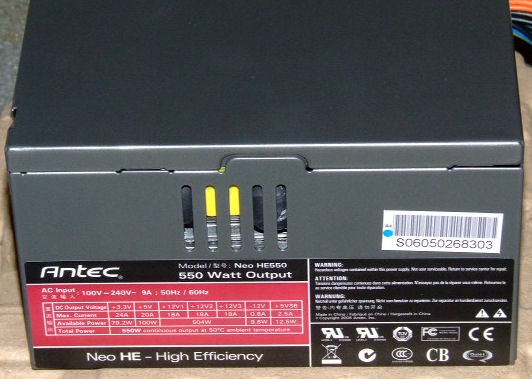 CABLES
I have mixed emotions on the benefits vs. detriments of modular cabling. One thing I can say with 100% certainly, cable management with a modular PSU such as the Neo HE 550 is much easier as you only use the cables that you need to get the job done. I am highly impressed with the fact that Antec® has chosen to sleeve every cable. This effort not only again improves cable management, but it certainly makes the interior of your case much nicer looking and promotes better airflow throughout as opposed to all those stranded cables hanging everywhere. The main power supply has a 24-pin configurable main power connector with detachable 4-pin section for 20-pin applications as well as a 4+ 4 pin +12V connector.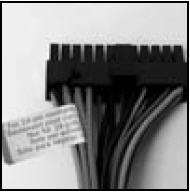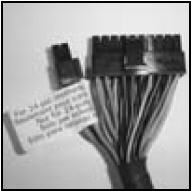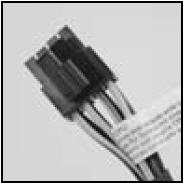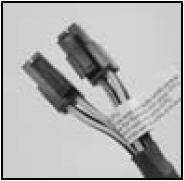 The following modular cables are included:
2 – 77cm cables each containing thee 4 pin Molex connectors
2 – 60cm cables each containing one PCI-Express connector
2 – 73cm cables each containing two SATA connectors
1 – 14cm cable containing two Molex to floppy pin adaptors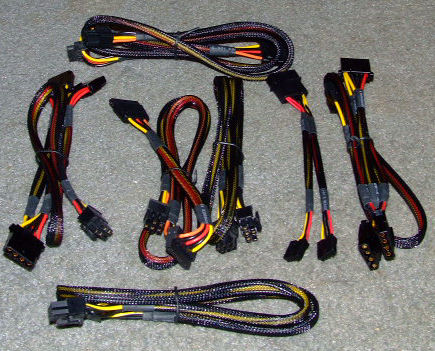 INTERNAL VIEW
Inside the case we see a component view of the Neo HE 550 power supply. There are two large aluminum heat sinks with horizontally configured for optimal heat dissipation. Antec® details all of their internal components as "industrial grade".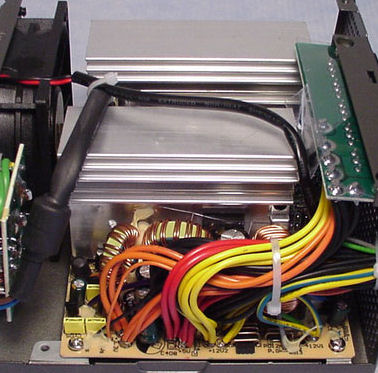 INSTALLATION
There was nothing really remarkable about installation of the Neo HE 550. Simply place it in the desired location and secure it with the retaining screws. Connect the cables to both the computer components inside the case and to modular outputs and power it up. The cool thing about the modular cables is that you only use what you need and as I allluded to before cable management is a snap.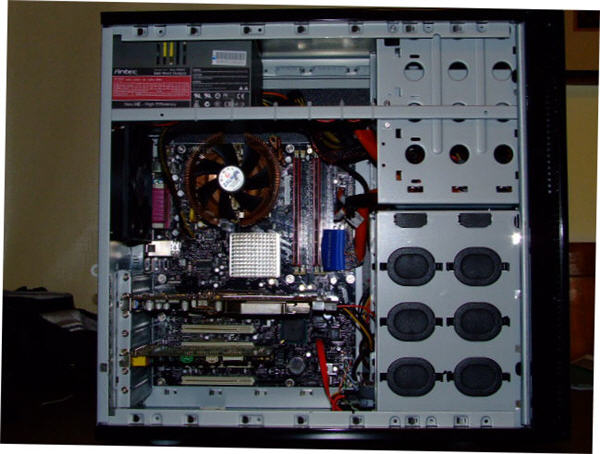 TESTING
Test System
Test Methodology
Let's face it, with a power supply this is the real meat and potatoes of any review. Power supply pictures and verbose descriptions mean absolutely nothing without the ability to produce the desired results. For that reason I try to place the majority of my emphasis and time in this area of the review.
To act As a breakin for the Antec® Neo HE 550, it was setup in an Antec® SOLO™ case with an Intel test system and allowed to run virtually undisturbed for about a week. Stability tests were then run testing the SOLO's cooling capabilities and noise level. The Neo HE 550 was then transferred to my main test rig for load testing.
To establish load conditions I ran a variety of different processes on my test system to create as much power demand on the Antec HE 550 as the components of the test system I was working with would allow. These processes consisted of running two simultaneous sessions of CPU burn in hyperthreading mode and ripping a DVD. Power was supplied via a power conditioning UPS to remove any test variances attributable to voltage fluctuations attributable to wall current alone.
I thought it might be interesting to compare the performance of the Antec® Neo HE 550 with several other power supplies I own or have reviewed that are in its power range, a SilverStone ST56F 560W PSU, a Seasonic S12 600W PSU with Active PFC, and an older model Enermax E651P-VE 550W PSU. Results were discerned using a no-name, yet very reliable digital multimeter that I have owned for about a year and a half.
We will continue our "real world system" which was initiated during several recent reviews meaning we will run all the background applications that we run in every day life and not sequester them as are done by some reviewers to enhance benchmark results. Among the applications running in the background on our test system are: NOD32 AV, Trillian, SnagIt, Steam and some other system applications that are too numerous to mention. Our hope again in using this approach are to give you as close to possible the results you'd achieve if you were running these benchmarks on a similar system in your home. No other secondary enhancements to improve benchmark results will be run either.
TEST RESULTS
Power Supply

Results(v)

 

Idle(3.3v)

Load(3.3v)

Idle(5v)

Load(5v)

Idle(12v)

Load(12v)

Antec® Neo HE 550 Watt

3.35

3.35

5.10

5.10

12.3

12.3

SilverStone® ST56F

3.35

3.29

5.10

4.97

12.3

11.9

Seasonic® S12

3.33

3.27

5.15

4.95

12.25

11.85

Enermax E651P-VE

3.33

3.15

5.05

4.82

12.02

11.78
Impression
Throughout the testing the phase the Antec® Neo HEO 550 Watt PSU failed to ever increase the RPM level of its single 80mm fan. It remained remarkably quiet to the point I couldn't even hear it over the other fans in my test system. Yes, I have six extremely quiet Scythe fans running at 7 volts in the test system; but even with my slight hearing deficit I cal still hear my wife when she whispers my name in the hallway outside of my computer room. So the system is pretty darn quiet, enough so that any change in RPM level would have been noted. To back up my statement I ASUS Probe II throughout the testing phased and the RPM's never varied one iota. So from a cool & quiet standpoint this is the best PSU I've reviewed or owned to date.
I was highly impressed with this power supply to say the least! It's the first out of all those mentioned to be run on this test system and not drop one tenth of a voltage point with the system at full load. I think this performance is almost unbelievable, so much so that I ran the tests a second time after cheking everything. Throughout the second process of testing the Neo HE 550 was again rock solid. I even attached on of the other PSU's for the second round of testing and got the same results within a couple of tenths of a point as I did the first time.
While these testing conditions and methodology are not optimal, they are in fact "real life". A more controlled laboratory environment where loads could have been dialed in and results measured digitally from the same unit would have been much more scientific, but I'm not sure it would have told me what the power supply would do in a "real life" scenario. One day I hope to have both the funds and resources to do a comparative analysis of laboratory and "real life" conditions.
CONCLUSION
I should note for the record that the first Antec® Neo HE 550 Watt power supply that I received was defective. Another reviewer at Bjorn3D had attempted to review it with dismal results. He asked me to check it out and I fully concurred with his assessment that the PSU was faulty. I notified our contact with Antec® and in just a few days they sent me a brand new replacement. Folks it happens not matter how good the testing procedure and quality control are before an item leaves the manufacturer for its distribution point. That is though past history and the replacement until has been nothing shy of incredible. This power supply is rated at 85% efficiency in general usage and close to 80% under full load conditions. So maybe it's time for me to rethink the calculations I initially made in the Introduction! Lest I forget this unit also feature active PFC (Power Correction Factor) which is a definite plus and should save you a few dollars each month on your power bill, especially if you have need to run your system- 24/7.
I checked Price Grabber for product pricing and found that the Antec® Neo HE 550 Watt power supply was available in the $85 – $100 USD range. For this price it's a steal! For those of you that are searching for a power supply for a system with less intensity than the test system that I used in this review, Antec® also makes at 500 Watt, 430 Watt, and 380 Watt version of Neo HE. Each unit has it's own separate set of features that are customized for systems needing one of these specific sizes of power supply. The 550 Watt that we reviewed here is the most feature rich and for now the largest of the Neo HE series. With the power demand for systems growing by leaps and bounds each year I wouldn't be at all surprised to hear in the not to distant future that Antec has added several larger editions to this group. The only negative I could find with this unit is that it does not have adjustable voltage pots for each rail.
I can heartily recommend the Antec® Neo HE 550 Watt power supply to anyone searching for a power supply in this power range. This power supply more than exudes quality ranging from it's external and internal design, cooling, noise under stress, to most importantly performance. It's the only power supply that I've used to date that seemed to take every thing my system had to dish out and not so much as wince!
Pros:
+  Extremely quiet operation
+  Excellent performance
+  Active PFC
+  Fully sleeved cabling
+  Efficiency rating
+  Cooling design and results
+  Excellent power regulation
Cons:
–  No adjustable voltage pots
Final Score: 9 out of 10 and the Bjorn3D Seal of Approval.