Now it is time to change hats and focus to that of the computer product analyst and get on with this review. Please join me while we thoroughly investigate if the quality and performance that belonged to its predecessors has transcended the years and been imparted to the Redline XP2-8000 DDR2 SDRAM, our topic of discussion today.
INTRODUCTION
When first contacted a few weeks ago by Lee Groninger, Manager, Sales & Marketing at Mushkin, Inc. about the possibility of doing a review of their latest product in their "eXtreme Performance series", Redline XP2-8000 DDR2 SDRAM; I was at the very least elated. Why, you may ask? Well, the timing could not have been any more perfect. First, I had just decided to get a new AMD based socket AM2 system to enhance the flavor of my reviews a bit as I had used predominately Intel products for the previous 3-4 years. Second, DDR2 SDRAM had just become the new defacto standard for the Computer Enthusiast primarily because AMD had just adopted DDR2 as the memory source for their new socket AM2 series of processors. Intel had made this move almost a year earlier with the introduction of their 900 series of chipsets.
For me, this would be my first hands on experience with DDR2. Even though I had never personally used a stick of DDR2 RAM before I received my new system, I had been reading extensively and following DDR2's evolutionary process since it first surfaced on the market in 2004. My interest in DDR2 was first peaked when I ran across this white paper article entitled New DDR2 Memory Offers Advantages for Dual-Processor Servers published by Thor Sewell in September, 2004. Since then I have ravenously devoured all the articles and reviews I could find detailing the technical advancements concerning DDR2 in preparation for its mainstream emergence into the Computer Enthusiast market.
Ok, enough already with the personal history, lets now focus a bit on the company that produced the product that we'll be focusing on today, Mushkin, Inc. with these excerpts from their web site: "Founded in 1994, Mushkin is best known for producing "Enhanced" memory modules. Located at the base of the Rocky Mountains in Denver, Colorado Mushkin provides performance enhanced computer products to users worldwide." "Exceptional quality, enhanced performance and unparalleled customer support are what make Mushkin products the best in the industry."
My personal association with Mushkin, Inc. began roughly 4-5 years ago when I purchased some PC133 memory for my then ASUS CUSL2-C based rig as at the time it was the best performing memory that could be found anywhere. Later, I purchased several sticks of their now legendary Winbond BH-5 based DDR SDRAM which I ran in all my Intel 875 based rigs up until several months ago when the performance of a number of my apps and games required me to move to more than the 1 GB of BH-5 that I owned. I still own those sticks and probably will never sell them just for nostalgic reasons!
Finally, I have had occasion to contact their customer service department concerning an SPD issue with two of my BH-5 sticks. They were probably some of the friendliest and most down to earth "techies" I've ever had the pleasure to deal with. Furthermore, each time that I called their support line a real person answered the phone within 2-3 rings, and that person was always more than capable of answering every question I posed, no matter how stupid it may have been.
The positive experiences with both Mushkin products and their support I've just related should be taken with whatever degree of emphasis you may choose to give them. That was Miles the customer speaking and when wearing that hat I'm no different than any of you out there who expect the best you can get for your hard earned money! Now it is time to change hats and focus to that of the computer product analyst and get on with this review. Please join me while we thoroughly investigate if the quality and performance that belonged to its predecessors has transcended the years and been imparted to the Redline XP2-8000 DDR2 SDRAM, our topic of discussion today.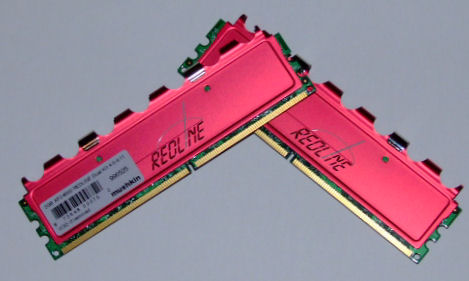 FEATURES & SPECIFICATIONS
Specfications
Frequency:   1000MHz
Latency:   4-5-4-11
Parity:   Unbuffered
Voltage:   2.2-2.3V
Pins:   240
Module:   128Mx64
Chip:   64Mx8
IC Features
RoHS compliant
VDD = +1.8V ±0.1V, VDDQ = +1.8V ±0.1V
JEDEC standard 1.8V I/O (SSTL_18-compatible)
Differential data strobe (DQS, DQS#) option
4-bit prefetch architecture
Duplicate output strobe (RDQS) option for x8
DLL to align DQ and DQS transitions with CK
4 internal banks for concurrent operation
Programmable CAS latency (CL)
Posted CAS additive latency (AL)
WRITE latency = READ latency – 1 tCK
Programmable burst lengths: 4 or 8
Adjustable data-output drive strength
64ms, 8,192-cycle refresh
On-die termination (ODT)
Industrial temperature (IT) option
Supports JEDEC clock jitter specification
Each 1GB Mushkin Redline XP2-8000 DDR2 stick uses Micron MT47H64MB6-3:D chips which are arranged as 2-rank 128×64 module with 64×8 chips. The images below denote both the IC and the PCB concealed beneath the heat spreader.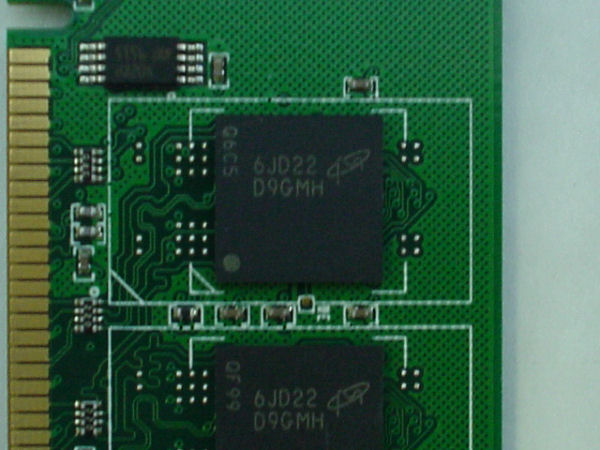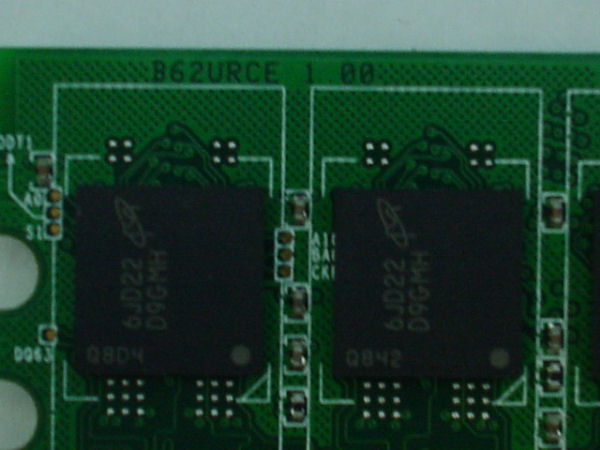 A CLOSER LOOK
When I unpacked the 2 gigabyte kit of Mushkin Redline XP2-8000 DDR2 from its shipping container I was very happy that they had chosen a very appealing brushed color of red for the heat spreader with the Mushkin logo embossed.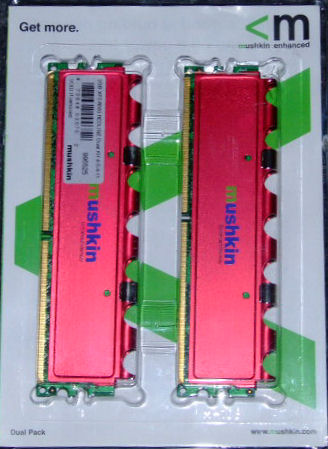 "The Package"
The back of the heat spreader depicts the distinctive Redline logo: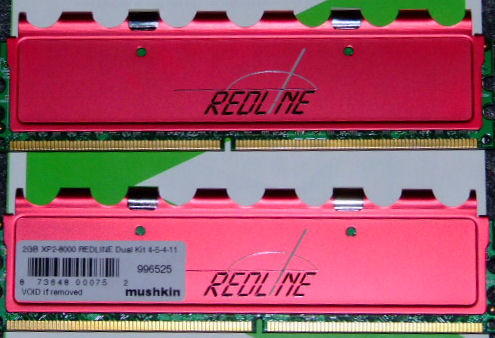 Rear View
Inside the package is a brief set of instructions and a few troubleshooting tips. After all how much in the way of instructions does someone whose buy this quality of RAM really need?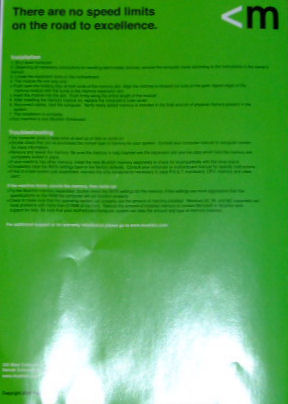 Instructions
Opening the instructions reveals some production information about Mushkin's latest endeavor into the Power Supply market. This seems to be an extremely lucrative arena for the current memory manufacturers that have ventured into it. Maybe their memory design experience gives them a better sense of how power management should best be utilized.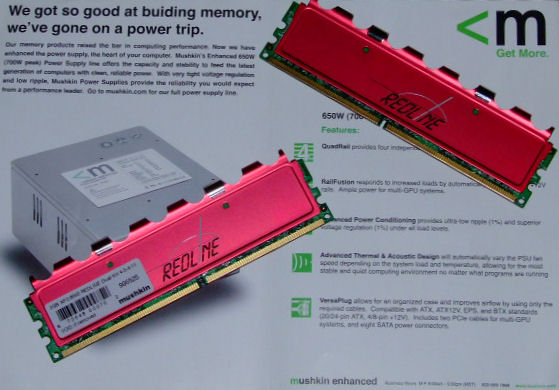 Package Insert
TESTING
Test System
AMD X2 5000+ running at default speed
ZALMAN CNPS9500AM2 HSF
ASUS M2N32-SLI Deluxe nForce 590 motherboard Version 1.03G Newest Revision
2GB of Mushkin Redline XP2-8000 DDR-2 (4-5-4-11-1T @ 2.0 volts)
LeadTek WinFast PX7950 GX2 TDH running ForceWare 91.29 drivers
2 – Seagate Barracuda 7200.7 120GB drives
Lian-Li G70 Case customized by Performance PCs
Windows XP Pro SP2
Samsung Syncmaster 213T 21.3″ LCD Monitor
Benchmarks
Synthetic Benchmarks

SiSoft Sandra 2007 Professional
Everest Ultimate Edition 2006 version 2.80
Super Pi mod 1.5 XS

Gaming Benchmarks

Half Life Lost Coast Benchmark
Serious Sam II Branchera Benchmark
Testing Methodology
The AMD 64 X2 socket AM2 processor have a multiplier that is unlocked below 13, but for starters we will resort to overclocking the system the old fashioned way by raising the FSB. We'll begin at 200MHz with the motherboard set to DDR2 800 and move upward in 5-10 MHz increments until we either max out the processor or memory whichever comes first. Since it's highly unlikely we'll hit the a FSB of 250 with the 5000+ processor, we'll then play with the multiplier and the FSB until such time as we're able to max out the memory.
I sincerely wish I had a comparable set of DDR2 to benchmark alongside the 2GB kit of Mushkin Redline XP2-8000 DDR-2 but currently the only other memory I have for comparison would be a 1GB kit from another manufacturer and I've never believed in comparing apples to oranges.
We will continue our "real world system" which was initiated during several recent reviews meaning we will run all the background applications that we run in every day life and not sequester them as are done by some reviewers to enhance benchmark results. Among the applications running in the background on our test system are:   NOD32 AV, Trillian, SnagIt, Steam and some other system applications that are too numerous to mention. Our hope again in using this approach are to give you as close to possible the results you'd achieve if you were running these benchmarks on a similar system in your home. No other secondary enhancements to improve benchmark results will be run either.
TEST RESULTS
Sandra 2007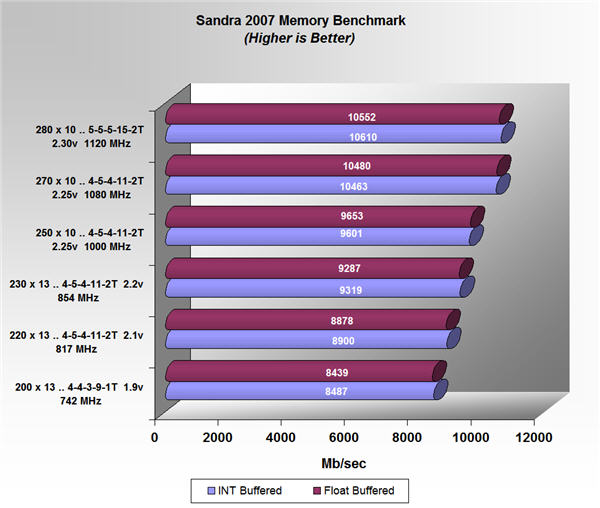 Everest Ultimate Edition 2006
Super Pi 2 Meg Calcuation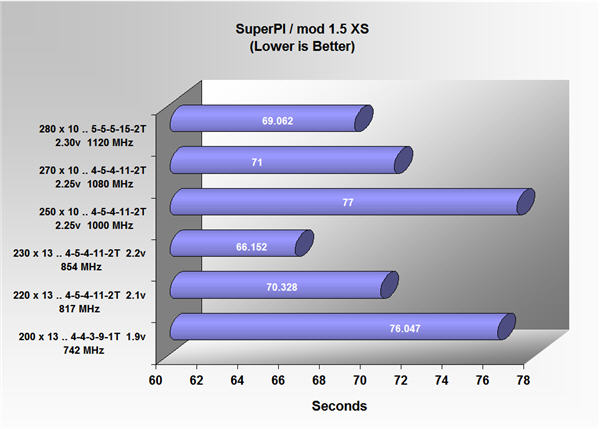 TEST RESULTS cont.
Half Life 2 … Lost Coast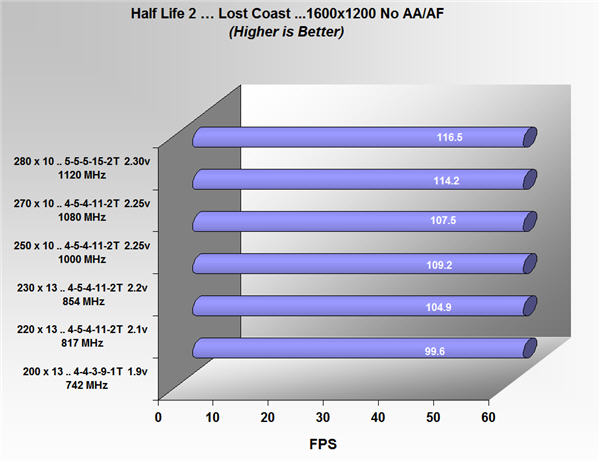 Serious Sam … Branchera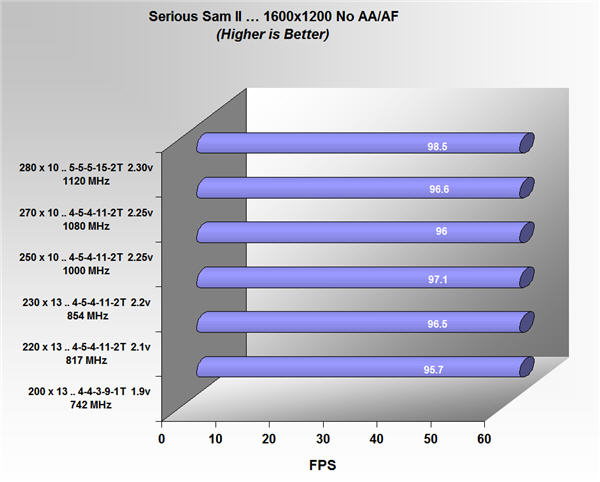 CPU-Z Final Run Results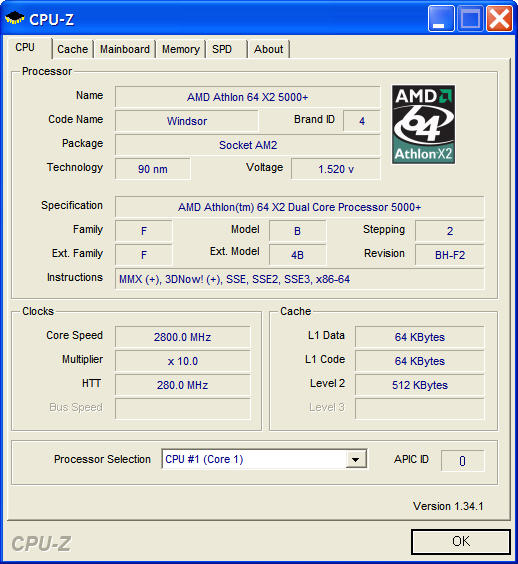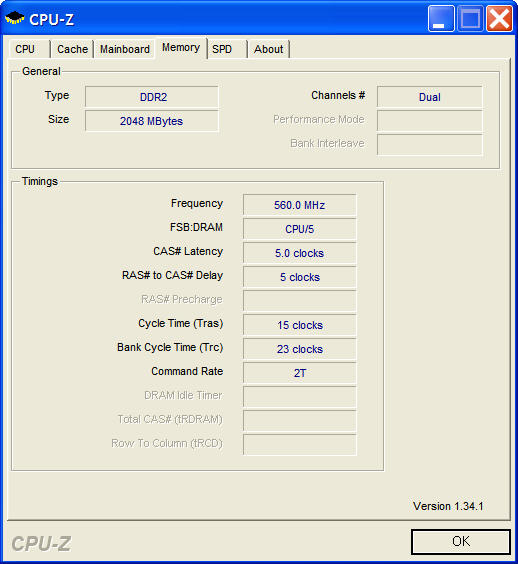 Impression
Updated 7/08/2007
This review fortunately is in its third and this time final stage of update! Those of you that read either of the first two iterations know that the initial tests were performed using a pre-release version of the ASUS M2N32-SLI motherboard. The board that was used to perform the preliminary series of tests on the Mushkin Redline XP2-8000 DDR2 was very limited limited in its ability to perform at any multiplier with a FSB greater than 230, even with HTT reduced to a 3X multiplier. We had read numerous reviews and reports about this motherboard's vast improvements in the newer, just released version (1.03 G) so we arranged to obtain one for a chance to see really put this memory to test.
To say I'm highly impressed with this memory would be putting it mildly! As you can see I was easily able to significantly reduce the latency and voltage in the first two stages of the review down to 4-4-3-9-1T at 1.9 volts @ DDR 742. It was not until I reached the DDR 817 level that the latencies and voltage had to be returned to their SPD level. Each of the benchmarks demonstrated results that were well in excess of the other memory that I own. I did not think given the 7 divisor of the AMD X2 5000+ used in the tests that I would have a chance to ever reach the 1000 MHz rated performance of this memory using the standard 13 multiplier. I decided once I reached 2.92 GHz (230 x 13) that I'd not be able to reach much a higher level until I decreased the multiplier to a more manageable level of 10.
With the newer revision of the motherboard we were able to take the Mushkin Redline XP2-8000 DDR2 memory to its rated level and far beyond as demonstrated in the benchmarks. We were able with little difficulty to reach 2.80 GHz (280 x 10) which equates to DDR 1120 and a 12% increase above the rated rated performance level of this memory. To obtain this level of performance with complete stability required running the memory at 5-5-5-15-2T with a voltage of 2.3. The processor required 1.45 volts. Even at this level of performance the Redline required no extra cooling and was not overly warm to the touch. We noticed no lag in the memory's response using the lower multiplier and saw incredible Sandra 2007 Buffered memory scores of 10,552 Mb/sec INT buffered and 10,610 Mb/sec float buffered. These are the fastest production scores we have currently seen obtained using air cooling for any DDR2 memory on a socket AM2 based system. We are absolutely certain that if we had chosen a lower multiplier to test with such as 8 or 9, we would have easily been well into the 300+ plus range, but we also believe some of the benchmarks would have not yielded the results we achieved using a multiplier of 10.
We did notice that the lower multiplier had some impact on the performance yield increase of some of the benchmarks that we ran which was to be expected; especially Super Pi and gaming. In most cases though once we reached the 280 x 10 or 2.8 Ghz level the performance either matched or exceeded the levels we experienced at the 2.92 GHz due to the almost 25% in memory performance increase. To say the third time is a charm with this memory is a vast understatement! The performance of the Mushkin Redline XP2-8000 DDR2 is absolutely incredible and from this point forward it will become my reference standard to judge other DDR2 memory by. It will be a featured comparison in all the future DDR2 memory reviews that I perform.
CONCLUSION
My apologies are extended to both Mushkin and Bjorn3D's readers for this review taking so long to come to fruition. It is however reasonably commonplace with any new, state of the art equipment such as that included in our test rig for it to be necessary to wait just a bit for product revisions to realize and demonstrate published performance results. In this case we believe the wait was well worth it as we were truly able to confidently show the performance that this product has to offer in the new socket AM2 category of processors and motherboards.
I want to reiterate that the Mushkin Redline XP2-8000 DDR2 SDRAM is an excellent product especially now that it's capabilities have been fully demonstrated. To answer the question of quality that I posed In the introduction, there is no doubt in my mind the quality of this product readily transcended from that of its legendary predecessors. Even with the unfinished state of the memory's testing I can highly recommend this product to anyone looking for extremely high quality DDR2 for their system. In the iterations of benchmarking that I was able to achieve I found it quite fast and without issue. The only possible drawback would be the price for the average user as this 2 GB kit retails in the $450 USD range. I have said it before and I will say it again we're not targeting the average user with these reviews. Instead we are targeting the Computer Enthusiast, who would find the price more than comparable with other products in this quality range.
There was no doubt in my mind from this reviews inception that this product had a tremendous amount to offer the Computer Enthusiasts that are currently using systems that support DDR2. I can truthfully say that I haven't had a product impress me this much in quite some time. The latest updated changes have certainly proven the worth of this product and caused me to finalize our review scores to be in line with the quality and performance that were experienced by Mushkin Redline XP2-8000 DDR2 in this, the final update to this review. I highly recommend it to anyone searching for state-of-the-art DDR2 memory!
I would also like to sincerely thank Lee Groninger and Brian Flood along with their excellent team at Mushkin, Inc. for the opportunity to review this excellent product and their help along the way.
Pros:
+  Extremely low latency at SPD
+  Capable of much lower latencies at FSB of 210 and below
+  Very fast in all the tests that were run
+  Faster than all competing products at the performance levels reviewed
+  Lower latency than all competing products at the performance levels reviewed
+  Excellent customer support
+  Lifetime warranty
+  Kits are hand tested before being packaged
Cons:
–  Cost may preclude some users from buying
Final Score: 9.5 out of 10, and our highest honor the coveted Bjorn 3D Golden Bear Award