Today ATi has announced their latest card, the X1800GTO. With a RRP of only $249 the X1800GTO is a card that should interest many users who cannot afford the more expensive X1800XL, X1800XT or X1900XTX, especially since the performance is impressive for its low price.
INTRODUCTION
Today ATI is introducing a new X1800-based card, the X1800GTO, their "newest and most cost efficient member" so far. It is aimed at the value enthusiast market and with a RRP of only $249 for a 256 MB card it does indeed look like a very interesting card if you need performance without wanting to put a fortune on the video card.
SPECIFICATIONS
The specifications of the X1800GTO are as expected the same as for the other X1800 cards. It is based on the R520 core and has all the relevant features we expect from ATI's latest cards:
Ultrathreaded SM 3.0 Engine Architecture with fast dynamic branching
500 MHz Core Speed
1000 MHz Memory Speed
12 Pixel Shader Processors
8 Vertex Shader Processors
512-bit Ring Bus memory controller
256-bit GDDR3 memory interface
Avivo Technology: unparalleled video & display quality, H.264, HDTV, 10-bit display processing engine
Dual-Dual-link DVI
Supports HDR with Anti-aliasing
CrossFire
As you can see the card is very similar to the X1800XL, just with 4 less pixel Shader processors. In ATI's press briefing material for the GTO they only mention the 512 MB X1800XL and no longer the 256 MB X1800XL. With similar performance but a lower price the X1800GTO is a much more cost-efficient card and thus much more interesting for us consumers.
BENCHMARKS
The Reference X1800 GTO was tested on the following system:
AMD X2 4400+
1 GB PC3200 DDR Ram
ASUS A8R-MVP Crossfire Motherboard
Creative X-Fi Extreme Music
Win XP SP2
Catalyst 6.3
3Dmark 05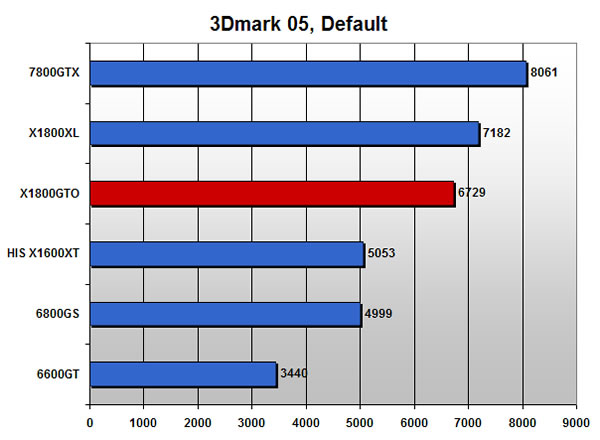 In 3Dmark 05 we see the X1800GTo beating both the X1600XT and the NVIDIA GeForce 6800GS. It doesn't quite catch the X1800XL (256 Mb ref.card) but it is close. Considering the X1800XL costs a lot more the performance of the X1800GTO is impressive.
3DMark 06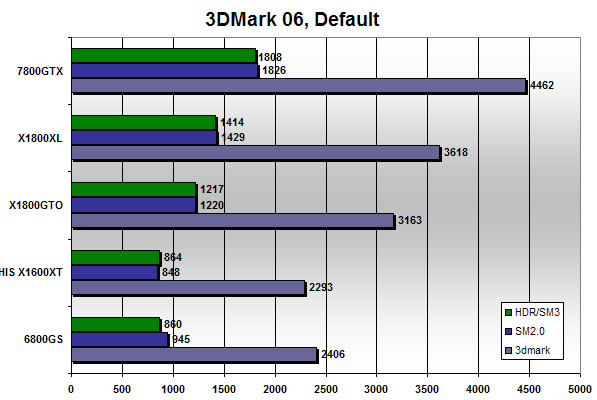 The results in 3Dmark 06 mimics those in 3Dmark 05. The X1800GTo almost catches up my X1800XL.
Far Cry
We used the Hardware OC benchmark utility and the PC Games Hardware Demo. Settings were set to Ultra quality and we used 4xAA and 8xAF.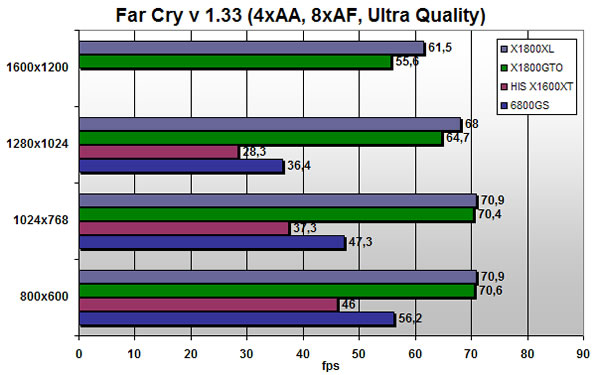 Once again the X1800GTO narrowly looses to the X1800XL.
Quake 4
We used the Hardware OC benchmark utility and the Guru3D-demo. Settings were set to High quality with 4xAA and 8xAF. SMP-acceleration was turned on.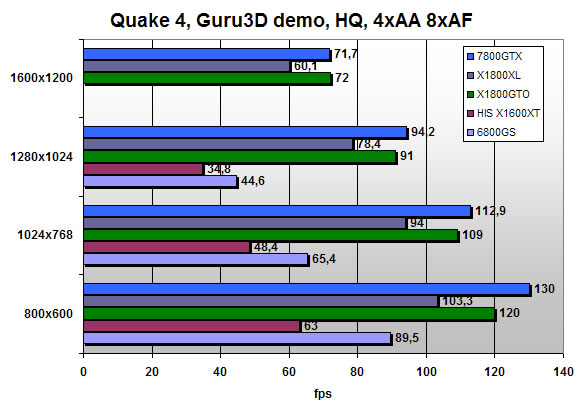 Ookeey. Something clearly is off here. The X1800GTO beats the X1800XL easily. These results were derived from the same machine 15 minutes apart and triple checked by running it three times on each board. I can't really explain this.
VIDEO

We all know that the X1x00 GPu's support ATI's AVIVO video.  Some of the features are:
Improved Vector Adaptive De-Interlacing
Equipped with new Content Adaptive pixel interpolation algorithms and Xilleon's SERA motion  adaptive de-interlacer – Avivo's Vector Adaptive Quality is capable of de-interlacing even the most complex images without loss in quality or smoothing.
New HD De-Interlacing
The same vector adaptive de-interlacing which deliver the highest quality video without loss in quality or smoothing is now available for HD MPEG-2 content.
Improved Edge Enhancement
Using a combination hardware and software algorithm, Radeon products are now equipped to use  a dynamic edge filter that adds sharpness to images, which improves "soft" encodings.
Improved Temporal Recursive De-Noise
Using hardware filters inherent in Avivo hardware block designs, Radeon X1K chips now can filter out mosquito noise seen from poor encodings. The latest improvements increase de-noise coverage  and instances where de-noise can be used, including de-interlacing situations.
A few days ago an AVIVO encoder utility was released that incorporates into the CCC-controlpanel. You got to set it to run in basic mode and choose the wizard to access it. This transcoder uses the X1x00 GPU to accelerate the decoding and can convert video files between a number of formats including h.264, MPEG1, MPEG2, MPEG4 (DivX), iPOD Video, PSP Video and several more.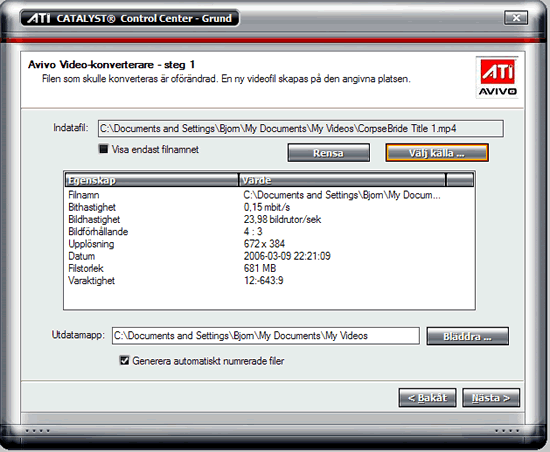 When you choose a file to convert the wizard displays some info about the file.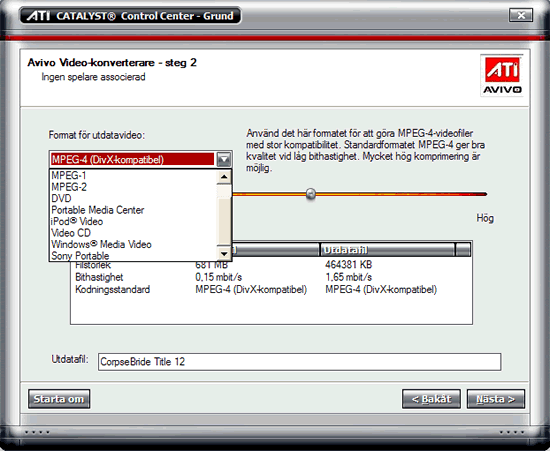 The transcoder can convert to a whole bunch of different formats.
I've only tried a few videos myself with varying success. I wanted to create a copy of Corpses Bride from the DVD I bought in the US so I could bring it with me on my PSP or my Creative Zen Vision:M. I had the ripped VOB's ready but even though the quality of the video conversion was fine I got no sound. Other video files worked better so the utility probably just need s a bit more features.
ATI also are very proud with their latest drivers which enhances the video quality. Using the video quality benchmark utility from HQV they claim they managed to score a perfect 130 points. Since I am using a ATI card (X1600XT) in my new HTPC I of course was very interested to see how the X1800GTO together with a set of beta drivers (6.4) would fair in the benchmark compared to when I tested the X1600 last year. At that time it didn't score that high having quite a lot of problems in many of the tests.
The HQV video benchmark is a DVD that shows you 18 different small videos. Each video tests one aspect and for each test you set a score of 0, 5 or 10 (in some cases 0 or 5 or a few more steps). The max score is 130 points.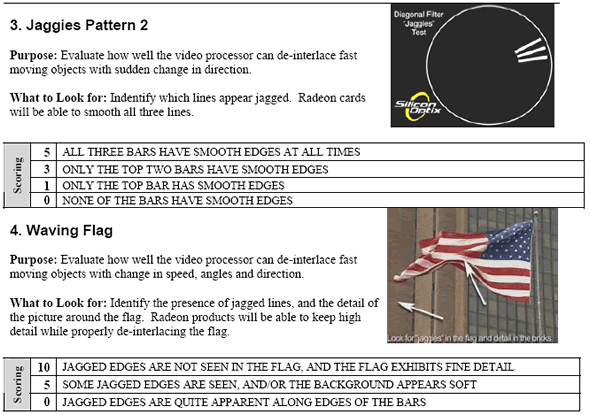 Example from the HQV benchmark.
 After installing PoweverDVD 6 + a patch as well as turn on hardware acceleration in it and edit the registry to enable DXVA hardware acceleration on a dual link video card Iran through the whole DVD. My result? A near perfect score of 128 points! All I deducted was 2 points in the second Jaggies test where only the two top bars were smooth all the way.
CONCLUSION
In some ways it is more exciting to test a card like the X1800GTO than one of the top end cards since you know that this is something a lot of people can afford. The X1800GTO simply offers excellent value for the money.
You should be able to soon find X1800GTO cards from the usual board makers like Powercolor, ASUS and HIS.