Home theater PCs seem to be popping up everywhere these days. With features much more rich than your standard Tivo, it's no wonder they are rapidly being installed in homes. But all of that hardware is no good if the case doesn't fit in with the rest of your entertainment system. That's where the Silverstone LC17 comes into play.
Introduction
---
Emerging from another well-known case manufacturer a few years ago, SilverStone Technology has really taken off with much success in the aftermarket computer component industry.  By specializing in high-quality enclosures, SilverStone has shown that they know what they are doing.  One style of case that has been growing in popularity recently is the home theater PC case.  Used to hold all of the needed hardware for an HTPC, it is often times very important for the case to be very stylish, yet subtle in order to blend in with the rest of one's audio-visual setup.  The SilverStone LC17 from the company's Lascala series does a great job of offering enough space for all of the needed HTPC components, while also presenting a look that is sure to blend in with most home theaters.
Features & Specifications
---
Features
Clean, understated styling for perfect integration
Next generation cooling performance
Outstanding potential for silent operation
Superior storage capacity
Rackmount ready
New Maglev bearing fans included
SilverStone styled buttons and LEDs
SilverStone styled buttons and LEDs
Dual optical drive bays
Included SilverStone FP32 module in 3.5″ drive bay
Intelligently placed CPU vent
Stealth front air intake vents for lower noise
High-end foot stands with rubber pad
Dual 80mm exhaust fans for exceptional cooling
Specs
Material
Aluminum Front Panel, .8mm SECC body
Colors
Black and Silver
Motherboard
Standard ATX, Micro ATX
Models
LC17B – Black, LC17S – Silver
Drive bays
External – 2 x 5.25″, 1 x 3.5″

Internal – 6 x 3.5″

Cooling
Front – 2 x 80mm or 92mm fan slots

Rear – 2 x 80mm fans (2050rpm, 21dBA)

Side – 1 x 80mm fan slot

Expansion slots
7
Front I/O ports
4 x USB 2.0, 1 x IEEE1394, 1 x audio, 1 x mic
Power supply
Optional standard ATX
Weight
6.8 kg
Dimensions
425mm(W) x 170mm(H) x 425mm(D)
Detailed Look
---
External
Looking head on at the LC17 is a pretty tame experience.  There are no flashy bells or whistles, no tri-colored LED fans.  What you do see is a nicely placed SilverStone logo in the top left, just above two machined aluminum buttons; one for power and one for reset.  These buttons have a loose feeling to them, but they seem to be secure enough for normal use.  Just to the right of the two buttons are the power and hard drive LEDs, both of which are bright blue.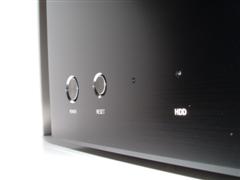 Moving to the right side of the front panel, you will see two semi-stealthed 5.25″ optical drive bays and a covered 3.5″ drive bay.  The two optical bays feature aluminum face plates that adhere to optical drive trays with the included double-sided foam tape.  This helps keep the front of the unit looking as smooth as possible, not cluttered and unprofessional with beige drives in plain sight.  Aluminum buttons for each drive are just below each drive.  The 3.5″ drive bay is covered by a hinged aluminum panel that is secured with a small magnet.  This panel easily folds down to reveal two USB 2.0 ports, a single IEEE1394 (FireWire) port and an audio and mic port.
Moving around to the right side of the case will show us the LC17's CPU vent.  This mesh vent allows for air to pass through it to help cool the CPU.  It is possible to mount a fan to this vent in order to add more circulation to the case, but be aware that some motherboards may not allow for a standard fan to be placed here due to various layouts that would cause the fan to come into contact with the motherboard.  The back of the case is a standard setup, with the two rear exhaust fans placed just above the I/O ports of the motherboard.  The power supply is to the right of the motherboard and requires the power supply to be installed in a way that most users would consider to be upside-down.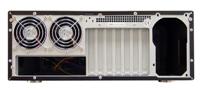 The left of the case features another mesh vent, but this one is used to provide air to the fan of the power supply.  This keeps fresh air circulating through the unit, keeping it nice and cool.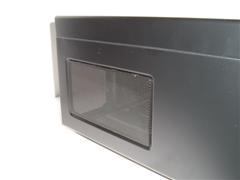 Keeping the case in one place are four high-quality feet with rubber bottoms.  These feet resemble the feet found on almost all standard stereo equipment and will help the case to fit in with the living room.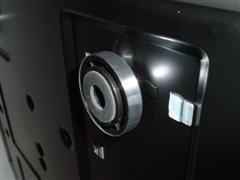 Detailed Look
---
Internal
With the top of the case removed, it is easy to see that SilverStone designed this case with mass drive storage in mind.  Two removable, three-slot drive cages allow for a total of six 3.5″ drives to be installed internally.  Talk about storage!  Each cage feaures the ability to hold either an 80mm or 92mm fan to keep the drives cool.  The drive cage for the 5.25″ drives is also removable, which is a very nice feature when installing components in this case.
All drives, drive cages and I/O panels are secured by standard philips screws.  This is something I had almost become unaccustomed to.  Tool-less bays are so popular with most cases now that having to use a screwdriver to install an optical drive seems ridiculous.  However, this form of securing the drives leaves no room for a drive to somehow just slide out of place.
Cooling
Keeping an HTPC cool and quiet can be quite a task.  If the internal parts become too hot, performance and lifetime degrade.  If high speed fans are used to keep the case cool, you will be annoyed with the vaccum like sound very quickly.  SilverStone took both of these items into consideration and has provided excellent cooling with the LC17.  Up front there is room for two 80mm or 92mm fans for intake air.  The air will come in from the intakes along the whole bottom edge of the front aluminum panel.
Keeping the power supply cool is easy with the built-in vent on the left side of the case.  This vent allows cool, external air to come into the power supply and right out the back, keeping warm internal case air from heating the unit up.
Exhaust flow is taken care of by two provided 80mm fans spinning just over 2000RPM each.  Right next to these fans is the CPU vent that is also capable of having a fan mounted to move more air through the case.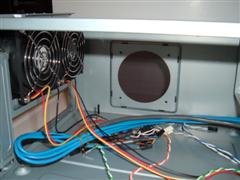 Additional passive cooling is provided by a vent just above the rear expansion slots at the back of the case.
Installation
---
Installation of my HTPC components was pretty simple, with no major hang-ups.  If you can install a system in a standard ATX case, you can install a system in the LC17.  The only real chore is routing all of the power cables to drives and keeping them out of any internal fans.
Test System
AMD Athlon XP 2000+
Shuttle MK40VN-R
2 x 256MB PNY DDR2100
80GB IBM Deskstar
16X Lite-On DVD drive
PNY GeForce 4 Ti4400 AGP with Thermaltake heatsink and fan
Thermaltake Volcano 9
Antec True 430 PSU
All of the parts listed above fit inside the LC17 perfectly.  However, the length of the Ti4400 almost separates the case into two separate chambers.  This is no fault of the case but is something to take into consideration when planning a build that includes the LC17.  The drive bay covers worked flawlessly, and the buttons lined up perfectly with the DVD drive.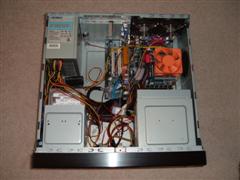 Conclusion
---
The SilverStone LC17 is a great case for any HTPC setup.  The all-aluminum front gives a look of sophistication, with its stealthed drive bays and brushed texture.  Drive space is abundant with a total of six internal 3.5″ bays and two external 5.25″ bays.  This amount of storage capacity is great for someone wanting to build an HTPC with a nice RAID system for speed and reliability.
The amount of cooling that can be achieved by utilizing all of the resources in the LC17 is great.  The two provided 80mm fans do a great job of moving warm air out of the case at a tolerable sound level.  Adding additional fans in the front of the case will help keep the hard drives cool, as well as provide the rest of the case with fresh air.
The build quality of the LC17 is exactly what you would expect from a top-tier vendor.  One drawback of the case is that it is constructed of steel and not aluminum, however it does feature a nice, solid aluminum front-end that is very pleasing to the eyes.
Pros
Great looks
Quiet case, depending on what hardware is installed
6 internal 3.5″ drive bays for loads of storage
Plenty of cooling options to keep temperatures down
Cons
All aluminum construction would be great
A few sharp edges to watch out for
The SilverStone LC17 is a solid case that has all of the features you need to start building a great HTPC.  For this reason, I give the case an 8 out of 10.