Disk fragmentation is an ever present reality! Today we look at Diskeeper 10 Pro Premier Edition a utility to help you combat excessive fragmentation of your hard drives.
Introduction
Today's computer systems offer hard drives featuring larger storage areas at a lower cost than ever before. It is therefore essential that savvy computer user be aware of the effects that excessive fragmentation can have on the performance of his/her "dream system."
Fragmentation is a term used to describe data storage areas on the hard drive(s) where files are broken into bits and randomly placed on the drive as opposed to the more optimal contiguous data file. To simplify what happens to a hard drive, imagine this scenario: You remove a program from a previously non-fragmented drive leaving a vacant area. You then install a larger program. The nature of your computer is to first fill the smaller vacant spaces and then move to the larger areas when installing the program. Voila, fragmentation has just occurred!
Given the sheer amount of data that is read from and written to the hard drive, even in general operation, fragmentation is commonplace. Small amounts of fragmentation (<5%) generally go unnoticed. More excessive amounts of fragmentation (10% – 30%) can drastically slow system performance. Extreme amounts of fragmentation (>50%) have reputedly caused system drives to crash and servers to fail.
Today, we're going to take an in depth look at Diskeeper Professional Premier Edition version 10.0.593.0, the latest iteration of their popular defragmentation utility.
Features
new! redesigned user interface for intuitive and easy scheduling and configuration
new! intelligent file access acceleration sequencing technology (i-faast™) learns the performance characteristics of each drive and sequences the most commonly-accessed files for the fastest possible access
"set it and forget it" operation automatically defragments according to the schedule you set-or allow Diskeeper to intelligently schedule itself with Smart Scheduling™
new! enhancements to i/o smart™ which intelligently monitors drive access during defragmentation, allows transparent background defragmentation so you never experience a performance hit, even during system peak production times
boot-time mode safely performs Microsoft®-recommended defragmentation of critical system files
new! historical reporting tracks the progress of Diskeeper over time and displays cumulative defragmentation benefits
new! frag shield™ dynamically reduces fragmentation of critical system files, maintaining system stability and reliability
two schedules per volume, allowing flexible defragmentation customized for your server
new! file performance defragmentation mode now combinable with all defragmentation methods for an instant performance boost for those fragmented files causing the biggest slowdowns
screen saver mode defragments your drive while your system is idle
power management for laptops prolongs battery life by suspending background defragmentation while on battery power
group policy administrative templates to manage product settings and scheduling; now updated with new functionality.
non-administrator end user access System Administrators can now have the option to allow end users, without Local Administrative privileges to access Diskeeper
Ease of Installation
With most software that I receive for review, I first try to document its simplicity. This is accomplished by using what many might call the "male approach," or not reading any of the instructions. I just jump in head first and see how far I can go before any help reference is needed. Installation of this product was accomplished quite easily without any errors, caveats, or need for documentation review. Double-clicking on the program icon (as with most Windows products) guides you step-by-step through the installation process with no idiosyncrasies noticed.
Inside Diskeeper 10 Professional Premier Edition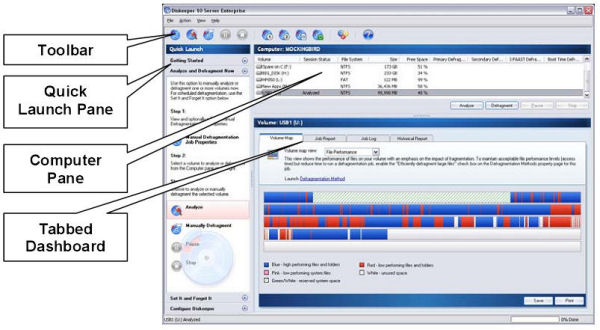 Starting Diskeeper brings up the primary interface screen; all tasks may be run from this window. Notice the window is broken into four different panes:
Toolbar: The Diskeeper toolbar gives quick access to commonly-used controls. Note that all the functions on the toolbar are available from the Diskeeper menus, and many can also be activated from the menu displayed when you right-click on a selected volume in the volume area.

Quick Launch Pane: The Quick Launch pane is where you'll find easy access to the commonly-used Diskeeper features, as well as several shortcuts for performing common tasks.

Computer Pane: The Computer pane shows all the supported disk volumes detected on your computer, and general information about each volume and any schedules that have been established.

Tabbed Dashboard: The tabs in the Dashboard area allow you to easily change between the Volume Map, the Job Report, the Job Log, and the Historical Report.
Toolbar Buttons

   Manual Defragmentation Job Properties: allows the user to select from various options when defragmenting their disks using the manual option as opposed to the "Set it and forget it options."

  Analyze: runs an analysis of the chosen disk/partition/volume and gives the user a detailed screen outlining the various areas of fragmentation.

  Manually Defragment: starts the manual defragmentation process invoking the options set in the manual defragmentation job properties.

  Pause: clicking this button will temporarily pause the process that is currently running. A run button in the form of a right arrow will then appear allowing the user to continue operation from the point it was paused.

  Stop: this button stops the currently running defragmentation job

  Primary Defragmentation Job Properties: this feature allows the user to specify a unique type of defragmentation job to be run at a selected time/date; it is a function that can be used as part of the "Set it and forget it options"
  Secondary Defragmentation Job Properties: as with the Primary Defragmentation Properties, this feature allows the user to specify a secondary type of defragmentation job to also be run at a selected time/date. This feature offers the same options as the Primary Defragmentation Job Properties.
Toolbar Buttons cont'd
  I-Faast Defragmentation Job Properties: this button opens a window allowing the user options to implement the I-Faast Function which intelligently sequences file access for new and existing files.

  Boot-Time Defragmentation Job Properties: this button opens a window allowing the user options to be implemented on the next boot of their computer or at a scheduled time. This option is generally specific to defragmenting the user's Master File Table (MFT) and/or Paging File which cannot effectively be defragmented when the OS is running.

  Configuration Properties: allows the user to adjust all options related to the look, feel, and behavior of Diskeeper.

  Help: accesses the Diskeeper help files.
It should be noted that most if not all of the functions of Diskeeper can be initiated from either: 1) The Drop-Down Menu; 2) The Quick Launch Pane; or 3) The Toolbar Buttons.
Diskeeper vs. Perfect Disk
I thought it might be interesting to compare the "real world operation" of this version of Diskeeper to the latest version of one of its primary competitors, Perfect Disk (7.0). We plan to test the "analysis function" of each application as well as running a defragmentation comparison of the two products. Each application will be run at those settings optimized to perform the fastest and yet most efficient defragmentation. To perform the tests, we have amassed a collection of 16.3GB of moderately fragmented files. This group of files has been imaged so that the identical files may be used for both applications. Each test will be run on a freshly formatted ~55.6GB partition on the secondary (SATA) Seagate drive captioned below.
Test System
Motherboard:   Intel D875PBZLK
Processor:   Intel 3.4GHz Northwood run at default speed
Video Card:   ATI X800 XL run at default speed
Memory:   1GB (2 x 512MB sticks) Mushkin 3500 Level 2 DDRAM run at 2.75 volts
Hard Drives:   2 x Seagate 7200.7 SATA Drives (non-RAID)
Analysis
We thought this would be an especially interesting test as the algorithms and other programming schemes used by manufacturers to analyze defragmentation vary greatly by manufacturer. I'm sure some of you have done side-by-side comparisons of defragmentation utilities before. If your results were anything like mine, you'd defragment with one product, and it would show your hard drive to be completely defragmented. Next, you would analyze your freshly defragmented drive with the product you were comparing only to find additional fragmentation not reported by the first product.
Diskeeper
Click to Enlarge
Perfect Disk
Click to Enlarge
I was actually quite amazed to see how closely the analysis results between the two products were!
Defragmentation
Perfect Disk, the competitor, was run first. Options on Perfect Disk are somewhat limited as compared to Diskeeper. The only option really applicable for this test was "Smart Placement," which optimizes file orientation on the disk based on the frequency of file utilization. I observed no spikes in CPU utilization with general usage around 4%. Here are the results: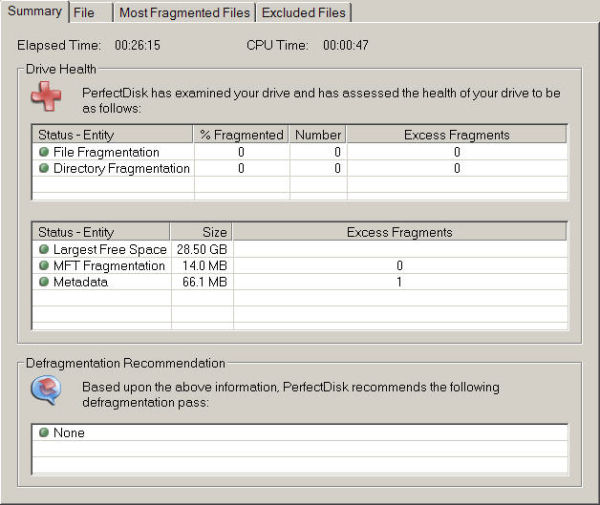 Diskeeper was then run utilizing the following options: "Recommended" as opposed to "Quick Defragmentation"; "Large File Defragmentation" was unchecked allowing for maximum defragmentation of large files; "CPU Priority" was set to the highest position to optimize speed; and finally "Disk Priority" was turned off — this feature throttles defragmentation should any I/O to the hard drive be detected. I saw occasional spikes in CPU utilization up to around 60% but generally never over 5% was observed. Here are the results: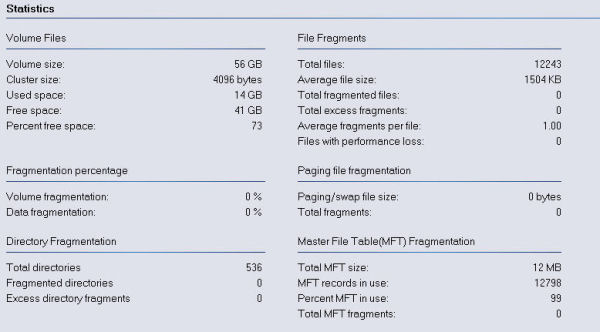 One slightly disappointing item was the lack of a timer to show how long this defragmentation job took. I timed the process using the stop watch on my chronograph and found Diskeeper ran the job in 25 minutes and 36 seconds. So, it was just under a minute faster than Perfect Disk.
Other Noteworthy Features
Fragshield:  Fragshield is a feature that Diskeeper provides that optimizes both the Master File Table and Paging File to optimize their size for your system. Diskeeper states that this feature can significantly reduce the amount of defragmentation that takes place in both of these areas. This limits the need for running boot-time defragmentation.
I-Faast:  Intelligent File Access Acceleration Sequencing Technology improves file access/creation by up to 80% (average 10%-20%) above and beyond the improvement provided by defragmentation alone. I-Faast intelligently sequences files to improve file access for both new and existing files.
Set It and Forget It:   this feature allows the user to essentially set various jobs to run at user-specified times. One of the benefits of this feature is the ability to run jobs at non-peak operating times for your system.
Primary and Secondary Defragmentation Jobs:   this feature coupled with "Set It and Forget It" gives the user great flexibility in the types of jobs that can be run in addition to when they are begun. It is a nice addition for defragmentation of network volumes and large disks/volumes for the power user.
Power Management:   safely halts the defragmentation process in the event the system switches over to battery power.
I/O Smart:   suspends the defragmentation process in the event the drive(s) being defragmented receive I/O data other than that being generated by Diskeeper.
Help Files and Documentation:  Diskeeper, in this writer's opinion, has supplied one of the most complete help systems that I have ever seen associated with a product of this type. The associated help files are very complete and easy to read. There is also a 105-page PDF manual that can be downloaded free of charge from Diskeeper. The manual covers every aspect of the product's operation and supplies additional information that the most technically-oriented users would find very beneficial.
Impressions & Conclusion
Diskeeper Professional Premier Edition version 10.0.593.0 is an outstanding product that was obviously constructed with either the "Network Professional" or "Power User" in mind. Keeping in mind the product's vast array of features, it is without a doubt one of the simplest products from an ease of use standpoint that I have ever encountered. I read through the product manual only after completing this review, just to see if there was anything obvious that I might have missed. In my previous dealings with Diskeeper products (several years ago), I found it necessary to run multiple passes to completely defragment my drives. Such is definitely not the case for this version of the product, given the above captioned test results which were quite impressive and complete.
One of the few negatives I can really give this product is its price. Diskeeper 10 retails for $99.95 through Diskeeper's online store. While not outlandish for such a feature-laden product, I still find it a bit on the high side. I would have also liked to have seen a job timer to prevent having to manually time each job's performance. Other than these two minor issues, I cannot fault this product in any way. Now for the highest compliment I can give a product in a review: Diskeeper, as of today, will become my product of choice for disk defragmentation and will replace all other defragmentation software I currently own!
Pros:
+ Highly feature laden
+ Extremely easy to use
+ Fast and efficient
+ Low CPU utilization
+ Excellent help and documentation
Cons:
– Price
– No job timer
Final Score: 9 out of 10 and the Bjorn3D Seal of Approval